Fishing is only fun and fruitful when you have all the right accessories around. And that's exactly what we are going to help you find today. Hello and welcome to our article where we will introduce you to 50 of our best fishing accessories.
These accessories are going to take your fishing game from 0 to 100 real quick. They also make for amazing gifts and presents for your fisherman-at-hear friends and family members. Let's start!
Best fishing accessories
First on our list is an absolute essential: a portable digital scale from  Dr.meter. this scale comes with a metal hand strap and a very handy measuring tape wound into it. This way, you can both weight and size up your catch! Speaking of which, it can weigh fishes up to 110 pounds (50 kgs) with a 5g to 10g accuracy. It also has a backlit LCD display and operates on 2 AAA batteries.
This tackle bag is a must-have for every pro fisher. The BLISSWILL Outdoor Multifunctional Tackle Bag is made out of high quality 1000D water-resistant nylon fabrics.  It is sturdy, reliable and very versatile. You have heaps of space including pockets and slots for lures, pliers, pole, fishing boxes, wallet, keys and other accessories. This tackle bag can be worn from both the left or side. It can also be used as a backpack, shoulder bag, and handbag thanks to its clever design and adjustable, detachable straps.
The Piscifun Fishing Rods Belt is a stretchy rod strap that is used to hold rods together and also protect the rod from any damage. These straps are adjustable, easy to carry and very stretchy.
The PLUSINNO Fish Landing Net is a staple! This fishing net is made out of high quality, elastic and durable fiberglass material.  It is non-absorbent and does not clog as easily. The net also features a retractable, extendable and foldable handle that makes carrying and using to heaps easier.
This lure is a lifelike bass lure with all the right features. It has 3D holo eyes, is flexible and sways like a real fish, have a gravity ball and treble hooks, and is hand downs one of the most realistic looks bass baits we have seen!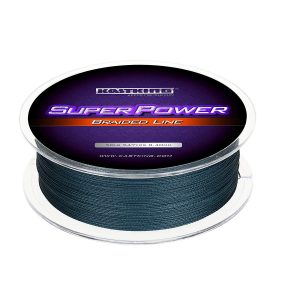 This fishing line is made so that you never lose a catch. It is a braided and low memory fishing line that is super strong and not-resistant. It is also very sensitive and scratchproof!
This spooling machine is a going to wind your mono or braided fishing lines like a pro. You don't have to monitor and babysit the reel any more thanks to its clever engineering. It is small, compact and a godsend for a fisherman.
This trout bait is essentially a fragrant and scent trap for the fishes. It uses delectable trout scent in conjunction with a glittery formula which attracts and lures fishes towards it.
This set of rod holders is a great way to set your rod in them and forget about it. These holders are omni-directional with an adjustable rotary knob. It is compact, easy to set up and install into the banks, and durable. Oh, and they have a universal fit too!

This decorative and handy fishing rod rack can store up to 16 fishing rods! It has a solid 38mm two-piece steel center post and capped slots on a base plate that adjust to any rod taper.

These are a set of 10 best fishing knots illustrated on 3 waterproof plastic cards. In these cards, you have illustrations for several types of knots including improved clinch, Palomar Knot, Surgeon's End Loop, and so on. Each of the cards is super portable. And they even come with a 12-inch ruler!

This floating kayak paddle uses a feathered blade design with a convenient 2-piece design that's easy to carry or store. It also offers 3 locking positions and drip guards.
These HD polarized filter out 99% of reflected glare without the haze and optical distortion. The Duduma Tr601 also glasses are super flexible and lightweight. They travel well and are great on sunny days!

This Cutlery Fillet Knife is constructed from surgical grade, T420 high carbon stainless steel. You have a rubber grip and a super flexible blade that is perfect for filleting fish, meat, etc away from bones. A must have on your fishing trips and camps!
A quality fishing line cutter is a must. And this one right here does the job brilliantly. This cutter is a multifunctional goodness. It cuts lines, crimps sleeves, crimps lead and also removes hooks. It is easy and comfortable to use and is also very durable. The cutter also comes with a nylon sheath, coiled Lanyard, and belt loop clasp.

These sun protective gloves offer you an SPF of 50+ and do a great job blocking harming sunrays. These gloves are lightweight and durable and pretty easy to clean as well. It is machine washable and quick drying too!

And for a more high coverage projection from the sun, you have this t-shirt which offers you UPF 50+ protection. It fits comfortably and is 100% polyester. The t-shirt is also lightweight, breathable, moisture-wicking fabric offers a dry and cool feeling

These circle hooks can be used to lure and bait just about anything. You have in 85 in a portable pack they are super durable and high quality.

This super portable and durable leisure chair is perfect for a relaxed fishing experience. You have an adjustable canopy with 50+ UPF sun protection. It uses breathable, lightweight fabric and has armrests. The canopy chair also folds pretty easily, accommodates up to 150 pounds and is very lightweight.

You can expect this 55-quart cooler to retain its icy goodness for 5 whole days at 90F! It has a massive wheel and offers 75% more ground clearance. It has a trolley design so it's easy to carry too. The cooler also features a bungee tie-down system and a leak-proof drain. A great way to keep the catch and your beers cool and fresh!

This multifunctional fishing cap not only protects you from the harmful UV rays, but also shields you from winds, dust, and those god-awful bugs. The cap has a large rim and flab that covers your face entirely and it also has ear and neck flap to protect them as well.

If you are looking a something very light and airy and breezy, then this mesh snapback ball cap it as simple as it gets. It is light and very well-ventilated. Keeps your head feeling fresh.

These 1000 lumen LED lights are submersible up to 5 meters. The lights are spread all around so you get an all-around view. They are battery powered and can be used for a very long time. Perfect for night fishing in the dark!

If pockets are what you need, then these fishing shorts are the answer. These super light and stretchy shorts have a pocket for everything from beer, tech, zipper pockets. It also dries fast!

This headlamp has a light that can beam up to 1800 lumens. It is also zoomable to 3 modes; comes with 2 rechargeable batteries, car and wall charger and USB cable. Very handy during nighttime fishing.

Next up, you have a set of 12 floating bobbers in 4 different sizes. These bobbers are snap-on style and is very lightweight and easy to use.

These blinking bite alarms attach to your rod and go off to the slight movement in the fishing line. They are extremely sensitive so it's very unlikely that you'll miss another fish while dozing off again.

These quick-release magnetic carabiners are multifunctional goodness. It can be used with pliers, nippers & other tools and of course, nets. They are small, compact and very durable. On top of that, the holders come with an extendable cord as well!
These tackle and fish grips keep your hands at a safe distance from the fishes mouth all while making you're get accurate weight readings. They are super lightweight and very easy to carry.

If you are into ice fishing, then this hand auger is just what you need. It is adjustable from 48 to 57 inches and soft rubbers grips for easy handling. Made from high carbon alloy steel and powder coated blades, the auger works like a charm and last pretty long too!

This product is here to make pulling your catch out of the water so much easier. This power handle offers your rod more leverage for big fishes and large lures. It installs easily, is lightweight and is ambidextrous as well!

Next up, you have these fishing sinker discs which come in various sizes. They are usable in both in fresh and saltwater and don't roll around. Strong, durable and functional.

Everyone who loves water needs a snorkel mask. And this one will get the job done. This snorkel mask features a unique 180° face design. It is also fog resistant and salt waterproof!

This speargun uses pneumatic technology to gun down small to medium fishes underwater. It has a high grip, a gun pump, a stainless steel shaft, and the shaft loader and owner's manual. Great for some underwater fishing and exploration!

An underwater camera is a must! This cam shoots in full HD resolution and is waterproof up to 30 meters. It also has wireless remote control, Wifi capabilities and comes with 2 mounting accessories and 2 rechargeable batteries. The camera is super compact and lightweight too!

These diving fins are a composite full foot, non-vented, medium-hard blade fin for spearfishing and free diving. They are also very flexible and lightweight. The fins' blade angles give it great fluency underwater. And its side rails and ribs reduce water spillage over blade edges during kicking and improves power.

This neoprene wetsuit is great for both water sport and undervest. It is super thin yet stretchy and is very comfortable to wear. Fits like a glove, but easy to put on and get out of thanks to its standard zippers with a metal slider on the front.

This life jacket is a literal lifesaver and makes for a very thoughtful fishing gear. The ONYX jacket is made from tapered foam covered with 400-denier nylon with a breathable mesh back. It has 3 separate accessory pockets and is super lightweight and comfortable put on. The bright, bold colors are of course bonus too!

The Boonedox Landing Gear is a great way to slide or land your kayak in and out of the water. It can expand from 17 to 27 inches and weighs just 14 pounds. Being made from stainless legs, an aluminum body, stainless hardware, and solid no-flat wheels, this landing gear is made to last as well.

The Muzzy fishing arrow is great for targeting thick and tough-skinned fishes underwater. It is made from high-quality fiberglass and is nocked and drilled for cable or string attachment.

This computer watch is able to work underwater like a fish. It has a large screen with large digits and a matrix display. You also have a backlit display and with 4 interface button. What's nice is that this watch also comes with an optional USB cable.

The inflatable disc measures 54 inches in diameter and comes with a deck tube with 4 deluxe hands and a portable 12-volt pump.Made using quality materials and tested to standards, this inflatable features triple reinforced tow harness and rain vents and boarding straps. Definitely is going to become the life of the party!

If you want a life vest suitable for fishing, recreational paddling or touring, then this is it. It has a front center zip entry and is great for high seat backs. Thanks to its ESCAPE AIRFLOW SYSTEM, the vest stay cooler and more ventilated as opposed to creating a humid, sweaty mess inside.

This dry bag is great for carrying wet, soggy clothes. It has a nice and adjustable shoulder strap and a click buckle closure. You have several sizes and colors to choose from too! The bag also comes with a waterproof phones casing to protect your Smartphone!

The suction mount for the HawkEye ACC-FF-1567 Fish Finder is hands down the most convenient to mount this finder. With the help of this mount, you can slap your device onto any cone or kayak or even boat.

The Livetarget Hollow Body Frog is one of the very few very lifelike baits we have today. This frog bait is so realistic that it could even fool you. But underneath its flexible body lies super sharp hooks that are sure to bring your catch to you!

This multifunctional scuba knife comes with 2 sheaths, a sewing edge, and 2 pairs of leg strap. Made from 420C stainless steel and 4-inches in length, this knife is great for underwater hunting, defense, sports, and survival.

The Spearit fishing line is made from genuine DuPont Kevlar. It is braided and has a 3mm diameter which is specifically for spear gun shooting. But it can also be used for bearing bag, hoisting line, tent stays, snares, gear repairs, etc.

These TMS J-bar carriers are made from steel and have foam padding to carry your kayak and canoes securely behind your car. They make it easy to load and unload and is itself very easy to install onto the back of your automobile. With these bars by your side, you can carry kayaks that are 36 inches wide and 75 lbs.

And finally, you have this amazing tackle box to store and carry all your lures and baits. It has a 3-tier construction with 22 to 34 compartments. The box itself is pretty compact and lightweight, and the handle makes it even easier to carry and travel with.