You can find quality spinning reels at various price ranges and it depends on your budget. It's pretty much safe to say that the most popular selling spinning reels are the ones that cost less than a hundred dollars. This is a great offer for people who barely have enough time to go sweet spot, except for the weekends.
At this price range, however, you also need to keep your guard up as the market is full of ones that disguise themselves as the good ones. Still, you don't have to put on too much effort because we've got your back with our experience in spinning reels.
On your behalf, we've done some research and picked out the 7 best spinning reels under $100 we think are. So, if we're successful in attracting your attention, which we confidently think we are, keep on reading and pick one that will suit your fishing rod the best.
See More:
Our Top Picks for Best Spinning Reel Under 100
Penn battle 2 1000
Daiwa Bg Spinning Reel
SHIMANO Sedona Fi Spinning Reel
Abu Garcia Revo X Spinning Reel
Pflueger President Spinning Reel
Okuma Ceymar Spinning Reel
KastKing Sharky III Fishing Reel
Best Spinning Reel Under 100 Reviews!
Preview
1st Choice
2nd Choice
3rd Choice
1st Choice
Preview
2nd Choice
Preview
3rd Choice
Preview
1. Penn battle 2 1000
If you're searching for a saltwater spinning reel on which you can rely on a daily basis, then you can expect the Penn Battle II not to disappoint you. Most people who bought it think it's built like a tank. It's perfect for all sorts of fishing, including freshwater, surf fishing, saltwater fishing, and more. No wonder why it's highly recommended.
This reel features a full metal body for better protection 4+1 shielded stainless steel ball bearings. Gear ratio ranging from 5.3:1-6.2:1 and also the retrieval process is more efficient and faster. Though these parts make the fishing reel a little bit heavy, it's because of them the reel doesn't flex under the pressure of humongous fish and is capable of bearing heavy use.
Penn Battle II comes with an HT 100 carbon fiber drag system. This drag system makes use of keyed carbon fiber drag washers instead of the traditional felt washer. By utilizing keyed carbon washers, lengthens the reel's lifespan and provides a smooth drag when under load from a retreating fish.
It incorporates an instant anti-reverse bearing that can eliminate the back play on the rotor as soon as you set the hook. It accomplishes it by using a one-way bearing, which you'll find in the reel's design.
It contains line capacity rings on the spool. Therefore, you'll always have an idea of how many lines you'll have remaining on the spool. The spool includes a rubber inlay so that you can load the spool directly with the braided fishing line and skip having to back it with a monofilament line. Also, you can use this unit with an ugly stick rod, as well as power pro braid lines.
Pros
5 stainless steel ball bearings.
The instant anti-reverse bearing.
Heavy-duty aluminum bail wire.
Super smooth performance.
Well made and constructed.
A bang for your buck.
Feels solid.
Cons
Heavy.
Doesn't come fully sealed
2. Daiwa Bg Spinning Reel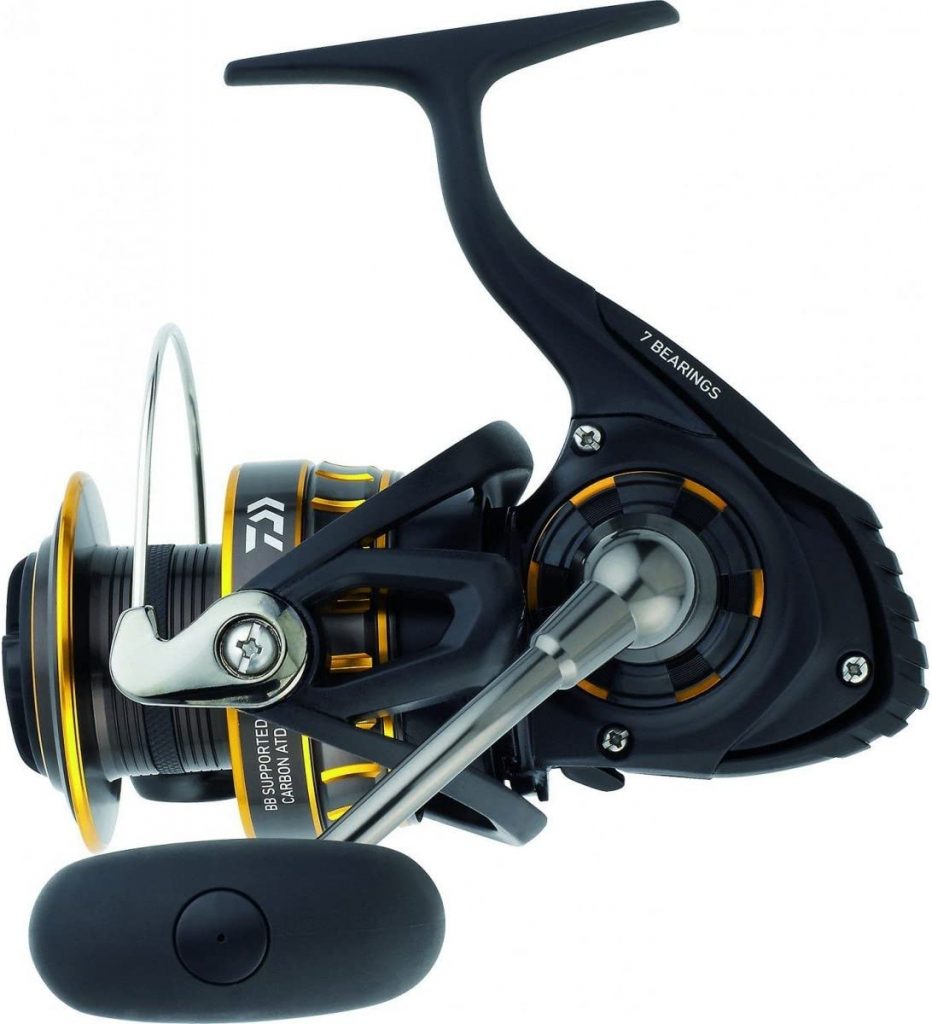 When it comes to superior durability and extreme ease of usability, the Daiwa Bg, hats off, is the best. This is indeed an amazing budget option for the money.
This reel is made from an aluminum frame. You'll find it available in 8 different sizes to choose from. The power and torque of this fishing reel are very impressive.
It comprises an aluminum body and side plate. As a result, it's perfectly capable of resisting damages that extreme water conditions are responsible for causing and underwater. Though it only allows you to use a braided line with it, it has a wide range of line capacities.
Apart from these parts, it comes with a Digital gear design. It has a waterproof Drag System Carbon ATD, which enhances its overall durability. Therefore, you can use it for both freshwater and saltwater.
Like the body and the frame, the spool of this unit is also constructed from aluminum. It can provide you with enough room so that you can fish multiple types of fish.
It comes with Twistbuster II and Air Rotor feature. These two features are the reason why you'll be amazed at its power when you use it first. It incorporates a drive gear. Thanks to its incorporation, you'll get a super smooth and long-time performance out of this reel.
Moreover, it features seven ball bearings and a bail wire that is purely made from stainless steel. The ball bearings can easily resist rust. Overall, the Daiwa Bg has proven that it offers excellent performance at a great value.
Pros
Smooth and high-end performance.
Infinite Anti-Reverse System.
Lightweight aluminum body.
Aluminum ABS Spool.
High line capacity.
Carbon ATD.
Well built.
Cons
Ball wiring requires repeated lubrication
Complicated for beginners
3. SHIMANO Sedona Fi Spinning Reel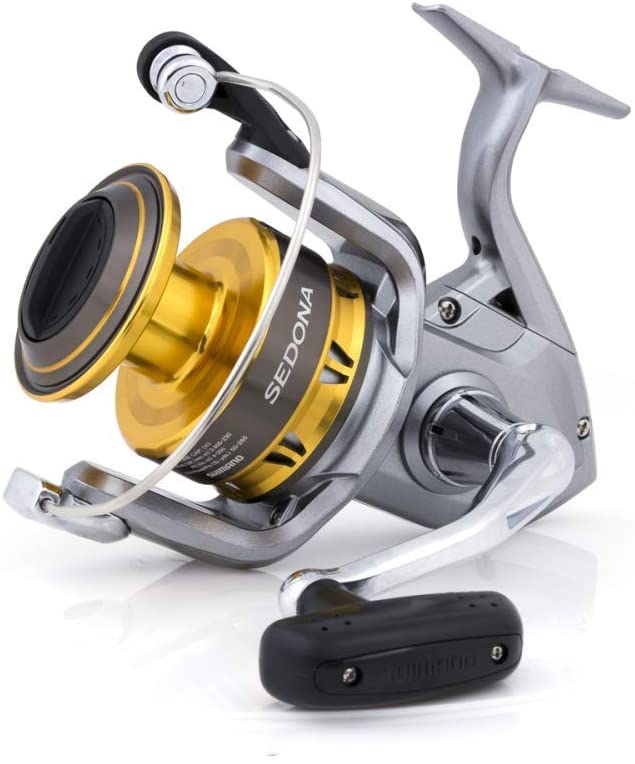 If you're looking for a spinning reel that can last long, particularly for catching small fish, then you should definitely buy the SHIMANO Sedona Fi Freshwater Spinning Fishing Reel, at least qualifying purchases. It provides a great experience with its advanced features.
As we've stated first, this reel comes with HAGANE gearing. This kind of gearing can provide long-lasting, strong, and durable performance, along with smoothness. No wonder why most people say this is a smooth reel and undoubtedly a great fishing reel for the money.
Apart from being equipped with HAGANE gears, it's also equipped with an oval oscillation gear. This gear adjusts the speed of the oscillation cam for providing stable spool speed and an even line lay. By providing these benefits, the gear extends the manageability and castability.
Thanks to its superb smoothness, you'll have necessary for fishing in both inshore and offshore water. The body of this product is lightweight, as well as compact. Therefore, you'll be able to use the gear for a long time without feeling exhausted.
It features double anodized machine cut spools; these spools are capable of increasing the line Rating & Capacity while they're helping the body maintain its compactness.
It comes with a Propulsion Line Management System that allows flowing off the spool gently. It's because of this system you'll get longer smooth casting distances from the well, as well as the ability to prevent backlashes and the formation of wind knots. Overall, it's a quality spinning reel.
Pros                                                       
The G-free body allows excellent comfort.
propulsion line management system.
Lightweight spinning reel.
Compact fishing gear system.
Sensitive drag.
Easy to use.
Cons
Often has retrieval concerns.
Doesn't include a reverse switch.
4. Abu Garcia Revo X Spinning Reel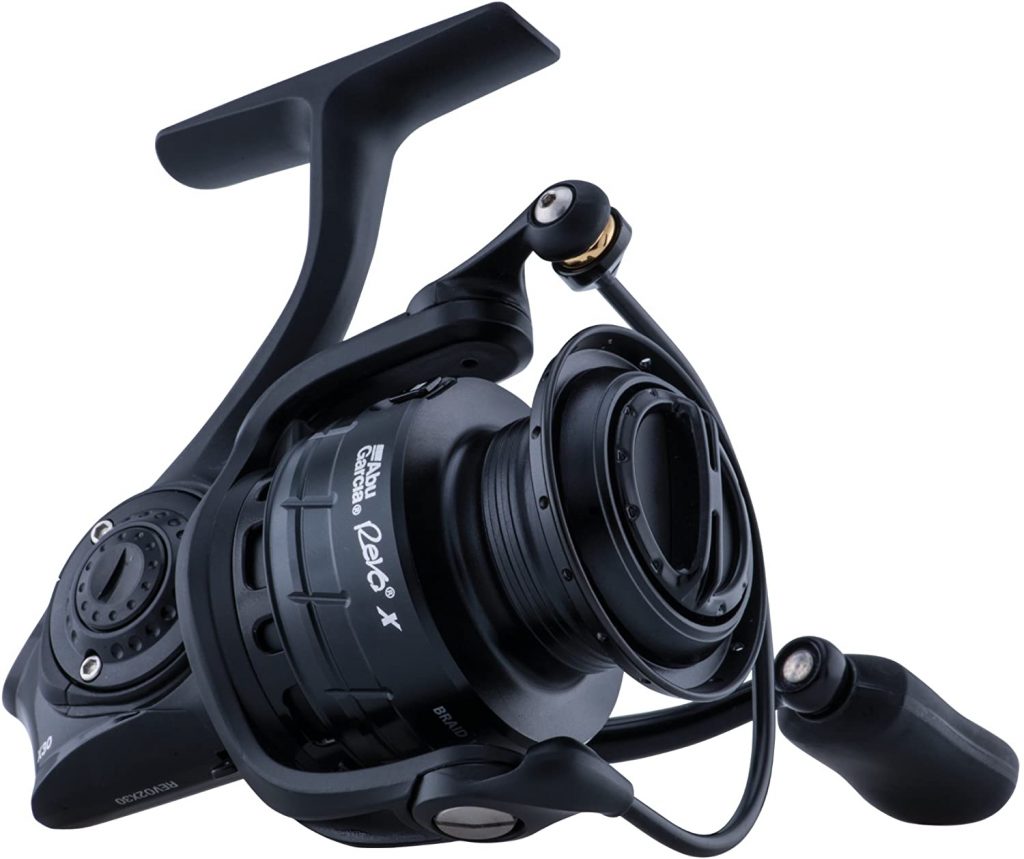 The Abu Garcia Revo X is surely a great reel you can get under a $100 budget. It's quite easy to use and will provide you with smooth casting distance, along with precise control when you're combating big fish.
This reel is durable and contains all of the magnificent features expensive reels have. It comes with Rocket Line Management System, stainless steel bearings, and the hollow Everlast bail. All of them can effectively resist corrosion and the damages it causes.
It can give a smooth and reliable drag performance, thanks to the carbon matrix hybrid drag system it's equipped with. Apart from this system, it also incorporates a rocket line management system. This system will let you have better control over all sorts of fishing lines.
The body of this reel follows an Im-c6 design. This design consists of a combination of an X-crafty gearbox design with a C6 carbon body. Therefore, it gives a lightweight construction, which, as result, allows the reel to house gears in the perfect alignment.
Moreover, with the Revo X, you can quickly make casting evaluations as it comes with a quite basic magnetic system which you can adjust with the dial the reel has on its non-handle side plate. Overall, it's one of the most amazing reels for bass fishing.
Pros
Rocket line management system.
Great cranking power.
High performance.
Sleek looks.
Ergonomic.
Cons
Grips become slippery when wet
Sticks mid-crank under tension
5. Pflueger President Spinning Fishing Reel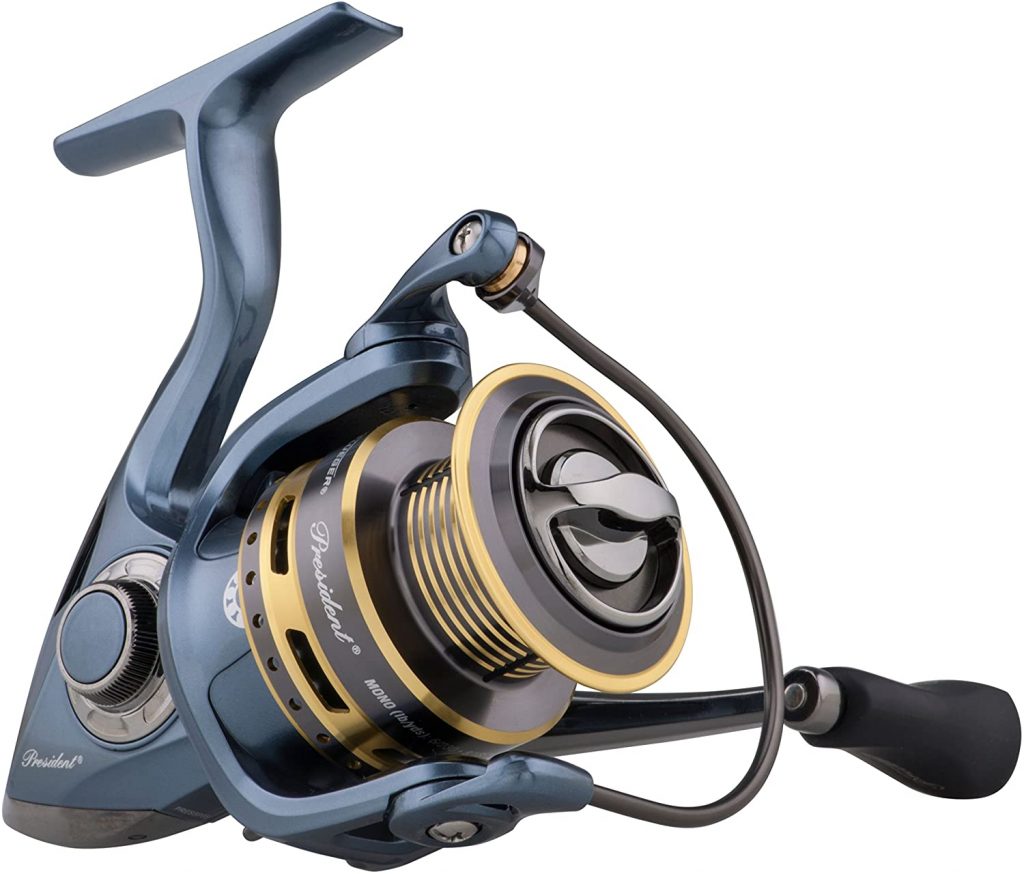 The Pflueger President is another excellent lightweight spinning reel one can afford for spinning reels under 100. This reel is available in different sizes. Therefore, you'll countless size options to choose from in order to meet your requirements.
This reel comes entirely covered in a graphite frame, as well as a lightweight and durable aluminum spool. Braid ready spool of the Pflueger President allows braid line to be tied directly to the spool. The spool contains 10 ball bearings. All of them are made of stainless steel and can easily resist corrosion. The spool is equipped with braided lines. You can tie them directly to the spool.
Apart from the ball bearings, you'll also find an independent roller bearing. With it, you can run the reel super smoothly. Pflueger President spinning reel comes with aluminum construction and a side-plated handle, which is why it's the perfect selection for both freshwater and saltwater fish.
It has a 5:2:1 gear ratio, which makes it strongly recommended for inshore saltwater fishing, and performs super fast. It includes a multi-task drag system. This system can easily provide a powerful drag without sacrificing its smoothness.
Moreover, it incorporates a sure-click bail design so that you'll always stay ready when casting while the liner roller is spreading uniformly on the spool. It even incorporates an anti-reverse bail wire with hook sets. Furthermore, it can be paired up with ugly stick fishing rods.
Overall, though it has its own drawbacks, the Pflueger President spinning is an ideal choice for both beginners and experienced, skillful fishermen.
Pros
Corrosion-resistant stainless steel ball bearings.
High-performing and long-lasting gear.
HT 100 carbon fiber drag
Magnetic brake system.
Affordable price range.
Braid ready spool.
Cons
Bearings don't last long
Unbearable line twists
6. Okuma Ceymar Spinning Reel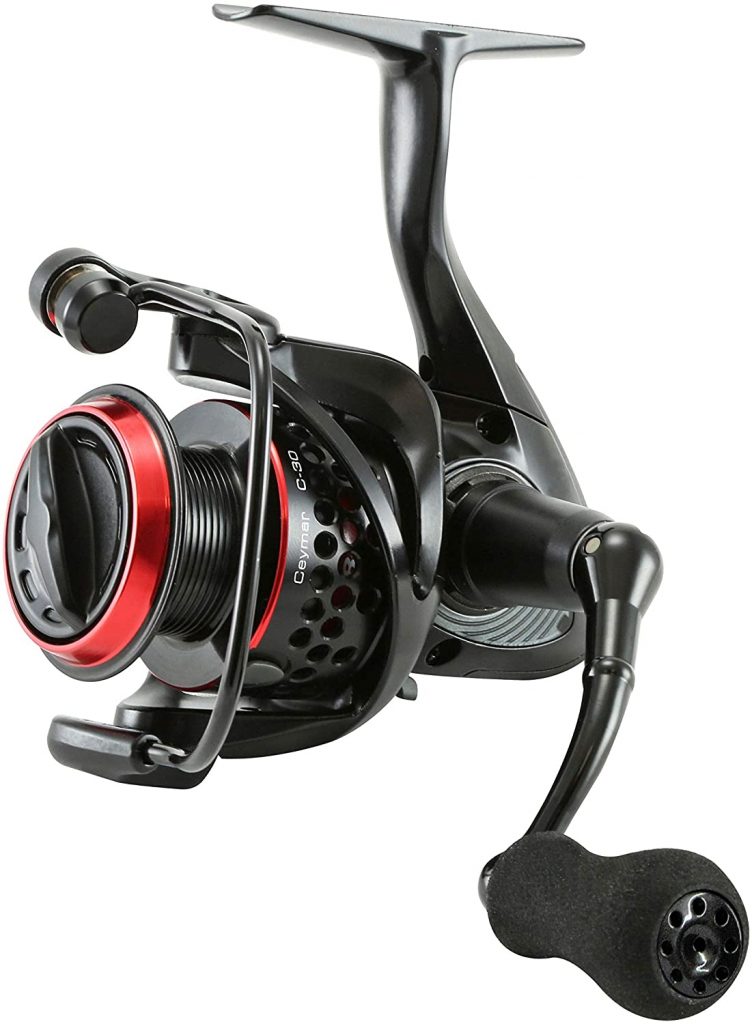 The Okuma Ceymar spinning reel is a powerful, lightweight little reel that is designed to use in diversified saltwater and freshwater fishing. It's an excellent spinning reel under 100.
The build quality of this reel is outstanding. It features a compact body that is sleek in terms of design. The entire body is constructed from corrosion-resistant materials. The spinning reels carrying approximately 3-4 size markers. Available in multiple weight options, you can choose one as per your requirements. Hence, you'll be able to use them in all sorts of weather conditions and fishing types, including ice fishing.
It incorporates a multi-disk drag system. Thanks to this system, you won't face any problems maximizing the drag strength over a smaller surface area. C-65 size includes a 7BB + 1RB bearing system and a gear ratio of 5.0:1. It can quickly engage the drag power to fight the game fish and stop the reel from turning backward.
The spool is made from machined aluminum. So, it's safe to say that it's durable and can easily hold and handle not only monofilament but also braided fishing lines.
It includes an ergonomic grip handle. This reel handle will let you have better control over and increase cranking power during fights you'll normally have with larger fish. It even utilizes a heavy-duty solid aluminum bail wire, as well as an oversized line roller.
Moreover, it's equipped with a smart Okuma RESII computer system, which gives the reel the ability to spin at higher speeds without bouncing or wobbling the rod. No wonder why most people think it's one of the best spinning reels under 100.
Pros
Machine cut brass pinion gear.
Can be teamed up with an ugly stick
Corrosion-resistant Blade Design.
Machined aluminum spool.
EVA handles knobs.
Sufficient drag power.
Comfortable to use.
Compact size.
Cons
7. KastKing Sharky III Fishing Reel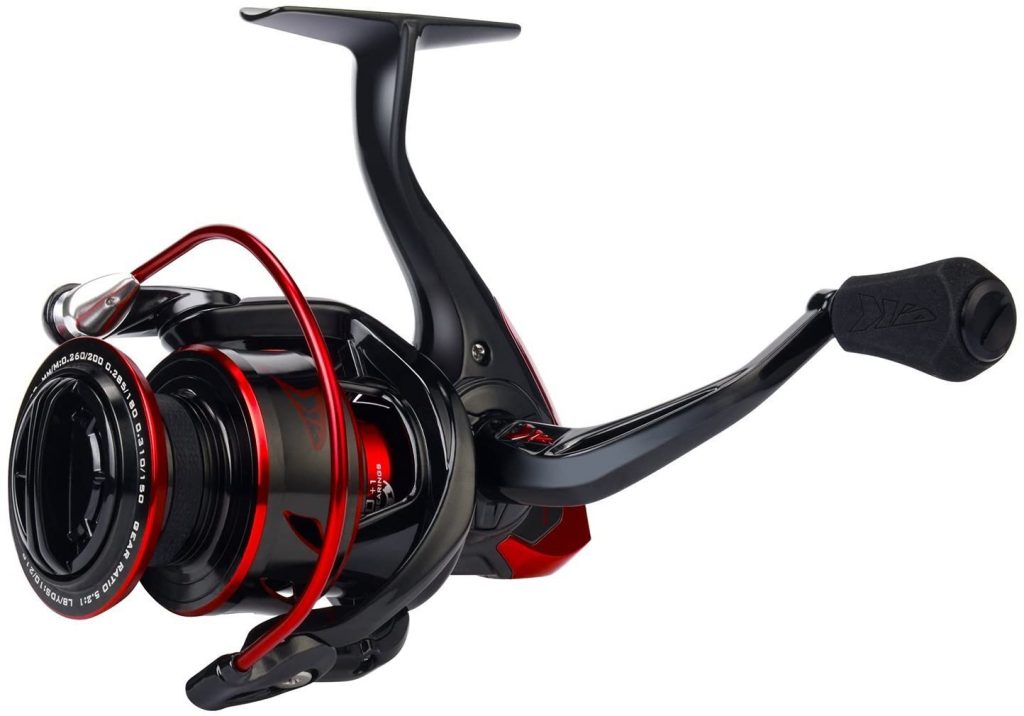 The KastKing Sharky III has earned quite a reputation for providing high-quality features and performances. Honestly speaking, it's a bang for your buck.
This reel is toughly built with a high percentage fiber-reinforced graphite body and rotor. Hence, it feels lightweight and can be used to land all sorts of fish in all fishing conditions, from freshwater to surf fishing.
It comes sealed with a unique protection water-resistant design called KastKing Intrusion Shield System aka K.I.S.S. This system helps keep water and dirt away from the reel's spool, body design, and rotor, therefore enhancing its overall longevity.
It features 10 ball bearings. They're double shielded and made of high-quality stainless steel. They generally contribute to the reel's great performance, so that you having an effortless fishing experience don't get interrupted by any chance.
It includes an anti-twist line roller. This roller can eradicate the risks and chances of line tangles and snarls.
With this unit, you're confirmed to have full control of it, even in the wettest conditions. It's because of the EVA grips it incorporates. These grips are sure to give a fishing experience without any slips.
Moreover, it's equipped with the shark fin braid-ready aluminum spool, which is capable of offering you an easy, hassle-free retrieval of the line. It's indeed the best top spinning reels for every angler.
Pros
Exquisite Braid Ready Spool.
Available in multiple sizes.
Triple disc carbon drag system.
Graphite material.
Well built.
Cons
Line retrieval isn't smooth
Despite having numerous sizes, they're small
---
Best Spinning Reel under 100 Comparison Table
| Title | Gear Ratio | Ball Bearings | Max drag | Weight |
| --- | --- | --- | --- | --- |
| Penn Battle 2 | 6.2:1 | 5+1 | 12 lb | 9.7 oz |
| Daiwa BG | 5.6:1 | 6+1 | 15.4 lb | 8.5 oz |
| SHIMANO Sedona Fi | 5.0:1 | 3+1 | 7 lb | 7.6 oz |
| Abu Garcia Revo X | 6.2:1 | 6+1 | 10 lb | 7.50 oz |
| Pflueger President | 5.2:1 | 6+1 | 6 lb | 6.20 oz |
| Okuma Ceymar | 5.0:1 | 7+1 | 3 lb | 6 oz |
| KastKing Sharky III | 5.2:1 | 10+1 | 33 lb | 7.4 oz |
Best Saltwater Spinning Reel under 100
We believe the Shimano NASCI Spinning Reel to be the best saltwater spinning reel under 100. There are many plausible reasons why it seems the best to us. Among all of these reasons, Shimano's Coreprotect water-resistant technology is the most plausible reason.
This is a special coating that you'll find in all key areas of the reel. It helps the reel resist corrosion.  Features like Hagane cold-forged gearing and X-Ship technology are also some reasons why it's the best one under 100.
Overall, it's a great reel capable of targeting everything; from small trout to medium-sized snook and reds.
Shimano Nasci 1000 FB model 2017 spinning fishing reel...
Shimano Nasci FB Model 2017, weight: 7.60 ounce
Gear Ratio: 5.0:1, max drag force: 7 lbs
Line Capacity lb/yds: 2/270, 4/140, 6/110
Line Retrieve per crank: 26 inch / 66 centimeter
Bearings: 4 shielded stainless steel and 1 roller bearing
Best Bass Spinning Reel under 100
The Pflueger Supreme XT Spinning Reel is considered the best bass spinning reel under 100. That's because it comes packed with many outstanding features. It features a rotor design, as well as a magnesium body.
It comes double anodized with a machine-ported aluminum spool so that you can decrease the reel weight without reducing its durability.
Also, it incorporates another great feature in the form of an oversized anti-bail wire. It'll go easy on both your hands. Overall, for bass fishing, it's almost unbelievable that this reel can offer these outstanding features at such an affordable price.
Sale
Pflueger SUPXTSP40X Supreme XT Spinning Reel
10 bearing System - Corrosion resistant stainless steel ball Bearings
Magnesium body and rotor - feather light design
Braid ready spool - allows Braid to be tied directly to spool
Sealed carbon drag - Sealed System, always lubricated, always smooth
Carbon handle - 21 percent lighter than aluminum
Why Penn Battle II is our Top Pick
The Penn Battle II reel is one of the best fishing reels you'll get under $100. It's built to fish anything from trout to Barracudas. It's available in a range of reel sizes from l000 to 8000.
This reel is capable of providing a spectacular performance in exchange for a few bucks. It has workmanlike build quality along with soft knobs. These knobs allow easy reel handle with maximum comfort. Moreover, it's equipped with an anti-reverse feature.
As we've mentioned before, you'll get all of the benefits of this reel just by spending a few amounts of money. Overall, its superb affordability and great performance are the reasons why the Penn Battle II is our top pick.
How to chose the Best spinning Reel Under 100
Body construction
Every feature of a reel is either located inside or outside its body. So, you must make sure that the reel you're about to purchase feels and looks sturdy. Otherwise, the mechanisms inside the reel will become ineffective after a few months' use.
The reel you're going to buy shouldn't be too heavy or too light. Heavy reels are quite difficult to handle. This is true for beginners and children. On the other hand, reels that are way too light aren't capable enough to tackle heavy loads, as they don't have much power to do that.
When looking for a reel, search for ones that have little holes in them. These holes give the reel a bit of lightness without making it too weak or fragile.
Another important trait you should look for in a reel's body is if it can resist corrosion. In this case, waterproof fishing reels are the best option. You can take them out for saltwater fishing without worrying about them getting damaged underwater. To save on some cost, the drag stacks are usually not sealed on the cheaper reels.
Quality
Reels are usually constructed from aluminum or lightweight graphite housing. They're sometimes even constructed from a mixture of both these materials.
Since spinning reels are notorious for having more parts, you must confirm that the reel you're spending your valuable money on doesn't have any loose parts and is designed in a sturdy and durable manner.
Reels equipped with good quality housing and parts can serve you for a long time, as they're amazingly capable of withstanding all sorts of harsh weather conditions.
Line capacity
When it's about the line, there are 3 things you can't help remembering; the line capacity, the type of fishing you're interested in, and what the rod can handle. If you buy a spinning reel remembering these 3 important things, you'll undoubtedly have no problem handling even the lowest weight to the heaviest lines.
Spool
The spool is another thing you should look out for when shopping for a spinning reel under a hundred-dollar budget.
Most people prefer aluminum spools because of their excellent durability, but they aren't as light as graphite reels. So, if you're looking for something that is indeed durable yet lightweight, these aren't the ones you should be looking for, let alone buying in the first place.
Another thing you must do when checking out the spool is using the recommended lining size with it. By using it with the spool, you'll be able to stop yourself from buying ones that can cause tangles and problems in casting.
Moreover, if you buy a reel that comes with a spool designed for light lines, then you won't be able to use heavy fishing lines on it, they'll cause a lot of stiffness.
Anti-reverse action
If you're a beginner who intends to catch smaller fish without putting up to a huge dragging fight, then it's important that you look for this feature when buying a spinning reel.
The anti-reverse action will make sure that the reel isn't turning back during a catch; therefore letting you reclaim a fish without struggling too much. However, as important as the inclusion of this feature is, it's also important that you can stop its functioning with an anti-reverse switch.
An anti-reverse switch is capable of activating or stopping this feature in accordance with the kind of fish you're going to catch. How easily and quickly you can turn this switch on and off depends on the place of the reel it's located on.
Best Spinning Reel Under 100 FAQs
Q) What is the best spinning reel under 100?
Ans: The Shimano Sienna FE is really good real for under $100 price point. This reel offers top quality and modern features, only at the cost of $50. So, if you're looking for one for inshore and freshwater spinning reels, in terms of quality and price, this is the one you should be looking for.
Sienna FE
Features. M-Compact body brings the oscillation gear closer to the rod for added balance. Propulsion Line Management System features an updated propulsion spool lip design to lengthen casting...
Dyna-Balance technology counterbalances the rotor to eliminate retrieve vibration and increase smoothness/sensitivity . Anti-reverse Sure Stopper II design utilizes a one-way roller bearing to...
1-year limited manufacturer's warranty. Made in Malaysia. Line Retrieve Per Crank: 24".
Monofilament Line Capacity: 2/270; 4/140; 6/110. PowerPro Line Capacity: 10/95; 15/85; 20/65. Max Drag: 9 lbs.
Gear Ratio: 5.0:1. Weight: 7.4 oz. Line Retrieve Per Crank: 28".
Q) What is the best spinning reel for the money?
Ans: The Candace CS8 is the best spinning reel for the money. It features a frame made from magnesium so that it can offer great durability. It comes with 10 bearings in order to ensure ultra-smooth operation. As a result, you'll have a better time fishing. You'll be able to get all of these benefits just by paying a few bucks.
Q) What does the size number mean?
Ans: The size number on spinning reels usually refers to how small or large the reel is. It also refers to the characteristics the spinning reel possesses. For example, suppose a spinning reel's size number is 1000. It means that that spinning reel is small, lightweight, perfect for catching small species that weigh up to 15 pounds, and works best with 2-10lb or 1-14lb.
Q) Are more ball bearings in a reel better?
Ans: Yes, if a reel has more ball bearings, then it's indeed better. It's because the smooth performance of a reel highly depends on the number of reels it features. The higher the number of ball bearings is, the smoother the performance will be.
Q) What is a drag on spinning reels?
Ans: A drag on a spinning reel refers to the tension or resistance you'll get from the reel when you pull off the line of it. You can test a reel's drag by yanking on the line once you passed it under the bail and through the roller. You can also adjust with the knob you'll find on top of the spool.
Q) What size should be used for bass fishing?
Ans: You should use 1000 sizes for bass fishing. This reel size doesn't only work well for bass, but also for fishing walleye and medium-size trout fishes. However, you should use this size with lines that weigh 4-8 pounds.
Q) What lb braid should I use?
Ans: You should use a 10 to 30 lb braid on a spinning reel. It's because spinning reels are mostly used for lighter baits and more finesses presentations. With braids that weigh 10 to 30 lb, you won't lose castability, as well as risk wind knots.
Q) What lures are best for spinning reels?
Ans: The selection of lures hugely depends on their size, weights, and the weight of the fishing line. If your reel is making use of a heavy line, heavy lures are the best to use. On the other hand, light lures are the best for spinning reels with light lines.
Final Thoughts
All of the 7 spinning reels we've reviewed in this article are surely both high-quality and budget-friendly. Among these fishing reels we've mentioned above, we hope that at least one of them is able to pique your interest and suit your fishing needs successfully.
Also, for your convenience, we've even taken the liberty of writing thorough, comprehensive buying, maintenance tips, and some frequent questions related to spinning reels.
So, we're also anticipating that the extra parts we've added in this article can help you with the uncertainties you're having about your reel, regardless of which one you've spent your money on.
Read More: