If you are looking for a Baitcasting Reel, be sure to read our complete in-depth buyer's guide where we review the top-rated models available with Pros & Cons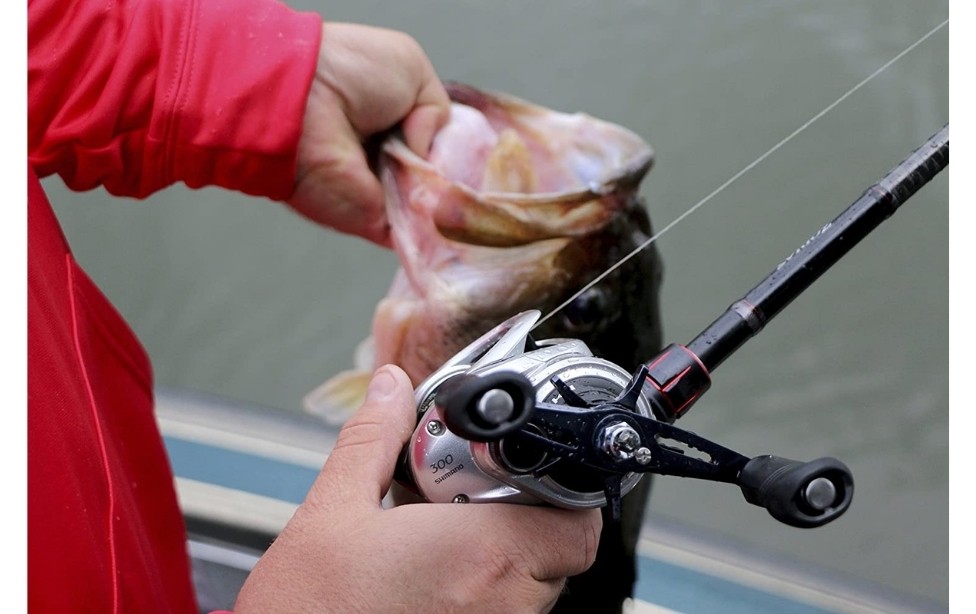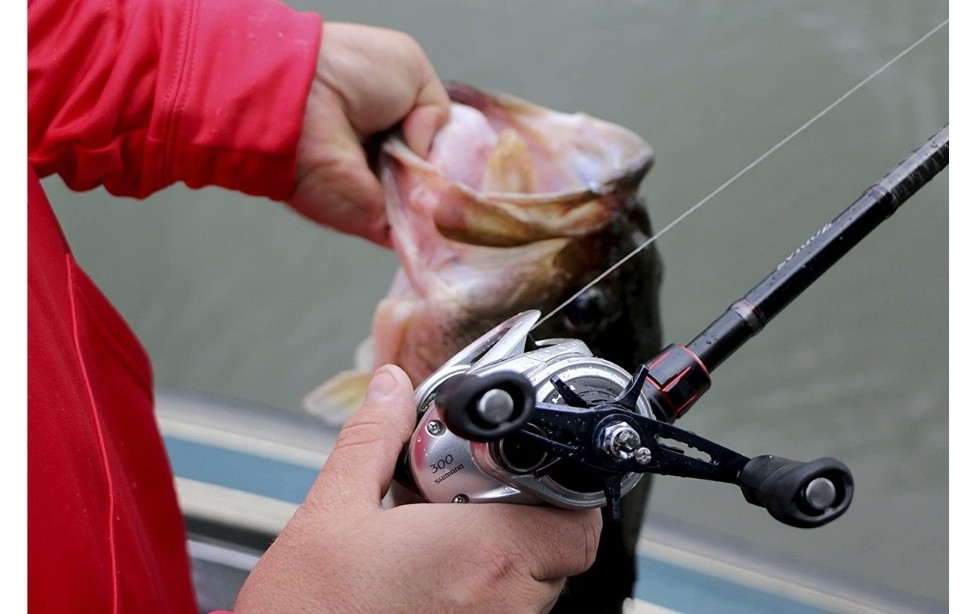 Being an angler, your mind surely triggers you to get up and go fishing. But if you wish to catch the fussiest and aggressive one, you will need a baitcaster that will do the job for you.
And if you have no idea which one is ruling in the marking, then here we present the 10 best baitcasting reel that is modern as well as stylish.
These reels will not only enable you to fish with your favorite techniques but also will give you the kind of fishing experience that you wish for!
Read More:
Best Baitcasting Reels We Will Cover Today
1.Best Chioce-Shimano CURADO DC
2.Best left Handed-Daiwa Tatula 100 
3.Best Right Handed-Abu Garcia Revo SX
4.Best Overall-KastKing Royale Legend 
5.Best Durable-Lew's Tournament MP
6.Best Lightweight-Pflueger President XT 
7.Premium-TRANX 300-400
8.Best Round Baitcast-Abu Garcia Ambassadeur C4
Top 10 Baitcasting Reel Reviews!
1.Shimano CURADO DC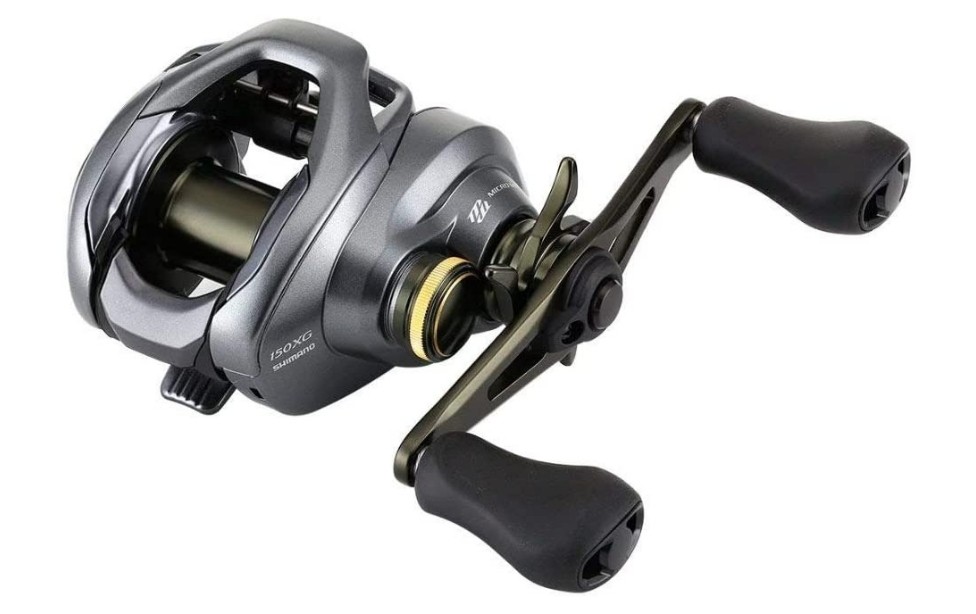 This Low Profile Baitcasting Freshwater Fishing Reel has been boasted to be the most advanced of all. The reel is CURADO DC by Shimano.
Coming with its Digital control braking system, the CURADO DC offers versatility, durability, and dependability. Although many pro anglers said that they experienced a lot of backlashes so you might find the braking system a little disappointing.
Speaking of the positive, you will get to enjoy less thumbing and easy casting regardless of the weight of baits and weather conditions. Shimano Curado casting reels will give you four adjustments that you will get on the side plate so you can adjust the brakes and let the reel do the job.
Coming with a gear ratio of 8.5:1, you will find it ideal for catching jigs, worms, or crankbaits. It also lets the reel deliver a quick cast so you can enjoy fishing the way you want.
CURADO DC baitcast reel delivers a drag of 11 pounds while giving you stopping power to prove the performance of its drag system.
To speak of the bearings, the Corado DC l will have a total of 7 bearings that make it perform smoothly. And as for the quality, its hagane construction makes the product bulletproof and strong.
Features & More
Ease to use.
CI4+ is a lightweight technology.
HAGANE Body and Micro Module Gear.
Line capacity : BRAID 20/150; 30/135; 40/105 – Mono : 10/120; 12/110; 14/90
Max Drag:11 lbs, Ball Bearings:6+1
2.Daiwa Tatula 100 TWS Baitcasting Reel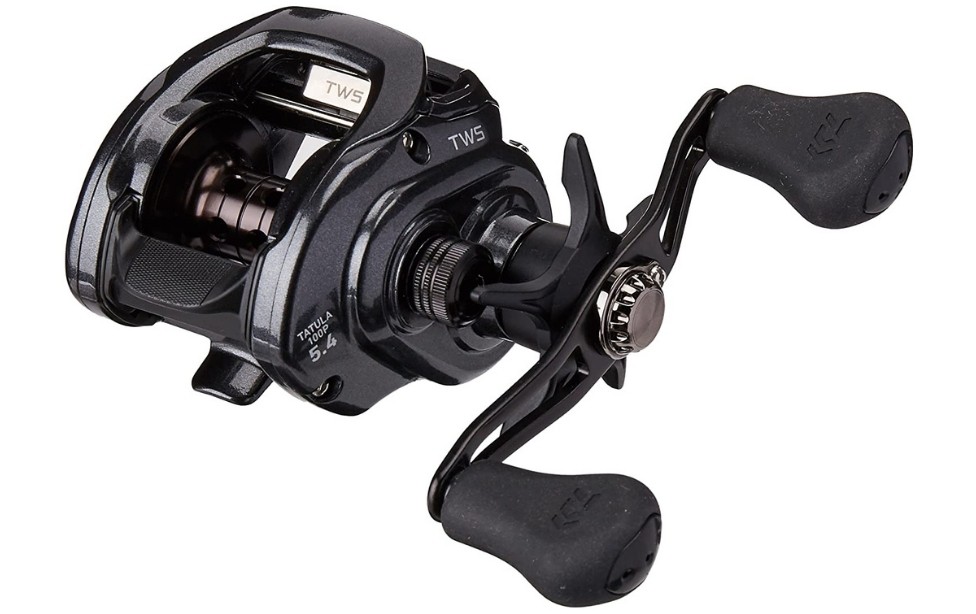 The majority of the pro anglers' favorite, the Tatula baitcasting reels by Daiwa can shine both in quality and performance.
If you want to use Daiwa Tatula abusively, this one makes a great choice since it has been fashioned with a high-grade aluminum frame and side plate to make it solid and durable. And with just 7.6 ounces, we would call it a very light option to hold.
With this Daiwa Tatula, you can cast more yards while using a variety of bait that can lure and fit the most aggressive and picky fish into the reel. Coming in a compact size, you can catch a number of species effortlessly.
It comes with ultimate tournament drag made up of carbon that makes the reel deliver 13.2lbs of drag at maximum so you can pull in the biggest game while enjoying a great cranking power.
The 90mm swept handle gives you an optimal retrieve ratio for versatile use and rotating all day while the new I shape knob serves the same purpose.
To add more, Daiwa Tatula features 8 bearings in total to give you a smooth casting sensation. Since the bearings are not corrosion-resistant, so they might not deliver lifelong performance.
Speaking of the gear, the Tatula comes with a 6.3:1 gear ratio so it can offer you a moderate speed of fishing with easy to adjust gear pressure. Besides, the gear ratio also lets you lure heavy spinnerbaits or deep crankbaits effortlessly.
Speaking of avoiding backlash, you should also give credit to Magforce-Z that gives the same benefit while ensuring easy cast control and adjustment.
Features & More
T-Wing System.
Easy to use.
Corrosion-resistant clutch mechanism
lightweight aluminum frame
Line capacity :MONO: 14/120, 16/100,BRAID: 40/140, 55/105
Max Drag:13.2 lbs, Ball Bearings:7+1.
3. Abu Garcia Revo SX Low Profile Fishing Reel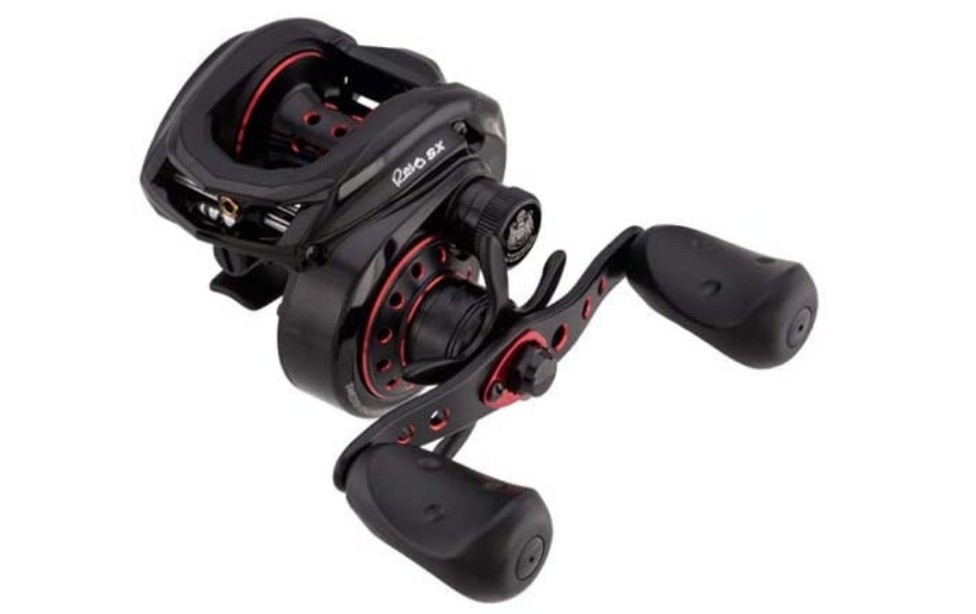 When all the heavy problems surround you, then you will need nothing but the lightest and the best baitcasting reel from Abu Garcia.
While its frame with 9 stainless steel ball bearings + 1 roller bearing has been made with X2-Craftic alloy, the brand has used C6 Carbon for the side plate. So, altogether, the materials shave a lot of weights off so you can have a light, sleek, and durable baitcaster reel. Not just that, you will also find the reel fighting corrosion, thanks to alloy again for the huge advantage.
To add more, Abu Garcia Revo SX features D2 Gear Design that has been paired with a brass gear ratio to provide you with an efficient and durable gear system. You will also love the titanium line guide that helps a lot in cutting friction on the cast to deliver smooth operation.
There is a machined aluminum spool that is engineered such that it can handle heavy loads and lines.
When Abu Garcia Revo SX low profile baitcasting comes to its drag system, the reel offers a carbon matrix that gives you a kind of power to drag the biggest and the most stubborn fish smoothly to a halt. To add more, you will also love the smooth drag pressure provided by drag washers while helping eliminate line jerks.
You will also have their MagTrax Brake System that has been designed to control backlash while applying consistent pressure across the cast. As a result, it helps boost both accuracy and cast range so you can move the brake near to spool with ease using a knob.
Moreover, the reel has Abu Garcia Revo SX which can dial in ideally so you can fish crankbaits, spinnerbaits, or topwater lures with a more controlled grip.
However, some of the users complained that the screws of the baitcasting reel came out loose in the middle of an operation that caused a little inconvenience. Some of the left-handed users also did not feel easy to use the reel properly.
Features & More
Instant Anti-Reverse.
The keyed Power Stack Carbon Matrix Drag
Centrifugal and magnetic brake system
Materials: Carbon, Stainless Steel.
Line capacity :MONO: 175/10 145/12 100/15,BRAID: 190/20 140/30 100/50
Max Drag:24 lbs, Gear ratio:6.6:1, Ball Bearings:9+1
4.KastKing Royale Legend Baitcasting Reels
Let's meet this 'Legend' by KastKing that is able to take the fishing experience to a different level.
It features a 7.3:1 gear ratio which means every time you will turn the handle, the CNC machined aluminum spool will turn exactly 7.3 times. Kastking Royale Legend falls in such a gear ratio does a great job when you cast far from the spot while controlling the line quickly. Such a ratio is great for techniques like burning a buzz-bait or catching a toad.
Just like the brand says, the Kastking Royale Legend has been designed for a win even though it comes in the smallest frame. You will find it fits perfectly in the palm of your hand so you can do your fishing job comfortably for long hours.
Besides coming in a palm-sized baitcaster, the Kastking features a side plate that you will find pretty smooth. Its stainless steel kick lever will be there to make sure your cast attempt never fails.
Plus, the Kastking baitcasting comes with 11 bearings that have been double-shielded to ensure its durability. The main gear has also been designed with heat treatment while using aluminum so you can get to enjoy both durability and lightness.
To add more, it comes with brass pinion gear with a worm drive so that it offers consistent performance during fishing.
The carbon fiber drag that is expected to be ultra-smooth can deliver ultimate stopping power up to 17.6 lbs of fish. Although some of the users did not find the drag much smooth, we did not find it a big deal.
However, you will magnetic cast control system where you can utilize 10 adjustment settings with 5 magnets. With this, not only you can control backlash but also use a variety of baits in different fishing conditions.
The noise that it makes can play as a little con as per the users, but this should not stop you from enjoying the Bass fishing.
Features & More
Magnetic brake system.
Palm Perfect Compact Design.
Materials: Enhanced Graphite.
Line capacity :Monofilament line:12/130,BRAID: 50/130
Max Drag:17.64 lbs, Ball Bearings:11+1.
5.Lew's Tournament MP Speed Spool Baitcast Fishing Reel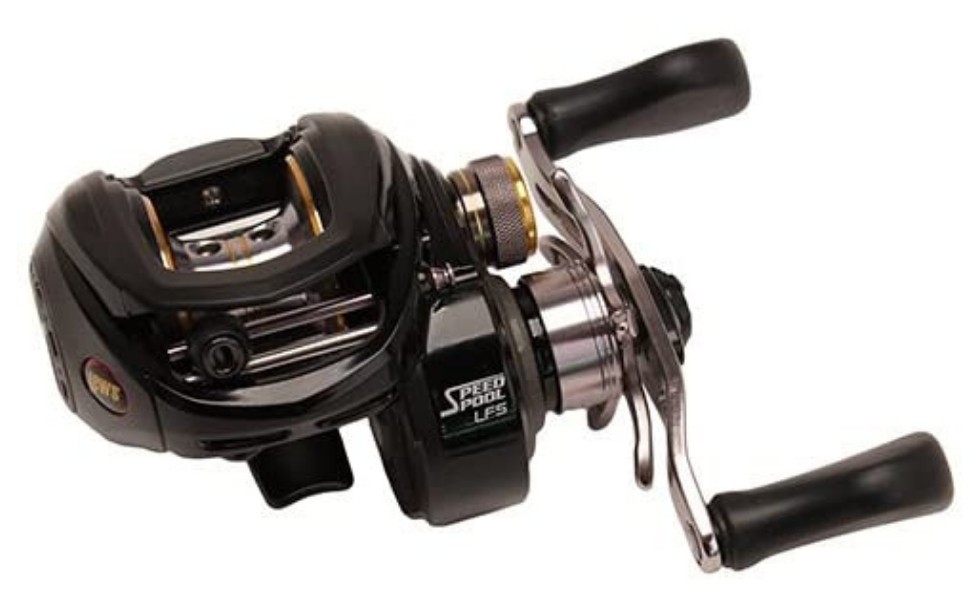 Do you want a baitcasting reel with a multi-setting brake? Then you will need nothing but this best baitcasting reel called Tournament MP by Lews.
It has been designed with a one-piece aluminum frame and graphite that made the reel both lightweight and durable.
Speaking of the best feature as it has been mentioned, the reel features a multi-setting brake. With this, the reel can use an external clock dial for adjusting both magnetic as well as the 4-pin centrifugal braking system.
You will also have U-style aluminum spools that have been designed with double anodized aluminum and that you can adjust its tension easily with just a click. To add more benefits, the speed spool seems strong enough to hold the heaviest fish effortlessly.
The reel includes a  star drag coming in solid carbon fiber that makes the reel deliver 20 pounds of drag to provide you with stopping power with zero backlashes.
The handle made up of aluminum feels amazing for all-day cranking while the knobs deliver excellent grip. Although, you might find the handle a little narrow, yet for the size of the reel, it's workable.
Moreover, its zirconia line guide has been coated with titanium that helps cut friction on the cast for ensuring smooth casting operations.
Speaking more of the gear, it has been designed with aircraft-grade Duralumin that provides shock resistance and smoothness qualities. And since it belongs to a high gear ratio, you can catch worms, jigs, rigs, crankbaits, topwater effortlessly.
Its bearing system also delivers the same purpose with 10 bearings having been made up of double-shielded stainless steel to fight corrosion and offer long-term performance.
One annoying feature the baitcasting reel comes with is that it tends to make noise when you attempt to spool. But you tolerate it for the sake of its amazing performance.
Features & More
Dual braking system.
Materials: Synthetic.
Double anodized aluminum spool
Line Capacity: 12/120.
Max Drag:14 lbs, Gear ratio:5.6:1, Ball Bearings:9+1
6.Pflueger President XT Low Profile Reel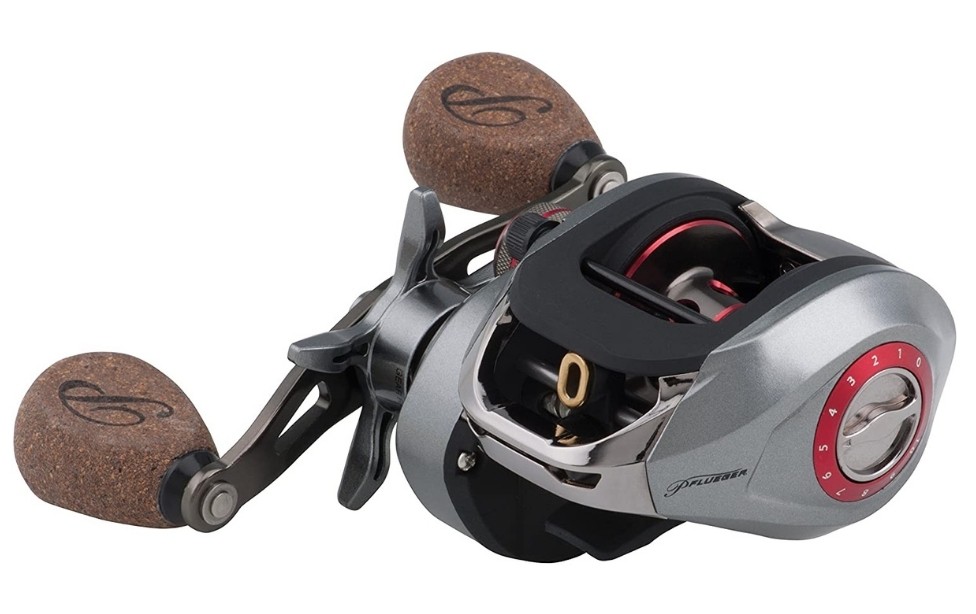 Pflueger is a kind of brand that ignores no detail during the development process of their reel. And this President XT is the proof.
Since it is stated to be a low profile baitcasting reel, you will find it compact yet light and durable. So, it will be very comfortable to hold for a long time.
The reason for its lightness could be the material. Its plate has been made with carbon steel whereas its 9 bearings have used stainless steel and high gear ratio. Speaking of the bearing system, it also fights corrosion so it can offer a lifelong performance.
President XT comes with Magnetic Braking System that works on a magnet attracting force so it can slow the spool down and avoid dreaded backlash. And it does its job amazingly.
The best part is that the reel does not make the spool overrun when it hits the water surface so casting can be done as smoothly as you wish.
The cork handles made up of aircraft-grade aluminum also feel comfortable for all-day cranking. They make gripping the reel very easy even in wet conditions with their soft-touch rubber dial.
The drag star is great for inshore and offshore fishing. It comes in plastic so it is easy to break off and you might find it cheap.
Not just that, its adjustment setting is also another weak link. According to some of the users, they felt adjusting the reel troublesome and this can annoy you too. Having said that, the reel does not have any internal pins to change the brakes so it somehow made the adjustment a little easier.
Features & More
Corrosion-resistant ball bearings.
Instant Anti-Reverse.
Great reel for the price.
Materials: Aircraft-grade aluminum.
Line capacity :MONO:145/12 125/14 100/17,BRAID: 185/20 140/30 100/50
Max Drag:12 lbs, Gear ratio: 7.3:1, Ball Bearings:9+1
7.TRANX 300-400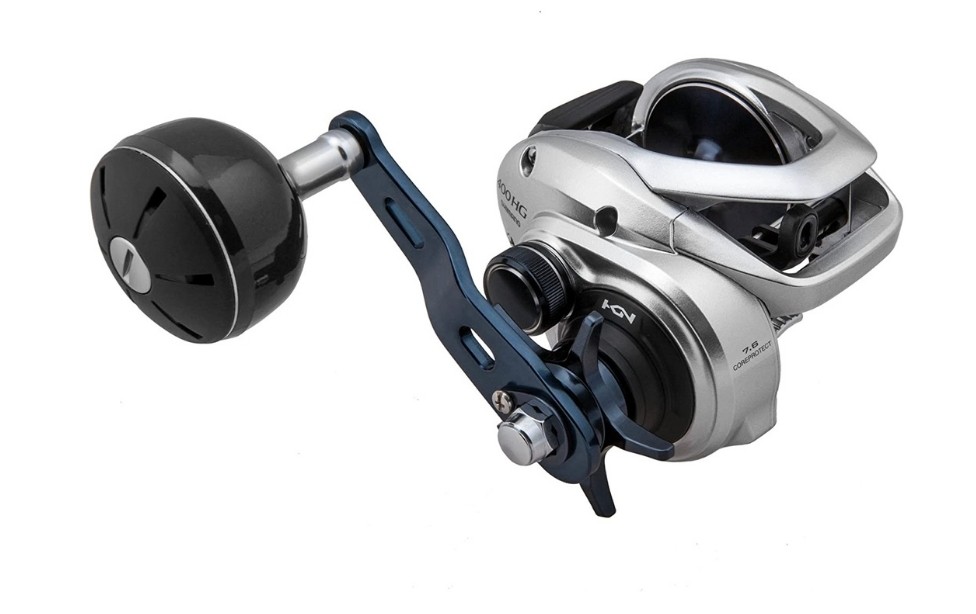 Haven't met the most powerful and the best baitcasting reel? Then have a look at the Tranx baitcasting fishing reel that can be attained from Shimano.
Coming in low profile design as it speaks, you can guess that it will be comfortable to hold. Moreover, the reel has been built to tackle any species that you find swimming in saltwater or freshwater.
This also leads us to say that the reel will be perfect for fishing in any kind of water with its big spool that goes in-depth to chase that aquatic life. The spool capacity legit makes it the big species stopper.
Moreover, the Shimano fishing reel possesses new core-protect technology that makes the reel much water-resistant so it can offer lifelong performance even in the harshest condition.
You will also marvel at its hagane construction that has been designed with a metal material to make the reel give a bulletproof performance with its strength.
The brand has also blended X-ship and HEG technologies to deliver the biggest fish tackling and cranking power with the super effortless and smooth retrieve. The combined techs also make the handle easy to turn with heavy loads so you will find the reel great for throwing larger bait to chase larger fish.
You will also love its brake system that is able to eliminate backlash while delivering 22 pounds of drag for ensuring successful casting.
Moreover, it also features a total of 6 high-quality bearings coming in stainless steel that makes sure the reel performs super smooth. However, some of the users might find the bearings cheap so it is expected that they will go down soon.
Features & More
X-ship and heg technologies.
Perfect for big fish.
Materials: Aluminum & Magnesium
Line capacity :MONO:12/230; 14/180; 17/150 ,BRAID: 40/195; 50/190; 65/125
Max Drag:22 lbs,Gear ratio:  5.8:1, Ball Bearings:5+1
8.Abu Garcia Ambassadeur C4 Baitcast Round Fishing Reel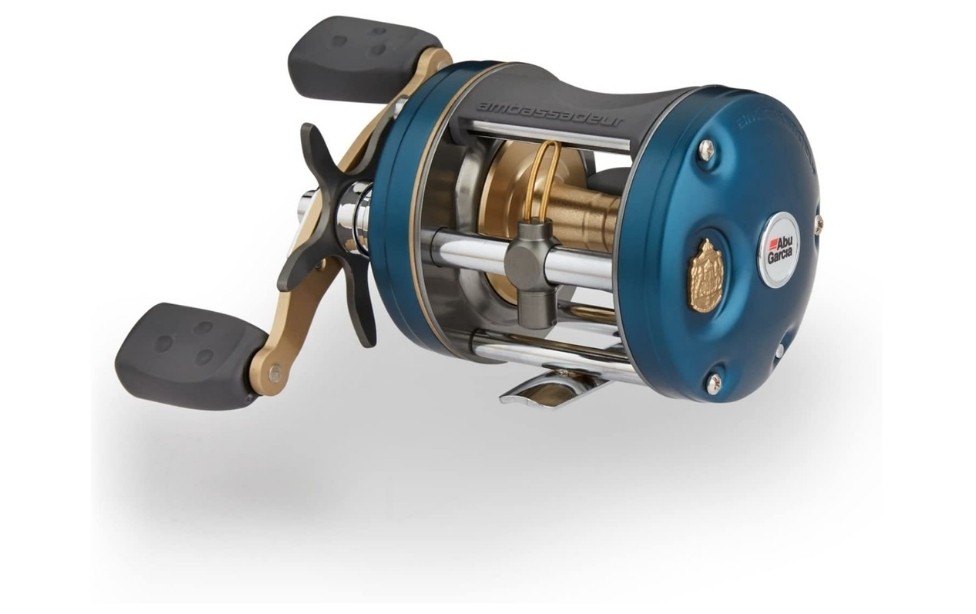 Abu Gracia has bagged the majority of their reels in the closet of the best baitcasting reel. And C4-6601 Ambassadeur Round  Baitcast Reel is another one of them.
The Abu Garcia Ambassadeur comes with a steel frame making it weigh just 9.3 ounce that ensures lightness and comfort without compromising quality.
You will have a total of 5 bearings that help the reel deliver smoother operation so that you can fish effortlessly.
It also features a carbon matrix drag system that delivers a maximum drag of 15lbs to give you the greatest stopping power without any backlash.
Pairing the drag star with a compact bent handle makes the reel easier to use and cast so you can aim to grab the biggest fish.
Abu Garcia C4-6601 baitcaster Coming with a 6-pin centrifugal braking system, the reel offers consistent brake pressure by using small weights on the inside of the plate and activating the brake. However, as per some of the anglers, the brakes are not adjustable and you will need to use a screwdriver to utilize the brakes which can be a bit cumbersome.
However, having a synchronized level wind system is beneficial as it will let you have more species on the bank by ensuring even line lay as well as castability.
Not just that, you will also get to enjoy its gear system with Dura-gear 2 technology that provides you with fast retrieves as a result of improved gear strength.
Features & More
Compact bent handle and star wheel.
Best for freshwater & saltwater fishing.
Carbon Matrix drag system.
Materials: Aluminum.
Line capacity : BRAID: 320yd/12lb
Max Drag:15lb, Ball Bearings:4+1, Gear ratio:  6.3:1
Baitcasting Reel Buying Guide
Gear ratio
A baitcasting reel is nothing without a gear ratio. It tells you the number of revolutions the spool can make for each turn of the handle. Simply put, it basically talks about the speed of the baitcaster. The higher the ratio of gear, the more line will be retrieved on each revolution of the handle. So, if a reel comes with 7.1:1, then it will perform 7.1 revolutions on a single turn of the handle.
There is a wide range of gear ratios you can pick from.
5.1:1 to 5.4:1 belongs to a lower and slower ratio range. The range is ideal for fishing baits that can pull hard such as big swimbaits, slow-rolling heavy spinnerbaits, or diving crankbaits. It also helps you reel the lure slower while you can keep it in the strike zone for longer. Not just that, you will also be able to experience higher torque output with such a gear ratio range which makes it great to flip and move the fish out of cover.
6.1:1 to 6.4:11 belongs to the most preferred gear ratio that makes an ideal pick. You will be able to use any kind of baits and techniques such as top-water, jigs, worms, shallow cranking while offering amazing operation. It also lets you work with both fast and slow-moving presentations.
7.1:1 to 7.4:1 belongs to a higher gear ratio and this range is awesome for techniques such as burning a spinnerbait or buzz-bait. You will find it ideal if you want to fish top-waters, frogs, or toads. Such range also lets your bait get back to the kayak in preparation for the next cast effortlessly and quickly. So, you will find it great while fishing in small strike zone areas.
However, it doesn't mean that getting a higher ratio is always superior to the lower one since each range serves a different function.
Braking system
The braking system works to adjust and slow the rotation of the spool down while casting. Without this, you can expect to encounter backlash that can happen a lot at the time of operation. Backlash basically refers to a knotted mess when your spool keeps on spinning after your bait stops moving forward.
There are 2 types of braking systems:
Magnetic: Such a braking system refers to the set of magnets that react to non-magnetic metals like aluminum which comes equipped with the spool. When you move these magnets close to the spool, it happens to activate the brakes. Meanwhile, if you move these magnets far away from a spool, the reel lets the spool move without restraint. In short, the magnetic brake system banks both on the magnets and the spool for decreasing the revolution rate of the spool. However, you can adjust them as well.
Centrifugal: Such a braking system is friction-based that uses two to six internal pins inside the plate to activate or deactivate the brakes. To keep the brakes engaged, you will need to push the pins outward. There are many reels that come with a 6-pin system that lets you adjust them that are across from each other.
Spool size and tension
The longer the spool, the deeper it can go. Not just that, such a spool can also benefit you if you want to fish heavy lines such as 20 pounds' fluorocarbon. It creates smaller coils of line that you will find very easy to manage. However, you can also opt for the shorter spool that is great for pitching and flipping.
There is a knob that lets you adjust the spool speed which refers to the spool tension knob. The knob is big enough and the toy can find it on the side of the reel handle. It is essential to tighten the knob so that your bait falls slowly on the surface when disengaging the reel.
After it touches the surface, the spool will stop rotating instantly. If the bait is heavy, it is advisable to tighten the tension accordingly. If you want to cast without trouble, it is important that you learn to thumb the spool properly.
Bearing system
The bearing system lessens friction between moving gears in the reel so that it can enrich the quality and durability of the reel. The more the bearings, the smoother the cast and retrieve. Although, the number of bearings does not matter because a set of 5 high-quality bearings can still do a better job than a set of 10 low-quality bearings.
However, they are graded from lowest to highest in terms of performance. As for the material, check if the bearings are made with stainless steel since it offers lightness, durability and fights corrosion as well.
Drag system
It is a pair of friction plates that come equipped with a baitcasting reel. If any species pulls on the line hard, it makes the friction overcome and allows the reel to rotate back while letting the line out and prevent it from breaking.
Look for a drag system that can let you handle the fish at the end of the line. Since it lets you drag with all the power and balance. It's better to go with drags that are made up of carbon, ceramic, or graphite as they are the best materials offering durability and lightness.
Handle size
There are different sizes found when it comes to handles. The low profile or compact reel comes with short handles. You will find it ideal for fishing a jig or worm but not great for catching bigger swimbait or crankbait.
If you want to catch bigger species, you will need a longer handle since it creates more torque to pull the fish out of cover. Also, check if the handle feels comfortable on your hand. Because that's an important factor to consider as well.
Frame
You must take 2 things into consideration while looking for the frame of the reel. One is the size of the frame and the other is the material.
The round reel holds more lines in general and you will find it ideal for carrying a massive line. You can also use such reels for battles that throw bigger traps or which require longer runs. The reel is great for catching muskies, salmon, or steelheads.
As for the low-profile reel, you will find it more perfect for bass and crappie. Such a reel also comes in lightweight and feels comfortable to hold.
Speaking of the material, the frame comes mostly in aluminum. It is more grounded and you will find it in high-end models.
Line guide
When looking for a reel, make sure that the line guide is made up of either ceramic or titanium. Both the materials make the accessory durable so that the reel can survive abuse.
Best Baitcasting Reel FAQs
Q: Do I need a left or right-handed reel?
A: It basically banks on your preference and style. You must check what your style triggers you to cast and retrieve effectively. On the basis of that, you will be able to understand which one works perfectly for you.
Q: How you can clean a baitcasting reel?
A: It is essential to collect all the stuff that you will need for cleaning. Have a bucket of warm water, a reel fuel oil, lube grease, lighter fluid, brush, toothpick, and a cleaning compound.
Take the side cover out at first to start disassembling the reel. Keep the parts on a rubber mat carefully. It's better if you label the parts so you can assemble all the parts without leaving any of them.
Then have the reel positioned properly during disassembly.
Handle wire clips and springs with a pair of tweezers so that you can prevent loss.
Secure fishing line prior to removing the spool.
Then, clean all the parts with a brush by applying a cleaning product.
After that, apply lube grease to the booth of teeth with a toothpick.
Then with lighter fluid, head for cleaning the bearings and test them to ensure that they are spinning properly. Apply fuel to the bearings using a toothpick.
Lastly, assemble all the parts together.
FINAL THOUGHTS
Three things! Just two things need to be a pro at fishing: your time, patience, and practice. For this, you will need the best baitcasting reel that will deliver smooth performance while being durable and lightweight. And the list that we gave promises to have both the features so you can thank us after you get to use one of the 10.
More Articles:
Abu Garcia Max Pro Low Profile Baitcast Reel, Size LP...
LIGHTWEIGHT CONSTRUCTION: The frame and sideplates of the Abu Garcia Max Pro Baitcast Reel are made from graphite and the spool is machined double anodized aluminum, keeping this Baitcast reel...
RECOVERY RATE: Recover 28" | 71cm of line for every turn of the crank. Gear ratio of 7.1:1. Made with the Duragear brass gear to extend your reel's life.
Sale
Shimano SLX 150, Low Profile Baitcasting Reel
The Shimano SLX is an incredibly sleek looking baitcaster with a stunning matte black finish and beautiful blue accents
This reel is 22% more compact than the Caenan Baitcaster but its small size does not mean it lacks in strength; and with an amazing 150 PowerPro line capacity for such a compact reel