Watching numerous movies like The Hunger Games and series like Game of Thrones, you may feel the need for some thriller in your life. While you cannot use a bow and an arrow and your rarely failing accuracy on humans even if you want to, you can use it on fishes.
As brutal and heartless may it sound, you are on a trip to prey on the fishes anyway so it is alright if you do it like a movie character to show off your shooting accuracy. Instead of using hooks and baits to catch fish, a Bowfishing Bow and an arrow for the same task are more fun than you can imagine.
If you are just interested and beginning to try this fun and useful activity out then finding the right bowfishing bow for yourself is a daunting task.
Although it's a bow and an arrow that you might have used for hunting on land, it differs from the usual ones as it has to travel through water. So, there are a number of differences and features you have to consider to find the best bowfishing bows for yourself.
You can learn everything you need to learn about these amazing equipment for fishing from our buying guide and also get a clear view of how the best bowfishing bow function from our reviews. Let's get on our way to becoming cautious buyers!
Read More:
Best Bowfishing Bow We Will Cover Today
1.Best Choice-Muzzy Bowfishing Vice
2.Best Price-Cajun Fish Stick Take
3.Best Right Handed-AMS Bowfishing Water Moc
4.Premium-PSE ARCHERY D3
5.Best Power-Cajun Bowfishing Sucker Punch Bow
Bowfishing Bows Reviews!
1.Muzzy Bowfishing Vice Bowfishing Kit with Compound Bow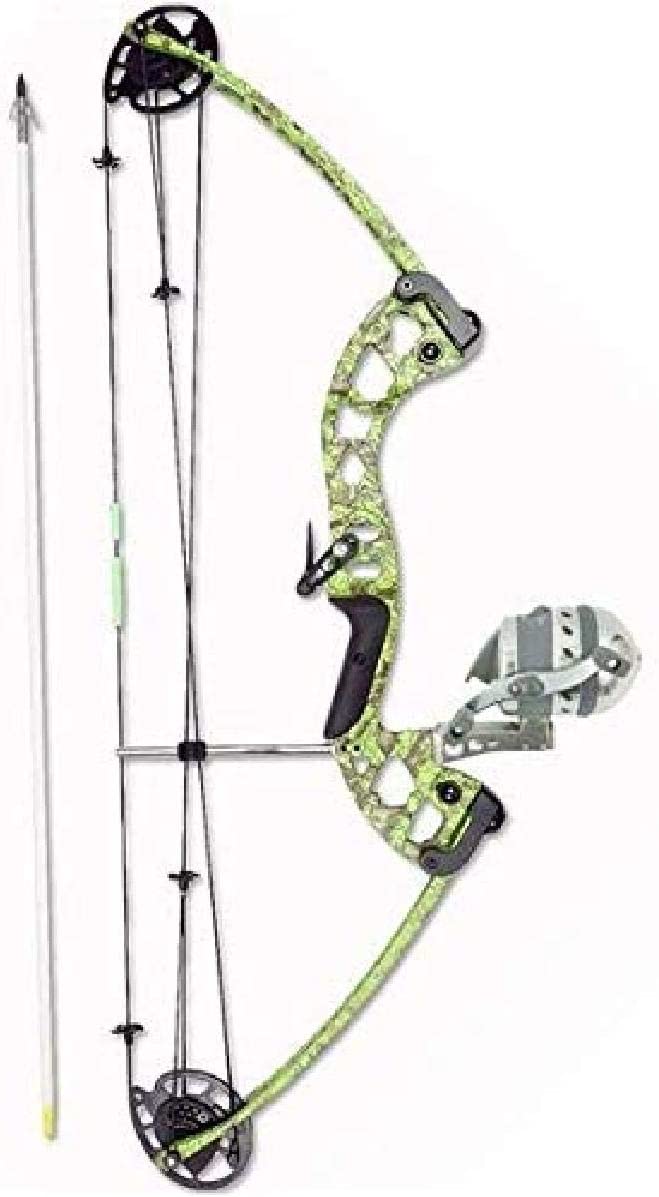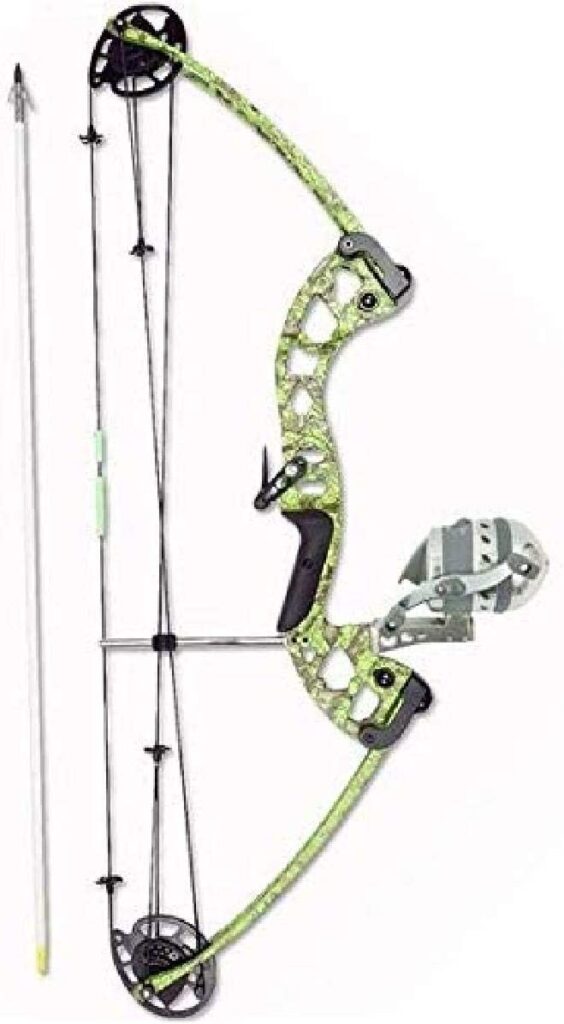 The Muzzy Bowfishing Vice Bowfishing Bow is an excellent choice for both experienced and novice bowfishers. This bow is designed with the latest technology and materials to provide a high-performance bowfishing experience.
One of the most impressive features of this bow is its versatility. The Muzzy Bowfishing Vice can be used for both snap shooting and aimed shots. The draw weight can also be easily adjusted from 30-60 pounds, making it a great option for a wide range of fish species and fishing conditions.
The bow is also incredibly lightweight and easy to maneuver, which is essential when trying to shoot fish in the water. The compact design of the Muzzy Bowfishing Vice allows for easy movement through the water and the ability to shoot from awkward positions.
The Muzzy Bowfishing Vice is also designed to last. Its sturdy construction and high-quality materials make it incredibly durable and able to withstand the harsh conditions of bowfishing. The bow also comes with a limited lifetime warranty, providing peace of mind to the user.
Another great feature of the Muzzy Bowfishing Vice is its compatibility with Muzzy's Quick Release Fishing Reel. This reel system allows for fast and easy arrow retrieval, making the bowfishing experience more efficient and enjoyable.
Overall, the Muzzy Bowfishing Vice Bowfishing Bow is a fantastic choice for anyone looking for a high-quality, versatile, and durable bowfishing bow. Its lightweight design, adjustability, and compatibility with the Quick Release Fishing Reel make it an excellent choice for both beginners and experienced bowfishers alike.
Versatility: The Muzzy Bowfishing Vice Bowfishing Bow can be used for both snap shooting and aimed shots, making it a great option for a wide range of fish species and fishing conditions.
Adjustability: The draw weight can be easily adjusted from 30-60 pounds, providing flexibility for the user.
Lightweight: The bow is lightweight and easy to maneuver, making it easier to shoot fish in the water.
Durability: The Muzzy Bowfishing Vice Bowfishing Bow is made with high-quality materials and is designed to withstand the harsh conditions of bowfishing.
Compatibility: The bow is compatible with Muzzy's Quick Release Fishing Reel, making arrow retrieval faster and easier.
Cons:
Learning curve: As with any new equipment, there may be a learning curve for those who are new to bowfishing or have never used this specific type of bow before.
Noise: Some users have reported that the bow may make more noise than expected, which can potentially scare off fish. However, this can be mitigated with proper technique and practice.
2.Cajun Fish Stick Take-Down Bowfishing Bow

If you are looking for a bow that will give you the best feel with the best accuracy when you use your own accuracy perfectly, this just might be the bow you are looking for. While it does not come with the drum reel attached or any instruction to attach it, the Cajun Fish stick Bow is quite easy to set and make ready.
However, you may face some issues with the reel as many customers mentioned upgrading the reel to suitable models and never looking back again. The arrows have a Piranha point which helps your accuracy.
You will be very comfortable using this bow thanks to the roller rest and its mere weight of 5 pounds. Furthermore, you will feel great and inform while using it because of the blister buster finder pads that prevent the bow from hurting you and also the anti-slip grip that makes your shots more accurate.
Cajun Fish stick Bow apparently has a takedown design with a length of 56 inches with a peak draw weight of 45 pounds. When it comes to durability, this bow does not fail you. With a high-grade aluminum riser and strong limbs, this bow assures that it will be with you even if you use it daily.
You will feel very adventurous while using this sporty-looking bow with a cheerful color combination. While the bow does not come with a sight mounted, it does have space for mounting sights.
Pros:
Great speed and accuracy.
Durable and high-quality build.
Comfortable because of the anti-slip and blister buster grips.
Roller rest provides stability and comfort.
Easy to prepare.
A good sporty appearance with a nice color combination.
Cons:
Many customers preferred changing the reel to get the best performance.
A few customers wished for the bow to provide greater pull.
A little heavy.
3.AMS Bowfishing Water Moc Recurve Bowfishing Kit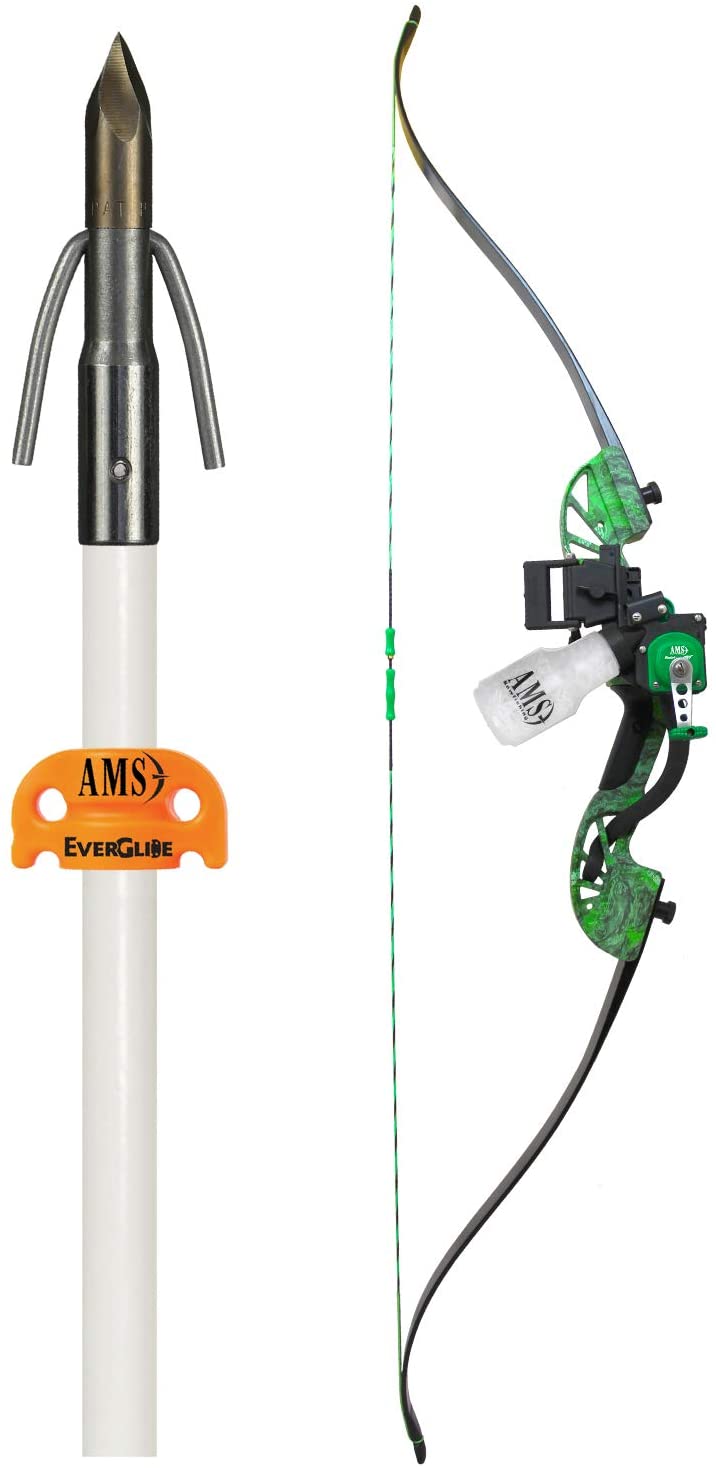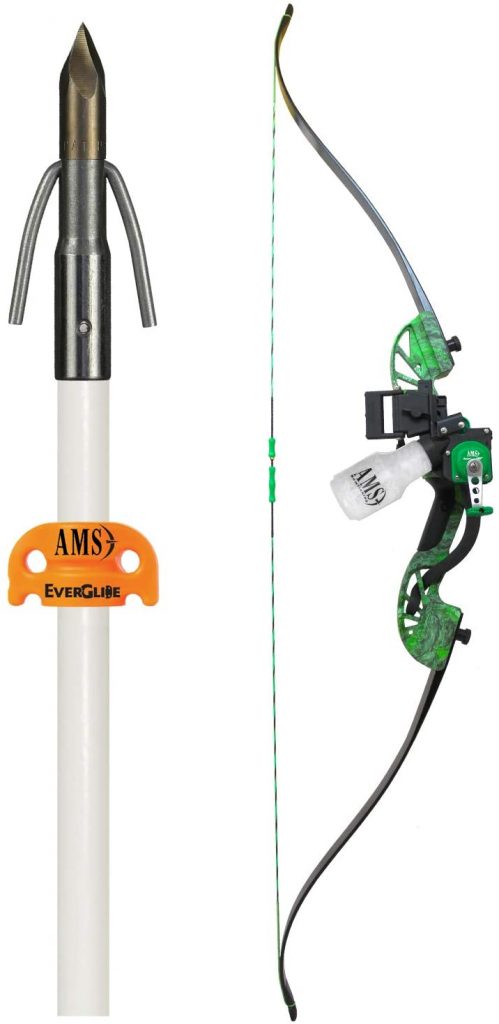 Tired of the digital age and want to go back to the natural times doing things that occur naturally to humans? The AMS Bowfishing may not change the environment around you but it surely will change how you feel when you hold a fishing bow. Your natural hunting instincts will be in its traditional best form with the help of this bow.
While most people believe that takedown recurve bows are not able to stand much strain, AMS Bowfishing Water Moc Recurve Bowfishing Bow proves everyone wrong. You can stop worrying about this bow's capability as it does not just capably handle any kind of target you have in mind but improves your accuracy with its efficient features.
The design and structure of the bow get the credit for this. Furthermore, you will feel completely comfortable and that this bow is a natural part of you because of its compact design with just a weight of 2.5 pounds.
The AMS tidal wave arrow rest also gives your stability when you shoot. Furthermore, the brace height of 7.75 inches makes fishing easier for you. In fact, you can easily get the speed to target any fish with its 45 pounds draw weight that has a length of 28 inches. Apart from that, the kit includes a good quality high grade 105 feet of 350# braided spectra lining. You will feel and look quite nice with this bow because of its green accented appearance that just adds more to the natural vibes.
Pros:
A great-quality and functional takedown recurve bow that can handle pressure and abuse.
Capable of creating a traditional fishing process and feel.
Very compact and lightweight in design.
Able to speedily handle any target with its draw weight and length.
Easy to assemble.
Durable build with laminated wood on the limbs that also make it waterproof.
Cons:
A bit expensive.
Only for right-handed people.
It does not include any bowstring.
4.PSE ARCHERY D3 Bowfishing Compound Bow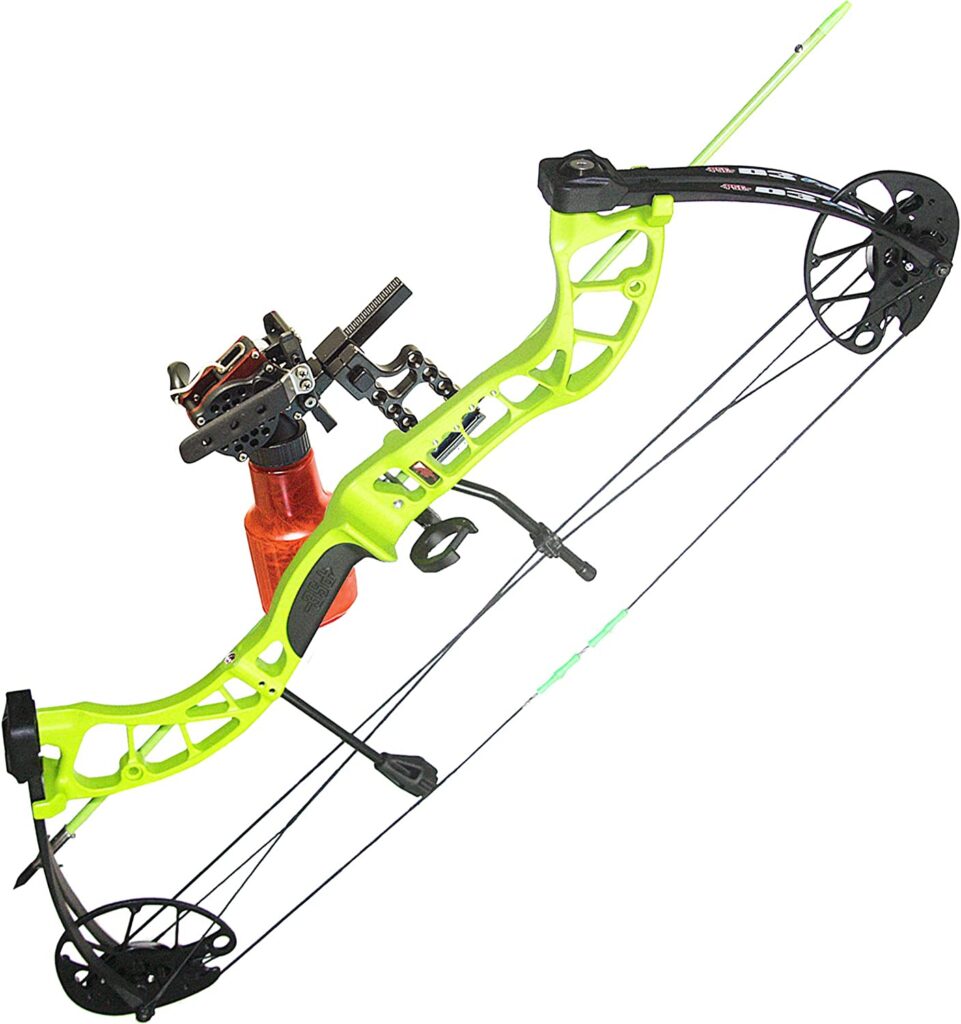 The PSE Archery D3 Bowfishing Compound Bow is a high-quality bow designed specifically for bowfishing enthusiasts. The bow has a durable aluminum riser and cam system that allows for smooth and efficient shots. It features a highly adjustable draw weight range of 40-50 pounds, making it suitable for a wide range of users.
The bow's split limb design and long draw length provide excellent accuracy and power, making it ideal for targeting larger fish. The bow also features a highly adjustable draw length range of 21-30 inches, which allows users to customize their shooting experience to their specific needs.
Other notable features of the PSE Archery D3 Bowfishing Compound Bow include a precision-machined aluminum cam, a lightweight design, and a sleek black finish. Additionally, the bow is compatible with a wide range of bowfishing accessories, making it highly versatile and adaptable.
The PSE Archery D3 Bowfishing Compound Bow appears to be a well-designed and highly functional bow that would be an excellent choice for anyone interested in bowfishing. Its adjustable draw weight and length, combined with its durable construction and accuracy-enhancing features, make it a top-performing option in the bowfishing market.
Pros:
Highly adjustable draw weight range (40-50 pounds) and draw length range (21-30 inches) make it suitable for a wide range of users and shooting styles.
Durable aluminum riser and cam system provide a smooth and efficient shooting experience.
Split limb design and long draw length provide excellent accuracy and power for targeting larger fish.
Compatible with a wide range of bowfishing accessories, allowing for customization and versatility.
Cons:
Some users may find the bow's draw weight range too limited if they prefer to shoot with more power or if they are targeting very large fish.
The bow may be relatively expensive compared to some other bowfishing options on the market.
Some customers have reported that the bow's string can wear out relatively quickly with heavy use, although this can be expected with most compound bows and is generally a routine maintenance issue.
5. Cajun Bowfishing Sucker Punch Bow

Doing wonders with the hybrid reel, Cajun has been able to make their Sucker Punch bow one of the most wanted fishing bows in the market. While the previous models lacked recommendations because of the reel, Cajun bowfishing decided the same mistake will not occur again and came up with this masterpiece. Apparently, you can switch between two sets of the cam.
You can use the constant cam module for snap shooting when you do not want any time for aiming. Again, you can shift to the let-off cam module which will give you some time to aim by reducing the draw weight. However, this is not the only feature that offers you versatility. In fact, you can adjust the draw length between 17 to 31 inches.
Furthermore, the cajun bowfishing has an axle-to-axle length of 32.25 inches which is not the most compact but combined with its weight of only 3.2 pounds, it is very easy and comfortable to use. You won't be even at the risk of blisters as this bow included blister buster finger pads to protect your fingers.
Cajun Bowfishing Sucker Punch Bow has a very durable design and build. Apparently, it features deep cam grooves to prevent the derailed strings. The package comes with everything you will need for fishing. It includes the amazing reel, fishing biscuit arrow rest, and two fiberglass Piranha arrows. So, with this bow and arrow in your stock, your fishing experience will only reach a new level of speed and accuracy, while providing all the comfort you need.
Pros:
High-quality and highly-functional hybrid reel.
Great adjustability and versatility starting from switching cam modes to brace length and weight.
Durable build with high-quality material and design.
Includes everything necessary.
Compact and lightweight.
Good draw length.
Cons:
Not the most efficient snap shooting mode.
Grips could be better.
Bowfishing Bow Buyer's Guide
If you want the bow to perfectly meet your needs and make your fishing session more fun, here are a few factors you must consider before or while buying:
The type of fish you will be hunting:
While you might think that any bow and arrow is alright for all kinds of fishes, it's apparently not. When people talk about fishing with a fishing bow, they generally mean fishes like common carp, grass carp, bighead carp, alligator gar, and paddlefish, etc. from freshwater. Again, they fish for rays and sharks from saltwater. In fact, both of these kinds of fishes require bows with different strengths or capabilities. A bow with less strength cannot handle a fish that is faster, stronger, or too big for the bow. Therefore, by determining the type of fishes you will catch first, you narrow down your choice of features for the bows from the myriad of them available.
The various parts of the bow that makes it:
A fishing bow is almost like a hunting bow but not entirely. Despite serving the same purpose, the fishing bow must travel through a different medium than hunting ones. This requires a few changes in the build. So, here is a complete look into the structure and function of each part that might help you decide better:
The Bow: Bows are not very different from the usual bows in construction. You basically get two kinds of bows to choose from- Longbows and recurve bows. The effect the types have is not on accuracy but the strength needed and the power provided. Firstly, the longbows as the name suggest are quite long in the build. Apparently, they are the most usual kinds of bows used and offer adequate power between 50 to 90 pounds for freshwater fishing. Secondly, the recurve bows similar to their names have curves at their ends. These curves and designs help them have a shorter length than longbows yet offer greater power. Therefore, you can use these while fishing for stronger and tougher fishes.
Another recent kind of bow is the compound bows which is obviously the combined version of the other two bows. These bows need more strength to draw and also provide more power than the other kinds.
The Arrows: Since the bow fishing arrows need to go through water and then attack and attach their prey, they need to be stronger than the usual hunting arrows. In fact, the best bow fishing arrows are made from fiberglass, solid aluminum, or carbon fiber. However, whereas the normal arrows feature fetching to acquire balance when moving through the air, the fishing arrows lack it because it deflects them in water.
Line: Usually the line is attached to the arrow. It is made from braided nylon, Dacron, or Spectra. Their weights may vary from eighty to six hundred pounds depending on how big or ferocious the target is.
The Reel: You will find three kinds of Bowfishing reels to choose from for the front of your bow. One of them is the hand-wind reel, which is the cheapest option and requires you to manually retrieve the line. Therefore, it is not the best option as it not only takes time but limits your area as well. The second type is a spin-cast reel. These are like the usual hand crank reels of normal fishing poles and have a mechanism faster than the hand-wind reels. Finally, the best and most expensive kind of reels is the retriever reels. They allow for an automatic line feed and release which makes the process really fast. Apparently, retrievers are best used for catching alligators.
The bow length
You already know the kinds of bows and their functions. After deciding which kind of bow you want, it is necessary for you to decide the length of the bow you will be using. You won't really feel comfortable if you use a bow that is too long or too short for you. Apparently, it will affect your accuracy as well. The length of the bow also determines the strength needed and the power provided to some extent. So, you should choose it carefully considering the type of fish you will be catching and also your own size.
Adjustability
There should be a number of adjustable features like the adjustable draw length. The range should be what you think is perfect for the type of fish you will be catching and your own preferences as well.
The Peak Draw Weight
What influences you when choosing the draw weight is your own capability and the size of the fish you are targeting. Apparently, the draw weight should be adjustable from around twenty to forty pounds. The more the weight the larger the fishes you can target.
The Brace Height
While shorter brace heights help to create more arrow speed, the longer ones decrease speed. Apart from that, the brace height also influences bow forgiveness. While most manufacturers provide the bows with a standard or general brace height, you should also have the option to twist and untwist the bowstring to get your desired height for the best performance.
The Rest
You must feel comfortable using the bow while fishing. Discomfort will not only irritate you but distract you as well. The rest is an important factor to consider for your comfort. In fact, the rest should sit perfectly and comfortably where it should be and you should feel completely natural having it there.
Overall weight
No matter which type of fish you are aiming to catch, if you cannot carry the weight of your bow, you won't be able to shoot with the accuracy that catching the fish will need. Therefore, make sure you check that the weight of the bow is something you can easily carry. Otherwise, you will only end up with tired hands and an empty bucket.
Accessories:
There are a number of things you can expect to come with the bow or consider buying separately. For example, glasses will make you have better visibility of the target, there are bow fishing gloves to reduce the strain on your hands and improve accuracy and comfort to some extent. So, consider these accessories and decide if you have a particular preference to have any of them.
Durability
A bow is useless if it is not durable. Not only will a faulty and weak bow be a waste of money but it may also kill your spirit of fishing. Therefore, whichever features of the bow you prefer, make sure that the features are built in a way to stay functional for a long time.
Benefits of Buying Bowfishing bows
While you might think that buying a bowfishing bow is a waste of money and a normal bow and arrow can do what you need to do in bow fishing, you are terribly wrong. Here are a few benefits you get by bow fishing with a bowfishing bow:
An easy entry into the world of Archers: Well, it's not exactly easy but much easier than what other bows and arrow-related activities have to offer. Apparently, when you bow fish with a bowfishing bow, you target fish. They do not run off or panic or attack you like the other land animals do when you hunt them. As a result, facing the least resistance and depending completely on your skills, accuracy, and bow's speed, you get to enter the world of archery and gain confidence and practice initially. Therefore, if Katniss Everdeen or Bran Stark has made you restless about entering the world of archery, just buy a bowfishing bow and take all the pleasures you need from it at the cost of minimum effort.
Different from the usual arrows: By usual arrows we mean the ones you use in the air. If you have paid attention to your surroundings or your science class, you already know that air and water have different densities and things do not travel through them the same way. Water is denser and arrows tend to deflect from its original direction in it. Therefore, additional weight or material attached to the arrow will make your shots inaccurate. So, bow fishing arrows do not have fledges as they make them deflect from their original path in the water. This is something you would have never been able to deal with if you used your normal arrows or bows.
Less Uncertainty and more activity: With a hook and bait, you might have to sit idle on your boat for the whole day with no fish knocking at your fishing rod. The uncertainty can really kill your relaxing and fun session. Furthermore, it can make your mood worse than it was during your work. However, with a bowfishing bow, you are constantly on the lookout for fish and with such dedication, you will definitely spot at least a few. When you spot it, you do not have to wait for it to come to you or your bait but you can just aim at it and bring it to yourself. With such mini accomplishments by applying lower efforts, your confidence and mood will definitely improve.
Bowfishing Bows FAQs
What are the kinds of fish that can be caught with a bowfishing bow?
Answer: You can hunt the non-game or rough fishes with a bowfishing bow. These are normally fishes like carp, buffalo, gar, etc.
How to deal with the inaccuracy of view because of the light diffraction in the water?
Answer: You will generally see your target at a different spot than it actually is in the water. Well, not that far from it but it still matters when you aim. So, it is better to take aim below your target by around 4 inches to actually get your shot on the point.
Among the various kinds of getaway activities that exist to give you a moment's relief, bow fishing is one of the best. It is not just good for your health but a lot for your brain as well. After being a prisoner to pages or screens for the most part of your work life, the moment's escape from your body to pure nature is vital.
Not only do you spend a peaceful time amid nature but you also engage your body's senses in the most natural way that humans should. In order to make this experience more fruitful and pleasant, the bowfishing bow you are taking with you must completely be compatible with you and your goals.
However, advertisements have a tendency to sugarcoat and conceal important factors. You have to dig deep into reviews and information to find the best bowfishing bow for yourself. And following this path, you will pave the path to your own complete happy times.
See More :
Bestseller No. 1
PANDARUS Bowfishing Bow Kit with Arrow Ready to Shoot...
SUITABLE:The bowfishing bow for everyone is finally here at an unbelievable price; For every bowfishing shooter; Getting started, or shooting for advancement we've got you covered with it
WARM NOTICE: Please read the manual carefully before you operate the bow. The bow is for Women,Youth and Beginner as an antry-level compond bow.DO NOT DRY FIRE (shoot the bow without arrow)! This...
Bestseller No. 2
Cajun Bowfishing Sucker Punch Pro Bowfishing Bow, Right...
READY TO FISH: RTF Kit includes Cajun Winch Pro Reel, Brush Fire Arrow Rest, (1) Red Fiberglass Piranha Arrow, along with Sight and Riser Mounted Picatinny Rail/Line Puller
MAXIMUM VERSATILITY: Compact 31" axle-to-axle and lightweight
Bestseller No. 3