Not only bowfishing will bestow your skills and talents to hit a big fish, but it also lets you have a seafood feast as well if you get a tasty target. Well, it's not only the bow and arrow that play a giant part in such a fish-catching game, but there is also another gear that has a major role. Do you know what it is? It's the reel.
Although a bow fishing reel is pretty similar to a traditional fishing reel, yet the only exception here is that, it is mounted to the bow and arrow. So, if you want to have the best experience to fish a fish, it is high time to get the best bow fishing reel. And for this, we have compiled 7 of the best reels so you can grab the one that is dominating the market.
Read More:
7 Bowfishing Reel Reviews!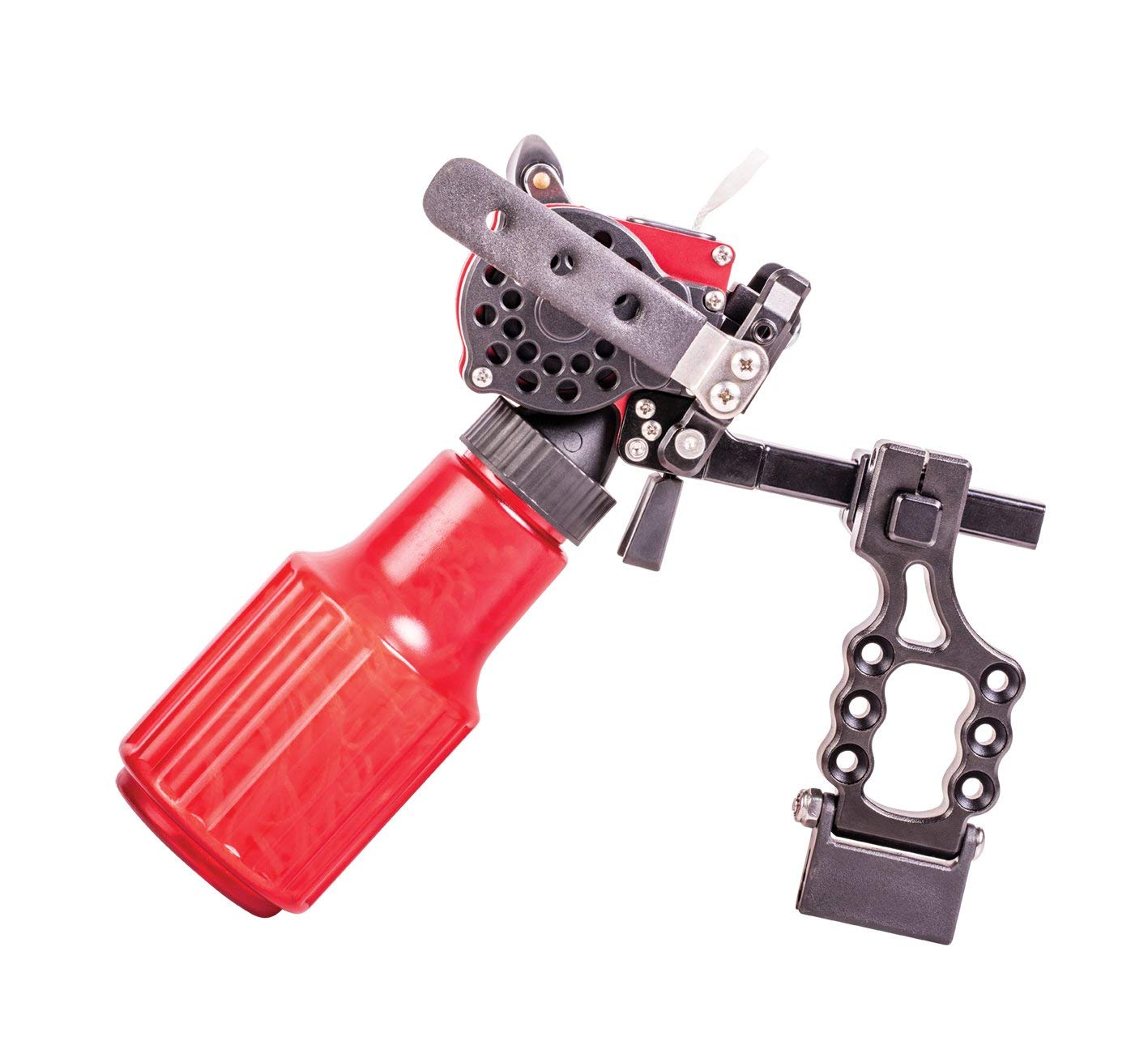 Let your bow do all the talking with this best bowfishing bow and reel by AMS.  With a pro like this, you don't have to worry about your line tangling anymore.
Retriever Pro bowfishing reel is famous for its speed with a gear ratio of 4.3:1. It can be one of the reasons why you should go for it. You will get to experience the smoothest and fastest performance whenever you shoot the arrow and reel it back in.
It has a yellow Dacron line that is another plus point for its visibility. With its 25 yards line, you can get yourself ready to kickoff fishing just after you mount the reel. However, the heavier and thicker bowline can increase a little concern as they can affect the speed.
Nonetheless, Retriever Pro can make an ideal choice for beginners as well as pro anglers. Because you neither have to push a button nor you need to hand-wind the spool. The whole process is just that simple, fire the arrow and it will do stuff on its own.
The pinion and gear have been made up of heavy brass. And the fasteners are of stainless steel while the trigger has been made up of aluminum. So its durability is also another great trait that might impress you.
Moreover, it has a long handle that helps upturns your leverage while being easy to use. And it also features a bottle so it can keep your line in an accurate position. There can be a minor gripe on the size of the bottle since many people found it a bit small to hold all 25 yards.
Other than that, if you think you can spend some extra bucks over a high-quality weapon, this is a great option.
---
Pros
One of the fastest for its gear ratio of 4.3:1.
The Yellow Dacron line offers great visibility.
Ideal for beginners and pro anglers.
Easy to use.
Durable and solid.
Longer handle for increased leverage.
Cons
The bowline is a little heavy and thick that might affect the speed.
The bottle is a bit short to hold the 25 yards line.
Pretty expensive.
---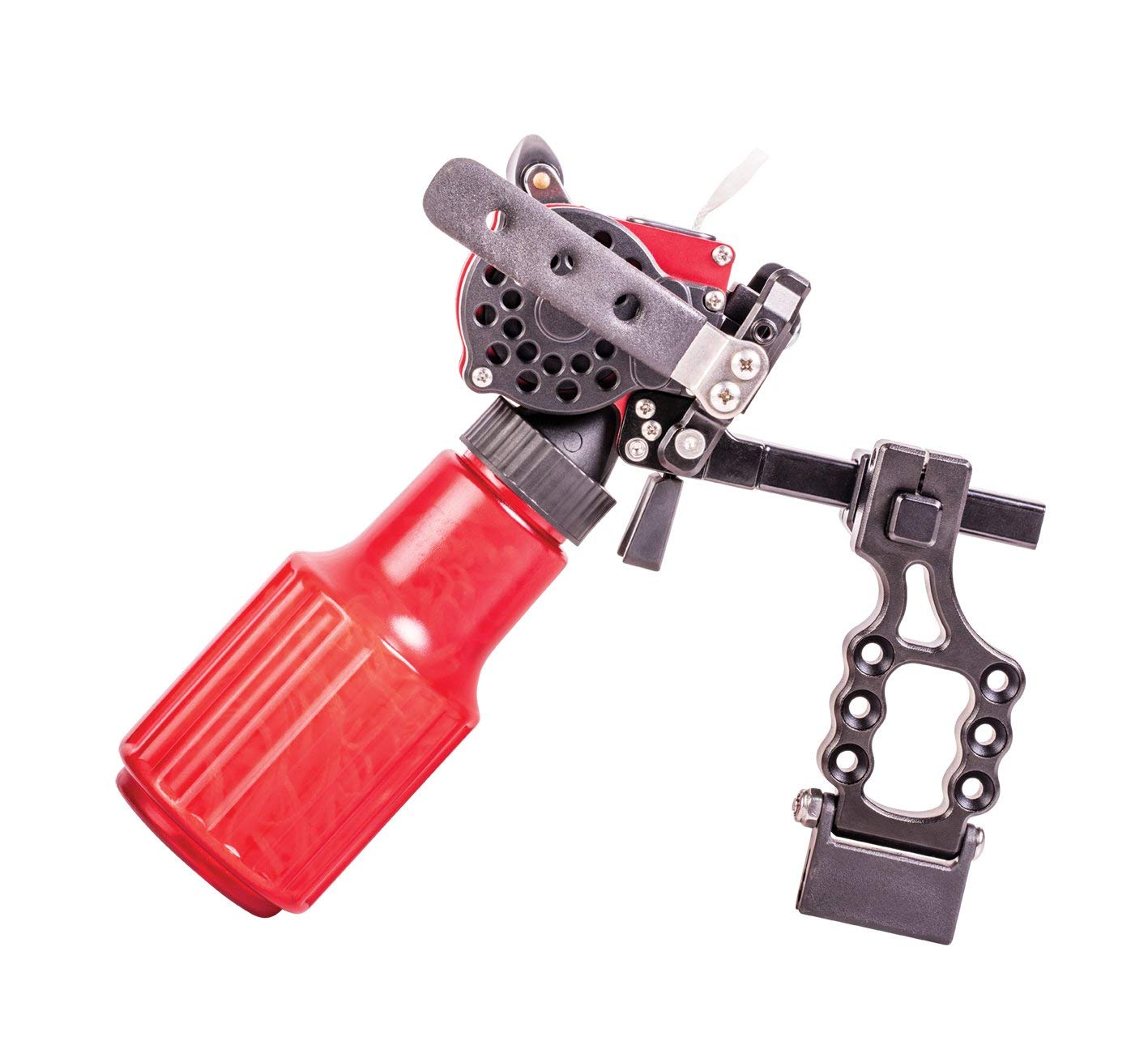 Are you planning to pull a stubborn monster from the depth? Then this Winch Bowfishing Reel by Cajun deserves to be taken into consideration.
One of the striking traits it has is its fighting brake that lets you winch the water monster back to your boat with ease. It will just take one of your hands to make it happen.
Furthermore, it has a 25-yard white line that has got much high visibility weighing just 250 pounds.
The reel also possesses stainless steel hardware with aluminum brackets. They are able to take the stresses of extreme bow fishing. However, some users did complain about the aluminum housing that snapped and rendered the trigger leading it to make it useless. So, there can be a little doubt on the quality of the construction.
However, when it comes to the performance, the winch reel stands up.
It has an option of vertical and horizontal adjustments that offer an ideal fit to any bow. And it also promotes anti-tangling as it has an anti-reverse element.
So, if you think you can forgive the material and focus more on its performance, then it can be a great buy.
---
Pros
Able to pull fishes from the depths.
Shows great performance.
25-yard of white line promotes high visibility.
The line weighs just 250 pounds which is light.
Can bear the stresses of extreme bow fishing.
Offers a perfect fit for its vertical and horizontal adjustments.
Promotes anti-tangling for an anti-reverse factor.
Cons
Quality is not up to the mark.
The aluminum housing can snap the trigger making it useless.
---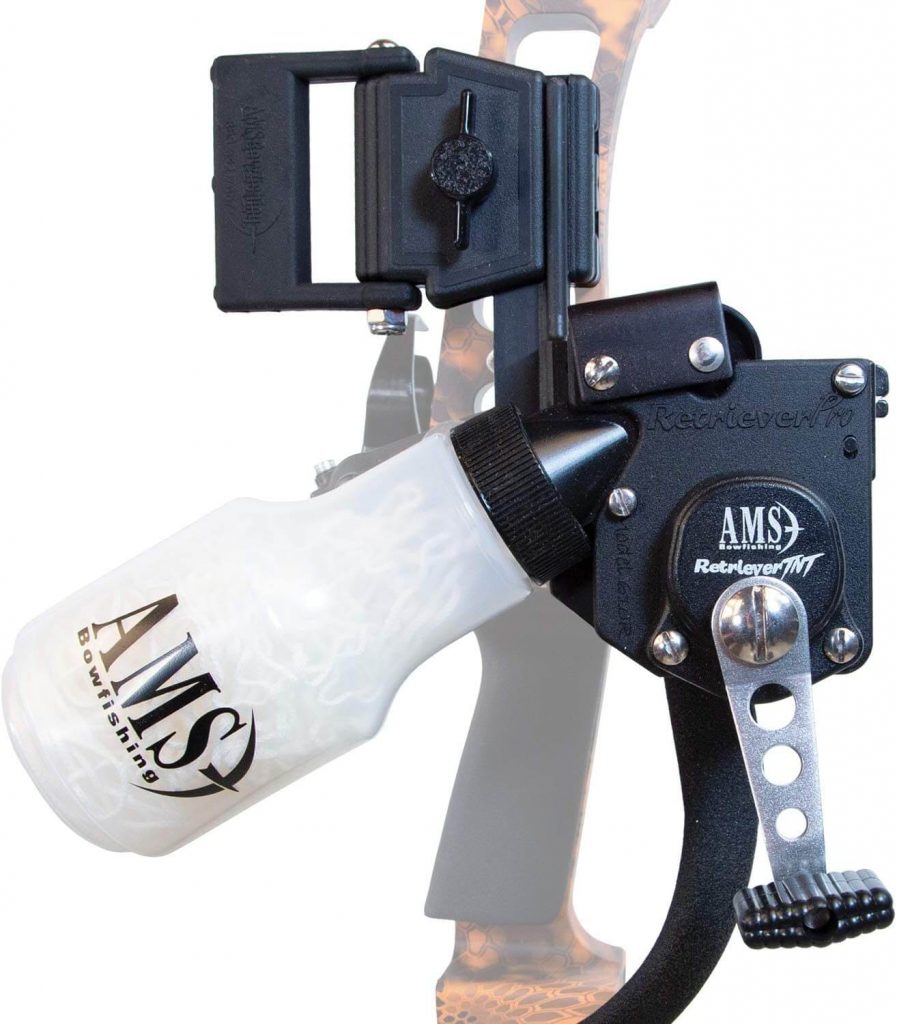 Here comes AMS yet again! Being a retriever pro, Retriever TNT also holds a lot of features that certainly deserve a big thumbs up.
If you think the previous one is stopping you somehow to get it for its high price, you can try this cheaper version.
However, you already know the process to use a retriever: just pull the trigger guard and turn the handle so you can set off reeling. This is how it works.
As for its construction, Retriever TNT has been made up of solid brass while the trigger is of aluminum. So, it's convinced that the reel will last longer than many of its competitors.
The line has a length of 35 yards while you can retrieve 27 inches of a line in every revolution of the handle. And since its high visibility line has been stored in a clear bottle, so it is likely to be much visible and will fly right out of the reel as quickly as the arrow can take it after the shot.
You will also find an arrow quiver and a telescoping clamp that make the assembling a breeze. Adjustment is also a big plus.
However, there are some drawbacks that also need to be highlighted. Firstly, the reel has been stated to shoot loudly that resulted in scaring the other fishes off in shallow water.
Secondly, you might not find the line length as much long as you expect it to be.
You will also need to be careful when the arrow will get stuck into a heavier fish because you will need to pull it out of the water manually.
However, the reel has a decent pinch pressure drag system that helps bring in fish. So, if you wish to have the best bowfishing reel, this one is for you.
---
Pros
Easy to install.
Zero drag.
Easy to use since it just needs pulling the trigger.
Solid construction and performance.
A high visibility line in a clear bottle makes it easy to see.
Comes with an arrow quiver and a telescoping clamp.
Great pinch pressure drag system.
Cons
Line length is a little shorter than other rivals.
A bit loud to shoot scaring other fishes off.
---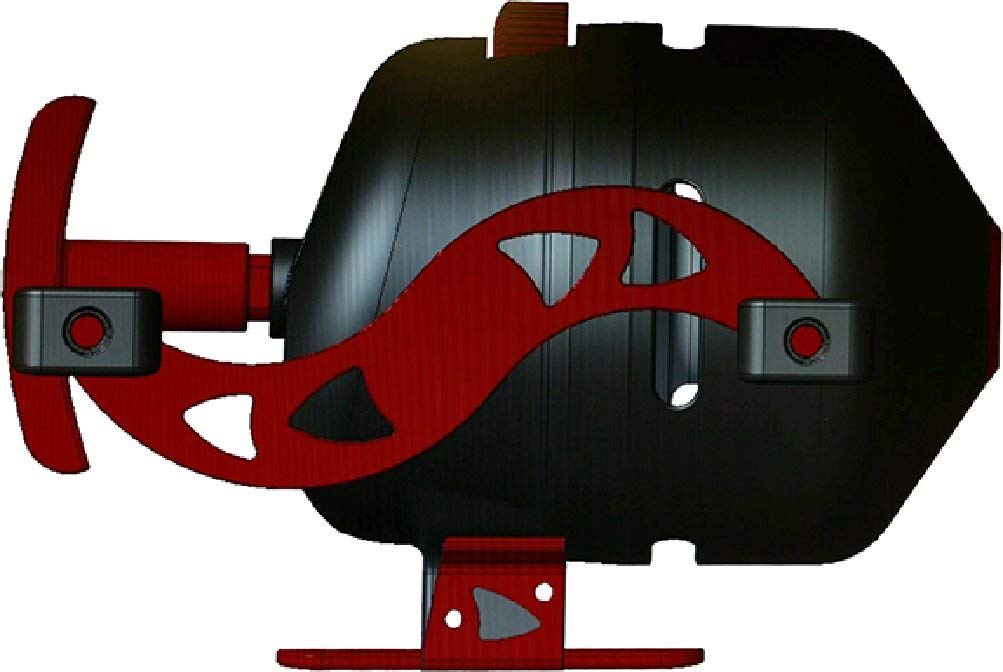 RPM boasts it to be their first-everTrigger style' reel. However, it still has managed to be the best bowfishing reel in the market. It is not only easy to set up but also easier to use.
If you want, you can also convert it into the left or right hand so that you can use it depending on your style.
When it comes to the M1-x Trigger, you will find the reel to be always in free spool more. Neither you will need to push the buttons, nor swing the levers, nor press the tension bars.
All you will have to do is: pull the trigger towards the riser, shoot and reel the lineup. That's it!
You will find the reel to get back to free spool mode as soon as the arrow returns so you can prepare yourself for your next shot.
The best part about the reel is its 150 feet monkey wire. It comes pre-spooled on the reel that happens to be a great addition.
Besides, its fastest line recovery with 3.5:1 also deserves appreciation.
Apart from being the fast retrieval, the reel features trigger handle line pickup that comes with two pickup pins.
However, some users complained about the pins coming apart that made them lose the spring. Some of them also pointed out the reel knob popping off.
Yet, the performance of the reel has impressed the much that the pros outshined the con. And the good news is that you will also have options to replace the broken parts since they made them available.
The reel promises to not skip a beat with long hours of use. So, if you want to have the fastest and safest weapon for yourself, you can take this one into account.
---
Pros
Fastest line recovery of 3.5-1.
Easy to use.
Comes with a trigger handle line pickup with 2 pins.
Convertible to left or right hand.
150 feet monkey wire comes pre-spooled.
Easy to set up.
Replaceable parts are available.
Able to bear heavy use.
Cons
Pins might come apart making you lose the spring.
The reel knob might pop off.
---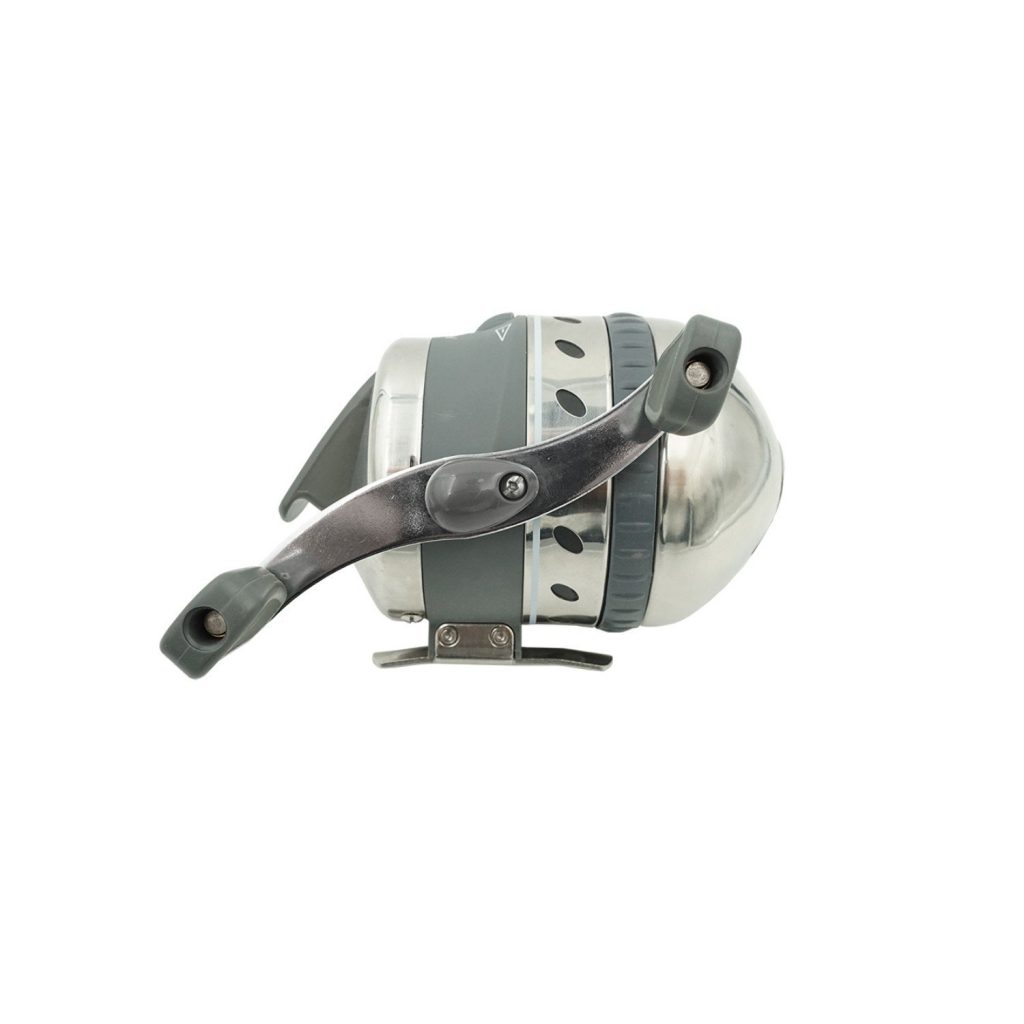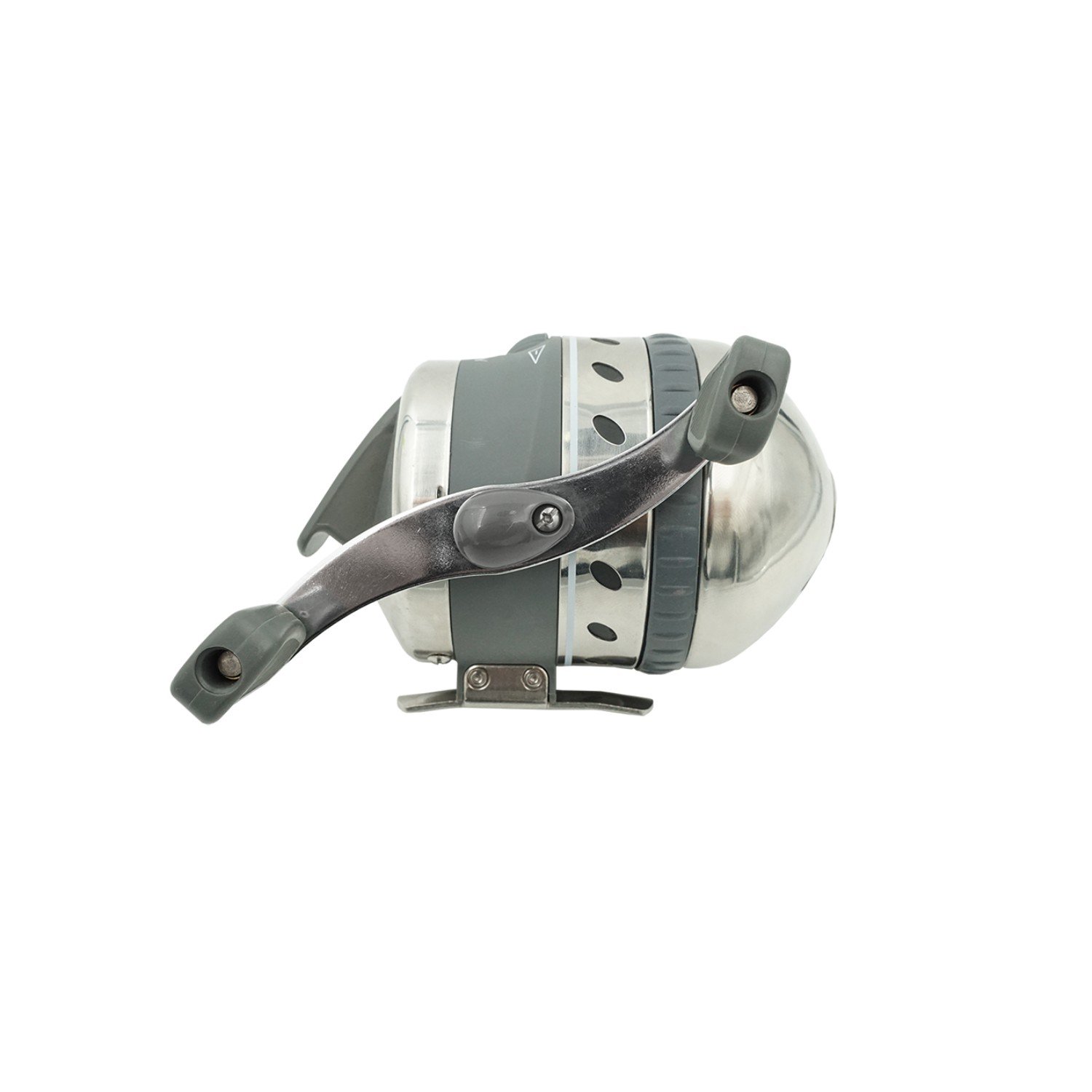 Meet Muzzy XD, another one of the best reels to make your day. You know why? Well here are the reasons.
This particular reel comes with an elongated hood so it can give you a better line flow with a smoother and more precise shot
Since its drive system has been made up of stainless steel with all brass parts, there is no doubt on the durability of the reel. It is surely expected to last long.
The great thing about the unit is that you can adjust it according to your style of use. As it is convertible to the left and right hand.
Muzzy boasts it to be a rugged reel that has been designed for those bow fishermen who love to target bigger fish. Looking at the remarks that have been found so far, it can be said that it does help you get them right in your boat.
Moreover, while the reel casts pretty well, its stainless steel roller pickup pins catch the line effortlessly.
Not just that, its stainless steel foot also manages to offer a solid anchor.
To add more, the reel possesses all the power so it can wear out the monsters since it has an automotive-style disc and dual-spool shaft bearings which are the best features.
---
Pros
Durable reel made up for heavy bow fishing.
Comes with an extended hood better line flow and a smoother shot.
Stainless steel roller picks up pin is durable.
Strong stainless steel foot provide a firm anchor
Comes with dual spool shaft bearings for offering more power.
Features automotive-style disc drag to provide better power.
Convertible to left hand and right hand.
Strong stainless steel and brass drive system.
Comes with 150 pounds line installed.
Cons
---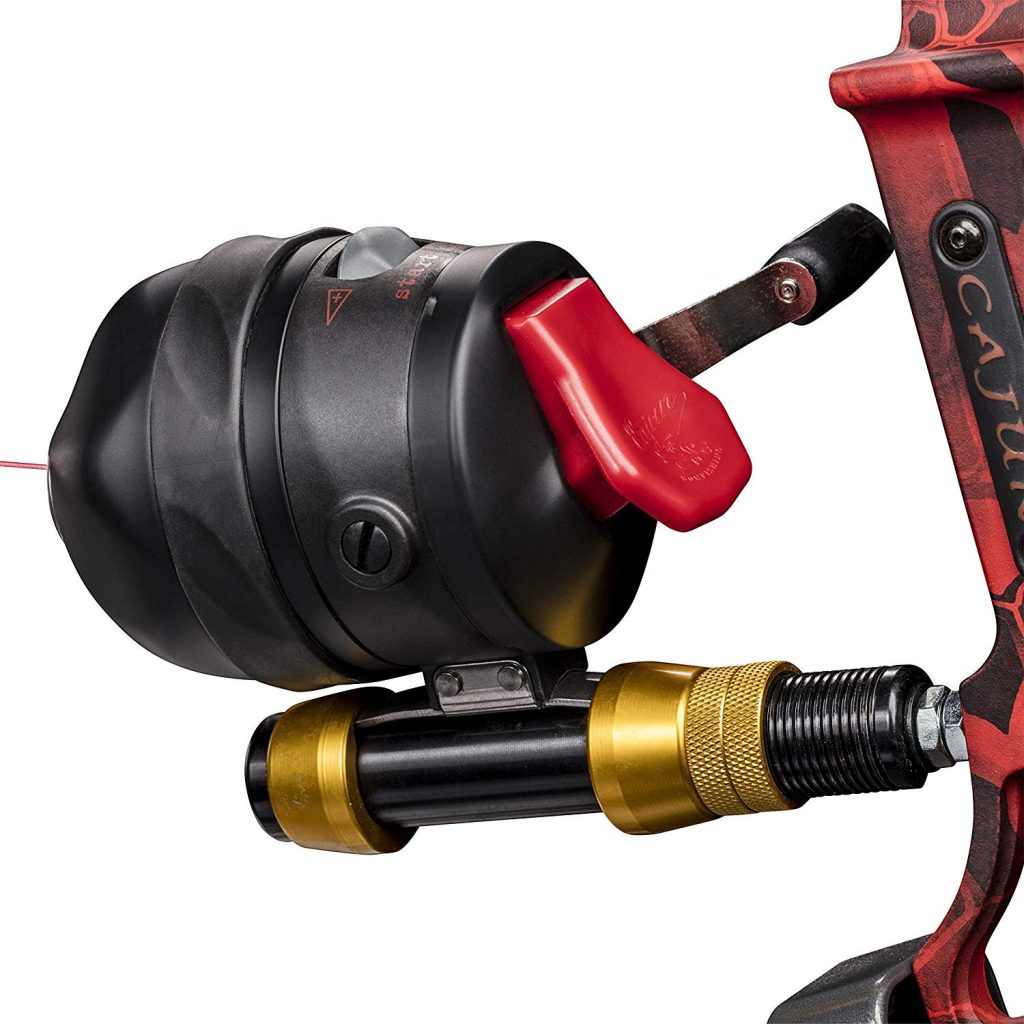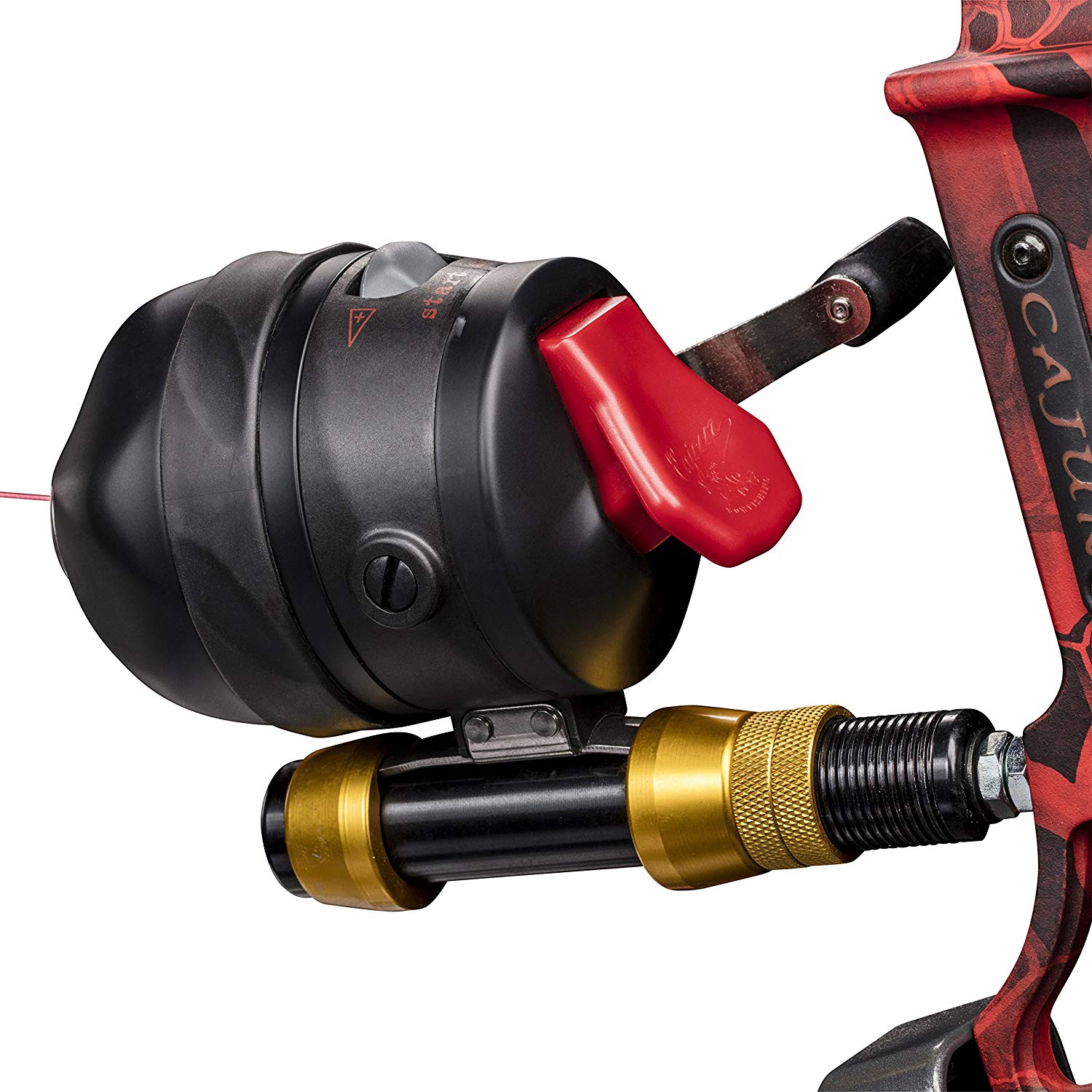 This is another entry from the brand Cajun that also deserves to be the best spincast bowfishing reel to own.
While it happens to be an improved Spin doctor, it has impressed people with its durability and innovative design.
That being said, it has been designed such that it can endure that rigor of bow fishing with two pick-up pins.
It comes with a pre-spooled 150-pound line that offers the fastest flight that you wish for. Although there is a minor drawback which is, the line tends to twist up badly. Not only that, but it also can slip on the spool under any kind of resistance. However, if you can fix this issue, it will no more be a big deal.
You will love its oversized button and elongated end cap as well as its single reel handle.
Apart from making the hood longer, the brand has also designed the hole bigger so the reel can offer better line feeding. Not just that, Spin Doctor also features faster pickup so you can enjoy faster reeling.
---
Pros
Easy to use.
Able to endure heavy use.
Comes with 2 pickup pins with all-metal assembly.
Larger hole and elongated hood for better line feeding.
Comes pre-spooled 150 pounds.
Easy to set up.
Cons
The line can get twisted up badly.
The line might slip on the spool under resistance.
---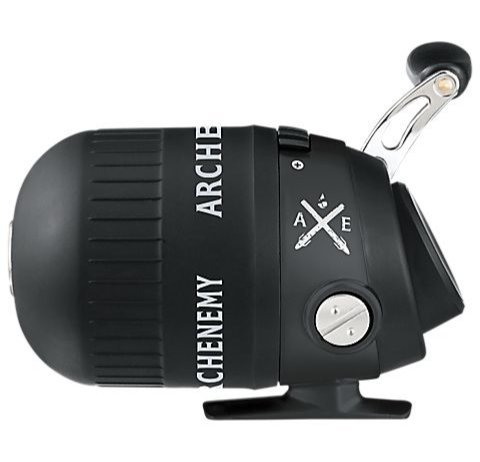 If you wish to reel big monsters back to your boat, then nothing can give you such great privilege as Nemesis HD can give.
As Archenemy boasts it to have redesigned it, you can expect it to be even more durable and stronger.
When it comes to Nemesis HD, its rugged die-cast aluminum uni-body offers solid power so you can enjoy extreme bowfishing.
Besides, it comes with four stainless steel bearings and two super-sized line pick-pin holders. Both the features manage to give long-lasting and smooth performance.
Moreover, the reel comprises four times of sized components. And even when you torque, it is likely to deliver great functioning with its extra-large shaft.
It also comes with a strengthened reel foot so it can give a strong base. It also features a handle so it can decrease snags and keep you reeling while you have a bigger monster on the other end of the line. However, some people found the handle a little fragile as it got snapped along with the screw that held it in place. It might be for its cheap plastic material.
Hence, it is recommended to check the reel properly since people have faced issues with its fragile parts.
However, the Nemesis HD comes pre-spooled with a 200-pound line with a 33-pound drag. It can retrieve a 21-inch line quickly in every rotating of the handle.
Speaking more of its fast factor, the reel happens to have a powerful gear ratio of 3.3:1 which shows its rapid tendency.
---
Pros
It comes with a powerful gear ratio of 3.3:1.
Pre-Spooled with a 200-pound line.
Reinforced reel foot for a stronger base.
Die-cast aluminum Uni-Body frame for durability.
Able to handle a big monster.
Two super-sized stainless steel line pick-up pin holders
It comes with an extra-large main shaft for power.
Features super-sized components for strength.
Faster line retrieval with 21 inches in every turn.
Four stainless steel bearings for smoother performance.
Cons
The plastic handle might break easily.
It Comes with weak parts.
---
Bow Fishing Reel Buyer's Guide
Reel type
You will basically get to see three styles of bowfishing reels. If you get to know both of their upsides and downsides, it will be easier for you to pick the one that will be best for you.
Hand Wrap Drum Reel
Just like the name says, you will have to wrap the line around the spool manually that is by your hand and hold it in place by putting it into a line holder. As you fire the arrow, the line will fly from the holder. And as you retrieve by rewinding your reel manually, it will get ready for the next shot using the same process. This type of reel makes a great choice for its pocket-friendly price. You can also use it in combination with a float system for shooting bigger fishes.
Drum Reel possesses a lot of perks. Not only they are reasonable, but also easier to set up. They also come with a longer lifespan than other types.
As for its disadvantages, the reel takes extra time and effort when it comes to winding. Besides, its line also does not shoot as quick as the other types.
Spincast Reel
One of the most basic kinds of reels is Spincast Reel. Whether you are utilizing a compound or recurve bow, Spincast will work superbly. It is also said to be one of the most commonly used reels in the world of bowfishing just for its simplicity. For people who are new to such sports, spincast reel can make an ideal choice.
Moreover, although it is attached to the bow, yet you will also find it akin to the traditional style of fishing. However, Spincast Reel comes pre-round basically. Apart from offering easier shooting and reeling, it provides a lighter line that lets it fly faster.
One of the big perks of Spincast Reel is that it is extremely easy to use. you will be able to set the drag up with such a reel easily allowing you to shoot your fish effortlessly. Also, as for the speed, this reel happens to be faster than those of drum reel type. It's faster to fire, easier to reel back in, and faster to fire again. So, even if you miss your aim, it will not require much of your effort.
Best Bowfishing Spincast Reel has been stated to be the least resilient types of reels in the market. It's because, once you let loose the line prior to shooting, you will be left with it flying from the spool which will make it useless.
Retriever Reel
Retriever reels feature a 'bottle' that holds the line in place allowing it to fly through the air without getting it tangled. This is a kind of reel that is great for catching bigger fish as well as alligators. It is also stated to be used mostly by the bow fishermen who are pro in such a sport. Retriever incorporates a thick braided line weighing 200 pounds and has been built to endure the pressure of the battle.
As for the perks of such a reel, it happens to weigh very light. Besides, it also comes with a thicker and more long-lasting line that has made the type more popular among the pros. The line uses a crank method to retrieve your line that increases the durability of the reel causing it to wear out less.
The problem with Retrieval Reel is that it does not offer great speed because of its thicker and heavier bowline. Besides, most of the retriever models hold a costlier price tag for the use of high-quality materials.
Gear Ratio
Gear ratio refers to the speed at which the reel will pick up a line. It is one of the most essential technical specs that need to be taken into consideration. The most common gear ratio that you will find in the bow fishing reel is 4.3:1.
It means that the spool will rotate 4.3 times in every one revolution of the handle. However, it also has a direct relation with the amount of effort that is needed for reeling in your catch. Basically, experienced bow fishermen are seen to prefer a higher gear ratio.
Durability
It's very vital to look for a reel that is made up of long-lasting materials. Such reels will be able to withstand the test of time. Since it's the durability that will help the reel last long, you would need a tough line that can hold up strong. Because, if the line or the reel snaps, your fishing day will get ruined. So, go for the one that will be strong enough to handle heavy use. Better to look for one that will be thick so it can catch bigger fish.
Types
Make sure you decide the type of reel that you will be using in your bowfishing. Each type is preferred by users of different skill levels. While Hand wrap drum reel and Spincast reel are great for beginners, Retriever Reel happens to be preferred mostly by experienced users.
Some Bowfishing Tips:
It's better that you ensure aiming low. if you want to get it right, always aim around 10 inches beneath the bottom of the fish.
It's better to not try to reel It in too hard as you shoot the arrow. Let the barb on the arrow do its work and slowly reel the fish in.
Always remember wearing sunglasses if you are bowfishing during the day. Go for polarized lenses as they help in dealing with glare and let you see deep into the water so you can spot more fishes.
Make sure you aim where your target is moving or going, not where it is as you release.
Bowfishing Reel FAQs
Q: How do you install a bowfishing reel?
A: it simply depends on the type of reel you will be having. The best thing to do is to have a look at the manual instruction provided by the manufacturer. While you will be reading, your top priority should be the mounting position.
You will be needing to select a position that will be comfortable with you while you will hold the trigger. The majority of the reel types will have screws that you will be using to install into your bow. The only exception is the Spincast reel as you will need an extra reel seat so it can complement the gear and then mount to the bow.
Q: What type of reel is ideal for beginners?
A: If you are new to the world of bowfishing, then the most ideal type of reel would be either a Hand wrap drum reel or spin cast Reel. Not only they are easy to use but also they offer fast performance.
FINAL THOUGHTS
Now that you already know the best bowfishing reel available out there, it will be easier for you to pick one depending on your preference. And since we have added some extra guidelines, you can use them as well to make a wise choice. Hopefully, you will have a happy experience using any one of the reels that have been listed here.
Read More: Best Spincast Reels
Recommendation & Reviews:
Muzzy Bowfishing 1069 XD Pro
Sale
Muzzy Bowfishing 1069 XD Pro Spin Style Reel with...
Bowfishing Spin cast style reel with integrated mounting system
Switch activation system allows you to lock into shooting mode and provides a visual indication that the reel is ready to shoot
Pre-spooled with 150 ft of 150 lb. test tournament line
Reversible left or right handed retrieve
Made in the USA
Zebco 808 Bowfisher Spincast Fishing Reel
Fin-Finder Winch Pro Bowfishing Reel
Fin-Finder Winch Pro Bowfishing Reel (Right-Handed)
4:1 gear ratio for fast retrieval
Built-In arrow quiver-universial fit
100% aluminum adjustable mounting brackets
25 yards of 250# braided line
Every Fin-Finder product is backed by the Water-Tight lifetime warranty that covers all manufacturer defects
For more information visit:https://atbuz.com/ now!