Some people may think that all they need for fishing is a good rod. This isn't the case, and one of the things you need apart from it is fishing reels.
Fishing reels come in a lot of shapes and sizes, so distinguishing between them might be quite difficult for you, especially if you are a beginning angler. If that's the case, then today's material will surely be useful for you!
We are first going to review 10 reels that we think are the best fishing reels you could get for the money! Then, we will move on to our buying guide to help you better understand what features you should be looking for when buying a fishing reel. Lastly, we will give you a couple of tips on cleaning and oiling the reel, which may be necessary before the first use of the reel!
Let's begin!
Best Fishing Reels We Will Cover Today
1.PENN Spinfisher V Spinning Fishing Reel
2.Shimano STRADIC FK
3.Abu Garcia Black Max
4.KastKing Summer and Centron Spinning Reels
5.Sougayilang Fishing Reel
6.KastKing Royale Legend
7.Zebco 33 Spincast Fishing Reel
8.Penn Pursuit III Nearshore Spinning Fishing Reel
9.Piscifun Torrent Baitcasting Fishing Reel
10.Penn Conflict II Long Cast Spinning Reel
Top 10 Fishing Reels Reviewed!
1.PENN Spinfisher V Spinning Fishing Reel
PENN Spinfisher V is a quite remarkable Best fishing reel for saltwater. Firstly, it is relatively affordable. Secondly, it has a good number of interesting features. And lastly, it comes in a lot of sizes!
In terms of options, Spinfisher V comes in sizes between 3500 and 10500. Obviously, the drag, gear ratio, retrieve rate, and line capacity is different for each model. In general, the gear ratio ranges between 4.2:1 to 6.2:1 from larger to smaller models, the drag ranges between 20 and 40 lbs., while the line retrieves rate ranges between 30 and 42 inches. And obviously, larger versions are heavier: the weight of the reel ranges from 14.4 to 43.5 ounces. All in all, the Spinfisher V spinning reel will be more suitable for larger fish.
Interestingly, the 6500BLS version doesn't have a bail, which means that there is no risk of the bail stopping the line during casting.
Spinfisher V reel features the sealed, water-tight HT-100 drag system, which is what stands behind the smooth drag of the reel. However, keep in mind that some water still can get into the water-tight body, and the water will be pretty hard to remove.
An interesting feature of Spinfisher V is that it has line capacity rings at 1/3, 2/3, and full capacity, which will allow you to quickly see how much of the line is left. And when you need to retrieve the line, the fluid cranking system with 5 ball bearings plus one anti-reverse bearing will allow you to easily do so.
Pros
Sealed, watertight body.
Full-metal durable construction.
Smooth drag.
Equipped with line capacity rings.
Fluid cranking for quick line retrieval.
A wide range of size options.
Cons
If water manages to get into the reel, it won't be easy to get it out.
2.Shimano STRADIC FK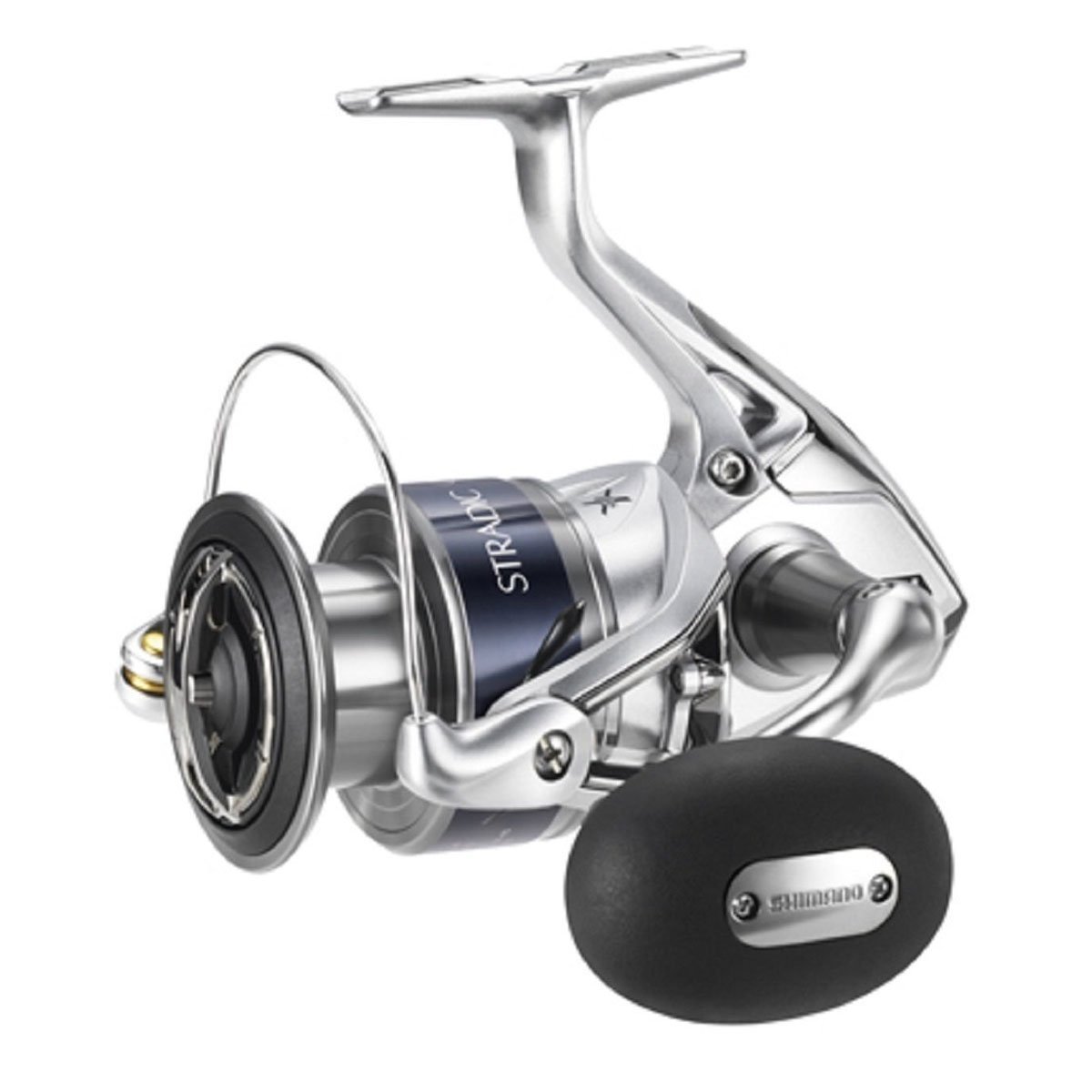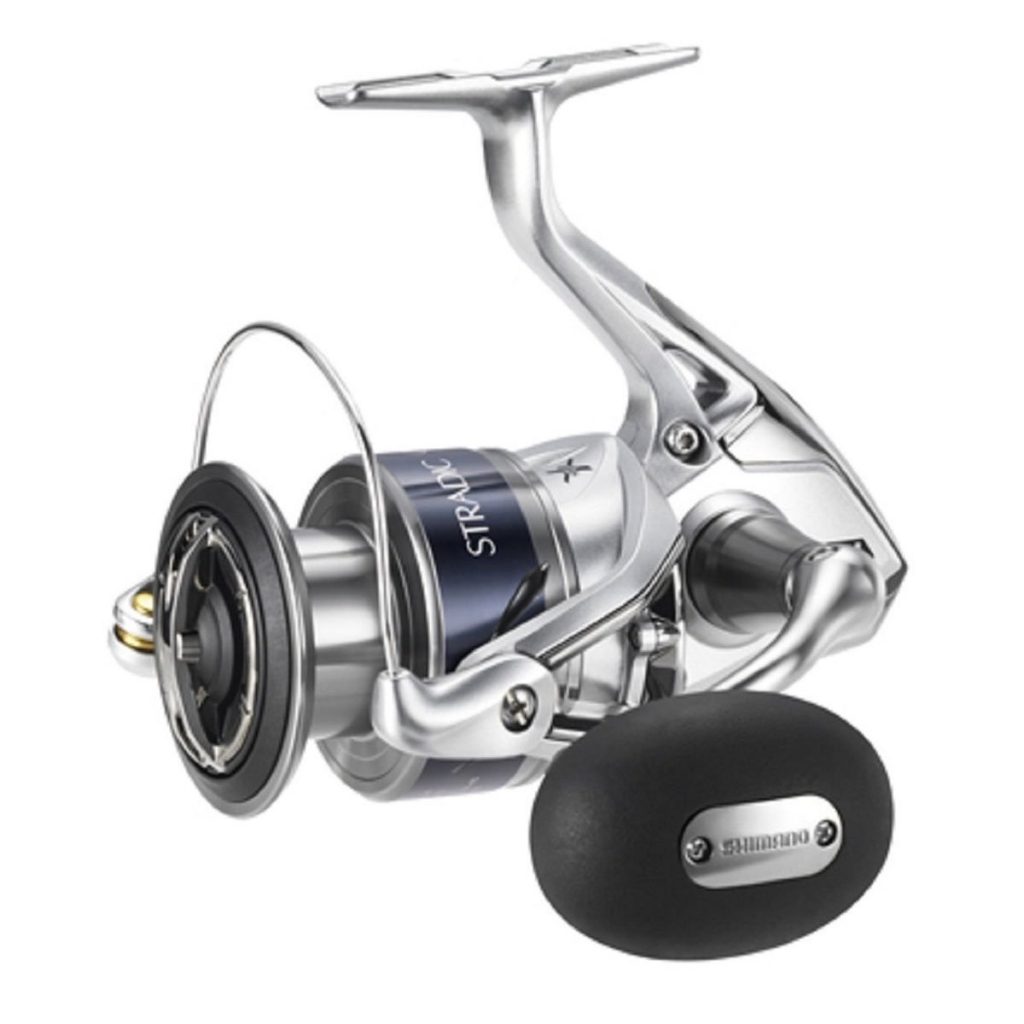 Up first on our reviews of best fishing reels is Shimano Stradic FK Spinning Reel, which will be a nice choice for a wide range of angling applications. Part of the reason for it is that this reel comes in several size options between 1000 and 5000!
Stradic SK reel features the Propulsion Line Management System, which has an updated spool lip design to lengthen casting distances, as well as to avoid tangling and backlashes. Although this reel doesn't have a switchable auto-reverse, it has one roller bearing to automatically remove back-play. Apart from the roller bearing, this reel includes 5 ball bearings, which make the spinning action quite smooth.
Stradic SK reel is made from a metal hagane body to ensure supreme longevity and deliver more cranking power. Speaking of cranking, the line retrieval of this reel is 31 – 41 inches per crank, while the gear ratio is about 6.0:1, depending on the size of the reel. Apart from that, the maximum drag varies between 7 and 24 lbs. from the smallest to largest reel. All in all, the smaller reels will be great for lighter lines, while the larger models will be suitable for heavier lines.
Pros
Quite smooth.
Strong build.
Has shields to prevent sand or salt from getting into the reel.
Features a propulsion system for longer casts with no backlashes.
Efficient line retrieval.
Cons
No switchable reverse feature.
3.Abu Garcia Black Max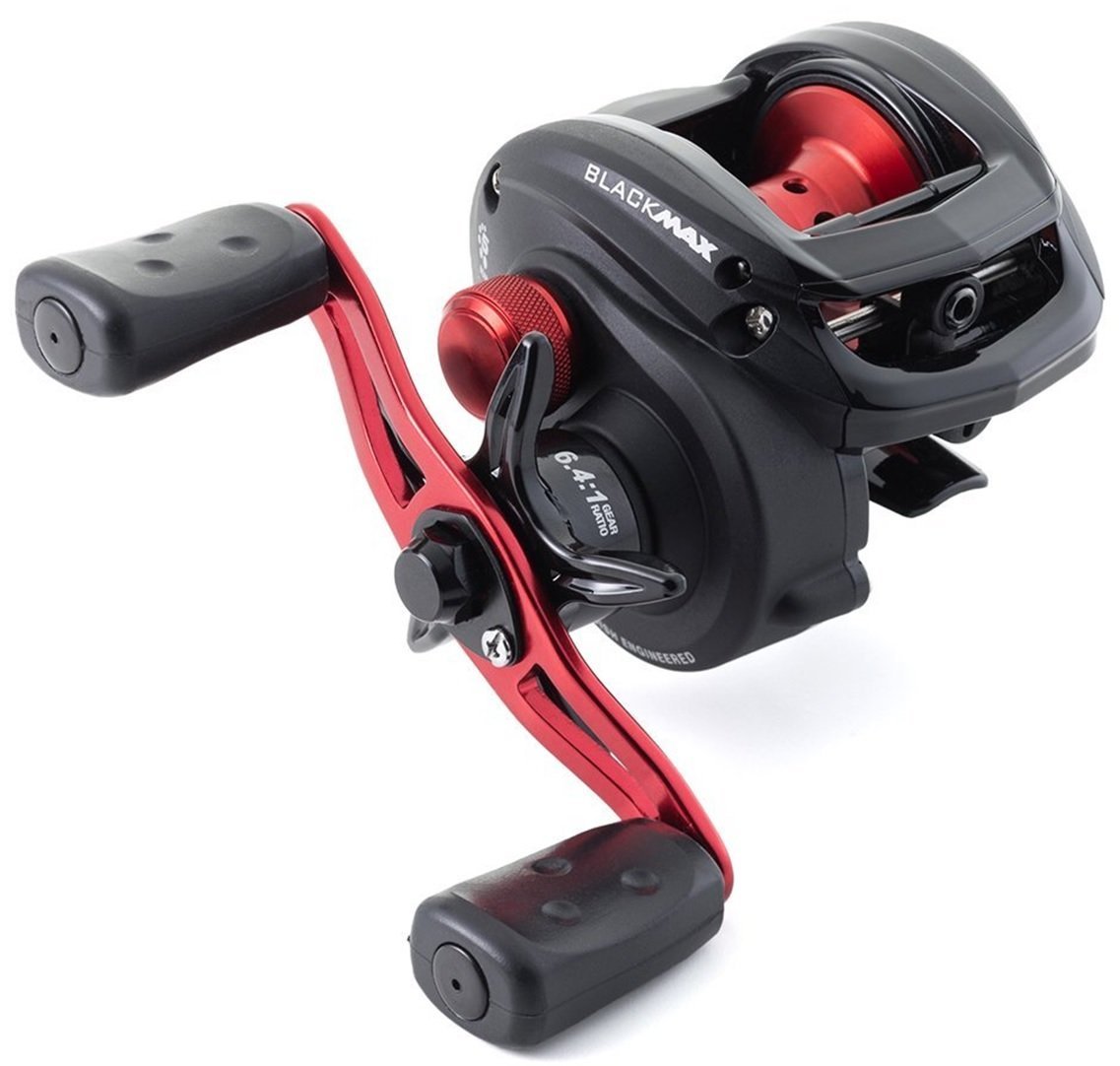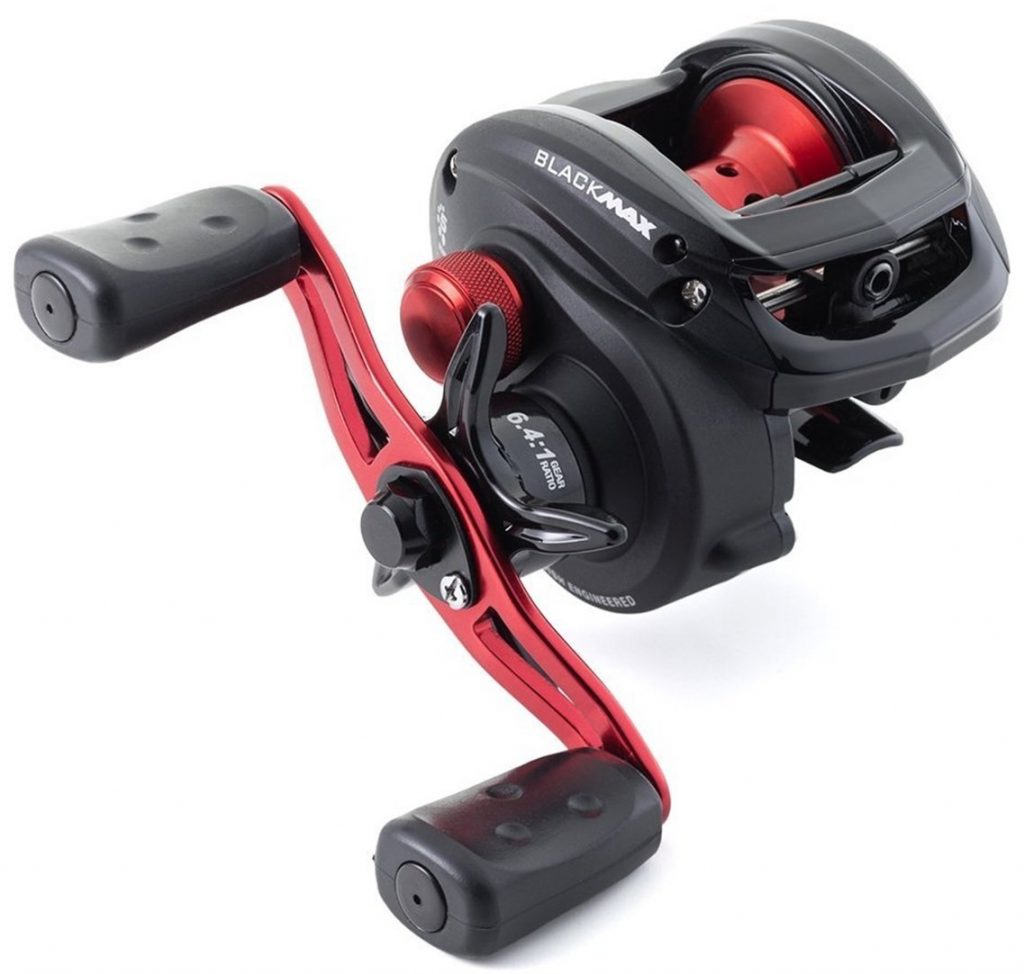 Abu Garcia BMAX3 Max is a quite nice fishing reel for beginning anglers, which is mainly due to the reel's inexpensiveness. But don't think that this reel doesn't have anything to offer because it is affordable!
BMAX3 Max baitcasting reel is particularly suitable for casting. In case your fishing involves a lot of casting on large distances, then this reel will undeniably be a good pick. One of the features of the BMAX3 Max that contribute to its castability is the MagTrax brake system, which allows you to release the line at the right time.
BMAX3 Max fishing reel is quite smooth: it has 4 stainless steel bearings for smooth line retrieval, as well as one roller bearing for anti-reverse action. The gear ratio of this reel is quite quick – 6.4:1 – which will be good if you need faster-retrieving action.
The 18-pound max drag of the reel is also quite nice for the size of the reel. Lastly, the mono capacity of the BMAX3 Max reel is 145/12 (yd/lb) and the brad capacity is 140/30.
Pros
Sleek and lightweight design.
4+1 bearings for smooth line retrieval.
Strong graphite frame.
Equipped with a brake system.
Ergonomic double handle.
Cons
4.KastKing Summer and Centron Spinning Reels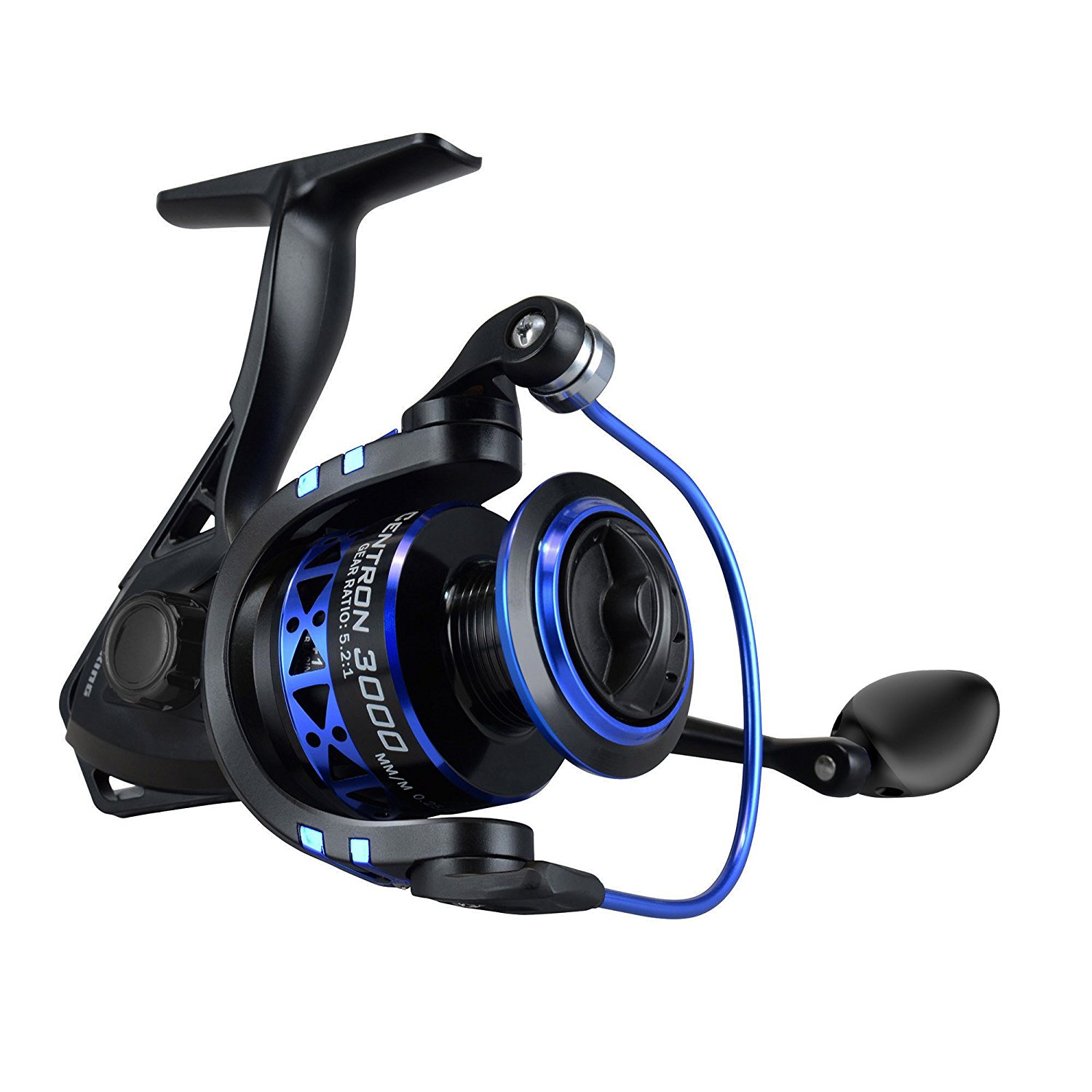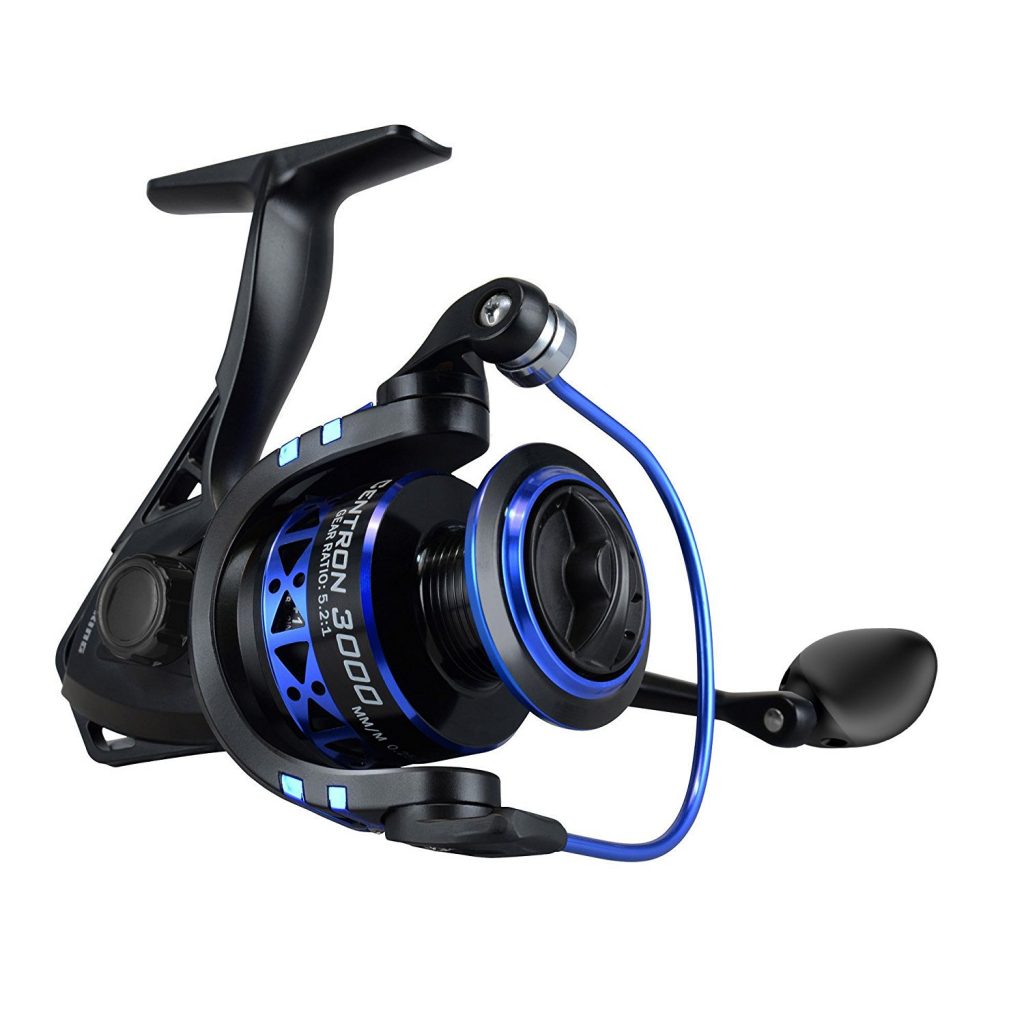 Although KastKing Summer/Centron spinning reels are quite affordable, they have maybe the smoothest retrieval action among the reels of their price range. That's because it has as many as 9 quality ball bearings! And let's also not forget the one anti-reverse roller bearing!
In terms of materials, the KastKing spinning fishing reel looks quite good: it features a body made from a rather durable graphite. However, keep in mind that its small components like screws and gears are made from softer materials, making the reel not so tough.
KastKing Summer/Centron reel has small size options starting from 2000. If you need something bigger, you could go for the 5000 sizes or everything that's in between 2000 and 5000. All of the versions deliver a quite good drag for their size.
The drag ranges between 11 and 17.5 lbs. Ranging from 4.5:1 to 5.2:1, the gear ratio is more on the slower side, which will be a great thing if you want to be able to transfer more force into the line when pulling heavier fish. This fact is also visible in the line retrieval per crank, which is lower when compared to other reels of the same size.
A remarkable feature of the KastKing Summer/Centron reel is that it has an interchangeable handle, which could be mounted either on the left- or the right-hand side of the reel.
Pros
Power launch lip for further casting.
Strong graphite frame.
Interchangeable handle design.
Great drag.
Smooth line retrieval.
Cons
5.Sougayilang Fishing Reel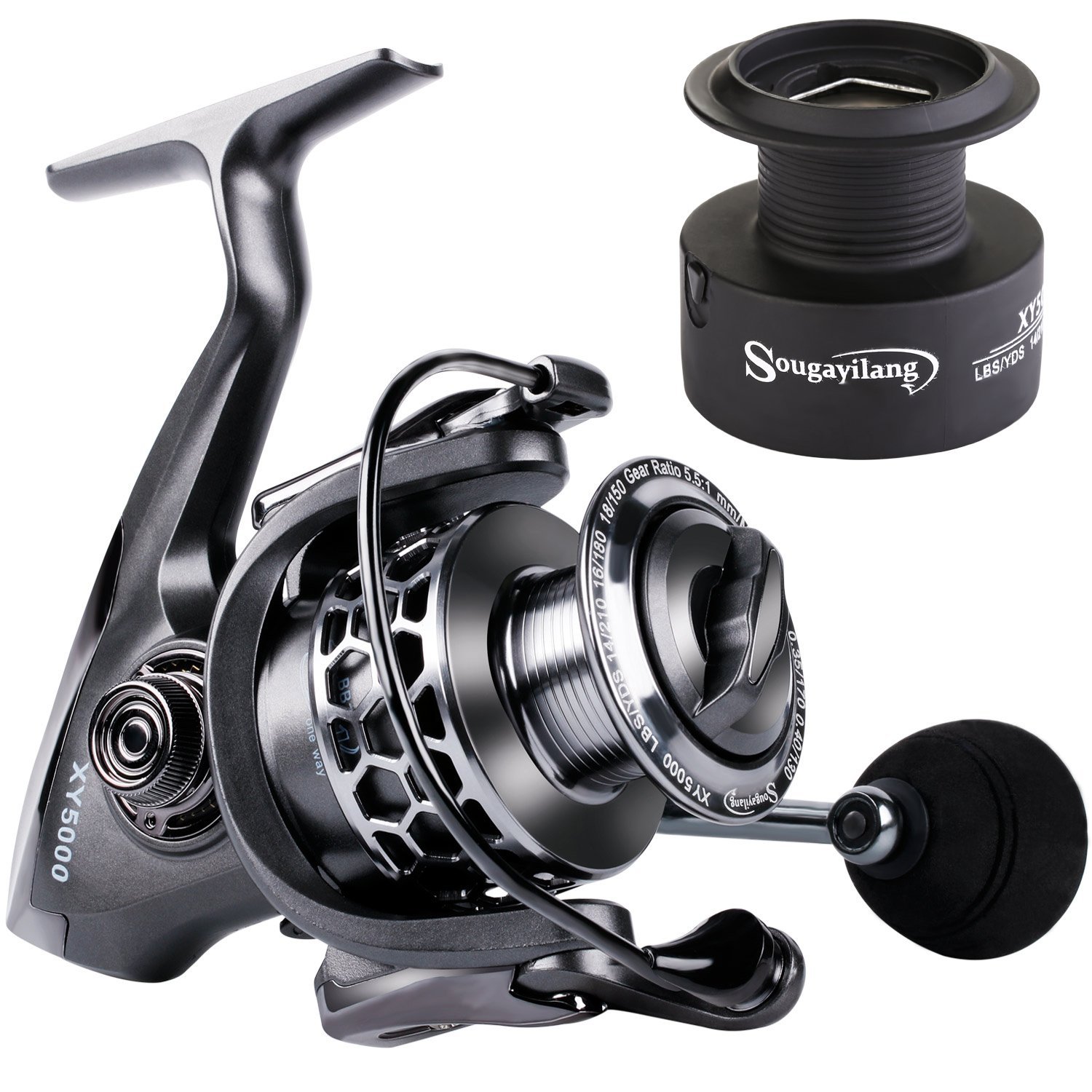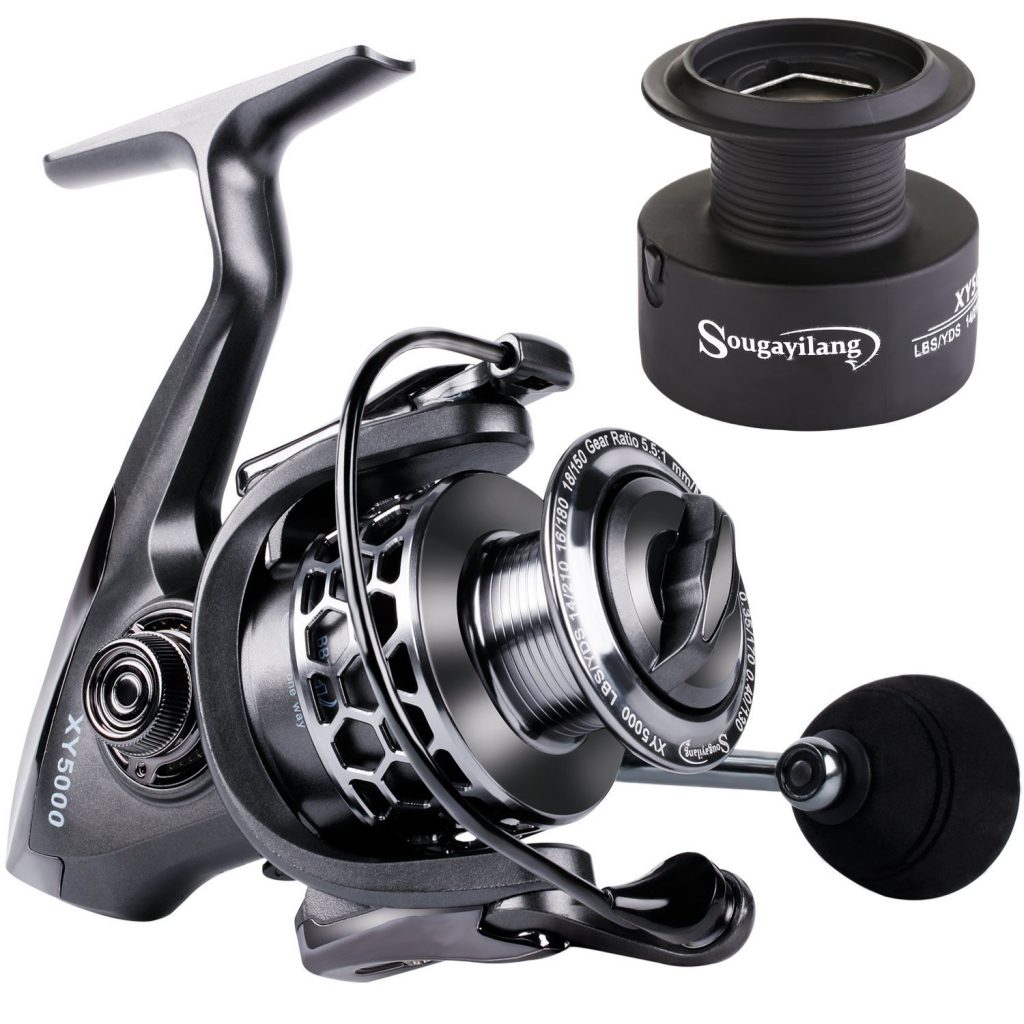 Sougayilang 13+1BB fishing reel is a rather great product for its price. It's an all-around good beginner-level reel that delivers some outstanding performance.
Sougayilang XY series spinning reels feature exceptionally smooth spool action thanks to 13 ball bearings plus 1 roller bearing for the prevention of backlashing. Sougayilang XY reels also have the Superior Drag System that, according to the manufacturer, delivers incredible stopping power, though there are no exact figures of the max drag provided.
The size options within the XY series range from 1000 to 5000. The gear ratio for the 1000 model is 5.1:1, while for the rest, it is 5.5:1. To be honest, it doesn't really make sense why the smaller version of the reel has a slower gear ratio.
Typically, it is the other way around, and the reason behind that is quite clear: larger reels manage heavier lines for larger fish, for which it would be much more convenient to have slow gear ratio because it allows pulling heavy fish out of the water more efficiently.
The reels of the Sougayilang XY series feature a hollow design, which makes the reels quite lightweight. On the other hand, the frame of XY reels is made from durable high-tensile graphite.
It is worth noting that Sougayilang includes a free spare graphite spool with their XY series reels!
Pros
A wide range of size options.
13+1 bearings for smooth action.
Lightweight design.
High-tensile graphite frame.
Large, left/right interchangeable handle.
It comes with a free spare graphite spool.
Cons
6.KastKing Royale Legend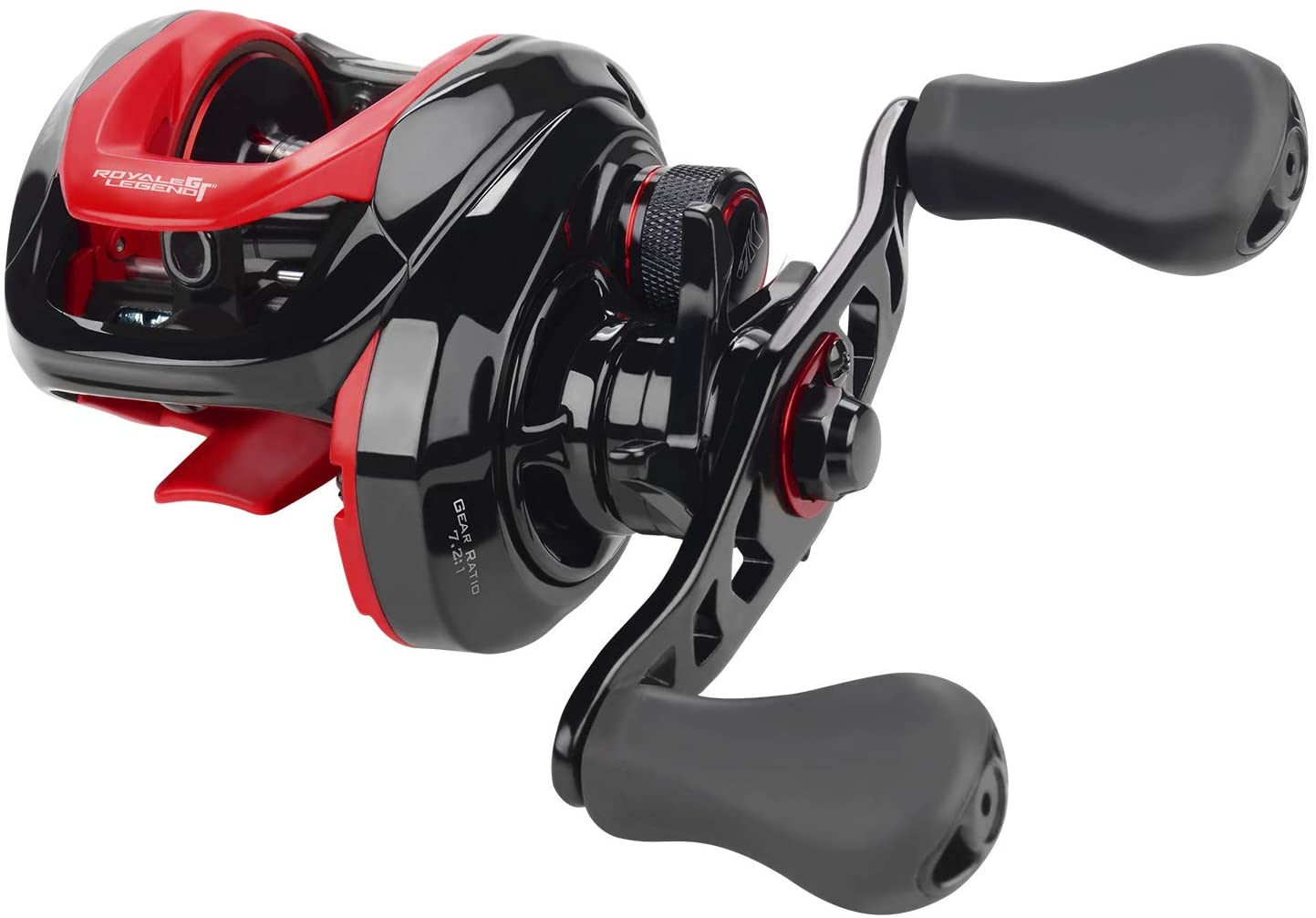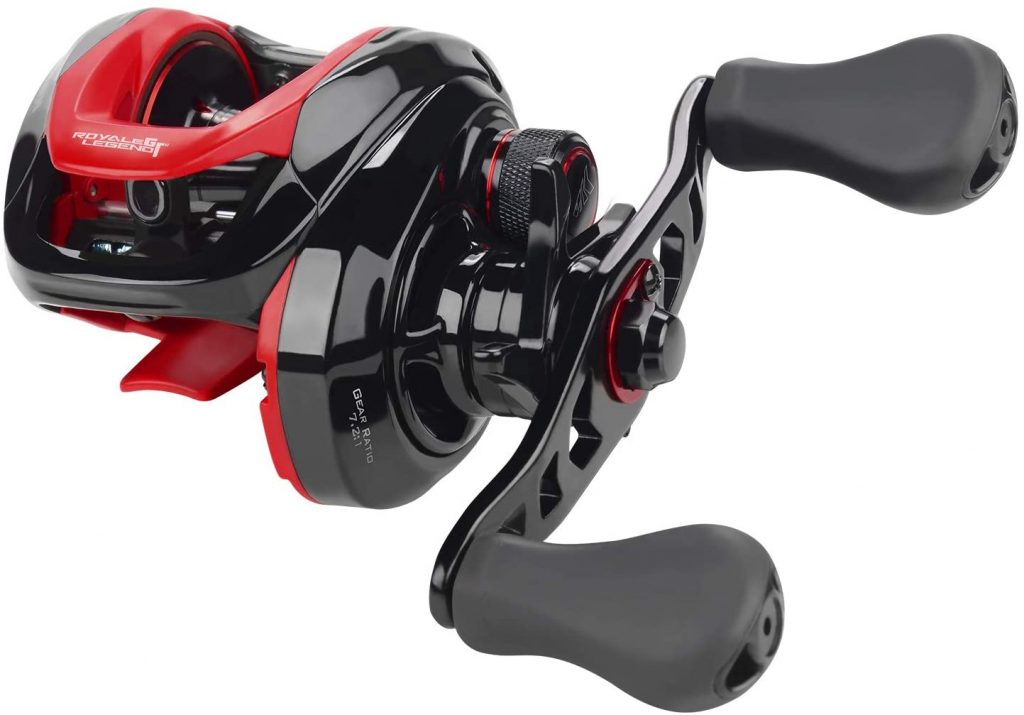 Yet another baitcasting reel on our reviews of best fishing reels! KastKing Legend is indeed a pretty great baitcasting reel for the money!
Firstly, Legend features an extra-smooth bearing system with 11 ball bearings plus 1 roller bearing for anti-reverse action. The smoothness of line retrieval of Legend GT obviously can't compete with that of mid-and high-end reels, but it will certainly be better than the performance of most of the reels with comparable price.
Even though KastKing weighs only 7.5 ounces, it offers 17.5 lbs. of maximum drag, which is something that typically much heavier reels can offer! Apart from that,  features a slow gear ratio of 5.3:1 and a line retrieval rate of 24 inches per crank, which makes this reel better for the slow and powerful pulling of the fish. Quite a nice feature of KastKing Legend is its oversized handles, which makes retrieving the line so much easier.
A must-have of a baitcasting reel, a braking system, is also present. In particular, White max has a dual-system brake that consists of an adjustable centrifugal brake, as well as a 7-magnet magnetic brake for ultimate casting.
Pros
Ideal for casting.
Extra-smooth retrieval thanks to 11+1 bearings.
Exceptional drag.
Oversized handles.
Easy to fine-tune brake system.
Cons
The bearings can't be fully accessed for cleaning.
7.Zebco 33 Spincast Fishing Reel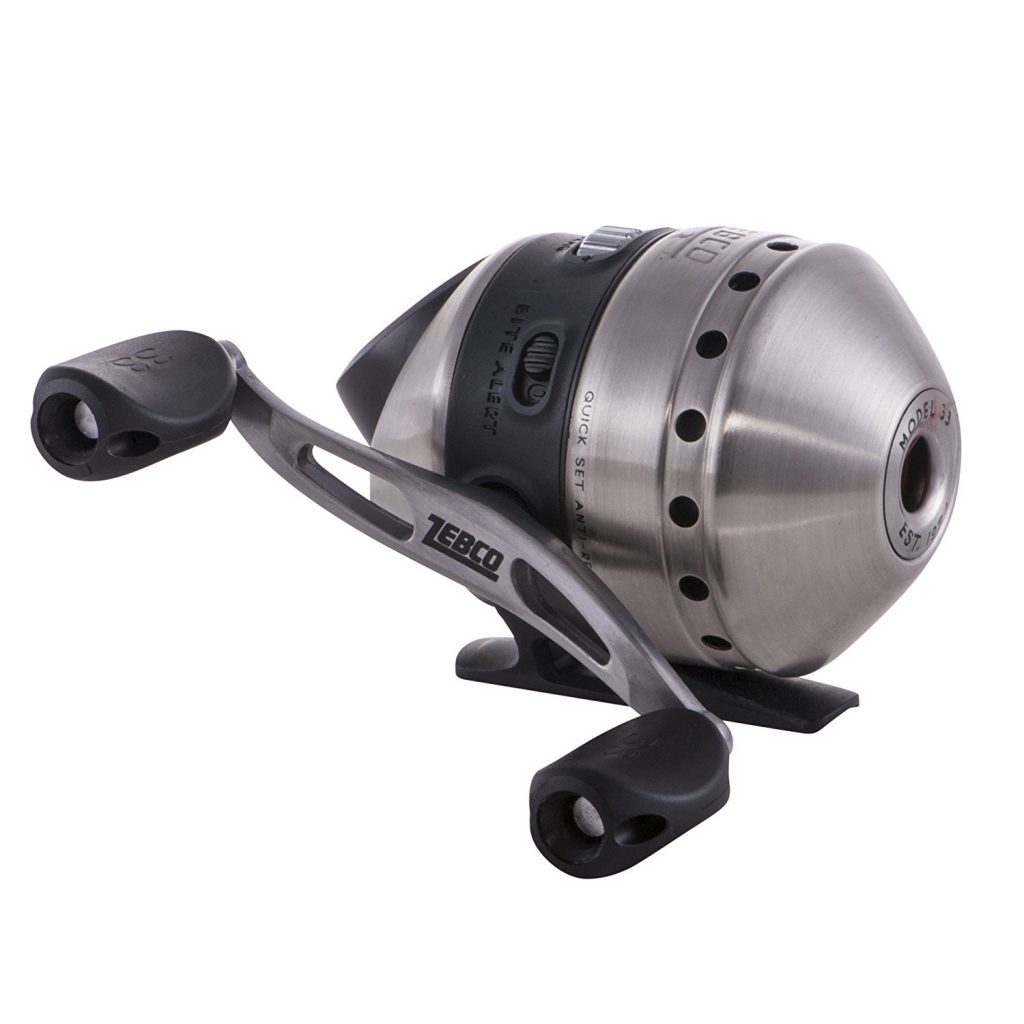 Now comes what may be the best affordable fishing reel that we reviewed today. Zebco 33 is a very simple spincast reel, so it will surely be perfect if you just want to get a spare reel. Furthermore, the Zebco 33 spincast reel will be ideal for beginners!
Zebco 33 comes with only 1 bearing, which is, in reality, more than enough for the performance this reel offers. The reel features a slow gear ratio of 3.6:1, which will be a better choice if you want to have more power transfer over the line rather than quick retrieval capability. Overall, the line retrieval rate of Zebco 33 is 19 inches per crank.
This reel offers the MicroFine dial-adjustable drag system, but Zebco doesn't tell what the drag figures are, unfortunately.
Zebco 33 spincast reel is quite light, weighing only 8.5 ounces, although it is durable as well thanks to its graphite frame and all-metal gears.
This Spincast reel has an interesting feature called Bite Alert. When turned on, it basically disengages the anti-reverse and instead lets the line move freely. Apart from that, it activates the audible clicker that clicks along with the line moving out. The idea of this feature is to alert you when the fish starts pulling the line.
Zebco kindly included a 100-yard 10-pound Cajun Line with this reel, which is really nice for the price of the reel. On the other hand, the line isn't very durable, so you might want to quickly find something better.
Pros
Exceptionally affordable.
Light graphite frame.
Slow gear ratio for better power transfer into the line.
Changeable right/ left-hand handle.
Comes spooled with 100-yard, 10-pound Cajun Line.
Cons
The included line is very light-duty.
No data on the drag.
8.Penn Pursuit III Nearshore Spinning Fishing Reel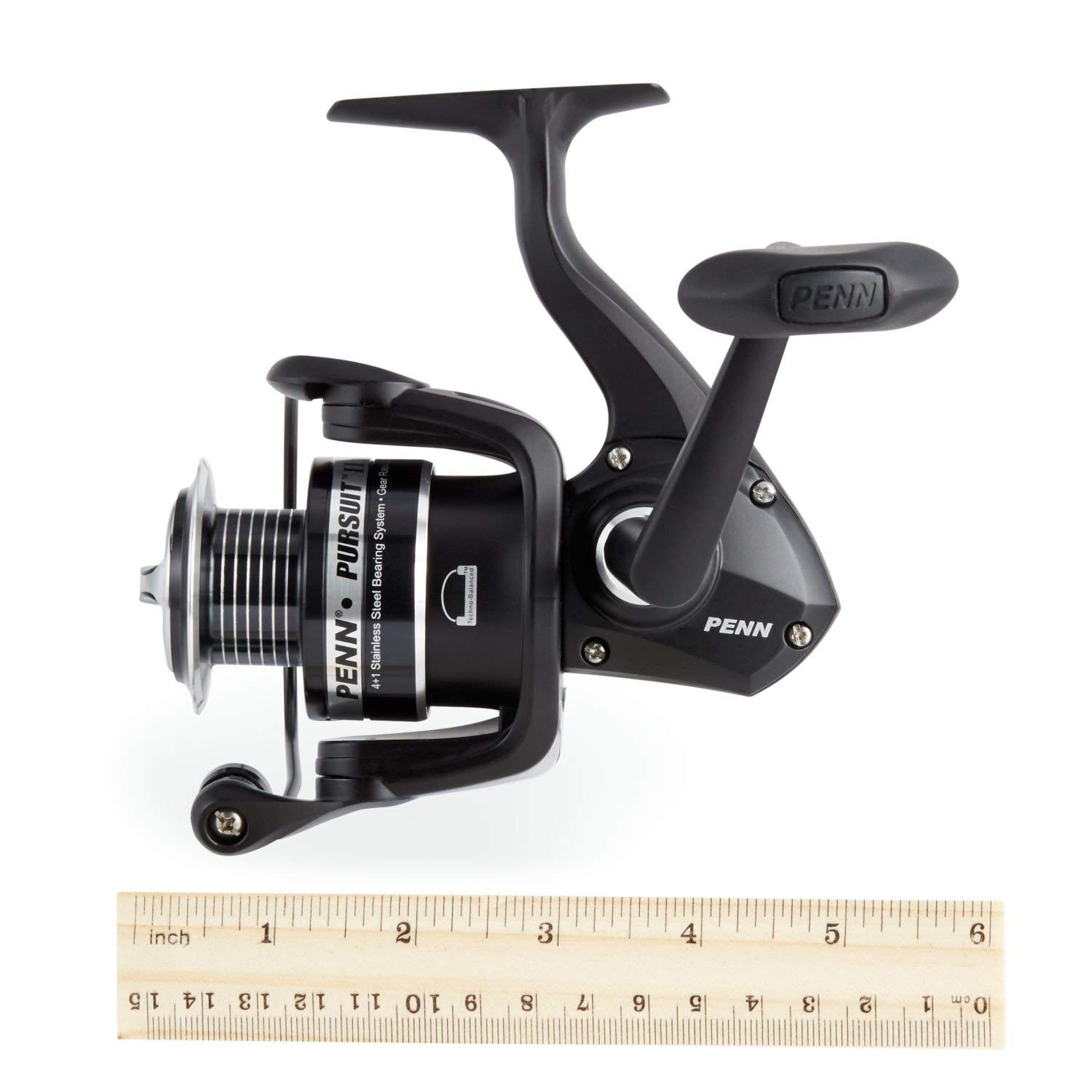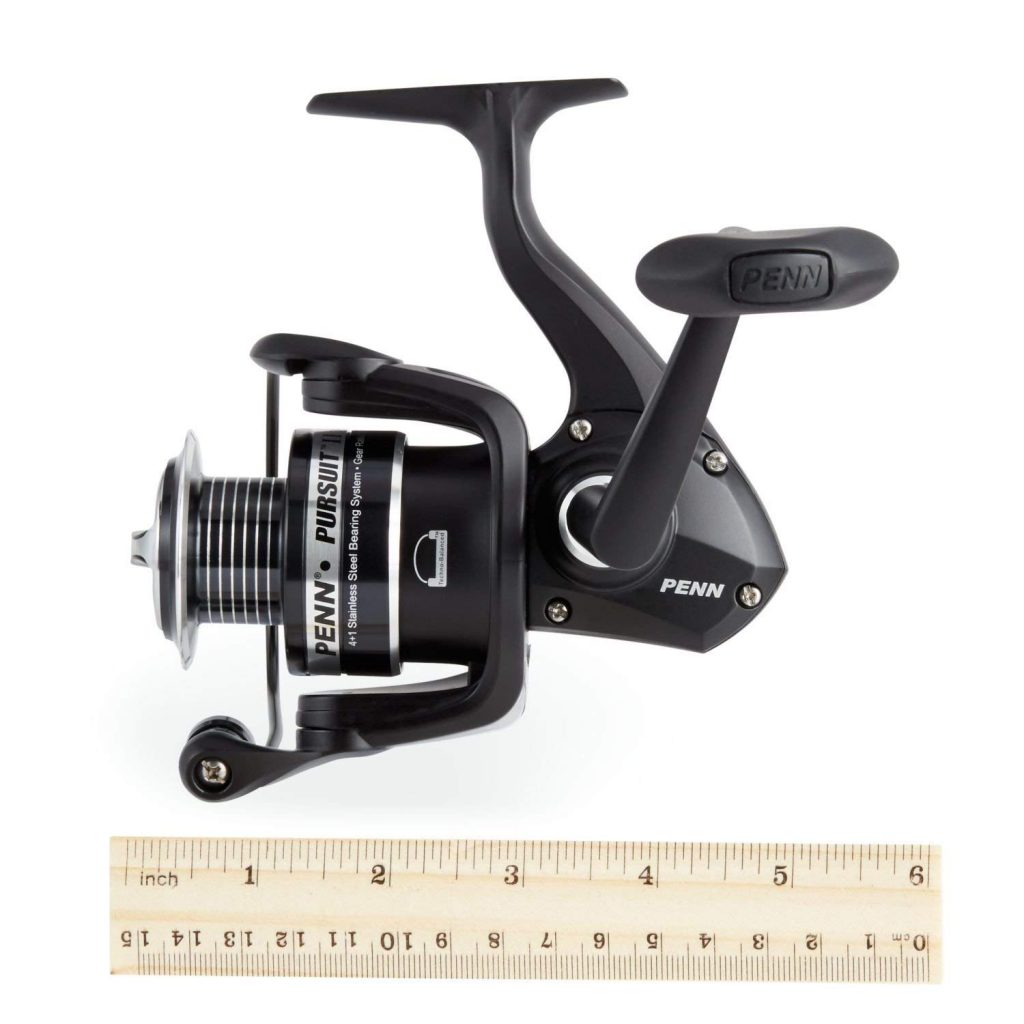 If you searching for an amazing spinning reel where the price is not an issue, then search no more and consider buying the amazing PENN Pursuit II Combo, which is capable of carrying a 25 mono without an issue. This is a rock-solid combo with a superior feel and which comes with a rod and reel that are perfectly matched.
The reel has a very smooth drag, is sturdy, and can be relied on to help competitive anglers. With this combo, broken rods and frozen reels will be a matter of the past if it is cleaned and serviced properly.
PENN Pursuit II Combo is well-balanced and durable that can be relied on to catch countless roosterfish, snooks, and black drum. It is fun fishing with this spinning reel. The reel has a great drag system, made using superior-quality components, and comes with an anti-reverse bearing and 4 shielded stainless steel bearings.
It also attributes aluminum oxide guides and a machined anodized aluminum spool. The 7 feet long rod has a graphite constructed blank that ensures maximum sensitivity and can handle a line of 15-20 lbs. Also, it attributes graphite reel seats and Techno-balanced rotor, credited for the smooth retrieve associated with this combo.
Pros
Extremely high-end
Used by professionals
Extremely high quality
Durable
Great grip for fishing
Still lightweight
Very smooth at retrieving the fish
Cons
The blank is made of graphite which makes it a bit brittle
Primarily made for more experienced fishermen
9.Piscifun Torrent Baitcasting Fishing Reel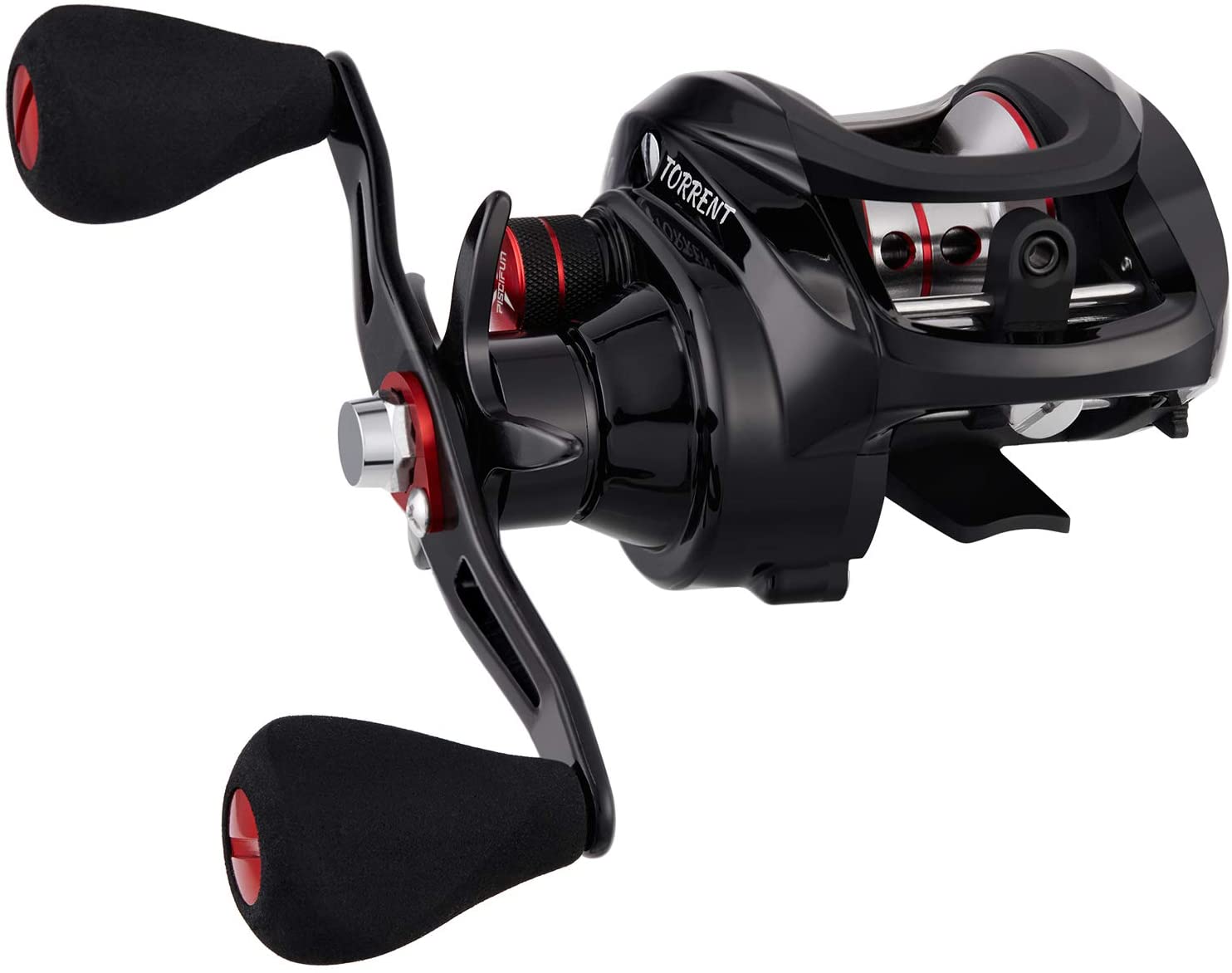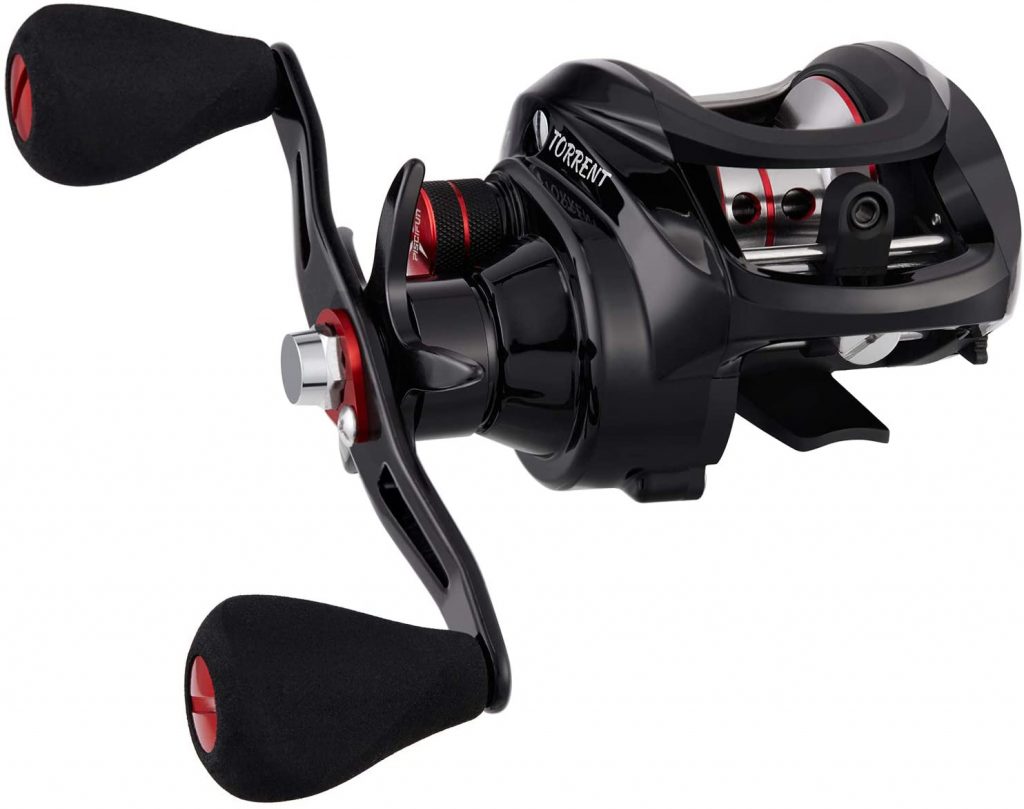 Piscifun Torrent baitcasting reel has a number of quite interesting features, which could greatly contribute to successful angling. But let's see if that's really the case with this reel!
Remarkably, the Piscifun Torrent fishing reel has the quickest gear ratio among the reviewed reels: 7.1:1, which allows for a quick 30-inch retrieve per turn rate. Besides, this baitcasting fishing reel has a large and convenient cranking handle. And lastly, let's not forget about the retrieval system with 5+1 stainless steel ball bearings. This would be ideal if your fishing tasks rely heavily on your ability to quickly retrieve the line.
The 18-pound drag of Torrent fishing reel is also quite nice for its weight of about 8 ounces, which will allow you to catch heavier fish. The good mono and braid capacity of 10/120 and 30/120 (lb./yd.) also greatly contributes to this.
Piscifun Torrent features a graphite composite body, which significantly adds to the overall durability of the reel, though it obviously can't compare with all-metal reels.
This baitcasting reel features a magnetic brake system with 10-level adjustability. With the convenient thumb pressure controls, controlling the backlash of the reel is a breeze. However, be mindful that the magnetic brake might be not as effective as classical anti-reverse systems.
A remarkable feature of Piscifun Torrent is its side port for quick oil refilling. It is quite easy to lose small details of the reel while disassembling it for oiling, so the side port surely is a welcome feature.
Pros
Quick gear ratio.
Good max drag of 18 lbs.
Durable build.
Large cranking handle.
Easy to oil.
Magnetic brake system.
Cons
Don't expect the magnetic anti-backlash to work perfectly
10.Penn Conflict II Long Cast Spinning Reel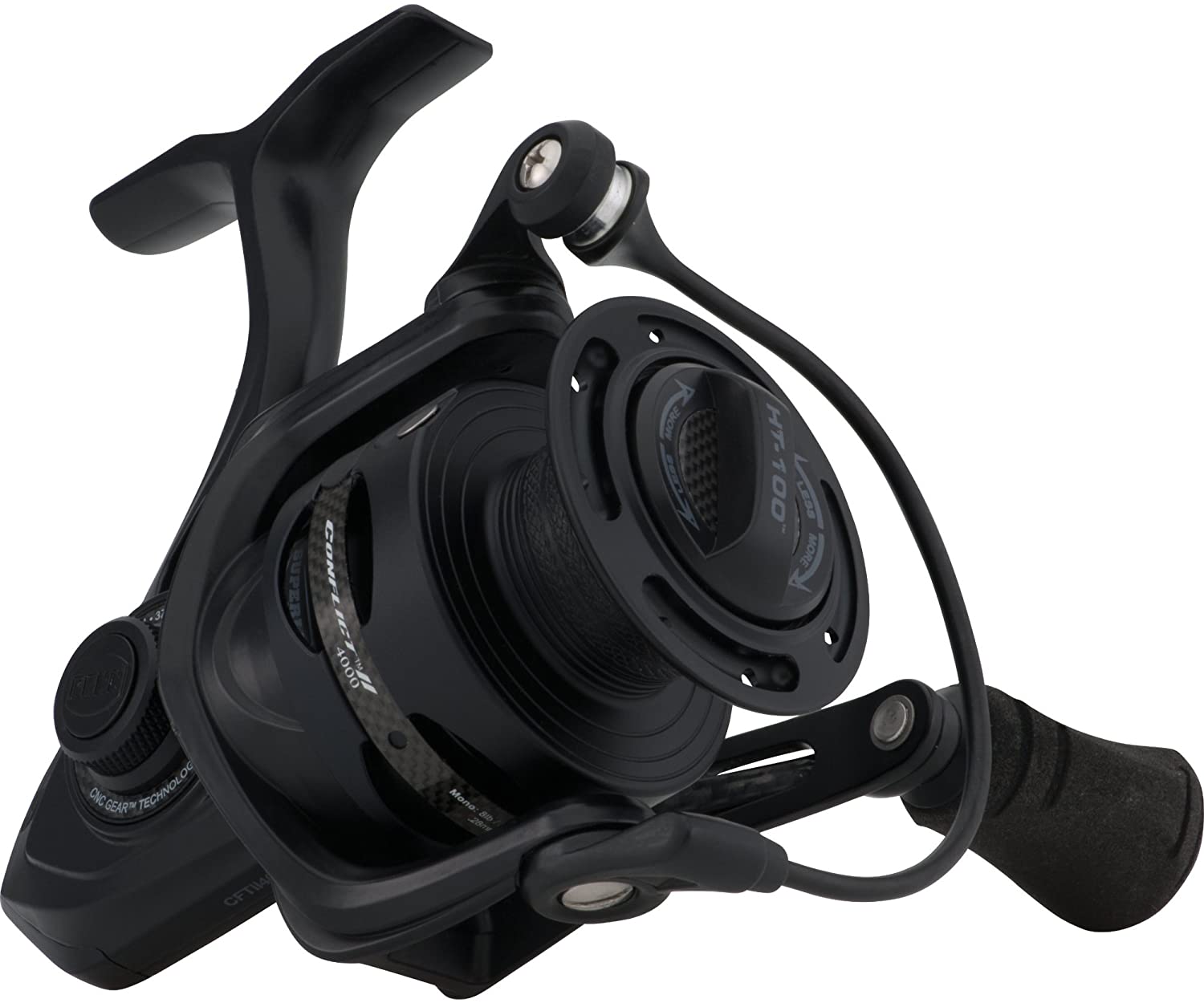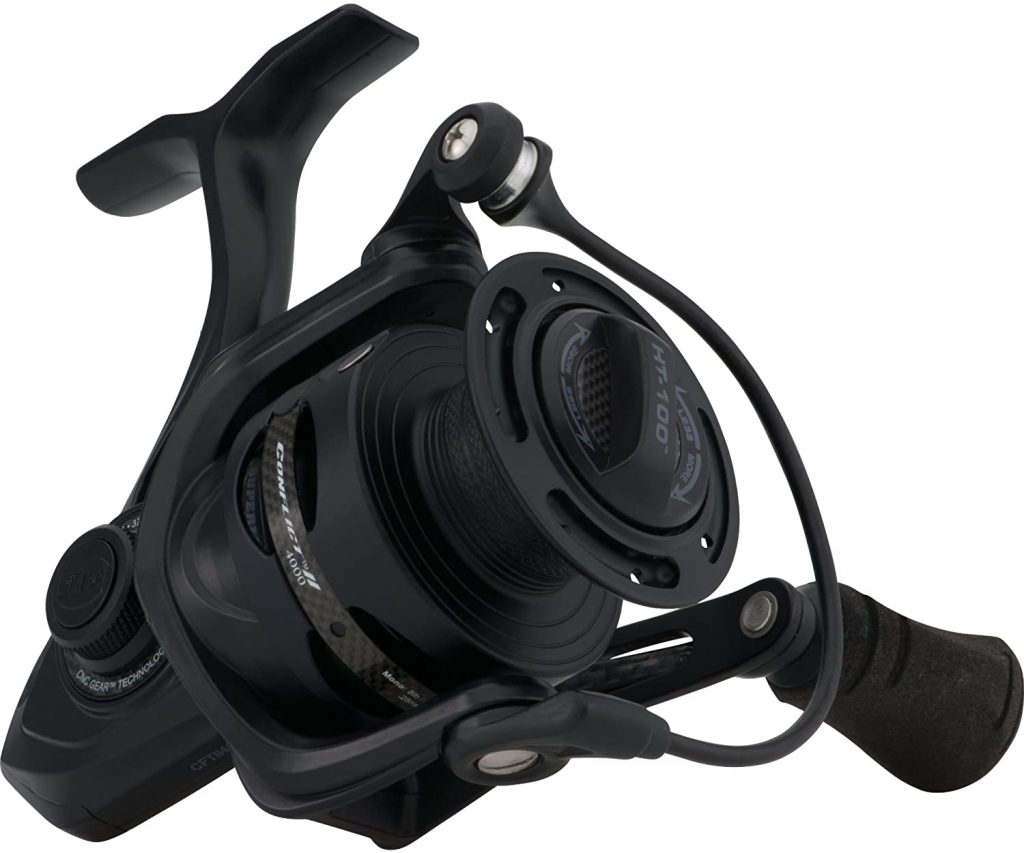 The Penn Conflict was launched in the fall of 2013 and is placed just above the Penn Battle II and below the Penn Conquer. The Penn Conflict fishing reel is engineered and is typically most popular in the 1000 to 3000 size range – for the inshore or nearshore fisherman who is typically looking for a smaller reel.
New with the Conflict is the 2500 size reel that is ideal for those anglers who are looking to have something that is small enough to balance out a lightweight rod for higher technical fishing.  The Conflict is also available in as large as an 8000 series.
What makes Penn Conflict Spinning different from any other reel is that the line lay has been changed by altering the size and the lip of the spool.  This combination gives better line management while casting and better line lay while retrieving.
One of the other things that you will notice right away as you use it, is that the Conflict is quite a bit lighter, between 3% and 10% depending on the type of model you choose.  The smaller series reels use a graphite rotor that seems to provide sufficient torque and strength while reducing weight.  The 5000, 6000 and 8000 use an aluminum rotor which again decreases the overall weight of the reel.
Its HT-100 Drag system involves a technology called keying the drag washers.  The washers are permanently keyed into the spool meaning that there is access to both sides of the washers, which allows about a 20% increase in overall drag for the same sized washer.
Pros
Techno-Balanced Rotor
HT-100 Drag system
Sealed bearing system
Smooth Drag
Line Capacity Rings and Braid ready spool
Sturdy feel
Cons
Still a bit heavy
Wind Knots
Loud
Loose feel after a number of uses
Rough retrieve
Different Types of Fishing Reels
Now that we are done with the reviews, let's see what you should be looking for when buying fishing reels. Fishing reels are quite complex, and you might get really confused initially with all those terms and numbers, so we will try to give you as much information as possible about them.
Spinning Reels
Often referred to as eggbeaters because of the characteristic whipping action, spinning reels are the simplest yet most versatile kind of fishing reel.
Spinning fishing reels use a bail guide system that holds the line and wraps it onto the spool during retrieval. Flipping the bail across releases the line to fall off the spool freely. With fixed spinning reels where the spool does not spin, the casting is excellent. To begin retrieving the line, the bail needs to be flicked back.
Some spinning reels feature a free spool, which is suitable when the angling tasks require the unwinding of the line along with the water current. However, free-spool reels won't be as good for casting.
Spinning reels typically come in sizes marked between 1000 and 10000, though the markings may be in double figures or in hundreds (e.g. 65 and 650). Let's see what those markings mean:
1000 to 3500 (or 10 – 35). These reels are small and are most frequently designed for use with light 6 – 7 feet rods that target small fish. Usually, the monoline weight range for these reels is 2 – 10 pounds, while the braid range is 4 – 14 pounds.
4000 to 5500 (40 – 45). These reels are medium-sized and are mostly designed for 6 – 7 feet medium-weight rods, and the typical mono and braid line weight ratings are 8 – 14 pounds and 8 – 25 pounds respectively.
6000 – 9500 (60 – 95). These are the heaviest reels that are suitable for heavy-weight fishing rods. 6000 – 9500 series rods are usually rated 6 – 15 pounds for mono and 12 – 30 pounds for braid ratings.
Apart from these classes of reels, you could find much larger spinning reels that are classed between 10000 and 30000. The mono and braid line rating of these reels well exceeds 10 – 30 pounds and 30 – 80 pounds respectively.
Baitcasting Reels
Baitcasting reels are designed for baitcasting fishing rods. These reels are quite difficult to use and are prone to tangling the line but offer great levels of accuracy and control in skilled hands.
Baitcasting reels come in round or low-profile designs. Round-profile reels hold more line, which makes them ideal for catching fish species that make long runs. On the other hand, low-profile reels allow anglers to palm the reel during castings for more control, which would be ideal for sports fishing.
Baitcasting reels come with brake systems that can be typically adjusted with a spool tensioning knob. The brakes allow for tightening or loosening of the rotation of the spool to prevent line backlash, which is also known as the bird's nest.
The tightness of the brakes is adjusted in accordance with the weight of the lure. Though braking systems are effective as is, learning to thumb the spool when casting helps additionally ensure the prevention of line backlash.
Fly Reels
Fly reels are designed for use with fly fishing rods. In general, a fly reel is the simplest kind of fishing reel, though modern fly reels become increasingly advanced.
The main feature of fly rods is their advanced drag-system for finer drag adjustment, consistency, and resistance to drag friction.
The purpose of the fly reel is to just store the line, as well as provide drag when the fish makes the run. Apart from that, fly reels are designed to counterbalance the weight of the rod when casting.
Fishing Reels Buyer's Guide
Construction
The construction, in particular, the durability of the reel is exceptionally important regardless of the weight of the fish you are targeting, as well as regardless of the quality you need. You want to go for the best fishing reel in terms of durability that you can afford. Most typically, fishing reels are made from graphite or all-metal. Reels with graphite usually only have graphite frames, while the rest of the components can be made from aluminum.
Graphite reels aren't as durable as all-metal reels. They might be great for lighter fish, but they probably won't be able to stay intact for too long if you are mostly targeting heavy fish.
Another thing to account for is the precision of the reel's build. This isn't a thing that you could evaluate by just reading product descriptions, so you may need to get your hands on the desired reel to test its build.
If the components of the reel are cut precisely, there won't be any play between them. Otherwise, you may feel that for example, the handle isn't stiff, the reel's body has strange gaps, etc. A badly built reel will wear out quicker because of the play of the components, plus it may damage your fishing line.
Bearings
Bearings are quite important with fishing reels as well. They ensure smooth and noise- and vibration-less retrieval of the line. If a reel has low-quality bearings, it will probably break down quicker, and it also may annoy you during long fishing days. Thereby, picking the smoothest reel possible should be a priority.
Unfortunately, there isn't a reliable way to examine a fishing reel's smoothness without testing it. Manufacturers mostly indicate only the number of bearings in their reels, which isn't the best indicator of its smoothness. Though to some extent, the bigger number of bearings ensures smoother retrieval.
However, what contributes to the smoothness of a reel the most is the materials the bearing balls are made from. Bearing systems with four quality bearings will work more smoothly then ones with 10 poor bearings. The precision of the bearings, their lubrication, and many other factors play big roles in the smoothness of the reel.
In case you don't have the opportunity to test a fishing reel before buying it online, you could read some user reviews to find out more about the bearings' performance.
Gear ratio
The gear ratio indicates how many revolutions the spool makes per the rotation of the handle unit. As an example, the gear ratio is indicated in the following format: 5.5:1. This means that the spool makes 5.5 revolutions for every full rotation of the handle.
Gear ratios can be slow or quick. Ratios below about 5.5:1 is considered slow, while everything above that is quick. Slower reels allow for much better power transfer through the line, while quicker reels obviously allow for faster retrieval of the line. For larger fish, slower reels would be more appropriate, while quicker reels would be better for smaller fish.
Drag
The purpose of the reels' drag is to let some amount of line out of the reel when the fish starts pulling on the lure. This is done in order to prevent damage to the line or the rod. If the reel doesn't have a drag system, the line would snap immediately as the fish starts pulling on it. And if you are unfortunate enough, you may end up with either a broken line or rod.
The other purpose of the line is to allow the fish to get fatigued, which will make it easier for you to catch it. Feeling the resistance of the line, the fish will fight for the lure, which will wear it out.
Fishing reels come with different drag systems: the bigger the reel, the more drag it has. For bigger fish, more drag would be necessary to ensure the safety of the rod and the line. Make sure to choose the drag in accordance with your needs.
Drag systems can be rear- or front-mounted. Front-mounted drag systems are more effective due to their construction, but their benefits reveal themselves only with the largest fish. On the other hand, rear-mounted drag systems have some advantages like easier adjustment due to the handle's positioning.
Line capacity
The line capacity supported by the fishing reel is crucial. You shouldn't use lighter or heavier lines that are not supported by the reel. Heavier lines simply won't fit onto the reel, while lighter lines won't allow you to fish efficiently. Ensure that you choose a reel in accordance with the weight capacity of your line.
Fishing rod compatibility
The compatibility of the fishing rod with the reel is also important. Smaller fishing rods won't accommodate large reels. On the other hand, it doesn't make sense to use a light reel with a heavy rod because you won't be able to use heavier lines to catch large fish efficiently. If you are yet to buy a fishing rod, make sure that it is compatible with the reel you are going to get.
Convenience
Convenience is a huge factor in choosing a fishing reel. The comfort of a reel's use mostly depends on its crank handles. Bigger handles allow for better control, apart from that, large-handed anglers have no other choice other than getting a reel with oversized handles.
Another design choice that could contribute to the convenience is the double-handle design of the reel. Two handles can allow you to crank the reel with your whole palm, which could additionally contribute to your productivity.
Water & fish factor
Lastly, account for the water you will be fishing in, as well as the fish species you are targeting. In terms of water, you need to make sure that the reel is durable enough to be able to withstand its salinity and whatnot. As for the fish, you need to make sure that you get a fishing reel that is compatible with the fishing rods and lines that are capable of supporting the fish's weight. 
Taking Care of Fishing Reels
Taking care of your fishing reel regularly is a necessary ritual if you want to ensure longevity and good performance of the reel. Moreover, some things need to be performed before you first use the reel, like lubricating and greasing it (in case it doesn't come pre-oiled out of the box).
Reels are quite complex, and what makes the cleaning task a bit more difficult is that each reel is different. Fortunately, the basics are the same. Let's see how you can perform reel maintenance in 10 simple tips.
Gather the proper tools to be able to disassemble and then clean the reel. In general, you need one slot-head and one Philips screwdriver, a pair of tweezers, and some kind of a small brush (like an old toothbrush).
Assemble the necessary cleaning supplies, including hot water, a cleaning compound for reels of your choice, reel oil, grease, as well as lighter fluid.
Take the fishing reel apart. To make sure you don't lose any of the reel's tiny parts, lay them down on some sort of piece of fabric. Also, number the parts as you remove them from the reel so you don't have any issues with its assembly.
Hold the reel properly during disassembly and assembly. Make sure that everything stays oriented when you work. Besides, holding the reel the same way all the time, which will allow the parts to go back in and together easier.
Use tweezers to deal with the delicate springs and wire clips to ensure that they don't just fly away and get lost.
Either remove or secure the fishing line with masking tape before the removal of the spool. Otherwise, the line may get caught between the spool and the reel's frame, making everything much more difficult, not to mention that the line may get damaged.
Clean the reel's parts with the cleaning compound. You shouldn't use gasoline or similar products to remove dirt from the components because it will melt the plastic parts. Apart from that, use a toothbrush to ensure that the plastic or fiber components don't get damaged.
Grease the gears by applying the grease to the bottom of the teeth. Greasing the tops will cause the gears to shoot the grease everywhere. There isn't any need to apply thick layers of grease, a light coating is everything you need.
Clean the bearings with the lighter fluid to remove all the dirt and grunge from them. Then, make sure that the bearings spin freely, which will tell you that they're clean. Oil each of the bearings with one drop of oil and carefully spread it over them with a toothbrush.
Assemble the reel back together and make sure that everything works as intended.
Fishing Reels FAQs
1.Which should be a priority, the fishing reel, or the fishing rod?
Both should be a top priority for you like the overall performance of the fishing rod will depend on all of its components. Let's also not forget about the fishing line, which contributes to the fishing experience as much as the reel or the rod itself does. If you want to enjoy long-lasting angling, you should get an inter-compatible reel, rod, and line.
2.How do I know if my fishing rod will support the reel I want?
You could try to find info on reel compatibility in the user manual of your fishing rod. Alternatively, you could try to ask on the forums or pay a visit to the rod's manufacturer's website. The last resort would be to compare the line ratings of the rod and the reel: if they match or overlap, you should be able to use the reel with your fishing rod.
Hopefully, you now fully understand what fishing reels are and how you should approach their buying! Fishing reels are no less important than the line and the rod, so you should definitely spend the time to learn what's what. And in case one of the reels we reviewed turned out to be the ideal fishing reel for you, why not go and get it?
More article: