They say the shelter is one of the most basic needs of people so it is for the fishermen as well. Imagine ice fishing without shelter! The thought gives you a chilly vibe, right?
So why torture yourself while enjoying the most peaceful activity when you have a number of reasonable options to be there for you?
If those options confuse you, then go through our write-up because we have gathered 10 of the best ice fishing shelters just for you.
These shelters have not only impressed all the fishermen with their quality but also have outshined all the other rivals.
Related articles:
Best Ice Fishing Shelters We Will Cover Today
1. Best Choice-Eskimo FatFish 
2. Best Overall-Eskimo QuickFish 
3. Best For 2 to 4-Goplus Portable 
4. Premium-Elkton Outdoors
5. Best For 2 to 3-THUNDER BAY 
Top 5 Ice Fishing Shelters Reviews!
1. Eskimo FatFish Portable 3-4 Person Ice Fishing Shelter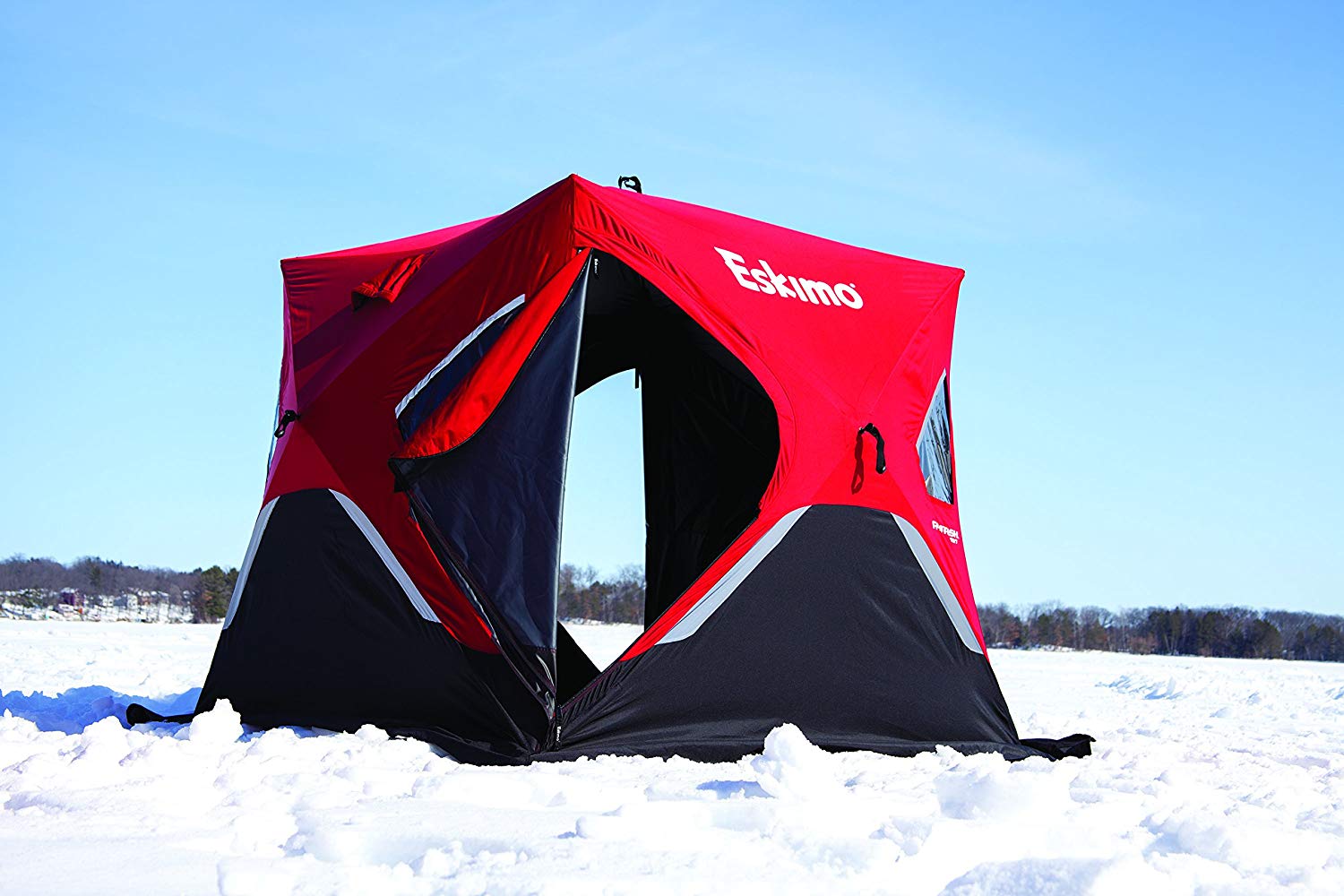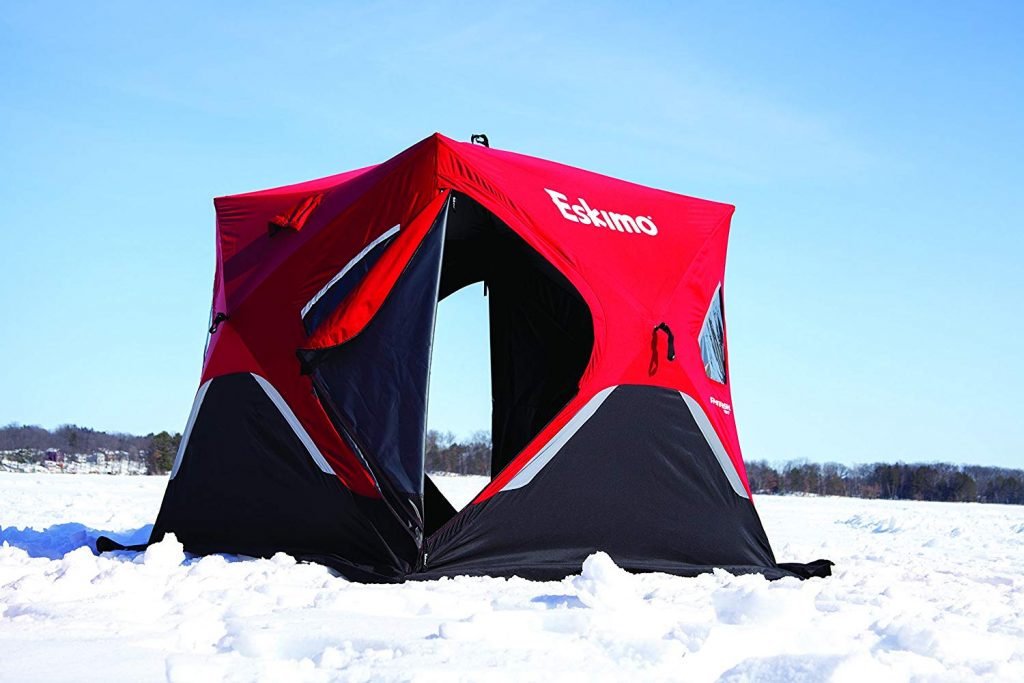 The name already highlights two of the most essential features of the FatFish by Eskimo. One is that it's portable and the other is that it can fit 4 people! We will tell you how.
So, the FatFish is fat enough to come in 94 by 94 inches measurements with 80 inches height and 99 by 99 inches elbow room. So, you can guess from that how it can accommodate 4 people with ease.
As for easy portability. It comes with a bag where you can put all the stuff inside. Meanwhile, the shelter weighs 34.7 pounds, so, it has to be easy to carry it around for fishing. Speaking of the bag, people have found it quite low quality, so it can disappoint you.
That said, the FatFish has a lot of configurations that make it one of the best ice-fishing shelters. For instance, it has two doors. Since a lot of ice fishing shelters have disappointed fishers with the one-door tent, Eskimo has thought to offer two for easy access.
The shelter is slated to be solid made up of 300D Ice-Tight fabric with a 59% higher thread count as opposed to comparable shelters.
Moreover, you will also have 6 big windows that you can remove for more viewing patterns.
Plus, it also features 6 self-tapping anchors that grip the shelter so well that it will not let the FatFish bend under extreme conditions. However, since it is a bit lightweight, so some of the users experienced a struggle with the wind.
And there are many users who also griped about its flimsy accessories, but they were found impressed with the tent.
Pros:
Durable and solid.
Keeps the tent warmer.
Roomier and bigger for 4.
6 big windows
Easy to carry.
It comes with 2 doors.
Cons:
Accessories are flimsy.
May not stay put in heavy in.
Low-quality bag.
2. Eskimo QuickFish Series Pop-Up Portable Ice Fishing Shelter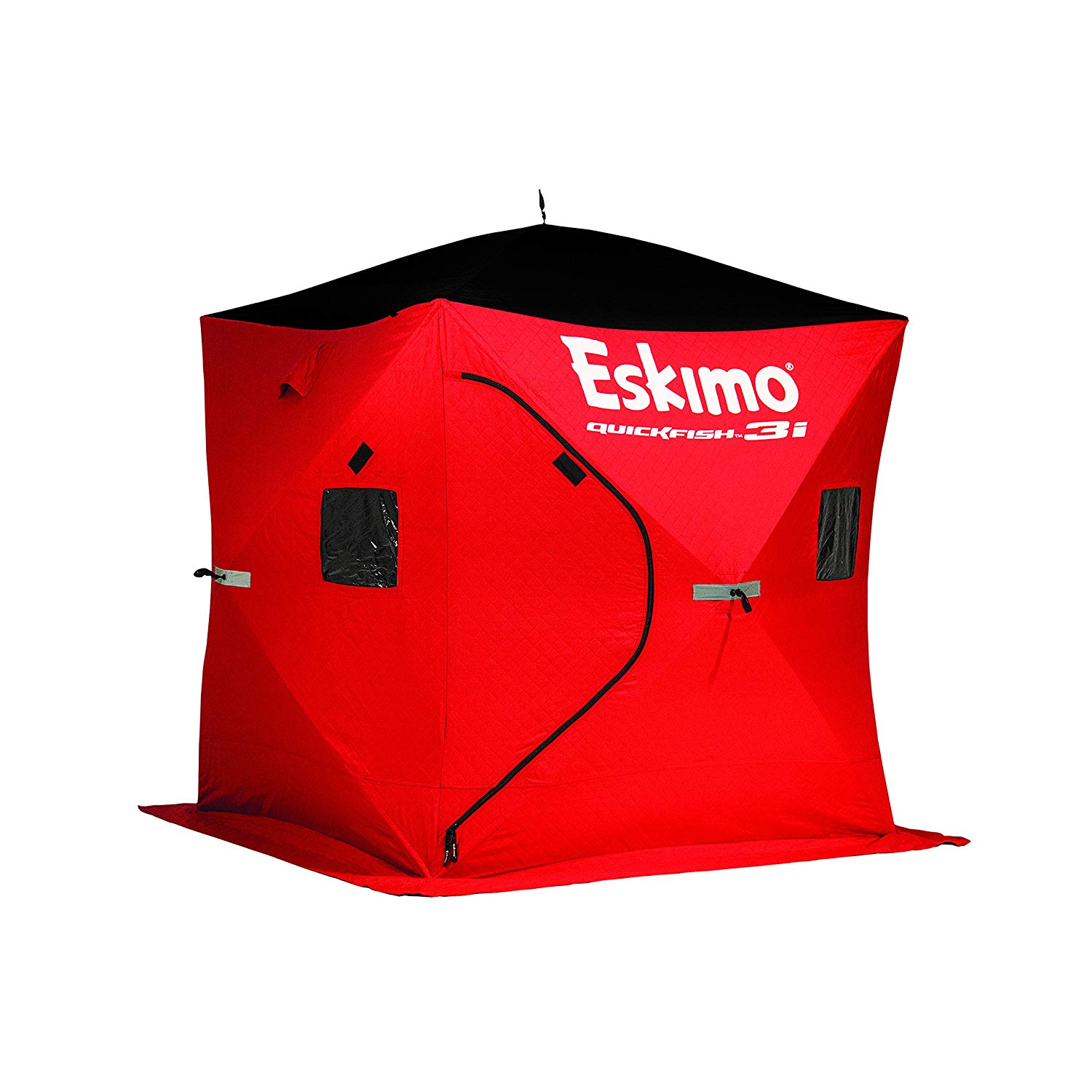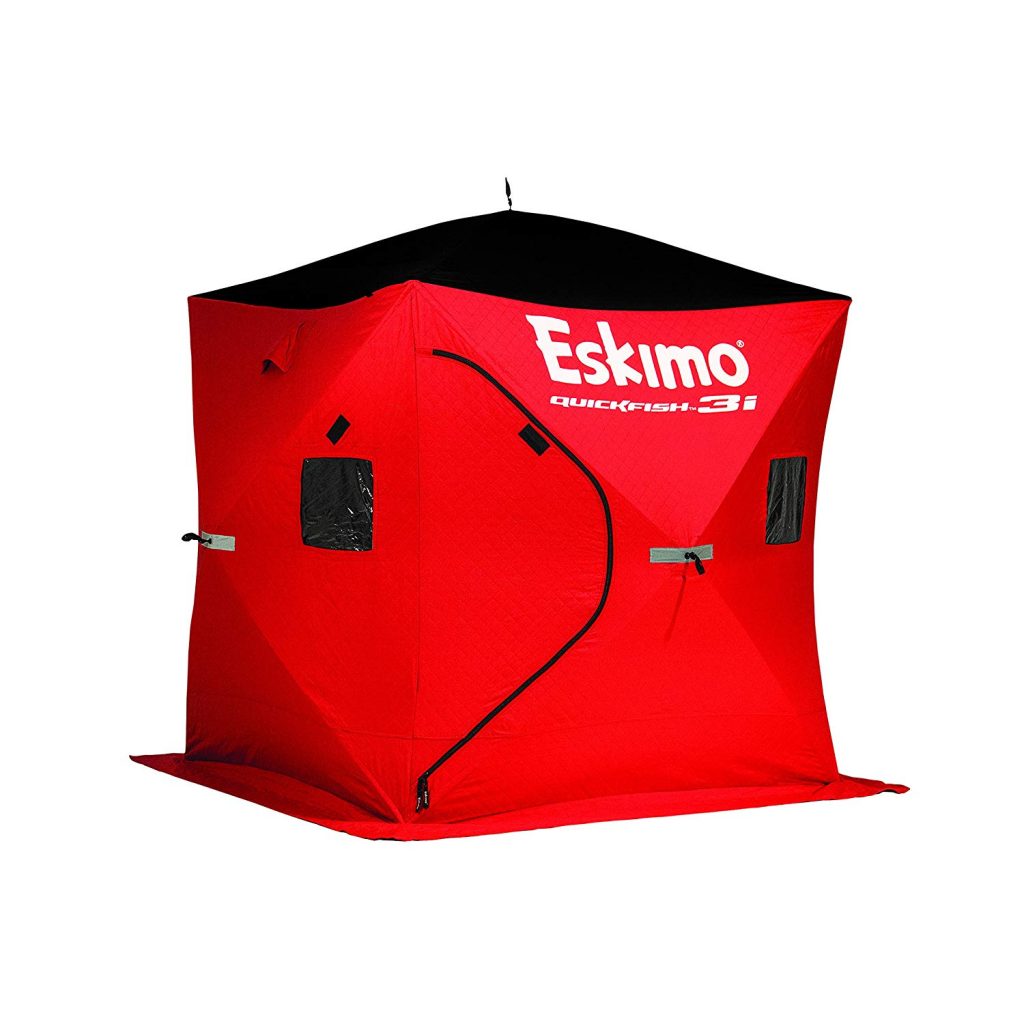 This bright red Quickfish 3 by Eskimo owns all the qualities to be one of the best ice fishing shelters in the market.
It is portable and weighs around just 34 pounds making it easy to carry on your back. You cannot just stop yourself from wondering how everything fits into the carrying bag. Well yes, you will also be getting a storage bag as well with the product.
Moreover, this ice fishing shelter has the capacity to house 3 persons as it comes in a setup size of 70 by 70 inches in height with elbow room of 90 by 90 inches.
One great thing is its pop-up system. It won't take long to set the whole stuff up. Just take a minute, give your effort, and you are done. All you will have to do is pull out each of the sides and roof hubs, that's it. There will be self-trapping anchors that will grip the ice so tight that they won't let the shelter bend.
You will also find mesh pockets inside the tent which is another great feature. You can keep some of the essentials that you may need for fishing.
Another interesting feature is its detachable windows. You can adjust the ventilation of your shelter through the windows. There will also be a removable hook as well as a loop for more viewing configurations.
Plus, the shelter warrants you to be 35% warmer while coming in fully covered with IQ Insulated Fabric. Although, some people complained that it is not a very thermally insulated model but they were found pleased with the shelter. Another issue is that such fabric can also make it a struggle to set up the shelter, but that's expected.
Speaking of the con, you may find the doors a bit smaller. So, getting into the shelter and out of it can be a pain for some of you.
Pros:
Accommodates 3 people.
Takes a minute to set up.
Mesh pockets.
Offers breathability.
Will not bend.
Cons:
The doors could be bigger.
Should be warmer.
Fabric makes it a struggle to set up.
3. Goplus Portable Ice Shelter Pop-up Ice Fishing Tent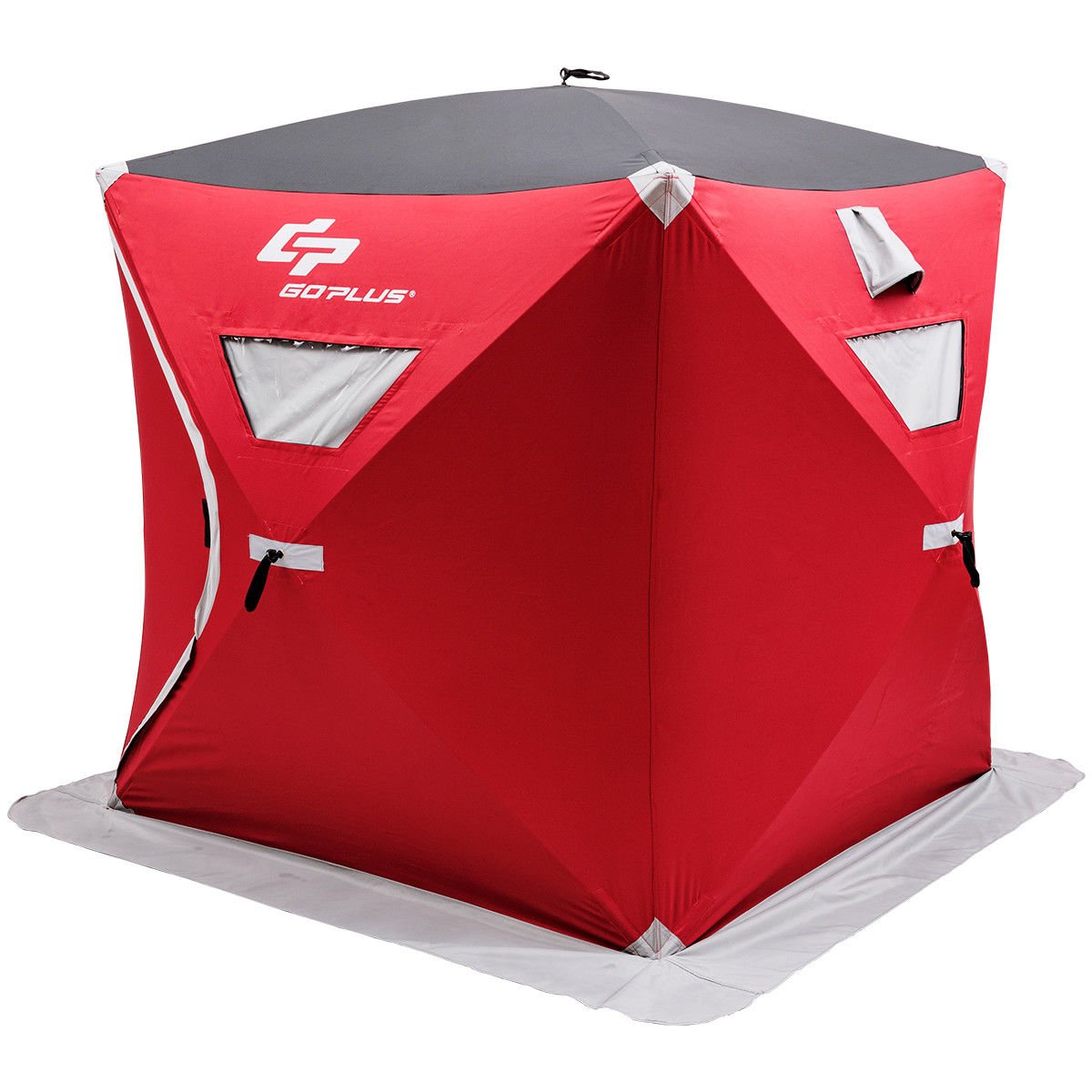 No products found.
If you wish to feel outstanding warmth inside the tent, then this model by GoPlus can be one of the best.
The brand has boasted to construct it with high-quality material that is 300denier oxford fabric which helps in keeping the cold out so you can fish comfortably.
The best part is that this fabric has been stated to cover all over the body and its waterproofness makes sure you have all the privileges. Not just that, the ice fishing shelter also has -30℉ Frost Resistance that further helps upturn your joy in outdoor activities by keeping the shelter warm.
It is immensely easy to carry. There will be a bag that houses everything with the accessories so you can move from one spot to another. And since it weighs just 12 to 15 pounds, you won't be struggling much.
Moreover, the brand gives you 2 options to either be hermetic or ventilate. If you want to pick the first option, then you will just need to install 2 layers of the window that comes in transparent PVC and oxford. However, if you want the light to stay in while keeping the air out, then you can just install the transparent PVC layer. For the latter option, detaching the windows will do just.
However, the ice fishing shelter comes in 2 versions. One is able to house 2 persons while the other can house 3 persons. Although people felt it was crowded with extra people that is not a big deal.
Plus, people also wanted it to be more wide and high because taller users found it difficult to stretch their legs and hands comfortably.
Setting it up is pretty easy but the struggle appears while folding it down when ice builds up and gets it colder.
Pros:
Constructed with high quality.
Keeps the shelter warm.
It Comes in 2 versions with different capacity limits.
Easy to carry.
Hermetic or ventilate option offers versatility.
Cons:
Folding down is a struggle.
It Feels crowded with extra people.
Not comfortable for taller people.
4. Elkton Outdoors Portable Insulated Ice Fishing Tent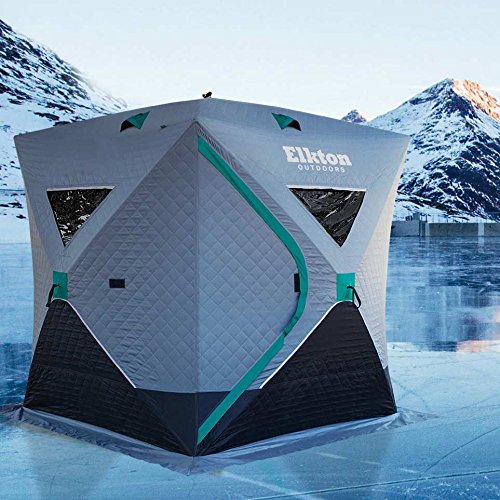 If you want to feel warmer and livelier, then nothing can beat this model by Elkton.
It has been constructed with 3 layers of quilted insulation as well as a watertight tarpaulin seal so that it can make sure your shelter stays warmer and drier all over time. You should also give thumbs up to its waterproofness as well.
To add more, the shelter has been stated to get set up in a couple of seconds. Rather, you can set it up in just 30 seconds once you follow the instructions. However here is an issue, if it's for young fishers or adult fishers, the statement is true. We found a few elder people who struggled to set it up and fold it down.
However, the ice fishing shelter is very easy to carry around and store. Just like the others, it too will give you a bag where you can stuff all the accessories and the shelter. The bag also has straps that make carrying it easier. But you may find it cheap and flimsy.
However, the best part is that the model comes in 2 versions, single and double. While the single one can fit 3 people, the latter can house about 6 people.
Moreover, the single shelter comes in 70 by 70 inches dimensions with 80 inches tall so that it can house up to 3 fishers with ease. Although, some users felt it was a bit crowded that did not disappoint them.
Pros:
Durable and solid.
Keeps the tent warmer.
Easy to set up in 30 seconds.
Easy to carry.
Comes in single and double versions.
Cons:
Straps are easy to break.
Setup is difficult for elders.
It Single hub feels a bit crowded with extra people.
5. THUNDER BAY Ice Cube 3-Man Portable Ice Shelter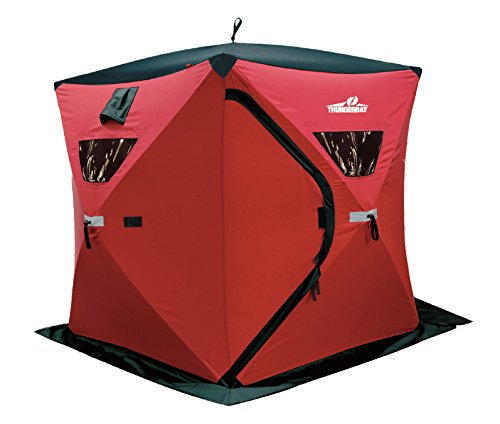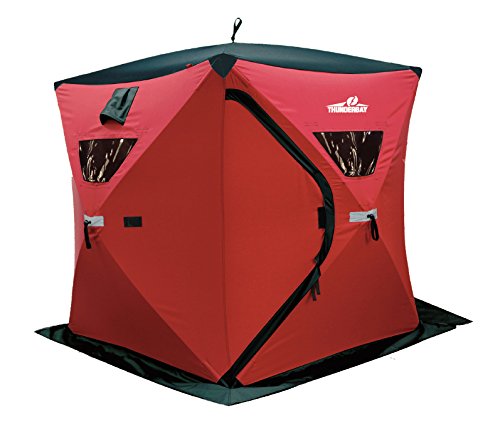 If you want to look for more options then this Ice Cube 3 by ThunderBay can be a great pick as well.
You will find the ice fishing shelter extremely as it has been made up of 300 denier fabric that helps in blocking the wind. So, this tent is not going to bend that easily.
There will also be a blackout coating that makes sure the light stays out until you want.
Besides, it is stated to be lighter than the previous one by coming in at just 21 pounds. So, you will find it easy to carry as well.
You will get a bag where you can stuff all the accessories up with the shelter to have it carried.
Setting it up is another great factor. It does not take that much time, there will be 6 self-trapping anchors that hold the shelter tight so it does not bend under extreme conditions.
The ice fishing shelter looks pretty big. It has dimensions of 90 by 90 inches hub to hub with 80 inches height of the ceiling. You will also get extra wide skirting so you can keep the draft out.
Just like the previous one, ThunderBay also offers hook and loop fastened windows that you can replace or adjust depending on your preference.
There is just one door provided by the shelter. This could be a big issue since users wanted to have 2.
The shelter is durable itself but people have griped about its accessories. While some users' stakes broke quickly, some users' zippers got damaged quickly.
Pros:
Will not bend.
Easy to carry.
Adjustable windows.
The fabric helps in blocking the wind.
Weighs light.
Cons:
Stakes break easily.
The zippers break easily.
Needs 2 doors for easy access.
Ice Fishing Shelters Buyer's Guide
Shelter style
Hub-style: Hub-style can be called the lookalike of a camping tent. The ice fishing shelters are customized so that they can meet the requirements of all ice fishers. You will have space to pull your elbows back while performing other jobs besides ice fishing. Moreover, they are known to retain heat which makes them a great pick. Plus, they have external poles as the frames that support the fabric to form the structure of the tent. You will find it solid and portable.
Cabin-style: Such shelter is made with a plastic sled base and uses adjustable poles so you may find it similar to flip-style shelters. It is able to house up to 8 fishermen and cannot be taken down after every use. However, it can be a great pick for taller peeps since it comes in bigger and wider sizes.
Flip-style: Flip-style tent is constructed with a strong plastic sled base. Although, you may encounter its heaviness while carrying the shelter its dimensions can give you a lot more privilege than other shelters. Moreover, it can house 2 to 4 fishermen.
Windbreak-style: Such style has been designed only to help in giving you protection from the scratching of the cold wind. Although, it protects from the wind but may fail to do the same when it comes to other elements. These shelters are found to be reasonable with easy portability. The only issue is that there may not be very much insulation to offer by a windbreaker.
Capacity
Before you get yourself an ice fishing shelter, make sure you note down some factors. One, you have to think about whether you will go for solo fishing or group fishing. If it's solo, a small-sized shelter will do. But if it's the latter, you have to think about the number of people that will accompany you.
Two, you will also need to think about how many gears you will be needing to carry for fishing. It's because, if you opt for a smaller shelter, it will not only make the space crowded but also the gears will make things worse. So, it is essential that you consider the gears and number of people.
Three, you will also need to think about the dimensions of your height as well. If you are someone taller, you need more space where you can stand inside comfortably or stretch your legs without any issue.
A shelter ranging from 70 by 70 inches and 90 by 90 inches in dimensions can be ideal for about 2 persons to the max. Extra-person can crowd it a little but that depends on your preference.
Material
Material is one of the most important elements that determine the quality, thermal insulation, and ventilation of the shelter. Great shelters are supposed to own ventilation holes and windows for easy airflow. Moreover, ventilation also helps excess heat and fumes escape to keep the temperature comfortable.
However, if you have a heater, you may not need a highly insulated shelter. Because the shelter can form condensation through the use of a heater.
That said, it is still advisable to opt for an insulated one. Make sure that the shelter is made with a higher-quality thread count. There are many of them that use 300 denier oxford fabric or 300 deniers Ice-Tight fabric which makes the shelter insulated and high quality. You can also go with 600 denier fabric thicker for better performance. But then again, such shelter can be quite pricy.
Plus, waterproofing is another big factor that keeps the shelter solid around the ice.
Weight
Yes, you can expect to have a light shelter for easy portability. But don't go with too light that can make the wind pressure bend the shelter. That is the reason why weight should be considered before making a purchase.
Stakes and Flaps
If you want security from the wind, you need to ensure that the shelter comes with all those accessories that will help do the job. A lot of shelters include stakes, ice anchors that grip the shelter while burying with snow so it can hold the shelter tight. So even if it gets windy, it does not let the shelter bend.
Windows and Doors
The majority of the ice fishing shelters come with one door that ends up disappointing a lot of fishermen. If you are someone who wishes to have 2 doors for easy access, then you can look for such models that have the option. But if you are a solo fisherman, then you can go with one-door models as well. Moreover, the size of the door also makes a difference. If you are taller, you will need a door through which you can get in and out easily.
As for the window, there are many shelters that come with adjustable windows so you can modify viewing patterns. But, look for one that uses a material that will not fog up.
 Ice Fishing Shelters FAQs
Q: What does ice fishing shelter mean?
A: Ice fishing shelter refers to a shed that a fisherman places on a frozen lake. It is used to help fishermen ice fish under the shelter. It does not only keep the heat inside to make them feel warm but also blocks the wind from outside.
Q: Is it possible to stay overnight inside the ice fishing shelter?
A: Yes it is. However, the temperature at night can drop 20 degrees below the temperature of the daytime. So, it is important that you carry enough heaters and clothes so that they can help in keeping you warm the entire night. Moreover, you should also think of having proper ventilation if you are planning to run a heater the whole night. Plus, it is also advisable to bring a sleeping pad so that it gives your body a needed barrier so you can sleep comfortably.
FINAL THOUGHTS
Ice fishing shelter plays a very important role to give you all the privileges you will be needed while doing the activity. You can call it one of the basic needs of fishermen so having one becomes a must. If you lack a good ice fishing shelter, then you can pick any one of the best that has been listed here. We can assure you that you won't regret it. And we also highlighted both the pros and the cons so that we can stay on the neutral side.
Read More: