A sit on top kayak seat is something that can either make or break your mood to have a kayak adventure. If you don't have one that will provide you with enough comfort and support that you need, then it's surely a big issue.
But don't worry, you can try looking for the best sit on top kayak seat since there are a ton in the market. And if you think several options will confuse you, then take a look at these 5 top picks we selected for you.
Read More:
Best Sit On Top Kayak Seat We Will Cover Today
1. Best Choice-Ocean Kayak Comfort Plus Seat
2. Best Price-BKC UH-KS222 Universal
3. Best Overall-Pactrade Marine
4. Best Padded-Leader Accessories Deluxe 
5. Premium-Vibe Hero Seat
Sit-On-Top Kayak Seat Reviews!
1. Ocean Kayak Comfort Plus Seat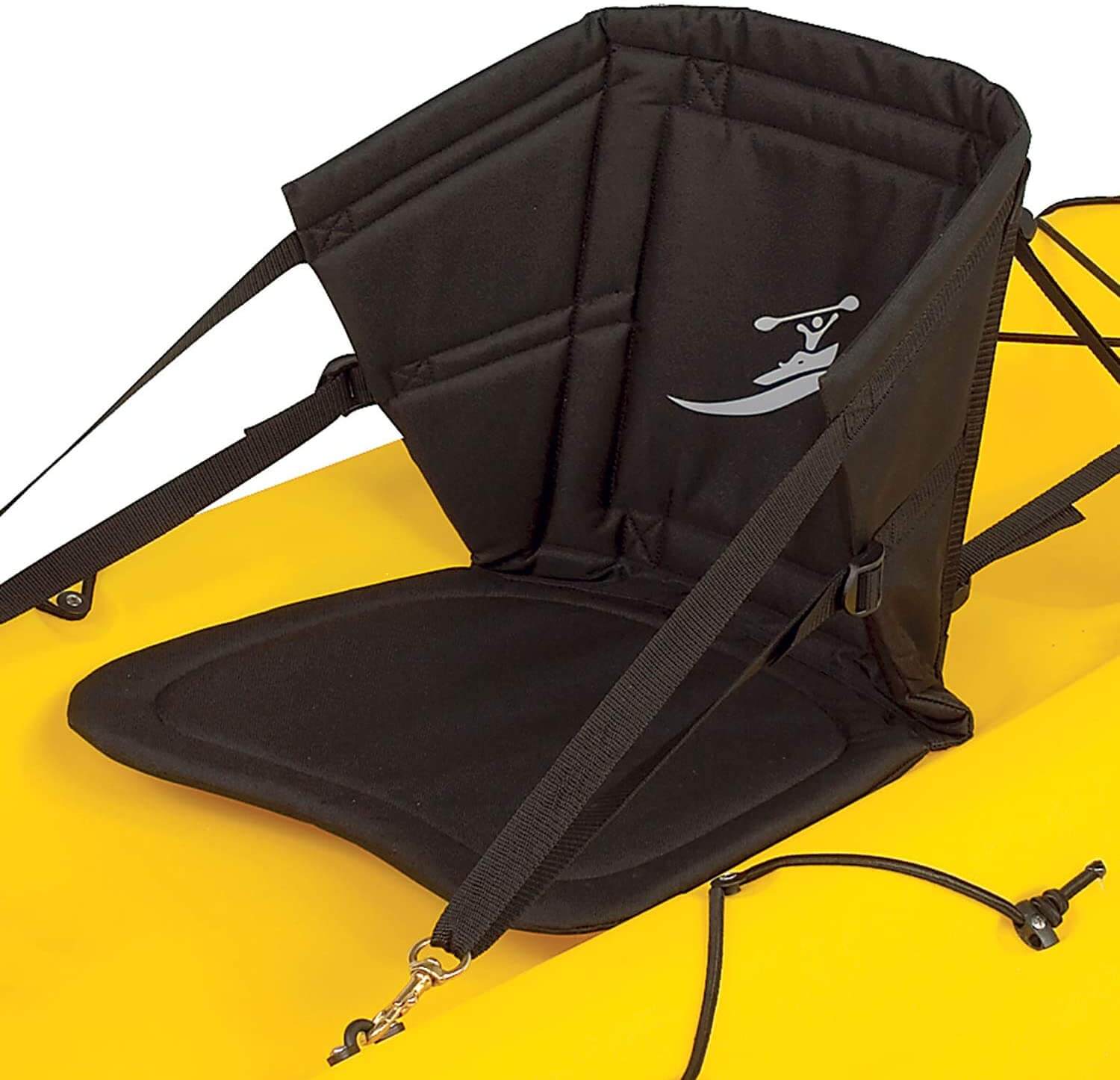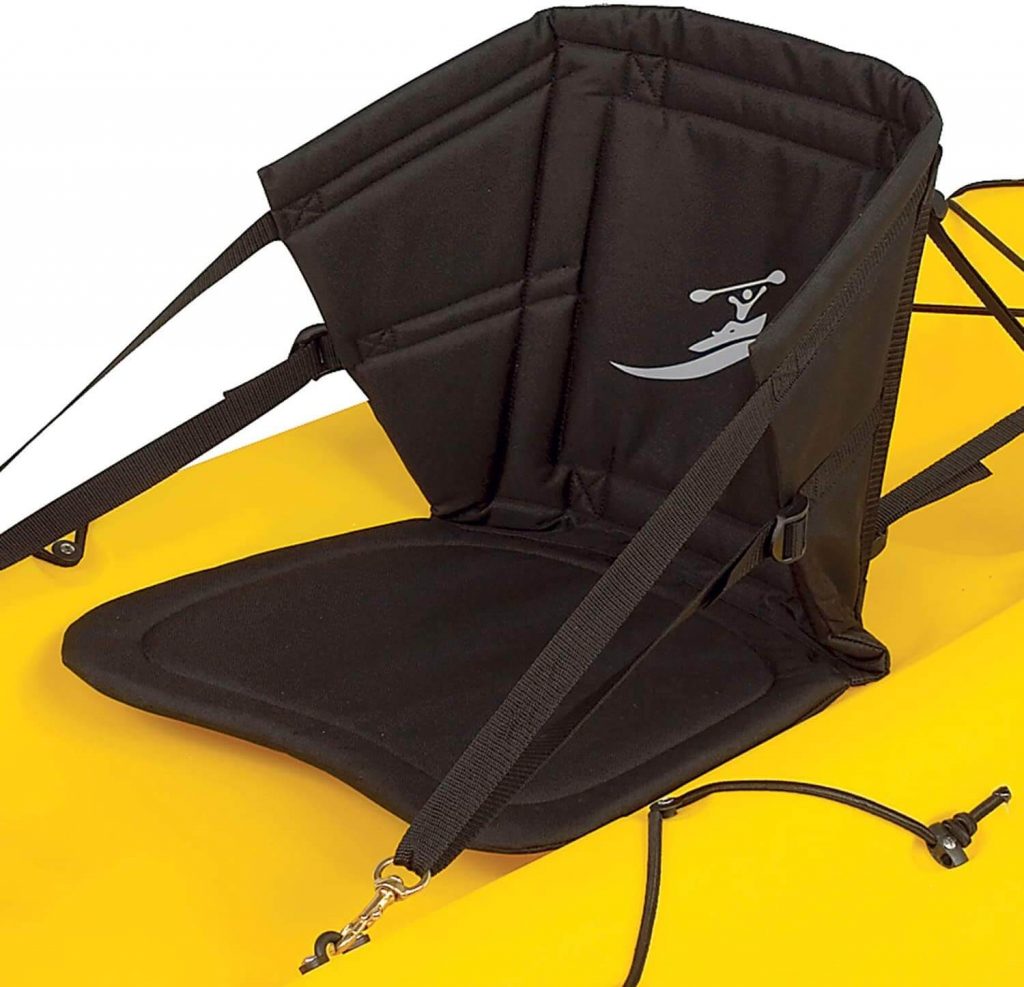 Comfort Plus by Ocean Kayak helps cradle your back so you get to move through the paddle strokes freely. It features four-way adjustability providing you with a customized fit so it does not matter what your body type is.
The brand has also made it cushioning with added foam padding to offer support and comfort. The big plus is its Comfort Zone which offers substantial back support with its huge length which makes it perfect for the long kayaking trip.
The kayak seat also lets you fine-tune the seat to different comfort options with its adjustable straps on the sides.
It has been made of solid nylon material that offers an inbuilt breathability system to help in keeping you dry and cool.
For attachment, you will also find brass swivel buckles. Plus, there will be clips made of solid brass that come with stainless steel springs making it easy to attach it to the kayak.
Besides, it comes with radiant logos that will illumine in a lowlight environment after long exposure to sunlight offering decent visibility.
Pros
Extra cushion in the kayak seat padding for a comfier ride.
Longer back height for extra back support.
Durable and well-built.
Able to withstand extreme conditions.
It offers a breathability system.
Cons
A bit more padding on the bottom is required.
2.BKC UH-KS222 Universal Sit-On-Top Soft Padded Kayak Seat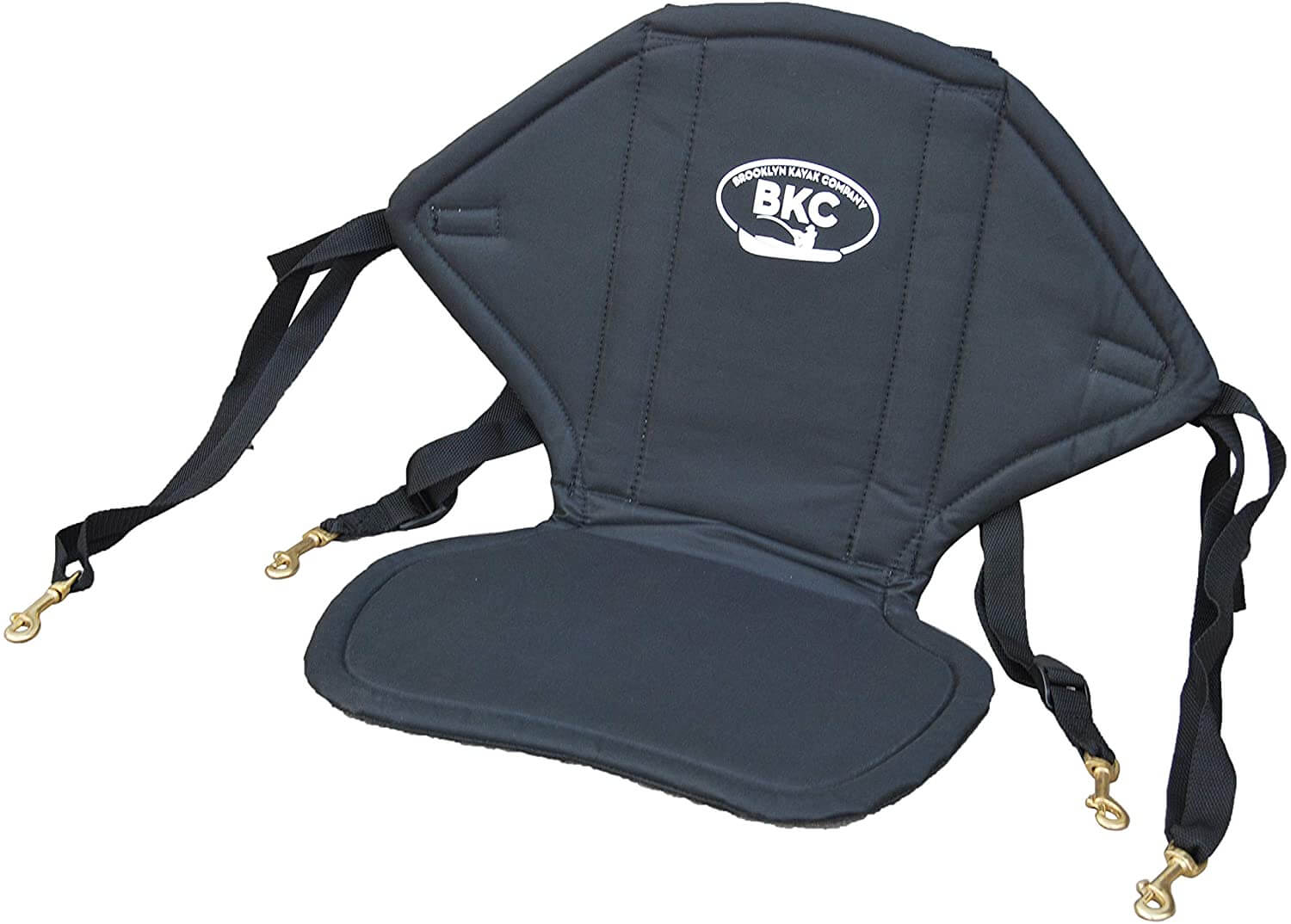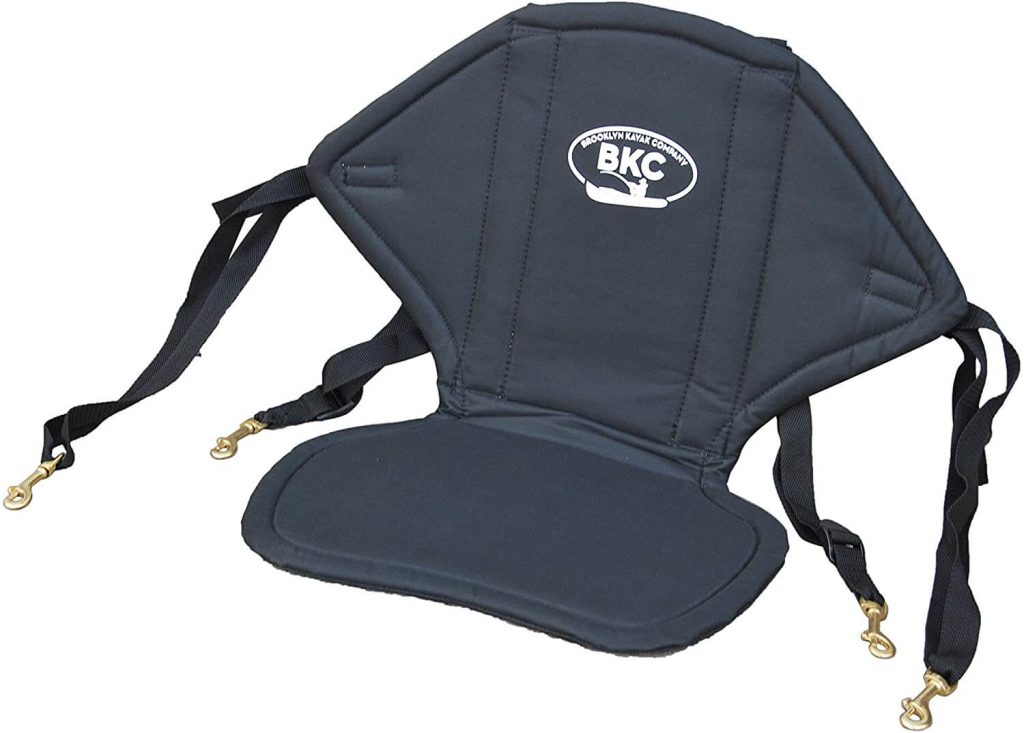 Brooklyn Kayak Company can give you a bunch of comfort with their Universal Sit on Top kayak seat. The brand boasts the seat is enough supportive while coming in padded foam.
The seat used solid woven nylon that speaks of its durability while being also constructed with marine-grade brass hardware. Both the materials help avert rips and punctures as well as resist sun fading and water damage. The materials also promise to provide you with an adequate amount of support and comfort.
In addition, it features multiple padded panels that help in cushioning and supporting your legs, torso, and lower back so you get to enjoy your kayaking tour.
The sit-on-top kayak seat also comes with an adjustable backrest to deliver ideal positioning for you while you go fishing, lean back to chill on the lake, or navigate choppy open water or a rushing river.
It also boasts to take less than a minute to attach it to the kayak as well as detach it. Besides, it is stated to be easy to adjust where you will have straps that will work to offer great back support.
A great thing is that it features a handy pouch that comes inbuilt into the seatback so you can keep a bottle of any beverage.
Pros
Solid construction resists water damage and sun fading.
Adjustable backrest.
Comfortable with sufficient padding.
Offers great back support.
Handy pouch to keep the bottle.
Cons
The straps may loosen up often.
3. Pactrade Marine Adjustable Padded Deluxe Kayak Seat.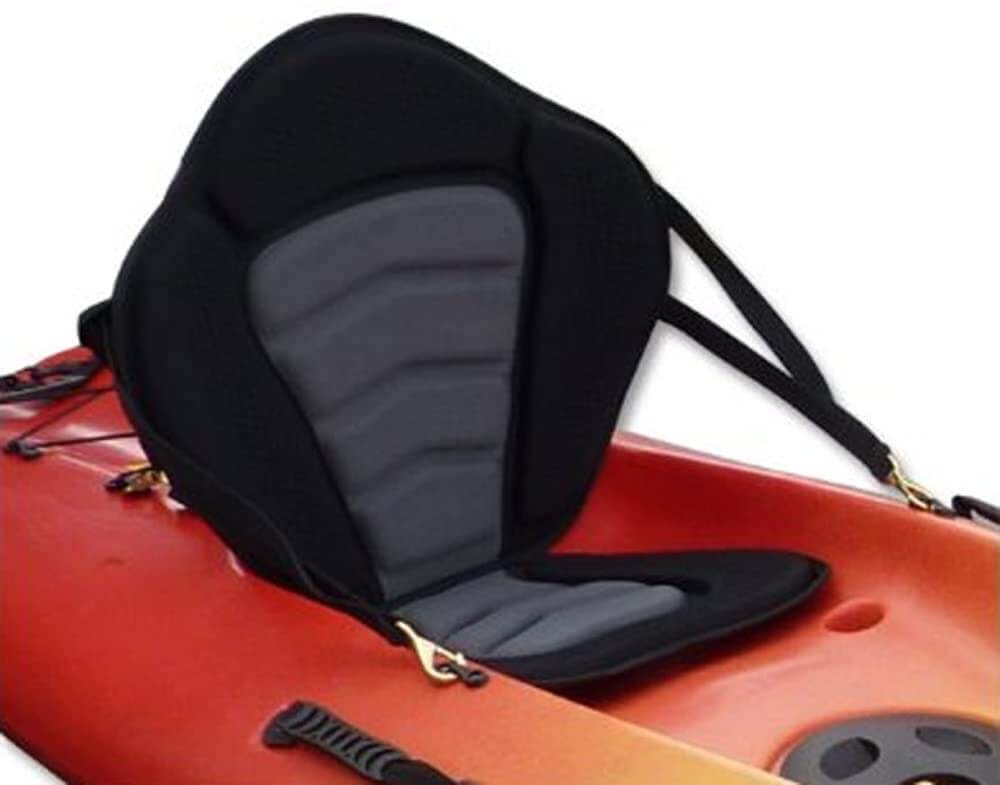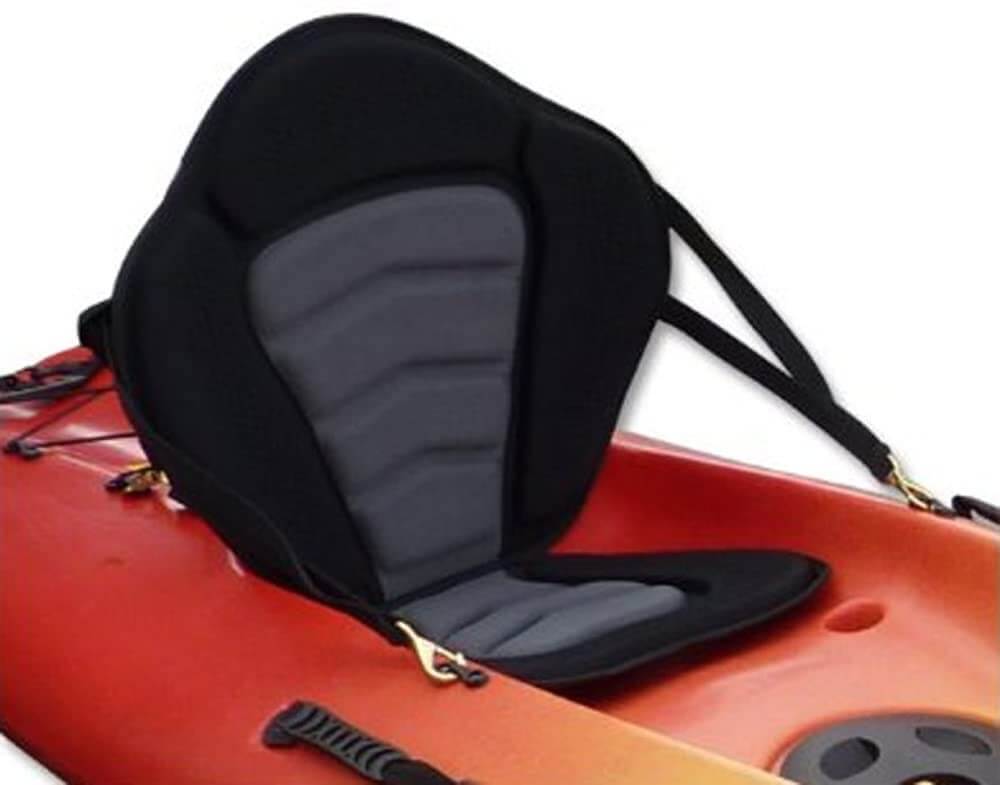 This Deluxe product is stated to be a kayak seat by Pactrade Marine because of its extra benefits.
Firstly, the kayak seat has been padded enough to provide you with a sufficient amount of support and comfort while being constructed with EVA foam and polyethylene plates. Besides, the seat used neoprene and 600D polyester which makes it durable, UV resistant, and water resistant.
To add more, it features a non-slip contoured padded slip surface that enables you to slide less if you or the kayak makes any movement.
You will also find straps at the front and back that are adjustable to offer great comfort and support.
There will also be a zipper puck at the back which is an added bonus since you can store different accessories or boxes there. You can also detach it any time you want.
Pros
The contoured padded slip surface is stated to be nonslip.
Zipper pouch for storing pieces of stuff.
Adjustable straps at the front and back.
Durable and solid construction.
Offers enough cushioning and back support.
Cons
May slide back and forth a bit too much.
4. Leader Accessories Deluxe Padded Kayak Seat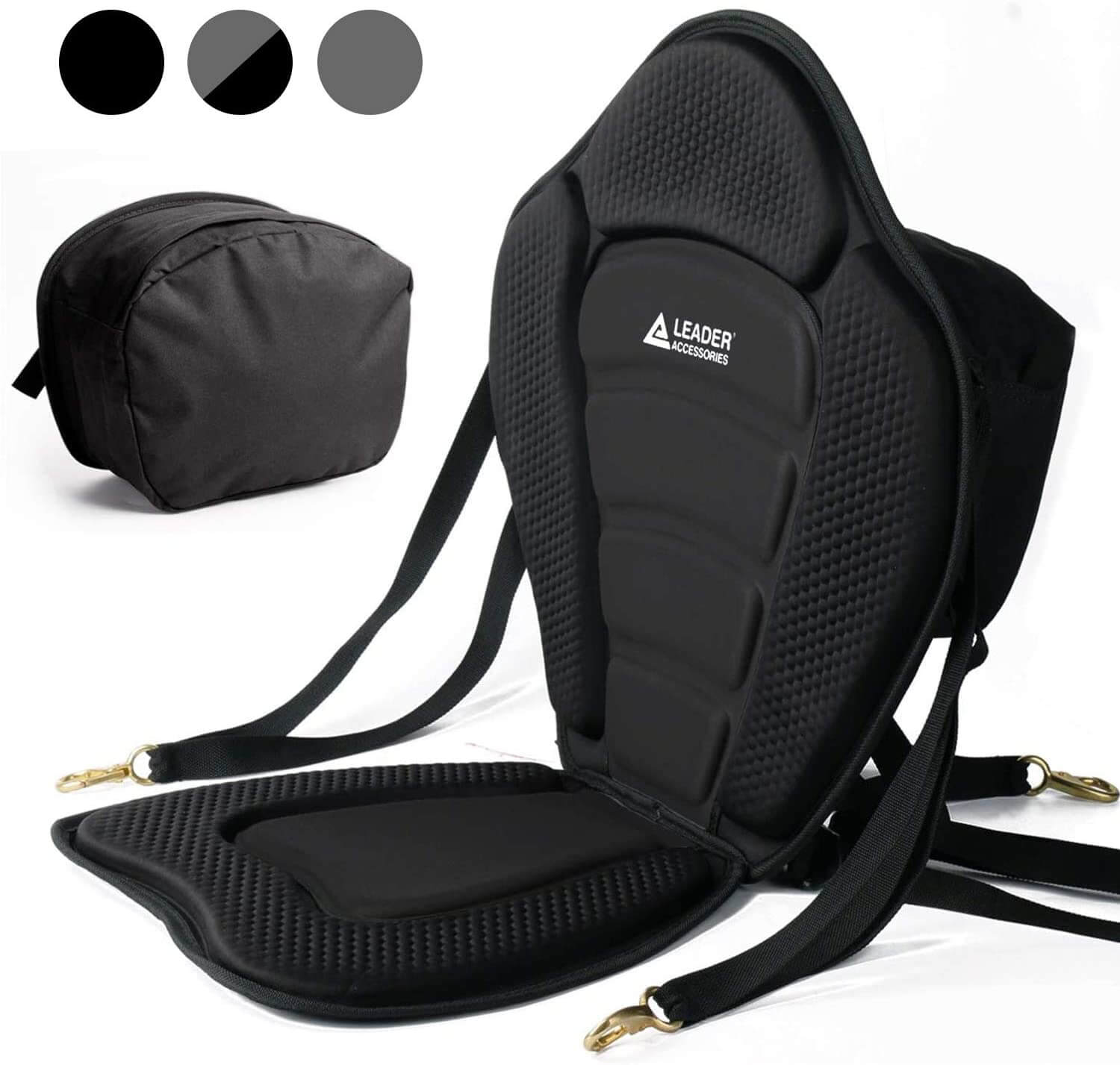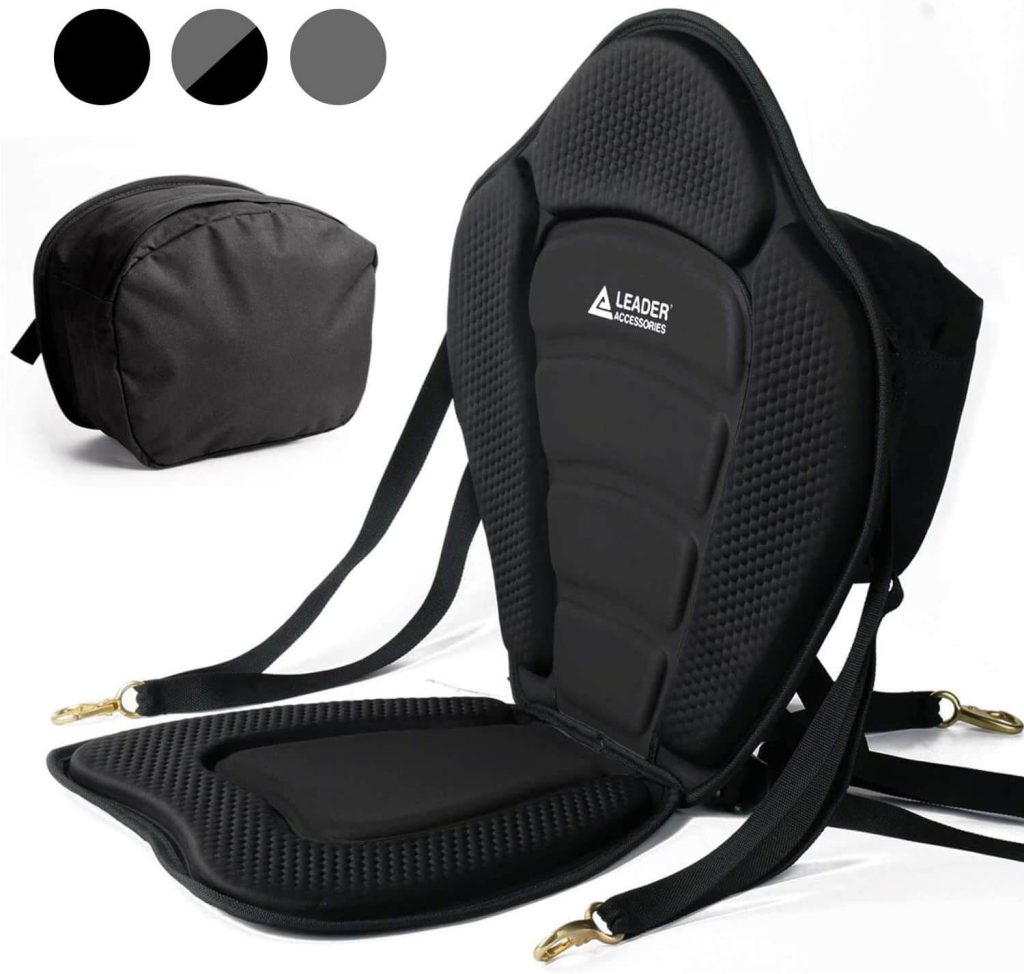 Leader accessories also own a kayak seat that comes in the form of Deluxe. Just like the name says, it provides you with a Deluxe molded foam seat so that you get all the comfort and support you want.
It has been engineered in such so it can completely fit the contour of your body. The seat is constructed with connecting snaps that are made of marine-grade solid brass for durability. Moreover, the snaps come with adjustable webbing to give you a wider range of convenience.
There will be two straps in front and two at the back to provide you with sufficient adjustability. As a result, you will find it compatible with any kayak.
The kayak seat promises to give you the best support in your back and in the butt. Moreover, the brand has also ensured fast-drying material that will also be durable to withstand abuse.
You will also get a detachable bag for enjoying extra storage and convenience.
Pros
Supports your back and butt.
It offers decent comfort.
Durable and well-built.
The detachable bag offers added storage.
Adjustable webbing.
Cons
The butt pad may not offer sufficient comfort at the buttocks.
5. Vibe Hero Seat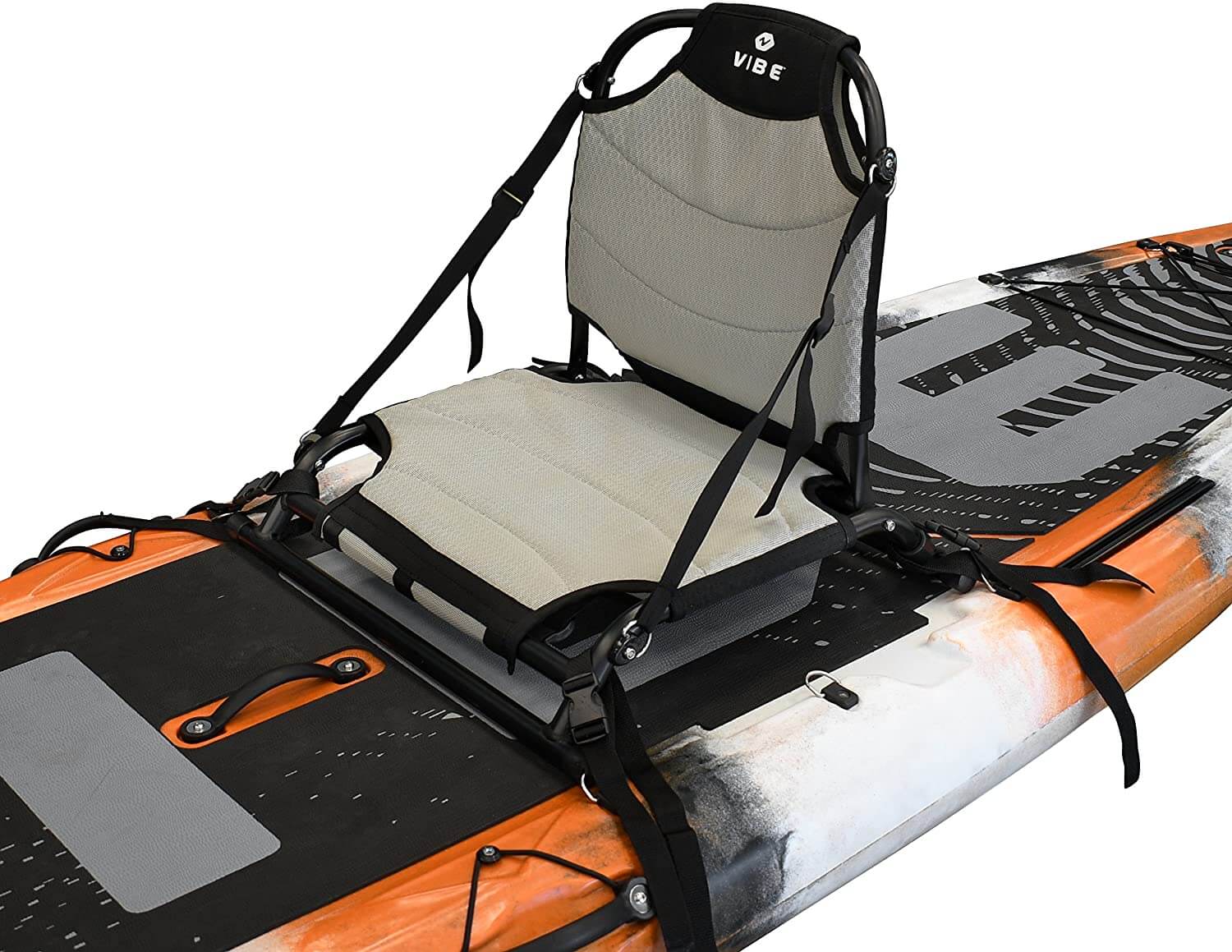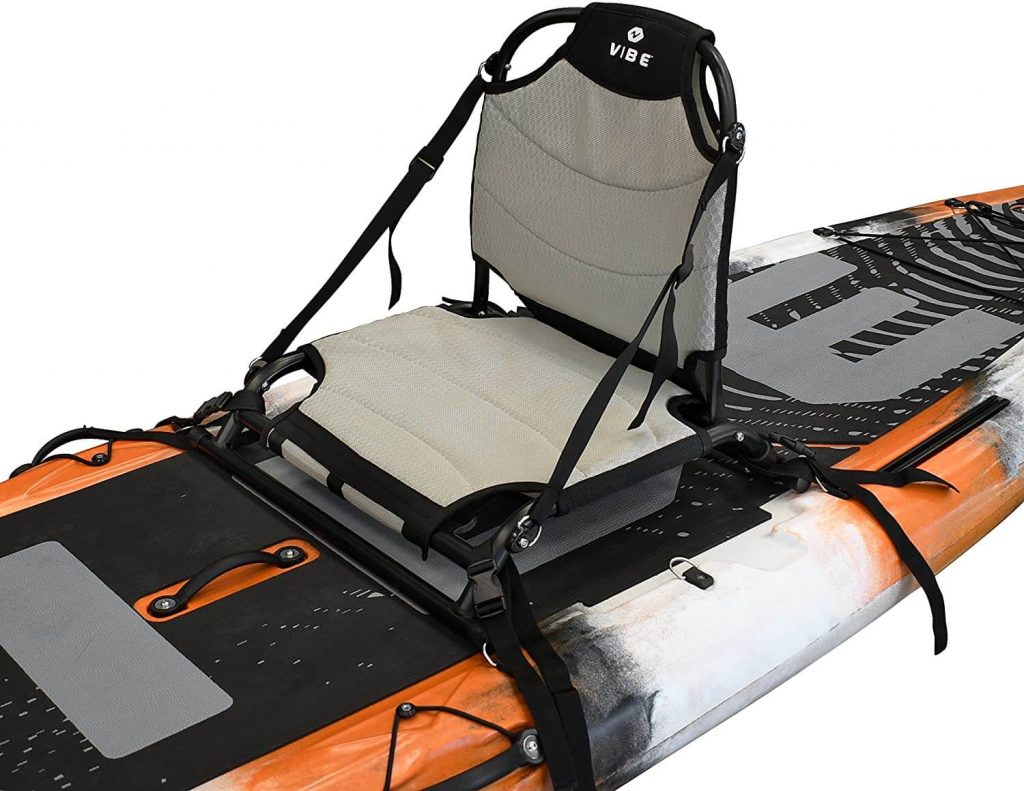 Vibe Hero sit o top kayak seat promises to give you a vibe of comfort while you are engaged in a kayaking adventure. It tends to keep you from lower back issues and neck pain which is a big plus.
It comes with a plush, padded seat that will make you feel comfortable so you can sit for prolonged hours on the lake.
Not only that, it has been made of breathable mesh fabric that will help keep you and your seat dry and cool in the summer weather. The aluminum frame is another great material that the band picked for its durability.
To add more, the kayak seat features straps that will provide you with great back support with the freedom of positioning yourself since they are adjustable.
The brand brags to include 4 PK of 3′ Accessory Straps so you get to install the seat to any kayak with ease.
Pros
Breathable mesh fabric dries quickly.
The aluminum frame is solid and durable.
Adjustable straps are simple.
Offers great back support.
Comfortable with enough cushioning.
Cons
It May do not include 4 PK of 3′ accessory straps.
Buying Guide: Sit On Top Kayak Seat
Sit on kayak components:
Seat
The seat should be designed in such so it can fit the contour of your body with ease. It has to be enough padding to let you enjoy having both comfort and support on your back and butt. Or else, you might find it difficult to achieve a long-kayaking adventure. Besides, the uncomfortable seat can also provide you with backaches throughout the trip.
Hull
It refers to the bottom side of the kayak. You will basically find 2 types of hulls: the flat and the displacement hull. Both of them have their own benefits and drawbacks.
The flat one comes with a flat base comprising of sloping sides. It can provide you with great stability but it can also be pretty slower and harder to maneuver.
The displacement one looks like the bottom of a traditional kayak. It is stated to a common hull design in touring kayaks as it helps boost the speed and maneuverability of the kayaks.
However, the hull is made of different materials such as polyethylene, fiberglass, and polyethylene that are solid enough to withstand water damage for a longer period of time.
Deck
It is stated to be a kayak's upper frame. It accommodates carry handles, a hatch, a seat, as well as a storage compartment. Similar to the hull, a deck comes engineered from solid materials so it can resist prolonged exposure to elements such as water or Ultraviolet rays for extended periods.
Cockpit
It refers to the interior side of the kayak where the seat is located.  It is recommended to look for a kayak that has enough spacious cockpit to house the size of your body. These cockpits can enable you to occupy your entire body while you move or steer your kayak.
Nose or Bow
It refers to a sit-on-top kayak's front side. Its design is able to influence the maneuverability and speed of the kayak particularly when the kayak breaks through the water.
Stern or Tail
It is stated to be the rear part of the kayak. Similar to the nose, it also plays a vital role in the speed and maneuverability of the kayak.
Spray Skirts
It is stated to be a water-tight fabric that you pull around the waist. As a result, it helps you keep water from splashing into the cockpit. However, some of the kayaks may not come with spray skirts.
Grab-Handle
It is placed on both ends of the kayak. The handle enables you to carry the kayak in and out of the water. However, few models may come with only a single grab handle, and that too on the front section.
Thigh Pads
These features help in supporting your thighs while you pedal. The pads help in keeping your thighs comfy particularly when you make strokes for controlling or maneuvering your kayak. However, there are many sit-on-top-kayaks that do not come with thigh pads.
Outfitting
It is constructed with different parts putting in place so that it can boost your kayaking experience. Outfitting can include bulkheads, ratchets, backrest, and footpegs.
Essential features to consider for the kayak seat:
Breathability
You must take the fabric of the sit-on-top kayak seat into consideration since it's important! All the seats provide you with UV resistance, however, some are stated to be more breathable than others. Make sure that you weigh up the location where you will go for kayaking. You will be needing a much more breathable fabric if you wish to paddle in hot weather. in case of cold weather, the insulation will become more essential to have in the seat that breathability.
While the summer season can make your back sweatier, the winter season can make you feel a damp breeze which could be painful for you.
Seat Anchoring
There are many seats that only feature front and back anchoring for the seatback. However, some of them feature extra seat anchoring that ties it down further so that it can keep the seat from sliding forward while a kayaker leans back. You may prefer to be able to have your position adjusted so that it retains comfort for a prolonged period, or you may prefer to feel anchored all the time. No matter what you prefer, you should pick a seat that provides you with abundant support.
Padding and cushioning
As for the padding, the pad's size on the kayak seat matters the most. If you want to choose wisely, then it's suggested to opt for one that possesses an ultra-thick cushion. This will offer you enough comfort as well as provide you with the greater back support you want. However, a very soft seat will not be pleasant either. So, make sure to avoid that since it can become uneasy for you to sit for such water sports. The padding should feel comfortable because this will help you go kayaking for a longer period of time.
Plus, it is also recommended that the sit-on-top seat you pick, has an adequate amount of padding at the bottom since it can provide you with the required cushioning. It will also help you have more space so you can move your legs independently.
There is a wider range of seat cushioning available online as well as in the market. Among them, the commonest types are stated to be self-adhesive and strap-on. But you can try other options anyway.
The big plus is that the majority of the brands are offering seats with benefits such as extra seat cushioning or extra back padding or a combination of these two.
Contour and Design
The sling-backs design can be a perfect way to feel like you have been held in a hammock. Meanwhile, contoured ones can be rigid and stiff which can give you a sturdier feel. Regardless of the option, it is essential to weigh up the way you'd want your body to be positioned for a prolonged period. It's because many seats may not retain their coziness over time.
Compatibility
There are several types of kayaks and each of them requires its own specific kayak seats. So, prior to grabbing a kayak seat, make sure that you double-check if it will be compatible with the kayak design.
However, a sit-on-top kayak can typically accommodate most of the seats. On the contrary, sit-in kayaks, whitewater kayaks, sea kayaks, touring kayaks, fishing kayaks, and other performance-focused kayaks may require seats with customized dimensions.
Then again, brands are now more focused on your convenience and thus you will get several seats that offer universal compatibility with the kayak.
Best Sit On Top Kayak Seat FAQs
Q: Should you upgrade your kayak seat padding?
A: It absolutely depends on your comfort. If you feel uncomfortable right after sitting on the seat or you think that you don't have full control of your kayak, probably you would like to upgrade the seat of the kayak.
Besides, if you have a seat with poor padding or no padding at all, then it becomes essential to add padding to the seat for comfort and support. Because, with sufficient padding, you may not like to sit there for a longer period of time.
Q: Can a sit-on-top kayak seat work with a paddleboard or sit-in kayak?
A: There are many sit-on-top seats that are enough versatile to work with a variety of paddleboards, kayaks as well as SUPs.
Despite being 'Stand Up' paddleboarding, it can be transformed into a kayak making it greatly compatible with a sit-on-top seat. However, you should also know that such a board may not be very solid and maneuverable but can give you the adventure you want.
That said, if you find the seat having attachments near a given seating area, then it will definitely work!
Q: What are the perks of having to sit on top kayak seats?
A: You will get to enjoy a lot of perks once you have a sit-on-top kayak seat. Here are some of them:
Offers added comfort to sit on the seat so you can go kayaking for a prolonged period.
Proper back support provided by the seat can help you kayak smoothly.
It offers stability so you can position yourself properly to enjoy an ideal balance.
An ideal seat warrants you to have a proper paddling motion.
Some of the seats also feature added storage.
The kayak seat helps boost maneuverability.
More articles: