What are the best spinning rods? What should I consider before getting a spinning rod? How can I take care of my equipment? If you've found yourself asking either of these questions, then you are in the right place.
Your fishing expeditions should be fantastic and fruitful. This will only be the case if you use the right equipment. There's no feeling than going back home with lots of fish as a show of your fruitful work. Well, this is possible if you arm yourself with the right spinning rod.
A lot of things are factored in to come up with the right equipment, and we will tell you how. Worry not; by the end of this article, you will have gained enough knowledge to upgrade your knowledge from a novice, perhaps to a pro.
There are a dazzling array of products are in the market, and choosing the right equipment might be intimidating. That's why we're here; to help you get yourself a product that will serve you to the maximum. Our list is the best.
We have spent hours researching and testing different products and finally came with the last 10. With this, we present to you the top 10 spinning rods that money can get you. Sit back and read on!
Read More:
Best Spinning Rods We Will Cover Today
1.Best Choice-Ugly Stik GX2
2. Best Oerall-Cadence Spinning Rod
3. Best For Bass-KastKing Royale Select 
4.Best Price-Piscifun Serpent 
5. Premium-St Croix Triumph 
6.Best Fast Action-Enigma Titanium Pro 
7.Best For Boat- Penn Carnage II 
8.Best Jigging-Shimano Trevala
9. Best Long-Eat MyTackle
10.Best Comfort- Entsport E Series
10 Spinning Rods Reviews!
1. Ugly Stik GX2 Spinning Fishing Rod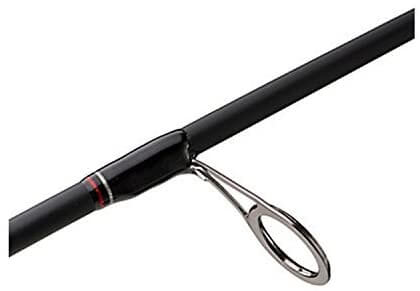 UglyStik knows their way around spinning rods, and that's why this impeccable product of theirs qualifies for our list. The spinning rod comes in a signature look which you'll love from right when you set your eyes on it first.  It is available in 20+ combinations, more of which are fiberglass than graphite.
A great feature that makes it outstanding from the rest is its customizability. Not many rods are available in many power and length options, and UglyStik Gx2 is among the few which does. It comes with a metal reel seat which gives it a combination of durability and lightweight. This is something that many customers have been satisfied with.
Who said that you always have to spend loads of cash to get quality products? UglyStik Gx2 comes with a cheap price tag, which makes it affordable to many people. You won't have to dig very deep into your pocket to own this beauty. Finally, its handle is a single piece. Although this adds to its weight, it also allows users to have a firm grip and controlled handling, especially during casting and retrieving.
Pros
Comes with unmatchable seven years warranty
Highly accurate and sensitive
Comes in numerous lengths and actions
Made of durable material
best spinning rod under 50
Cons
The guides tend to rust easily
The rod is a little heavier than it claims to be
2. Cadence Spinning Rod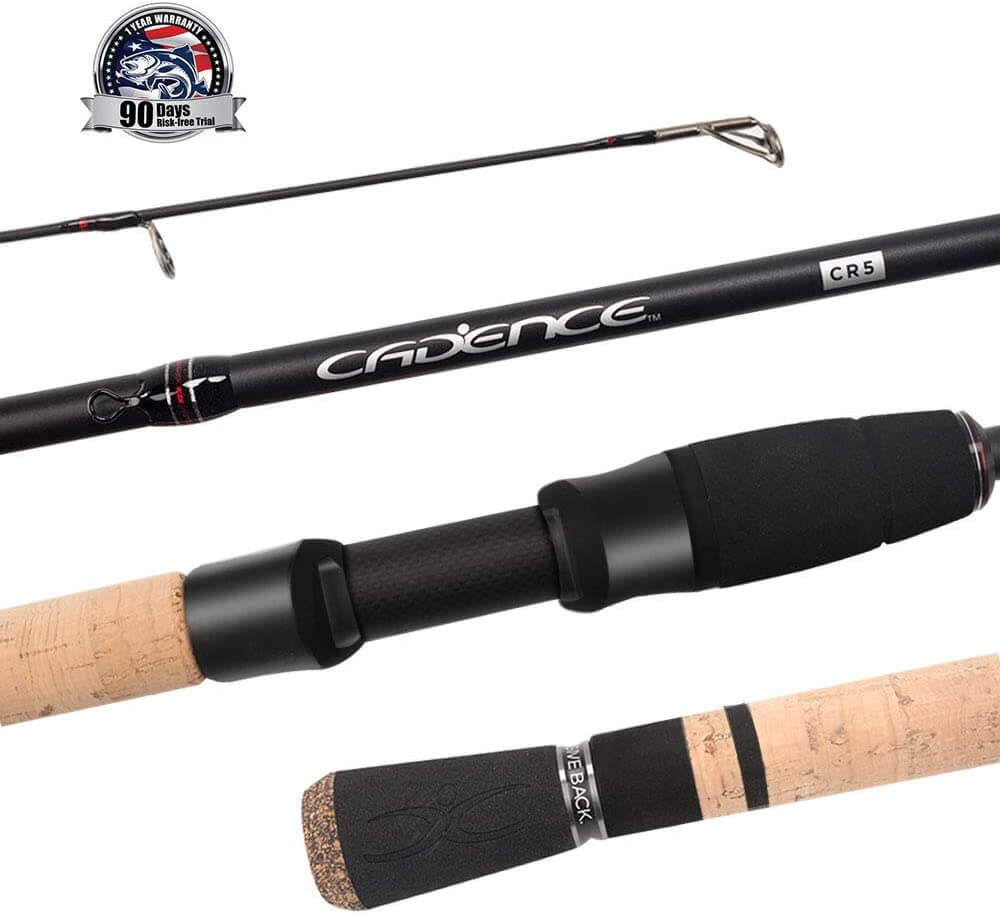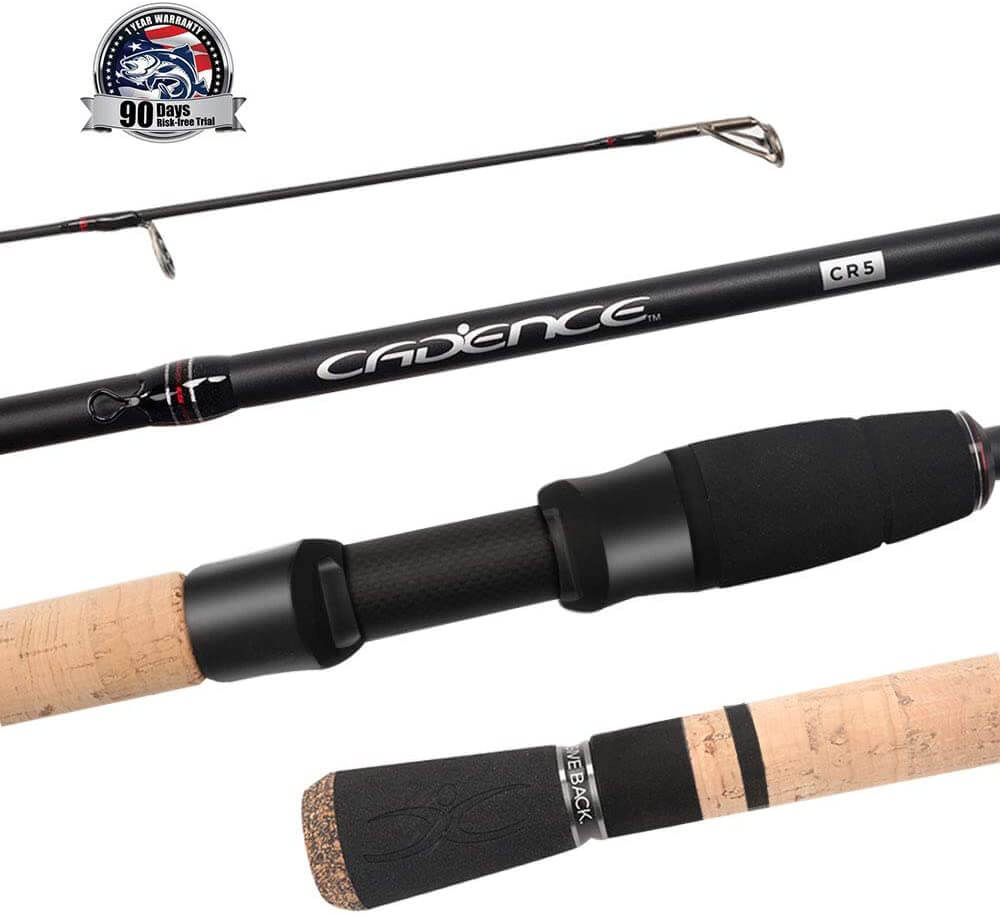 What qualifies the Cadence Fishing CR5 to our list for the best spinning rods is that what it brings to the table is superiority in its components that far exceeds the ones from its competitors. Its characteristics and great features make it an excellent spinning rod for fishing in both freshwater and saltwater bodies. The Cadence comes along with numerous great features.
First, it is constructed using high quality 30 Ton carbon fiber blank, which ensures that it is not only sturdy but also durable, strong, and sensitive. The material also makes it super lightweight, and you won't find problems handling it. To further enhance its durability and smoothness, the rod is equipped with stainless steel guides with SiC inserts.
The guides also enhance sensitivity to the rod. This is by transferring friction from the line up to the rod and finally your hand. Its lightweight and compact design make transporting it an easy task. It can fit comfortably in your car, trunk, or backpack. You are thus able to travel to your favorite fishing spot without any difficulties or inconveniences.
Finally, the Cadence Fishing CR5 comes in a unique ergonomic design. Its premium-grade cork handles offer you comfort and a firm grip so that you may triumph over a struggle with the fish.  To back its quality up, the rod comes with a three-year warranty and a 90-day return policy for a full refund. This is enough to boost your confidence with its use.
Pros
Highly sensitive.
Powerful and durable.
It comes in a unique ergonomic design.
Best light spinning rod
Cons
It comes with a small diameter and might be uncomfortable to use.
3. KastKing Royale Select Fishing Rods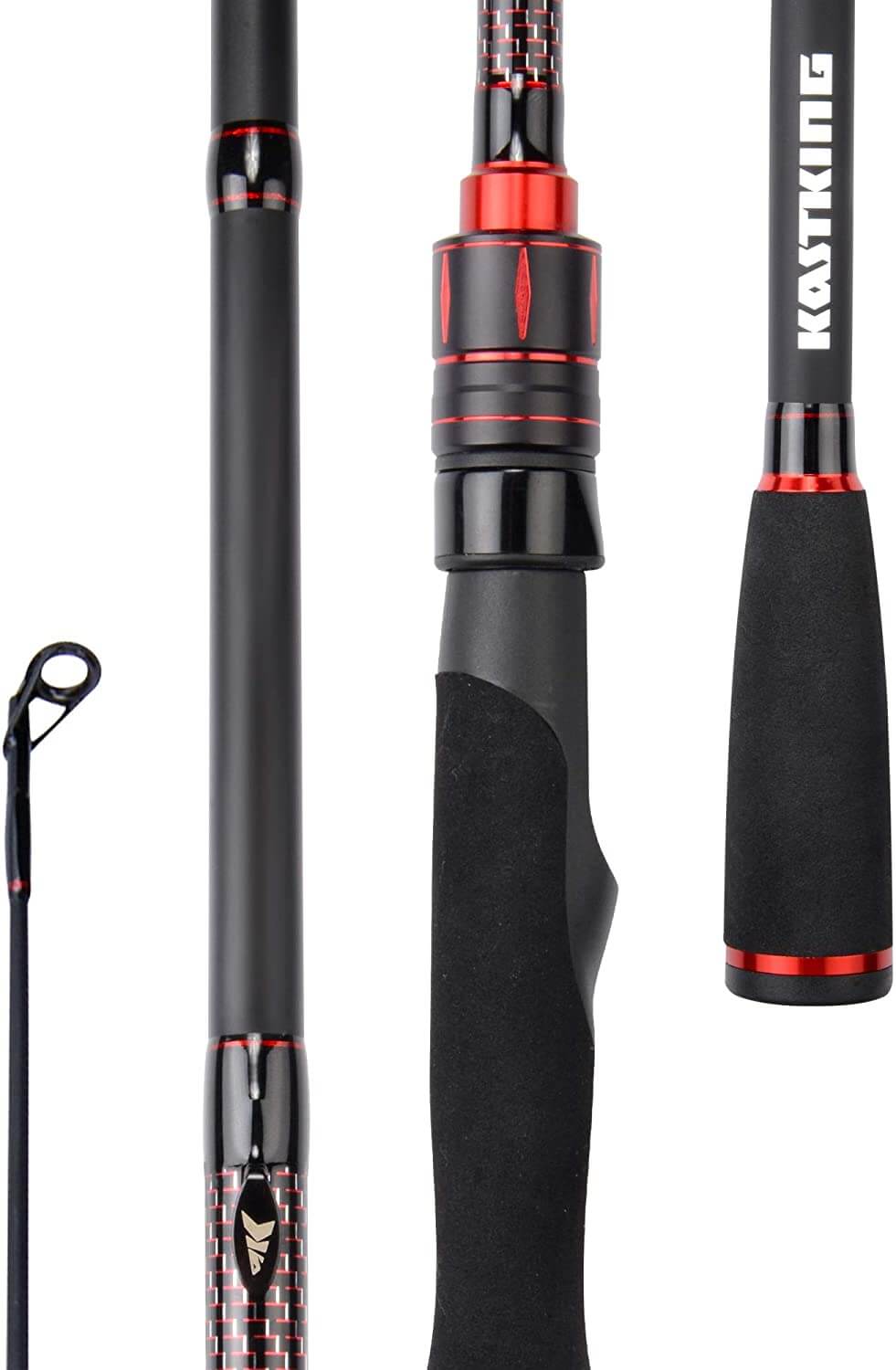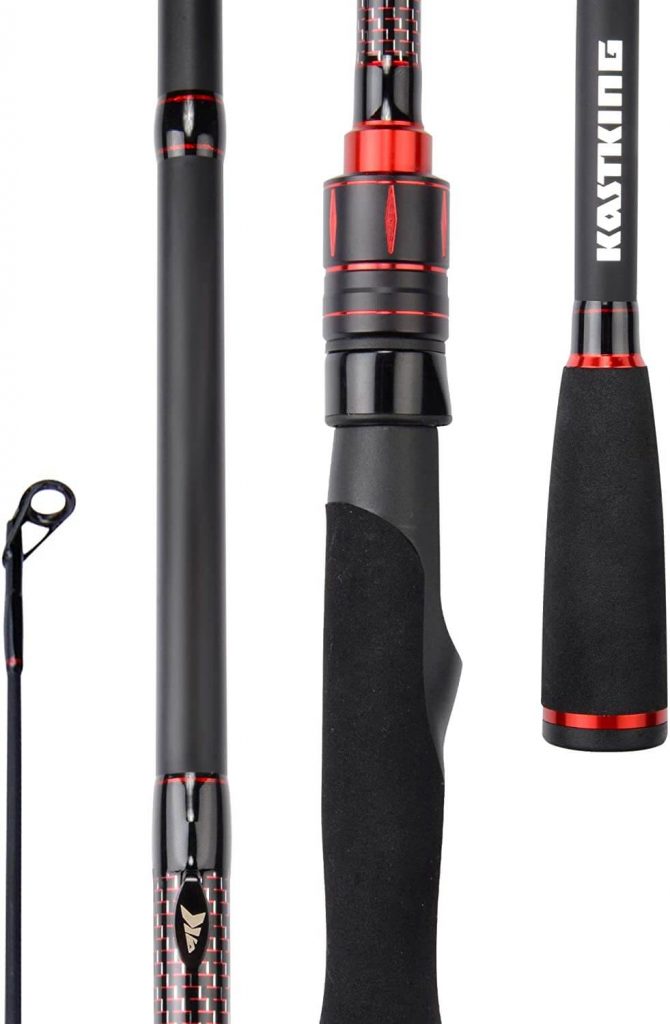 The Kastking Royale Legend Fishing Rod is a product designed for serious anglers in mind, jokers aside. Its 24-ton carbon matrix graphite blanks offer incredible durability, ultimate sensitivity, and extremely lightweight. A great feature worth mentioning is that the manufacturers designed each length and action with specific techniques in mind. Whatever technique you decide to go with, the Kastking Royale Legend Spinning Rod is the right one for you.
The rods are equipped with a Power Transition System that safely sees the transition of power throughout the blank. To ensure the power keeps flowing, there are computer control wrappings at four angles; 0, 45°, 90°, and 135°. Not many rods come with so many features in one, and the manufacturers of this proudly boast of their excellent work.
Another great feature is the Fuji Line Guides. The manufacturers only believe in using quality material for their products. The guides ensure superior casting distance for accuracy and safety. Its reel seats are made using nylon for a solid base and added comfort.
The manufacturers are certainly confident in their work. To showcase and prove this, the rod comes with a limited lifetime warranty. When you combine technology and creative artistry, you acquire the Kastking Royale Legend. With this rod, you settle for a high performing and durable product that will serve you for a very long time.
Pros
Its base is stable and comfortable to use.
Its power transition system allows for a smooth transition of power.
It is made using high-quality materials.
Incorporates the use of technology.
Cons
Its operations are loud, which might be annoying.
4. Piscifun Serpent Spinning Rod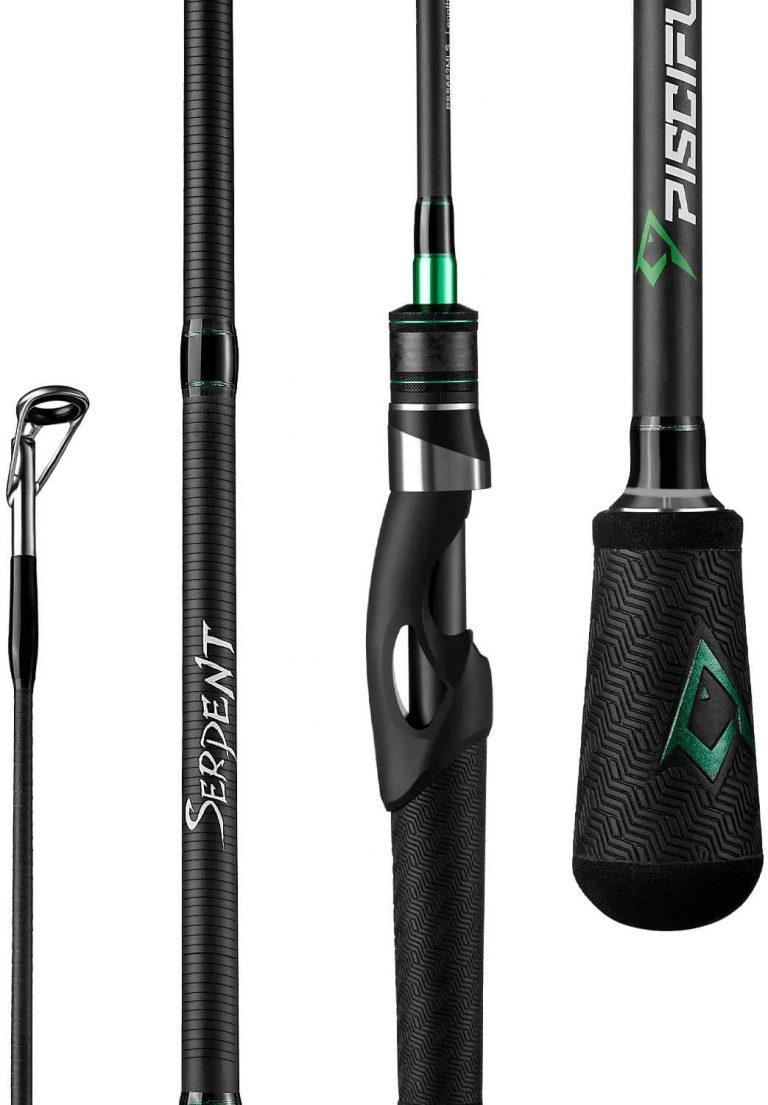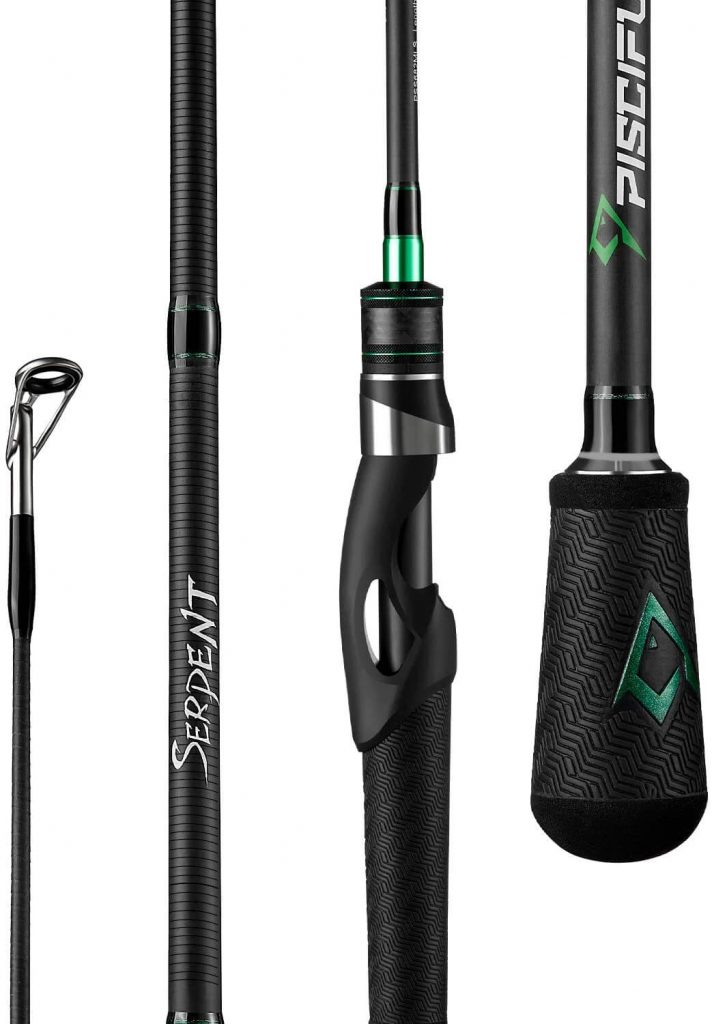 Are you looking for a durable two-piece rod? The main problem with two-piece rods is that they tend to break or get loose with time. Fortunately, the Piscifun Serpent solves these problems and amazes you in every other way.
Firstly, the rod is built so well that you will feel confused about whether it actually is a two-piece rod or a one-piece one. Apparently, it has an IM7 Carbon Blank. In fact, IM7 carbon blanks are not only strong but also lightweight and sensitive.
So, when a fish sends you signals, you can catch it immediately and put up a really good fight with the strength of the carbon blank. Other than that, this rod has a great design- a design that helps the fisher in every way possible.
There is an aluminum and carbon fiber foregrip. Furthermore, the grip of the rod is like that of a golf club. So, it will never slip from your hands even when the game is huge. The rod itself will hold on to you.
You have heard of Fuji and this rod has Fuji guides in it. As a result, you get a really great casting ability with this rod. The reel seat is clever as well and protects the reel well while keeping it in an ideal position.
Pros
Extremely durable build.
The best quality materials in the build.
Great grip.
Good reel seat and position.
"S" shaped hook is efficient.
Great casting ability.
Does a good job on big fishes a well.
It comes with a warranty.
Cons
5. St Croix Triumph Spinning Rods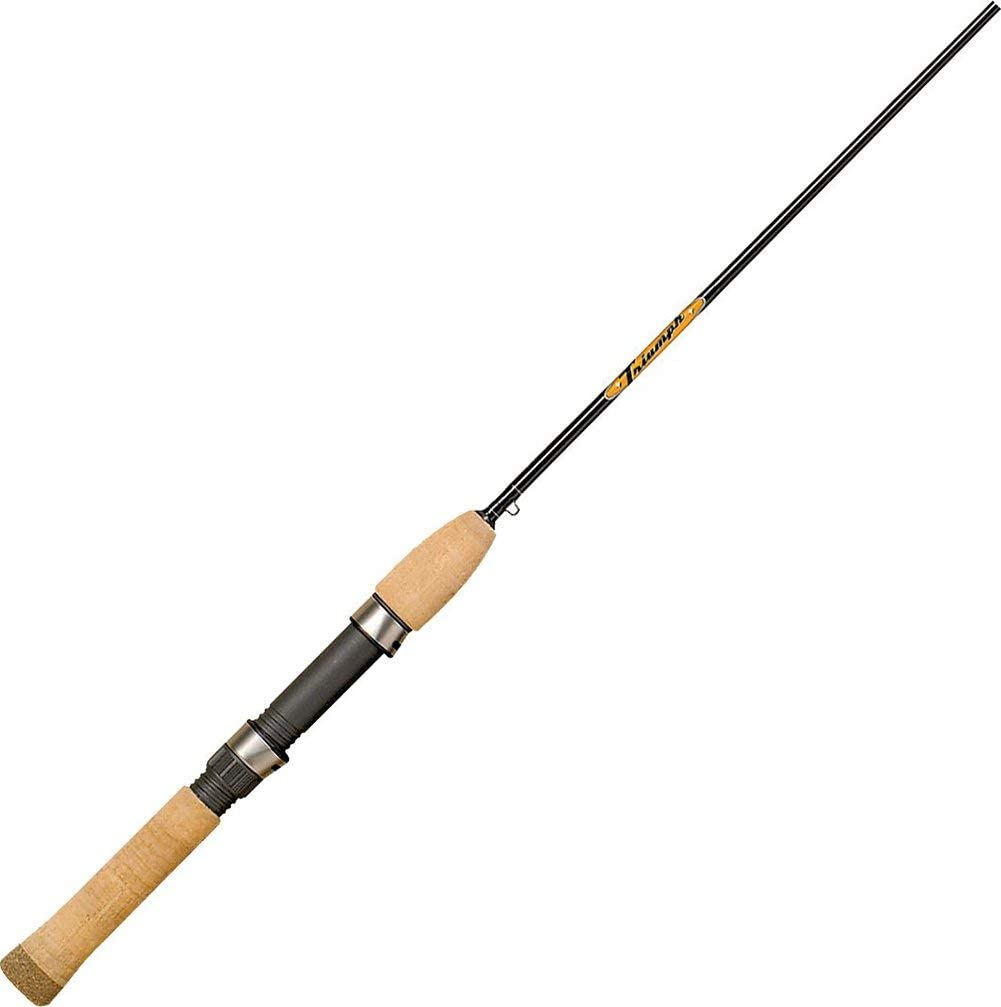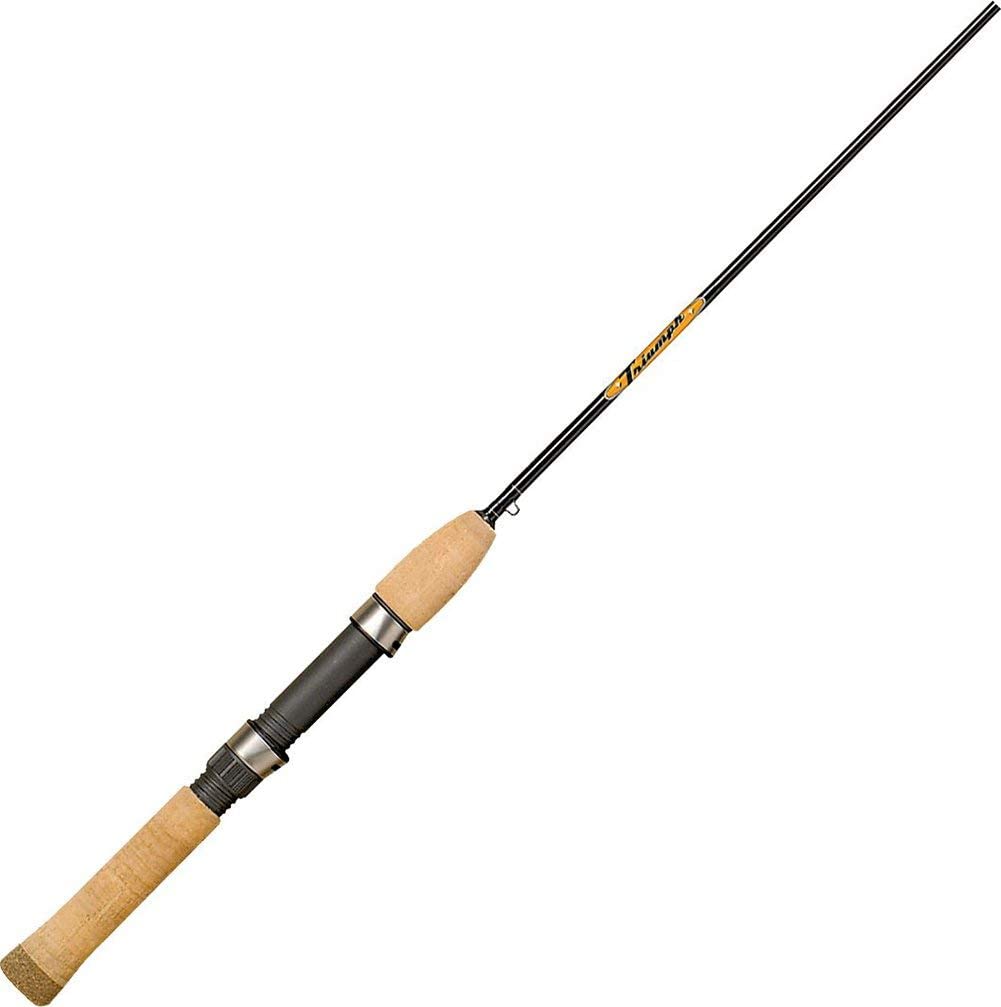 St Croix Triumph Spinning Rod offers you something that not many manufacturers can incorporate in their products: a blend of power, lightweight and reasonable price tag. You do not necessarily have to dig deep into your pocket for something quality, and the St Croix Triumph is proof of this. Purchase this excellent spinning rod, and you will not regret it.
The spinning rod is made using premium SCII graphite blanks, which offers high quality. To compliment this is the durable aluminum-oxides guides and chrome frames. On top of being lightweight, they also provide rugged performance. The base is made using Fuji TCS Reel Seats which give it a comfortable and stable feeling.
For added comfort, the handles are made using full cork which will make you the winner of a struggle with the fish. The St Croix Triumph Rods are proudly made in the U.S.A and offer a blend of performance and value. Their outstanding strength and hook-setting power are the climaxes of attention. You can count on this rod for maximum performance.
The manufacturers' stand is this: A St. Cox in your hand, means you are part of a celebrated tradition. This is arguably true. With power and control at your fingertips, your fishing experience will be triumphant.
Pros
Highly strong and durable.
It comes at an affordable price.
Best graphite spinning rods
It is highly accurate and sensitive.
Cons
It's not the best equipment for beginners.
6.Enigma Titanium Pro Bass Fishing Rods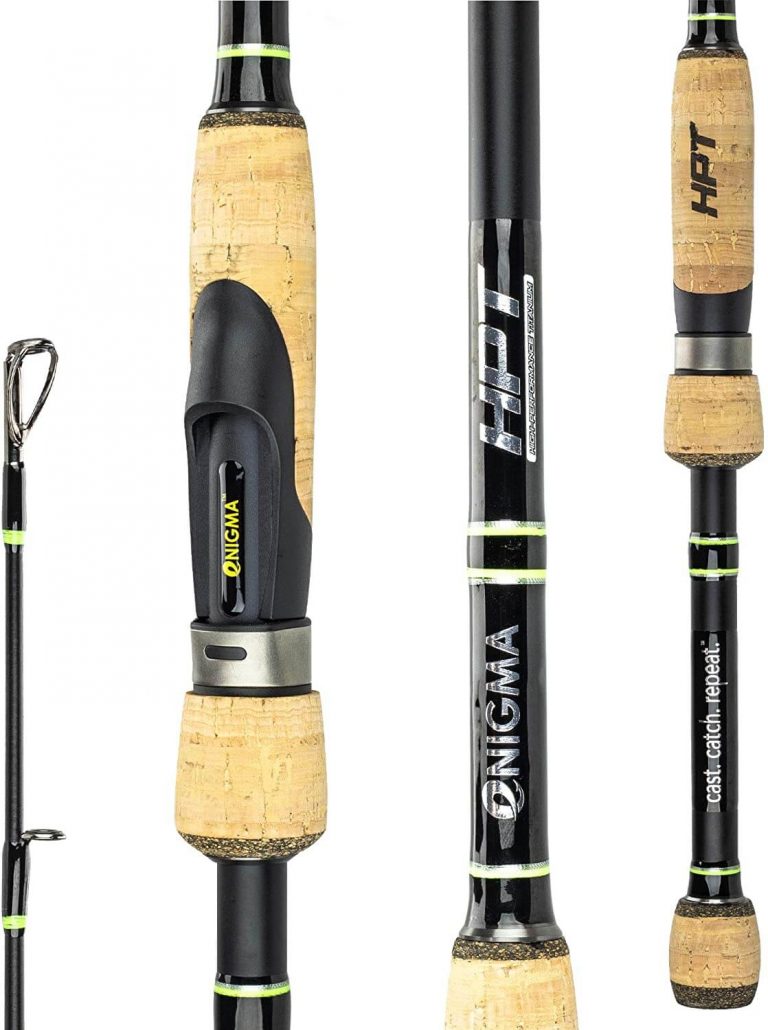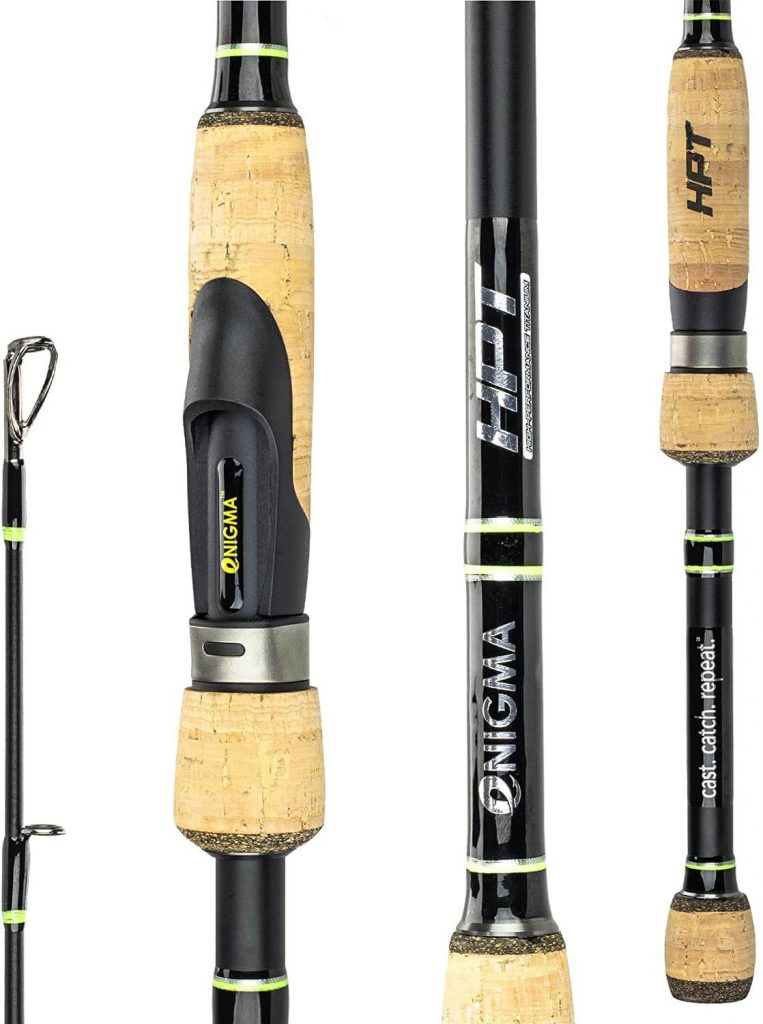 When you are looking for something that will give you the best performance, you want attention given to details. The Enigma Fishing High-Performance Titanium Pro rods have the attention to detail that you want. In fact, fishing experts themselves have designed the build of this rod.
Firstly, the blank is made from graphite. As you know the performance you get from carbon and graphite rods is different. This rod has a very strong backbone, is lightweight, and quite sensitive as well.
You can easily deal with the larger species using this rod. It is that strong. Other than that, it has a tip that is very forgiving. As a result, you get to enjoy casting accuracy even if you are not that great at it.
The guides are top-notch as well and are taken care of by experts themselves. So, the casting range and strength are good too. If you are planning to fish for a long time, you can still rely on this rod. Apparently, it has a cork handle that will neither slip nor tire your hands out. It's very comfortable.
While it costs a bit more than others- the quality and performance you get from it are worth the price.
Pros
A very strong backbone.
Quite sensitive.
Very lightweight.
Best spinning rods saltwater
Forgiving tip.
Good for beginners as it makes casting more accurate.
Designed by experts themselves.
Cons
A bit expensive.
May break if handled in the wrong way.
You need to choose action carefully.
7. Penn Carnage II Boat Spinning Fishing Rod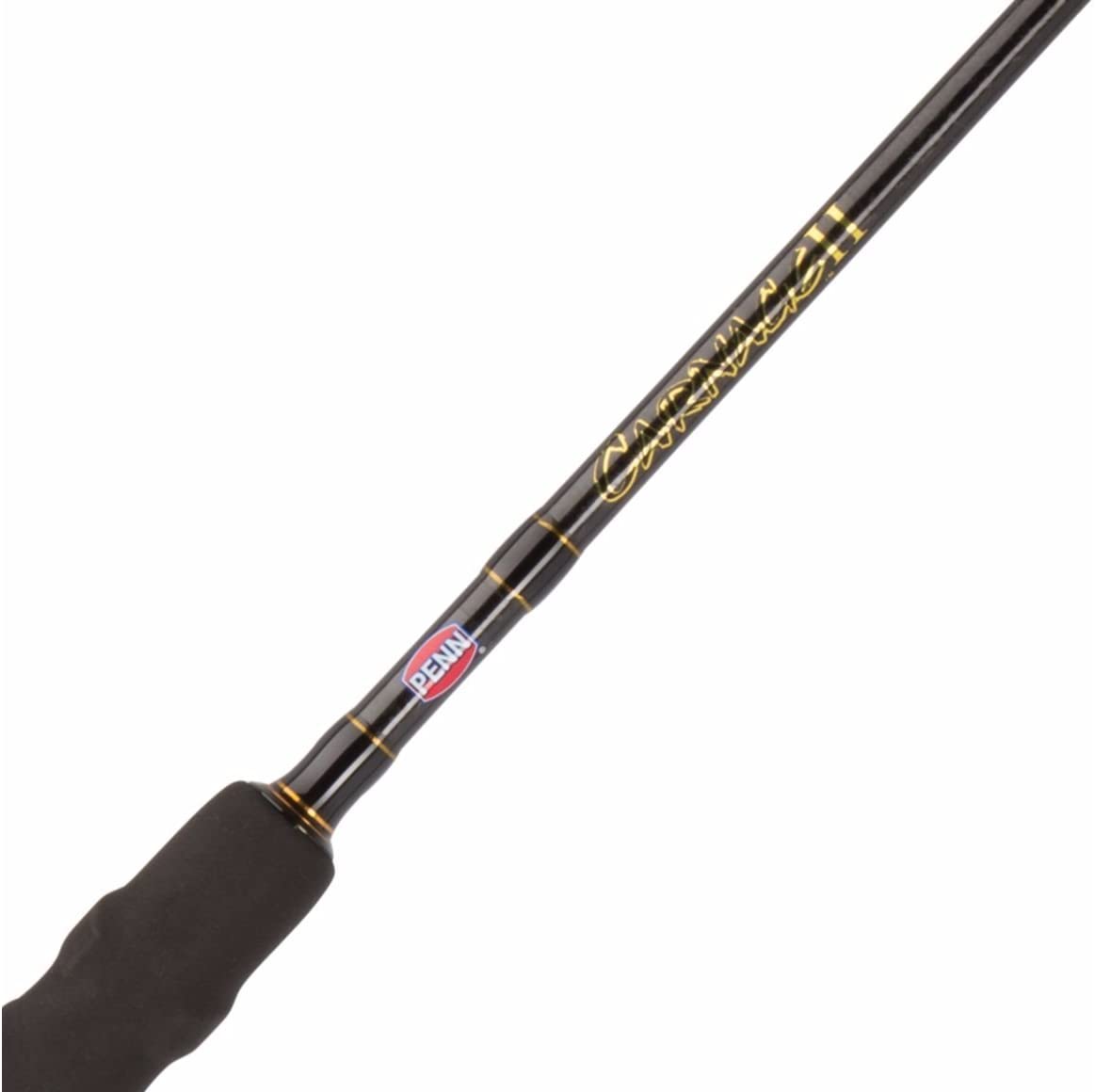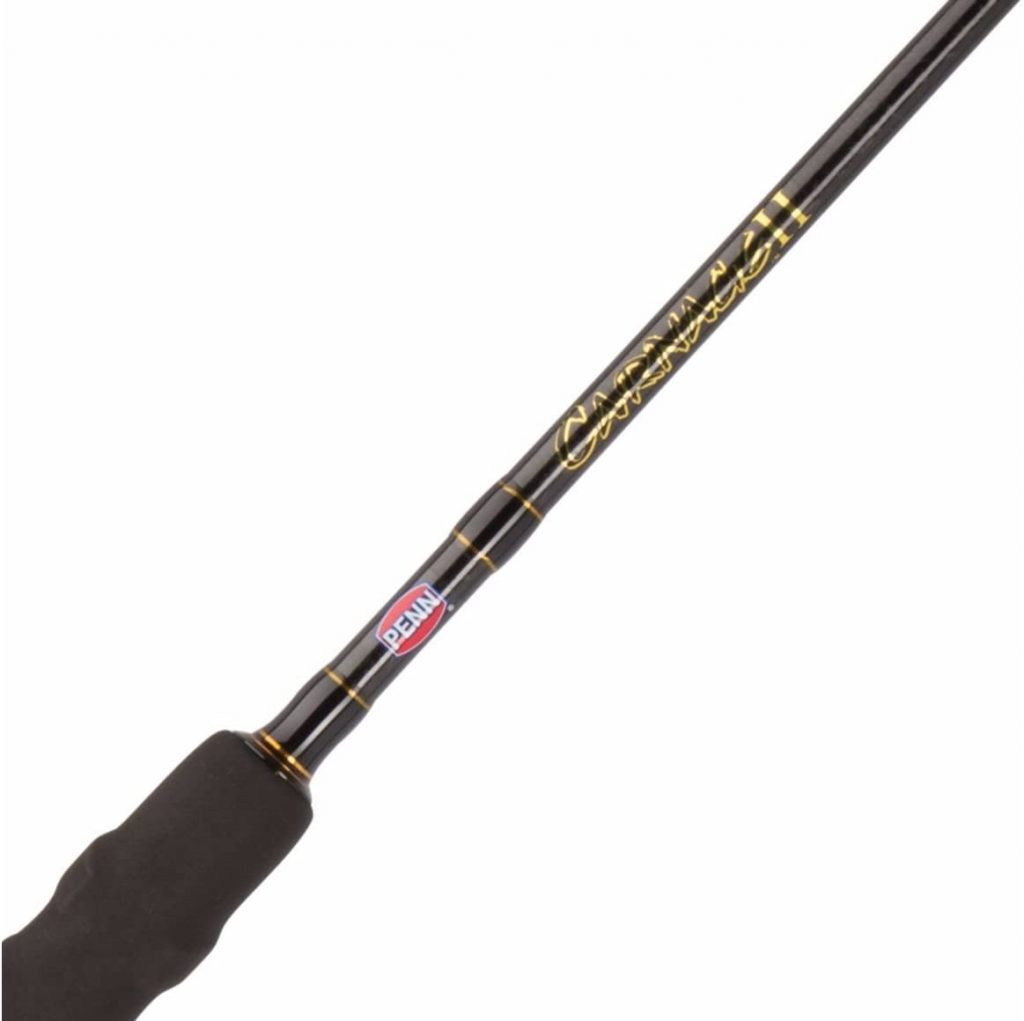 PENN boasts of the Penn Carnage II Spinning Rod as one of its best products. The rod comes with lots of cool and unique features, and more importantly, it is easy to use. Manufacturers had their customers in mind and constructed a product that will make your fishing excursion one remember. We look deeper into the features that make this fantastic product qualify for our list on the best spinning rods.
The rod comes in a two-piece design which will make transporting it a simple task. Its blank is constructed using composite material, which makes it highly sensitive and lightweight too. It is thin, light, and of ergonomic design. Its handles are long to rest on the inside of the forearm. This is important in increasing the level of accuracy and also reducing fatigue.
A great feature with the Penn Carnage II is that it is equipped with an Aluminum Gimbal which keeps the rod butt well planted in. This helps reduce fatigue after long periods of fishing. It is shock absorbent and takes in the fish' shocks when it strikes. This is another feature that not many spinning rods possess.
Its reel seats and guides are made from Fuji to provide durability and sturdiness. To ensure the seats are sturdy enough, they are clamped with bolts and screws. Also, its shrink tube is made with non-slip rubber to ensure you have a firm grip. This also allows the rod to bend at the top, which comes in handy while catching fish in shallow waters.
Pros
It provides a non-slippery grip.
Best spinning rod under $200
It is constructed using high-quality materials.
It is exceptionally durable and strong.
Cons
This rod needs expertise while handling it and therefore not suitable for beginners.
It comes at a high price.
8.Shimano Trevala  Graphite Saltwater Jigging Spinning Rod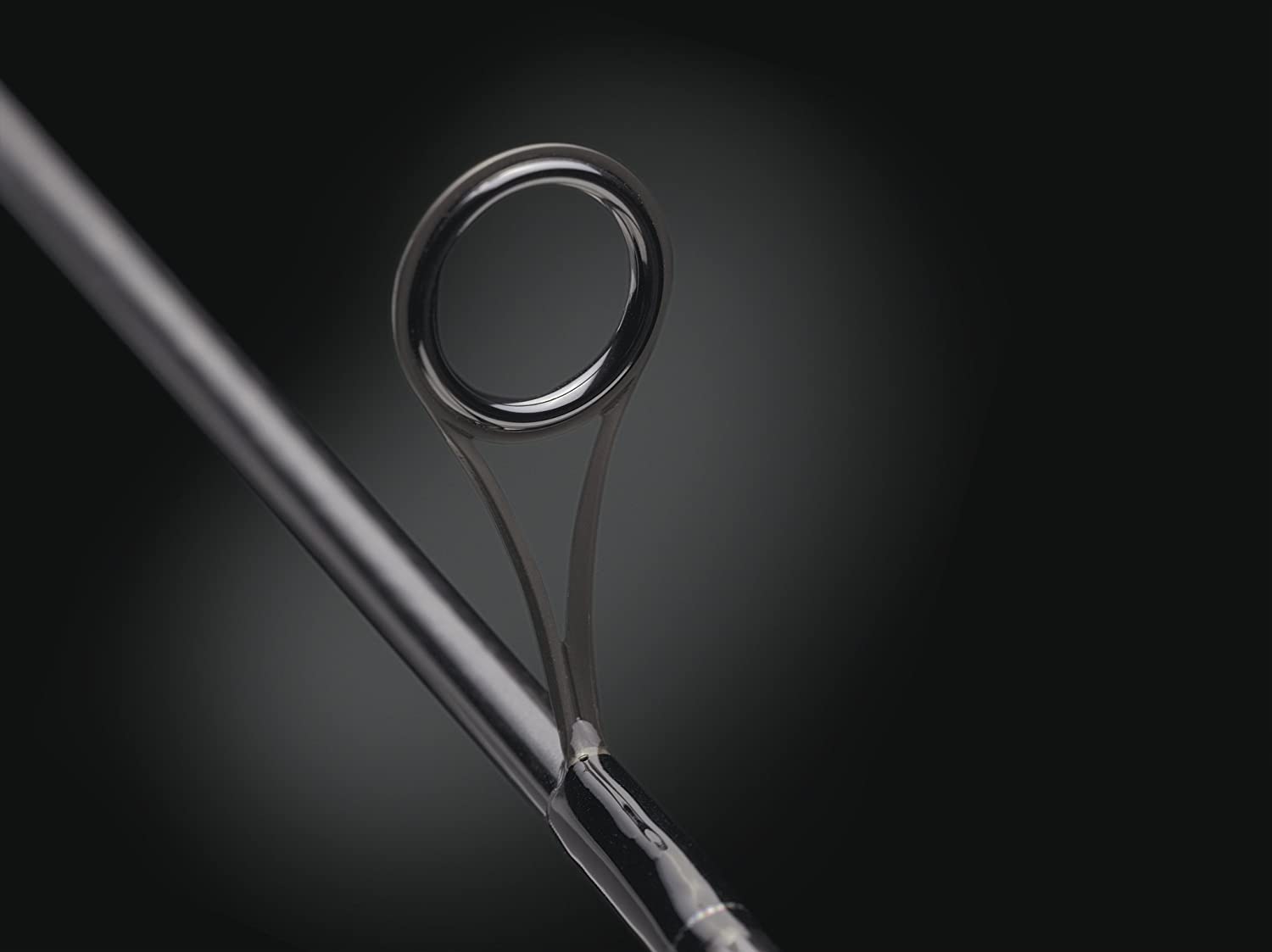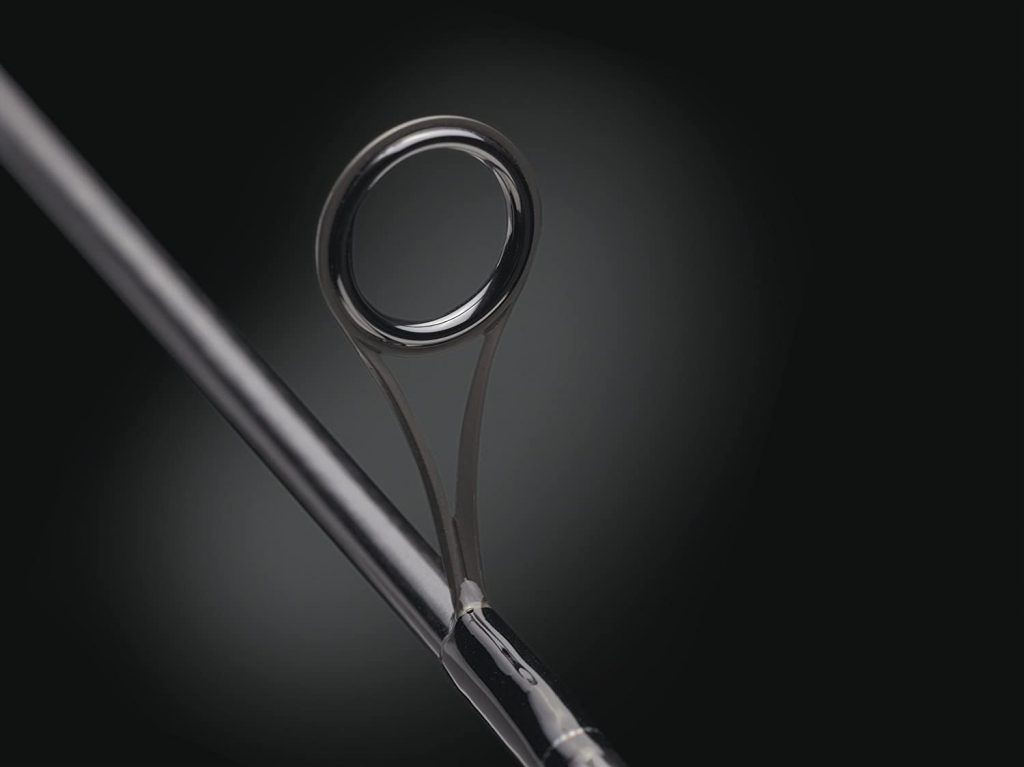 Shimano is a highly innovative company that incorporates its rare talent into its products. In their product, SHIMANO TREVALA Saltwater Jigging Spinning Rod, they have managed to engineer the next generation of TC4 construction. The construction gives you a blank design with higher pulling power, less weight, and increased sensitivity. Moreover, it provides a faster recovery rate, which increases the jigging action that subdues fish faster.
The rod is designed to be used together with the Shimano Butterfly jigs for added speed and power. In addition, the rod is reinforced with Fuji Aluminum oxide guides. It is further polished using a diamond for the finishing. The diamond polish is for three purposes: enhanced smoothness, high durability, and decreased line wear for better resistance.
Another feature with this rod is that its handle is made using EVA foam rubber which provides a firm grip and added comfort. You don't have to worry about slipping off with this product. It also features a split grip style for offshore conditions.
The SHIMANO TREVALA Spinning rod definitely met the people's expectations, and the numerous reviews are a show of this. Not so many rods use diamonds for the finish, but this one definitely does. It gives it a breathtaking beauty that will make you steal the show while at the shore.
Pros
Incredibly strong and lightweight.
Highly sensitive.
Capable of handling large-sized fish.
It has a long butt length for added support.
Cons
To get the darting effect when jigging, you require 20% more action.
9. Eat MyTackle 2 Piece Surf Fishing Rod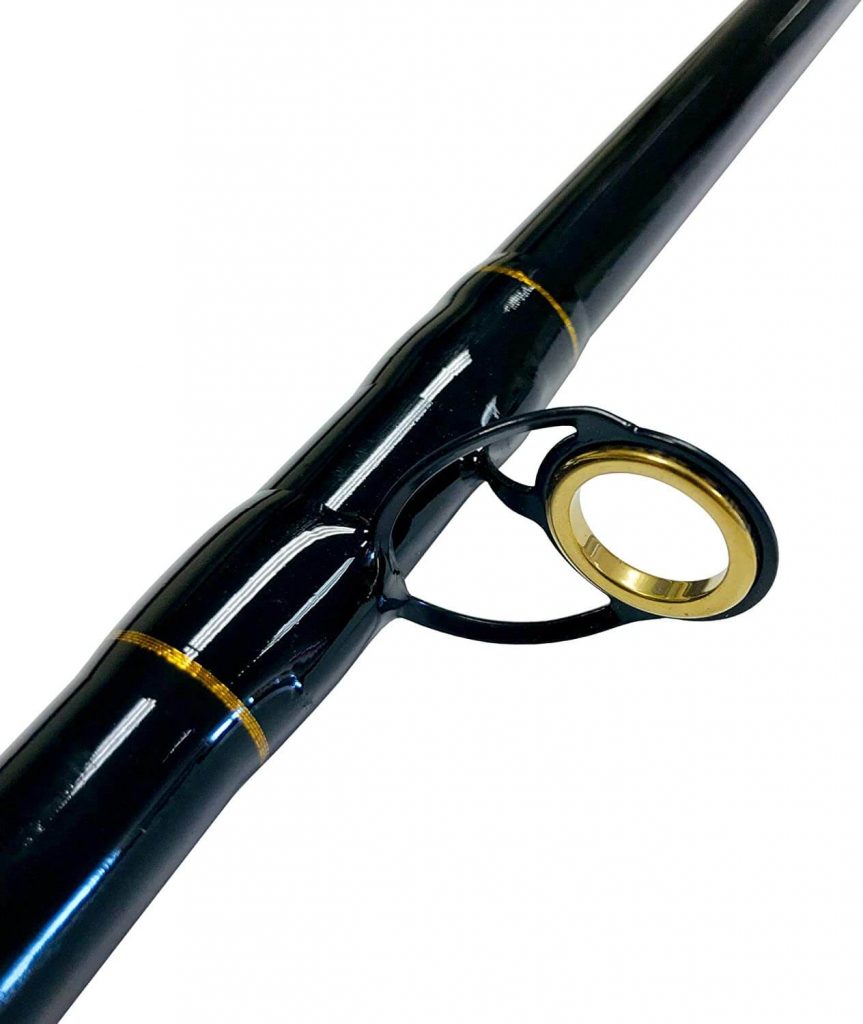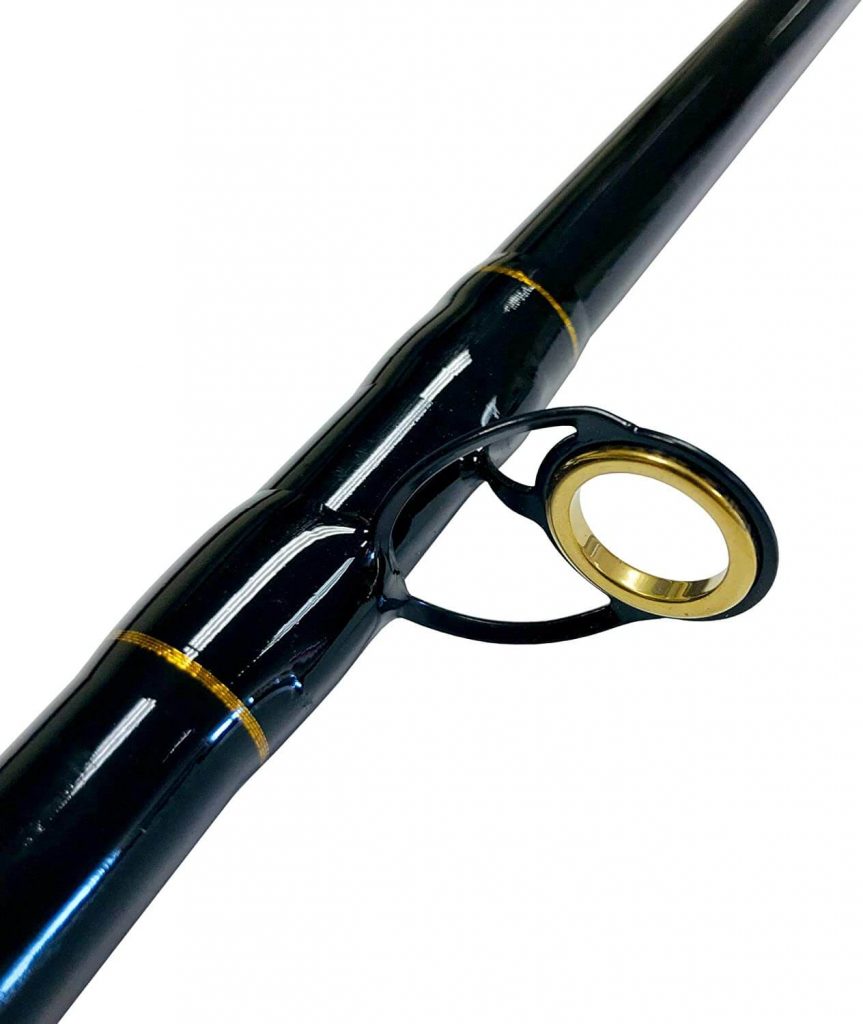 If you're a beginner who's looking for a rod that is easier to master and that you'll have no problems handling, the EAT MY TACKLE Surf Spinning Rod is the choice to go for.  This is a lightweight and durable spinning rod that is compatible with beginners. We recommend this for starters looking to build their angling experience.
The most distinctive feature with this rod is that it collects all its hooks to prevent them from sticking into your clothes. Secondly, its length is seven feet long. With this, your casting distance is wide enough to go for far lengths. Its handle is made using EVA. It is soft on the hand and will provide comfort. You will be able to hold it for long periods without getting tired. The handle also provides a firm grip. This prevents it from slipping off, especially during a struggle with the fish.
Another great feature with the EAT MY TACKLE Spinning rod is that it allows you to dismantle it into two pieces after use. This is convenient for transportation and cleaning purposes. Unlike most rods, this one will easily fit in your trunk or car. Accidents are rare with it and you are assured of a long life with it. Cleaning is also easy. Dismantling it allows you to clean the inner parts thoroughly, removing any dirt that may be stuck inside.
Pros
It is easy to use and handle.
Lightweight and strong.
Its handle is hand-friendly and also provides a firm grip.
Its hooks don't get twisted.
Cons
The rod isn't versatile.
Perfect for saltwater bodies only.
10.Entsport E Series – Sirius Spinning Rod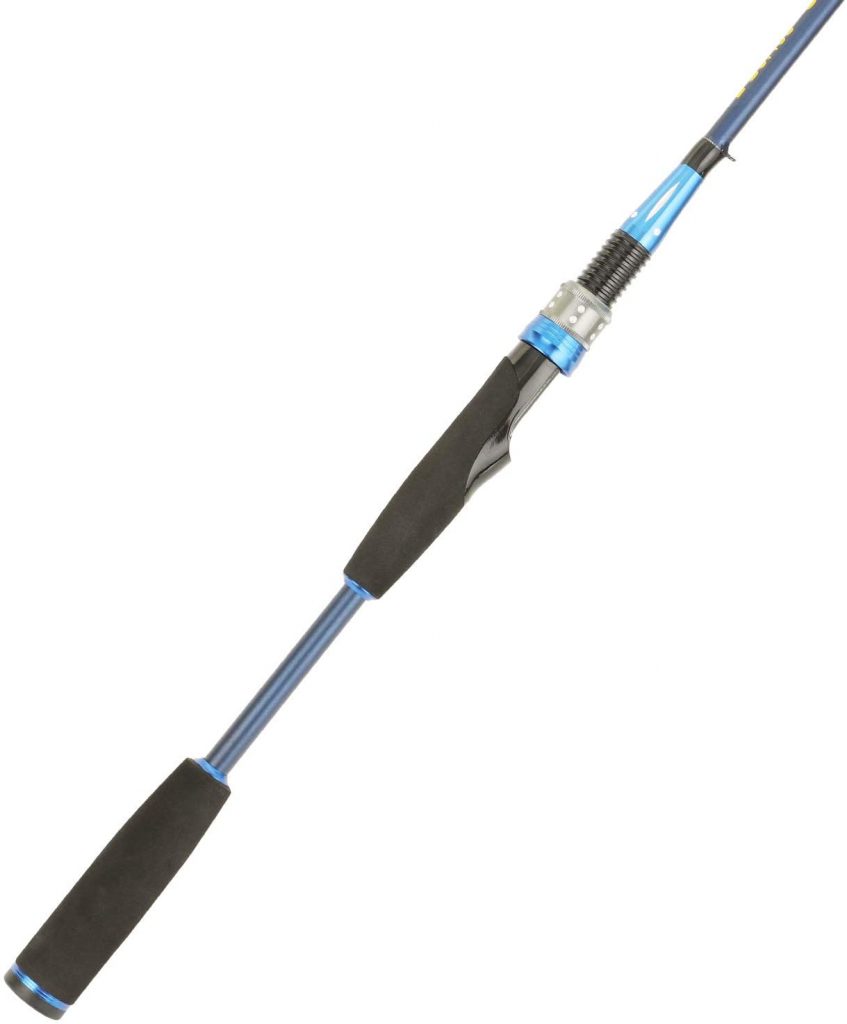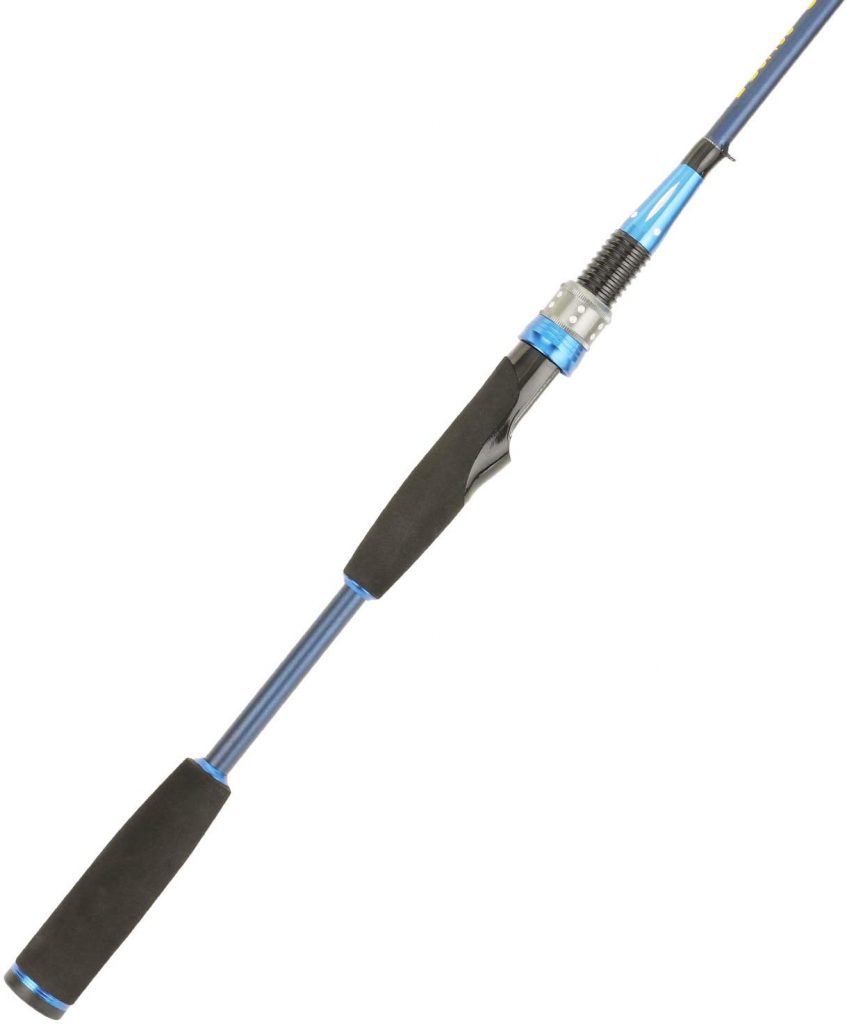 Coming from a brand with a reputation for quality products, the Entsport Sirius 2- Piece Spinning Rod comes in a sleek, colorful design meant to grab your attention from the word go. It is one of the best spinning rods the market has to offer, and with it comes lots of great features. What are you settling with this fantastic product? You may ask yourself.
First, the rod comes at a sleek and lightweight design. It is made from stainless steel. Although it might not be lightweight or low friction, what it brings to the table is its low price and high durability. What makes this product a favorite to many of its users is its colorful appearance. Its bright red and blue colors are artfully combined to bring out a breathtaking design. Having it at the beach will make you the center of attraction.
If you're in search of something lightweight, this is your best option. It is a split grip style rod combined with EVA foam to make it insanely lightweight. Finally, its reel seat is made from durable stainless steel. Unlike cheap reel seats, this one can last very long, beating the test of time. In conclusion, what you're settling for with the Entsport Sirius 2- Piece Spinning Rod is a blend of durability, functionality, and fashionable design. You will love every second of its use.
Pros
It comes at a relatively cheap price.
Lightweight and strong.
It comes in a stylish design.
Cons
It has no backbone and can break easily.
Spinning Rods Buyer's Guide
There is a subtle art in choosing the right spinning rod for you. For maximum functionality, you will want to go with the best. With this, there are certain factors that you should carefully consider before coming at a decision on what spinning rod to go with. The different factors are as discussed below.
Power
Power is one of the most substantial factors to consider in your quest for the best spinning rods. The Power greatly determines the functionality and durability of the rods. You will choose the amount of power, depending on your fishing skills and preference. Under power, there are different categories of rods, listed from the least powerful to the most powerful ones: ultra-light, light, medium, medium-heavy, heavy.
The species and size of the fish you intend to catch will go a long way in determining the power to use. Lure weight also dictates the amount of power to be used; too light and casting is sloppy while too heavy and casting light is stiff.
Another factor that determines the amount of power to use is whether you're planning to cast or troll. For trolling, you do not want to go with a lightweight rod that won't handle the drag of the lure behind the boat.
Action
Power and action are often mistaken for the same thing, but there's a difference between the two. Action is interpreted as the amount of bend in the tip when the rod is subjected to pressure; the higher the bend, the slower the action. The tip of the rod is the last ¼ of the rod. Here, different rods are made using different materials and account for the difference in the bend.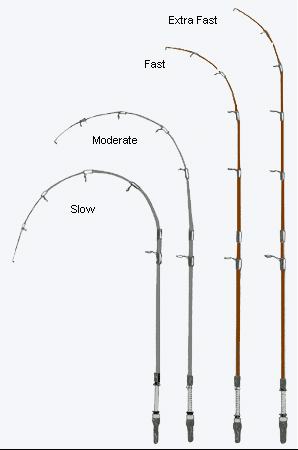 Just like power, we categorize rods under the different actions they come in. these are slow, moderate and fast rods. Fast rods only bend near the tip while the slow ones bend farthest away from the tip, throughout the entire rod.
The type of action that you decide to go with is much dependent on the species and size of your target fish. Fast action rods are the ones to choose when baiting large fish while slow ones are for the lightweight fish. The secret with spinning rods is finding the balanced relationship between the rod's weight and action. With this, you will find your fishing expedition very easy.
Reel Seats
Reel seats play an essential role in the construction of spinning rods. Those of you who have worked with loose seats know how overwhelming the experience can be. The reel seat is the place where the reel attaches to the rod. A good spinning reel seat should fit when tightened, possess cushioned hoods, and accept all brands of the reel.
Length
Another strong consideration when purchasing the spinning rod is the length. The lengths of the spinning rods range from two feet up to 12+ feet. The technique of fishing you intend to use will go a long way in deciding the length of the rod to use. Will you be casting from the boat or the beach? Are you going for heavy lures into the surf or ice fishing? The species of fish is also considered.
Long rods come with the advantage of being able to cast far, and for this reason, they are the preference for surfcasting. Short rods, though have limited casting distance, come with the advantage of accuracy. Short rods are a preference if you're planning on casting near any structure or brush. One thing to remember, however, is that the weight and action of a rod have more influence on the rod's casting and fish ability.
Blank Materials
Lastly is the blank material. Most spinning rods made using graphite, fiberglass, or a combination of the two.  Graphite brings to the table fighting power, flexibility, and sensitivity. Construction using graphite is made using different modulus ratings. A high modulus rating means that the graphite will not be able to stretch or elongate far.   Elongation and stretching ability of a rod allow it to bend and spring back.
Fiberglass rods, on the other hand, are more durable than their counterparts but less sensitive. They are also heavier. Fiberglass rods have their purpose: they are used to catch large and heavy fish. For this, they have to be extremely durable to serve their purposes for long.
The two materials, fiberglass, and graphite can be combined in different ratios to bring out another blank material, composite material. The rods made from this are sturdy, lightweight, and sensitive. Basically, they blend and bring characteristics of graphite and fiberglass. However, their features aren't as pure as of either material alone.
Types of Spinning Rods
There are many spinning rods in the market, and we'll try to combine them using their different characteristics to come up with the types of spinning rods. The different types will perhaps help you in your final decision on what to go with.
1.Lightweight
Under this category, we have slow and moderate action rods, measuring approximately seven feet. These rods are the perfect choice for small fish. The types of fish targeted by this type include trout, small bass, and panfish. The rods won't be a problem with these species. If, however, you are planning to cast slightly larger fish, you should go for a heavier rod.
2.Medium weight
These are moderate action rods measuring 10 feet. These rods are designed to catch moderately sized fish at long distances. These rods come with the upper hand of being able to hand numerous lures and baits. If you're planning to catch salmon or steelhead, this is the best option for you.
3.Heavyweight
These are fast action rods that measure eight feet in length. They are the best type of rods if you're planning to catch big, predatory fish. You should lean towards these rods if you intend to catch large spoons and to jig in saltwater bodies.
The above types will be useful when deciding on the type of fish to catch and the fishing technique to go with. By now, we're sure you've decided on the type that you will choose on your next fishing expedition.
TAKING CARE
For your spinning rod to last you long enough and serve its purpose to the fullest, you have to take care of it very well. For amateurs, taking care of the rod is the first step in understanding how to work with the spinning rods. We outline to you some of the maintenance tips to ensure maximum functionality of your rod. With our tips, you're going to have a long history with your equipment and have lots of memories with it.
General Care
Ensure that you don't hang hooks from the guide. This prevents the hook from scratching you guide and harming your casting. Instead, use a hook keeper.
Do not over flex your rod by exerting excessive pressure on the tip. When in battle with the fish, don't lift your rod past 90°.
Avoid striking your rod against hard surfaces.
Avoid the lures banging the tip-top by having reels in them.
Transporting and Using
While transporting your rod, place it in your car or trunk to avoid banging or hitting against hard surfaces. Also, this prevents hard objects from falling on it. Some rods come with their bags. Carefully place them inside their cases after use.
If your car has limited space and you have to lean it, make sure it is away from any open car doors. Try leaning it in the recess between the side mirror and the car body.
In an open space, horizontally carry the rod with the tip facing behind you. This will prevent it from hitting the ground and breaking.
Never leave your rod lying flat on the ground. Someone may come and step it, causing breakage.
Cleaning and storing
When cleaning your rod, make sure you wash it entirely with soap and fresh water. Rinse with hot water and let it dry. For a more natural method, you could have a shower with it. This will work just perfectly.
Examine the guides thoroughly to check for scratches. If there are any, make an effort to replace them.
While storing your rod, do not lean it on the wall or place it at the corner of the room. This will make it bend over time.
For organized storage, you can rely on a sound rack system to keep the rod out of the floor and harm's way.
Spinning Rods FAQs
Is a heavy spinning rod better than a light one?
None of the two rods is better than the other. It all depends on the species of fish you're planning to catch, the size of fish, and where you're planning on fishing. Each of the two types is designed to work best under different conditions and environments.
A heavy rod is designed best for catching large and heavy fish. Also, it performs best under deep-sea fishing, surf fishing, and offshore trolling. So, if you find yourself under those categories, the heavy rods are yours to take.
Lighter rods, on the other hand, are designed to catch small baitfish such as crappie and panfish. They do well in clear and open waters.
How do I clean my Spinning Rod?
Cleaning your spinning rod is essential to ensure that it lasts you long. The following steps should be taken when cleaning your spinning rod:
After fishing, rinse your rod using freshwater. This takes off salt, dirt, and loose dirt off the equipment. Avoid powerful sprays as they can force particles into the crevices.
The next step is to wash the entire rod using soapy water. Ensure you clean all components thoroughly but gently.
During this time, look for any damaged part and make an effort to replace or repair them.
The last step is to rinse your rod gently using clean water. Let it dry in the sun. You can now store it safely in its box till your next excursion.
Can I fix a guide that has broken off the tip?
Yes, you can. And you will be glad to hear that it is easy and cheap. No matter how careful we are, accidents normally occur and this is one of them. Below are some tips on how to go about it.
Carefully wipe out the old glue that was in place.
Rough up the tip using sandpaper or any other rough object before gluing.
Use dowels to ensure the new guideline is in alignment with the old ones.
If you feel the process is difficult for you, you could always call in an expert to assist you with the task.
FINAL THOUGHTS
Our article is more than just a review of Ten spinning rods; it is a guide on everything about spinning rods. It educates you on the best spinning rods on the market, factors to consider when buying one, and maintenance tips to ensure that it lasts you long. After reading through it, your fishing skills will be upgraded from an amateur, perhaps to that of a pro.
Fishing is a great hobby to partake. On Saturday afternoons, you could pick up your buddies and have a good time. It is essential that you master the way around it. If you know what you're doing, your expedition will be one to remember. That is what our mission is: ensuring you have the best fishing experience through recommending to you the best equipment the market has to offer.
Our list contains the best Best Spinning Rods for money can get you. Nothing could go wrong with their purchase. Every dime spent on them will be worth it. Ensure that you consider the factors outlined before deciding on what to settle for. Also, ensure to strictly follow our maintenance guide for a long-lasting and fully functioning spinning rod. Good luck!
More article: