A fish finder is an essential part to have a successful fishing experience. When you have a good fish finder it increases the chances of finding fished and thus you can enjoy more. It also gives you more flexibility. Therefore, if you are looking for then we have a great suggestion for you and that is the Humminbird 409670-1 PiranhaMax 197C.
Humminbird is a very popular name and almost everyone knows that almost all their products are made with high quality, the Humminbird 409670-1 is nothing different. One of the main reasons, that this particular model of Humminbird got so much attention was its low price.
This product comes on a budget, but it definitely meets all the requirements. So, without further delay let's have a detailed look at why this is a must-buy for any fisherman.
Humminbird 409670-1 PiranhaMax 197C Color Fish Finder...
So you can see what's below your boat with great clarity;Display Pixel Matrix:240H X 320V
Thanks to an easy-to-use interface, unlocking the power of Fish ID+, fish alarms, depth alarms and zoom has never been more simple
It has 3.5" display with 1600 watts PTP power output with Dual Frequency sonar;it packs a technological chomp that no fish finder in its class can match
Temperature:Built In Transducer
Features of Humminbird 409670-1 PiranhaMax 197C
Interface and Display
The Humminbird 409670-1 PiranhaMax 197C comes with a 3.5-inch screen and it is a color screen.  The display has a resolution of 240Hx320V. The screen is small, but the picture quality is pretty good. However, for the small size of the screen, it is easy to carry the fish finder in small kayaks.
The Humminbird 409670-1 has also a LED backlight screen option. This option is made where there can be a problem of visibility for example, under direct sunlight or in fog. This LED screen option comes very useful in these scenarios. Moreover, with this fish finder, you can now go fishing even at night when there are fewer disturbances.  The screen has a zoom option so that you can have a closer look at the underwater situation.
3 Alarm Functions
One great feature of the Humminbird 409670-1 PiranhaMax 197C is that it has included 3 different alarm functions. There are Battery Alarm, Depth Alarm, and Fish Alarm. From the names, you may already understand that the battery alarm is when it gives an alarm if the battery is low or equal to the menu setting. The fish alarm beeps when it detects a fish under the water, so it is not like you always have to look at the screen.
Even there are 3 more options available for the fish alarm, these are small, medium, and large. These are fish size options that you can select. You can select all of them or only one and then the alarm will work in that way. Lastly, the depth alarm will inform you when you have reached the selected depth value.
Sonar Technology and Dual Beam
The Humminbird PiranhaMax 197C includes sonar technology also. What is it? It is a technology that will automatically determine the depth of the water. As it has this feature, therefore, the fish finder itself does all the adjustments. With this sonar technology, it can send sound waves in the water, and when the sonar returns it show that segment of time on the screen. By scrolling left to the right one can update the information.
The Humminbird 197C is a dual-beam fishfinder. It can work with two different frequencies, 455kHz, and 200 kHz. However, in some other Humminbird models both dual beams can work simultaneously, which is called the Dual Beam Plus. But here, at one time only one beam will work. So, it will scan either with 455 or 200 kHz. This dual-beam sonar uses 28-degree conical area coverage. It also gives wider pictures of a 28-degree beam when it is using the     Fish ID+ feature. We will talk about this feature next.
Fish ID+ Feature
This is a very useful feature that will help you to detect the perfect fish figure. Basically, for this feature, the fish finder can interpret the sonar results for you and then show a fish icon only when there is a fish. Therefore, you don't have to look closely at whether the target is a fish or not. Mainly, when there is a fish the sonar result will be represented by a fish icon. It is a great feature for any beginner, who is not used to the whole process. However, Fish ID+ can sometimes give misleading information also. Still, we think it is a great feature to have.
Easy to Use
A fish finder is used so that the overall fishing experience can be a little relaxed. Therefore, it is very important that you don't have to do a lot of things to only operate the fish finder. The Humminbird 409670-1 PiranhaMax 197C is very easy to use, all because of its simple design. There are few options available and all those options are presented in a simpler way on the menu. If you are someone who has never used a fish finder, even you will find it easy to operate.
---
Pros
The built-in sensor will allow measuring temperature
Easy to set up
Great price
Includes the beam select option
Cons
No GPS
Cannot use both beams simultaneously
Small screen
---
Humminbird PiranhaMax 197C FAQs
Can the Humminbird PiranhaMax 197C can be connected directly with the boat battery?
Yes, it can be connected directly to the boat battery.
Is it possible to mount the transducer in the hull?
No, it can be mounted on the transom outside the boat only.
Which country has made this product?
It is made in the United States.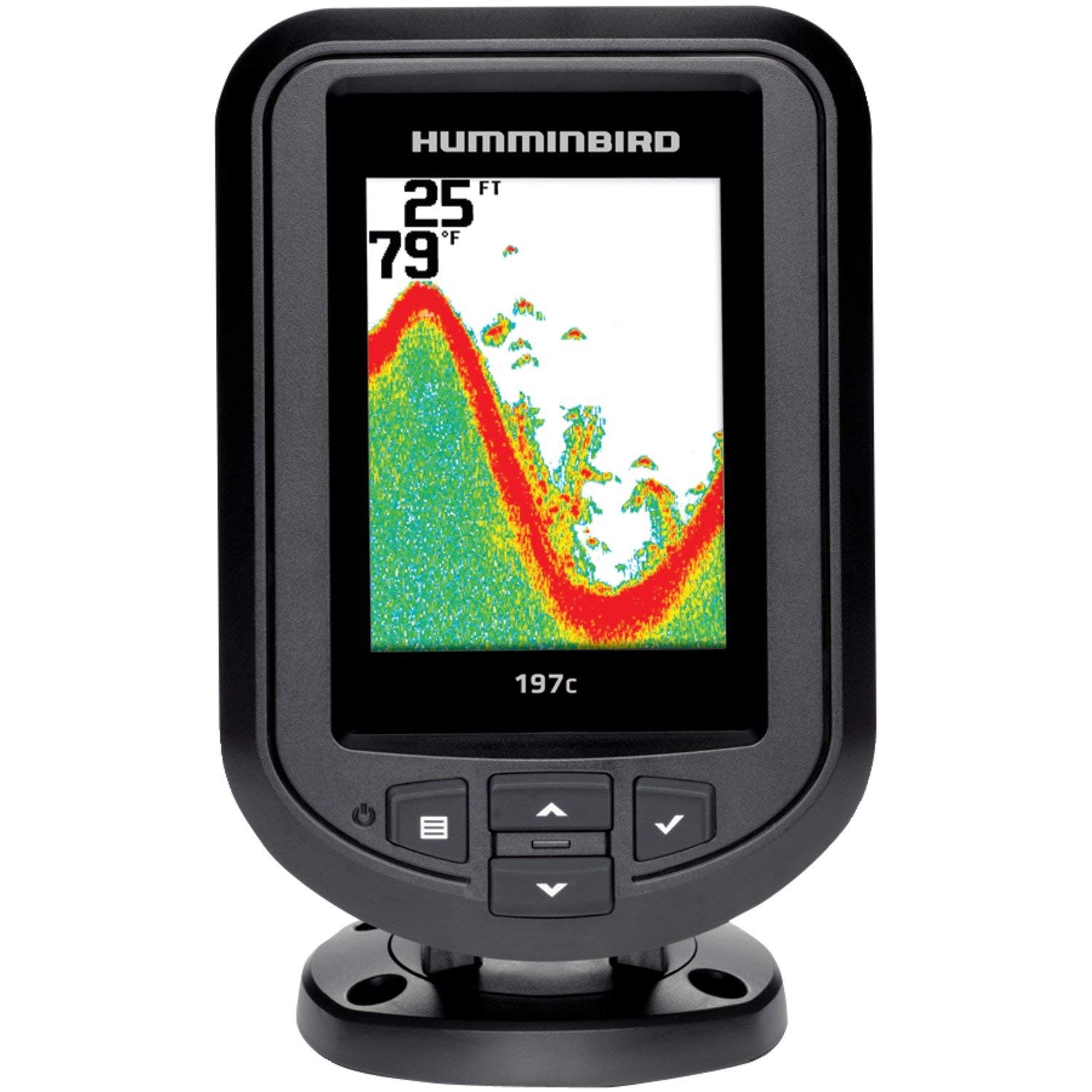 FINAL THOUGHTS
To give our final verdict on the Humminbird 409670-1 PiranhaMax 197C, we want to say that this is not the ultimate fish finder you will get in the market. There are better options than this. This Humminbird fish finder comes with limited features.
However, if you consider the price point you cannot ask more. Moreover, maybe it misses some advanced features, but the features it has advertised all are perfect and can nicely operate. So, if you are a beginner or you just want a normal fish finder nothing very advanced then you can opt for this one.
Bestseller No. 1
Humminbird 410950-1 HELIX 7 CHIRP MSI (MEGA Side...
7-Inch screen with 800H x 480V resolution color TFT display
Mega Side Imaging: see the world below like never before with crystal-clear viewing out to 125 feet on either side of your boat
Mega Down Imaging: Get unprecedented underwater clarity with coverage down to 125 feet below your boat
Powered by our proprietary, Low Q CHIRP transducer, Dual Spectrum CHIRP offers two ways to search: wide mode for maximum coverage and narrow mode for maximum detail
Includes transducer and mounting hardware, power cable and gimbal mounting bracket
Bestseller No. 2
Humminbird 410220-1 HELIX 5 CHIRP DI (Down Imaging) GPS...
5" widescreen display
Features CHIRP Digital Sonar, CHIRP Down Imaging, GPS mapping, AutoChart Live, the new Humminbird Basemap, DualBeam PLUS and SwitchFire
CHIRP Down Imaging: Filter out noise and clutter for a clearer view beneath your boat. It's the perfect blend of CHIRP Digital Sonar precision and Down Imaging detail
CHIRP Digital Sonar: View details that other forms of sonar won't show you. Humminbird CHIRP Digital Sonar is engineered to help you see individual fish, clearly identify bait and structure, and...
SwitchFire Sonar: Take command of how your sonar returns appear. With two display modes, you can add or remove detail, account for water depth, temperature and turbulence, even watch lure...
Bestseller No. 3
Humminbird 411070-1 HELIX 7 CHIRP MEGA DI GPS G3N Fish...
7" ultra-wide display gives you ample room to view the many pre-loaded split screen view options
Features MEGA Down Imaging, Dual Spectrum CHIRP Sonar, ethernet networking capability, Bluetooth connectivity, AutoChart Live, GPS and Humminbird Basemap built-in
MEGA Down Imaging: Get unprecedented underwater clarity with coverage down to 125 feet below your boat. You'll unlock new details with up to 3X more output than standard Down Imaging sonar
Dual Spectrum CHIRP: Before you cast, know what's down there thanks to long, well-defined fish arches, and a clear view of fish-holding structure and the bottom. Powered by our proprietary, Low Q...
Ethernet Networking: High-speed Ethernet allows you to build a powerful, professional-grade fishing system. Easily connect multiple fish finders, or upgrade to add-on technologies like Minn Kota...