For anglers, Fishfinders are necessary equipment with active sonar instruments that are used to determine the depth of water for navigation and safety. Humminbird has consistently been making the best Fishfinders for a while, and the Humminbird Helix 5 CHIRP G2 is by far the best and certainly the most powerful in their lineup.
Thanks to its highly capable and sophisticated combination of switch fire, side imaging, and down imaging sonar technology, the Helix 5 CHIRP G2 Fishfinder has always managed to stay ahead of the competition by offering unique, compelling features.
If you're an angler looking for a Fishfinder with all the bells and whistles, this particular model is the best choice for you.
Humminbird HELIX 5 Reviews!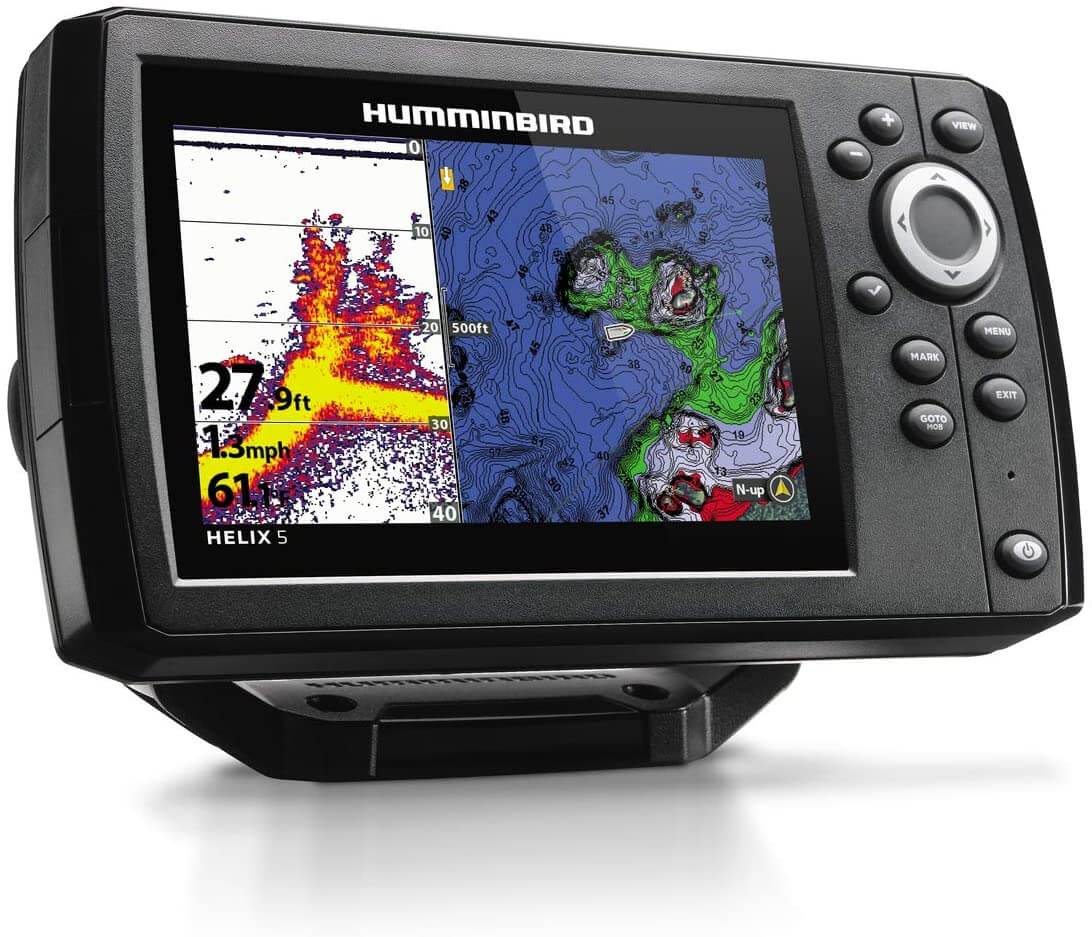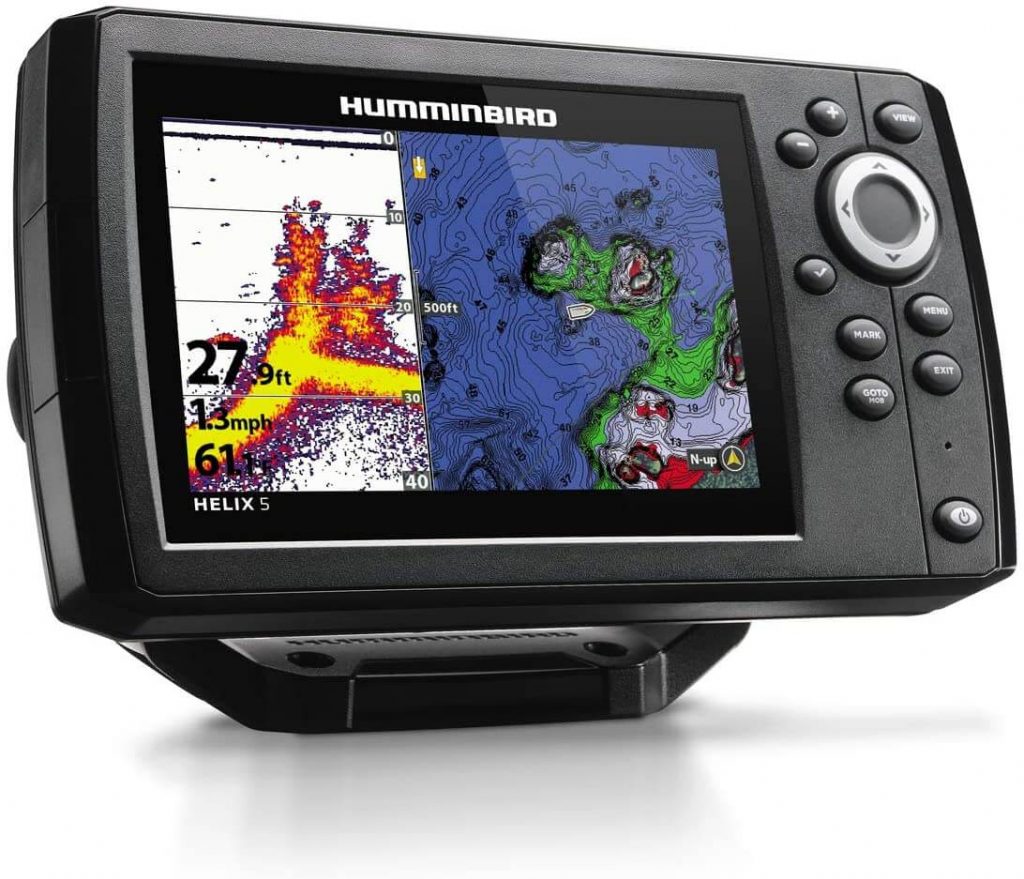 Specifications
Product Name: Humminbird Helix 5 CHIRP GPS G2
Model Number: 410210-1
Dimensions: 1.13 x 7.55 x 4.28 inches
Display Size: 5 inch
Display Resolution: 800×480
Display Type: 256-Color TFT
Sonar: CHIRP Digital Sonar/DualBeam PLUS
Frequency: 83/200 kHz
Max Depth: 2500 feet
Power Output: 500W (RMS)/4,000 (Peak to Peak)
Transducer: XNT 9 20 T
Waypoints: 2,750
Routes: 47
Tracks/Points: 50/20,000
GPS Receiver: Internal
Weight: 2.5 pounds
Humminbird 410210-1 HELIX 5 CHIRP GPS G2
The new Humminbird Helix 5 CHIRP GPS G2 is an exceptionally well-performing and well-designed Fishfinder to maximize your angling experience.
It features an intuitive REFLEX interface, accurate Broadband CHIRP, and incredible Imaging SONAR technology, and Auto Chart Live mapmaking capabilities. The Humminbird Helix 5 also looks great—thanks to its impressive industrial design.
The HELIX 5 has the company's newest user interface and operating system and features a vivid, vibrant, 256-color 800 x 480 resolution, backlit 5-inch display. The CHIRP Dual Beam PLUS sonar system comes with 4000 watts PTP power output.
This Fishfinder has a precision internal GPS Chart plotting feature with built-in Anima cartography as well. There is a useful micro SD card slot for saving waypoints or storing additional maps.
Pros
Great design and easy to handle
Robust and reliable unit
Easy to operate and install
Accurate water depth readings
Excellent GPS performance
Micro SD card to store marked locations
Screenshot and sonar recording functions
Waterproof rating of IPX7
1-year limited warranty
Cons
The mediocre performance of the depth indicator and GPS chart plotter
Mediocre screen resolution
The build quality needs improvement
Not useful for black sky navigation
The boat mount is rudimentary
Some buyers complained the Instructions are not very easy to use
Transducer wire is short for a pontoon boat
No standing mode to save battery life
Different Styles of Humminbird Helix 5
The Helix 5 Generation 2 CHIRP family consists of four different models of fish finders. Apart from a few differences, all models come with a standard 5-inch screen with 800 x 480 resolution, gimbal or in-dash mounts, GPS, Micro SD card slot, screenshots saving features, recording sonar readings, and so on.
The GPS-equipped models feature AutoChart Live, and all iterations of the Helix 5 series are compatible with the Humminbird LakeMaster charts, Navionics, and Hotmaps.
There are half a dozen of Helix models available, but we will go over the three best based on their pricing.
Humminbird Helix 5 SI
Humminbird Helix 5 DI GPS
Humminbird Helix 5 GPS
1.Humminbird Helix 5 SI
The Helix 5 SI is regarded as the premium model of the Helix 5 family as it offers almost the same features as the Humminbird Helix 5 CHIRP G2, except for Side Imaging. It costs $100+ more, so if you need Side Imaging, this might be best.
2. Humminbird Helix 5 DI GPS
This Helix model features dual beam sonar and down imaging allowing anglers to see at depths of up to 600 feet underwater. The view is fan-shaped and similar to what the diver sees in the sea.
The Helix 5 DI GPS is an affordable unit, but you still get all the bells and whistles of any Helix 5 model, including GPS, UniMap, and CHIRP imaging.
3. Humminbird Helix 5 GPS
The Humminbird Helix 5 GPS can be called the quintessential Fishfinder for amateurs and pro anglers alike.
The Helix 5 GPS has a 5-Inch Color WVGA Display, CHIRP Dual Beam PLUS Sonar, Internal GPS Chart plotting using the built-in Anima cartography, a standard Transducer with mount, and micro SD card slot for saving additional maps and waypoints.
Other standard features like the Humminbird Basemap and Humminbird AutoChart Live are included.  The Humminbird Helix 5 GPS starts at $278+ on Amazon.
Features of Humminbird Helix 5
Screen
The display of the Helix 5 is impressive and color accurate. It is a widescreen 5-inch ultra HD, LED-backlit screen with a resolution of 800 X 480 pixels. As a result, this screen offers class-leading clarity making the side imaging very easy to use, which is one of the significant advantages of the display.
If you want to split your images into two halves, you still can get pretty decent display space for chart plotters. The chart plotter uses Navionics Gold cartography. If you want, you can create your own custom contour using the Auto Chart software.
Transducer
The Humminbird Helix 5 has a relatively large transducer, and it is one of the best we have come so far. The 15-millimeter magnetic transducer mount makes positioning it in place relatively easy.
The main benefit of the transducer in this unit is that it allows you to measure the temperature of the water, and it is capable of going down to up to 1,500 ft. underwater.
Dual Beam PLUS Sonar
The Helix 5's Dual Beam PLUS Sonar technology provides better detail and an extensive coverage area, helping anglers in identifying fish, structure, and contours.
Digital CHIRP
CHIRP stands for 'Compressed High-Intensity Radar Pulse.' It means it can show you fish that other forms of 2D sonar can't. The Humminbird Helix 5 easily exceeded our expectations when it comes to the CHIRP Sonar.
Unlike other competing units that cover a single frequency, the Helix 5 ups its game by offering both CHIRP imaging and 2D sonar that covers a wide range of frequencies for improved clarity and separation between the fish and water structures.
GPS Technology
Similar to other high-end Fishfinders, the Humminbird Helix 5 G2 also features built-in GPS technology for navigation. With this function, you can keep track of your preferred fishing spots.
Imaging (Side imaging And Down imaging)
The Humminbird Helix 5 G2 has remarkable Side Imaging and Down Imaging functionalities. With Side Imaging, you can clearly see underwater structures and tangled tree branches, whereas, with the Down Imaging feature, you can have a clear view of the water depth, underwater structures, and contours.
What is Side Imaging and How to Read It
Humminbird Helix 5 FAQs
1. Does the Humminbird Helix 5 have GPS?
Yes, the Humminbird Helix 5 comes with a fully-fledged GPS. All Humminbird Helix models include an internal GPS that allows you to up to 2,500 waypoints and 45 routes. Given its small size, that's a great performance if you ask me.
Anglers can also link the GPS with the AutoChart Live feature to create their own special maps and to download additional maps about good fishing spots. Alongside that, the Helix 5 has several types of GPS maps, including maps for nearby vegetation, satellite imaging through LakeMaster PLUS, and bottom hardness.
2. Does Helix 5 have Down Imaging?
Yes, the Helix has Down Imaging, which is a useful feature for finding fish. This feature gives angler's a "Fish Eye's" view of the water, helping you find fish and see underwater with extreme clarity. Most Helix 5 models have down imaging technology that provides high-res images not found in other Fishfinders.
3. Is the Humminbird Helix 5 waterproof?
All Humminbird Fishfinders are waterproof, including the Helix 5, and can be used in fresh and saltwater. However, we suggest you do not submerge this unit during cleaning. Just wash it with clean water and a cloth and wipe it dry when done.
4. How do you read a Humminbird Helix 5?
Reading the Humminbird Helix 5 to find fish is easy. As the sonar jumps back and front in the water, the sonar paints a pixel or a blob on the screen. It isn't a perfectly painted arc or a blob, but if it's between the surface and the bottom, it's probably a fish, walrus, smallmouth bass, etc.
5. Does Humminbird Helix 5 come with a transducer?
The Humminbird Helix 5 has capable transducer technology, and it's relatively large. The unit also comes with a 15-mm magnetic transducer mount to easily attach and position the transducer in position. The transducer provides information about the water temperature up to 1,500 feet deep.
Humminbird Helix 5 Setup
FINAL THOUGHTS
The Humminbird Helix 5 Fishfinder is, undoubtedly, a fantastic product with incredible performance, an intuitive interface, and generous features.
Additional premium features such as the CHIRP Sonar technology, GPS, Unimap charts, and transducer, make the Humminbird HELIX 5 CHIRP GPS G2 the one and only Fishfinder to buy for amateurs and seasoned anglers.  Even better, this unit is suited for use for both small and large boats as well as in fresh and saltwater.
So, if you're searching for a top and high-performance Fishfinder with excellent GPS and charting capabilities at a reasonable price, we can't recommend the Humminbird HELIX 5 CHIRP GPS G2 Fishfinder enough.
Read More: