Want to add a couple of fishing rods to your collection? Or maybe looking for something specific? If so, then you will most probably find what you are looking for right here! On our Shimano Sojourn rod review, we have the Sojourn 2-piece spin rod, which comes in several versions for you to pick from!
Let's see what Shimano Sojourn has got prepared for lovers of fishing!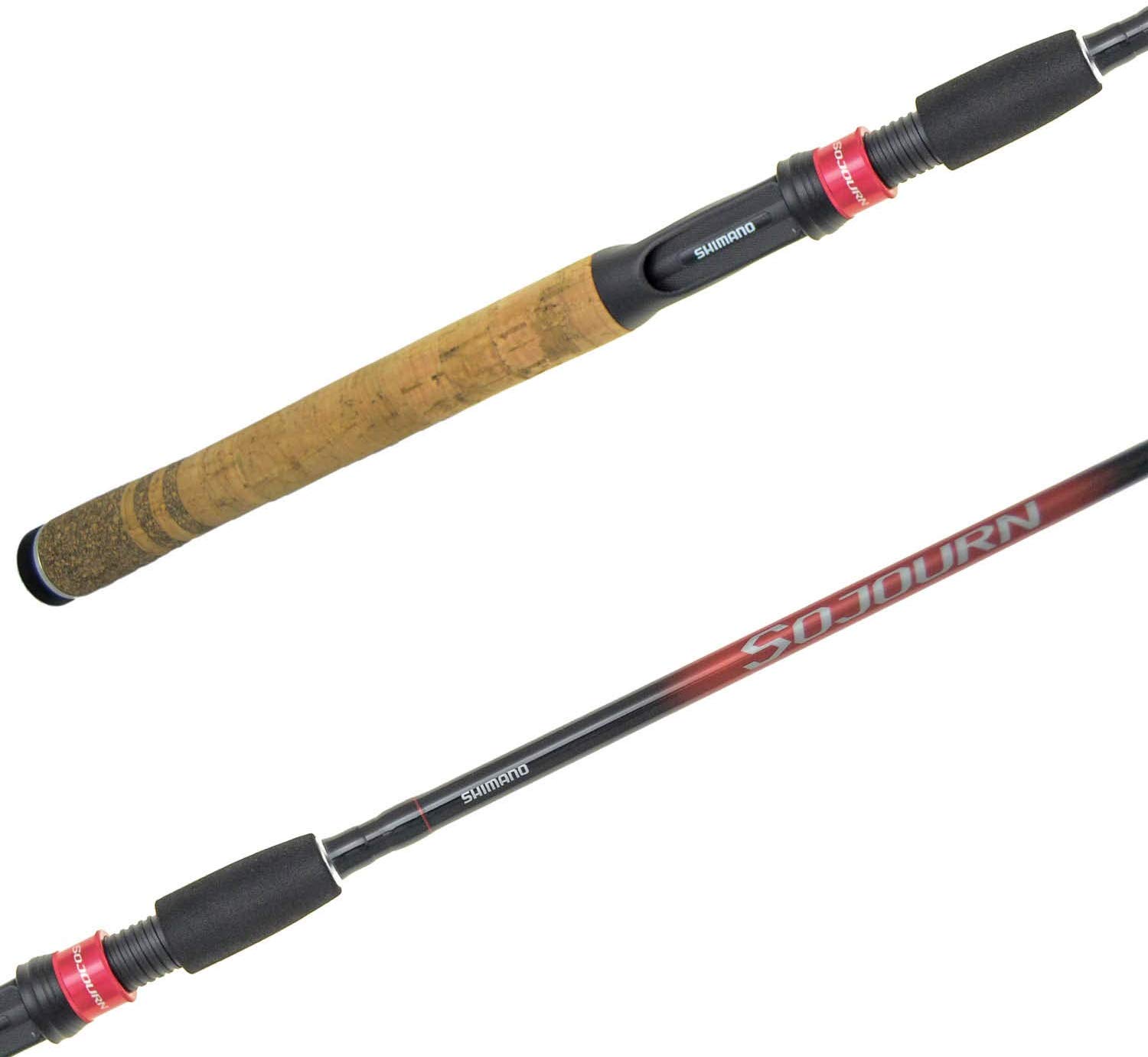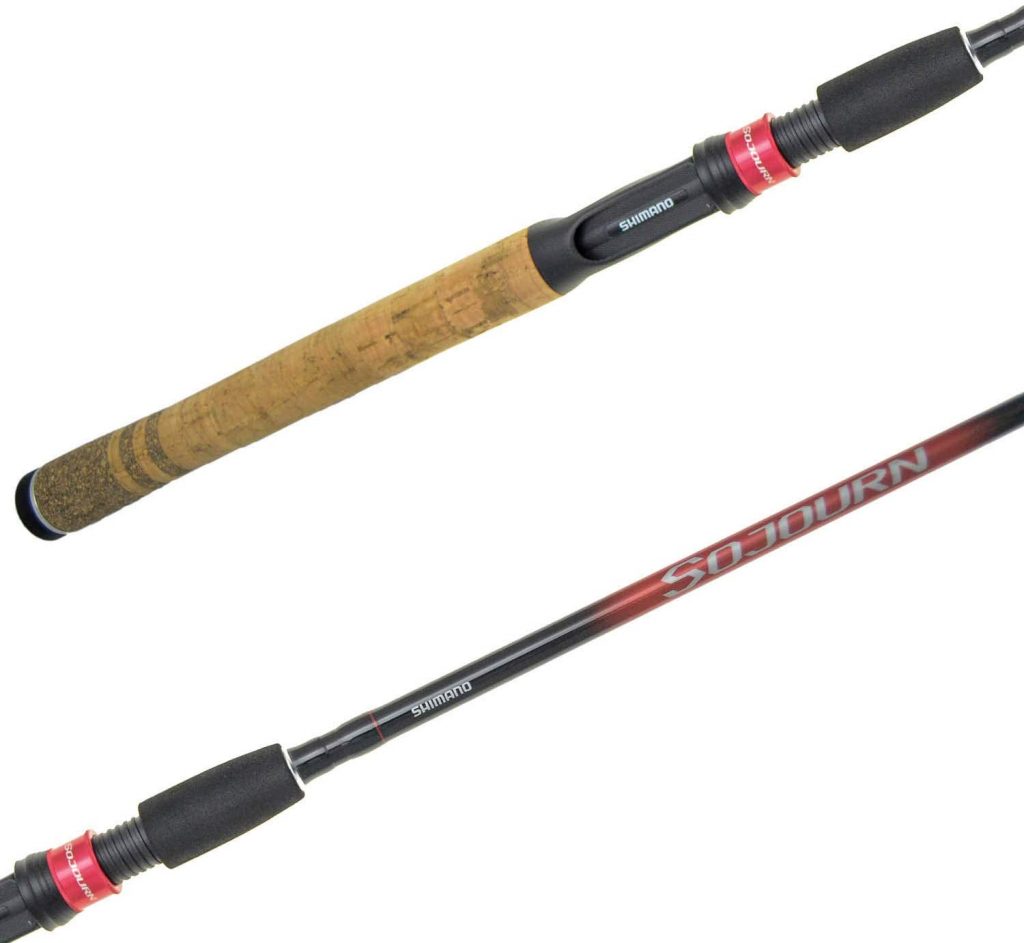 Features of Shimano Sojourn Rod
Fast Action
All versions of Shimano Sojourn 2-piece spin rods feature fast action. If you don't know, fast action means that only about the third of the rod's top bends under the weight of the fish. Apart from that, the end of the rod returns to its rest fast (as the name implies) after the load is released.
What does this mean to you? The fast action allows for great sensitivity, which will be oh so helpful if you need to feel the lure and every movement of the fish as much as possible. Apart from that, fast action allows you to transfer force into the fish much more efficiently, which is what will allow you to quickly pull out fish even from under heavy cover.
Apart from that, be mindful that fast action is kind of a limiting factor when casting, though Sojourn won't be a problem for most of the casting distances.
Power & Length Options
As for power, as well as rod length, Shimano Sojourn comes in several options, which are 5-foot ultralight, 6-foot medium-light, 6.5-foot medium, 7-foot medium, and 7-foot medium-heavy.
Let's begin with power. The heavier the rod, the bigger fish you can handle with it. Apart from that, heavier fishing rods accept heavier lines, which allow a supreme experience of heavy-fish catching. Plus, heavier rods work with heavier lures. However, heavier rods are much more tiring than lighter rods, so you won't be able to catch a lot of fish with a heavier rod. But you could compensate for that with the size of the fish! Pick the right weight of the fishing rod in accordance with your fishing needs.
As for the length of the rod, it impacts your control, the casting distance, as well as the ability of "pumping" fish from the deeper water and from the cover. Longer rods allow for better fighting with fish as the length of the rod allows for more shock absorbing. Plus, longer rods are better for far casting. Lastly, longer rods allow for better leverage across the length of the line, which in turn allows for more control.
On the other hand, shorter fishing rods aren't that good in terms of fish-fighting and casting, but what they are incomparably good at is powerful pulling fish from cover thanks to the better leverage. Besides, a shorter rod would be much more appropriate for fishing in confined areas.
You could just get one of the versions or buy all of them, depending on your requirements. And that's what is so great about Shimano Sojourn's 2-piece fishing rod!
Durable Graphite Body
The blank body of Shimano Sojourn is built from graphite, which allows for supreme durability, as well as flexibility. Graphite is maybe the best material a fishing rod could be made from, so that's definitely a huge plus for Shimano Sojourn spin fishing rod!
Strong Line Guides & Reel Seat
Shimano Sojourn fishing rod also features durable line guides and a reel seat. The line guides are made from aluminum oxide, which makes them more than stiff. Because this rod is a spin rod, its line guides are positioned on the bottom of the rod.
As for the reel seat, it features a new design that supports a wide range of Shimano reels, though you could also use great reels from other manufacturers.
Sensitive Handle
The handle of Shimano Sojourn is made from cork, which allows for a solid grip and superb sensitivity. The handle thus greatly complements the fast action of this fishing rod! What is also noteworthy about the handle is that it is made up of rear and foregrip. This allows you to grip the fishing rod with both hands efficiently for better control and power transfer.
Easy to Store & Transport
The last interesting feature of this fishing rod is that it is a 2-piece rod. In case you wanted a fishing rod that can be easily transported in your car or in a plane, Shimano Sojourn will be a great choice. Apart from that, the 2-piece design will allow you to easily store this fishing rod!
Pros
Nice choice if you need something specific.
Light and strong graphite construction.
Various power and rod length options.
It comes with a multipurpose hook keeper.
It can be broken down in half for convenient storage and transport.
Covered by a 1-year warranty.
Cons
Not the best choice if you need as much structural integrity as possible.
Shimano Sojourn Rod FAQs
1.Which category of fishers would Shimano Sojourn be the best for?
In general, Shimano Sojourn 2-piece spin fishing rod would be a good choice for beginners or intermediate anglers. This fishing rod isn't a high-end model, so it probably won't satisfy those fishers who need the best features.
2.What kind of fish would this rod be suitable for?
This depends on which rod you will be getting. The light 5' or medium-light 6' rods would be very appropriate for crappie, bluegill, and small trout. The longer medium-power version would be better for walleye, channel catfish, and black bass. As for 7' medium-heavy Shimano Sojourn, it would be ideal for striped bass, muskellunge, blue catfish, and flathead catfish.
As our Shimano Sojourn rod review showed, this fishing rod is a rather great choice because it comes in so many options. If you need a fishing rod for specific applications, pick the one that suits your requirements. Or if you need it all at once, you could even go as far as getting all the options of Shimano Sojourn spin fishing rod!
And also don't forget the other advantages of Shimano Sojourn, such as a 2-piece build and strong materials. If you are a beginner or an intermediate angler, the Shimano Sojourn spin fishing rod might be the best option you can find!
Read More: