Searching for a good beginner-level fishing rod? Have a look at Shimano Solora 2-piece spinning rod! With its balance of specifications, it will surely be a great choice for those who have just begun to fish.
Let's now see what makes this fishing rod a pretty good choice for beginners!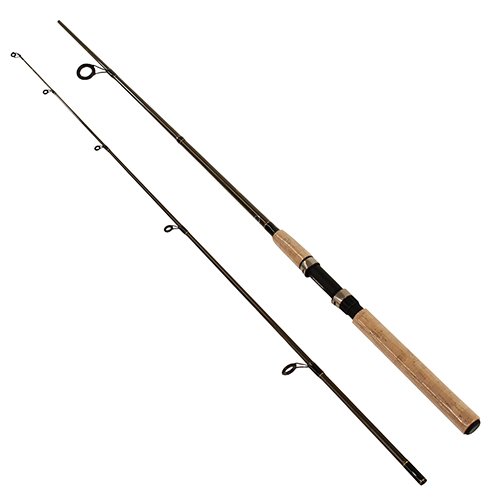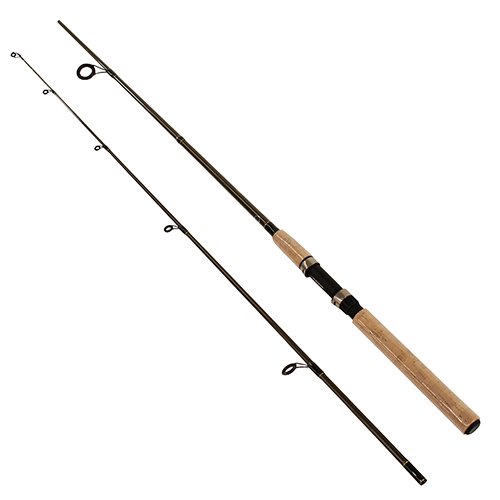 Features of 
Shimano Solora 2 Piece Spinning Rod
Several Rod Length Options
Shimano Solora comes in four lengths: 5' 6", 6', 6' 6", and 7'. Your requirements for the casting distance, as well as control, is what affects your final choice. Need for further casting? Go for a longer rod as it will have an advantage in casting because of its length. Want to have better control of the line to be able to fight the fish? Again, pick the longer version! Otherwise, if the casting isn't of most importance to you, and you would rather need to be able to powerfully and quickly pump the fish out of the water, a shorter fishing rod would be perfect.
Apart from these major features, length also impacts the lure rating of the fishing rod, i.e. what should your lure be weighing. The shortest version is rated 1/8 – ½ ounces, while the rest are rated ¼ – 5/8 ounces.
And lastly, the longer the rod, the longer the fore- and rear-grip length gets in order to provide you with sufficient control.
Medium Power & Fast Action
Shimano Solora features medium power and fast action. In case you don't know what this means, let us quickly introduce you to those terms.
Power refers to the strength of the fishing rod. It is rated between ultra-light and extra heavy. The heavier the rod, the stronger it is and the bigger fish it will be able to handle. Because Solora is a medium-power fishing rod, it will be greatly suitable for moderately-sized fish, as well as will handle medium-weight lures.
As for the action, Shimano Solora features fast action, meaning that only the third or less of its top bends under load. Apart from that, the rod quickly returns to its rest state after being released from the load.
The fast action allows for more sensitivity, which is extremely important if you need to fully feel the lure, as well as every subtle movement of the fish. Apart from that, the quick action is ideal for getting fish out from heavy cover. Overall, fast action implies a better transition of power from the handle to the fish, which is what exactly makes such fishing rods great for quick pulls. On the other hand, fast-action rods do not absorb shocks very well, making fighting the fish quite difficult. In terms of casting, the fast action allows for good short to mid-range casts.
Aero glass Blank Build
Shimano Solora is made in a durable aero glass blank construction. This makes this rod rather inexpensive yet more than enough reliable for a beginner's fishing trip.
Graphite Reel Seat
Solora fishing rod is also equipped with a solid-locking graphite reel seat. Graphite makes the reel seat extremely stiff yet rather flexible, which will be extremely helpful when applying a lot of force to the reel.
Reinforced Line Guides
The line guides of Shimano Solora fishing road are made from reinforced aluminum oxide, which ensures that the guides won't suddenly snap under pressure. The only thing you also need to do to complete this fishing rod is buying a suitable fishing line! Because this is a spinning fishing rod, the line guides are installed on the bottom of the rod, allowing for better control.
Comfortable Handle
The handle of Solora spinning fishing rod actually consists of two pieces: fore and rear grip handle. Both of them are made from cork, a material traditionally used in fishing rods, which provides you with a good feel and solid grip to complement that sensitivity of the fast action.
The double-grip design allows you to perform better casts. Apart from that, you will also be able to put force into the hook and the fish much more efficiently.
Easy to Store & Transport
A rather nice feature of this fishing rod is that it comes in 2 pieces. This allows you to quite conveniently store and, more importantly, transport the fishing rod. Fitting a several-foot-long fishing rod in the car isn't an easy feat after all! As soon as you are on the spot, you only need to assemble the fishing rod to start the job! On the other hand, if you are looking for structural integrity, a one-piece rod would be a better choice.
Pros
Nice for beginners.
Double grip for better casting.
Fast action for a great feel of the bait and the fish.
Good balance between casting and control.
Solid materials.
Easy to store and carry.
1-year warranty.
Cons
A little bit stiff for a medium-power rod.
FAQs SHIMANO Solora 2 Piece Spinning Rod
1.How are the two pieces of the rod stored?
The pieces are designed in such a way that the lower piece is inserted into the upper piece, so there is nothing to worry about in terms of storage, and also carry convenience.
2.How long is each of the pieces?
Shimano Solora breaks down roughly in half. Meaning that a 7-foot rod would measure about 3.5 feet when broken down, as an example.
3.What is the line rating of this fishing rod?
For all the lengths, the line rating is 6 – 14 pounds. Besides, the PowerPro Line Rating is 10 – 20.
4.What's the exact length of the handle of this rod?
2.5" and 6" (fore grip and rear grip) for the 5' 6" version, 2.5" and 6.5" for 6', 2.5" and 7.5" for 6'6", 3" and 8" for 7'.
Providing quite a good balance between the ability to fight the fish and the capability of powerful pulling, the Shimano Solora spinning fishing rod certainly is a great choice if you don't really know what you should be looking for. Apart from that, this fishing rod will be a rather good choice if you are an amateur angler who needs moderate casting ability, good bait, and fish sensitivity, as well as if you will be catching heavier fish. So if you liked the Shimano Solora fishing rod, don't hesitate and go get it!
Read More: