We here come to discuss the 5 Best Budget Spinning Reels Now there are dozens of fishing companies making hundreds of different models for fishing anglers. But that also made choosing the right spinning reel for your specific fishing a little more difficult.
Spinning reels are very popular among anglers for a number of reasons but their simplicity and easy casting ability are probably among the top reasons. The less complicated design of a spinning reel makes it ideal for beginners and anglers who wish to cast light lures.
The main thing that sets a spinning reel apart from other kinds of reels is its open-faced spool that is fixed and positioned in line with the rod. The reels are mounted below the rods and usually have swappable handles for both right-hand and left-hand users.
Depending on your method of release and targeted species, you can get several different models of spinning reels to suit your style. But if you have a budget to maintain then your search gets narrowed down to a few selected models in the market. There are many cheap models all over but you will not get satisfactory results from them all so that is why we have created this post for those who wish to get a decent spinning reel within $100.
All the spinning reels which we have reviewed in this post are from reputable brands so the quality and performance should not be an issue they are all unique in their own sense so you will surely find something to suit your individual fishing style.
Best Budget Spinning Reels We will Cover Today
1. Best Choice-Daiwa BG 2500
2. Best Smooth-Penn Fierce II
3. Value For  Money-Abu Garcia Pro Max 
4. Best Price-RUNCL Spinning Reel
5. Best lightweight-Pflueger President Spinning Reel
Top 5 Budget Spinning Reel Reviews!
1. Daiwa BG 2500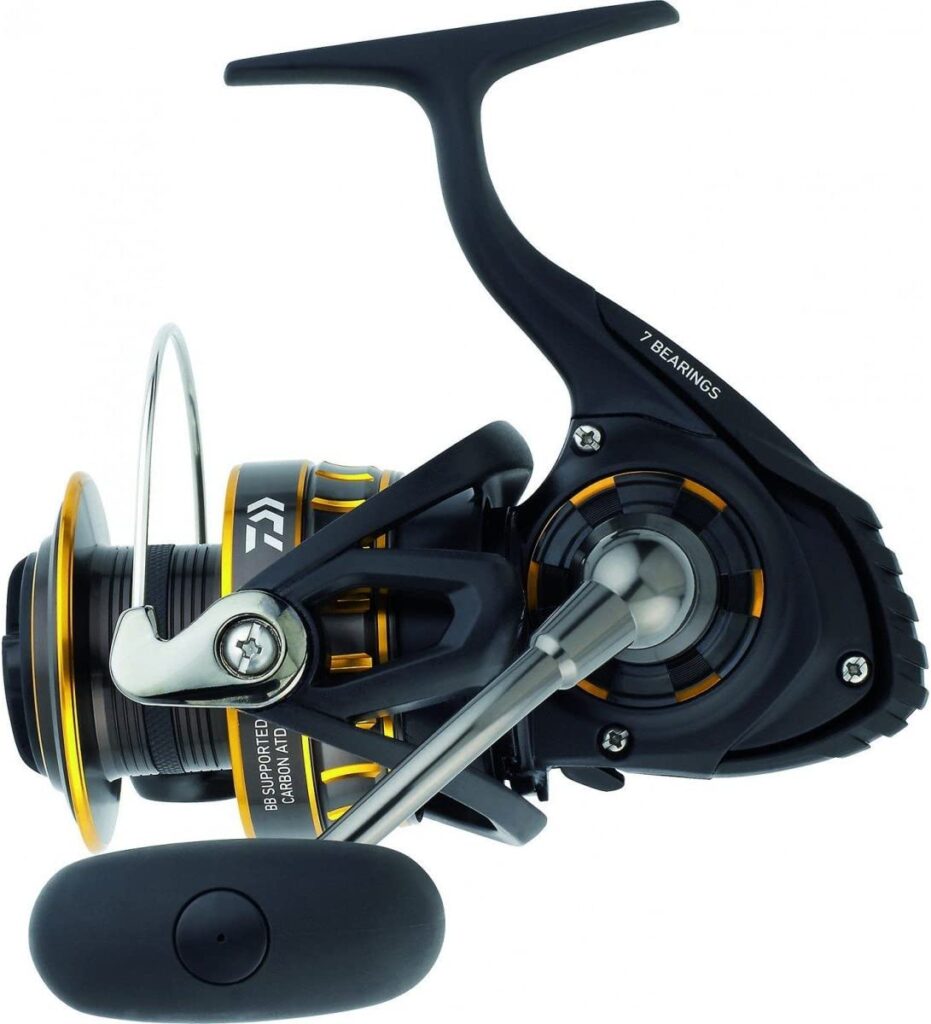 The reels from the Daiwa BG series range from freshwater to big game saltwater tools, providing you with a complete and wide range of fishing reels to choose from. The Daiwa BG 2500 is a budget-friendly reel designed with aluminum housing and a dynamic-cut aluminum ABS spool. The aluminum frame protects the internal parts of this saltwater spinning reel and shields it from the corrosive effects of the sea. The black and gold are anodized on the aluminum, preventing any peel-off or chipped surface. With a gear ratio of 5.6:1, it comes with the perfect balance of speed and power so you can target almost all kinds of species. The drag is adjustable to a maximum of 4.4, enabling you to tackle species that tend to put up a fight. Available in various sizes, the Daiwa BG reels come with manual return bails, an anti-reverse system, and a braided line-ready spool.
Pros:
Corrosion and scratch resistant
Ideal for both freshwater and saltwater fishing
Anti-Reverse System
Adjustable Drag
Durable Aluminum Housing
Cons:
2. Penn Fierce II Spinning Fishing Reel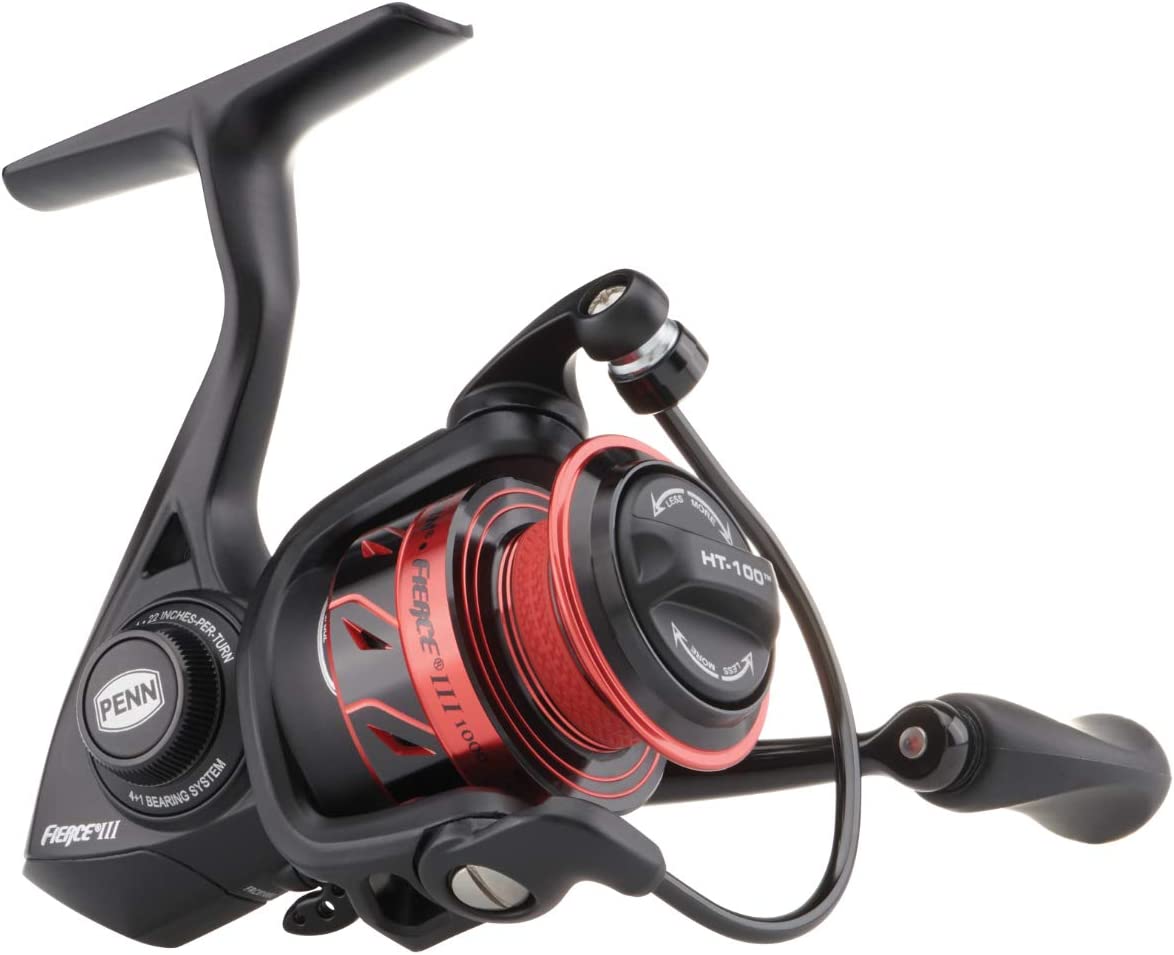 The Penn Fierce II is a spinning reel designed for power tackle. It comes at an affordable price but is crafted with high-grade materials and equipped with some amazing features like durable aluminum housing and graphite rotor. If you want some reliable performance but cannot spend more than $100 on a fishing reel then this might be the perfect tool for you. It features 5 ball bearings to give you the smoothest usage and its internal parts are all enclosed in a full metal body with a stainless steel main beam. To ensure easy operation and the best results even on a day with the harshest weather conditions, the reel comes with an instant anti-reverse bearing and high-quality aluminum bail wire, which will help you tackle your targeted species with the least effort from your side. The super line spool is braided line ready with a braid capacity YD/LB of 160/6 130/8 110/10, and mono capacity YD/LB of 275/2 135/4 105/6. The oiled felt drag system on the Penn Fierce II has a maximum drag of 7lb. For its price, this reel casts smoothly and will add value to your collection of fishing equipment.
Pros:
Heavy-duty aluminum housing
Super line spool
5 ball bearings ensure less friction
Durable
Cons:
A few customers encountered drag failure
There have been reports of the spool getting jammed.
3. Abu Garcia Pro Max Spinning Reel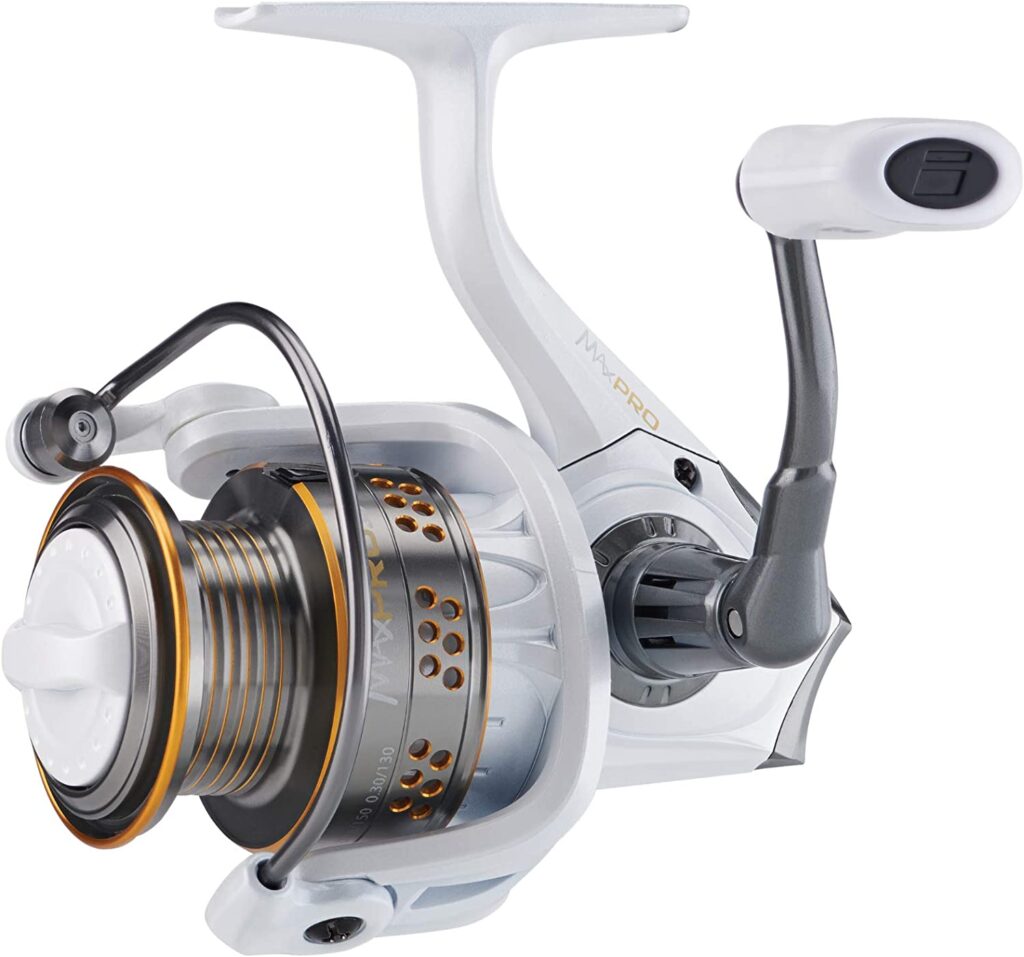 The Pro Max by Abu Garcia proves that you do not always have to break the bank to own a decent reel that casts far and performs with accuracy. It offers one of the smoothest retrieves and allows you to successfully land your target with ease. Equipped with 6 ball bearings and 1 roller bearing, the Pro Max operates not only quietly but with minimum vibration and the least friction. The graphite body and rotor are exceptionally lightweight but strong and sturdy enough to protect its internal mechanism and also withstand harsh weather conditions. The spool is machined aluminum so it has amazing power but it does not add any bulkiness to the reel. Users of this reel have mentioned that it can be used for saltwater fishing but we would recommend some extra care if that is something you would like to do. The gear ratio is 5.2:1 which is great for big swimbaits, deep water spinnerbaits, and any bait that pulls a lot.
Pros:
The Pro Max has great casting power
It offers a smooth retrieve
Lightweight frame
A high number of ball bearings.
Cons:
Requires extra maintenance if used for saltwater fishing.
4. RUNCL Spinning Reel TITAN I 2000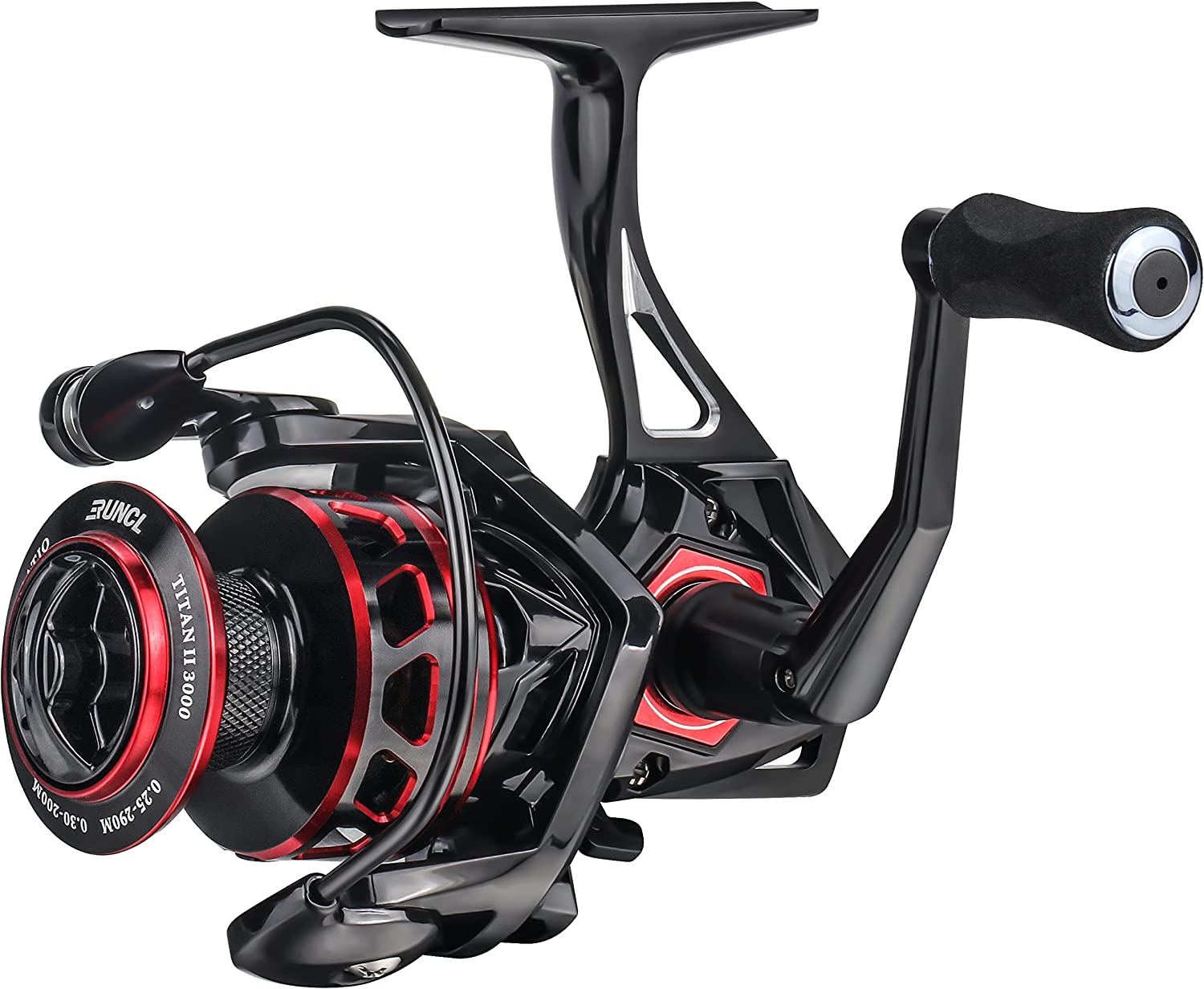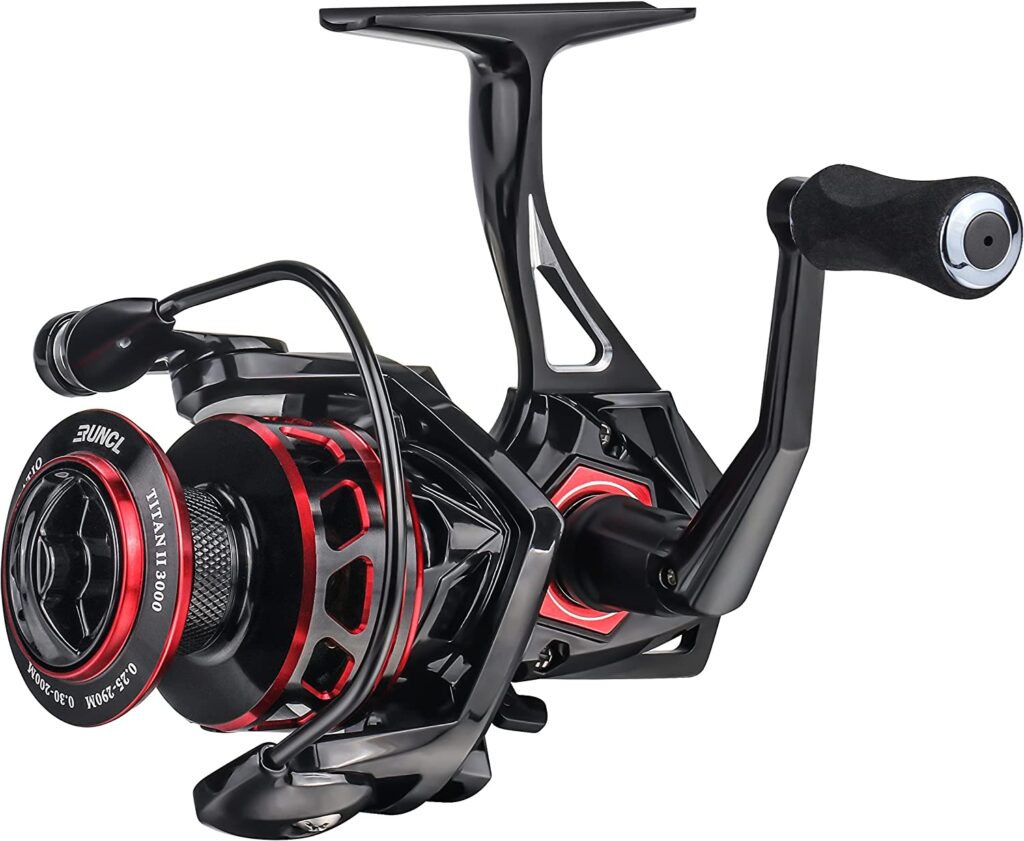 TITAN I 2000 has been highly polished and anodized while constructing the body with a full metal material that makes it corrosion-resistant.
It also offers protection from saltwater corrosion which has been tested and shown to have lasted over 168 hours in salt spray tests.
The rotor comes in a hollow design that works to decrease the weight of the reel significantly without losing durability. Moreover, its component is protected with a layer of phosphate coating on its surface that helps enhance the wear resistance.
The spinning reel comes equipped multi-disc carbon fiber washer, stainless steel main shaft, aluminum drivetrain, solid brass pinion gears, and 10 stainless steel shield bearings that make the system run smoothly while delivering balanced and nonstop performance.
Plus, it also possesses an in-built RUNCL Entire Shield System that protects the body, rotor and spool from dirt and water.
To add more, the reel comprises a CNC-machined aluminum spool that helps it in spreading the fishing line appropriately.
Not just that, there will also be a knob made with high-density EVA so it can offer optimum grip without adding extra weight to the body.
Pros:
The metal body offers durability and corrosion resistance.
Hollow out rotor delivers lightness.
The spool is able to spread the line appropriately.
The knob offers optimum grip.
Multi-disc carbon fiber washers help in boosting maximum drag by 40 percent.
Stainless steel bearings offer balanced operation.
Cons:
It may get jammed up easily.
There can be some resistance on the line.
5. Pflueger President Spinning Reel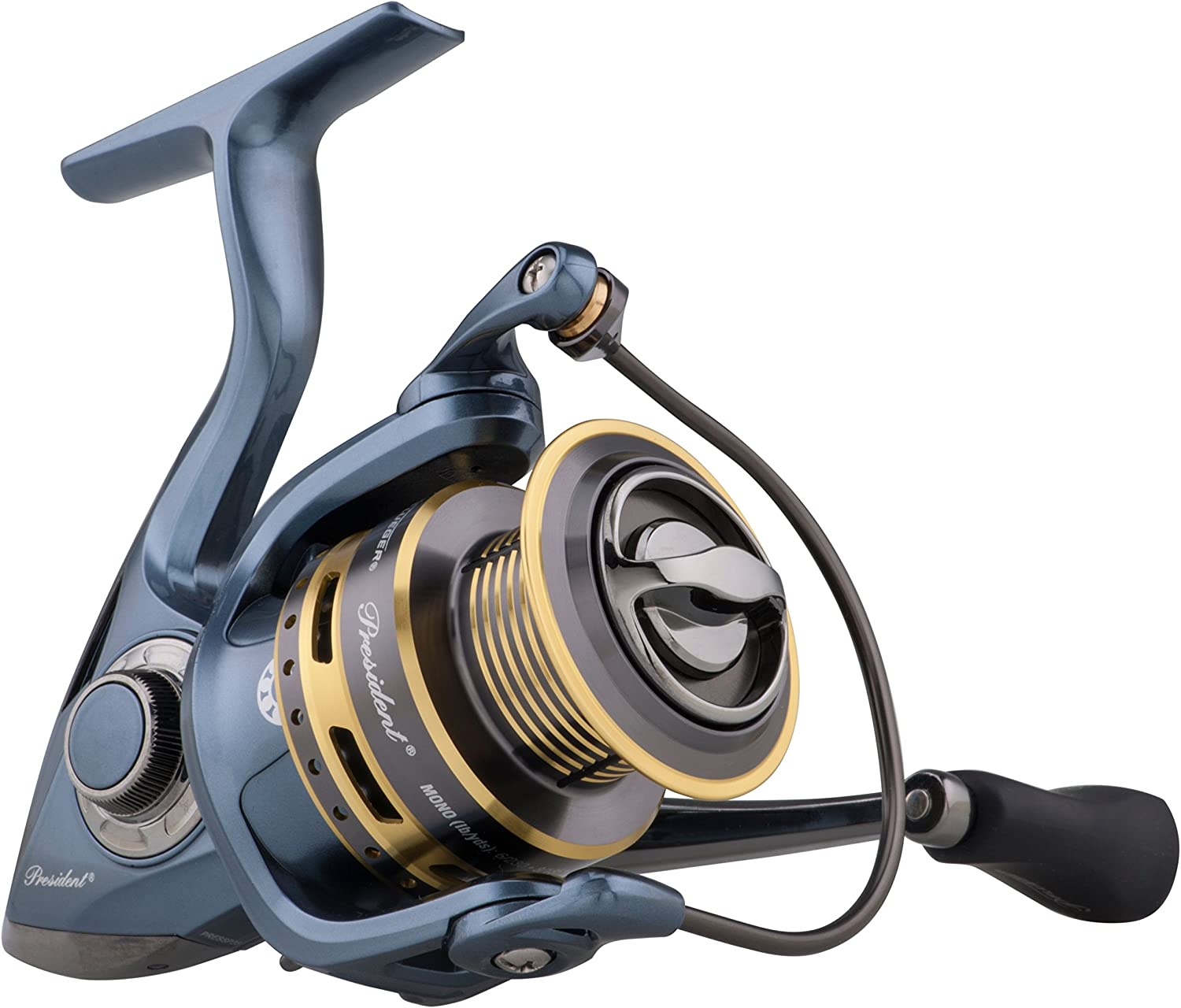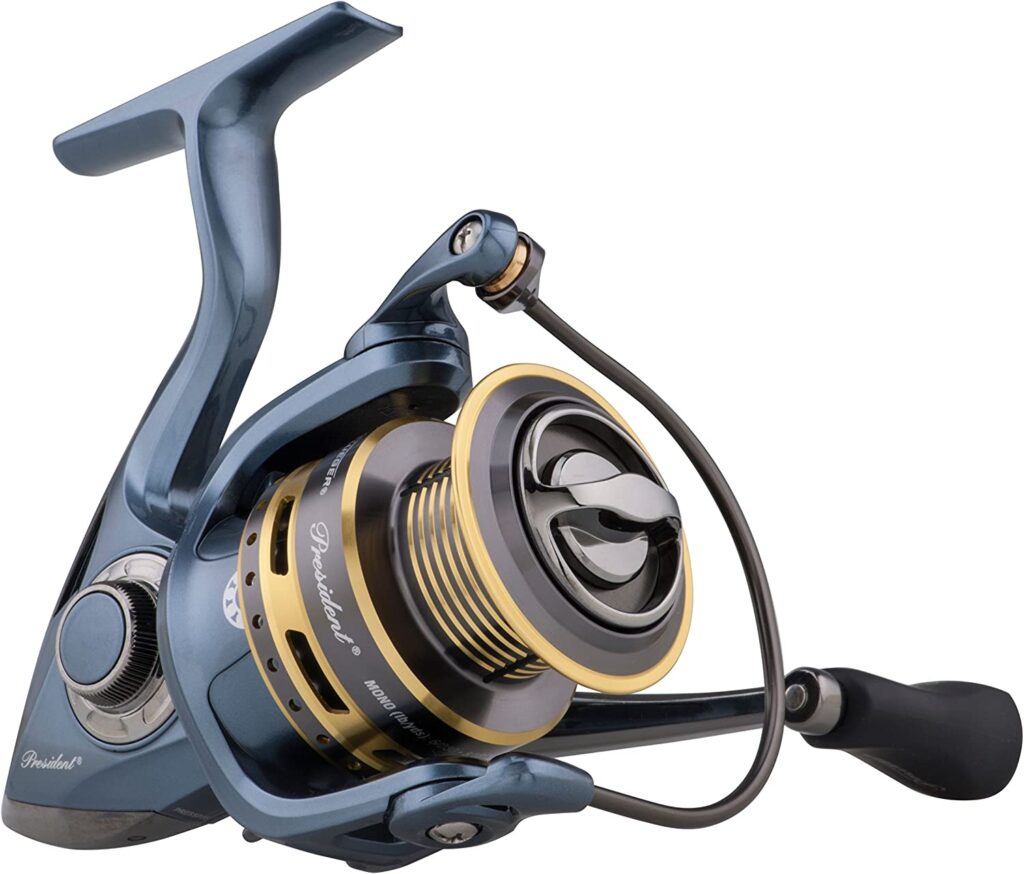 Graphite is a kind of material that can make any item lightweight. And this is what President Spinning Reel is made up of.
Besides making the body with such material, the brand has used the same for constructing its rotor as well. So, it won't be adding much weight to the total body.
The President comes with 10 ball bearings that have been constructed with stainless steel to make it corrosion-resistant and durable.
Not just that, its drag system has also been engineered in such so it can prevent water penetration while being lubricated itself. As a result, the brand has ensured smooth operation.
Moreover, President comes with a braid-ready spool which means you will be able to tie the braid to the spool directly without it slipping. This will give you a clear benefit of time-saving.
You will also be provided with its slow oscillation gearing system. With this, the rotor turns at a higher speed whereas the spool turns up and down at a slower speed. This not only helps improve line lay but also lessens line twists.
Pros:
Graphite body and rotor deliver a lightweight advantage.
Stainless steel bearings, hence corrosion resistant.
The drag system prevents water from penetrating.
Braid-ready spool helps save time.
A slow oscillation system helps improve line lay while lessening line twists.
Durable and well-built.
Cons:
It can sometimes make a rubbing-like noise.
The handle may come out loose during setup.
Buying Guide
The quality and performance of your fishing reel are crucial when it comes to having the best fishing experience, whether you are taking part in the activity for pleasure, as a hobby or profession. If you are not careful while selecting the reel you can end up with a tool that will not serve its purpose right and frustrate you even further. To avoid wasting your time and money on the wrong kind of reel, we are here to provide you with some information on how to buy the best spinning reel for your style of fishing.
Compatibility with your Fishing Rod
You will be using your reel with a fishing rod and if you already have the rod then make sure the reel you are picking out is compatible with it. But if you are starting out with the reel and then planning to get a rod then get a rod to match your reel. Remember that both rods and reels have weight capacity so they should match if you want a set that works well.
Body Construction
Everything that comes within a reel is placed in or on its body so you have to make sure that it feels and looks sturdy, in order to protect all the mechanisms inside. Usually made from cast aluminum or graphite, reels should not be too heavy or bulky as heavy reels can be difficult to handle, especial if the user is a beginner or a child, but the reel should also not be too light or else it will not have the power to tackle heavy loads. You can look for reels that come with little holes in them, which is a part of the design made to give the tool a bit of lightness without making it too weak or fragile. Another important trait of the body or frame to look at is if it is anti-corrosion. Water-proof reels will enable you to take them out for saltwater fishing too as they are less prone to damage.
Quality
As mentioned above, reels can be made of Aluminum or Graphite housing, or even a mixture of both. Spinning reels have more parts than casting reels so make sure when selecting a design that there are no loose parts and everything is designed in a sturdy and compact manner. If the reel has good-quality housing and quality parts then it will last you longer and also be able to withstand all kinds of harsh weather conditions.
Line Capacity
There are 3 things to keep in mind when it comes to the line. You must check out what the reel line capacity is, what your rod can handle and how heavy or light fishing you are interested in, i.e. the targeted species of fish. With a spinning reel, depending on the model, you can get it to handle even the lowest weight to the heaviest lines.
Spool
Spools hold the fishing line, which you cast into the water. Aluminum spools are very durable and very much preferred but they are not as light as graphite reels, so you must choose if you want something more durable or lightweight. Always use the recommended line size with the spool to avoid tangles and problematic casting. If the spool is designed for light lines then avoid using heavy lines as that can cause stiffness just like using smaller lines on a larger spool can create a lot of tangles, making it hard for you to cast freely. If the spool is braided 'line-ready' then you will notice that the spool has the ability to become accustomed to the frequently used line.
Anti-Reverse Action
This option is particularly useful for beginners who wish to catch smaller fish that will not put up a huge dragging fight. The anti-reverse action prevents the reel from turning back during a catch and enables you to reclaim your fish without much struggle. But it is important to make sure that this action can be stopped with an Anti-Reverse Switch, which activates or stops this feature according to the kind of fish you are aiming for. The placement of this switch will determine how easily and quickly you can turn it on or switch it off.
Drag Systems
Depending on the drag capacity of your reel you can either retrieve your precious catch or watch it escape. A good drag system will activate the release of more lines just in time as your fish pulls the line to escape. If the right amount of line is not released at the correct time then the fish will be able to break the line and swim away before you can react. But you must also have a feeling of total control over the drag so you can adjust it accordingly because some fish tend to pull harder than others. Not all reels have the kind of drag you may be looking for in order to catch your preferred species of fish, so you have to make sure you check out the drag power before investing in a specific reel. In simple words, if it is the biggies you are after then the drag has to be very much on the higher side. The placement and operation style of the drag must also be looked at so you can access it without much loss of time.
Gear Ratio
Your spinning reel will have a gear ratio that will read certain numbers for example 5.2:1 or 7.1:1. This indicates the number of turns or rotations the spool will make per turn of the handle. For instance 5.2:1 means that the spool inside spins 5.2 times per single turn while 7.1:1 means it will turn 7.1 times with every turn of the handle. The lower the ratio the slower the reel is going to be.
The number also tells you Inches per Turn when you want to know how many lines will be retrieved as you turn the handle fully once. Decide on the kind of fish you want to catch because most big baits will pull harder, requiring a reel of high torque while fighting a big bass will need greater speed.
Speed VS Power
You need to decide whether you need more speed or cranking power from your reel for the kind of fishing or the species of fish you wish to target. The higher the gear ratio, the higher the speed in retrieving the line will be, but if it is more cranking power that you are after then go for reels with a lower gear ratio.
Bearings
The quality of the bears will determine how smooth and noise-free your reel performs. Low-quality bearings will cause your reel to deliver an annoying noise throughout your fishing time and it will also vibrate more. The more the bearings, the better the retrieve but they must be high grade in order to get satisfactory results. A reel with 5 high-quality bearings will retrieve smoother with less noise and vibration compared to a reel with 7 or more poor-grade bearings, so it is important that the bearings are not only high in number but in quality as well. In the case of saltwater fishing, the bearings must be corrosion resistance so they can last longer.
Convenience
It isn't a matter of whether you are a beginner or an experienced angler, whether you fish as a hobby or it is something you make a living out of, comfort and convenience is an important factor when it comes to fishing equipments. Your reel should make the whole process of fishing seem easy and hassle-free. Look out for features like changeable sides for right or left-hand users and the placement of all the switches, buttons, handles, etc for quick access. Spinning reels are generally pretty easy for beginners to get used to because they are designed with simple mechanisms and have very less to no complicated features.
Brands
Choosing a spinning reel from one of the well-known brands will give you the assurance you need when it comes to quality and performance. A branded reel might not guarantee that it is the best reel or that it will not have any flaws, but they carry lesser risks than no-name tools. Brands have a reputation to uphold so they are more careful when making their products. If you are not very familiar with fishing reels then it is best you stick to reels from reputable manufacturers.
Best Brands for Spinning Reels
We have compiled a list of a few (not all) best brand names which you can trust for your first spinning reel. Most of these brands manufacture reels for all kinds of anglers and come in a wide range of prices. Even if you are an experienced angler and just want to build up your collection of fishing equipment, these are some of the names to look out for.
PENN Fishing
This American manufacturer of fishing reels and rods has been around since 1932 and is best known for its well-performing and high-quality saltwater fishing equipment. Since saltwater fishing requires reels that are mainly corrosion-resistant and very durable, PENN reels provide just that. They have excellent aluminum and stainless steel fishing reels that are perfect for both fresh and saltwater fishing. Although PENN spinning reels come with a variety of prices the one we included in our list today is the Penn Fierce II Spinning Fishing Reel and the Penn Passion Lady's Spinning Reel.
SHIMANO
Shimano is not only well known for their fishing reels, but they also manufacture a lot of other products such as rowing equipments, sports supplies and bicycles. Any angler familiar with the name will agree that Shimano reels are great for both freshwater and saltwater fishing and can be effective in catching small species to the biggies in any water. Their reels are extremely durable and with ergonomic designs, they are great for long hours of activity. Check out the SHIMANO NASCI Compact Spinning Reel in our list that has all the essential features but comes in an affordable price range.
Pflueger
Dating back to 1881, the name Pflueger's first came to light with Ernest F. Pflueger's finding a fish hook name under the name Enterprise Manufacturing Company. Things took another turn when in 1916 the first Pflueger Baitcast reel was designed. Their spinning reels were introduced in 1954 and since then they have earned worldwide recognition. Starting from reels to kits to combos, there is something for every angler, no matter the level of skills or budget one may have. Pflueger President XT Spinning Reel is a budget friendly fishing reel which may interest you if you are looking for something of decent quality but at an affordable price.
Daiwa
This California-based company was formed in 1955 and is now one of the most trusted and well-reputed brands in the fishing industry. Daiwa has several different lines of fishing reels for mid-level, advanced, and beginner-level anglers so you are sure to find something for your style and level of fishing. Most of the budget-priced reels come with all the necessary features that anglers look for while the top-line reels offer all that and more. Common features include a well-constructed drag system, braid-ready spool, and durable frame structure. Check out the Daiwa BG 2000 and the Daiwa Tournament Reel if you are seeking something from their budget line.
Abu Garcia
Founded in 1921in Sweden, Abu Garcia is another well-liked name in the spinning reel market. The manufacturers now hold their headquarters in the USA but anglers from all over the world are familiar with their line of products. Although the company offers items that are more on high-end, you can still find a few good affordable spinning reels within the $100 range, like the one we included in this post- Abu Garcia Pro Max Spinning Reel. If you can afford something a bit more expensive then you will have a wider range of some great reels to choose from because their budget models do not score too high in the features department. Designed for both freshwater and saltwater Abu Garcia fishing reels offer a lot of variety and options to their customers.
Benefits of Spinning Tackle
As an angler you will want to try different techniques for different styles of fishing but we are here to discuss the advantages of spinning tackle over other forms. Sometimes spinning tackle will be your only best option when it comes to handling some situations. Let us look at some ways in which this style tops in fishing.
If you are casting a light lure, let us say anything below ½ of an ounce then nothing can beat the distance of a spinning reel and rod, particularly when fishing in clear water or water with a lot of pressure. A lot of the best anglers in the world still prefer to use spinning tackle for drop-shotting, shaky heads, and throwing light lures like jerk baits and crankbaits.
As a beginner, it is difficult to skip lures with baitcasters but it seems much easier when doing so with spinning tackle.
Casting on a day when it is windy may not seem all that fun or easy, especially if you are casting baitcasters into the wind. But if your lures are on the lighter side then you can do it like a pro with effectiveness with the spinning tackle, which does not backlash.
Perfect for both right-handed and left-handed people, the handles on spinning reels are mostly designed for easy and quick swapping from side to side. This way you do not have to worry about picking a spinning reel specifically designed for your dominant side.
With spinning tackle, lures sink down straighter because the lines on a spinning reel uncoil more freely.
The drag is easily adjustable and well accessible on a spinning reel which makes it easier to handle a fighting fish. No matter what species of fish you target, the drag system and its placement is very crucial so that you can retrieve a lot faster and with more control.
Easy to use. Spinning reels are great for both beginners and experienced anglers but a newbie in particular will be able to learn how to cast quite easily with a spinning reel due to its simple design and operation.
Frequently Asked Questions
1. How can I minimize damage to my reel during use?
The biggest mistake one can make when fishing in saltwater is to use a reel that is not water-proof or corrosion- resistant. Make sure your reel is designed for salt water fishing if you are going to be fishing in saltwater because it can damage the body of the reel as well as the interior mechanisms. Use your reel for its specified species of fish and make sure to clean it afterward as it is likely that you will be handling it with wet and sticky hands.
2. What do I need to do in order to maintain my reels well?
Do not store away your reel without cleaning it after every use. Make sure to wipe it dry and try your best to keep it away from excess grease or water, even during use. Dropping your reel on the ground may cause it to break or the internal parts to loosen so keep it safely stored away at a place where it will not accidentally fall from a height.
3. Should I go for a spinning reel with a high gear ratio or a low gear ratio?
It depends on the targeted species of fish because some fish are fast while some are strong so you have to decide between speed and power. Reels with high ratios offer more spins per handle turn which is great to retrieve fast fish. But if you are after the big fish which you know will put on a fight then you will need more cranking power, which is offered by the low ratio gears.
Conclusion
Using the correct fishing equipment will make all the difference when it comes to the sport because without the appropriate tools you will not be able to enjoy the experience and neither will you be satisfied with the results at the end of the day. No matter how good your skills are or how full of fish the lake is, you will not be able to catch to your heart's content with poorly made fishing equipment and a decent reel is a must among the tools. Having a budget may restrict you to an extent but with a little bit of research and a lot of comparing different models, you can get yourself something that will do the job well.
Read More: