If you are looking for a downrigger for a small boat, be sure to read our complete in-depth buyer's guide where we review the top-rated models available with Pros & Cons
Whether you're fishing in a dinghy, a small fishing boat, or a yacht, having the right tools or equipment is very important.  Most people go fishing or angling for recreation, while a few take it a bit more seriously and join fishing competitions or tournaments.
One essential tool that will help you catch more fish whether you're a recreational or professional fisher is a downrigger.  A downrigger is a device mounted on a fishing boat used in troll fishing.   It's a reel with steel cable on it that is attached by a boom and a pulley.  A clip is attached with a weight or a cannonball usually weighing between 5-20 lbs. depending on the size of the downrigger.
There are two types of downriggers, manual and electric downriggers. While each one has its advantages and disadvantages, one thing is certain, both of them can help you catch more fish.  It all depends on your requirements.
If you're thinking of buying one, you're in luck because we are featuring 5 of the best downriggers for a small boat that are available on the market.  We will feature both manual and electric downriggers with their different features with the pros and cons of each.
Read More:
Best Downrigger We Will Cover Today
1. Best Electric –Cannon Mag 10
2. Best Compact Depthpower-Scotty #1099
3. Best Manual –Scotty #1050
4. Best For Kayak-Brocraft Minin
5. Best High-Performance-Scotty #2116
Downrigger For Small Boat Reviews!
1. Cannon Mag 10 Electric Downrigger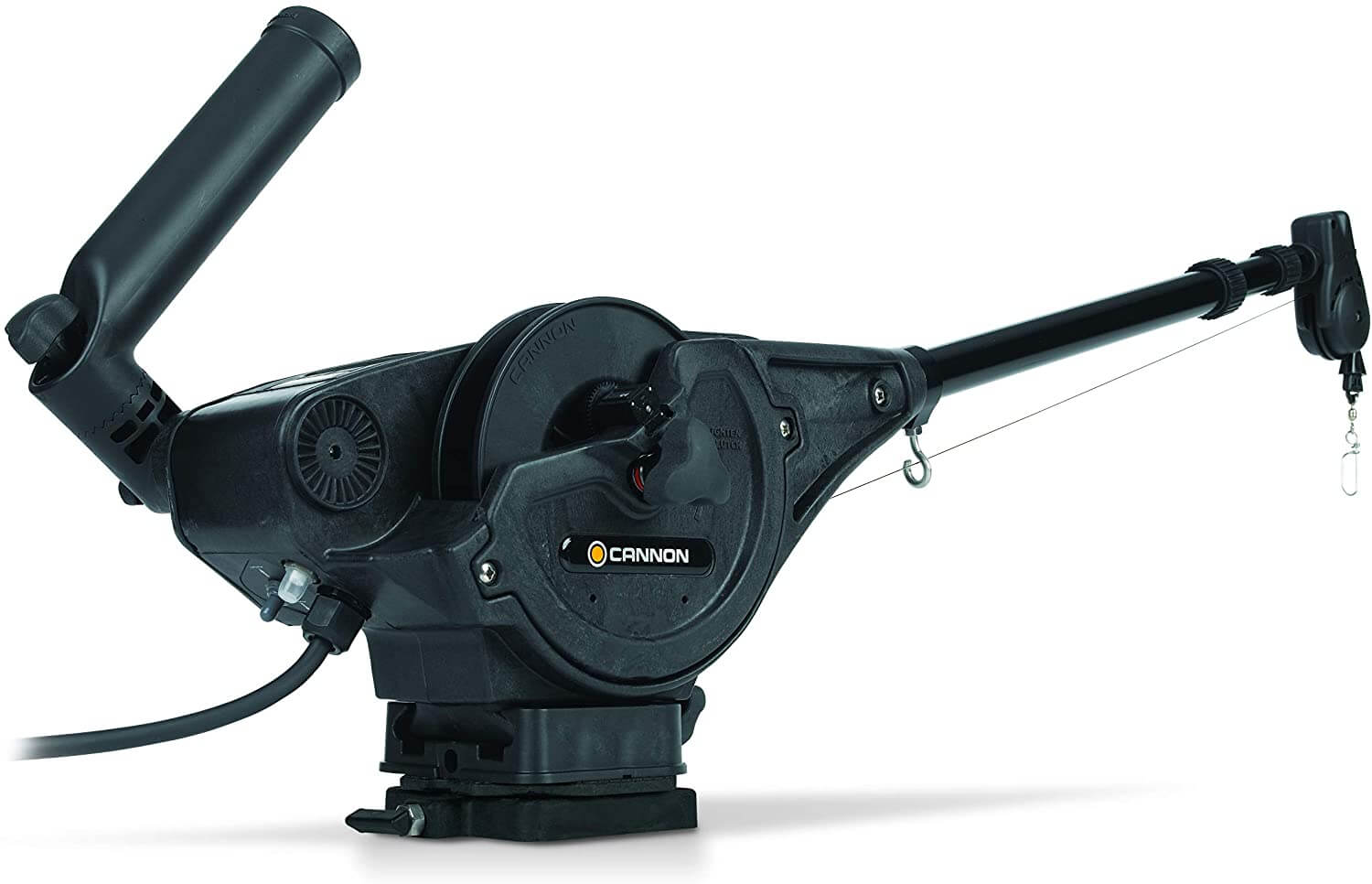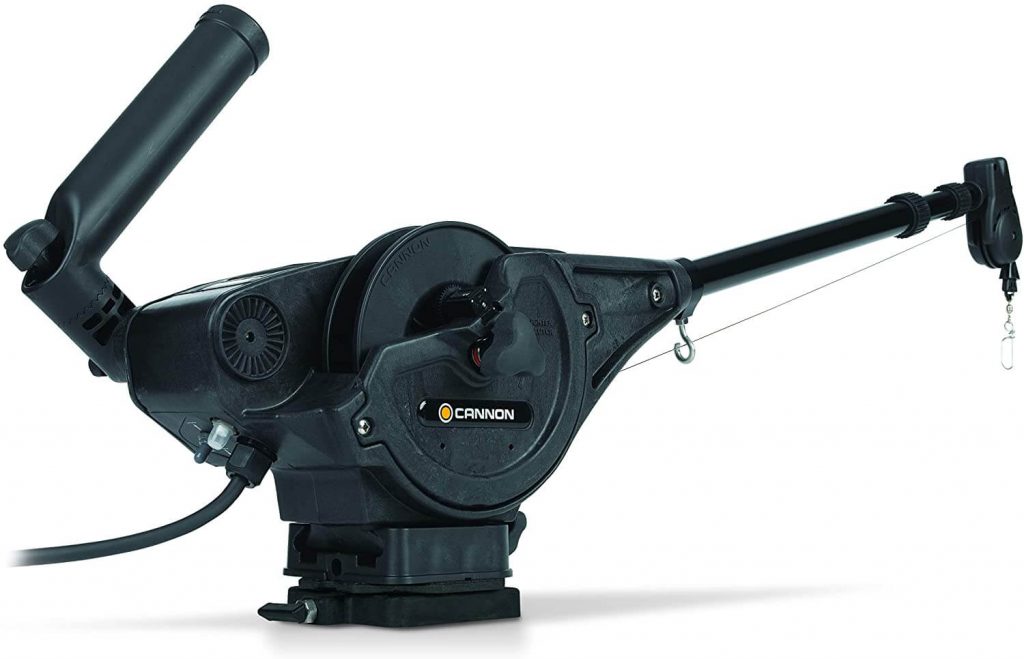 Cannon is a known and trusted name when it comes to downriggers.  They are one of the leaders in the industry and with the Magnum series, it's easy to understand why. Our first on this list is a favorite among recreational and seasoned anglers.
The company boasts of having the fastest, and the most powerful electric motors in the market and industry.  Based on Cannon's product information, they claim a four feet per second retrieval speed which is very fast compared to others. While it's not specified which weight they used to measure this, the motor used in the Magnum series is guaranteed to please.
Our featured Cannon product is the Cannon Magnum 10 STX electric downrigger.  It has a 250 ft per minute retrieval rate and up to 20 lbs. weight capacity.  It comes with a 360-degree swivel and mounting base.  As expected on a Magnum series, the 10 STX offers an auto-stop system that conveniently brings the to the waterline the cannonball each time.
It can automatically retrieve the weight with a simple push of a button.  It's hard not to be impressed by how fast it can raise a 15-pound weight from the depths with this feature.  This beauty can attract fish with its Positive ION control and certified IP68 waterproof connections.  The heavy-duty telescopic boom extends from 24" to 53" so you have a choice of a wider reach.
The 360-degree swiveling base that comes with this model allows for the downrigger to be rotated inboard almost without effort.  The only drawback is that it doesn't tilt so it suffers a bit in terms of adjustability.  Depending on your needs, but this should not be a deal-breaker.
A feature that is not usually found on an entry-level downrigger is a depth counter.  The Magnum 10 STX  features up to 5 frequently used depths to quickly get your bait back to your desired strike zone.  Here are the Pros and Cons of this particular product:
Pros:
Cannon's powerful electric motor with quick weight retrieval
360-degree swivel base for easy operation
Long and heavy-duty telescopic boom
Adjustable positive ION and IP68 waterproof connections
Up to 5 frequently used preset depths.
Cons:
The swivel base doesn't tilt
2. Scotty Depthpower Electronic Downrigger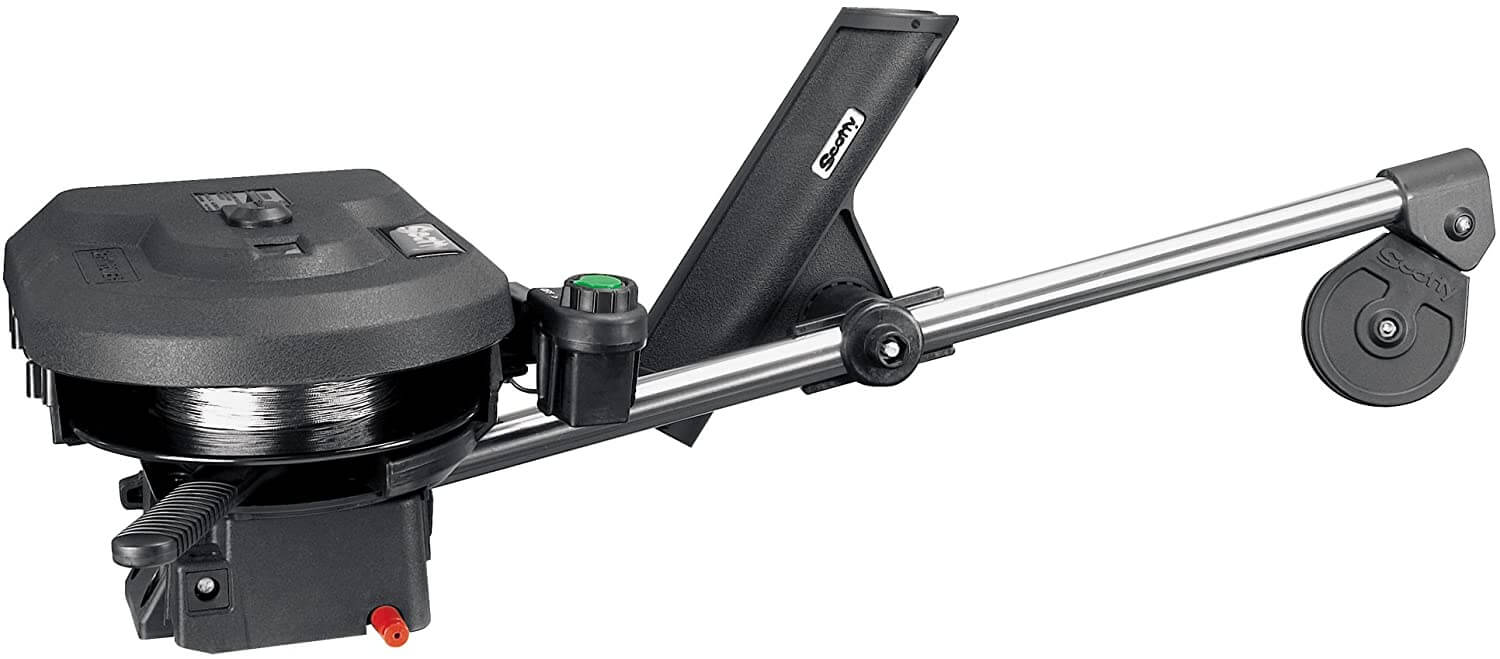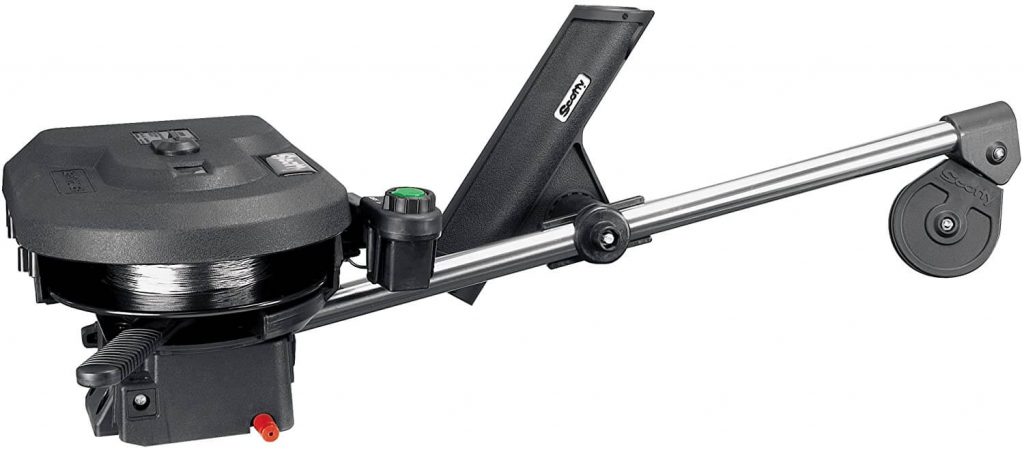 Next on our list is also a familiar name and a trusted name in the fishing tool and equipment industry.   The Scotty 1099 Compact Depthpower Electric is a high-performance and quality electric downrigger on our list. It has all the performance features of the larger models in its compact size.  If you love fishing by yourself, this electric downrigger is a welcome companion.
This heavy-duty downrigger comes with a 24" long and 1" diameter telescopic marine-grade, stainless steel boom. Some may find it limited in length, but others will find it long enough when making trolling turns in their boat.  It's fully assembled and factory-tested with complete saltwater protection.
The tilt-up mounting bracket enables this unit to be tilted and locked-in in the desired position.  It comes standard with a swivel base and adjustable 355 Roadmaster II rod holder.   It boasts of a power grip plus line release.
The Scotty 1099 Compact Depthpower has a fully adjustable descent speed and can lift a 7-lb ball (weight) at a rate of 235 ft. per minute.  A 15-lb ball can be raised and retrieved at a slightly lower speed of 203 ft. per minute.  This auto retrieval is a must, especially for those who need all the help they can get when bringing in a fighting fish.
Pros:
Marine-grade, stainless steel boom
Swivel base in the tilt-up mounting bracket for easy operation
Power grip plus line release
Fully adjustable descent speed for quick retrieval
Cons:
24" telescopic boom may not be ideal for larger fishing boats
3. Scotty Depthmaster Manual Downrigger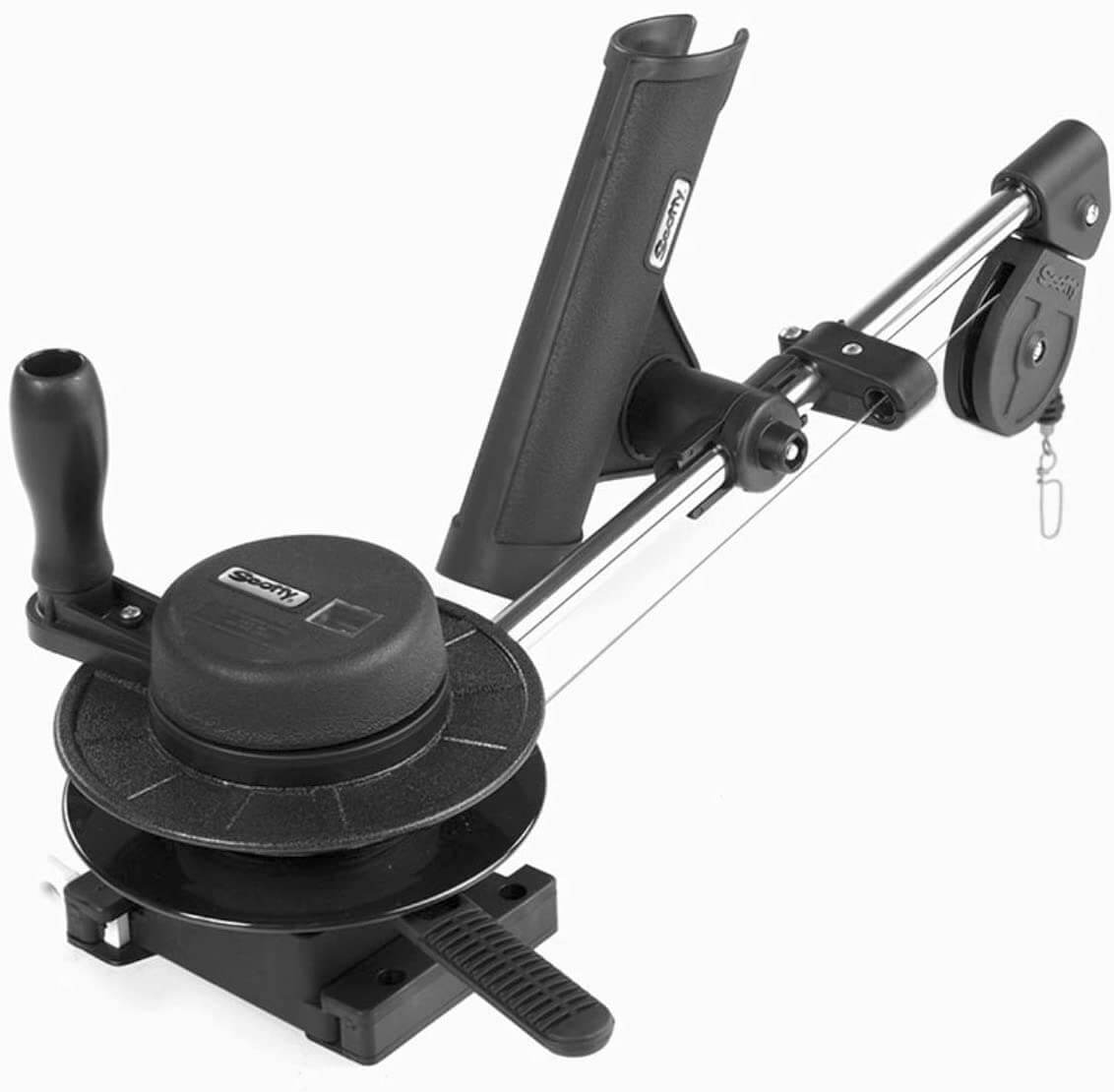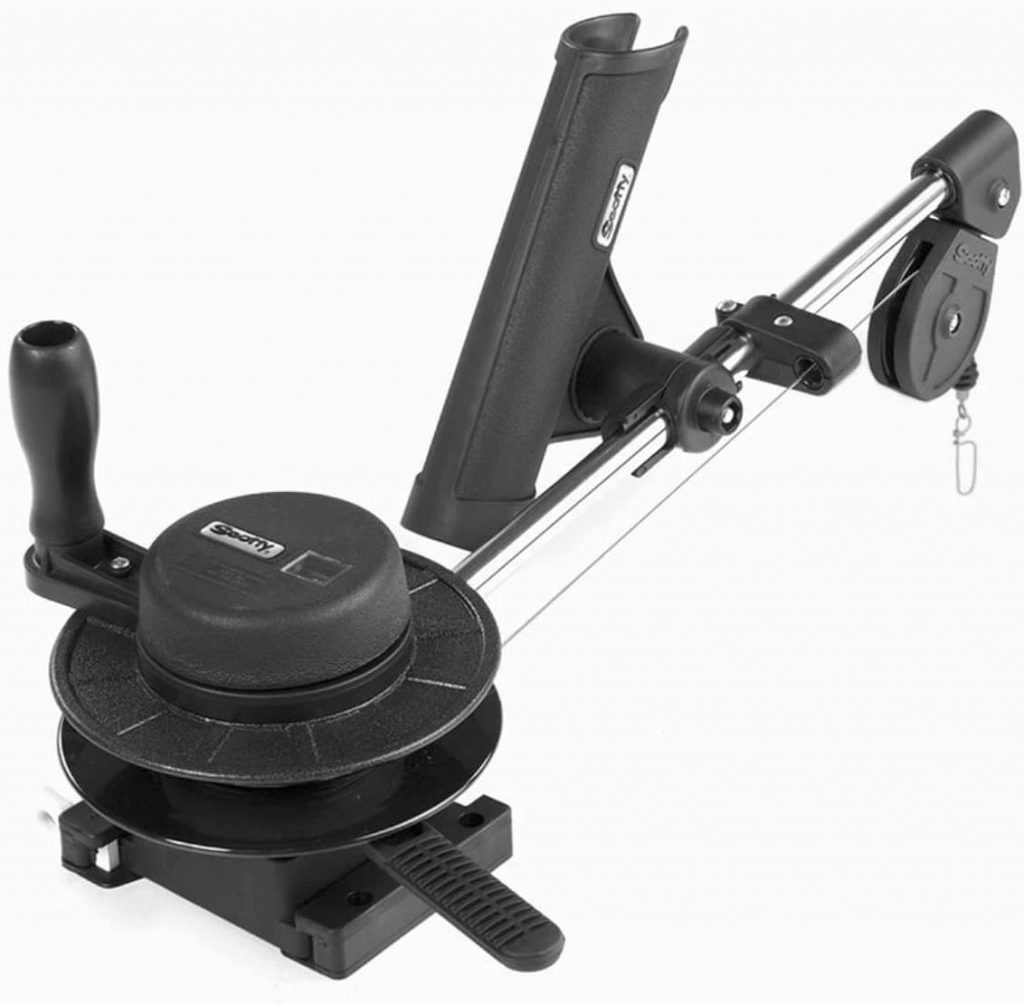 Our first manual downrigger also comes from Scotty and is great for those who are just getting their first downrigger.  Although this is an entry-level downrigger, its price and features are hard to beat by any competitor.
It is equipped with a 23-inch long, and ¾-inch diameter stainless boom.  It comes pre-spooled with 200 feet of 150 lb steel cable.  The one-foot-per-turn spool means it can be operated easily with your hand from a sitting position in your boat.  It's enough length retrieval if you are fishing for depths of less than or about 75 feet.
This downrigger is specially made for anglers who prefer a smaller manual downrigger using lighter weights.  It has a quick-slide mounting system which is very easy to install.  But be aware that the side mounting system is fixed and not detachable.  It comes with a power grip plus line release and a Scotty 355 Roadmaster II Rod Holder attached to the arm.
If you're looking to buy a manual downrigger that is durable and solidly built, this may be just the right one for you.  And best of all, this is one of the least expensive yet quality downriggers you will ever find.
Pros:
Quick-slide mounting system
One-foot per crank easy retrieval
Great for a fishing depth of 75 feet and below
Excellent rod holder
One of the most affordable manual downrigger on the market
Cons:
Fixed side mounting may be inconvenient
4. Brocraft Minin Small Boat Downrigger.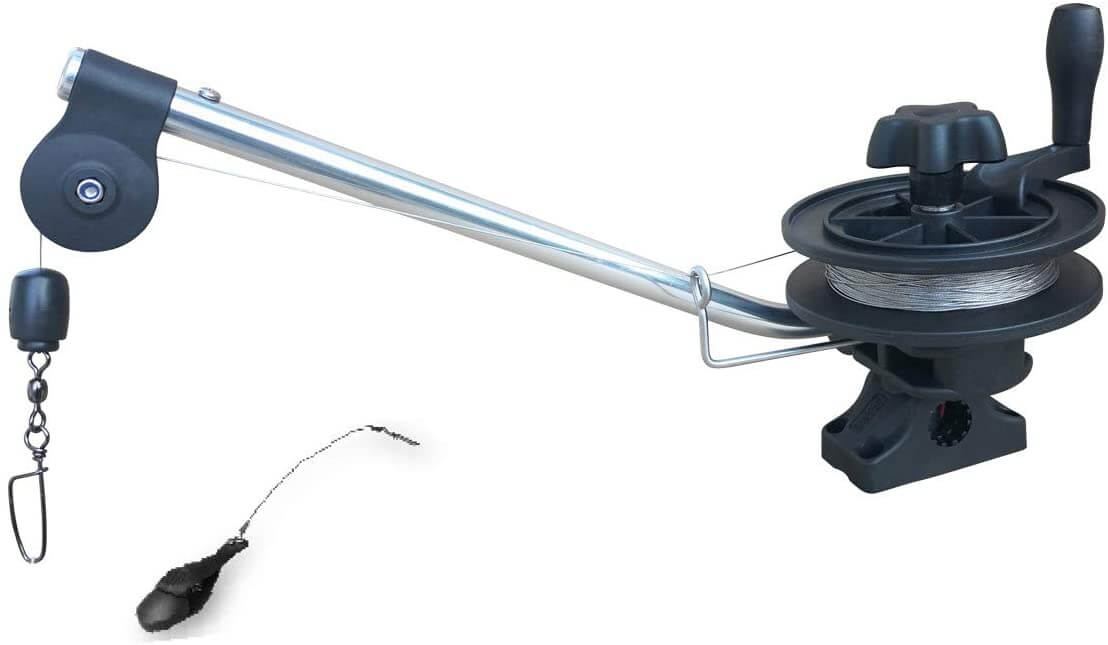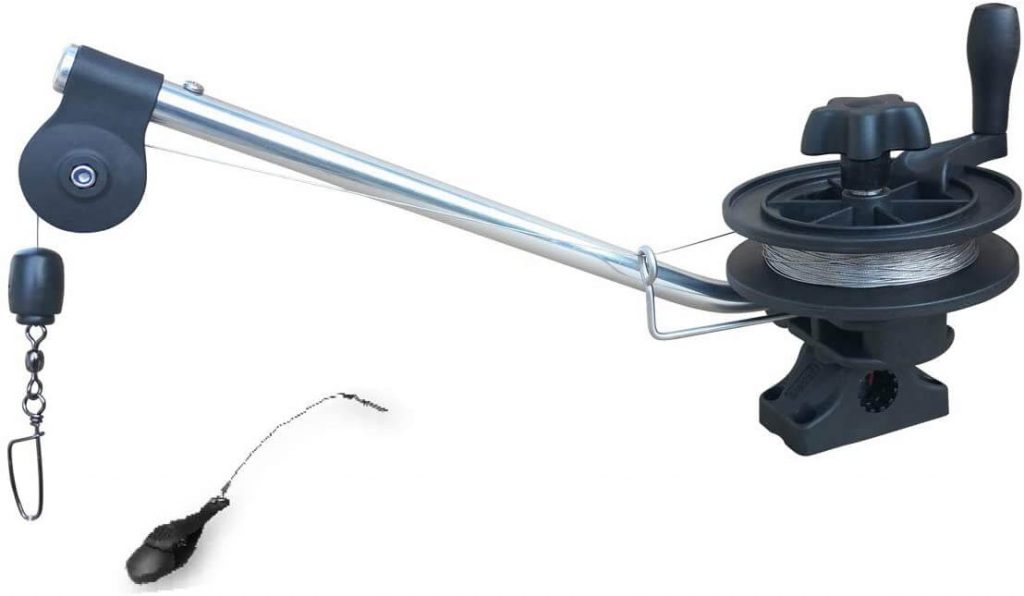 Another manual downrigger designed for kayaks or small boats comes from Brocraft.  This is also a quality yet affordable downrigger.  It's a basic no-nonsense manual downrigger that is well-designed and built to last for years.  It's made out of a fiberglass-injected nylon and aluminum boom.
It comes with a 100-foot of braided stainless steel wire, which should be ideal for weights of 5 lbs or below.  It's a transom mount using a clamp that is very easy to position on and off your kayak or small boat.   It's a fine piece of equipment that is easy to use and operate.
Expect a little bit of drag because of its weight when you mount it on a kayak which can make paddling a lot harder.  But with a higher quality pedal drive kayak, you will appreciate this downrigger more.  It doesn't have a line counter or a drag system.  However, some use a marker such as tape to serve as a line counter.  As for the drag, as long as you don't tighten the knob on the crank too tight, the spool will automatically unravel once it gets caught on something.
Overall this mini manual downrigger from Brocraft is an excellent piece of equipment that is ideal for anglers who use a small boat or kayak.  You can't go wrong with this one especially for the value it provides.  You will see a lot of positive online reviews of those who bought it, with most of them very satisfied with catching a lot of fish with this piece of equipment.
Pros:
High-quality fiberglass body
Ideal for kayaks, dinghies, or small boats
Great for a fishing depth of 75 feet and below
One of the cheapest manual downrigger on the market
Cons:
Will add a bit of drag due to its weight to small kayaks
5. Scotty High-Performance Electric Downrigger.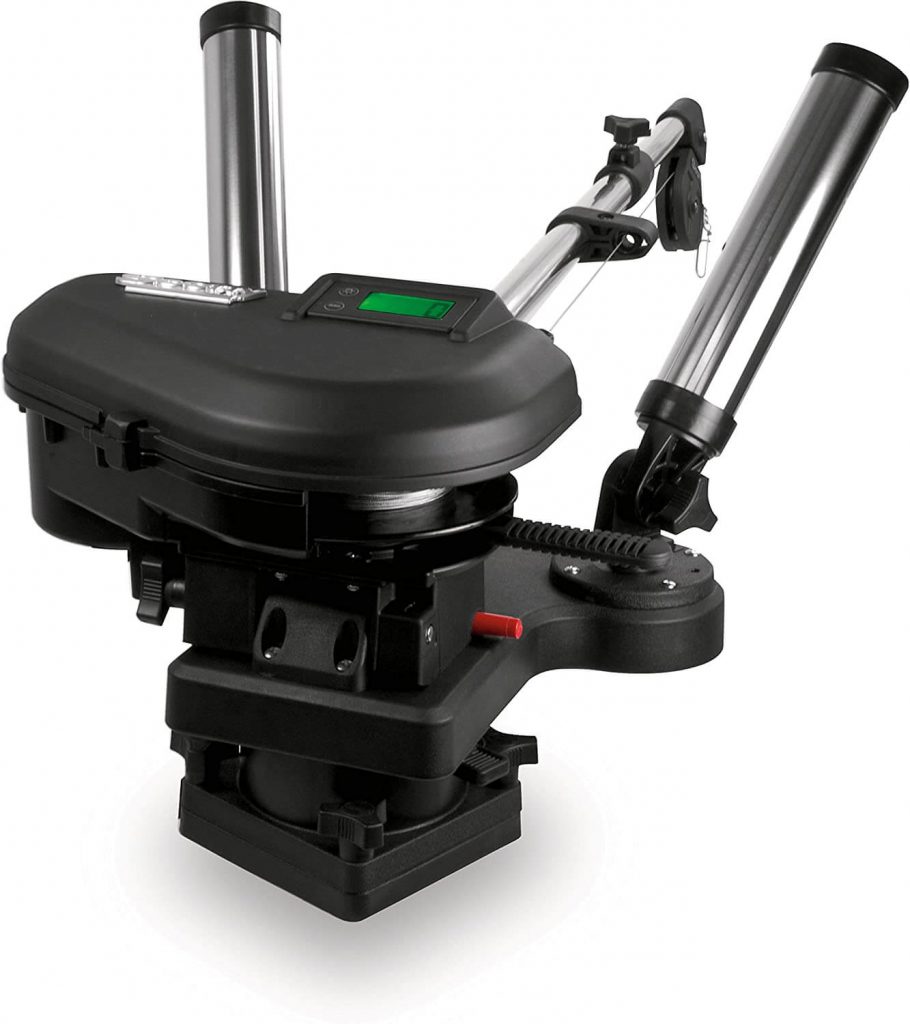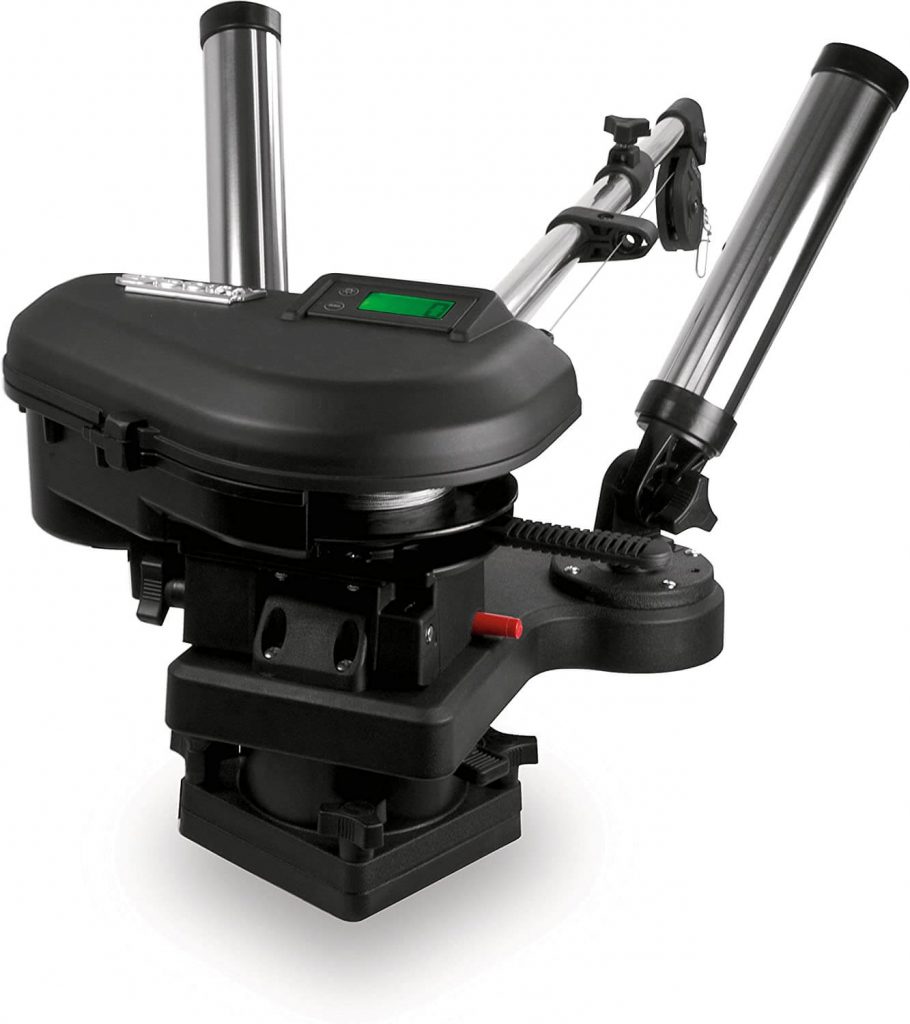 Our last but certainly not the least electric downrigger, comes from Scotty, once again.  If you've noticed, 3 out of the 5 best downriggers on our list came from this great company.  And it's not surprising considering Scotty is a company that has a lot of product lines in the industry.  Incidentally, this is the most expensive downrigger on our list.  But don't be surprised as Scotty did not hold anything back and put all the bells and whistles in this amazing product.
The Scotty 2116 High-Performance Electric Downrigger has reached the highest performance and reliability standards.  These top-notch and all-new design downrigger feature illuminated, resettable, sealed, and silent digital line counters, unbeatable pulling power, and a lot more.
It's ideal for bigger boats, especially with its 36"-60" long adjustable telescopic stainless steel boom.  The adjustable rocket launcher rod holders secure your fishing rods into place.  It also has a clutch brake with the largest braking surface in the industry allowing for ultra-fast speeds.  It comes equipped with a 300 feet, 180 lbs stainless steel downrigger wire, ideal for open sea fishing.  Incidentally, it's fully assembled and factory-tested with complete saltwater protection.
It can easily lift 15 lbs. of weight at an astonishing 295 feet per minute, and about 260 ft/per min for a 20 lbs. ball.  Its half-inch Kevlar drive belt made by Optibelt means it's made to last for years. The tilt-up mounting bracket enables the downrigger to be tilted and locked in the upright position, making it flexible.
Scotty will have a hard time topping this product as it seems they've already put everything that any fishing enthusiast would love in a downrigger.  Everything about the Scotty 2116 spells high quality and if the price is not an issue, then it would be foolish to ignore this beauty.
Pros:
Top-of-the-line electric downrigger
Quick retrieval of up to 20 lbs of weight
Ideal for medium and large-sized boats
36"-60" long adjustable stainless steel
300 feet, 180 lbs. of stainless steel wire for deep-level fishing
Great for use in the open sea
Swivel base with tilt-up mount for more flexibility
Cons:
One of the most expensive electric downriggers on the market
Downrigger For Small Boat Buyer's Guide
Now that we have given you the 5 Best Downriggers currently available in the market, you might be wondering what are the important things to consider, or what are the things that one should look for when trying to find a downrigger that's right for you.
But before we list down the things that you need to consider, you should be able to know by now if you are going to settle for a manual downrigger, or if you need an electric one.  That aside, it would now be easier to analyze which are the important things that one should be able to determine to arrive at the right product.
Ease Of Use
One of the main reasons for buying a downrigger is to make life easier for you.  Is the downrigger you are buying simply to use?  Or will you find yourself looking at the manual every time you need to operate it, instead of focusing on getting fish?
If you find that the downrigger you will buy is way too complicated for your skill level, you might be better off with a downrigger that is easy to install and use.  The main goal is to find more fish by utilizing a downrigger, but if you find yourself more focused on operating your downrigger instead of fishing, it's not the one for you.
Size Of Your Fishing Vessel
If you're fishing using a kayak or a dinghy, you don't need to buy the Scotty 2116 High-Performance Electric Downrigger.  Perhaps the Scotty #1050 Depthmaster Manual Downrigger is all you need.  You need to consider the size and capability of your fishing boat vis-à-vis the features of your downrigger.
It wouldn't make sense as well to settle for a Scotty #1099 Compact Depthpower Electric Downrigger w/24-inch Boom when you are in a 250-foot yacht. So be sure to match your downrigger with the size and capability of your marine vessel.  This way you will maximize the use of your downrigger and it will be cost-effective in the long run.
Flexibility
While ease of use is very important in choosing the right downrigger for you, flexibility is also another thing to look out for.  Are you going to fish exclusively on a lake or do you intend to sometimes go out on the open sea?
Are you fishing less than 100 feet in depth all the time or will there be an occasion that you would go deeper than that?  In this case, it's best to choose a downrigger that can be used in both scenarios.  Unless you want to put multiple and different downriggers on your boat (which a lot of anglers do), then choose the one that will make the most sense for you.
Capability
Is a certain feature of the downrigger listed here something that you cannot do without?  Are you fishing for large fish such as kingfish or marlins?  Then you have to consider these things when you decide to buy your downrigger.
The Cannon Magnum Series Electric Downrigger is more than capable of handling big fish like the ones mentioned above.  It would be foolish to use a less-than-capable downrigger for fishing highly challenging fish.  It's always best to assess your skill and match it with the right downrigger.  That way you will not be disappointed.
Price
If you have a large marine vessel or a kayak that can only accommodate one, you must know by now what kind of downrigger is best for you.   Price is one of the things to consider because the more features and capabilities the downrigger has, the higher its price will be.  If you're the type of person that price is not an issue, then it's safe to say that you only want the best for yourself.
In that case, buying the most expensive downrigger on our list makes sense.  But only because you are getting your money's worth.  Same thing if you are on the lookout for a downrigger that is not going to make a dent in your savings.  As long as you get what you are paying for then it's a sound and solid purchase.
FINAL THOUGHTS
Now that you have read our 5 Downriggers for a small boat whether it's manual or electric, you now have a better understanding of the unique qualities each of them has.  You know already that you don't need to choose the priciest downrigger to satisfy your requirements.
Once you have listed down all the important things to consider in buying the right downrigger for you, it's easier to choose from the list above.   So what are you waiting for?  Time to pull the trigger and enjoy your brand new downrigger!
More article: