If you are looking for a fish fighting belt, be sure to read our complete in-depth buyer's guide where we review the top-rated models available with Pros & Cons
It has always been the smaller things that have helped achieve the bigger ones. Apparently, it is mostly the smaller things combined into a clever design that comes to aid human beings in times of need. One such thing is a fishing belt.

Now, you may wonder how exactly do you fight a fish with a belt? Well, quite indirectly. What a fishing belt does is let you deal with much bigger fishes by employing your whole body to fight against them. In fact, it divides the weight the fish is putting at the other end, throughout your thighs and lets you use both your lower and upper body strength to fight it and bring it in.
But, not all fishes can be fought with the same fishing fighting belts and not all of them are effective or efficient. Therefore, you need to find the best fishing fighting belt that is available out there for you. In order to do that, you not only must have known about the features of a fishing belt but also of the best belts out there.
We intend to provide you with all that right here.
Best Fish Fighting Belt We Will Cover Today
1.Best Choice-AFTCO Clarion Fighting Belt
2.Best Price-ASOCEA Fishing Fighting Waist Belt
3.Premium-Playaction B100-L Fighting Belt
4.Best Overall-SAN LIKE Fishing Belt
5.Value For Money-Ogrmar Fish Fighting Belt
Fish Fighting Belts Reviews!
1.AFTCO Clarion Fighting Belt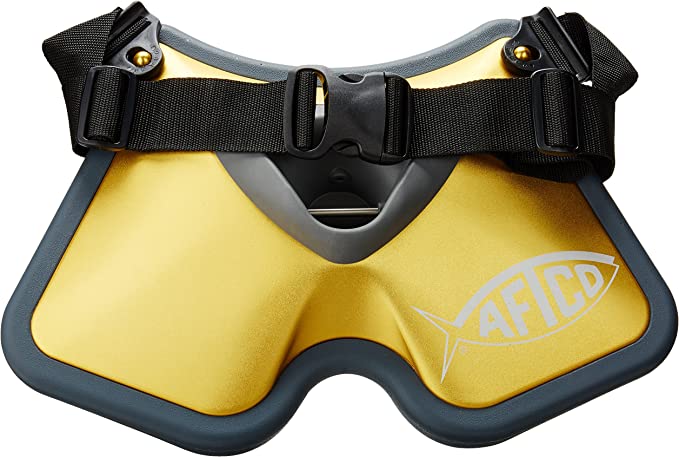 When you are looking for the best in a market, you will always find a few names you just cannot avoid. And, AFTCO Clarion is such a name in the fish fighting belt world. In fact, it is considered by many as the best available because of the strength and quality it provides.
The materials used in its build themselves speak of how durable this belt can be. As we wanted, the pad is made from EVA Foam keeping it not just comfortable for you but also strong enough to fight for you. Then, there is the gold anodized front plate which will never get rusted.
Apart from that, the straps are quite adjustable so you do not have to worry about your waist size much. Furthermore, the gimbal it features also comes with an adjustable clip to attach the rod. So, it is not just durable but quite versatile as well.
The only downside may be that you might find the belt a bit heavy. But, the good side is that the fishes you target will find it heavy too. So, you will surely bring a lot of fishes home!
Pros
Very high-quality build with great materials makes it durable.
Comfortable to wear because of the foam.
Adjustable straps let you fasten it around your waist and also to the rod easily.
Cons
2.ASOCEA Fishing Fighting Waist Belt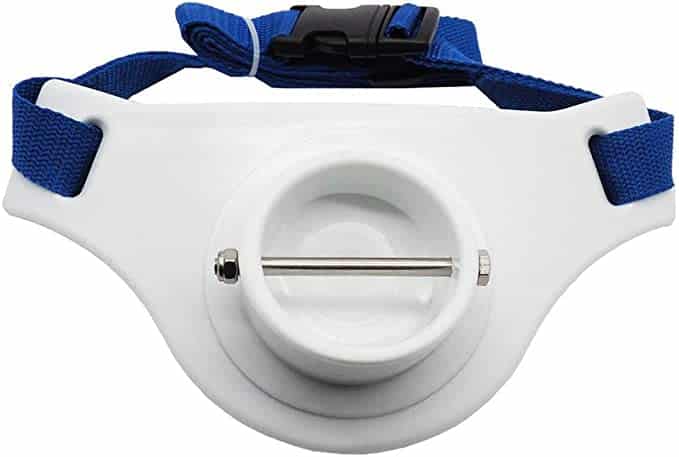 The ASOCEA Fishing Fighting Waist Belt is a great accessory for any fishing enthusiast. The belt is designed to help you fight bigger fish with more comfort and ease. The belt is made of high-quality materials that are durable and long-lasting, which is important for a piece of equipment that will be exposed to water and salt on a regular basis.
One of the features that I appreciate about this fishing belt is its adjustability. The waist belt can be adjusted to fit most waist sizes, making it comfortable for anglers of all shapes and sizes. Additionally, the rod holder is adjustable, allowing you to set it at the angle that works best for you.
The padding on the belt is also a nice touch, providing extra comfort and support during long fights. The padding helps distribute the pressure from the rod to your body more evenly, reducing fatigue and strain on your back and arms.
The belt is also designed with safety in mind. The quick-release buckle allows you to easily and quickly detach the belt in case of an emergency. This is an important feature for any fishing accessory, as safety should always be a top priority when out on the water.
The ASOCEA Fishing Fighting Belt. It is a durable and comfortable piece of equipment that is sure to make your fishing experience more enjoyable. With its adjustability, padding, and safety features, this fishing belt is an excellent choice for any angler looking to improve their fishing game.
Pros:
Comfortable and durable design
Adjustable and Affordable
Quick-release buckle
Cons:
Not suitable for all types of fishing.
Limited color options.
3.Playaction B100-L Fighting Belt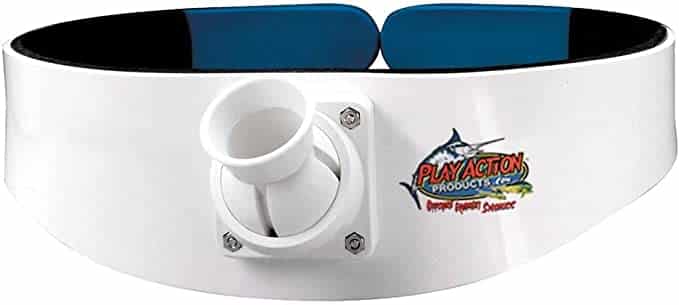 The Playaction B100-L Fighting Belt is an excellent fishing accessory that offers outstanding support and comfort to anglers during long and intense fights with large fish. As a language model, I don't have a personal experience of using the belt, but I can provide an objective review based on the features and benefits it offers.
The belt is made of high-quality materials that are designed to withstand deep drop environments and heavy use. It features a durable and sturdy construction with a reinforced plastic plate, a comfortable EVA foam padding, and a heavy-duty nylon strap that ensures a secure fit around the angler's waist.
One of the most remarkable features of the Playaction B100 is its ergonomic design, which provides excellent support and comfort during long fights with large fish. The belt's shape conforms to the contours of the angler's body, allowing for maximum support and pressure distribution. Additionally, the EVA foam padding offers a comfortable cushion that minimizes pressure points and reduces fatigue, enabling the angler to fight fish for extended periods without discomfort.
Another notable feature of the Playaction B100-L Fighting Belt is its versatility. The belt is designed to accommodate a wide range of fishing styles and techniques, making it suitable for both offshore and inshore fishing. It has multiple D-rings and attachment points that allow anglers to attach different types of gear, such as pliers, knives, and fishing rods, providing quick access to necessary tools.
Playaction B100-L Fighting Belt is an excellent fishing accessory that offers outstanding support and comfort during long and intense fights with large fish. It is durable, versatile, and comfortable, making it an excellent investment for any serious angler.
The SAN LIKE Fishing Belt is an excellent piece of equipment for any angler who wants to keep their essential fishing tools within easy reach. This belt is designed to be worn around the waist, and it has several pockets and loops that can be used to hold fishing gear like pliers, scissors, hooks, lures, and more.
One of the things that stands out about the SAN LIKE is its durability. It's made from high-quality nylon material that is both water-resistant and abrasion-resistant. This means that it can stand up to the wear and tear of regular use, and it will keep your gear safe and secure even in wet conditions.
Another great feature of this fishing belt is its adjustability. The belt is designed to fit a wide range of waist sizes, from 29 to 49 inches, so you can find the perfect fit for your body. The buckle is also easy to adjust, so you can quickly loosen or tighten the belt as needed.
The pockets and loops on the SAN LIKE Fishing Belt are well-designed and functional. The belt has a total of 10 pockets, including one large zippered pocket, two mesh pockets, and several smaller pockets that are perfect for holding hooks, weights, and other small items. There are also four loops that can be used to hold pliers or other tools.
SAN LIKE Fishing Belt to any angler who wants a high-quality, durable, and functional piece of equipment to help them stay organized on the water. This belt is well-designed, easy to use, and can make a big difference in your fishing experience.
Pros
Durable and water-resistant nylon material
Adjustable belt and buckle
Well-designed pockets and loops
Large zippered pocket.
Lightweight and comfortable
Affordable price point
Cons
The adjustable buckle may loosen slightly over time, requiring occasional readjustment
The mesh pockets may not be as durable as the rest of the belt and may wear out more quickly
5.Ogrmar Fish Adjustable Fishing Rod Fighting Belt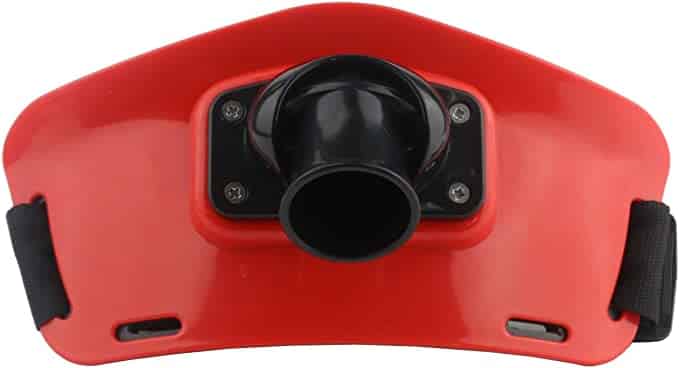 The Ogrmar Fish Fighting Belt is an excellent piece of fishing equipment that provides a comfortable and secure way to fight larger fish. This belt is made of high-quality materials that are durable and resistant to wear and tear. It is designed to distribute the weight of the fish evenly across your body, reducing the strain on your arms and back and allowing you to fight the fish for longer periods.
One of the best things about the Ogrmar is its adjustability. The belt can be adjusted to fit a wide range of waist sizes, which makes it a great option for anglers of all sizes. The belt also features a quick-release buckle that allows you to easily put it on and take it off.
Another great feature of the Ogrmar Fish Fighting Belt is its padding. The belt is padded to provide extra comfort and to help absorb the shock of the fish's movements. The padding is also designed to prevent the belt from digging into your skin, which can be a problem with some other fishing belts.
In addition to its comfort and adjustability, the Ogrmar fish Belt is also very effective at helping you land big fish. The belt has a sturdy rod holder that keeps your rod secure and allows you to use both hands to fight the fish. The belt also has a gimbal pin that allows you to attach a fighting harness, which can further reduce the strain on your arms and back.
Ogrmar Fish Fighting Belt is a great investment for any angler who wants to be able to fight bigger fish without getting worn out. It is well-made, comfortable, and effective, and it is sure to last for many fishing trips to come. I highly recommend this belt to anyone who wants to take their fishing game to the next level.
Pros
Comfortable and padded design.
Adjustable sizing accommodates.
Sturdy construction and durable.
Quick-release buckle makes it easy to put on and take off.
Cons
Some anglers may find the padding to be too thick or bulky, which could interfere with their movement or balance.
The belt may not fit as securely or comfortably on larger or heavier anglers, as it may shift or sag during use.
Fish Fighting Belt Buyer's Guide
 If you know about the basic features that you should check when buying a fishing belt, you can even become the first to put your trust in a brand that becomes the best in the future. So, what you should be aware of when looking for fishing belts are:
The species you are targeting:
You always set your plan following a goal, don't you? Well, this is no different. The first thing you must do is determine the weight of the species you will fight. Not all fishing belts will aid you in fighting the larger species.
Therefore, you want to buy a belt capable of dealing with the weight of the species you are targeting. That's why it is very important to determine it as it determines the minimum capacity of the belt you are looking for.
The fishing rod you use:
Just like you need a specific size of shoes for your feet, the rods need a specific size of the belt to fit in it. As you know, what the belt will do is distribute the weight between your thighs. And, to do that, the rod will be attached to the belt at someplace right?
So, the place where the rod attaches to the belt is called the gimbal. You will find that not all belts have a gimbal that is adjustable or holds every size of rods there is. In fact, most belts have a gimbal in which only a particular class of rod fits. Other rods may find the gimbal too narrow or too wide.
And, it is very important that your rod fits in the gimbal perfectly. You do not want the rod to get detached along with the running fish. Therefore, find the right belt with the right size of gimbal for your rod.
You can do the opposite task too. In fact, you can buy a belt first and then find a rod that fits. However, that will be like a reverse plan where you target the species based on what you have.
The size of the pad:
What makes the fishing belt different from other belts is the pad attached at the front that helps to attach the fishing rod to it. It is quite obvious that this pad has an important role to play and you should definitely consider this.
The main job of the pad is to distribute the huge amount of weight equally among your thighs to make fighting the fish easier. Apart from that, this distribution should allow you to use your maximum strength with the least effort.
However, that is something that will occur when you use the belt, what do you do while choosing it. In fact, the first consideration when checking the pad of the belt is its size. Apparently, as the gimbal varies with the size of the rods so does the pad.
However, the size of the pad mainly depends on the capacity of the rod. When you are using rods with capacities of around 30lbs, the pads will definitely be smaller. Again, when you are using heavier capacity gears like above 80lbs, the size of the pads will be larger.
Material and Comfort provided by the pad:
You do not want to have bruises on your thighs when you are done with fishing. The task of fishing is hard enough. Apart from that, you do not want the pad to be torn apart from you either.
So, what you should check next is the durability and strength of the materials and the comfort you get from it. The pads usually have foams or other softer materials in them to make it more comfortable for the anglers. Also, these softer materials distribute the weight.
Now, it can use EVA foam inside or any other foam. But, EVA might be the best option. Also, check the stitch and build quality as flaws in those can cause irritation even though the materials used were fine.
Weight:
You will be dealing with a lot of weights here- the rod, the fighting fish, and also the belt. Therefore, to reduce future fatigue, you should look for a belt that is lightweight enough to not cause an ache.
The attachment method:
You will find the belt quite useless if you fail to secure it perfectly around your waist. Therefore, you should be able to adjust the belt around your waist perfectly.
Furthermore, it should also have a good locking mechanism with the rod and harness. Everything should be such that nothing will come apart when you are intensely fighting a fish.
Durability:
As we already mentioned that you should check that the pad can last long enough. Other than that, you should also check that all the metal parts are strong enough and will not rust. We suggest you look for belts with stainless steel parts that make it both lightweight and durable.
Price:
If you are serious about fishing then do not aim for the really cheap belts as they are inefficient and of low-quality. Aim for the mid-range best ones if you are on a budget or else just go for the expensive ones so you may never need to buy one again.
Advantages
Comfort: The weight of the rod on your bare hands and legs can become too much to bear for hours straight. And, fishing does require hours. A fighting belt will reduce the pressure on your body by distributing the weight throughout it.
Added strength: The belt actually acts as a lever. Not really like it but close. In fact, since it distributes the weight throughout your thighs and lower body you also employ the strength from those areas when you fight back. Thus, it increases strength when fighting back.
Fishing Fighting Belt FAQs
1. Can the fishing belts be used when fishing by sitting?
Answer:  People normally use a fishing belt for stand-up fishing only. Their sole purpose is to distribute the weight between the thighs. But, the weight does not need distribution when someone is sitting and fishing, right? You can use it but it will not be very helpful.
There is more to a belt than just its price and design. You have to check if it has the right size for the rod and yourself. Furthermore, you have to check the quality and durability too. Therefore, finding the best fish fighting belt is no easy task. However, our guide and the reviews should have given you a clue on where and how to start looking. We hope you end up with the perfect match for you.
More article