Best electric reel for deep drop fishing
So are you here to know about the best electric fishing reel?
The electric fishing reel is 'in'. It is a newer style in the fishing world and is much welcomed by the specific niches. For those who want to go deeper greater than 500′ and hook some modern-day sea creatures, a motorized electric reel can make hauling up 1 and 3-pound weights or working kites much easier.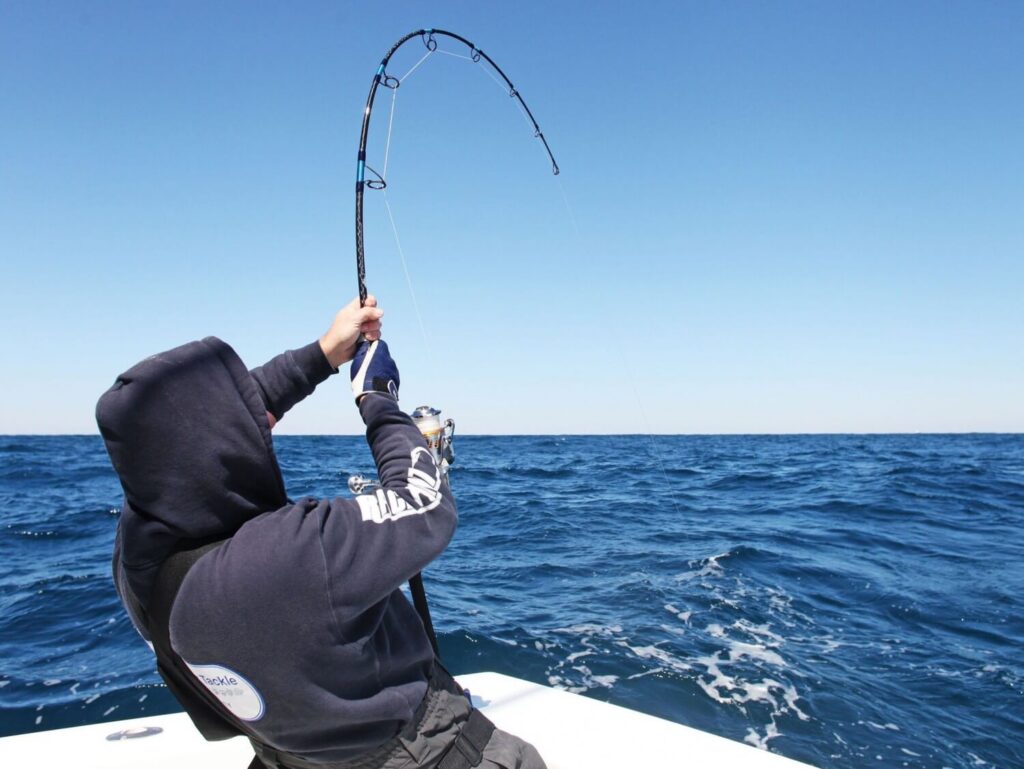 Electric fishing reels are designed to reduce the heavy work out of fishing to make it fun for everyone. Digital readouts and programming specific depths of the water body through these reels is a blessing, a heaven-sent instrument for the newbies or professional fishermen. By incorporating electric motors into the reel mechanism, these fishing reels improve the efficiency of your fishing tackle. Electric reels are amazingly useful for offshore deep ocean anglers, whether they are fishing for daytime swordfish or plumbing the depths for grouper and tilefish. Electric fishing reels can be plugged directly into your boat's power system or can also run off a stand-alone 12 volt or 24-volt battery.
In this article, we will give you a quick glimpse at four of the best electric fishing reels and detail what makes them worth spending on and relying on fully when on the water.
The Best Electric Reel For Deep Drop Fishing We Will Cover Today
1. Best Choice-Daiwa Tanacom Power Assist Reels
2. Best Value For Money-Kaigen 1000
3. Best For Tuna-Shimano Beastmaster
4.Premium-Daiwa 19 Seaborg
5. Most Powerful-Shimano Force Master 9000
6.Best Price-Daiwa Leo Blitz S400 Electric Reel
Top 5 Electric Reel Reviews!
1. Daiwa Tanacom 1000 Power Assist Reels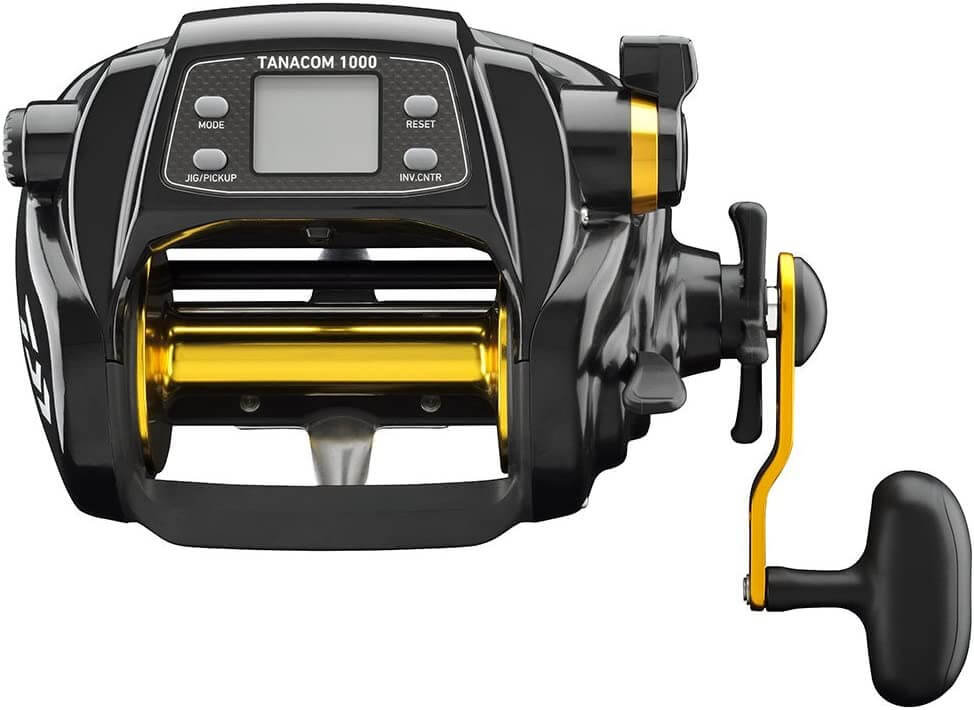 Specifications:
Maximum Drag: 48.5 lbs / 22 kg
Line Capacity: 25 lb – 700 yds, 30 lb – 600 yds, 40 lb – 450 yds
Gear Ratio: 2.3:1
Weight: 52.5 oz / 1490 g
Power Cord Length: 9 ft / 2.7 m
Maximum Winding Speed: 165 feet per minute / 50 meters per minute
Ball Bearings: 4
Voltage: 12V DC (requires a separate battery or power source)
Maximum Power: 1400W
The Daiwa TANACOM1000 Dendoh Fishing Reel is one of the best electric fishing reels. Why?
The first reason is its LCD display. This LCD display is extremely user-friendly and is highly visible in each and every lighting scenario. You may get some issues at some angles, but in a fighting stance, you will face no problem. The electronic system runs on 12V and can be linked to the boat's battery via cables or another way is to use Daiwa's portable battery pack.
The oversized line aperture is another brilliant feature of this fishing reel as it enables extra clearance for kite swivels large knots and scenarios where this type of reel is needed.
In addition to programming depth level and the line counter feature, this reel also features an automated stop feature, so the motor will cut off by itself as the lure reaches the surface. When using the automated retrieve, the speed dial is conveniently placed which is easy to access and manipulate.
Overall, this is a fully functioning, well-built fishing reel with an aluminum body, spool, and handle that can put some cranking power when working on large saltwater species. This reel is amazing for saltwater usage with both a sealed drag as well an electronics system which greatly increases the reel's durability.
The Daiwa TANACOM1000 Dendoh Fishing Reel can dish out up to 48lbs of max drag and can be well-tuned throughout the entirety of its species. The retrieval is effortlessly smooth when automated or manual retrieval is used. Plus, you can also input a huge amount of line onto this reel with a maximum up to 800yds of 80lb braid.
Pros:
LCD display, operating buttons that read out in English.
Variable-speed lever control also includes the option for manual winding.
Comes with an automatic shut-off function that switches the power level off as soon as the lever reaches the surface.
If the user ran out of batteries during fishing he/she can go for the manual winding option so that their fishing is not interfered with.
Very easy to clean as it comes with a washable design.
Cons:
Instructions that come with the product are not in detail.
It does not come with a case that can be used to store the reel and protect it from environmental damage.
2. Kaigen 1000 Electric Reel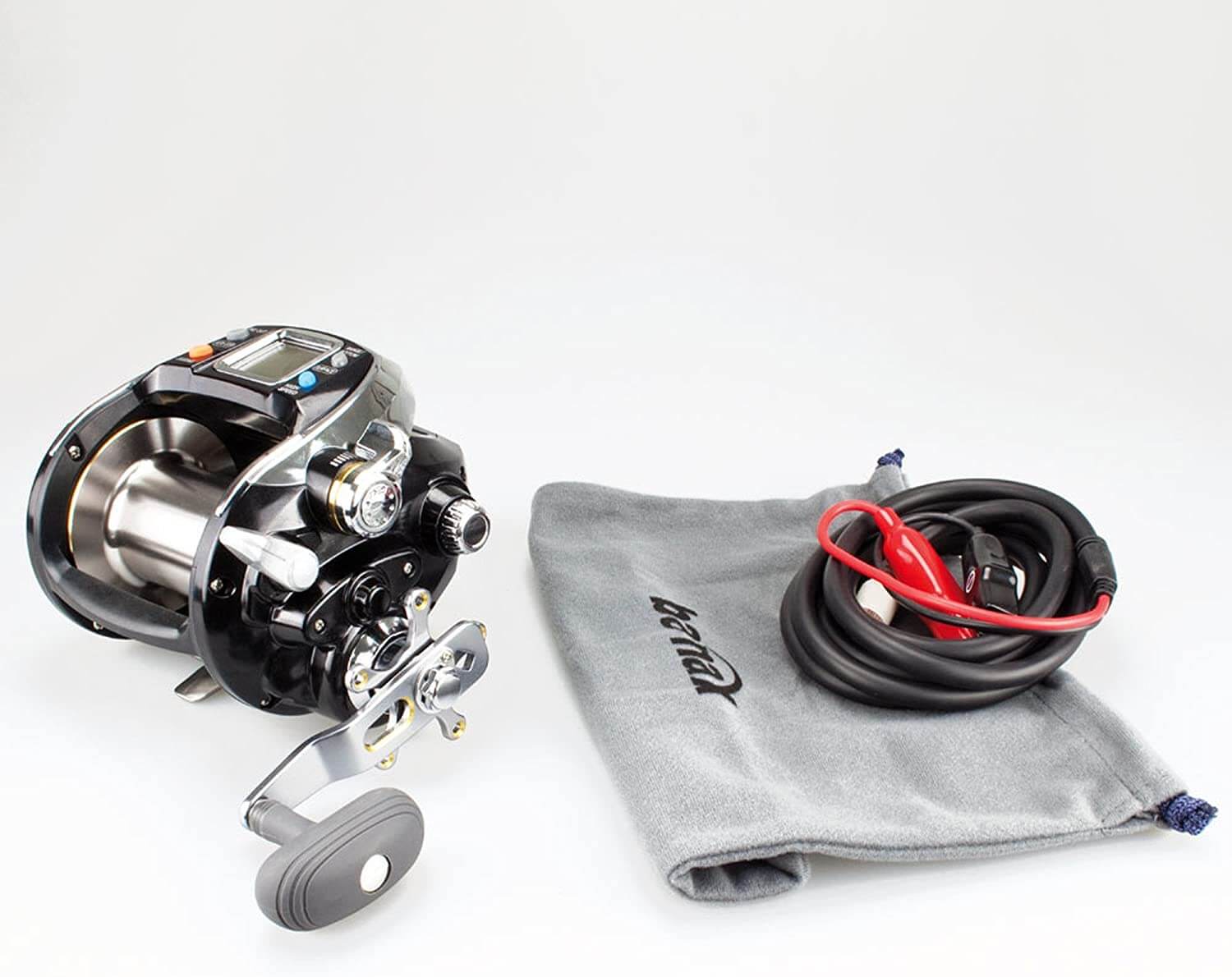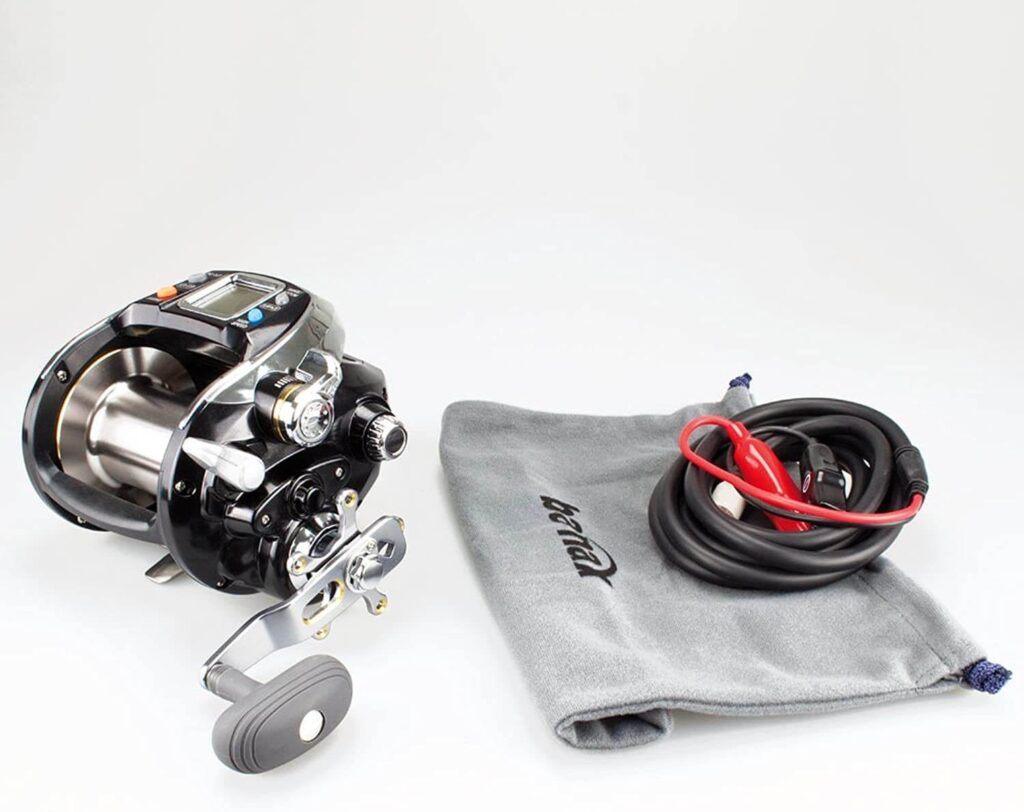 Specifications:
Maximum Drag: 26.5 lbs / 12 kg
Line Capacity: PE #4 – 600m, PE #5 – 500m, PE #6 – 400m
Gear Ratio: 4.3:1
Weight: 30.9 oz / 875 g
Power Cord Length: 6 ft / 1.8 m
Maximum Winding Speed: 160 feet per minute / 49 meters per minute
Ball Bearings: 6
Voltage: 12V DC (requires a separate battery or power source)
Maximum Power: 140W
Kaigen 1000 Electric Reel provides you great strength, speed, and drag—but that's not all you get. It also comes fully packed with many advanced features to make deep-sea fishing more fun and easier.
Whether you are a beginner to the deep drop scene or a seasonal fisherman, you'll definitely enjoy using Kaigen 1000 Electric Reel, which is strong enough for tilefish, snapper, and grouper deep dropping.
Its speed is pretty impressive and drag is more than sufficient for most fishermen. Additionally, its motor spins every time it drops and this in turn reduces backlash. Moreover, you don't have to worry about the rod tip breaking away, because the reel beeps and stops before it rolls up its full length.
No other electric reel in this price range offers as many technologically advanced features as Kaigen 1000 Electric Reel. The frame is immensely strong and its design is easily washable. An aluminum made spool means you get great stability while fishing and the perfect optimal smoothness while reeling in the line. You can easily control its speed using the speed lever and fix the depth using the adjustable digital unit.
Pros:
Aluminum-forged spool and Aluminum die-casting frame
Washable design
Six carbon drag washers
Impressive retrieve speed (160 m/min)
Larger motor, earing, and gearing compared with T 1000
Jigging function
Cons:
The package doesn't include a battery, have to purchase it separately
3. Shimano Beastmaster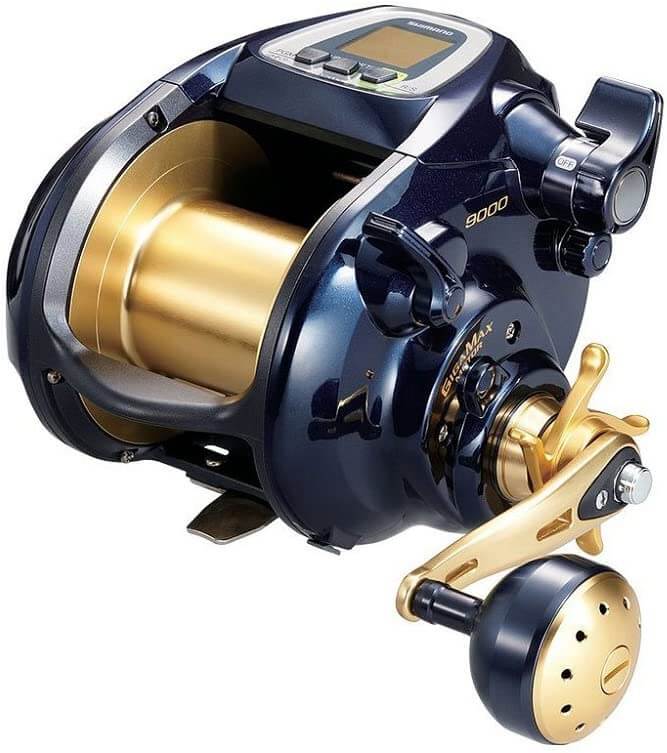 Specifications:
Maximum Drag: 25 kg / 55 lbs
Line Capacity: PE 8 – 600 m, PE 10 – 500 m, PE 12 – 400 m
Gear Ratio: 3.1:1
Weight: 1660 g / 3.66 lbs
Power Cord Length: 2.5 m / 8.2 ft
Maximum Winding Speed: 160 m/min / 526 ft/min
Ball Bearings: 12
Voltage: 12-24V DC (requires a separate battery or power source)
Maximum Power: 200W
With a name like Beastmaster, it comes with no surprise that this model features an eye-catching 25kg of drag power. Deep-water species like Blue-eye Trevalla, Bass Groper, Gemfish, and Hapuka are not able to resist the power of the Shimano Beastmaster.
Amazingly, this model of the electric fishing reel can give you ever-changing information accumulated from the depths. You will then have the luxury to reprogram settings by adjusting tension settings and retrieval speed.
Shimano has included a direct drive level (DDL) winder to make sure that the fishing line is gathered perfectly by the spool. It is possible to halt spool rotation with the help of the mechanical brake knob, while also preventing backlash from the rig as it falls.
In terms of the reel's electronics, an efficient 12-volt battery (not included in the package) powers the reel. However, the reel also has a power cord socket in situations when you require energy from a secondary source. Shimano has made sure that the socket is waterproof, reliable, and safe above all.
Pros:
An LCD display screen provides the latest information being collected from the ocean.
The innovative electric engine powering the reel is accommodated within the spool for greater performance when reeling in heavy fish.
The comfortable ergonomic handle makes the Beastmaster reel a conventional fishing reel.
The Star Drag component adjusted to the handle enables to adjustment of the line tension and prevents it from breaking under high pressure.
A technical lever makes it possible to program tension settings and retrieval speed in an instant.
Cons:
The screen controls and instructions are written in Japanese, difficult to set it up by Non-Japanese users.
4.Daiwa 19 Seaborg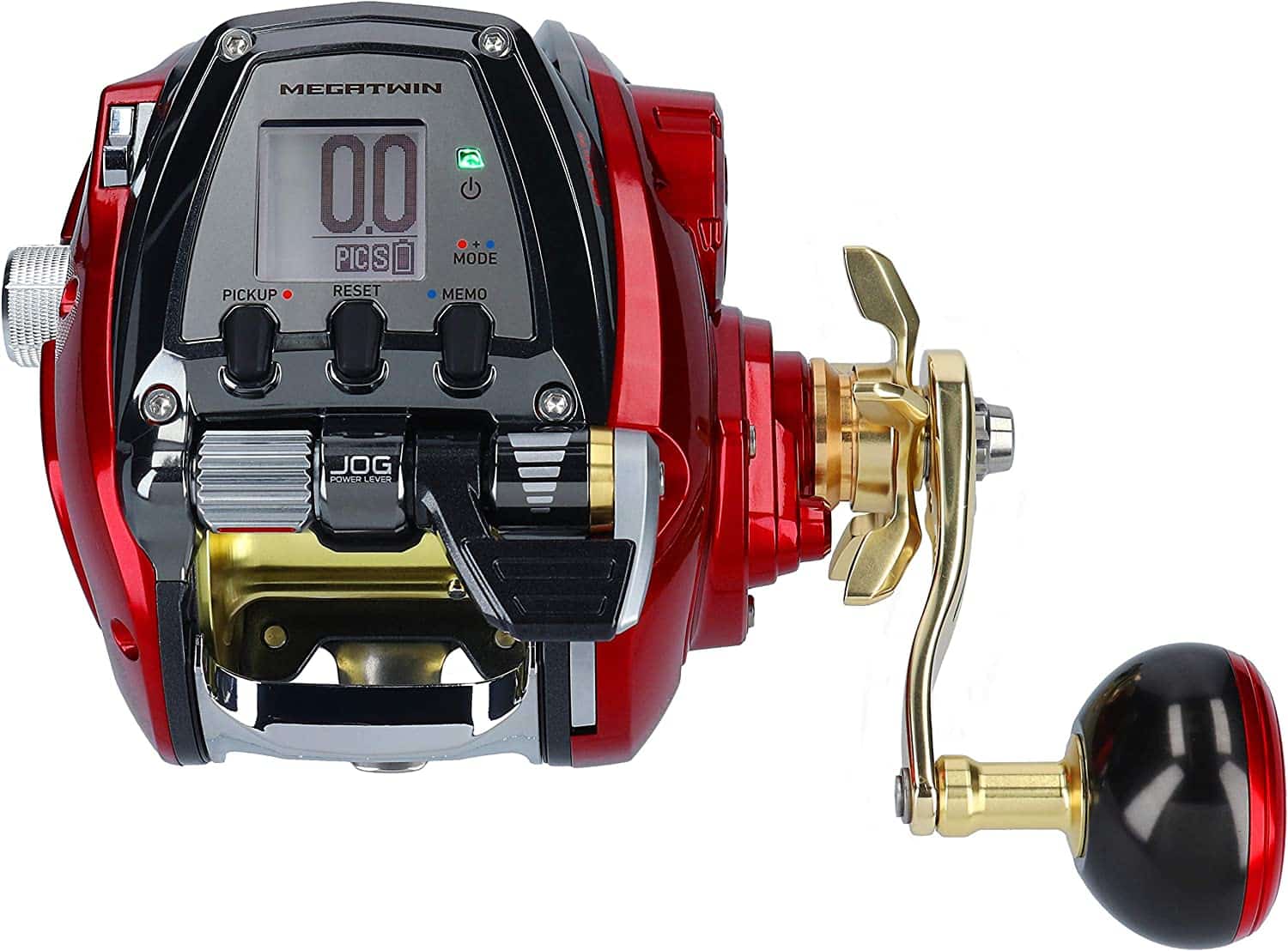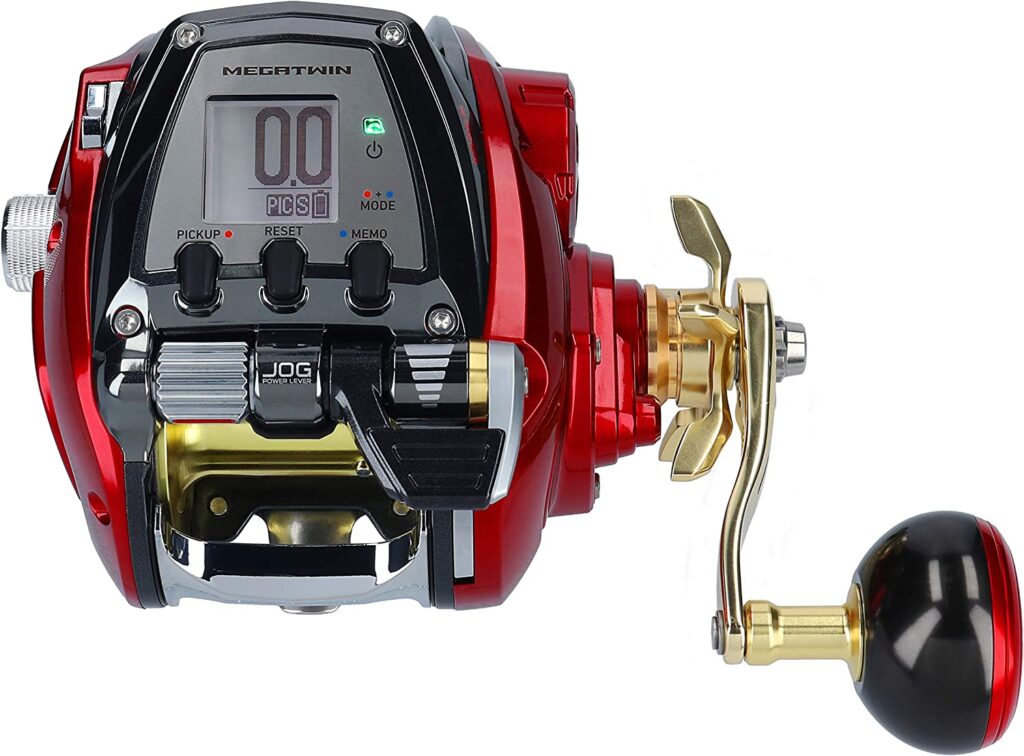 Specifications:
Maximum Drag: 22 kg / 48.5 lbs
Line Capacity: PE #5 – 600m, PE #6 – 500m, PE #8 – 400m
Gear Ratio: 3.1:1
Weight: 1035 g / 2.28 lbs
Power Cord Length: 2.5 m / 8.2 ft
Maximum Winding Speed: 220 m/min / 721 ft/min
Ball Bearings: 14
Voltage: 12V DC (requires a separate battery or power source)
Maximum Power: 1300W
The Daiwa Seaborg is a high-end electric fishing reel that offers exceptional performance and durability for serious anglers. This reel is designed to handle the toughest saltwater fishing conditions, and it's packed with advanced features that make it a pleasure to use.
One of the standout features of the Daiwa Seaborg is its powerful motor, which delivers smooth and consistent winding power even under heavy loads. The motor is also designed to be highly energy efficient, so you can fish all day without worrying about draining your battery.
Another impressive feature of the Daiwa Seaborg is its advanced control system, which allows you to adjust the reel's speed, power, and sensitivity to match your specific fishing conditions. This system is highly intuitive and easy to use, making it a great choice for both experienced and novice anglers.
The Seaborg is also built to withstand the harsh marine environment, with a rugged and corrosion-resistant construction that ensures long-lasting performance. The reel features a high-strength aluminum frame and side plates, along with a waterproof drag system that keeps saltwater and debris from entering the reel's internal components.
The Daiwa Seaborg is available in several different models, each with its own set of features and capabilities. One of the most popular models is the Seaborg 1200MJ, which features a powerful motor that delivers up to 55 pounds of winding power, as well as a programmable jigging function that can be customized to match your specific fishing needs.
The Seaborg also comes equipped with a high-resolution LCD display that provides real-time information about the reel's status, including line speed, depth, and battery life. The display is easy to read and provides a wealth of information that can help you optimize your fishing performance.
In addition to its impressive performance and advanced features, the Daiwa Seaborg is also known for its comfortable and ergonomic design. The reel is designed to fit comfortably in your hand and features an oversized handle that provides a firm grip even when wet or slimy.
The Seaborg also features a dual-speed retrieve system that allows you to quickly switch between high-speed and low-speed retrieves depending on the situation. This can be particularly useful when reeling in large or stubborn fish, as it gives you more control over the fight.
Overall, the Daiwa Seaborg is a top-of-the-line electric fishing reel that offers exceptional performance, durability, and user-friendliness. It's a great choice for anglers who demand the best from their gear and are willing to invest in quality and reliability.
Powerful motor with high winding speed and torque for heavy-duty fishing applications.
Advanced control system with customizable settings for different fishing conditions.
Durable and corrosion-resistant construction for long-lasting performance in saltwater environments.
Comfortable and ergonomic design for extended use without fatigue.
Dual-speed retrieve system for added control during retrieval.
Programmable jigging function for hands-free operation.
Cons
High price point compared to other electric reels in the market.
Heavy weight and bulky size may not be suitable for all types of fishing applications.
Requires battery and charger for operation, which can be an added expense and inconvenience.
Limited availability and compatibility with some types of fishing rods and lines.
May require some practice to fully master the advanced features and settings of the reel.
5. Shimano Force Master 9000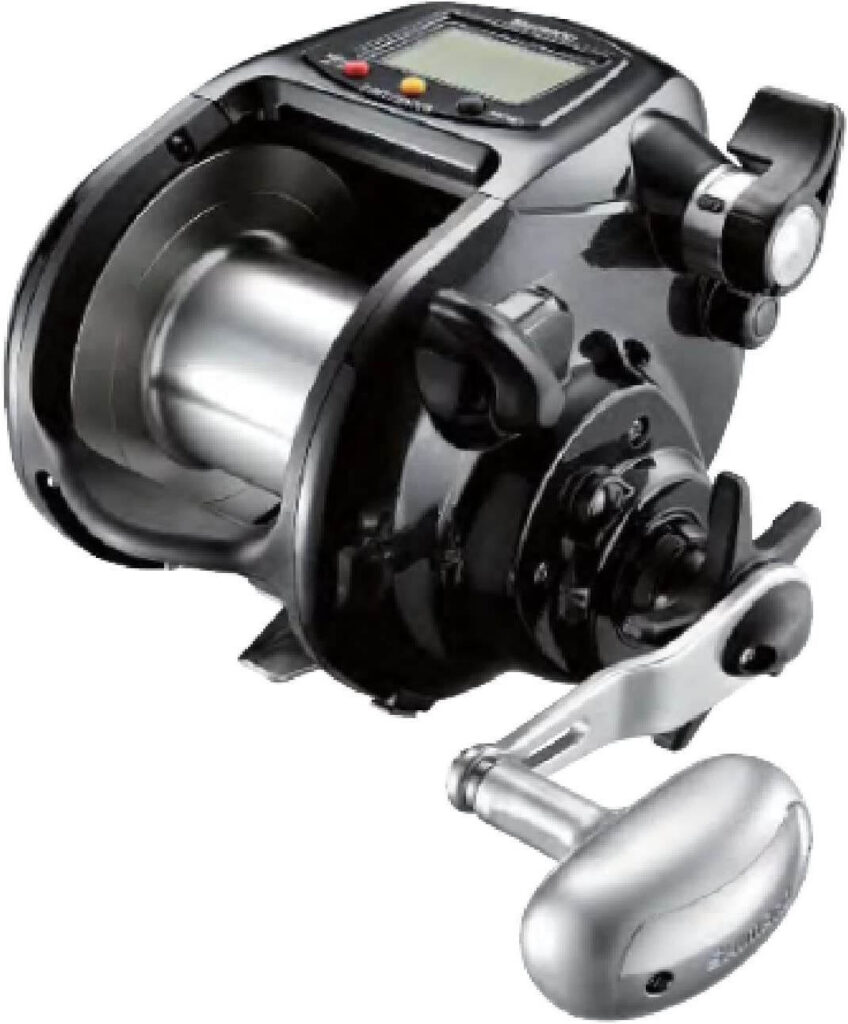 Specifications:
Maximum Drag: 55 lbs / 25 kg
Line Capacity: PE #6 – 600m, PE #8 – 400m, PE #10 – 300m
Gear Ratio: 3.1:1
Weight: 3.3 lbs / 1500 g
Power Cord Length: 2.5 m / 8.2 ft
Maximum Winding Speed: 140 m/min / 459 ft/min
Ball Bearings: 12
Voltage: 12V DC (requires a separate battery or power source)
Maximum Power: 250W
Extra-deep-water bottom fishing has become extremely popular really fast. With anglers now targeting blue eye trevalla, barcode, hapuka, bass groper, and gemfish more often, Shimano's Force Master 9000 Electric Fishing Reel takes the pain out of the deep water enterprise.
The new Force master electric by Shimano not only looks stylish and sleek but also has the strength and technology to make it an all-rounder reel. The Force Master 9000 electric reel provides outstanding winding strength, winding speed, drag, and line capacity. It offers a programmable and adjustable manual mode to cover a variety of fishing techniques from jigging to deep dropping to kite fishing. With Force Master, you can experience a whole new dimension of fishing.
The Shimano Forcemaster electric Reel is also great for the elderly, disabled people and those who struggle to manage traditional fishing equipment. The spool size on the Shimano FM9000 is phenomenal. The wind speed at 140 meters per minute is amazing, slashing times it takes to wind in from depth and to reset baits. The Muteki Motor is great in class and has the perfect Heat Free System II that dissipates heat from the motor enabling it to perform at peak continuously.
The Hagane body provides superb rigidity making sure no torque is lost to twist or slop providing all the power you impart through the handle. The data displayed to you on the Fine Dot LCD screen is easily viewed and read, even under the full sun.
So, make sure your boat has at least one Shimano Forcemaster electric Reel, and if you are planning to kite fishing, then this is a must-have.
Pros:
Easily programmable to the preferred settings, thanks to its LCD interface.
Braided fishing line, durable.
Captures in memory some of the favorite or most used settings (like depth, height), so it gets easier the next time you use it.
Comes with a power system that can be activated while retrieving the catch.
Comes with a manual hand retrieve and can be used when out of power.
Cons
Its manual retrieve is only right-handed which means left-handed people will have to struggle for using it.
6.Daiwa Leo Blitz S400 Electric Reel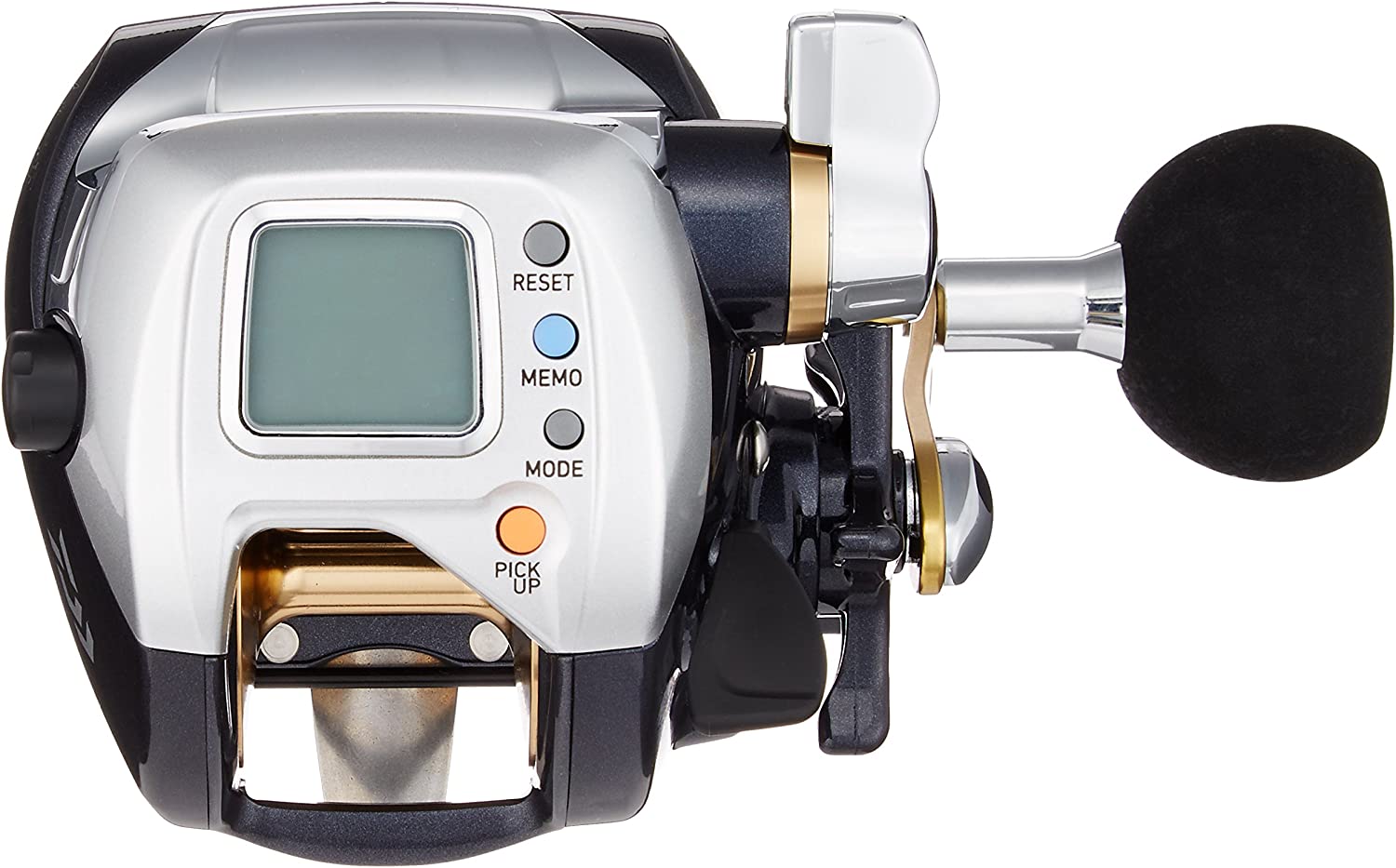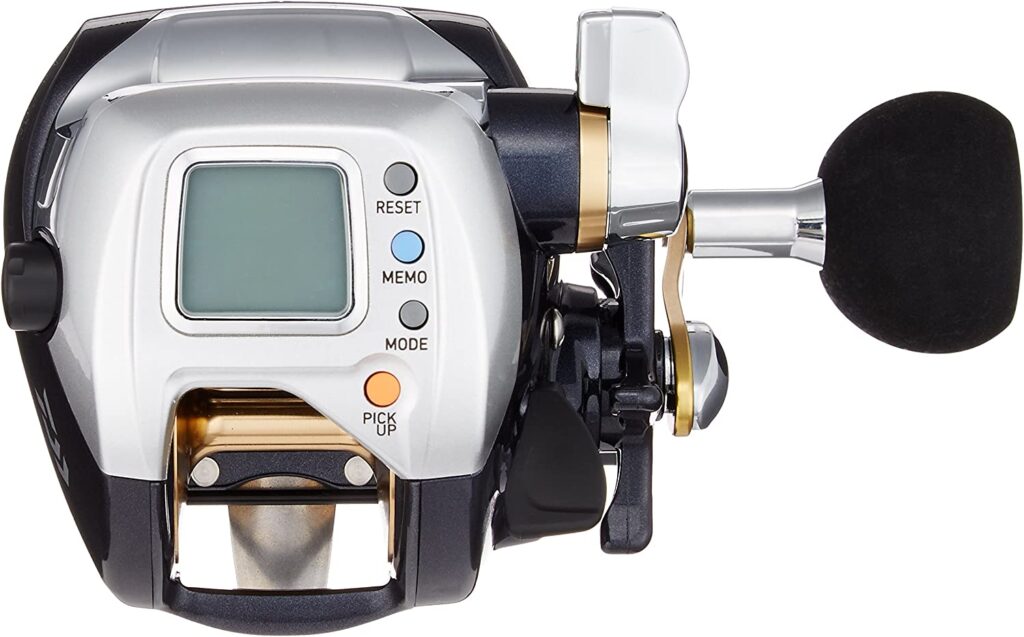 Specifications:
Maximum Drag: 20 kg / 44 lbs
Line Capacity: PE #4 – 400m, PE #5 – 300m, PE #6 – 250m
Gear Ratio: 3.9:1
Weight: 805 g / 1.77 lbs
Power Cord Length: 1.8 m / 5.9 ft
Maximum Winding Speed: 170 m/min / 558 ft/min
Ball Bearings: 7
Voltage: 12V DC (requires a separate battery or power source)
Maximum Power: 450W
The Daiwa Leo Blitz is a top-of-the-line spinning reel designed for serious anglers who demand the best performance from their gear. As someone who has had the opportunity to test this reel out in various fishing scenarios.It uses a unique Magsealed design to keep water and debris out of the reel's internal components, ensuring that the drag remains smooth and consistent even in harsh saltwater environments. This feature really shines when fighting larger fish, as the reel provides plenty of stopping power to tire out even the toughest opponents.
The aluminum frame and body are both highly resistant to corrosion and wear, while the screw-in handle and machined aluminum handle knob provide a comfortable and secure grip even when fighting a fish for an extended period of time.
The reel also features Daiwa's Air Rotor and Air Bail technologies, which help to reduce weight while maintaining strength and rigidity. This translates into a smoother, more efficient casting experience, with less fatigue on the angler's arm and wrist.
 The reel comes with an impressive array of adjustable settings, including the drag tension, spool tension, and handle position, which allows anglers to fine-tune the reel to their specific preferences and fishing styles.
The Daiwa Leo Blitz also features a large spool capacity, which is great for anglers who need to cast long distances or use thicker fishing lines. The reel's oversized line roller and wide bail opening help to minimize line twist and tangles, while the anti-reverse system provides an immediate hook set to ensure that every bite counts.
Another great feature of the Leo Blitz is its versatility. It can be used for a wide range of fishing styles, including inshore and offshore fishing, and is suitable for catching a variety of species, from small freshwater fish to large saltwater game fish.
The Daiwa Leo Blitz is a high-quality spinning reel that offers outstanding performance, durability, and customization options. It may be on the pricier side, but for serious anglers who demand the best from their gear, it is definitely worth the investment.
Pros
Exceptional performance with a smooth and powerful drag system
Durable construction with corrosion-resistant aluminum body and frame
Air Rotor and Air Bail technologies for a smoother and more efficient casting experience
Versatile for a wide range of fishing styles and species
Highly customizable with adjustable settings for drag tension, spool tension, and handle position
Large spool capacity for casting long distances or using thicker fishing lines
Anti-reverse system for an immediate hook set
Sleek and stylish design with a high-gloss finish that provides extra protection against the elements
Cons
Heavier weight compared to some other spinning reels
Some anglers may find the customizable settings to be overwhelming or unnecessary
The black and gold color scheme may not appeal to all anglers' personal preferences.
Factors to consider when you are planning to buy an Electric Fishing Reel
So many choices are out there! How can you cull the good from the bad? Paying higher prices does not always ensure better quality! There are so many great inexpensive reels that have the same features as expensive name brands – you just have to know what to look for in a good electric spinning reel. If you use these 11 criteria to evaluate before buying an electric spinning reel, then you will know exactly what you are paying for and avoid disappointment.
Budget
Budget is the most crucial thing you must consider when buying an electric fishing reel. As there are a lot of other components you need to buy along with the reel, it is important that you design your budget before buying the product, and stick to it.
Brand
There are numerous brands of fishing reels available out there in the market. And this will start your confusion, which brands to buy?
It is vital that you do your research. Know about all the best brands available and their features that suit your needs. The three best fishing reel brands, according to us, are Kaigen reels, Shimano reels, and Daiwa reels.
Saltwater or Freshwater Fishing?
This is another significant factor as saltwater fishing is completely different than freshwater fishing.
For saltwater fishing, a stronger reel is needed in order to withstand the salinity of the salt. There is a special section in the Fishing Reels Center shop that is dedicated to saltwater reels. Pay a visit there first if you intend to fish in the salty water bodies.
On the other hand, in freshwater fishing- lighter fishing reels can be used more effectively.
Spool design
While you can easily deal with minor shortfalls in other areas, casting distance is extremely important for a successful trip. When you can get another 15 feet on each cast and make 100 casts, then you can cover another 1,500 feet of fishable water! The distant 15 feet is farthest away from where the fish are, unaware of your presence… sitting un-alarmed and ready to hit.
Look for long cast-designed features on the spinning reel's spool – the spool lip and the spool size. Both design elements would reduce friction. Each time a layer of the line begins to unwrap; it hits the lip of the spool and loses its distance from friction. Elongated spools enable you more line to leave the spool with one tap on the lip. Regular-size spools reduce friction by angling the lip to minimize friction. Instead of hitting the traditional flat lip, the line slides over a beveled lip to reduce friction as the top wrap leaves the reel.
Elongated spools do cost more to manufacture since more materials are needed while a beveled lip design is just a smart decision by the manufacturer which does not add to the cost. So, look for the angled lip as a more cost-effective solution.
Line on Spool
When you load the line on the electric spinning reel, it should lie flat and level from bottom to top with no humps or bumps. If the spinning reel that you saw in the commercials comes with shims, don't buy it! That is a red flag; the manufacturer wants you to tune in with the reel to overcome issues they could have solved at the factory while producing. A shim changes the whole orientation of the spool on the shaft that aligns the spool with the bail. A good reel will never require this and will already be calibrated at the factory that lies downline evenly.
The level line is important to add casting distance as the line will leave the spool smoothly without being snagged on humps created by an un-calibrated bail. The worst case scenario is when the line slopes from thick at the top to skinny at the bottom – thus, a triangle. In that situation, every wrap will pull against the thicker base of the triangle near the lip, plus, hit the lip as well.
Spool Material
Remember, a good spool is made from aluminum, not graphite; because graphite cracks while aluminum doesn't. Graphite might deform in shape as the line tightens down on the reel through usage – especially for monofilament.
Braid Grip
The braided fishing line spins on a smooth spool. Therefore, look for spools that are designed for the braided line since they work great for other types of lines as well. A braided line spool will have specific mechanisms, like rubber inserts, to grip the braid and prevent any rotation.
Product Recommendations and Reviews
First-hand experiences are helpful in understanding the working capacity of a fishing reel and determining the accuracy and durability of the reel. If someone you know has experience working with fishing reels, ask them first for their recommendation.
Furthermore, checking out the customers' reviews on the web is immensely helpful before you spend your hard-earned money on it. So, visit the leading selling websites, read the reviews and ask questions to the seller or other users when you have any confusion or queries.
It is important to choose the fishing reel according to your requirements in order to get the best fishing experience. A perfect reel is one that goes well with the size of the fish you are planning to catch, the place you aim to fish, and your budget.
Benefits of Buying Electric Fishing Reel over manual ones
Ask any average fisherman about electric fishing reels, and you are most likely to be met with either a laugh or a blank stare. This is because fishing as a sport or hobby did not change much over the years. Many people still use the same kinds of equipment with the same basic fishing methods. So to most people, the idea of using electric fishing reels sounds new and a little absurd.
However, no fishermen can stay further from the truth. Electric fishing reels offer great advantages. They make fishing easier, and they provide useful, saves you from cranking, have a great drag system, and additional features that are not necessarily found on manual reels. After all, it could make you feel like you have some supernatural strength.
As most sports fishermen can relate fishing is a 'sport' in challenging locations. The length of the line that is trolling behind the yacht or boat can be very long indeed. In addition to this, if you hook a fish that makes a run toward the boat, then you need to reel in the slack line as fast as possible, and thus, we have a perfect recipe to furiously crank a reel just to keep up with a relentless fish. Electric fishing reels can easily help you with this since,
It is Easy To Use: Electric reels can be used by disabled anglers as less effort is required. Even a one-armed angler will find these fishing devices very user-friendly. The marketplace is full of numerous electric fishing reels. So, regardless of the fish type you are aiming for, the electric fishing reel will definitely do the job for you.
It Saves You From Cranking: Whether you combined it with a manual override or not, the electric fishing reels are designed in a specific way to save on your efforts from cranking. You will still feel the enjoyment and the thrill of pulling and fighting with the fish, it will be a recreational game but with less effort. You can set the drag based on the fishing conditions and the line you choose upon.
It has a Great Drag System: The drag system adjusted in the electric fishing reels provides great stopping power in addition to the automatic line handling. You do not have to use all your energy in manually cranking those heavy weights up and down. Just by using electric reels, you would be easily able to crank the gear without sweating. It enables you to fish in deep water bodies with heavy weights but with little effort. This is probably the biggest benefit offered by the electric reels. So, if you want to be the best angler with the biggest catch, electric fishing reels would be an excellent choice.
It has Electric Motor: The electric fishing reels incorporate a manual handle override system with the immense power of an electric motor. This makes them an ideal choice for fishermen who love catching big species. Once a fisherman gets tired, he can simply replace his hands with the electric motor of the fishing reel that can take over in a single press on a switch. Depending on the fishing method, type of fish, and fishing location, the available electric fishing reels model features a 12, 24, and 110 volts electric motor, sufficient to catch any fish you want.
Electric reels also add extra functions, such as measuring the length of the line that has been let out from the fishing reel. This helps immensely with accuracy, making sure the correct length of the line is trolling behind the yacht. There are some very good electric reels available in the market for sports fishing, and we have chosen the top 5 for you in this article.
Frequently Asked Questions
How do I minimize damage to my electric reel during use?
Answer: Saltwater is the number one enemy, followed by sand or dirt to the electric fishing reels. Try your best to limit saltwater or sand exposure onto or into the gear. You can do two things:
Wear short sleeves, and avoid your arm laying it in the sand.
Put your gear away while traveling in a boat to avoid exposure to any salt spray.
2 How am I supposed to wash my reel?
Answer: If you fish in saltwater, it is for sure that you will get small amounts of salt on your gear, and salt on gear is not what you expect if you want to use it for a longer period of time. Simply leaving the salt to sit on your gear can be the start of problems. The best protection against salt water is a light spray of fresh water to clean it away. Make sure you secure the drags to avoid water contamination to the drag stack.
Use a garden hose and tighten the nozzle right down until only a fine mist comes out. Lightly "mist" over the outside of the reel to remove all the residual salt. Then spray the rod paying proper attention to the guides. Afterward, hold the outfit near the reel seat and shake off if there's any excess water. DO NOT bang the rod butt on the floor or on the hard surface.
Loosen the drag right back after cleaning so as not to compress the drag washers. Let your gear air dry out in the sun. DO NOT use a dryer.
Whether you fish in freshwater or saltwater, it is recommended to wash your electric reel gear after every usage.
What do I do if my reel gets completely "submerged" in saltwater?
Answer: If your reel has been submerged completely in saltwater, follow the steps as quickly as possible:
Spray the reel with fresh water using a pipe
Shake out the excess water
Have the reel stripped and rebuilt by the service center as quickly as possible (make sure to let the service team know that the reel has been submerged).
Saltwater can start damaging the reel components within days, so it is recommended to follow the above-mentioned steps as soon as possible.
Can I oil/grease my reel?
Answer: Oils should not be used on internal mechanical components of electric reels as they will eventually form thin grease reducing the lubrication of the bearings and gears. However, reel oils and grease are good in some key areas as outlined below.
Oil: Oil is used in reels that are intended for hotter climates where grease may become too thick. The three places where oil is actually useful in colder conditions are:
The handle knob bearings of the electric reels
Line roller bearings of the spinning reels
Spool bearings of the bait cast reels
In these areas, oil can be used often but should be used in very tiny amounts. One drop is sufficient for each bearing and any more will result in waste. Please remember not to put oil down the main shaft of a spinning reel as this is the most occurring cause of a slipping anti-reverse.
Grease: When using grease in an electric reel, it is most effective if used in moderate amounts on parts that contact and move on other relevant parts. Grease is the best lubricant that can be used in the entire cooler months.
It is recommended to apply grease directly to individual parts using a small paintbrush or similar tool rather than squeezing an unnecessary amount of grease into the reel body.
Can I use penetrating Lubricant Sprays on my electric reel?
Answer: It is not recommended to use aerosol-style penetrating lubricant sprays directly on or in any parts of the electric reels. These sprays have a tendency to make more long-term harm to the reels than any short-term benefits. These aerosol sprays dissolve and strip away the grease from bearings inside and gears leaving them dry and brittle, becoming more prone to long-term corrosion.
However, these lubricant sprays can be sprayed onto a clean cotton rag and softly wiped over the reel.
Final Thoughts:
Armed with all this information, you are ready to shop for an electric spinning reel! Look for spinning reels that suit your need keeping things in mind that has been discussed here. Be confident in your choice of fishing reel.
Read More: