If you are looking for fishing carts, be sure to read our complete in-depth buyer's guide where we review the top-rated models available with Pros & Cons
Fishing is one of the most relaxing activities there is. Sure, there's the thrill of reeling it in when you got a nibble, but there's something about being surrounded by water that's truly soothing.
But what usually sets people back from getting into fishing is the thought of carrying all those equipment to the fishing spot. After all, who wants to walk around carrying fishing rods, several baits, and a cooler?
Fortunately, this is all just a misconception. Serious game fishers know that you need a reliable fishing cart to help you carry all your fishing gear in one piece.
If this is the first time you've heard of a fishing cart, you're in luck! Here, we'll introduce you to the best fishing carts in the market as well as a buying guide to help you find the perfect choice. And if you're looking to upgrade your old fishing cart, you'll find our updated selection quite useful.
Read More:
Fishing Carts Reviews!
1.Berkley Fishing Carts
Features & More
Two heavy-duty wheels
Weight Capacity up to 200 pounds
Model: Berkley Jumbo Cart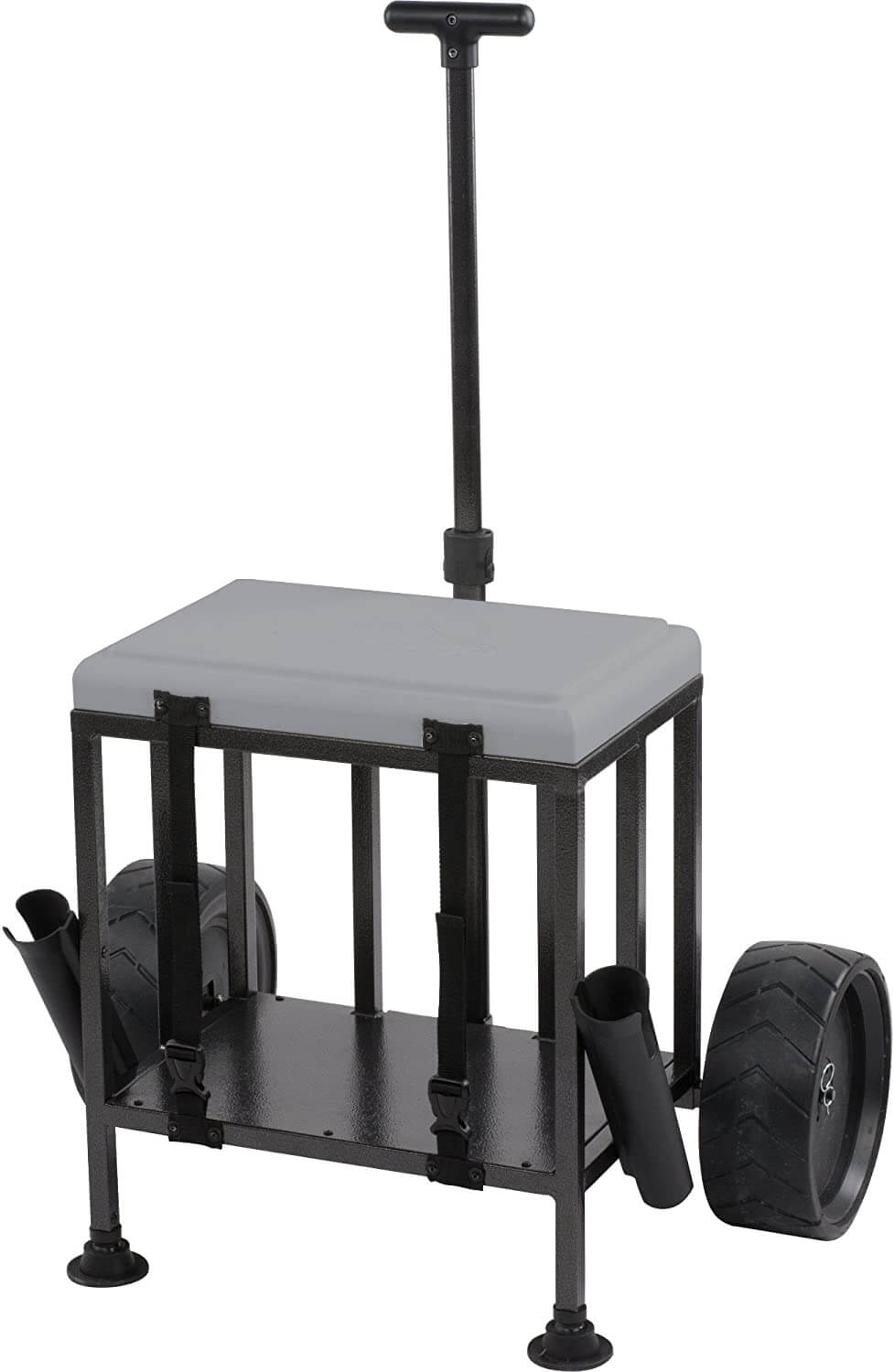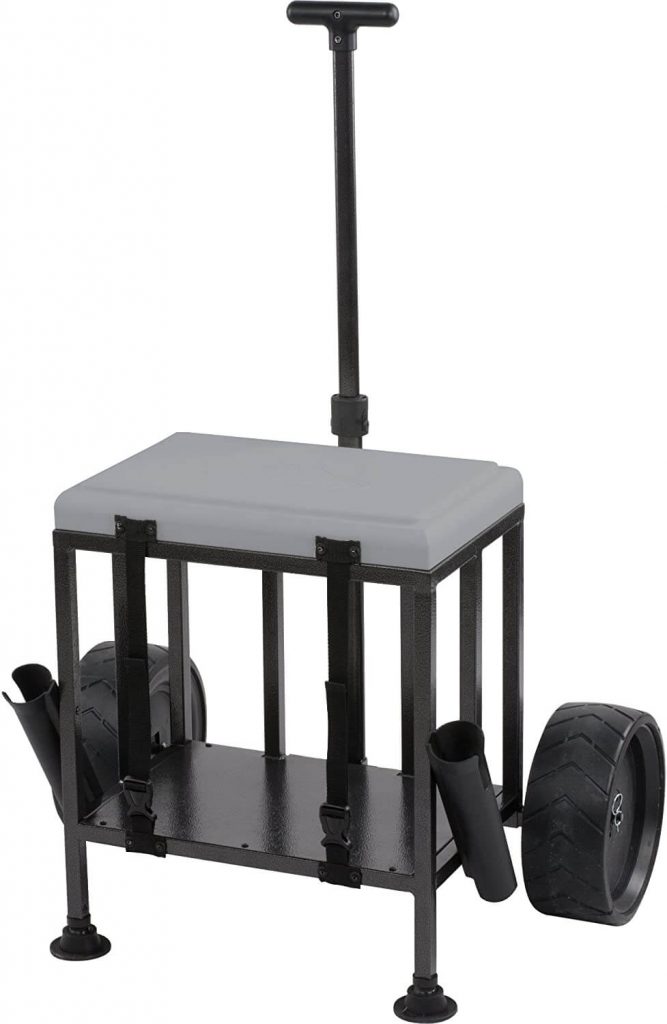 First on our list is the high-capacity Berkley Fishing Carts. If you're looking for a beach fishing cart that offers excellent compact design and storage, this is perfect for you.
Thanks to its sturdy aluminum frame, you don't have to worry about corrosion or rusting. This assures you that the material won't easily become brittle and collapse within a few years of use. Also, aluminum is one of the lightest metals, so maneuverability won't be an issue, either.
Speaking of maneuverability, the Berkley comes with heavy-duty wheels with deep lugs to provide you with excellent traction regardless of the terrain. The handles are also comfortable, so moving your way through the pier or sand will be a breeze.
Thanks to its solid construction and large dimensions, and a maximum load capacity of up to 200 pounds of gear. This is enough for it to carry not just all your fishing components, but a cooler, bait buckets, four-rod holders, tackle box, and chairs as well.
To keep all your gear in place, the Berkley Fishing has a fabric liner that's as durable as its frame. You don't have to worry about smaller items falling out of the cart since the liner will conveniently catch them. This also serves to protect the frame from any possible damage.
We also love that this is designed for the fisher's convenience. Its removable rod holders make the right gear highly accessible, so you don't have to waste time looking for your equipment. It's also equipped with added features such as a cutting board, a bait cup, rod holders, and knife storage to make the most of the experience.
All things considered, there's no doubt that Berkley is the best pier cart in the market today. With impressive functionality, durability, and convenience, we believe that this would make the perfect fishing companion for anyone.
Pros
Cup holders and Cutting board come in handy.
Great carts for surf and pier fishing.
It pulls fine through the soft sand.
You can add extra PVC rod holders.
Cons
The wheel hubs are made of plastic.
---
2.Muscle Carts Fish And Marine Cart
Features & More
Two balloon tires.
Weight Capacity up to 200 pounds
Model: HDBC-BLUE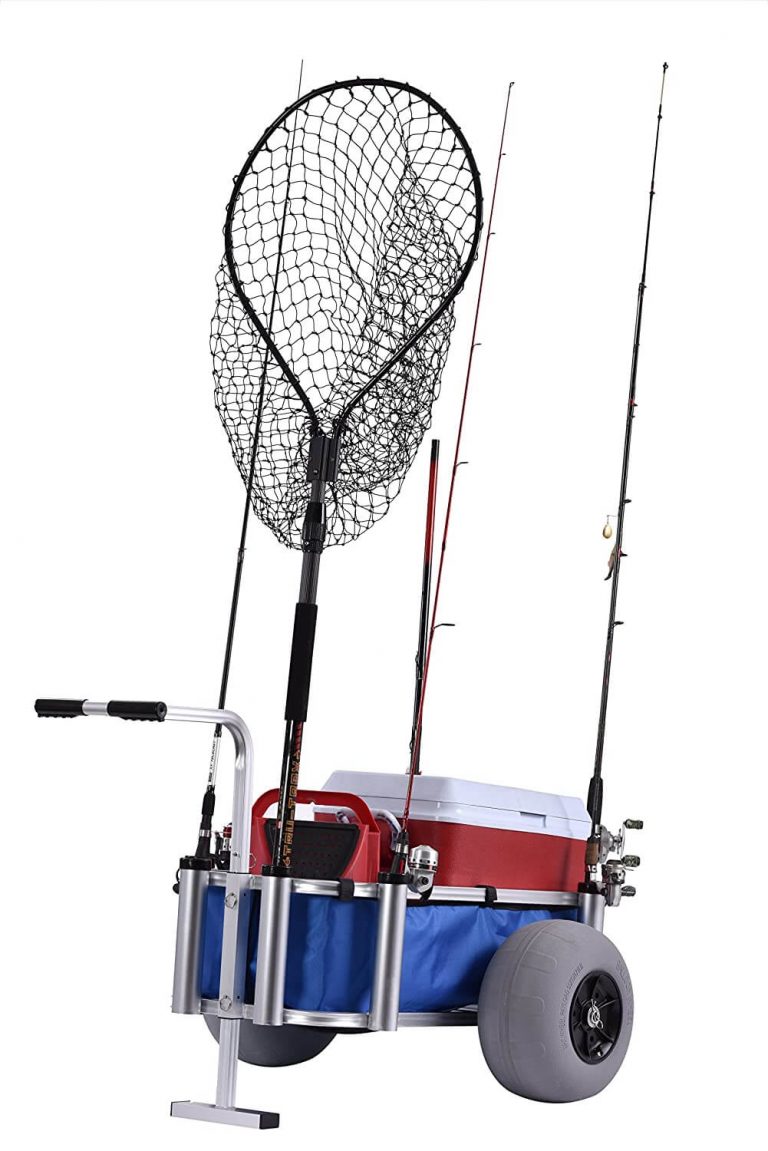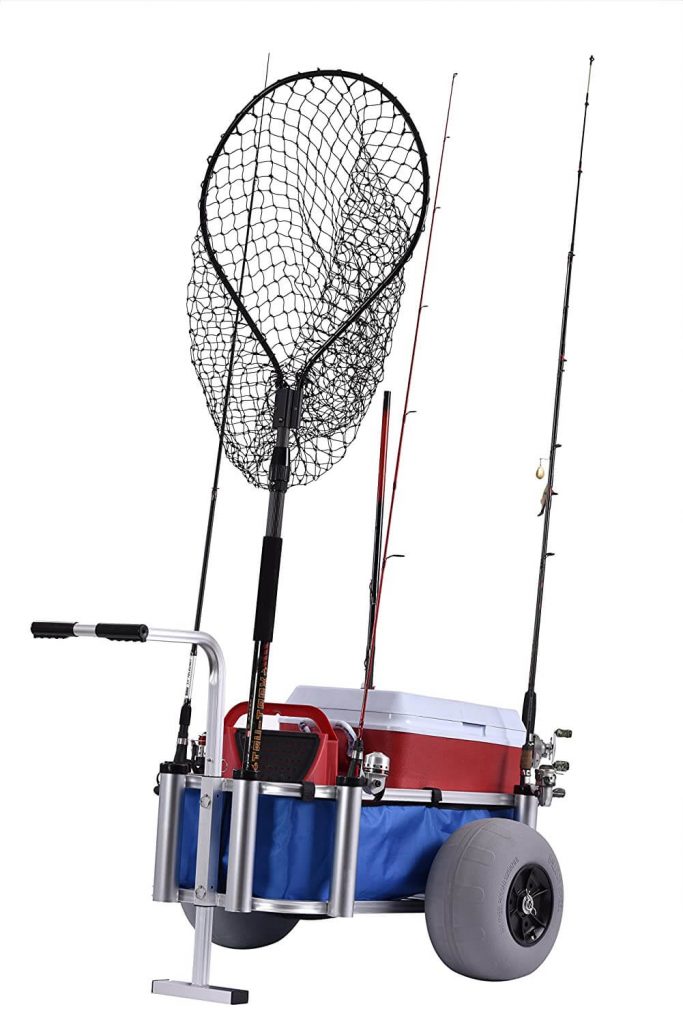 If you're not exactly looking for a surf fishing cart, then the Muscle fishing carts would be right up your alley. With its premium construction and design, this would be great as a beach cart, pier cart, or surf cart.
With dimensions of 40 inches by 20.5 inches by 11.4 inches, you can easily fit your fishing equipment in its decent-sized cart. But since it's narrower than other carts, it's easier to pull and maneuver.
Also, this smaller width makes it easier to transport back home once you're done fishing. And at a weight of only a little over 28 pounds, transportability sure won't be an issue.
But if you love taking a large cooler with you, you might want to size down a bit. The narrower width on the muscle carts limits the size of coolers and bags that could fit inside them. You can also make your own rod holders with PVC pipes.
Aside from its dimensions, we also want to talk about its unique pair of polyurethane wheels. Unlike most fishing carts with pneumatic tires with deep lugs, this unit has large smooth tires. Because of this feature, pulling the cart along soft sand is a breeze – which is why we believe this is best for beach or pier fishing. They're also made of premium polyurethane material, so you know it's durable.
We also love that the front stand on the muscle carts is easily adjustable. You can have the stand's height set on high when you're moving the cart, then simply lower it once you've reached your destination. This lowered position will surely provide your cart with added stability.
Pros
Perfect for beach fishing carts.
Tires have a low-pressure design (2-4 psi).
It is made of corrosion-resistant aluminum.
The low-profile design puts the center of gravity lower, making it hard to topple over.
Cons
The smaller dimensions can be quite limiting.
The wheels tend to develop bubbles.
---
3.Sea Striker-Best Fishing Cart For Soft Sand
Features & More
Two Plastic pneumatic wheels
Weight Capacity up to 54-quart cooler
Model: BRSC-DLX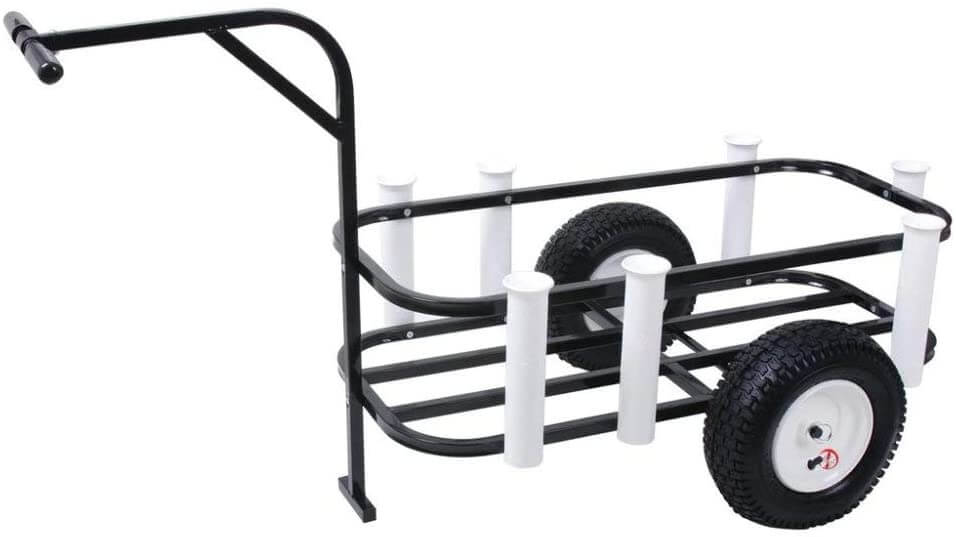 Our next choice for the premium fishing cart on the market is the Sea Striker. But despite its affordable price, we are quite impressed by all the features that it offers.
Coming from a brand like Sea Striker, we had so much to expect from this fishing cart. Fortunately, we were not disappointed.
With its large dimensions, the Sea Striker can fit large coolers with up to 54 quarts in capacity. This assures you that you won't have to compromise what you're taking with you – all your fishing components can fit in this cart!
Also, we love that it has convenient rod holders to provide you with easy access to your favorite gears. With this feature, you can easily pick the rod that you need for the particular catch without spending time to locate where it is.
This not only provides you with unparalleled stability as you maneuver the cart, but it also offers excellent traction to keep it from toppling over. And that's something you need in a good fishing cart.
Surf fishing gear can be heavy, and carrying surf fishing rods and reels, coolers, tackle, and more
All things considered, we are quite impressed with how the Sea Striker cart is designed. It offers an impressive storage compartment and organization while its large wheels help improve maneuverability. This is why we find it hard to believe how affordable it is.
Pros
Comes with multiple rod holders.
Easy to use and store.
Cons
It takes time to assemble and take down.
---
4.Fish-N-Mate 310-Best Beach Fishing Cart
Features & More
15-inch Poly Wheel Tires
Weight Capacity up to 200 pounds
Model: HEN10760008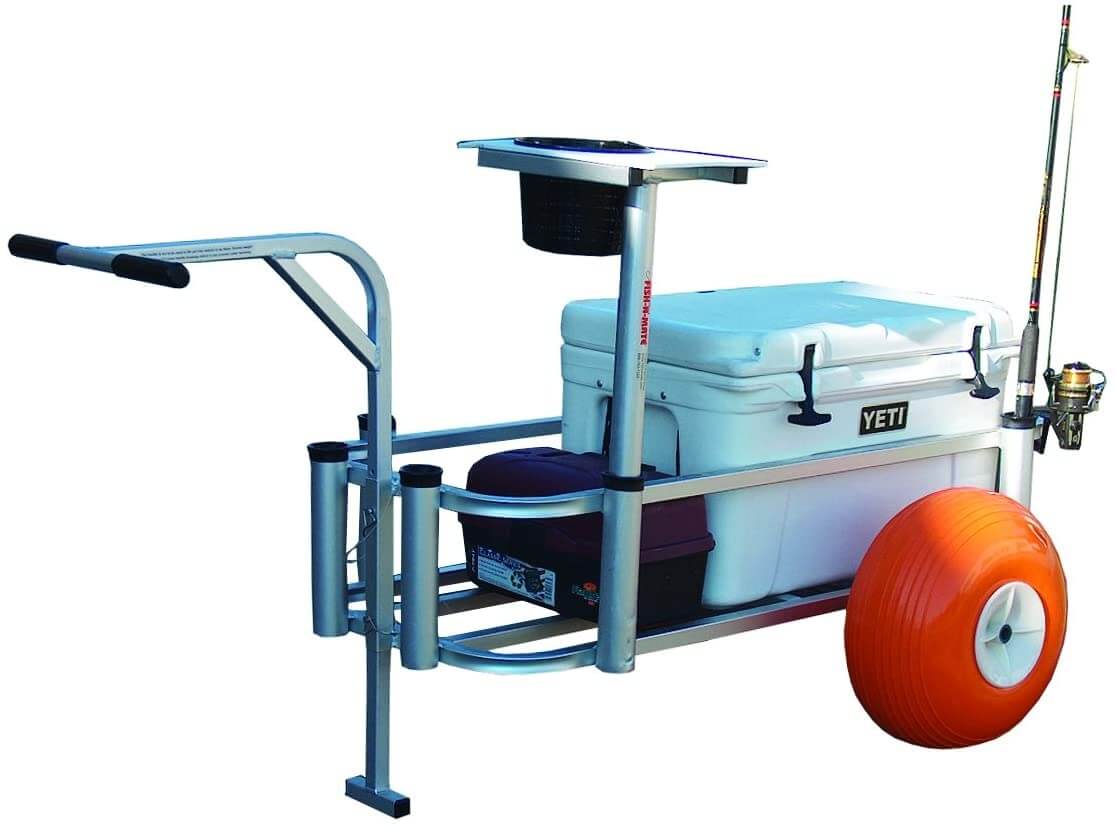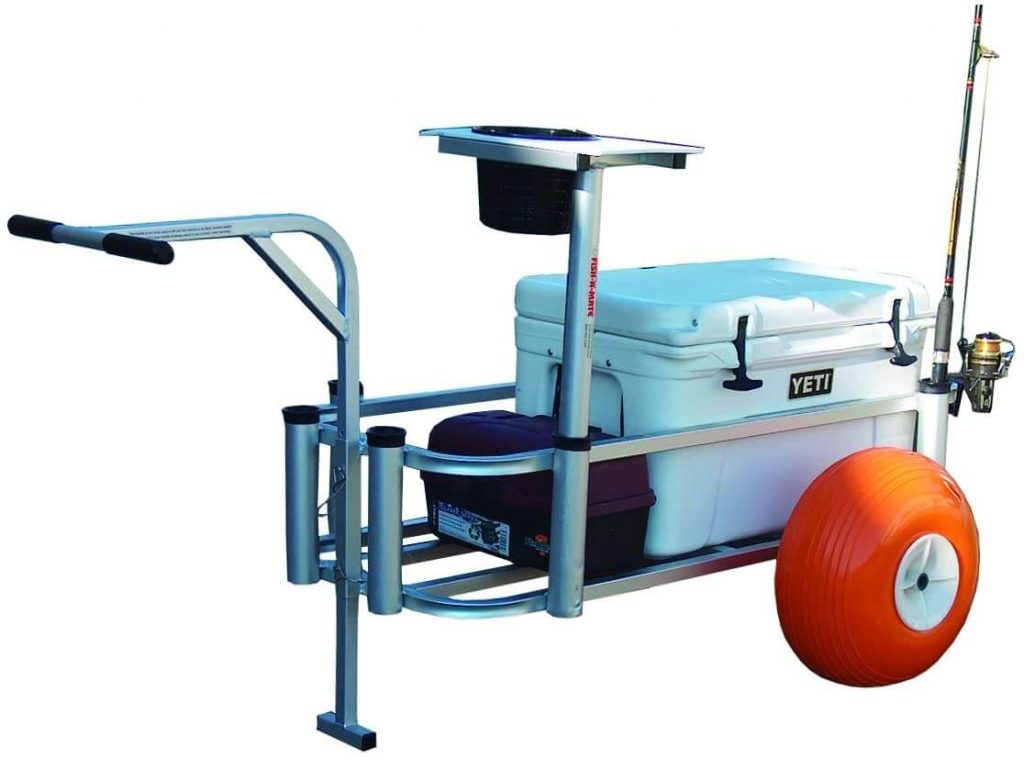 If you're going on a pier fishing trip with your friends, you can't go wrong with this item. Thanks to its sizable dimensions, you can conveniently fit your fishing essentials and still have room for 2 coolers! And if that's not impressive, we don't know what is.
Despite its large size, we were quite surprised that it only weighed a little over 25 pounds. This makes it one of the most lightweight surf fishing carts on this list. This feature also helps with maneuverability, so you won't have to struggle with taking the cart from to another place and large objects over the sand. The Fish n mate is equipped with a rod holder, tackle boxes, and detachable handle.
We also want to add that the Fish-N-Mate 310 comes with a pair of stabilizer legs that hold the weight of the cart with ease. Fish n Mate also keeps it from moving around when it's not in use, so you're assured that your stuff won't be moving around.
Pros
Perfect for surf and pier fishing.
 Handy and easy-rolling cart.
It has a sturdy and durable frame.
Cons
While the poly wheels tires are durable, it is hard to inflate if it gets punctured.
---
5.Gorilla Carts Fish and Marine
Features & More
13-inch solid Wheel Tires
Weight Capacity up to 200 pounds
Model: GCO-5FSH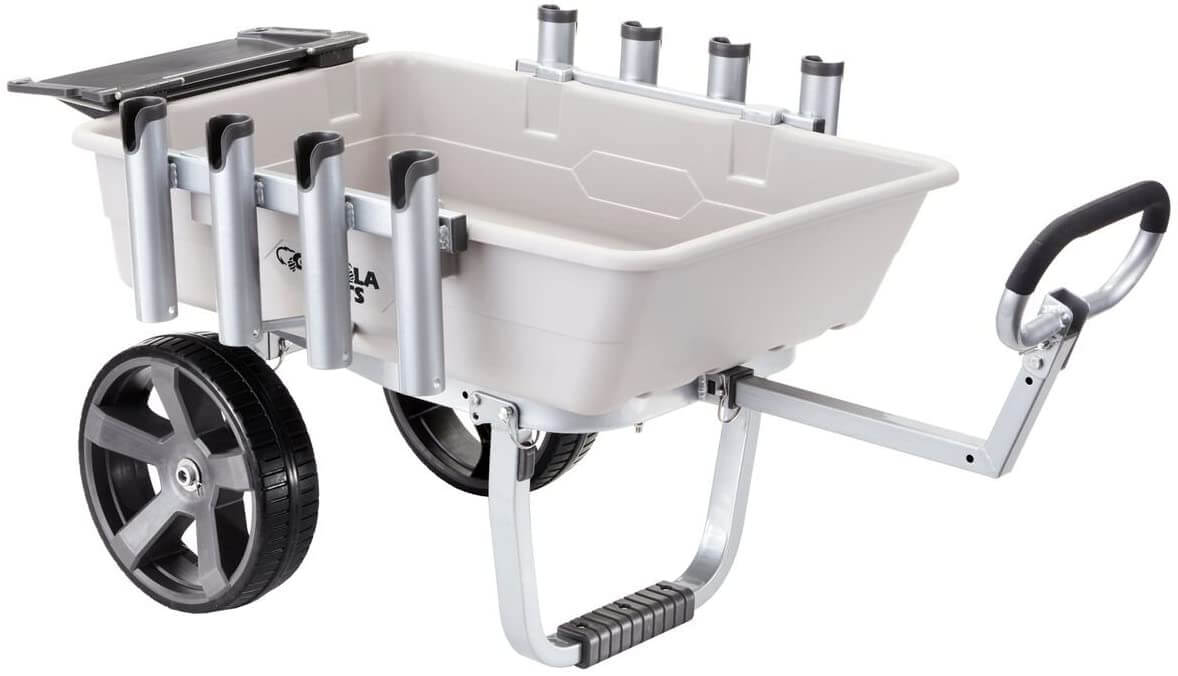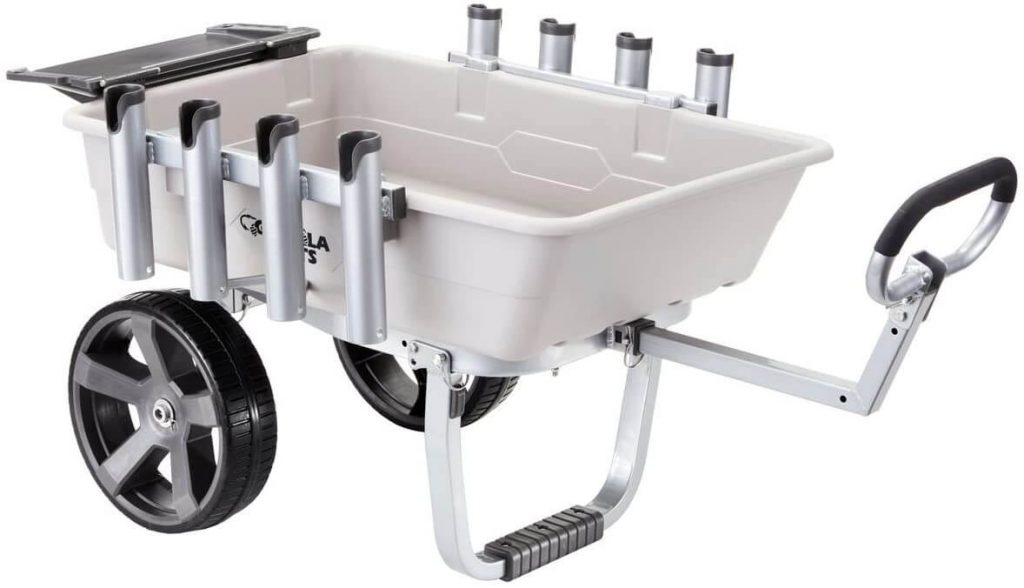 If versatility is what you're after, we're sure that you'll love the Gorilla Fishing Cart.
We won't deny that this fishing cart is one of the most stylish we've seen in the market. It has a sleek polished finish that will surely turn heads wherever you take it. But aside from its undeniable style, the Gorilla Poly also boasts superior durability – thanks to its solid all-terrain tires, tray, and rod holders. This assures you that it's built to last for a long time.
This spacious fishing cart can accommodate all your components, including coolers and foldable chairs with ease. It even has a 200-pound load capacity, which guarantees that you can take everything you need with you.
We also love how the Gorilla fishing cart is designed. There's no denying that much thought went to its design to ensure the user's convenience. Aside from its fishing rod holders, it also has a foldable tray where you can put your bait to help you get ready. It even has slots for lures and tools, making it easily accessible in case of emergencies. And that's truly impressive.
Another feature that's meant for our convenience is its solid 13-inch tires. These all-terrain tires do not deflate, making them low maintenance. You don't have to worry about a flat tire while you're in the middle of your trip anymore.
Pros
Versatile and sturdy.

It comes with 8-rod holders, a foldable bait station, and slots for lures.
Very easy transport and store.
Cons
It is hard to maneuver in deep sand.
---
6.Drifter Marine
Features & More
Two solid Wheel Tires
Weight Capacity up to 125 pounds
Model: Drifter Marine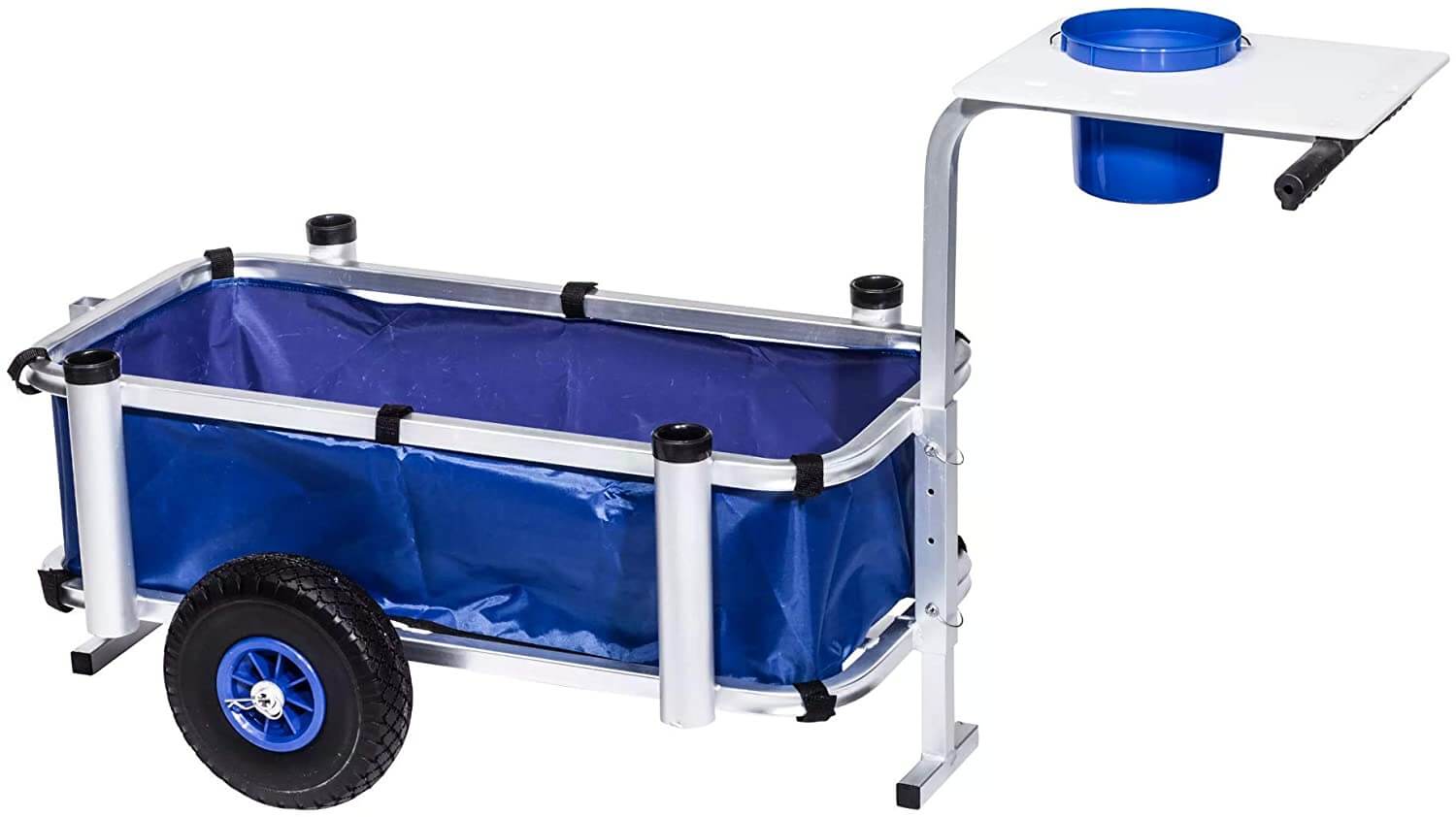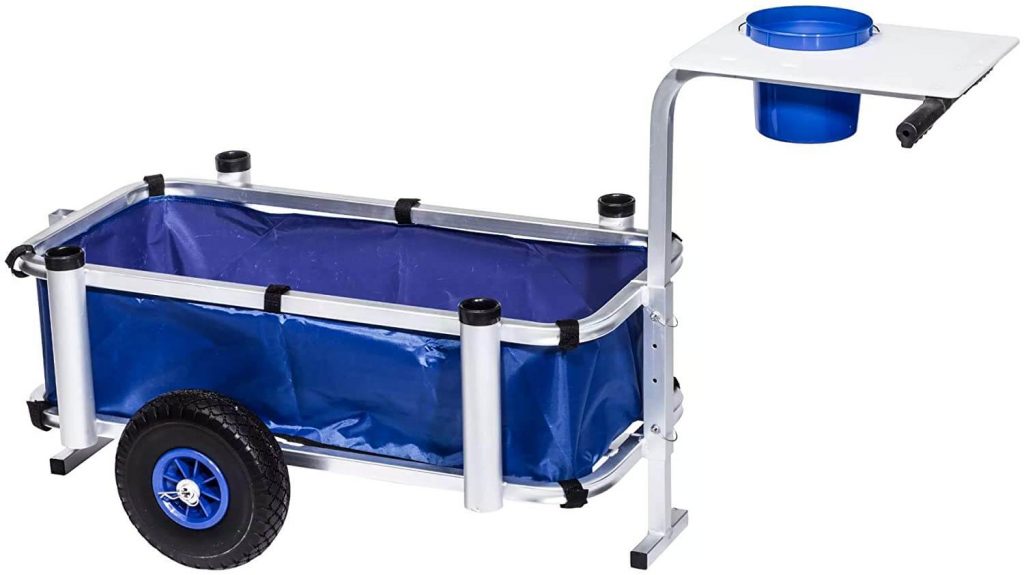 At first glance, you might think that this surf fishing cart doesn't have much to offer. But if there's anything that proved us wrong, it's for judging its appearance.
This surf fishing cart is undoubtedly built with our convenience in mind. It boasts an All-in-1 system that allows you to transport all your fishing needs in one cart. Aside from its decent 125-pound capacity, it also features a dual-bucket design, fishing rod, so cutting bait won't eat up much of your time. This definitely saves you the time to fully enjoy the trip.
The Drifter Marine comes with a custom cart liner that has a convenient mesh bottom. This feature helps keep sand away but without allowing small lures or baits from falling off the cart. With this cart, you don't have to worry about losing your lures and other small items.
And since the Drifter Marine cart was built to withstand corrosion, there's no doubt that it is one of the best beach carts for saltwater areas.
Pros
Cutting Board With Dual-bucket designs.
It is corrosion-resistant.
The mesh bottom on the custom cart liner makes it easy to clean.
Ideal for saltwater environments.
Great for surf fishing cart.
Cons
As of writing, there are no negative reviews of this fishing cart.
---
7.Tipke 2100-Best Folding Fishing Cart
Features & More
Sturdy 20-inch pneumatic Wheel tires
Weight Capacity up to 350 pounds
Model: Tipke marine 2100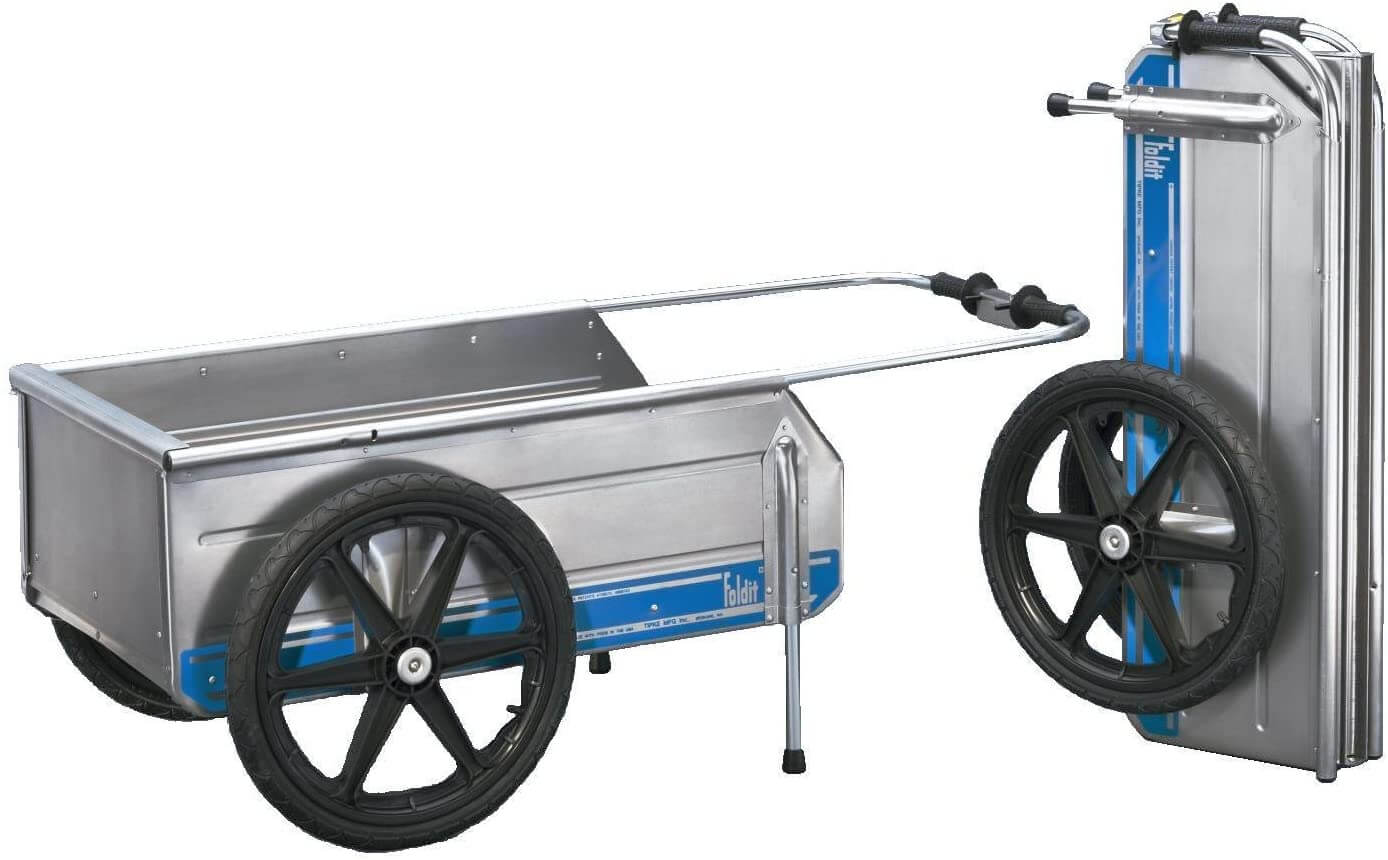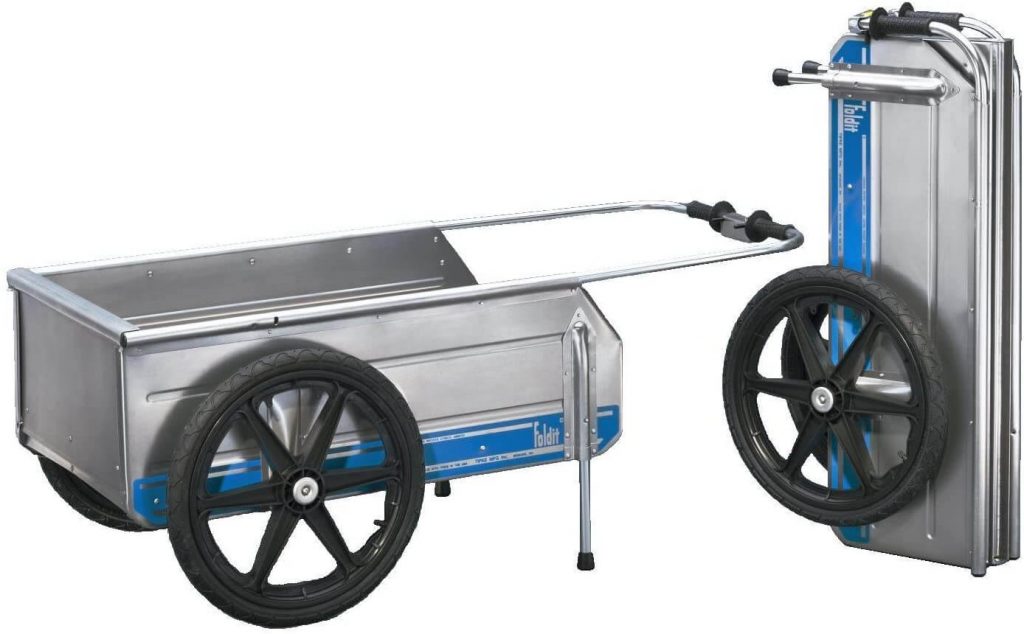 With its superior construction, it boasts a maximum cargo capacity of 350 pounds and a storage space of 2 square feet. That's how you know it's one heavy-duty cart.
The Tipke 2100 cart is made from aluminum that's known for its durability and strength, which is how it is capable of such an impressive load capacity. And since aluminum is also lightweight, maneuverability won't be an issue, either.
Also, since the material used for its frame is marine-grade aluminum, corrosion and rust are the least of your concerns. Thus, you know that you can use it for years to come.
But despite its massive size, we were impressed by its foldable design. So as soon as you reach your destination, just take it out of your car, fold it up, and you're ready to begin your fishing adventure. And once you're done, taking it down for storage will be a breeze. This guarantees that you'll spend your time having fun instead of just trying to set up the cart.
Things considered, we believe the Tipke 2100 folding fishing cart is perfect for anglers who need the large capacity to stow all their fishing needs.
Pros
The marine-grade corrosion-resistant.
It is foldable and highly portable.
It has large 20-inch tires for excellent stability and traction.
Easy storage and heavy-duty.
Cons
It is not very durable.
Some users report frequent flat tires.
---
8.Angler's 150
Features & More
Two solid rubber tires
Weight Capacity up to 330 pounds
Model: anglers 150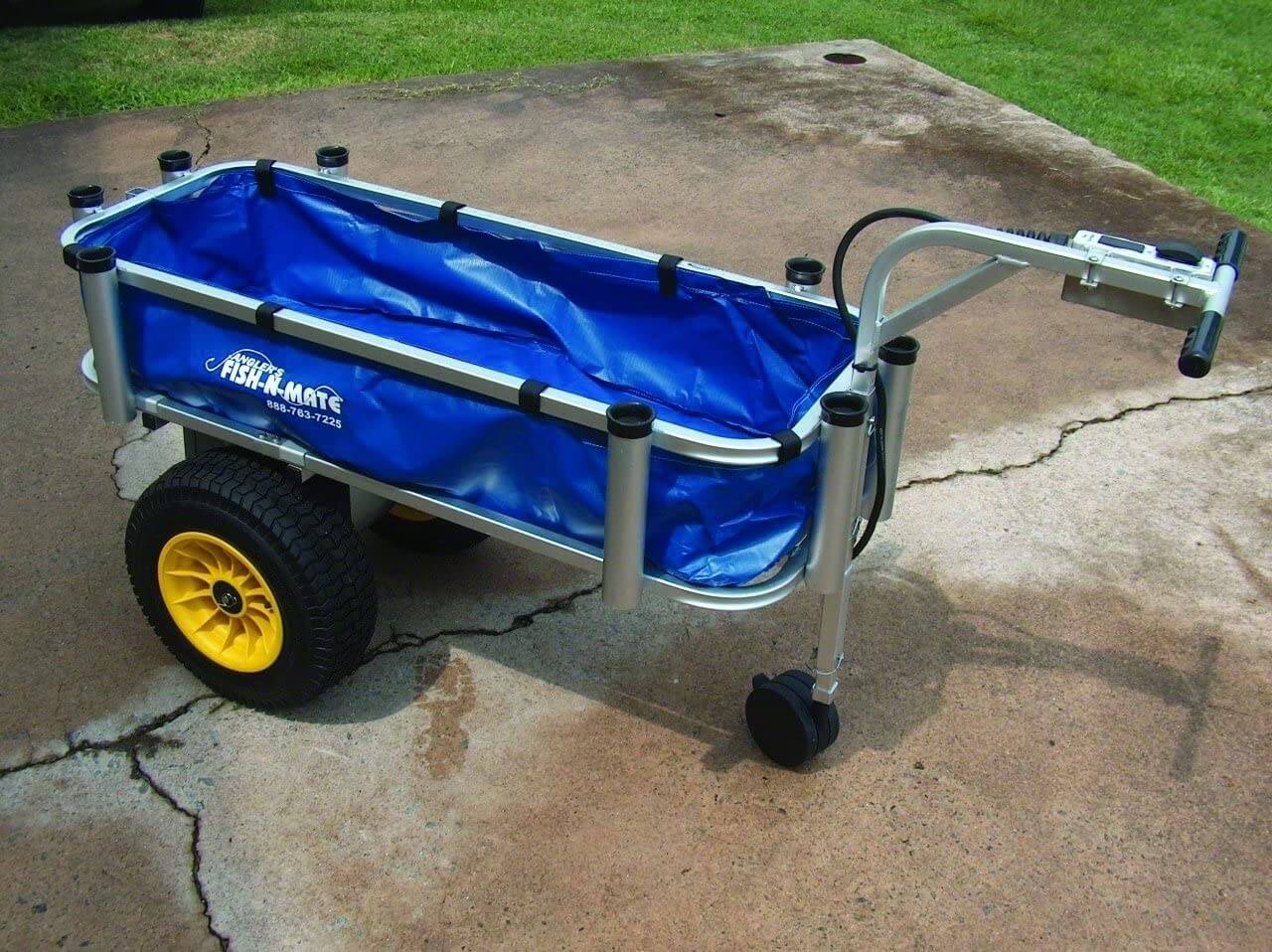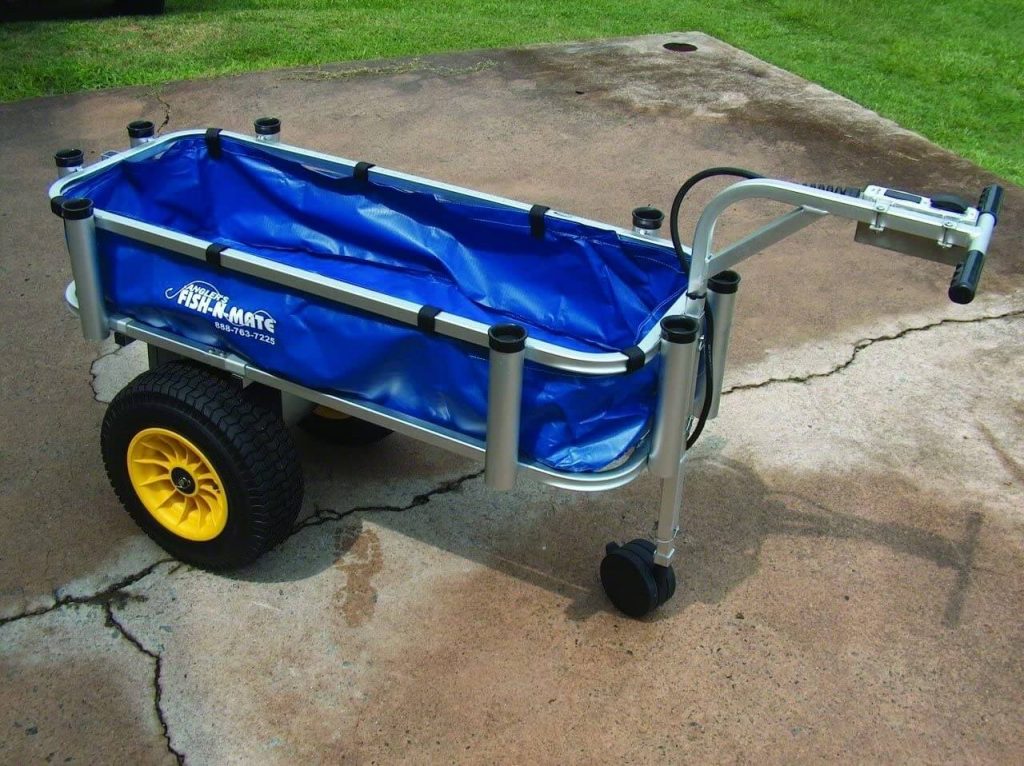 If you're simply looking for a durable liner for your cart, we believe the anglers 150 will be your best bet. Despite its affordable price, we were quite impressed by its design and construction.
The Angler's 150 is made of premium canvas material that's as tough as liners should be. You don't have to worry about it ripping after getting caught, in whatever you put in the cart.
Also, we love how it comes with built-in velcro closures, making it easy to install and remove. Just wrap the velcro tape around the frame and you're good to go. With this cart liner, you don't have to worry about tying complicated knots to make sure that it doesn't move in place.
Thanks to its 14-inch by 14-inch by 14-inch dimensions, it fits like a glove in most large beach carts.
The anglers 150 Fishing Cart Liner also comes with a convenient built-in drain hole. This keeps the interior clean and dry, making it easy to clean after your trip.
Pros
It is very easy to install and remove.
It comes with a built-in drain hole for easier cleaning.
Fishing Cart has 8-rod holders
Easy storage
Cons
As of writing, there are no negative reviews of this item.
---
Fishing Carts Buying Guide
Despite all the options we've enumerated, we understand that some of you are still confused as to which one to pick. To make it easier for you, here is a detailed buyer's guide to help you narrow down your choices.
Construction
The first thing you have to consider is how well the frame was built. Since the frame will be taking in full weight from your cargo, it has to be made with strong and sturdy materials.
One of the most popular materials for a fishing cart is aluminum, owing to its superior strength but without being too heavy. It's also resistant to rusting and corrosion, making it highly durable. An affordable alternative is steel material, but it can be quite heavy.
Wheels
You should also consider the wheels used for the cart. It must be able to take on the full weight of the cart and cargo while also improving its mobility. Thus, it needs to be stable and durable.
Also, you should consider where you're planning to fish often. For example, soft sand is harder to navigate through, so you have to make sure that the wheels can move freely on this type of surface.
You can purchase it separately. Plastic wheels and rubber tires. There are some reports of the wheels warping
Maneuverability
The maneuverability of the fishing cart is also essential. Aside from having ergonomic handles, the cart as a whole should feel balanced, so moving it around won't be a problem.
Capacity
And finally, you should consider the capacity of your cart. Aside from your fishing equipment, you might also need to take a cooler with you for refreshments and other survival basics. Thus, make sure that the fishing cart is big enough to carry full of fishing gear with you.
Also, some have special pockets to help you organize all your belongings. Take that into consideration before you buy one.
Fishing Carts: Benefits
If you still think that fishing carts aren't worth the money, we believe the following benefits will help you change your mind.
Improved Mobility: these are here to help you get all your gear to your favorite fishing spot. Instead of making multiple trips to your car, a fishing cart will surely save you time and effort.
Organized Fishing components. The most fishing cart now has multiple pockets that allow you to organize your gear. You don't have to worry about losing your tools and gears on each trip.
Convenience. Another modern feature of the most fishing cart is built-in features like trays and chopping boards that certainly make things easier for you. And that can certainly make the whole experience more memorable.
Fishing Cart FAQs
What is the best fishing cart?
To be honest, we believe all the items we enumerated on this list deserve to be called the best. After all, we have different preferences that come into play when we choose what's best for us.
But if we are to simply look into its features and what it has to offer, we believe the Berkley Fishing Cart is the best in the market today. With its superior construction, large capacity, and convenient features, there's no doubt that it can take your fishing experience to the next level.
Is aluminum a good material for a fishing cart?
Yes. Aluminum is one of the best materials when it comes to the construction of a fishing cart. Aluminum is known for its superior strength while also being incredibly lightweight. This makes it easy to maneuver and highly durable. And that's why it's the perfect material for fishing cart frames.
Are fishing carts easy to transport?
Because a fishing cart is designed to help you move your fishing components from place to place, it's only natural that they are easy to transport. That's why the fishing cart has collapsible designs that make them compact and highly portable, so you can take them to your every fishing trip.
Final Thoughts
To conclude, the best fishing carts have to be durable, portable, highly maneuverable, and largely capable of carrying all your equipment. Bear in mind that its goal is to improve how you fish, so you shouldn't waste your time on one that doesn't have all these characteristics.
Lucky for you, you don't have to waste more time looking for the best ones in the market. We already took the time to test them out for you, so you can simply browse through our top-notch selection.
And if you still can't decide among them, simply consult our guide for more information. We guarantee that you'll be able to find the perfect fishing cart for you in no time.
More articles:
Berkley sportsman s pro cart