Imagine: you are out on a lake for fishing when your hook is snagging at the bottom of your carrier. You might be pulling and yanking everything out, but you still can't get it unstuck. You could be digging blindly through you your bag, stabbing yourself on other gears only to find it out ten minutes later.
Or it could get even worse if you leave your hook inside the car because you did not know how to carry it at all.
Now imagine: you are out on a lake for fishing when you calmly open your tackle bag, in about ten seconds, you pull out whatever is necessary for you.
Which of these anglers would you want to be?
We are hoping the 'organized one'? Well, in this article, we will introduce you to some of the great fishing tackle bags that will help you get hold of the right gear at the right time, instead of going through a number of things and not the only one thing that you need.
Ladies and gentlemen, buckle up your seatbelts and read about the best fishing tackle bags available in the market.
Read More:
Best Fishing Tackle Bags We will Cover Today
1.Best Choice-Piscifun Shoulder Fishing Bag
2. Premium-Wild River Nomad
3.Best Isulated-Piscifun Insulated Cooler Backpack
4.Best Soft-Ugly Stik Fishing Tackle Bag
5.Best Portable-Piscifun Outdoor Fishing Tackle Bags
6.Best Large-KastKing Fishing Tackle Bags
7.Best Rollar-Elkton Outdoors
8.Best Heavy-duty-Okeechobee 
9.Best Rod Holder-Allnice Thickening Canvas
10.Best Looking-Spiderwire Wolf Tackle Bag
Fishing Tackle Bags Reviews!
1.Piscifun Fishing Tackle Storage Shoulder Fishing Bag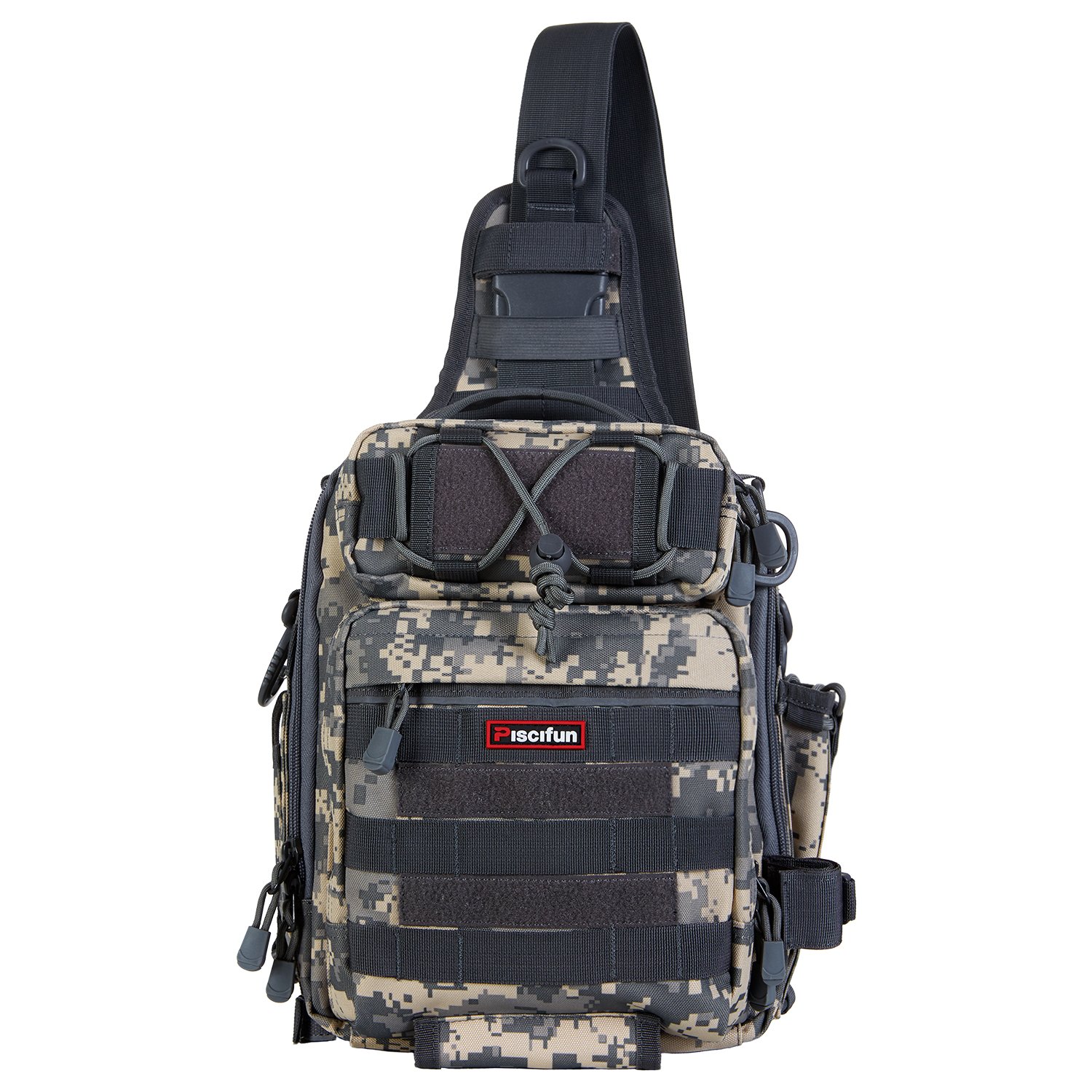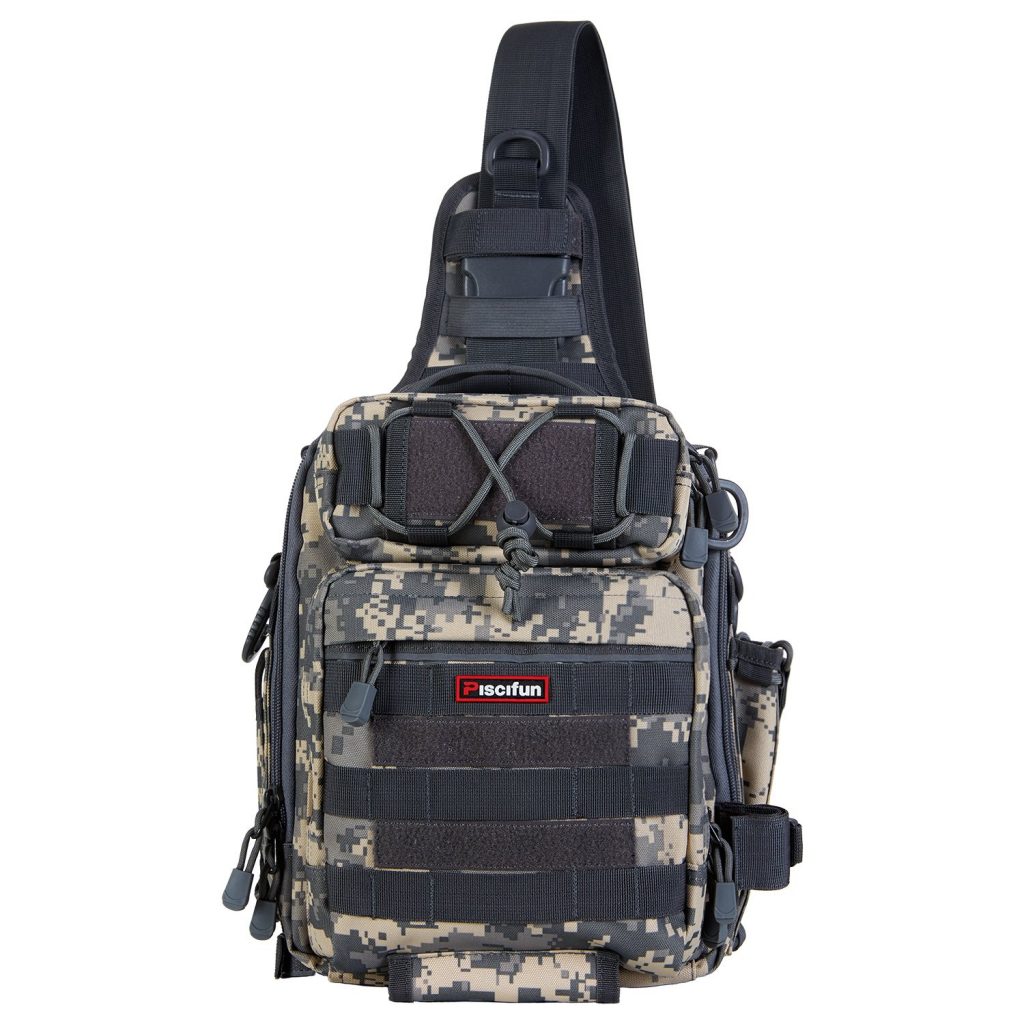 To kickstart our list of best tackle bags from Piscifun has astounded us, and we bet it will amaze you too. It's perhaps the best bag to keep your belongings tight and safe to yourself for a great fishing experience.
The sling bag itself is super lightweight and multifunctional. It comes with multiple pockets for you to store all your essentials in different chambers. Therefore, you will be able to find your needs easily while you are on the go.
All things considered; this bag is of perfect size. It's about 14.96 x 10.24 x 4.33 (LxWxH). The bag is designed for you to store your passport, smartphone, and any other accessory that you don't want others to see easily.
Above all, the unique double adjustable waist belt makes it the show stopper. You can personalize its fit to about 36.2″ along with its quick-release buckle. There are a loop and hook fastener that holds the extra part of the belt.
With that being said, it is an excellent bag with five outer pockets, out of which two of them are extra zippered pockets, one mesh pocket, and two hooks and loop fastener pocket, all of which provide an organized space. You can even keep your water bottle and keys at the two mesh pockets for easy access.
Pros:
Multifunctional
Perfect size for carrying around the waist
Zippered pockets
Comes with a double adjustable waist belt system
Cons:
Most consumers have complained regarding the zippers
2.Wild River Nomad Tackle Bag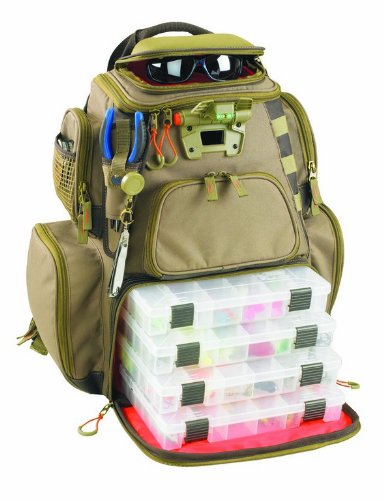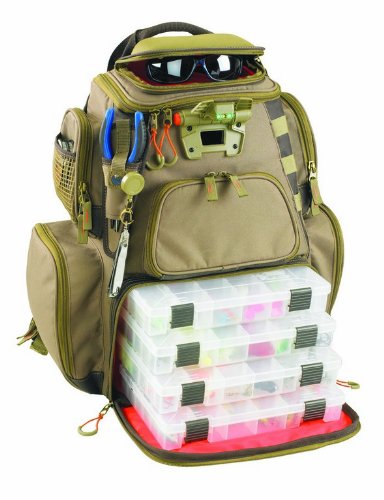 Never judge a book by its cover. You might be thinking that it's another one of those ordinary fishing tackle bags, but look closer; you will see that it's a single solution soft backpack cum tackle bag.
If you want to go fishing even in the evening, that's totally possible as the LED light system featured in the system provides white light for better visibility. Now, this is something new!
More unique features in this tackle bag include a mounted molded sunglass holder that keeps your designer sunglasses in the right shape. Other than that, you get a removable plier holder that makes your plier easy to find when it goes from bag to belt.
This bag is famous for its protective abilities. It comes with a protective rain cover that you can quickly deploy during rain in order to keep your tackle backpack and belongings safe.
Your opportunity to organize your gears is endless with the Wild river nomad. With four side pockets and a large compartment to hold four medium 3600-style trays, I think it's more than enough for an angler.
Overall, it's a very well-thoughted design of the tackle bag. You will have no issues finding for your belongings from the Wild river nomad; instead, you will appreciate this innovative design.
Pros:
Separate sunglass storage
Comes with LED lights for better visibility
Comes with rain cover
Easy access open storage
Cons:
3.
Piscifun Insulated Cooler Backpack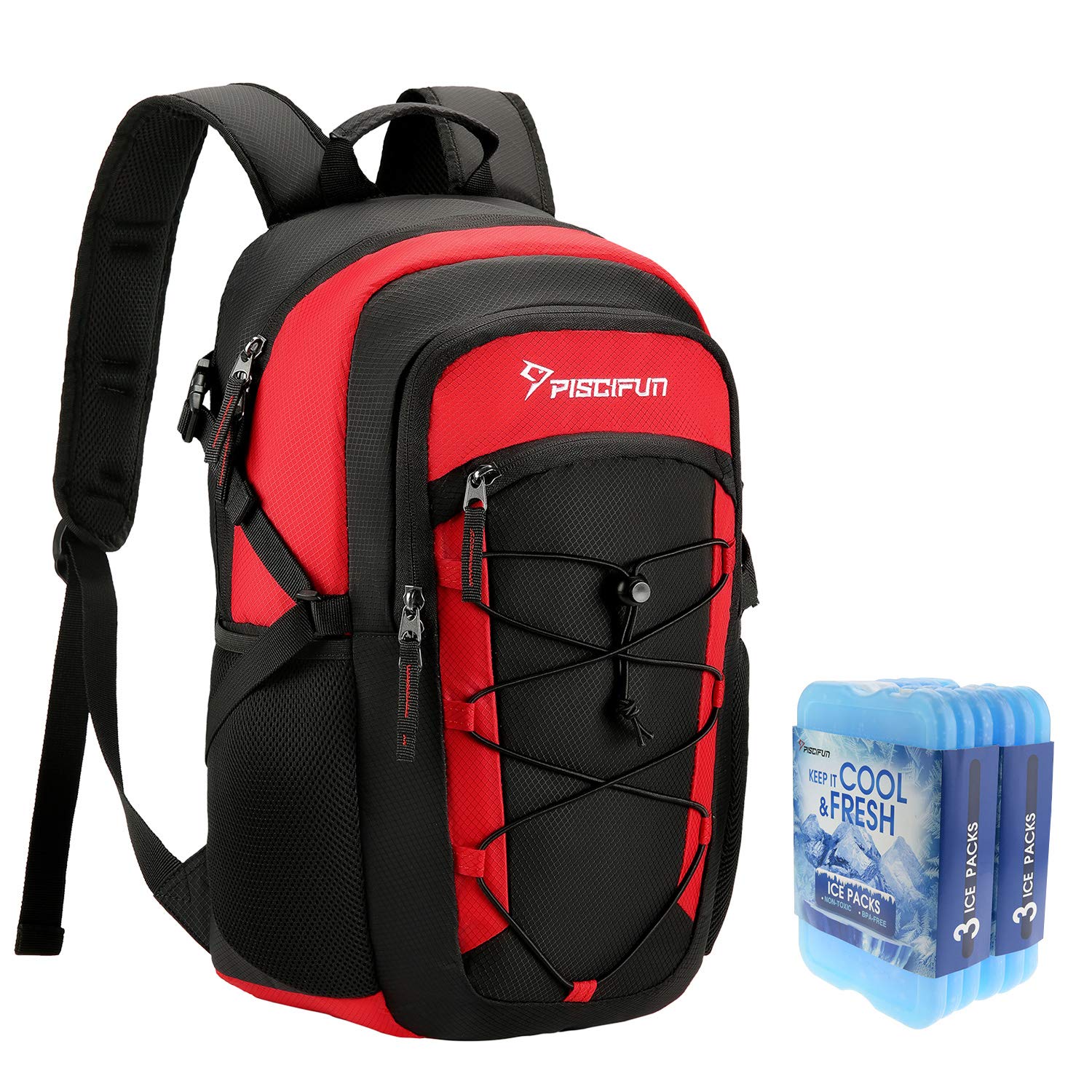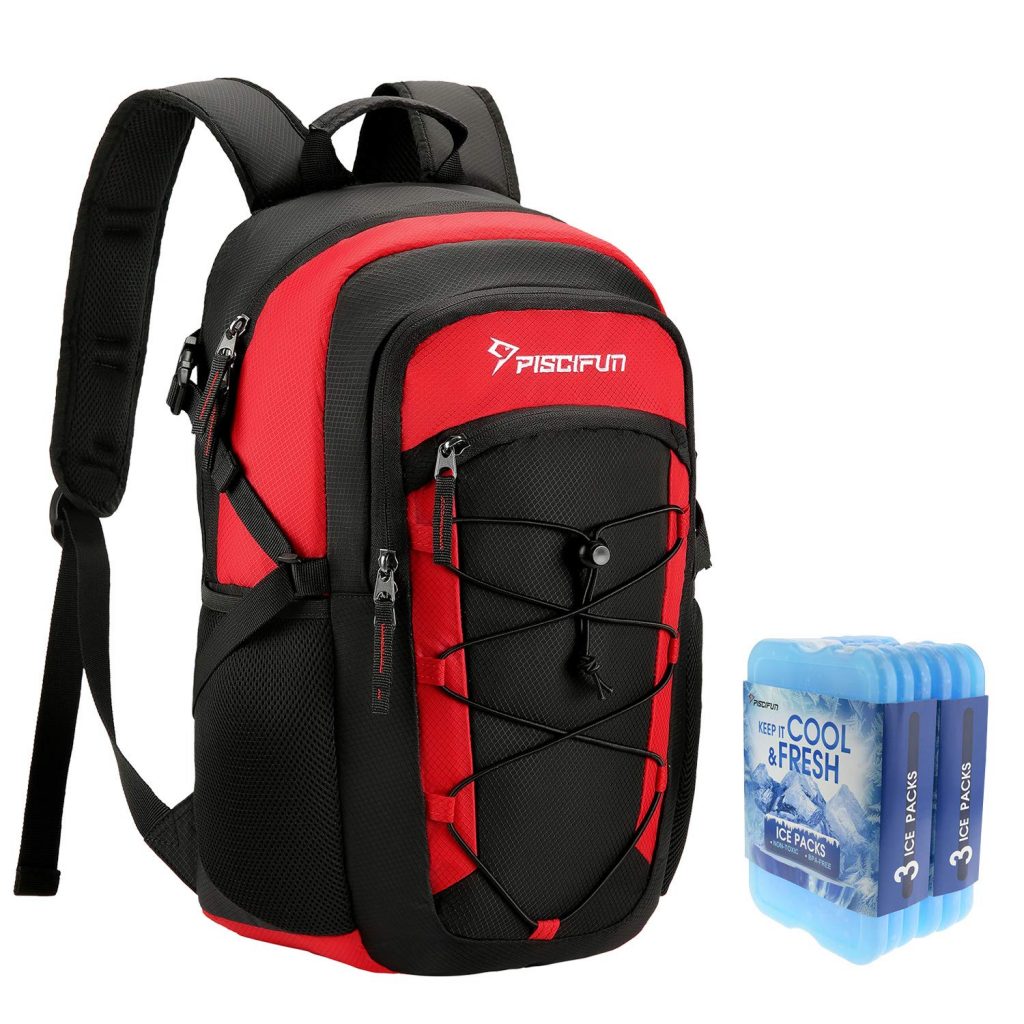 If you are an outdoors enthusiast and enjoy doing your hobbies in nature and in the wildlife, then you probably know that you need a cooler backpack. Generally speaking, the cooler backpack is quite convenient for those who enjoy outdoor activities or simply spending most of their time outside. The backpack helps save their snacks and keep their drinks as cold and as long as possible. One of the best and finest backpacks we can find on the market is the Piscifun insulated cooler backpack.
When it comes to the Piscifun insulated cooler backpack, two of the most important traits that we can mention are the lightweight design and durability. Built-in with a very solid nylon fabric, the material used enhances the strength of the back while diminishing the overall weight. The backpack also comes with two face condensation bands that help reduces the tension and pressure on the zippers area. Still talking about the material, the Piscifun cooler backpack is equipped with high-frequency Heat Welded technology that does not permit any kind of leakage making it leak-proof.
Not to forget to mention, the fact that the bags are very easy to clean. Another important feature of the Piscifun insulated cooler backpack is its ability to hold drinks cold for no less than 18 hours in temperatures below 50°F. The backpacks are designed with 4 layer back that improves the thermal insulation outcomes.
Pros:
durable and comfortable
easy to clean
leakproof
ergonomic
Breathable material
adjustable shoulder straps
user-friendly
Cons:
not spacious and roomy enough for some users
4.Ugly Stik Fishing Tackle Bag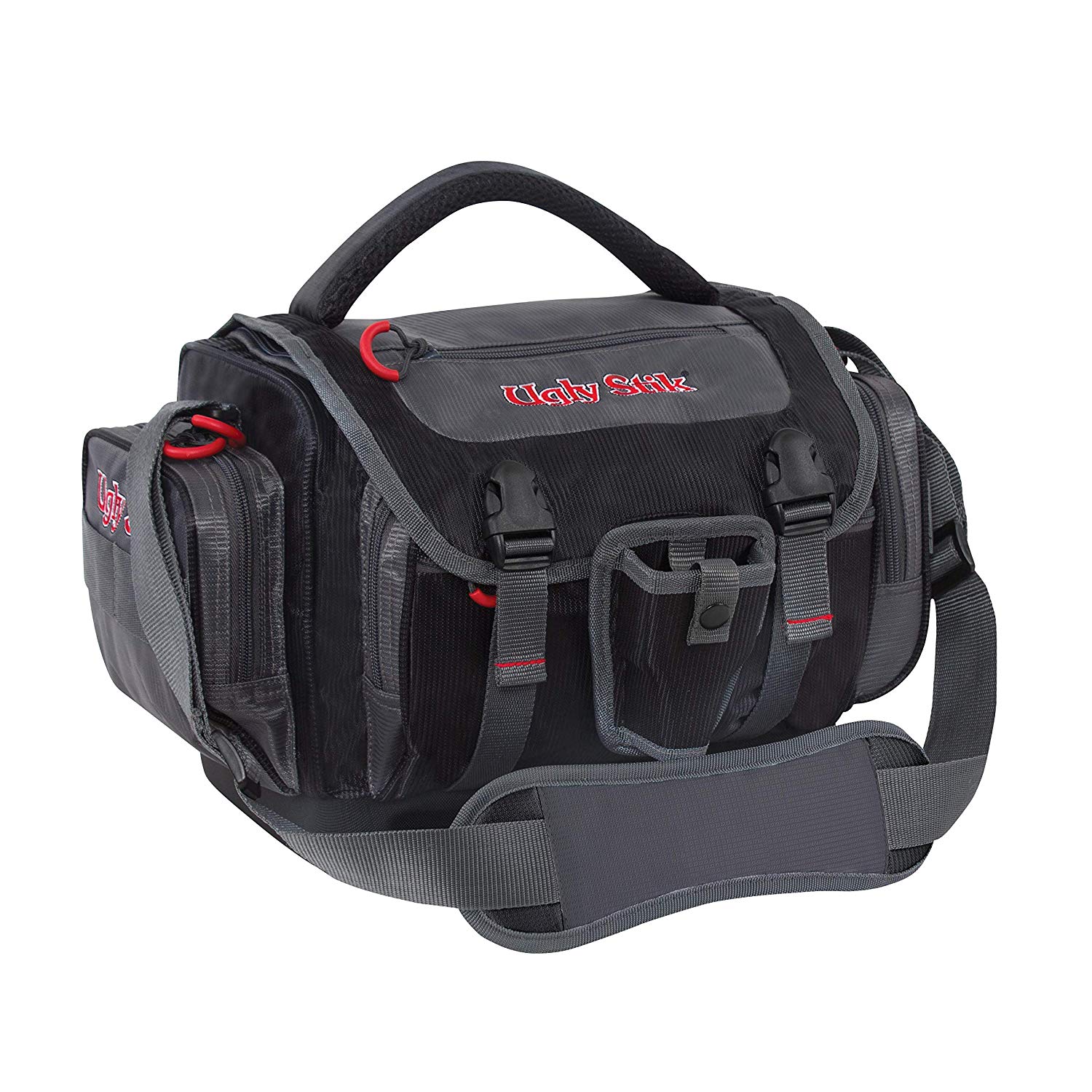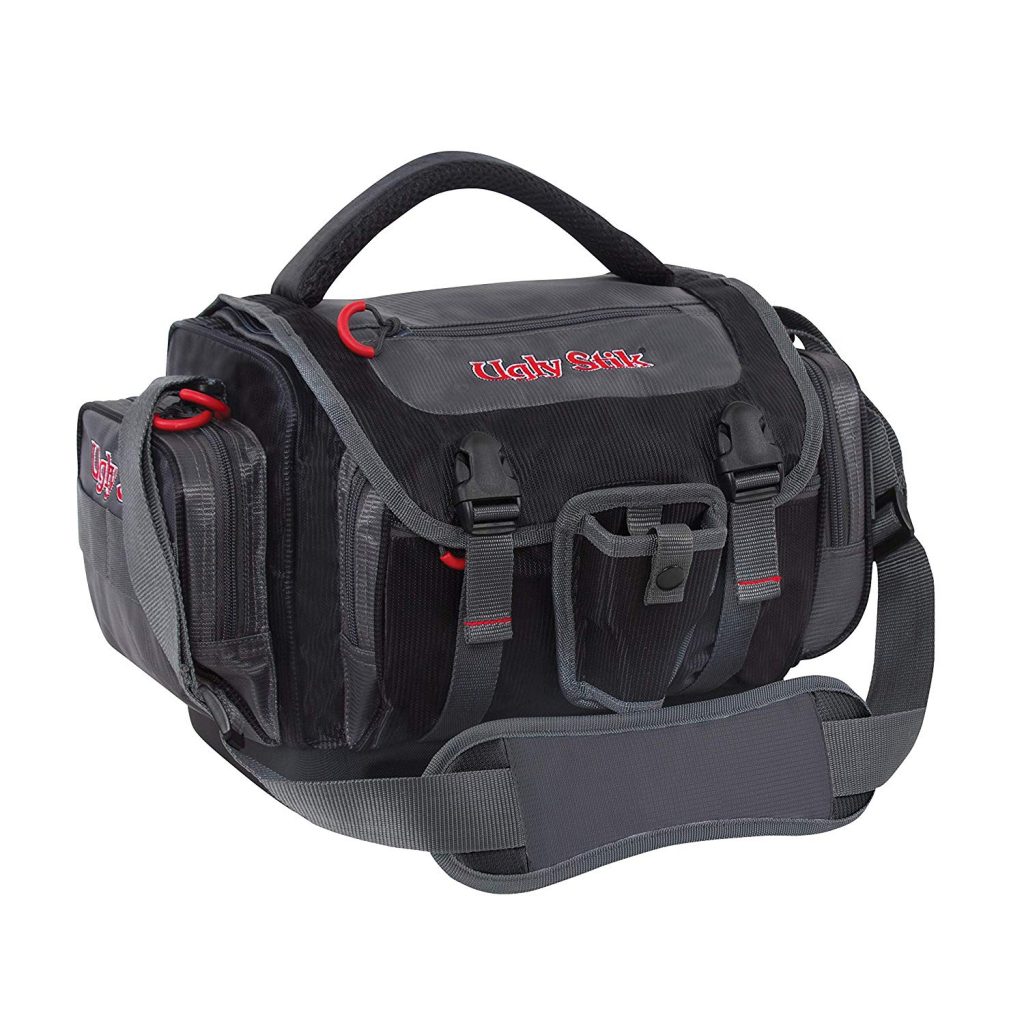 Okay, now we know that the name of this tackle bag might sound weird, but if you take a look at it, you will see a completely different thing; it's actually pretty cute! And speaking of its features, you will love what it has to offer.
Made from 100% polyester fabrics, this pure synthetic-fiber derived material is sure to save your stuff from getting wet. In other words, the tackle bag is entirely water-resistant.
This soft-sided fishing bag can hold about 20.8 liters of equipment inside and has got extremely versatile storage options. No matter where you keep it, it won't slip away.
One thing is sure about the fishing tackle bag, and that is it's very spacious. With dimensions of 10.2″ x 6.6″ x 1.6″, it can hold up to four large tackle boxes. And of course, the foamy, padded shoulder strap, and mesh top handle makes it easier for you to carry it around.
For extra protection, the bag comes with three zippered external accessory pockets. It has got a removable tool holster along with belt clips. All that it comes with, the best part about the Ugly Stik Fishing Bag is that it is backed by a lifetime warranty from the manufacturer. You can buy this confidently!
Pros:
Three zippered external accessory pockets
Spacious
Soft-sided fishing bag
Padded shoulder strap that makes it easier to carry
Cons:
The containers are relatively smaller; not big enough to store the fishing lures
5.Piscifun Portable Outdoor Fishing Tackle Bags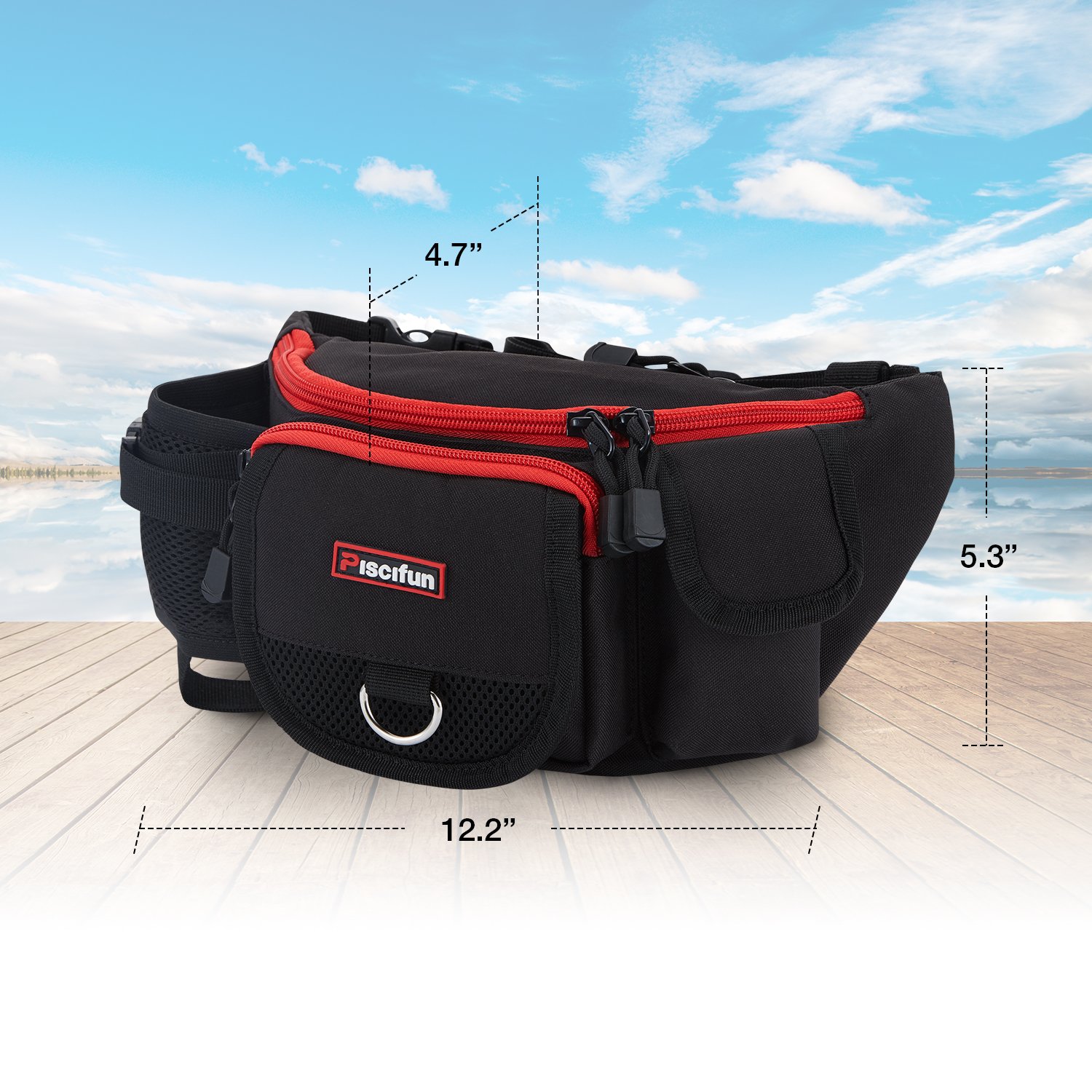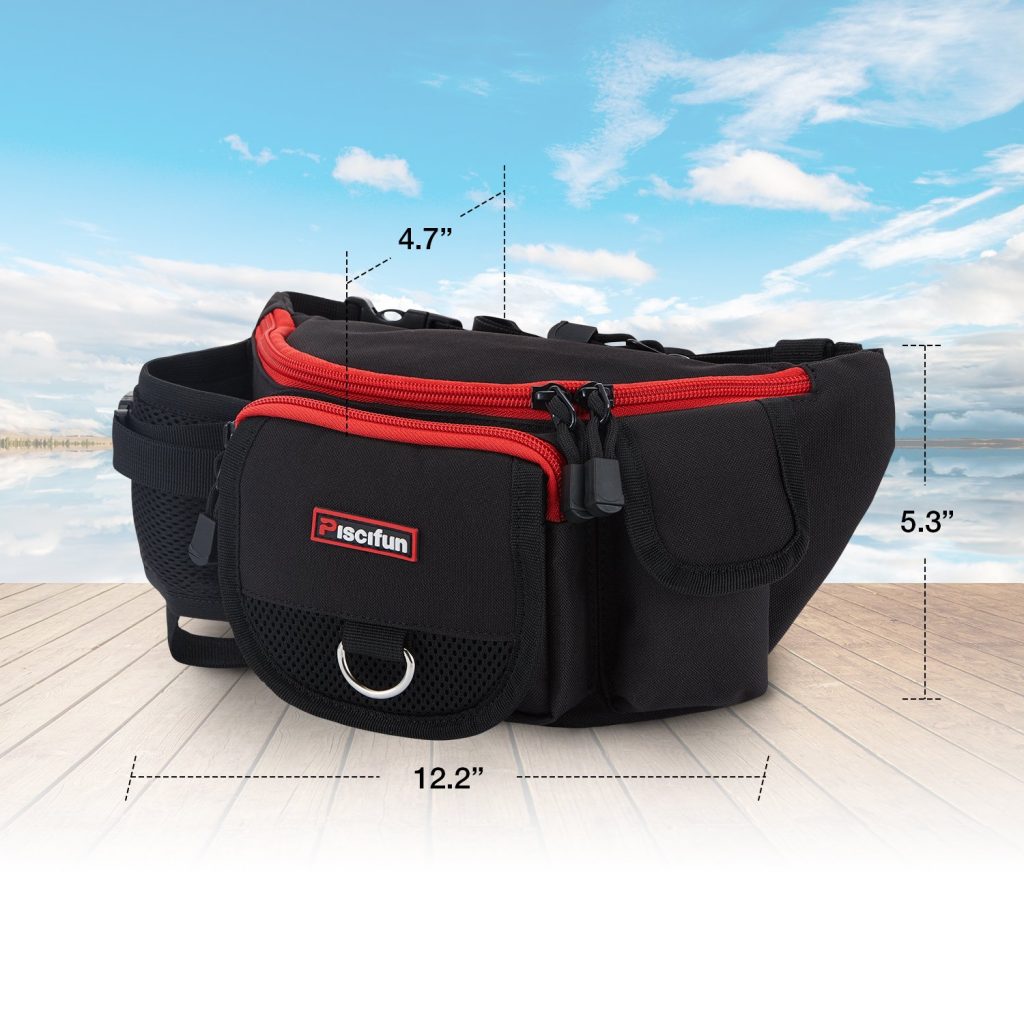 We have chosen the Piscifun Fishing Bag Portable Outdoor Fishing Tackle Bags. Piscifun has already been producing some high-end fishing supplies, and this tackle bag is a cherry on top.
The khaki color bag itself is super lightweight and multifunctional. It comes with multiple pockets for you to store all your essentials in different chambers. Therefore, you will be able to find your needs easily while you are on the go.
Considering all, this bag is of perfect size. It's about 12.2″ x 4.7″ x 5.3″ (LxWxH). The main double-zippered pocket is about 9″ x 3.4″ x 5.3″, which is just about perfect for storing your wallet. The bag is designed for you to store your passport, smartphone, and any other accessory that you don't want others to see easily.
Above all, the unique double adjustable waist belt makes it the show stopper. You can personalize its fit to about 56″ along with its quick-release buckle. There are a loop and hook fastener that holds the extra part of the belt.
All in all, this is a great bag with five outer pockets, out of which two of them are extra zippered pockets, one mesh pocket, and two hooks and loop fastener pocket, all of which provide an organized space. You can even keep your water bottle and keys in the two mesh pockets for easy access.
Pros:
Multifunctional
Perfect size for carrying around the waist
Zippered pockets
Comes with a double adjustable waist belt system
Cons:
Most consumers have complained regarding the zippers
6.KastKing Fishing Tackle Bags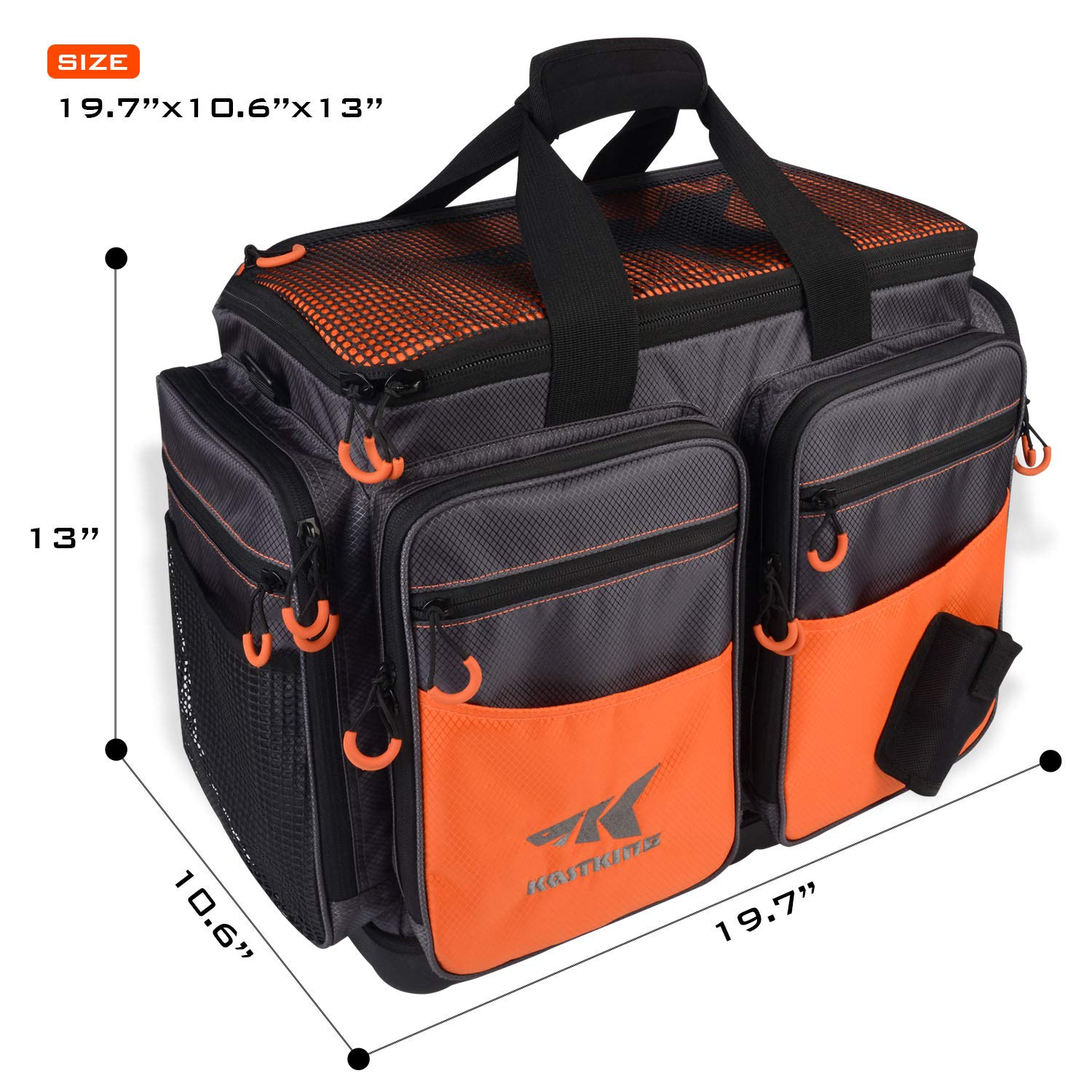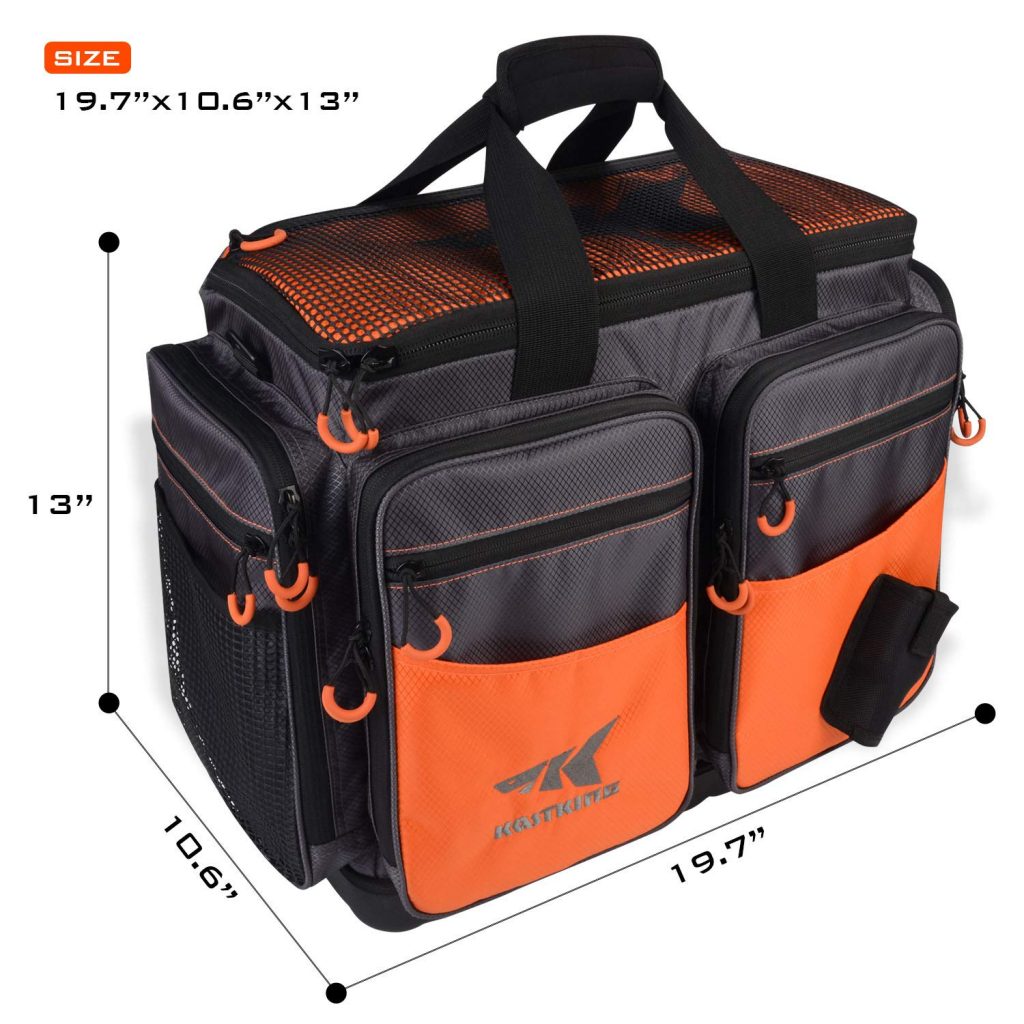 If you are looking for a tackle bag, which is a bit larger than the Piscifun, there you have it. This KastKing Fishing Tackle Bag can handle pretty much any type of job, you name it!
To begin with, it is designed from a sturdy and water-resistant nylon material that promises reliability. On top of that, the hydrophobic coating sheds moisture from its outside, and the inner PVC later provides extra protection against damage.
What's more, is that the bag is made out of tacky materials that grip on to any surface to make sure that it doesn't slide away.
The bag is simply the perfect tackle bag for fishing. The reason? It has a large central section to hold tackle box trays both vertically and horizontally. The dimensions of the bag are 19.7" x 13" x 10.6".
Designed for efficiency, the tackle bag guarantees easy access to your fishing gear without having to fumble through all the stuff in your bag.
Moreover, the bag is made of the unique neo-grip shoulder strap, the specialty of which is that it won't slip off your shoulder. The extra padding provides more comfort. Ultimately, it makes up to become the best in class capacity.
Pros:
Water-resistant materials
Durable
Comfortable to carry
Designed for function and efficiency
Cons:
The bag is awesome, but the tackle boxes make it worse
7.Elkton Outdoors Rolling Tackle Box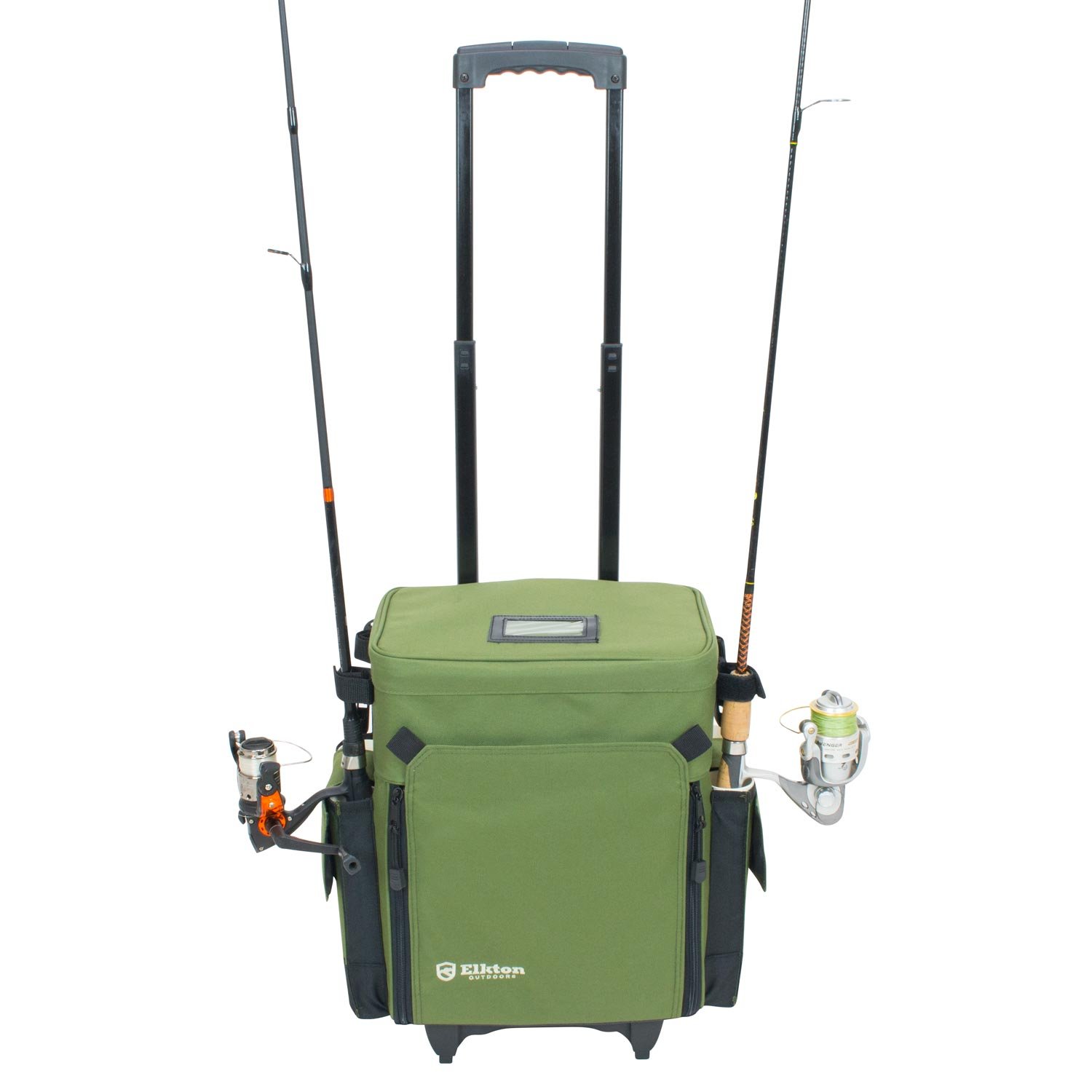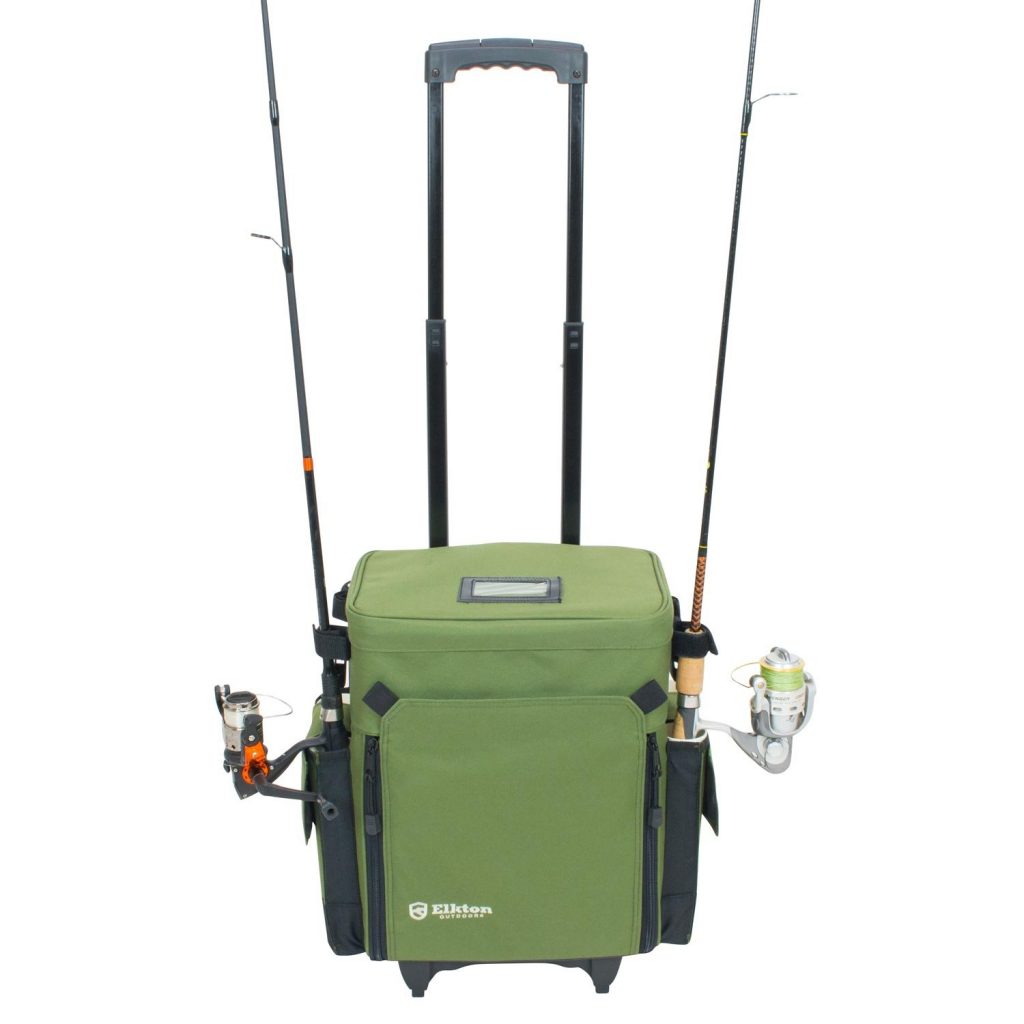 The Elkton Outdoors Rolling Tackle Box can handle the toughest jobs of all. Starting from transporting fishing gears to keeping them organized, it's a breeze for this gear.
Constructed from highly durable fabrics, PVC and rugged zippers, the Elkton Outdoors Rolling Tackle Box promises to serve you throughout the many fishing years that are to come. The box can hold goods up to 26.5 pounds effortlessly.
It has got a sizeable adjustable compartment, which you can divide into two to three sections, as per your convenience. This is to help you become more organized. All your gears are in good hands once they are inside the Elkton Outdoors Rolling Tackle Box.
The PVC rod holders are undoubtedly the best feature of all. It keeps your fishing rod in great shape and helps you get the supplies without any issues. Plus, the extendable handle and two robust wheels help you carry the box everywhere.
It comes with a comfortable and removable shoulder strap that lets you pick up the bag and carry it around any time.
We are genuinely impressed with the heavy-duty, water-resistant fishing bag, which is equally compact, light, and convenient for maneuvering it around. The box is fully padded and comes with an adjustable storage compartment of 18 tackle trays to fulfill your organization and meet your storage needs.
Pros:
Easy maneuverability with the handle and heavy-duty wheels
Waterproof materials
Comes with rod holders
Padded and adjustable top storage compartment
Cons:
The wheels do not roll in sand or other unknown surfaces
8.Okeechobee Fats T1200 Tackle Bag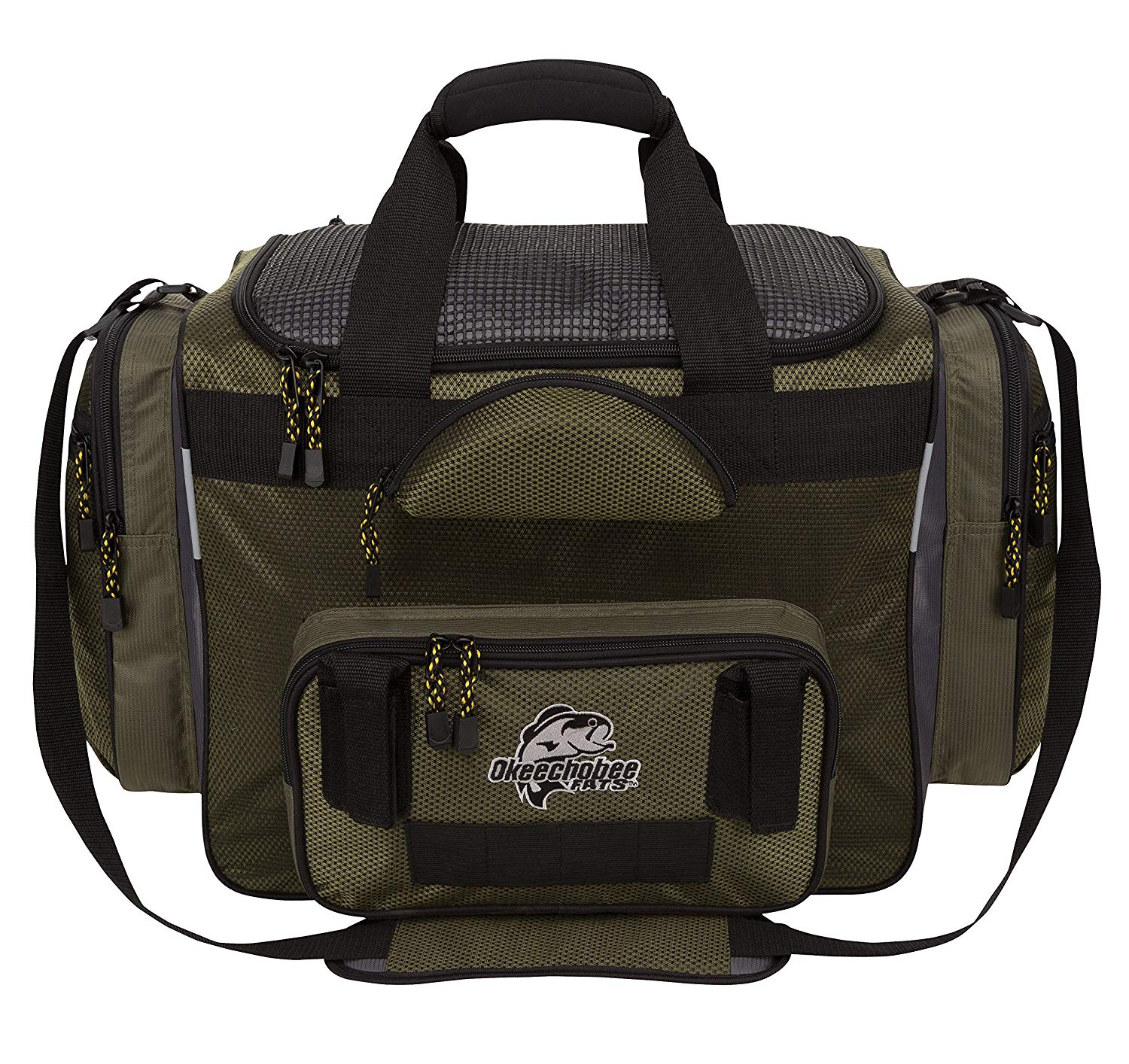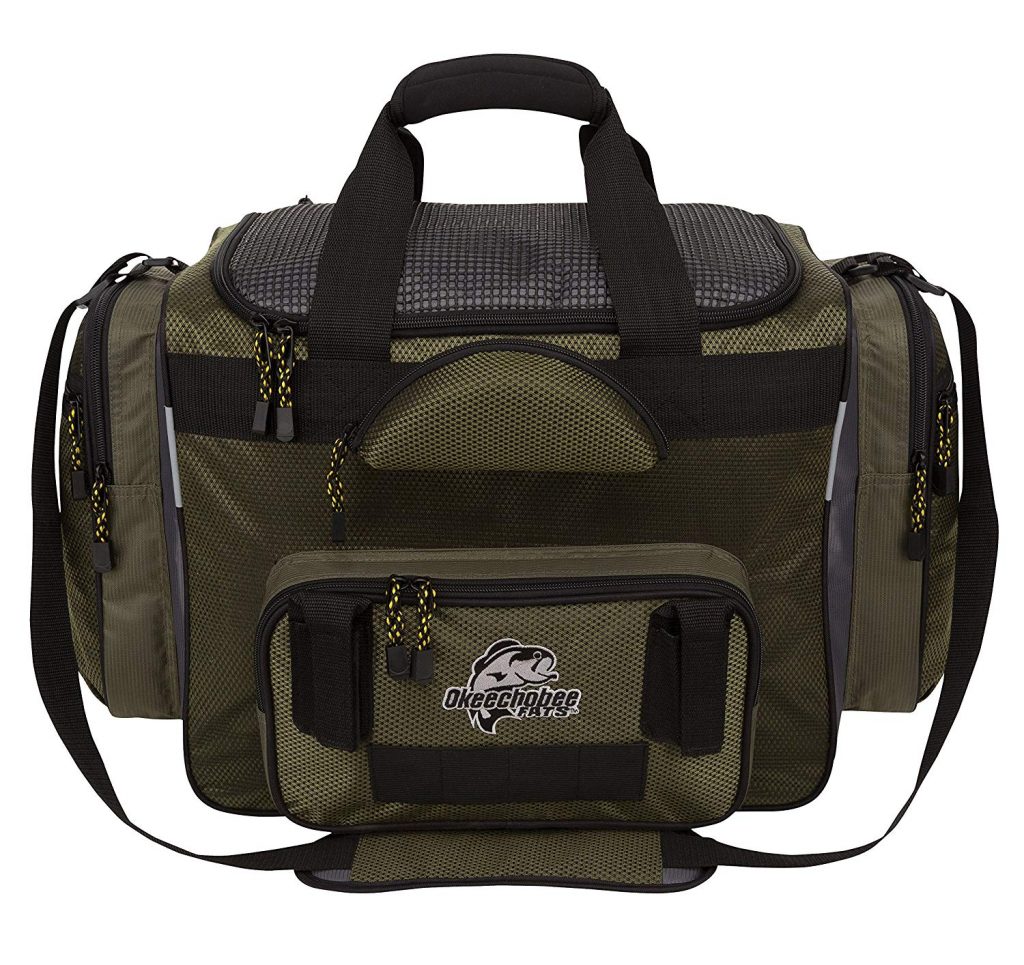 This is a much professional tackle bag that enlightens most anglers. It is made out of double stitched seams with a canvas-polyester bland for better durability.
In terms of dimensions, it's about 16.4″ x 13.9″ x 10.2″ that comes with four large utility boxes. Plus, there's an easy access sunglass pocket along with a hard shell. Not only that, but there's also an accessory pocket in the front and two side pockets on the outer side – all of which are zippered closure.
In tune with that, there are two holders in the front, whereby, you can hold your knives, gloves, and fishing pliers. The shoulder strap is relatively stronger and comfortable to carry it around because of the additional foam.
The polyester fabric is 100% water-resistant, and you don't need to worry about getting wet. Even the bottom part has got pads to ensure that the bag doesn't slip away.
It's quite reasonably priced compared to its competitors. You should really check this out if you are looking for something heavy-duty. They are of top-notch quality and keep your hands completely free during fishing.
Pros:
Adjustable shoulder strap
100% water resistant
The bottom part is padded
durable
Cons:
The zippers might be a little difficult to pull as it gets old
9.Allnice Thickening Canvas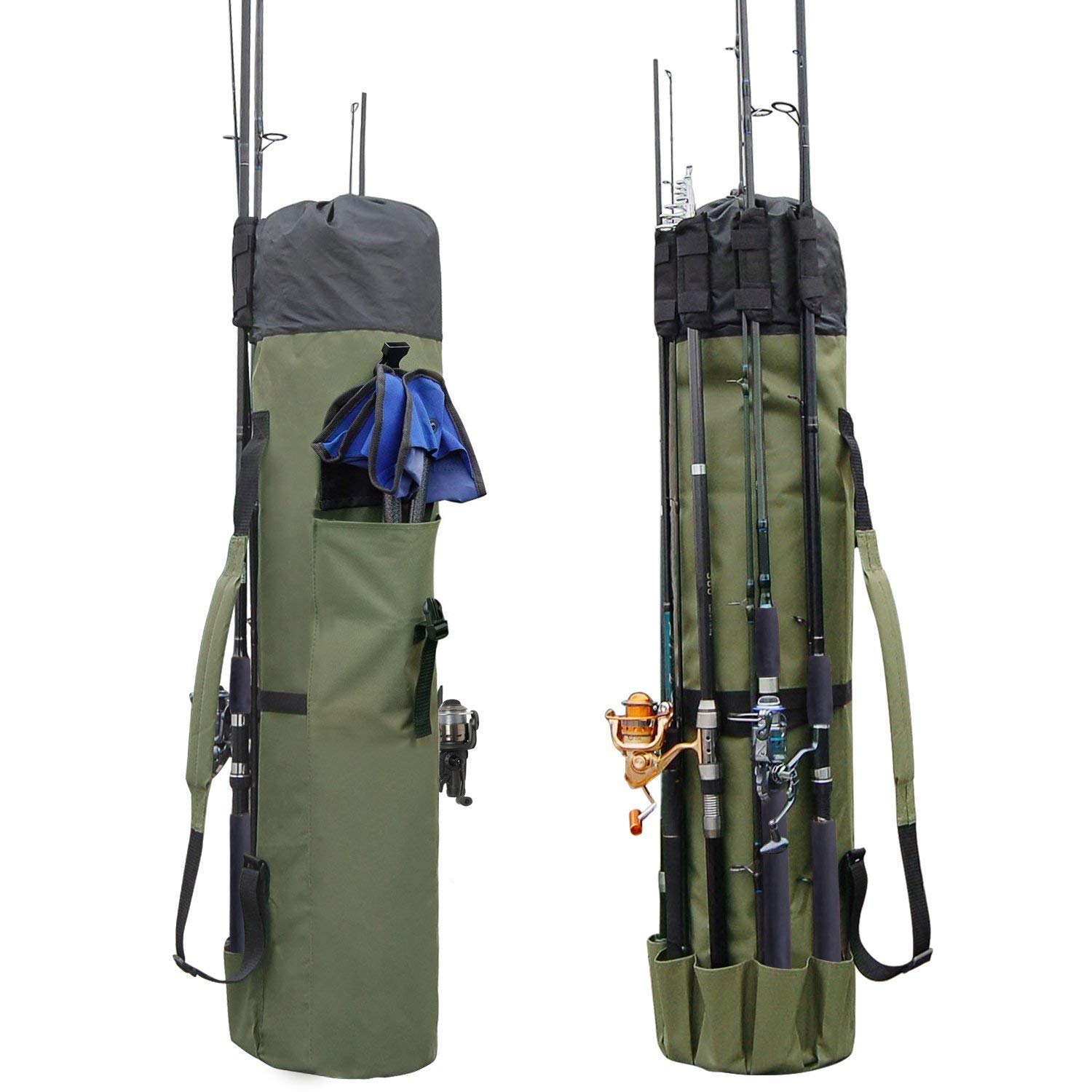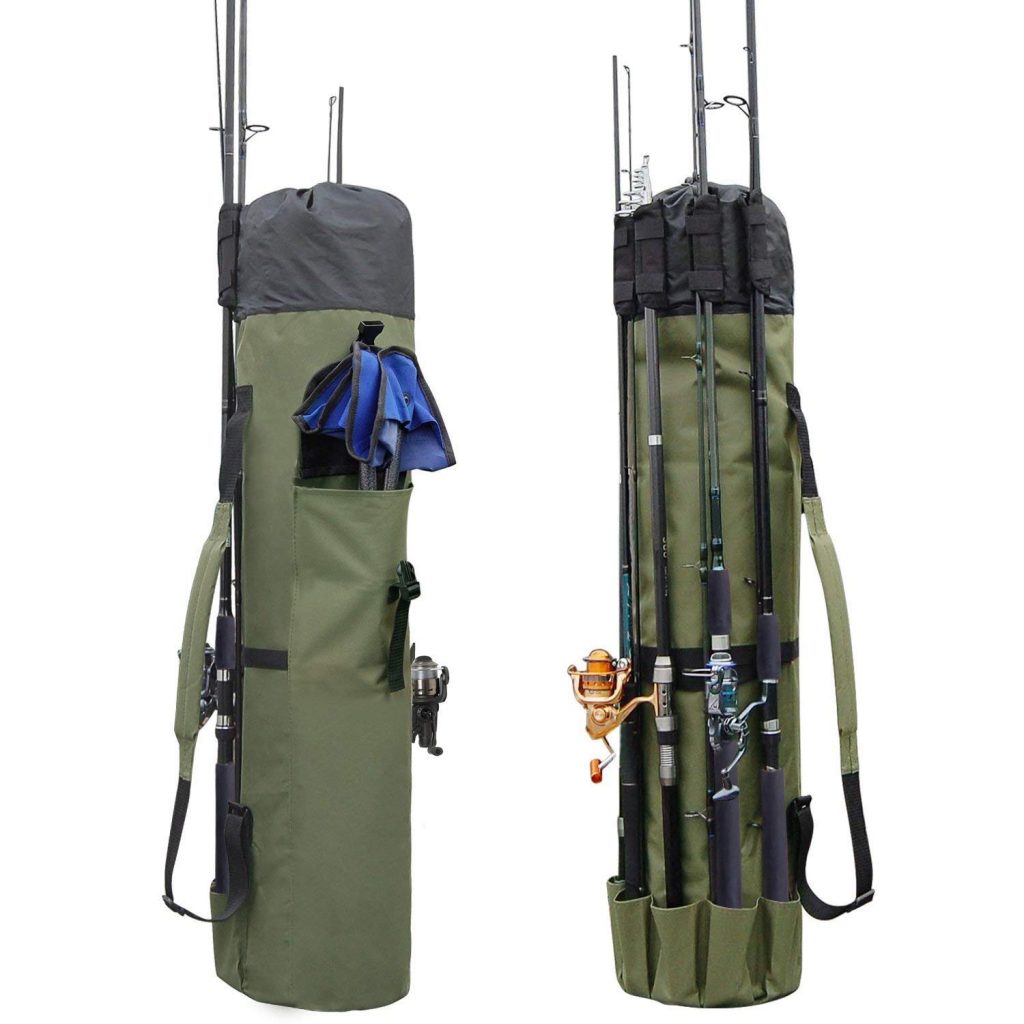 We absolutely love the khaki green color with the black trim of this Allnice Thickening Canvas. That's not it; it's also the perfect organizer that you could have for yourself.
First and foremost, it can carry 5 fishing rods and reels on its outside, keeping them in good shape and ideal for taking out any moment for fishing. In accordance, it can also carry more rods, reels, and other equipment on its inside.
Speaking of the interior, it has got plenty of space to store your other accessories along with the rods and reels. You also get an extra-long 34-inches pocket on its outside with an adjustable clip lock.
It's an entirely heavy-duty grade, made of high-tech polyester. Therefore, the tackle bag is promised to keep the stuff inside dry and healthy.
This bag also has a padded, adjustable shoulder strap. It's pretty flat when you first receive it. Once you put things inside, it can expand up to 48-inches high and 13-inches in width. It's not rigid so you can fold it away when it's not in use.
If an organization is what matters to you the most when it comes to fishing, then there's no right organizer for you than the Allnice Thickening Canvas.
Pros:
Smooth zipper
Large storage compartments
Can hold 5 rods
Padded, adjustable shoulder strap
Cons:
Not very comfortable to carry it
10.Spiderwire Wolf Tackle Bag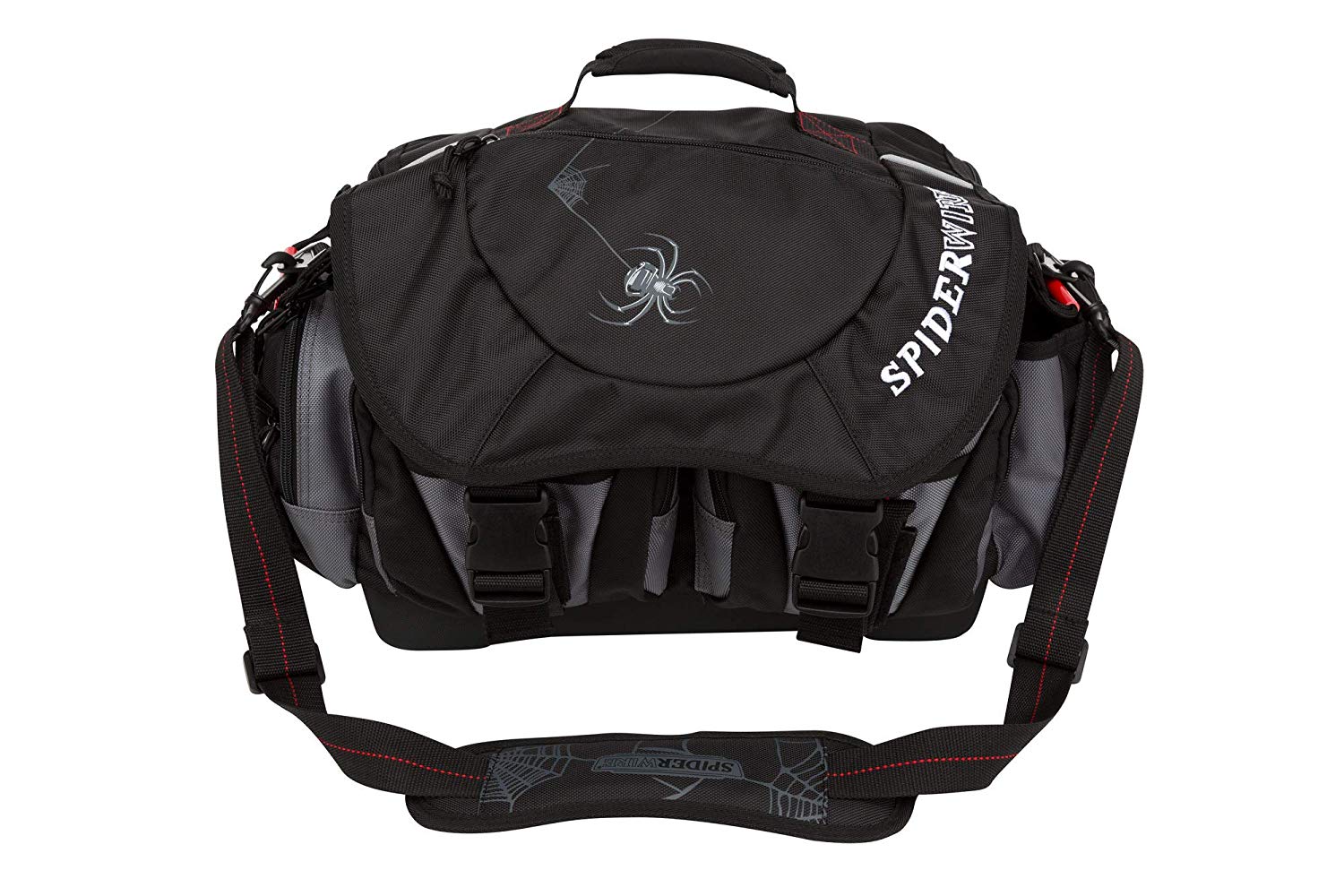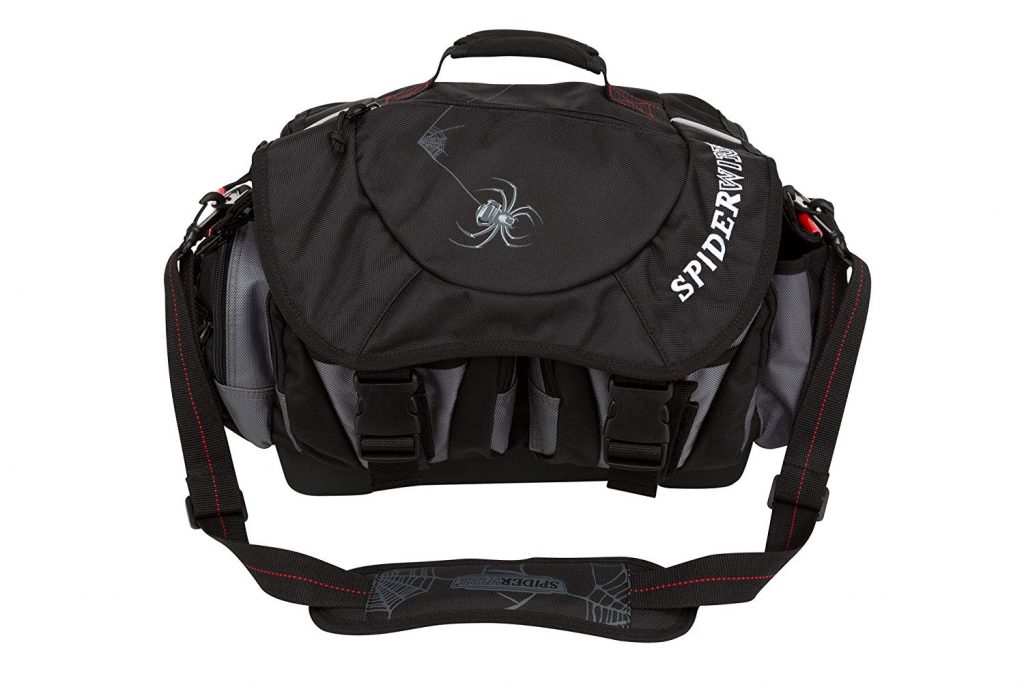 Last but not least, we have the Spirderwire Wold Tackle Bag. This thing is designed to take you anywhere and instantly begin your fishing expedition. This bag is the boss of all. Read ahead to find it out yourself.
The robust 1680 denier polyester along with the durable PVC backing scores all the points. It's incredibly durable, and with backed by its manufacturer's lifetime warranty, you can confidently purchase this, without further ado.
It has a polypropylene webbing strap, which by the way, is adjustable. This helps you disperse the weight that you put inside the bag, evenly.
Moreover, the soft-sided 38.8-liter bag is 100% waterproof. On top of that, the skid-resistant molded base keeps the bag from sagging. It's very roomy and can hold up to four large tackle boxes inside it.
With that being said, let us mention its dimensions. It is measured to be about 15.7″ x 10.8″ x 8.2″ (L x W x H), which is not that bad for a fishing tackle bag! The tackle bag is sure to survive through any season and weather.
Pros:
4 tackle boxes included
Front pockets and accessories designed for efficiency
All-weather molded bottom and PVC backing
High-quality zippers, latches, and buckles
Cons:
The straps and not very heavy-duty
Overview of Fishing Tackle Bags
A successful fishing adventure needs the right tools and proper organization. They are not just your fishing rod, line, hooks, reels, knot tying tools, and so on. It's actually much more than that. To carry all your gears, you need the right backpack, just because your pocket is not adequate.
The right fishing tackle bag will allow you to become organized. Not only will it allow you to carry your gears properly, but it will also ensure that your fishing expedition goes on smoothly. Furthermore, a fishing tackle bag improves your flexibility. With one by your side, you are free to squat, bend, and turn much more comfortably than having something with which you need to stand most of the time.
Fishing and hunting are similar kinds of adventure. You can take in some light snacks and beverages with you in the backpack and sustain longer hours in fishing. Most of these backpacks are 100% water-resistant and will help you keep all your belongings safe. In other words, your bag will help you take technology with you to every place you go to. Fishing shouldn't be done offline as you already how vital technology is.
While it may not be possible for you to keep a hold of all your stuff, what you can do is, get a fishing tackle bag. This bag will enable you to become more organized. Starting from holding all your tackle, tools, and gear and relieving your hands from carrying multiple rods, imagine how easy it is to go fishing. With a tackle bag on your back, you can take your fishing game to the next level.
Fishing Tackle Bags Buyer's Guide
There are some features and specifications in a fishing tackle bag that you cannot overlook. Many fishing backpacks have similar specs, but there are others that make them totally different. What's important to consider is what you need.
Therefore, we have listed some of the essential characteristics of a fishing tackle bag that will help you pick the best one out of all. Tick off the features that you think are a must in your tackle bag.
Storage Options
First things first, a good storage option is a must. The perfect tackle bags are the ones with multiple storage divisions. Make sure that your bag has space to accommodate all your essentials. Plus, make sure that it has functional zippered pockets of different size compartments to fit in various dimensions of gears. We would say that the storage option is perhaps the first feature to consider. That's because it determines the maximum capacity of how many of gears you can carry with you.
Durability
Next, you have the durability of the tackle bag. The ability of the bag to withstand the weight that you put in says a lot about the bag. Durability is all about how the backpack was manufactured and the type of materials used to produce it. For this reason, we would recommend you to choose a tackle bag that's made out of heavy-duty materials; something that would bring you through storm and back.
Water Resistance
What's a tackle bag without it being water-resistant? Your tackle bag is most likely to come in contact with water, and thus, it should have insulation against water. And if possible, it should also be protectant against damages. It's not only important to choose a water-resistant tackle bag because you are going to come in contact with water, but it's also essential to protect your other fishing gear from natural occurrences like rain. If in any case, your bag gets soaked, it is going to become much more substantial, causing your gears to get damaged.
Comfort
Now, you wouldn't want to carry a piece of junk with feeling in total discomfort, would you? Choosing a tackle bag with the ultimate comfort is crucial. For fishing tackle bags, the ideal bags are the ones with adjustable straps and extra paddings on it. Moreover, a breathable material should help you get away with sweaty back when carrying it.
Size
How much time do you spend when you go out fishing? Your fishing tackle bag depends a lot on this. That's because based on this, you will need to determine the size of your bag and finally how many accessories you need to complete your fishing. While you are looking at the size, consider its body size, its length, and the width that may come in between your comfort if you don't get the right one.
Hard case vs Soft case
You may have your reasons for choosing a hard case tackle box or a soft case one. Well, we have discussed some of its pros and cons that would help you decide which one you need.
Hard case: Hard case tackle boxes are comparatively more durable. We are sure you remember your grandpa having one of them, which might still exist at some corner of your storeroom? On top of that, hard case tackle boxes are better known to protect the stuff inside. It's no surprise that a hard case tackle box will protect your gear from water splashes when you are in a boat or rain when the weather suddenly turns grey.
Hard cases come with multiple compartments; small ones to hold small stuff like jigs, hooks, and other lures, and large compartments with ample space to store necessities like fillet knives, first aid kits, pliers, and so on. The main drawback of this kind of box is that it weighs a lot and takes up too much storage space in your vehicle.
Soft case: Soft cases come with their advantages too. It is mention-worthy that they are much light weighted. They are much more flexible and take up lesser space. The best aspect of a soft case tackle bag is that it's easier to carry with the shoulder strap than hard cases, which need to be carried by hand. This keeps your hands free as much as possible and helps you move around from one spot to another.
However, there are two significant disadvantages: soft cases are not waterproof, and they are prone to ripping and tearing. If you place it on a wet surface, it will get wet, no matter water. And if you are carrying hooks and knives, be sure that you might get a puncture or get caught up on something.
Study Shoulder Strap Design
The shoulder lashes on your fishing tackle bag need to be all around built with an accentuation on ergonomics and the best possible weight-bearing proportion. Generally speaking, the more extensive the lash arrangement is on your shoulders, the better the weight dispersion will be.
Stay away from limited ties on a rucksack they will cause lower back torment as a result of the vast majority of the weight is conveyed around there. Ensure the lashes and support have a fit material-since this will enable you to be increasingly agreeable and not sweat to such an extent.
Construction
As much as durability is outstanding, the quality of materials is significant. You don't need a pack that will break on your part of the way through an outing or soon after the maker's guarantee lapses.
Search for flexible structures with woven, fortified filaments, for example, nylons and solid polyesters. You will have sharp and pointy things in your rucksack, consequently, ensure it has a solid covering diabolically too to keep things from harming the pack.
Look for packs with poly or formed zippers for against destructive insurance. Sewing on a sack ought to be twofold, or even triple sewed to give the best protection from the creases blasting open from all the apparatus you will put in it.
Find out carefully structured packs with an attentive reason behind the development of effectively reachable pockets. Are there individual compartments inside the sack? Many manufacturers have diverse contemplations on what the rucksack ought to accomplish for you.
I hope to get one that has genuinely put a subtle touch on the subtleties. It will make the angling knowledge significantly improved for you.
Compartment for Cooling
Not the thing you consider when searching for a tackle bag. Be that as it may, consider it. You have to shield your lure from decaying from being out throughout the day, you additionally need to keep your bites and sustenance fresh and stay away from deterioration amid the long outings on the water you no uncertainty will have.
It's not something you should disregard as you would prefer not to convey a different cooler with all of you around your angling trip. Get a pack with a substantial, fixed compartment or removable lightweight cooler with enough space to keep your sustenance safe and trap new.
Search for a structure with 2 separate chambers. You surely don't need your bait mixing with your snacks.
Fishing Tackle Bags FAQs
Q 1: What should you pack in the fishing tackle bag?
Answer: When planning a fishing expedition, try to keep the load as comfortable as possible. Why? This is just so you can enjoy a lot and make the most out of your fishing experience. Only carry the stuff that you really need and avoid unnecessary bulking.
It's highly recommended for you to carry extra fishing accessories. It could be something as simple as hooks in order to avoid unforeseen circumstances. A few snacks and beverages will keep you hydrated throughout your adventure. You need intense energy for fishing and remember, you are going to be out in the glaring sun for most of the time.
Q 2: Which types of rods should you pack?
Answer: If you are into travel fishing, there are specific travel fishing rods specifically designed for you; go for those. Modern travel fishing rods come in 3 or more parts for better carrying. They even come with carrying cases, which you can fasten to your fishing tackle bag and travel around with.
However, if your tackle bag has lesser space, a telescopic rod could be your best buddy. They are built to save space and easy packing that would easily slide into the waiting area of your tackle bag. Many critics have said that they have got low action when fighting a fish.
Q 3: What are some of the basics that you should pack in your fishing tackle bag?
Answer: Fishing without a fishing reel is just as useless as it could be. So, when picking a fishing reel, be a little careful about the gear as it's delicate. You may even prefer to wrap it in towels and put it inside your bag as a safety measure.
Other things could include snacks, drinks, maps, extra clothing, and a compass. The reason why we mentioned an extra cloth is that in case you get drenched in water after losing your tag of war with a bass. You cannot just show up in your front door, all soaked up in the water. Fishing can sometimes be a messy affair, and that's why it is advisable that you plan ahead of time.
Q 4: Are LED backpacks a better option?
Answer: Fishing tackle bags with an inbuilt LED light system is a blessing in disguise. You won't understand its importance until you are stuck in a situation, whereby you lose track of time, and you find yourself in a dark location where you can't find a thing! With an LED light in your bag, you are all set!
Moreover, if you walk fishing at night, you have chances to be in a dangerous situation of upcoming vehicles. Therefore, the LED backlight proves to be a necessity for better visibility.
Q 5: Do you really a fishing tackle bag? Can't I just use a regular backpack?
Answer: Without any doubt, you need a fishing tackle bag and no you cannot. A regular backpack is not made to withstand external pressures from a daily fishing excursion. In fact, they are not designed to insulate the tools inside the bag.
Everything from the water can destroy your gear to the catches and new snares pulverizing and jabbing openings through the standard textures of an ordinary backpack. You need a fishing tackle bag that's ideal for fishing and for it to be durable.
Likewise, you will love a bag explicitly intended for what fishermen do throughout the day; stand, sit, turn, and squat. You need an ergonomically constructed bag that is organized with the correct shoulder ties and middle help, in this manner, you won't be in torment and cause yourself damage. Here are a few things that a fishing tackle bag offers and a standard backpack wouldn't.
A specially designed compartment to store all your fishing necessities – usually at the base of the backpack.
Fishing rod holders – Special holders for new bars you may require.
Work environment territory vast numbers of the knapsacks include an incredible overlay out plate that enables you to have a convenient workbench for your devices and arranging yourself.
Climate secured zone for your delicate angling-related archives, PDAs, and licenses.
Numerous extensive estimated takes that are effectively gotten to when coming back to haul things out.
Waterproofing-numerous customary knapsacks don't have this. It's an essential element that will counteract your angling gear from being destroyed and much more, your angling trip from being ruined.
FINAL THOUGHTS
So, what's your definition of the best fishing tackle bag? Simply put, it's the one that suits your needs and safeguards the kinds of stuff inside. We hope that going through our fishing tackle bag gave you a brief idea about what you need to look for when buying a new tackle bag.
Of course, a tremendous water-resistant bag made of durable, sturdy materials like nylon braided and plenty of pockets to hold your stuff is a good one.
Your fishing tackle bag should be a crucial part of your fishing experience. You need it for a number of reasons; to protect your fishing gears from natural elements like rain and organize your equipment during an adventure. Make sure that your ergonomic designed equipment is not harmed when you carry it with you. Therefore, the fishing tackle bag handles it all.
Take out some time and find out what's the best you will ever need for a successful fishing experience that will save you from getting disappointed on your next trip. Have a great fishing trip!
Read More: