If you are looking for a neoprene wader, be sure to read our complete in-depth buyer's guide where we review the top-rated models available with Pros & Cons
Fishing and hunting can be a stressful experience if you are not well equipped for the activity. Being unprepared for fishing and hunting under harsh weather conditions might possibly be the worst scenario for a fisher or hunter.
For this, it is necessary to always be well equipped with the right gear and clothes. To make things easier for you, we are going to cover some of the best neoprene waders currently available on the market.
These fishing waders will make sure to keep you warm and properly ventilated during your entire hunting or fishing experience.
So without further ado, let us get started right away!
Read More: Best Waterproof Dry Bag
5 Best Neoprene Waders
Foxelli Waders-Great quality for the price.
Frogg Toggs Amphib-Best For Surf Fishing.
HISEA chest wader-Best For Duck Hunting.
Compass 360-Best Camo Wader.
TIDEWE Neoprene Waders-Great Value For the Price.
Neoprene Waders Reviews!
1.Foxelli Neoprene Chest Waders
For our first product of the day, we are going to cover this amazing camouflage colored wader manufactured by the incredible brand Foxelli.
This high-quality product is constructed with 4mm thick neoprene material, making it a hundred percent waterproof. Foxelli is made to be really durable and resistant towards liquid which makes it an ideal gear for fishing.
This product is double stitched and comes with tape sealed seams so there is absolutely no chance for liquids to seep into the inside of the chest wader.
On top of that, you will also be receiving amazingly high-quality anti-slip boots with this wader. This pair of PVC boots come with anti-slip soles so users can have the best grip even on the most slippery terrain.
This fishing wader comes with multiple pockets for storage, so you can easily carry your fishing or hunting essentials with you. You can store your baits and whatnot in either the external pocket or in the internal pocket.
Foxelli makes sure to always keep their customers' wellbeing in mind; hence their products are also designed to be user-friendly. This chest wader comes equipped with a nylon belt combined with two strong metal carabiners.
For transportation and portability, you can easily store Foxelli wader inside the nylon carry bag that comes with the product itself. The product has a total weight of 9.3 pounds and packed dimensions of 18" x 14" x 9" in total.
---
Features & More
Warm and Dry.
High-quality boots.
100% waterproof and durable design.
Comes with a nylon carrying bag.
Comes with extra features such as carabiners and pockets.
It comes with a convenient instruction manual guide.
---
2.Frogg Toggs Amphib Neoprene Bootfoot Chest Wader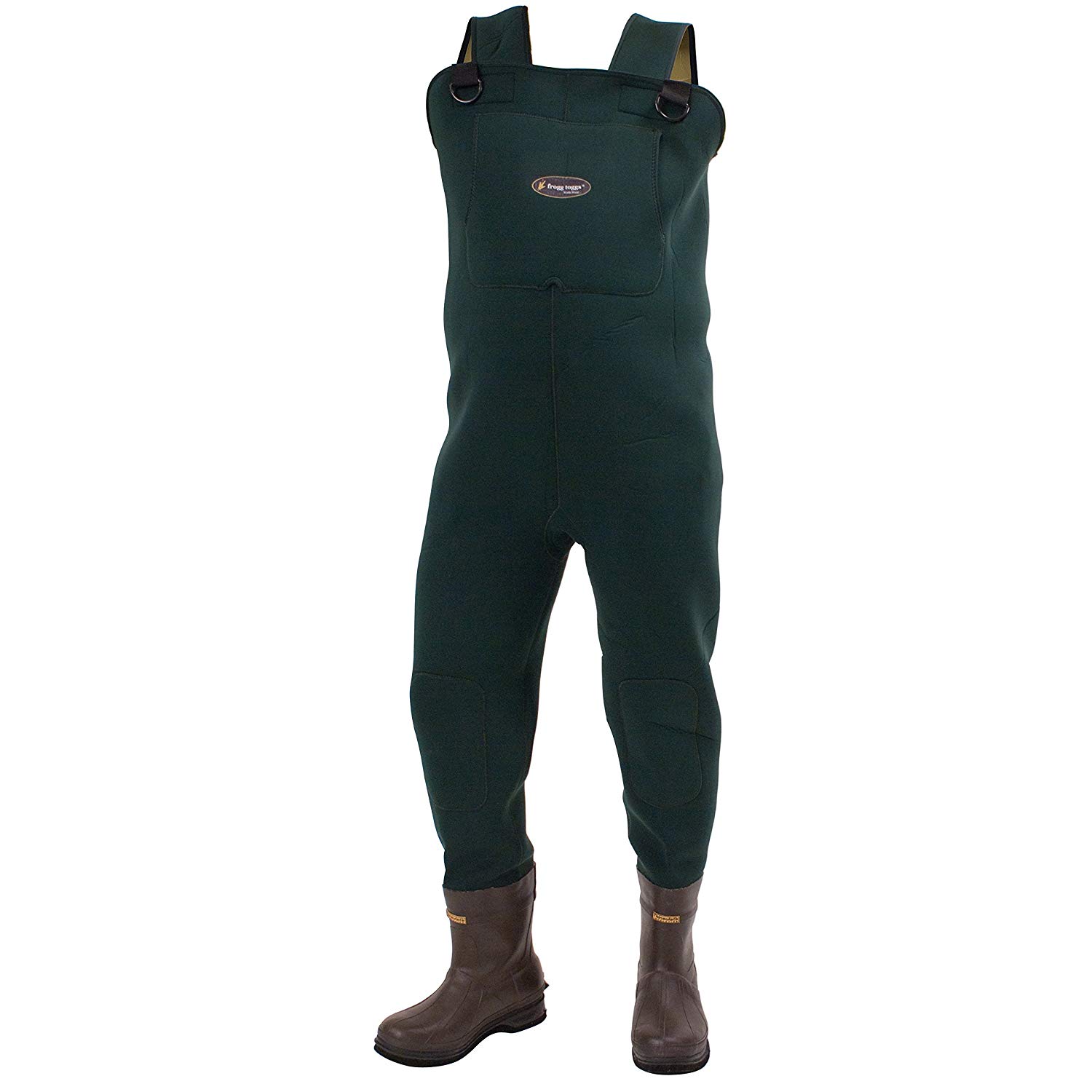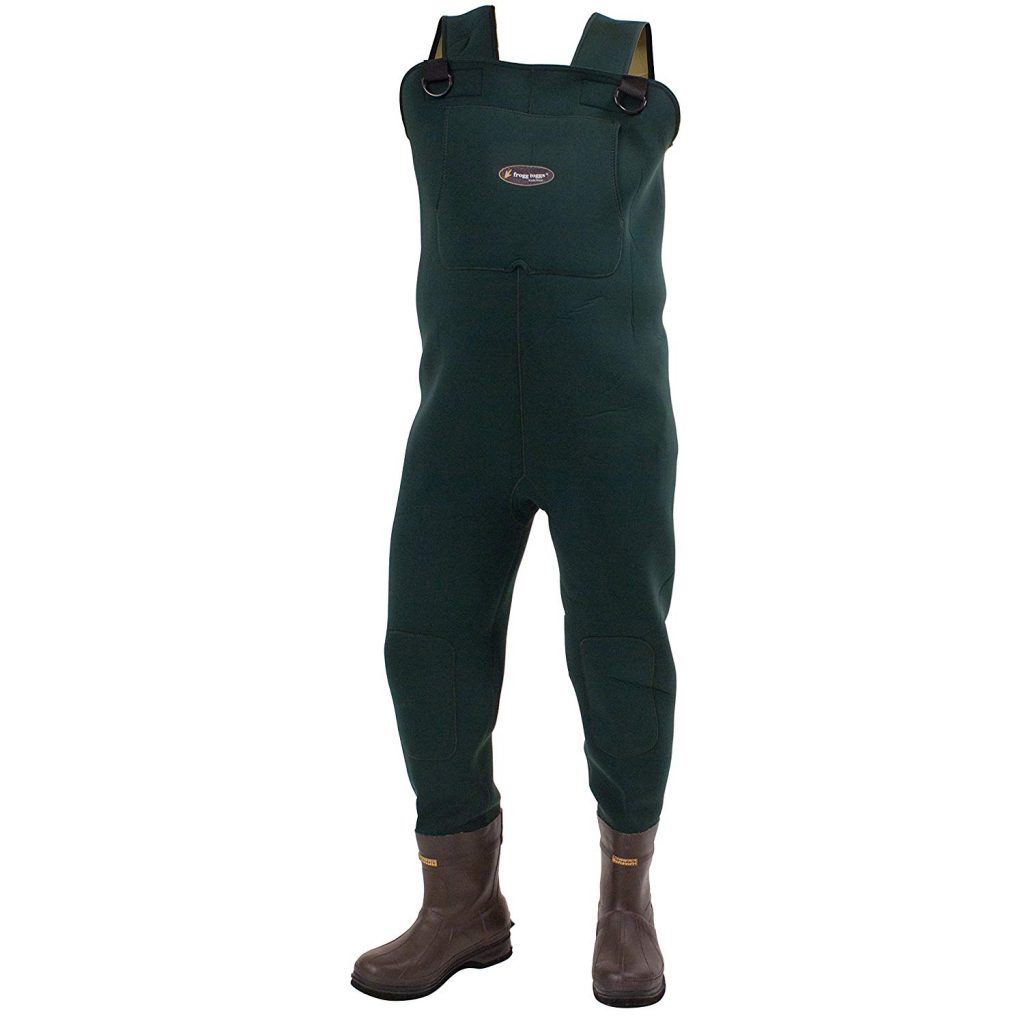 Up next our next boot foot chest wader features a solid forest green color for its appearance. This high-quality product is also very budget-friendly.
Complete with a high-back design, this incredible chest wader comes with adjustable suspenders combined with loop attachments so almost anyone can wear this product. Frogg Toggs wader is constructed with 3.5mm of neoprene material.
The knee area of this chest wader is covered with an extra layer of neoprene so users can expect better protection while in water or while kneeling on a muddy surface.
On top of that, you will also receive high-quality boots constructed with 200 grams of Thinsulate insulated rubber material. This material is great for keeping your feet warm and properly ventilated the entire time outside. The boots are also quite easy to put on and take off.
This Amphib comes available in different sizes and colors so there is a little something for everyone with this brand!
There are also convenient handwarmer pockets on the front of this chest wader, where you can also store away your small pocket-sized belongings. This product has a weight of 10.4 ounces, making it really lightweight.
---
Features & More
Handwarmer pocket.
Easy to put.
Reinforced knees.
Best for surf fishing.
Strong and durable suspenders
Convenient high-back for deeper wading
---
3.Hisea Neoprene Fishing Waders
Available in two different colors to choose from, this wader is manufactured by the amazing brand Hisea.
This amazing chest wader is constructed with 4.5mm of neoprene material. The manufacturer claims this neoprene fishing wader to be a hundred percent waterproof as well as rip and tear-resistant.
For convenience, this high-quality chest wader comes with quick-release buckles and adjustable shoulder suspenders so customers can be more comfortable while wearing this outfit.
Reinforced with extra layers of neoprene, the knee area of this amazing product provides more stability and protection while wading in murky water. Hisea comes with a front pocket consisting of a loop and hooks closure system where you can store your small belongings.
The pocket closure also comes with a Double Large handwarmer pocket so users can stay warm and comfortable even under really cold weather conditions.
Coming to the other part of this outfit, the boots are made of 200 gram 3M Thinsulate ultra insulation rubber material. The rubber soles on the boots are tough and provide enhanced friction so you can expect a non-slip wading experience even when walking on the most slippery terrain.
You will love to know that with the purchase of Hisea you will also be receiving a free waterproof phone case and wader hanging belt! How awesome is that?
---
Features & More
Durable & Sturdy.
Great bang for your buck.
100% Waterproof and User-friendly.
The wader comes with 3 D-rings for easy accessorizing
Double-stitched wader with heat-sealed seams
Padded knees provide more protection while in murky water
Nylon and neoprene infused shoulder suspenders
---
4.Compass 360 DuraTek 5mm Neoprene Camo Chest Wader
If you want to invest in something a little more heavy-duty and are flexible with your budget, then we would suggest you check this chest wader out.
This DuraTek Camo wader is constructed with 5mm neoprene material while being covered with a rip and tear-resistant patented DuraSpan stretch shell of nylon material.
This best neoprene Camo wader is apparently a hundred percent waterproof as well as puncture-resistant. The outfit is complete with a triple-sealed seam technology that has undergone rigorous stitching, taping, and gluing.
The web suspenders on this chest wader are adjustable and come with easy to use quick-release buckles. This feature makes this neoprene chest wader easy to wear, hence increasing its versatility as well.
The boots on this high-quality neoprene chest wader are made of 1200 grams of Thinsulate insulated rubber material. The boots are covered with a puncture-resistant tripwire polyurethane protection strip.
Due to this feature, customers can now expect an enhanced grip and friction. You can easily walk or wade through the murkiest water without worrying about slipping.
On the body of DuraTek, you will find 10 shelled loops as well as a chest entry pocket and flip out device pocket for extra storage. The knees and shin areas are reinforced with extra neoprene layering for enhanced protection.
---
Features & More
High-quality body construction.
Quick-drying outfit material.
Strong and durable boots.
Additional storage pockets and loops for convenience
Waterproof and puncture-resistant material.
It comes with additional layering in the knees and shin areas.
---
5.TideWe Neoprene Waders
For our last product of the day, we are going to review this incredible wader manufactured by the amazingly renowned brand TideWe.
TideWE is constructed of 3.5mm neoprene material. This neoprene wader is claimed to be a hundred percent waterproof as well as wear and tear-resistant.
The product comes equipped with a jersey shell that has been triple stitched, glued, and taped for extra protection and durability.
The leggings on this neoprene chest wader are of polyurethane material, which makes them comfortable and really soft to wear for long hours on end.
TideWE comes with adjustable shoulder straps with easy to release buckles so you can easily change up the size of this chest wader according to your physique.
There is a rather large handwarmer pocket on the front of this chest wader where you can also store your small belongings.
The boots are made of solid rubber and can be worn with or without socks. The soles of the boots are rugged; hence customers can expect extra stability and friction while walking on slippery terrains. The boots are also reinforced with a shoe vamp for extra protection from unwanted puncturing.
The best thing about this product is that it comes with a one year long warranty period within which you can easily seek customer service regarding any issues with your wader.
---
Features & More
Budget-friendly.
Dry & Comfortable.
Solid Rubber boot.
Easy to release shoulder buckles
Strong and durable rubber boot construction
The boots come reinforced with a shoe vamp for enhanced protection
---
Neoprene Waders Buyer's Guide
Now that we have reached the end of our product reviews, let us take a look at some of the key factors you need to keep in mind before you place an order for your choice of neoprene chest wader.
We hope you have a good time reading this section and that it helps you with your shopping!
Material
The type of material used for the construction of the chest wader is one of the most important features of it. There are two main materials used for this cause:
Neoprene: This is the most common material used for the construction of a chest wader. Neoprene waders are extremely strong and durable while having great insulation.
They also tend to be really waterproof and tear-resistant at the same time. Chest waders made of this material are usually the top choice for fishers and hunters.
However, they do come with some drawbacks as well. For example, neoprene waders are a lot heavier than chest waders made of breathable material such as nylon.
Neoprene waders also tend to be much warmer than nylon chest waders, however, this drawback can also act as an advantage in cold environments.
Nylon: On the other hand nylon material is very breathable hence it works to reduce sweating drastically. Chest waders made of this material are also a lot lighter than chest waders constructed with neoprene material.
However, the downsides to nylon chest waders are worth mentioning too. For starters, chest waders made of nylon are really not as durable as neoprene chest waders; hence they can be more prone to wear and tear.
On top of that, since the material is too lightweight it naturally makes nylon chest waders less warm. Due to this, users will be required to purchase additional insulation gear.
Additional features
High-quality chest waders will come with a range of additional features, such as pockets and warmers, suspenders, etc.
Other mentionable features are camouflaging options, D-rings, and loops on the chest wader itself, reinforced kneepads and shin protection, etc. These features will not be present in every chest wader, however most high ended brands do offer these features for their products.
Environment
It is important for a fisher or hunter to decide where they will be residing in the first place, and then go on to choosing a neoprene fishing wader for that cause.
Different environments will require the wader material to be different as well.
If you know you will be hunting or fishing in a cold environment, it is best for you to go for neoprene waders as they are much warmer and heavier. Hence, they can keep you warmer and cozier for a longer period of time.
However, you also have to make sure if you will be able to handle all that extra weight on your body or not.
But in any case, neoprene waders are best for murkier, denser, and colder environments.
On the other hand, breathable nylon chest waders are more equipped for warmer environments as the material used for the manufacturing of the chest wader is lightweight itself.
This means that nylon chest waders are much more breathable and soft, which makes them the perfect choice for hunting or fishing in warmer conditions.
Neoprene vs Breathable Waders
Neoprene Waders FAQs
Let us take a look at some of the questions a lot of customers have regarding chest waders in general. We hope you also find your desired question answered in this section!
What are some of the few mentionable things I need to consider when shopping for neoprene waders?
To summarize our buying guide section here, some of the few things you need to consider when shopping for neoprene fishing waders are:
The material used for the construction.
The environment you will be residing in
The weight of the product itself
How portable and easy to wear the chest wader is
The price of the product
The brand
The size chart should be accurate
The kind of activity you will be partaking in.
What can or should I wear under chest waders?
You should always try to wear breathable and lightweight clothing under your chest waders, or else you might unnecessarily increase the weight of the product.
It is smart to wear lightweight shirts and leggings under your chest wader as they will keep you comfortable and make sure you are warm and cozy at the same time.
For the feet, you can also wear socks with boots if you want. You can also wear boots without socks as well if it feels better for you.
How do I figure out what size neoprene wader I require?
It is best to take your measurements before placing an order for your chest wader from an online shop or from a physical store.
You should make sure to first measure your largest girth in inches (this means to measure your waist or hip and chest) first, then measure your inseam, and lastly your shoe size.
FINAL THOUGHTS
So there you have it! We hope you had a fun time reading this article about the best neoprene waders, and that it proved to be of some help to you and/or to your loved ones.