When we're serious about catching a haul then we need to also make certain that we have all the right tools for the job. Fishing is a game to some, a pastime to others, but a sport or livelihood to many. We've listed down some of the best Humminbird fish finders for you to choose from in this article.
Fishfinders are one of the most essential tools that an angler needs to have in their arsenal. They are efficient when scouting a fishing spot and eventually catching more than what you've expected due to the many features that it brings to the table.
Some fish finders nowadays are equipped with more features than what we expect them to have and what we expect them to help us with. So as technology advances, we also need to make sure to take full advantage of them. Let's talk more about this fisherman's dream of a gadget.
Read More:
What is a fish finder?
A fish finder is an essential tool or gadget for any fisherman today. It uses mainly SONAR technology to map the waters near the user and give them pertinent information through a screen. Usually, an LCD or CRT screen is used by a fish finder.
Fishfinders used to be very simple devices with very few and straightforward functions but that's not in any way an indicator of their effectiveness in helping out anglers. But today, fish finders are more advanced, and they help map out large areas, help in navigation, efficiency, and accuracy to catch more fish on every trip.
What are the different types of fish finders?
If you're going to categorize fish finders then it's best to know that fish finders can do side, down, or dual imaging capabilities. Most side imaging fish finders give you a wide range of what's underneath your boat. While, on the other hand, down imaging is going to give you the best data of what's deep down under your boat.
So, from that, it's easy to determine which type of fish finder is best for you. Side imaging fish finders are naturally best for shallow waters or fresh waters while down imaging fish finders are best for salt waters or deep waters. But today you might not even have to choose as there are fish finders that come with both imaging features. The catch is you will probably have to spend a little bit more on these versatile devices.
Top 7 Humminbird Fish Finders Reviews!
Side Imaging
Here are some of the best side imaging fish finders from the Humminbird brand. These devices may also be capable of down imaging but we think that they function best when used for side imaging.
1. Humminbird 410230-1 HELIX 5 CHIRP SI GPS G2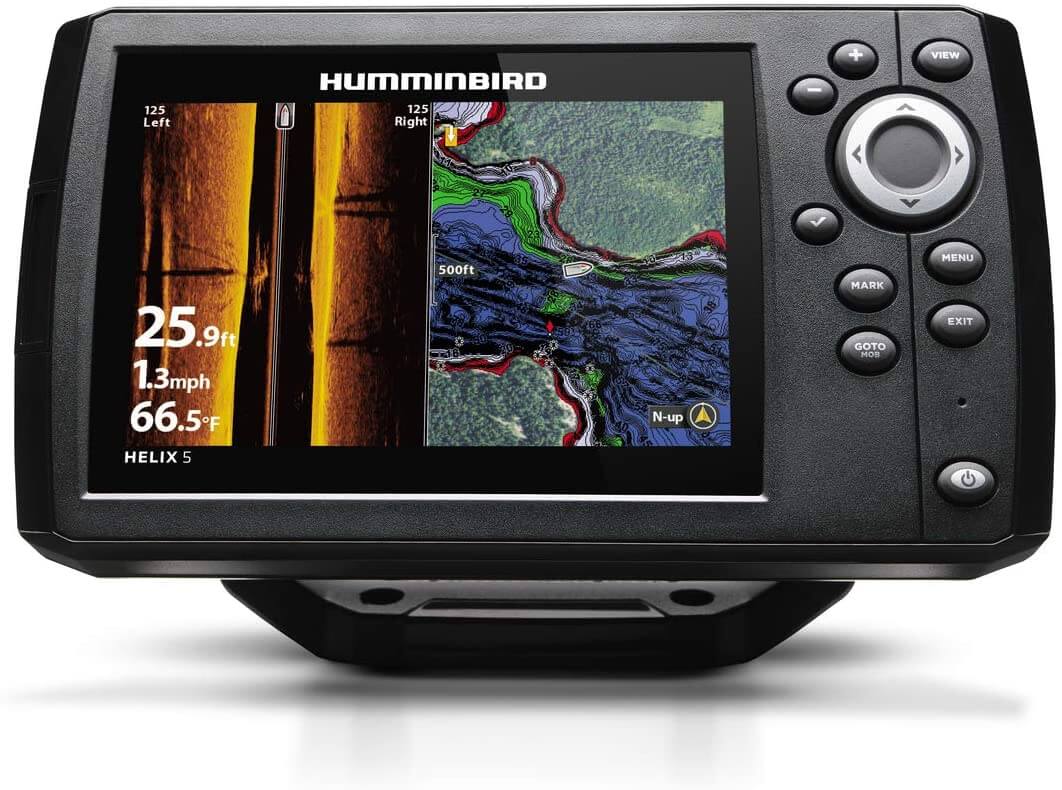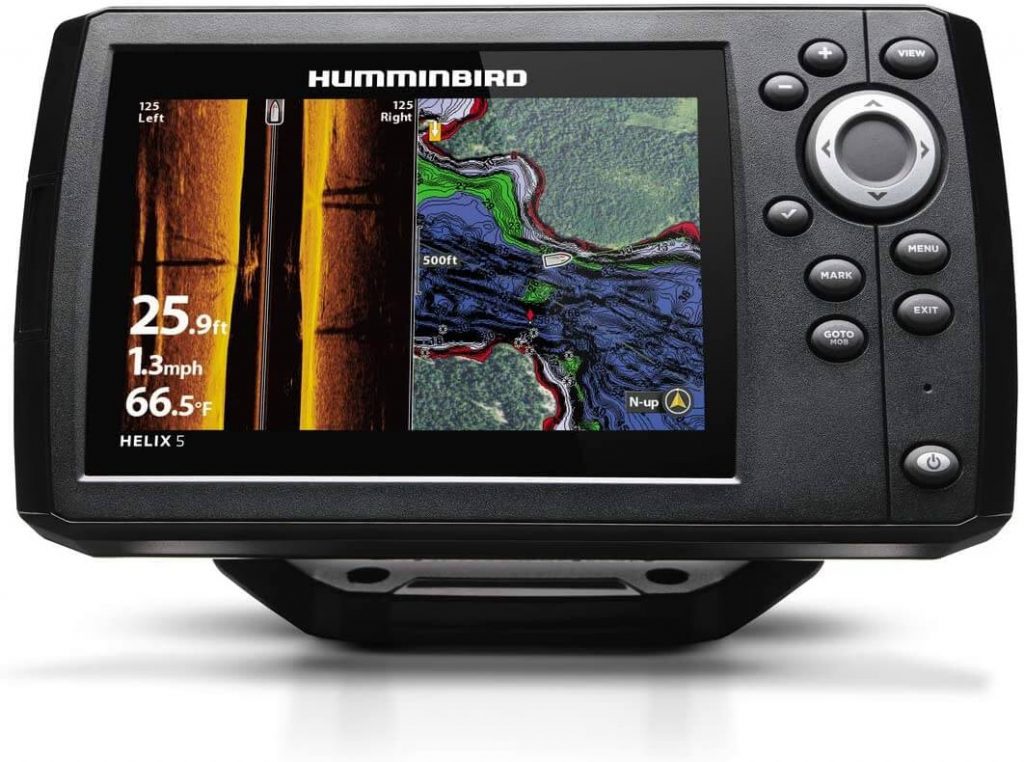 Let's start our best Humminbird fish finder review with the innovative Humminbird 410230-1 HELIX 5 CHIRP SI GPS G2. This device comes with a 5-inch widescreen that's wide enough so you'll always have visual clarity on your readings no matter the situation or the condition when you go out fishing.
But perhaps the most highlighted feature in this fish finder is its CHIRP side imaging filters that ensure to take out noise as well as the clutter in your visual readings and so you'll most definitely have the best details on what's underneath you.
The CHIRP digital SONAR feature onboard also ensures that you'll reach the depths that you need plus the needed range for much-needed accuracy and efficiency when fishing. Well, yeah it's great and all for side imaging but can it also do down imaging? Well, yes it definitely can.
It's actually equipped with dual beams narrow and wide beams so you'll have the best coverage of what's under the waters. This gadget is also powered by wireless technology so you'll have the flexibility and it actually contains a Basemap that contains charts for over 10000 lakes and coastal coverage within the US.
2.Humminbird 410950-1NAV HELIX 7 CHIRP MSI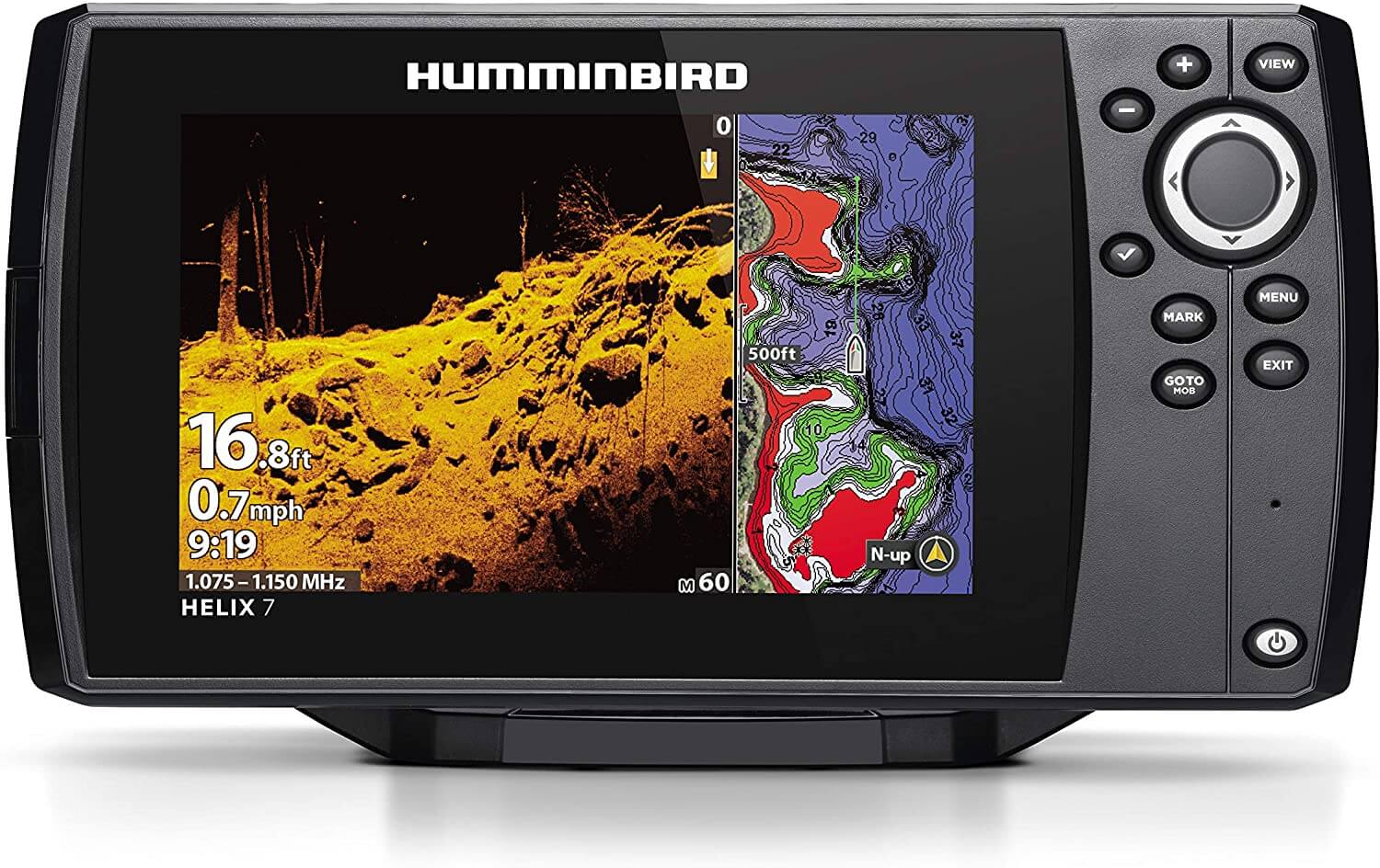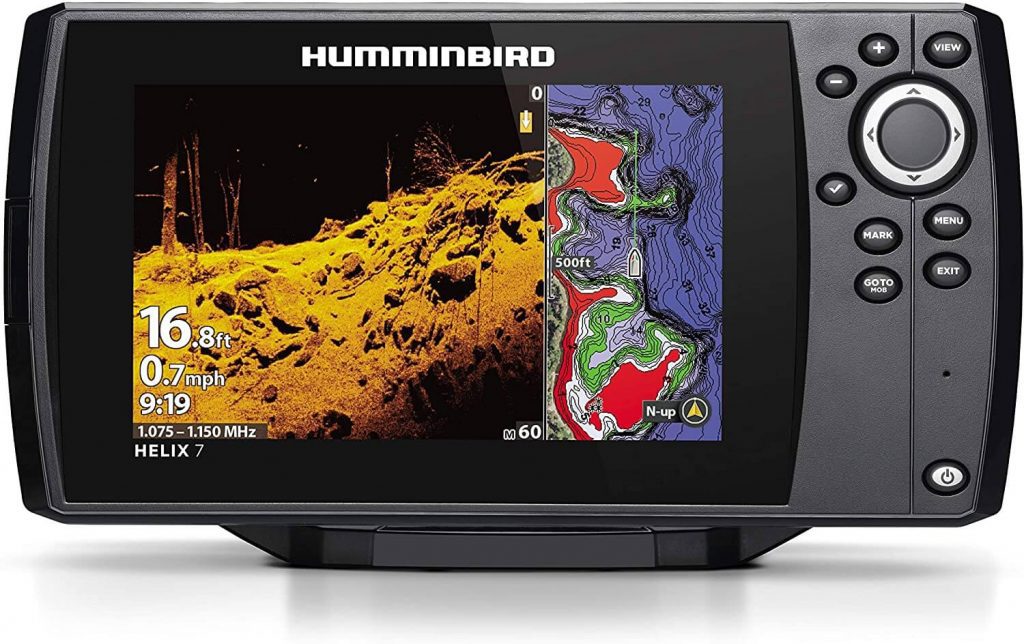 Perhaps the most well-rounded if not advanced model from Humminbird on our list is the Humminbird 410950-1NAV HELIX 7 CHIRP MSI. Humminbird 410950-1NAV HELIX 7 CHIRP MSI.
Just take a gander at its 7-inch screen that's got 800H x 480V resolution and immediately you'll know that it's top-notch. The screen also has a color TFT display which gives it more visual clarity no matter the condition on your fishing trips.
Yes, it's got superb side imaging capabilities as the brand actually calls the feature Mega Side Imaging but it's perfect for down imaging too. You'll have a crystal clear view of what's underneath for up to 125 feet on both sides of your boat. The down imaging capabilities also is superb with a coverage of up to 125 feet deep.
Well, not only that, but this advanced gadget also offers a Navionics+ SD card that should give anyone map coverage out of the box of over 21000 lakes as well as bodies of water within the US and Canada.
Together with the unit, you will receive a transducer, mounting hardware, and all other accessories that you'd need. It's got navigational buttons that are simple and always going to be functional and the build of this fish finder is as tough as they come. It may be a bit expensive but it's going to be worth it.
Down Imaging
Here are some of the best down-imaging fish finders from the Humminbird brand. These devices may also be capable of side imaging but we think that they function best when used for down imaging.
3. Humminbird 410220-1 HELIX 5 CHIRP DI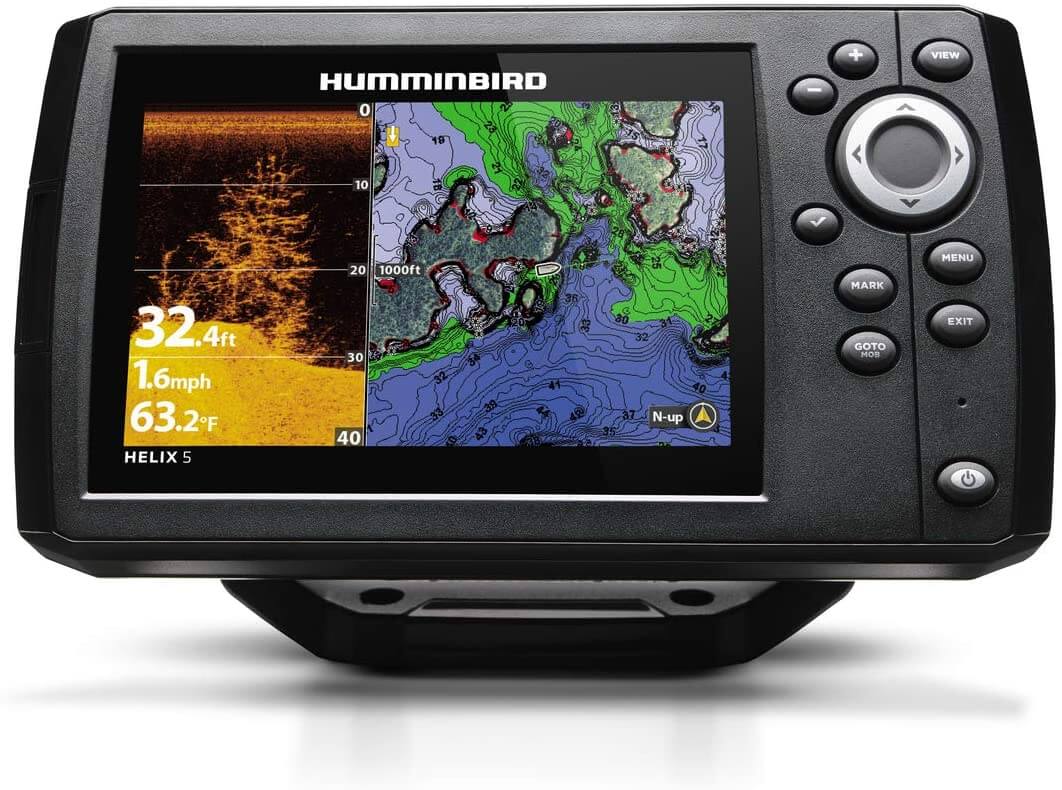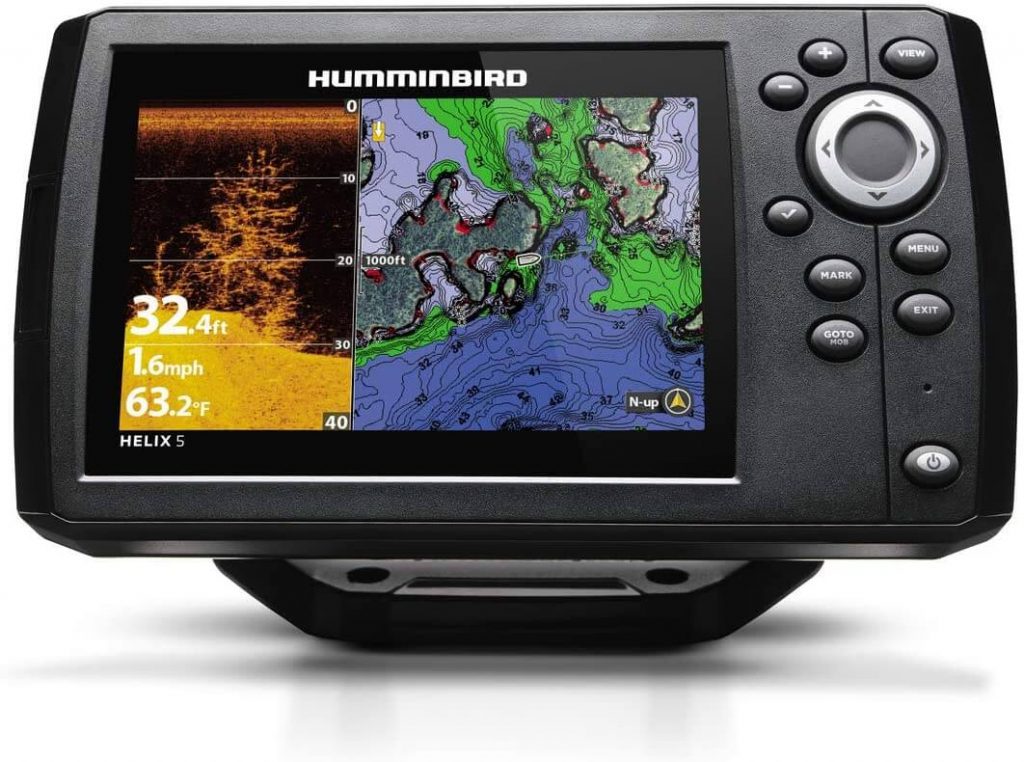 When it comes to down imaging capabilities we need to highlight this feature-packed gadget that's the Humminbird 410220-1 HELIX 5 CHIRP DI. No doubt, even in the arsenal of Humminbird this gadget is unmatched when it comes to features. It's just one of those releases where they almost did everything right.
The unit has a 5-inch display and it boasts a complete set of features like the CHIRP digital SONAR, GPS mapping, AutoChart Live, Humminbird Basemap, DualBeam plus, Switchfire system, and most of all, CHIRP down imaging.
Now, what do all these features mean? Well, for one the SONAR technology will help you see individual fish so you can know what lures or baits to use for efficient fishing. The Switchfire Sonar then ensures that you'll always have visual clarity and give you data in terms of water depth, turbulence, and temperature. We mean, it doesn't get as accurate as of that, right?
You can also use narrow or wide beams with this gadget and you'll have the widest search are possible. And also, the built-in Basemap, AutoChart Live, and Lakemaster upgrade will give you access to the widest library of maps and help you make ones down to the very last detail of the sea terrain.
So, as you can see, it's more than just a fish finder but a complete center of information for what you'd need when going out fishing.
4. Humminbird 410940-1 HELIX 7 CHIRP MDI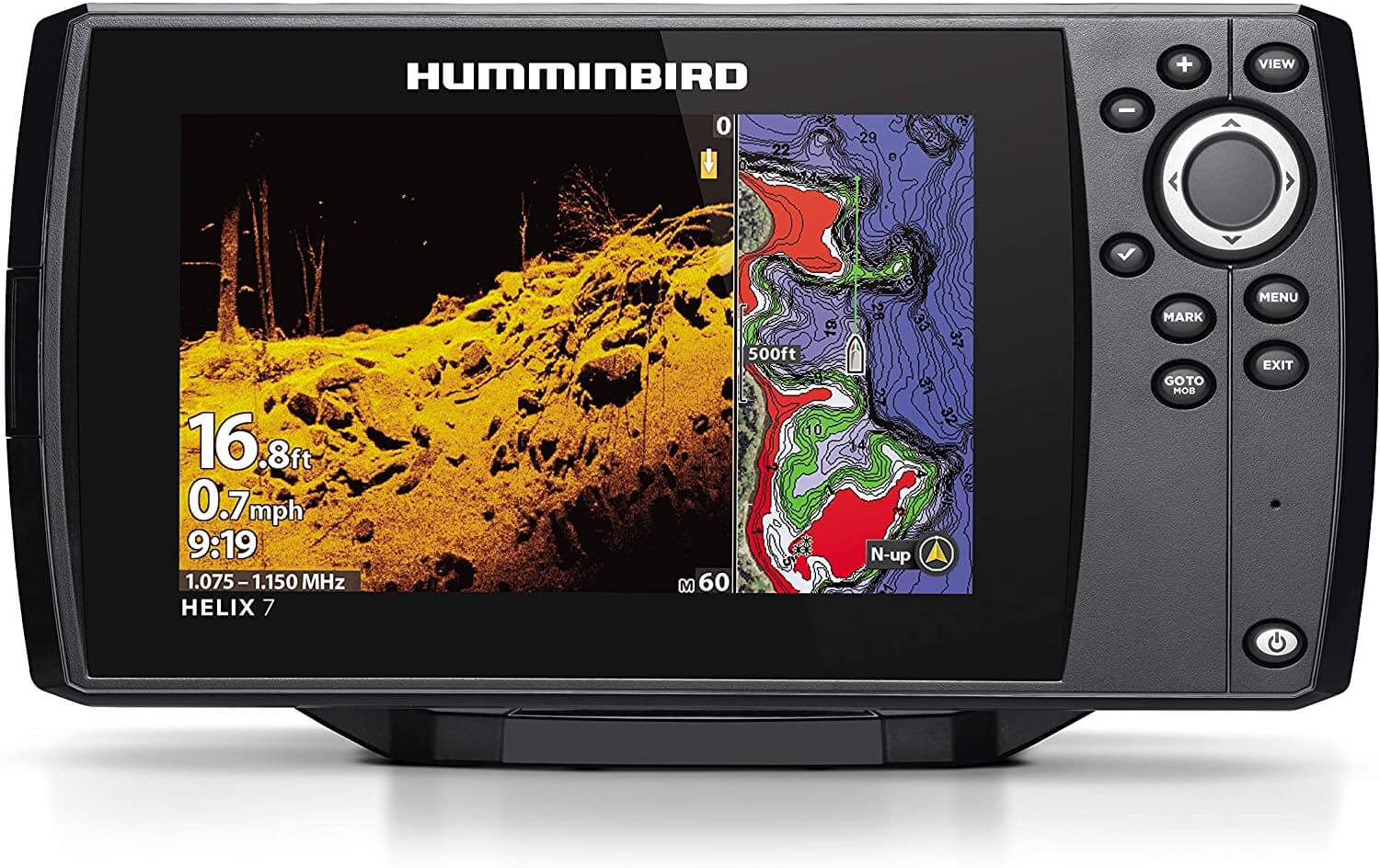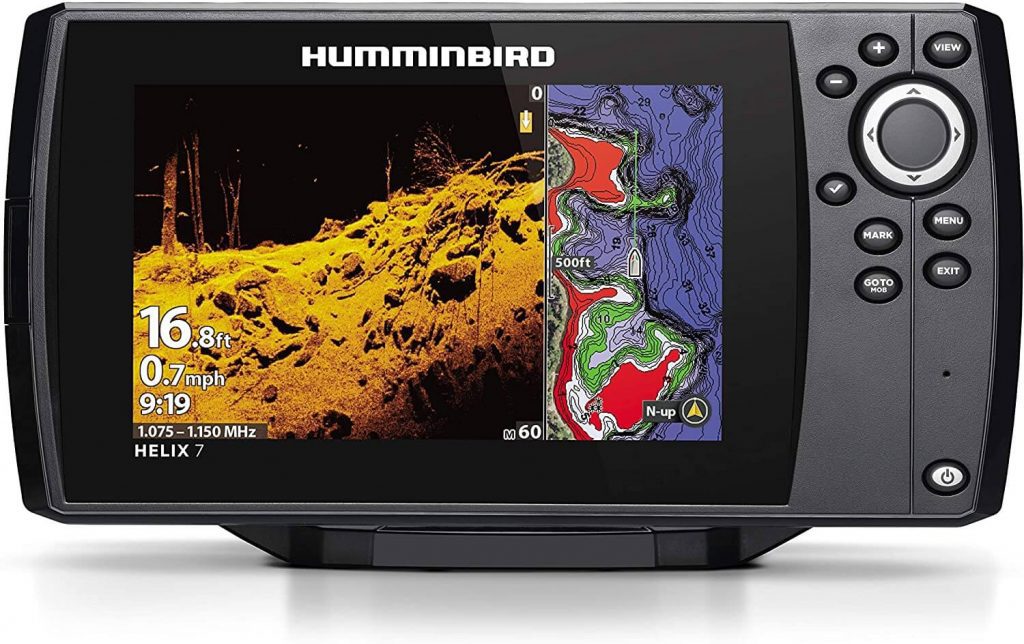 Now the Humminbird 410940-1 HELIX 7 CHIRP MDI is pretty similar to the second product we reviewed but with really subtle differences in terms of features.
It's also armed with a 7-inch display with an 800H x 480V resolution that's of course with a colored TFT display. The down imaging capability of this unit is also at 125 feet below your boat. It also comes with a low Q-CHIRP transducer plus the coveted Dual Spectrum CHIRP that offers a wider range of search mechanisms. If you need maximum detail then make sure to switch to narrow mode but you need maximum coverage then be sure to use the wide mode.
Both display modes also make sure to give you details of the turbulence, temperature, and water depth so you can be as accurate as possible as you scout for fish. It also comes with mounting hardware for a lot of boat setups.
Dual Imaging
As mentioned, there are fish finders that are capable of doing both sides and down imaging for better range and efficiency, and here are some of the best dual-beamed fish finders from the Humminbird brand. This section means that the following devices are efficient on both imaging but not necessarily the best overall.
5. Humminbird 410190-1 HELIX 5 SONAR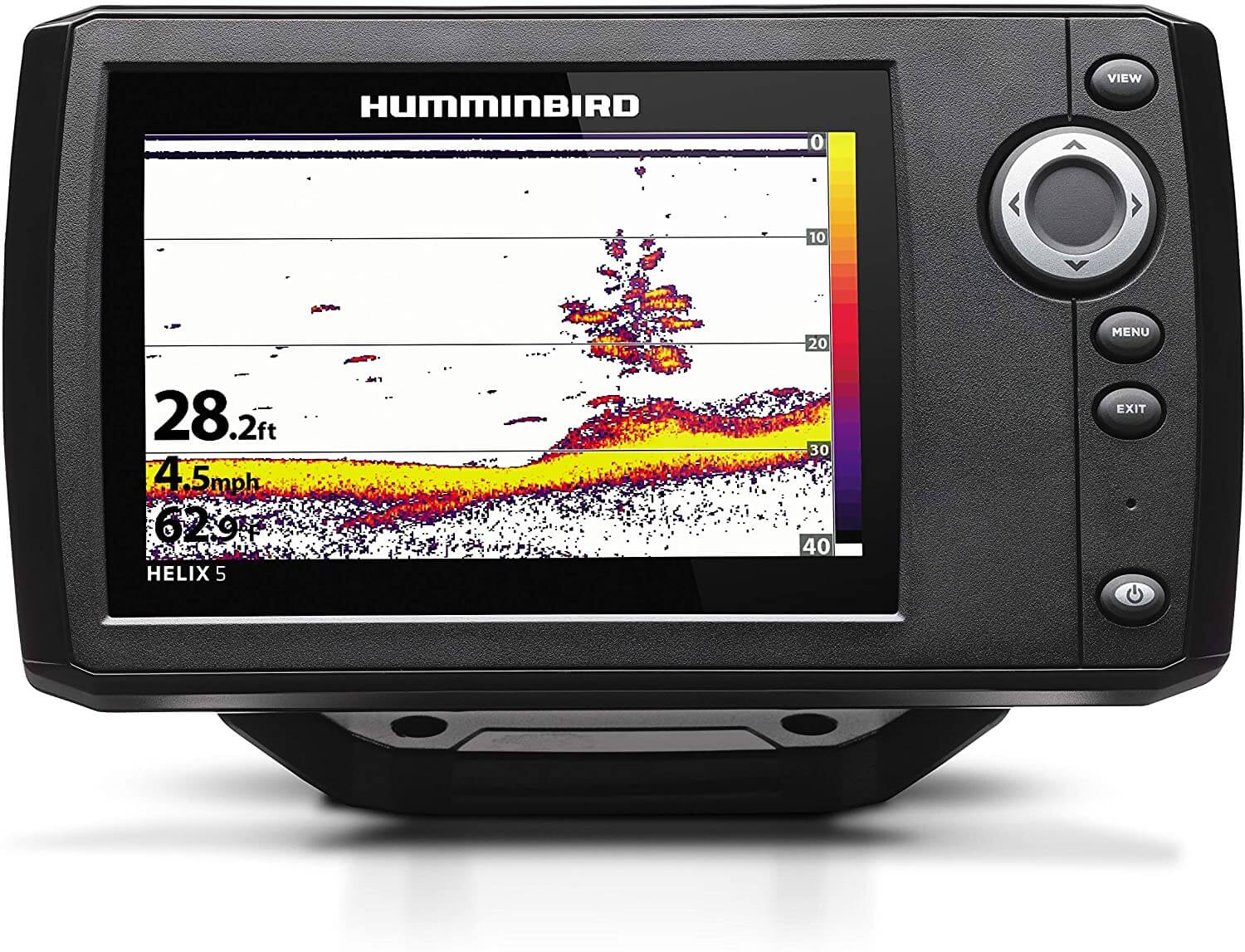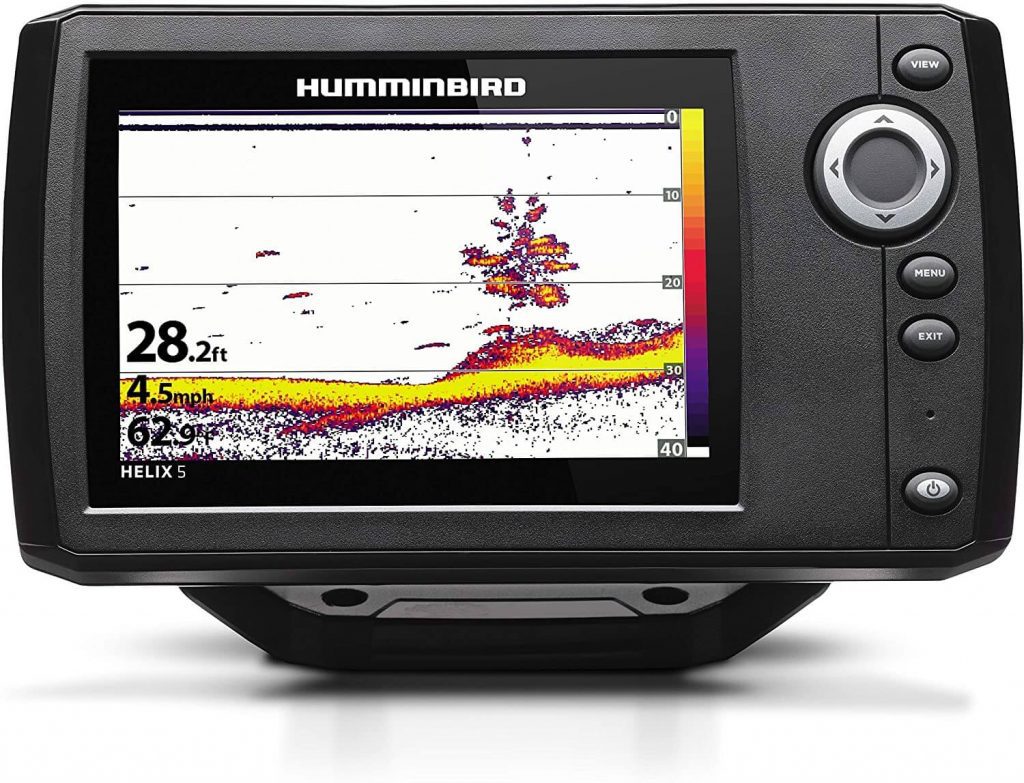 The last three devices that we're going to discuss are pretty much affordable gadgets that offer both down and side imaging for a great price. Let's start with the Humminbird 410190-1 HELIX 5 SONAR.
This unit is armed with a 5-inch screen and features both DualBeam plus and Switchfire. As mentioned, the Switchfire Sonar ensures that you'll have control over how things are displayed on your screen. Add or remove details however you want to pave the way for clearer displays on turbulence, temperature, and water depth.
The DualBeam Plus ensures that you get the best of both worlds. Choose between greater detail and greater coverage with either the narrow or wide beams respectively.
Fishes has got nowhere to hide with this fish finder and it's one of the most affordable yet feature-filled models in the arsenal of Humminbird. This unit also features a rough exterior and buttons that are simple enough to navigate and surely would pull through no matter how tough the conditions might be when fishing.
The brand understands that the weather can be relentless when out there and so they've built these devices to be as tough as they can be with reliable and long-lasting materials.
6. Humminbird 410170-1 PIRANHA MAX 4 PT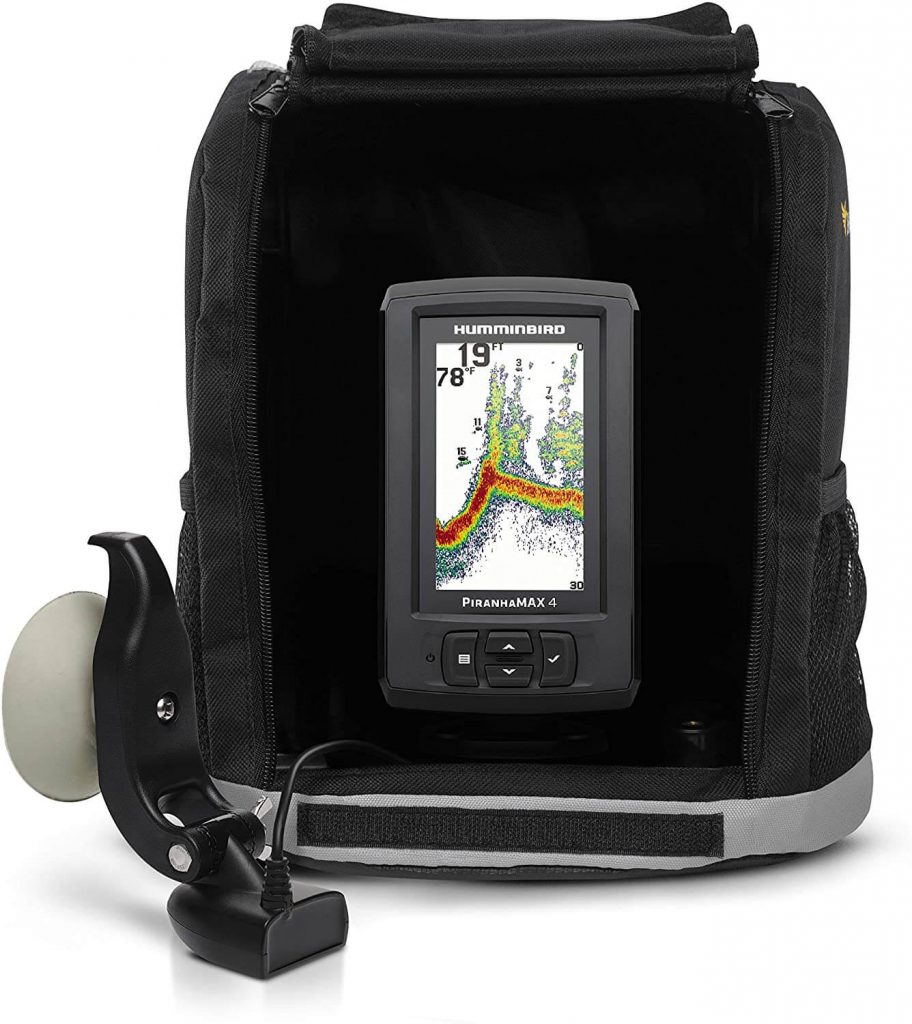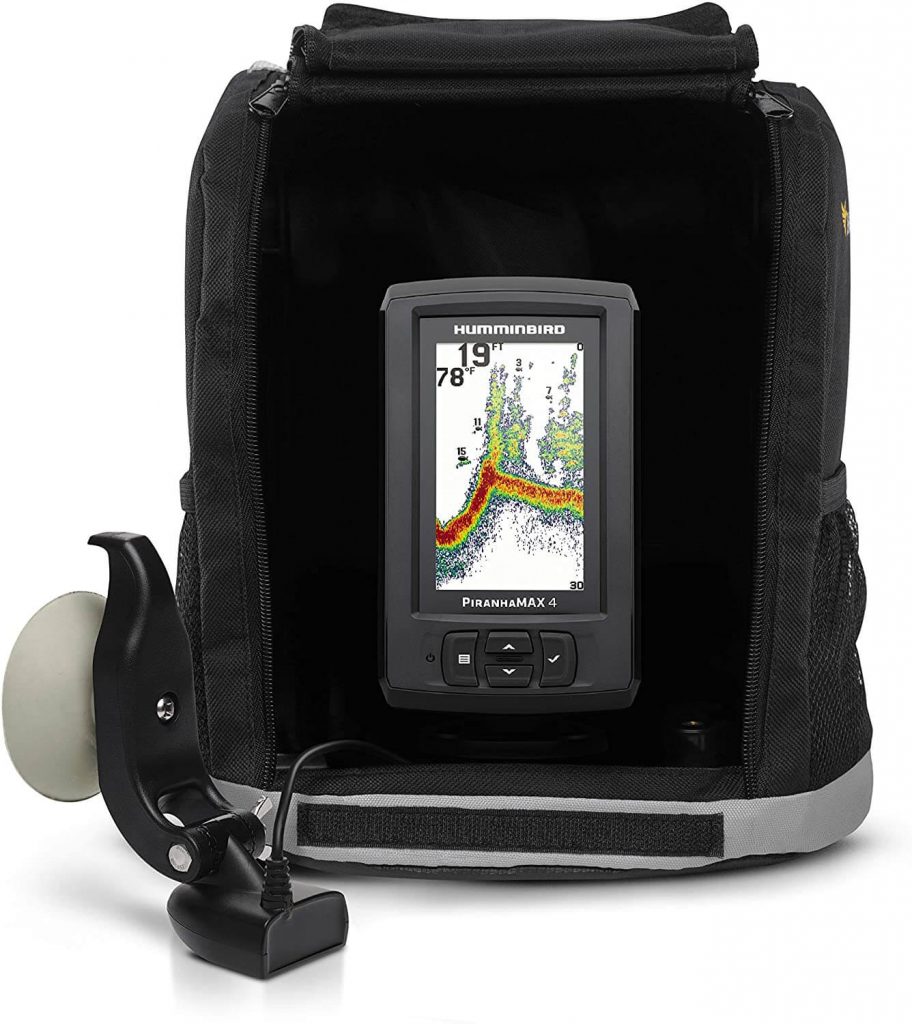 The penultimate entry on our best Humminbird fish finder review is known for its portability, none other than the Humminbird 410170-1 PIRANHA MAX 4 PT. This unit is also quite known as a budget-friendly gadget yet it offers flexibility and reliability for a lot of boat setups.
It comes with a 4.3 inches LCD colored screen which is not bad at all for its price. It's got an easy-to-navigate interface too plus features such as Fish ID+, depth alarms, fish alarms, and also, zoom features to give you the utmost view of what's underneath your boat.
It comes with the DualBeam Sonar to help you decide between detail and coverage and switch back and forth rather easily. This feature should help you identify not only fish but also contour and structures so you'll be as accurate as possible.
It also comes with tilt and swivel mounts that should ensure adjustability when you mount it in your boat and a carry case too that should protect it while fishing. It is IPX7 waterproof and has a depth capability of 600 feet 2D at 200 kHz and 320 feet 2D at 455 kHz.
The unit also comes with all sorts of accessories that you'd need like a transom mount, transducer, and a 20 feet long cable.
7. Humminbird ICE-35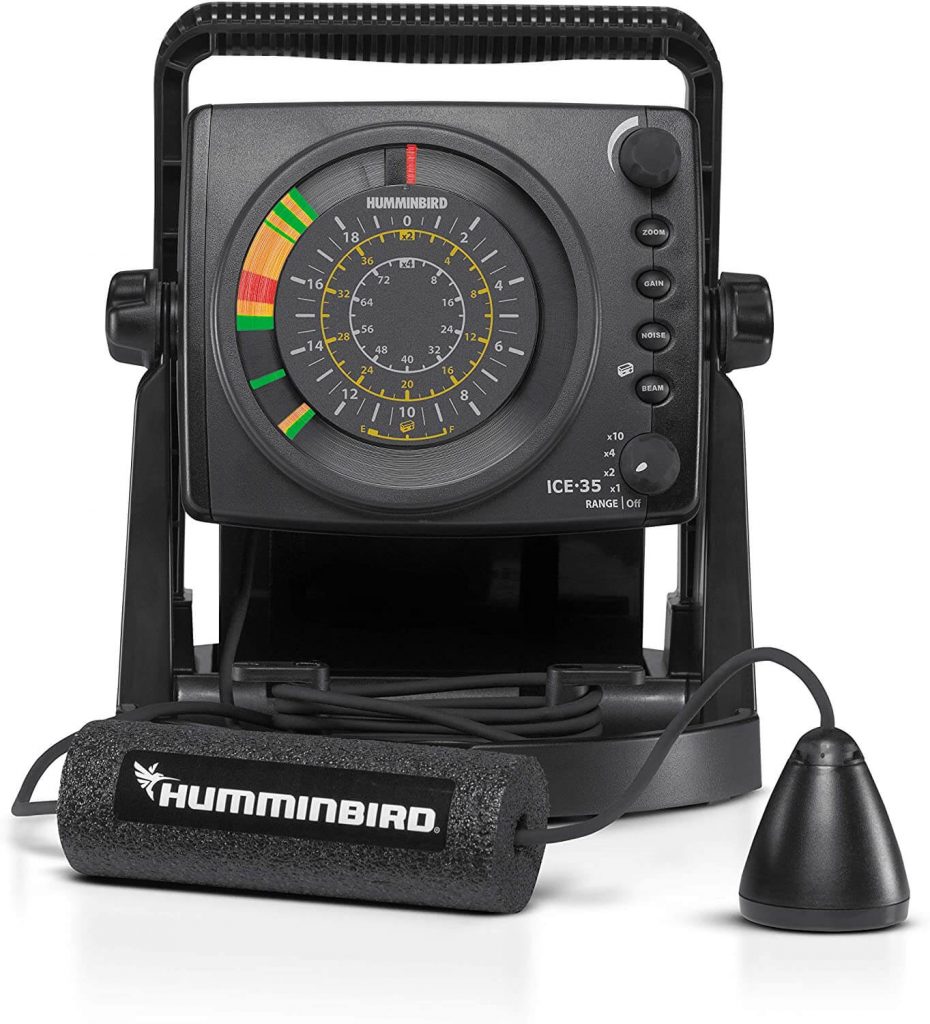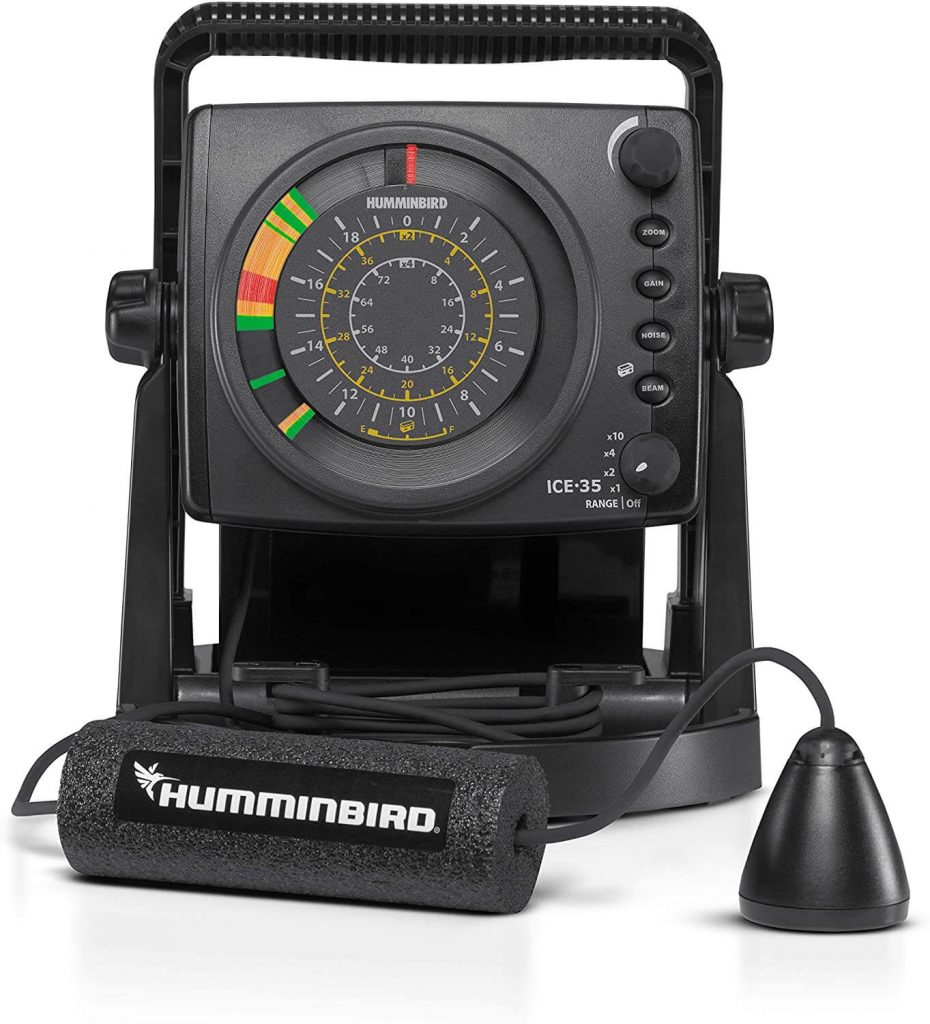 The last entry on this Humminbird fish finder review works a little bit different than the devices we discussed but still works just as efficiently. We're talking about the Humminbird ICE-35.
This unit still comes with the patented dual-beam SONAR of the brand with both wide coverage and clarity on the details. This unit though instead of a screen comes with a 3-color fiber-optic flasher display.
The 3-color display actually represents fish, your lure, and what's at the bottom. It also comes with a 2X zoom feature so now you can see way clearer than before. The sensitivity of the flasher can also be adjusted through its gain knob.
Speaking of which this unit has got rugged buttons and knobs which are easy enough to understand and navigate. This model allows you to check the depths of the waters for fish of up to 200 feet. You can pick your depth at 1X, 2X, 4X, and even 10X the range.
Now you'll get the best views possible, see fish and your lure clearer, eliminating any interference, and chart your bodies of water like a boss.
Maintenance tips for your fish finder
Here are a few maintenance tips for your fishfinder.
If your fish finder gets dirty or comes into contact with saltwater then always make sure that you have a clean cloth to dampen with fresh water and wipe your fish finder with.
Spray washing your fish finder is not recommended.
You won't need a commercial glass cleaner just to clean the screen or lens of your fish finder. On the contrary, these commercial cleaners might damage your fish finder instead so better stay away from them.
Warm, mild, and soapy water is enough to clean the lens of your fish finder. Also, use non-abrasive liquid hand soap or dishwashing soap. Always use a soft cloth and if there are water spots then a water plus vinegar solution is recommended.
Sunscreen and bug spray are also a no-no, so don't use them on your fish finder if you don't want to permanently damage its lens coating.
Use a liquid detergent to clean your fish finder's transducer if it stays in the water for long periods which may reduce its efficiency.
And lastly, do not leave your fish finder in your car trunk or vehicle as hot temperatures will damage the electronics of your device.
FISH FINDER BUYING GUIDE
Here are some of the important aspects that you should consider when buying a fish finder.
The body of water
Instead of discussing the technical aspects of a fish finder outright to let you know which features to consider to buy one, let's take a look at actual factors that will affect your decision on which gadget to buy instead then we discuss technical specs.
The first thing that you need to consider is the body of water that you usually fish on. Do you need a fish finder that can work on saltwater, ice water, or freshwater? It's important to know that not all fish finders will work on all bodies of water.
There are fish finders that are designed only for a certain body of water or purpose like ice fishing and so you should be wary of that. Do you then need a versatile fish finder that works on all of the aforementioned bodies of water? Then look for that aspect of the device that you are about to purchase.
Do you need a device that offers clarity as well as power as you navigate coastal waters? Or do you need something tough and built for rougher freshwaters like in lakes or rivers? Or maybe you go ice fishing a lot so you need a device that can withstand extreme temperatures.
We already discussed imaging types (side, down, and dual) so you may already have an idea of what your fish finder should have if you need to scan wide or scan deep.
The boat you ride
It's really not the size of the boat but it's the setup of your boat that you need to consider as you buy a fish finder. So, you already decided on the body of water or waters that you want or often explore, now it's time to consider the boat that you're going to explore it on.
Humminbird specifically does have fish finders that are fit for bass boat setups, walleye or multi-species boat setups, Jon boat or utility boat setups, skiff or bay boat setups, pontoon, and kayak fishing. Look for gadgets that specifically say that they are great for a certain boat setup if you want the best results.
Fish finder type
We've classified fish finders based on their imaging strength above but another way to categorize them is by their configuration. Fish finders, especially the ones from Humminbird are pretty versatile, but there's always the right device for the right setup.
You can have a console-type fish finder so you can always keep an eye on the screen as you steer your boat and look out for potential fishing spots in the process. Or if you need your fish finder mounted in front of your boat because that's all where the action lies then go get yourself a bow fishfinder.
Or lastly, go get yourself a portable fish finder for setups like kayak and ice fishing for utmost mobility and efficiency.
Convenience and operation
What's the point of having a fish finder set up properly or if it's got all the fancy features if you can't operate it properly, right? Today, you can choose whether to have buttons on your device or a touchscreen.
In this aspect, it just really depends on what you prefer. Old-school individuals might say that buttons or keypads are still the best way to go when it comes to extreme conditions when out in the water but there are also people who prefer the convenience of a touchscreen.
Budget
And yes, fish finders come in all shapes, sizes, and a range of features. You also need to consider the toughness, durability, reliability, and power of a fish finder. Finding the right brand would surely save you a lot of money as their devices should naturally be more reliable, in general.
But yes, if you look into Hummnibird's catalog of fish finder models, you'll surely find the right one for you without overspending. Consider how often you fish, what's your purpose, and your commitment to fishing before buying an expensive gadget that you won't even use that much.
Advanced features
Humminbird won't come short in terms of the features that it offers to fishermen of all experience levels. This brand is a pioneer when it comes to very helpful features like SONAR technology, imaging, mapping, and navigation.
SONAR should give you clarity on what's right under or within the range of your boat. The right imaging feature should let you sharpen your focus and keep your eye on the prize. Mapping technology should always make sure that you know all the fishing hotspots and don't waste your time wandering about. And lastly, through advanced navigation features, you ensure that your boat is always positioned the right way and accurately for catching a haul.
Also, these Humminbird devices are also considered top-notch when it comes to their integration and connectivity to other gadgets, devices, and software. Turn it into more than just a fish finder but a command center of information.
Frequently Asked Questions
1. What is the best Humminbird fishfinder?
If you base it on our list then we can say that the best Humminbird fish finder is the Humminbird 410950-1NAV HELIX 7 CHIRP MSI. Simply because it's got one of the most innovative sets of features not only within the brand but in the entire catalog of fish finders out there today.
2. Which fish finder is better between Lowrance and Humminbird?
There's no doubt about it, Hummingbird is far superior to Lowrance when it comes to fish finder technology. For instance, Humminbird is the first of these two brands to come up with features such as 360 SONAR and side imaging. Lowrance has got a lot of catching up to do if they want to be considered just as good as Humminbird.
3. What's the best type of fish finder for kayak fishing?
Still, the same answer the Humminbird 410950-1NAV HELIX 7 CHIRP MSI is the fish finder that you'd want by your side when you go out kayak fishing. It's got all the right set of features that you'd need for sure.
4. Which is the best Fish Finder under 100$?
If you are on a budget and are looking for a great all-around fish finder for your needs then you don't need to look any further. As we mentioned in our review the Humminbird PiranhaMAX 4 is by far the best and cheapest fish finder overall so you may give it a shot, you won't regret it for sure.
5. Are fish finders really effective and helpful?
Nowadays, fish finders do more than just well, find fish. Due to the advancements in technology, they are currently jam-packed with features that can help you fish more efficiently and effectively. Scouting large bodies of water and FAST. So yes, they are very effective and very helpful for all anglers.
You have a lot of fish finders to choose from especially within the Humminbird brand that will surely be a great investment for anyone who fishes.
Final Thoughts
There you have it, these are some of the best Humminbird fish finders in the market today. These gadgets have subtle differences when it comes to range and features that determine their prices so the ball is in your court and take your pick.
Learning how to use a fish finder or replacing an old one you've been using for many years now should immediately make a difference in your fishing game. You can be sure that they are worthy investments and Humminbird is a brand that's right at the top of this industry.
They are innovators and pioneers so you won't miss a beat when you choose their products for sure. So, have a great time in the waters and as always, stay safe! 
Read More :