There's something about ice fishing that makes it exciting, but the freezing outdoors usually makes it incredibly challenging. To help you improve your ice fishing game, we recommend using the best ice fishing tip-ups – not only to increase your harvest but to make it more fun for everyone as well.
Whether you plan on drilling your ice hole on a frozen lake or fishing from an ice house, we've got you covered. We've reviewed five ice fishing gears that are guaranteed to be reliable and accurate.
We're also going to discuss other informative details to help you understand why it's an ice fisherman's best friend. And if you're undecided as to which tip-up to get, our comprehensive buying guide is here to help.
Related articles:
The 5 Best Ice Fishing Tip-Ups We Will Cover Today
1. Best long lasting-Beaver Dam
2. Best choice-Frabill Pro Thermal
3. Best Overall- HT Polar Therm Extreme
4. Best Fast Action- IFISH PRO 2.0
5. Best Foldable-SF Ice Fishing
Ice Fishing Tip-Ups Reviews!
1. Beaver Dam tip-ups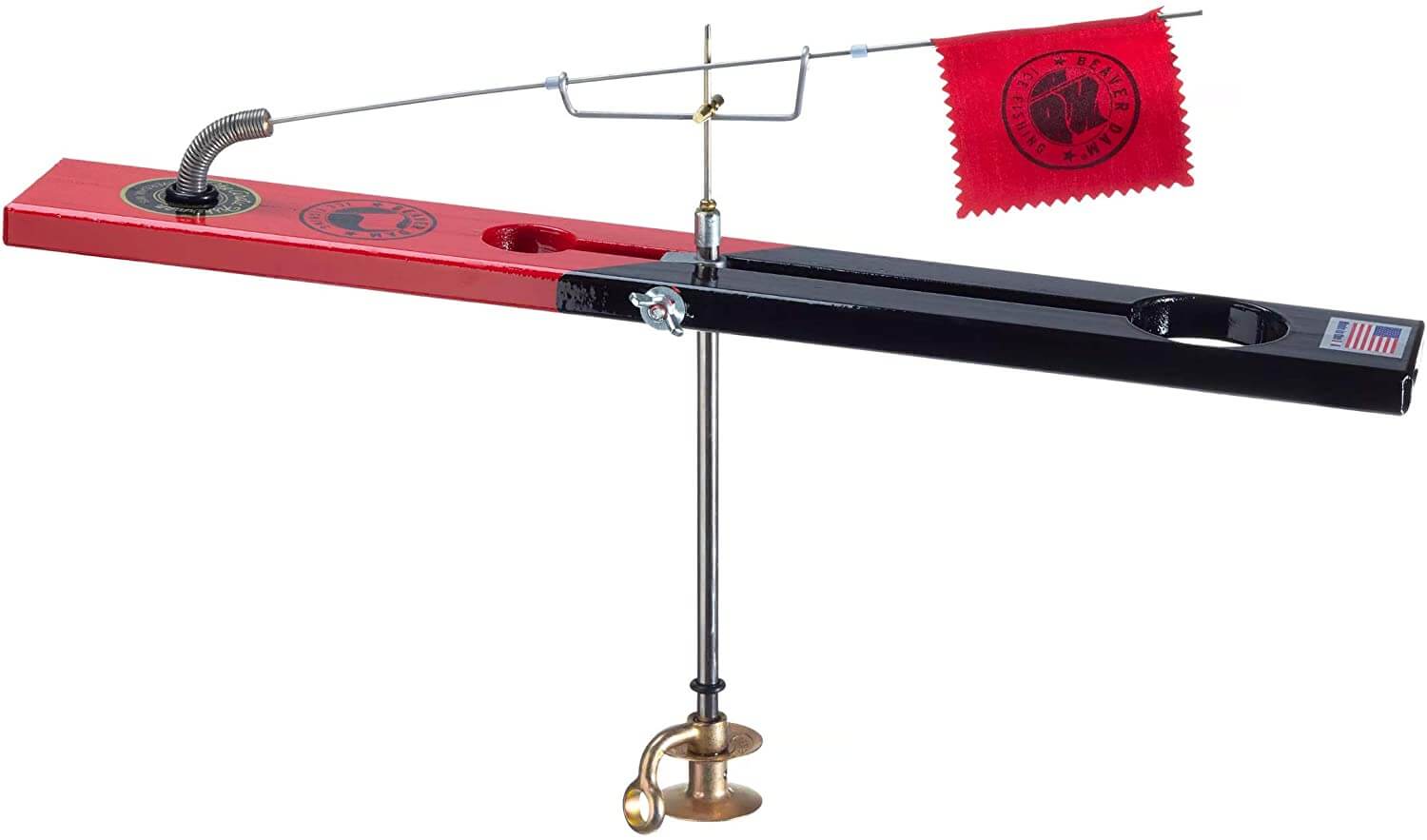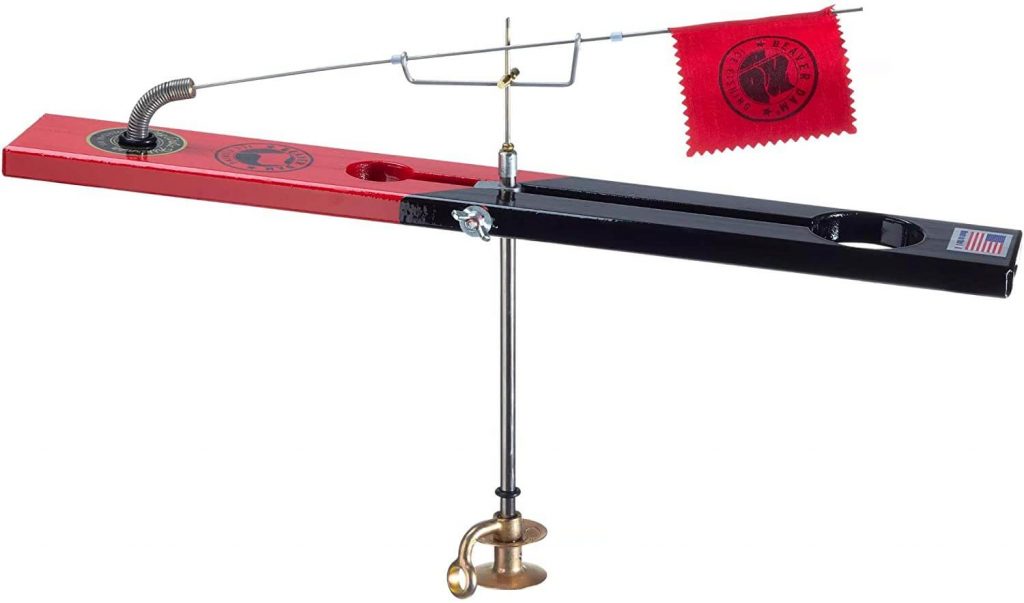 When it comes to ice fishing tip-ups, no product comes close to the durability and signaling accuracy of the legendary Beaver Dam.
With its Smooth-Spool Technology and Freezeproof Grease, the underwater spool on this tip-up won't ever freeze and turn brittle. This guarantees that your game fish stays on the line no matter how harsh the weather condition is.
The Beaver Dam also boasts a seamless steel tube that's filled with the same Freezeproof Grease to make sure that it stays responsive. This is coupled with aluminum tube bearings that improve its movement.
We also love that it comes with a bright red flag that easily alerts you when you've got a catch. The flag stands at 17.5 inches, making it easy to see even in harsh wind and weather conditions. And if you're worried about the flag toppling over, then you should know that it is mounted on a solid rod-cradle design that's virtually windproof.
With over 50 years of experience in manufacturing tip-ups, there's no doubt that Beaver Dam Ice Fishing has already perfected the craft to provide us with nothing but the best.
Pros
Improved visibility.
A seamless steel tube with freezeproof lubricant ensures responsiveness and smooth operation.
Easy to use.
Premium materials and construction.
Cons
As of writing, there are no negative reviews of this item.
2. Frabill Pro Thermal Original Tip UPs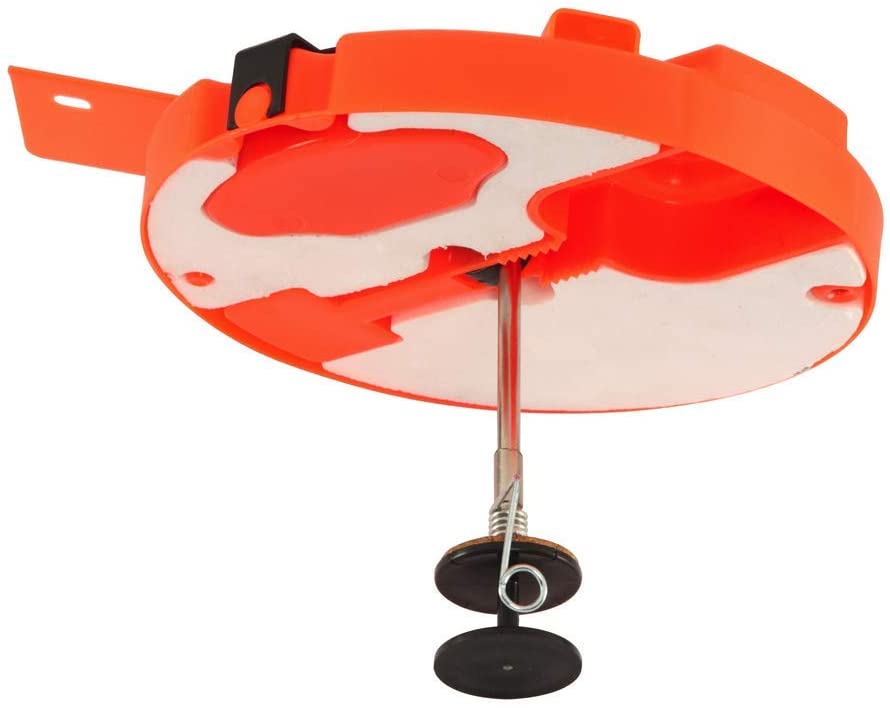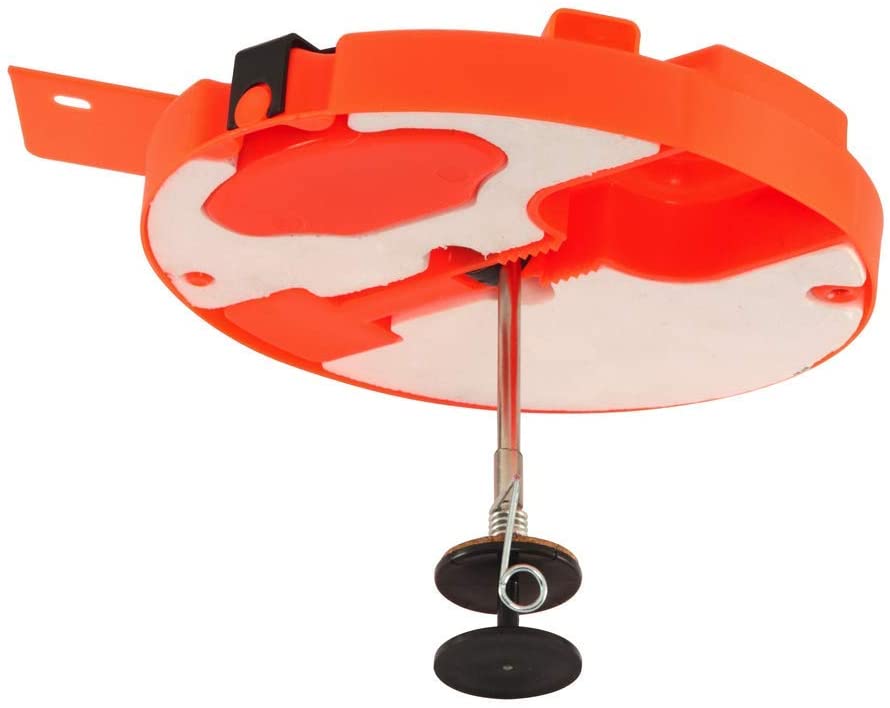 If you're looking for ice fishing gear that offers great value for the money, then you can't go wrong with the Frabill Pro Thermal.
Claiming to be the original insulated, this contraption boasts a styrofoam and plastic combination that effectively keeps the ice from re-freezing. It can cover an ice hole of 10 inches, which makes it easy for you to drill through.
The Frabill Pro has a shaft-in-shaft design that makes it easy for users to re-grease the contraption. This guarantees that this tool will always be responsive even when it's freezing outside.
We also love that it comes in bright colors that help improve its visibility even when it's hazy outside. This allows you to easily spot it when the flag is out, even when you're keeping yourself warm from a few meters away.
Users can opt for a bright yellow or orange tip up, while some models come with a light that automatically turns on once the flag is up. This is a great signaling system that you can count on.
Pros
It effectively keeps the ice hole open.
Impressive line capacity.
Very responsive.
Bright colors offer great visibility.
Minimalist design.
Great value for the price.
Cons
The trigger is very sensitive and can cause false tip ups.
The shaft holding the flag is not windproof.
3. HT Polar Therm Extreme Fishing Tip Ups

The HT Polar Therm Extreme is convenient that offers impressive portability.
This ice-fishing tip up from HT has a tangle-proof design that promises easy storage and portability. Its compact design allows it to easily fit inside a 5 or 6-gallon pail which you can easily carry to your fishing spot. You can also stack up to five of these tip ups inside one pail without worrying about having its components tangled up.
The HT Polar also boasts Thermal Action technology that effectively keeps the water from re-freezing. This effectively keeps it in place as you wait for a nibble.
We also love that HT polar comes with an adjustable tension trip set which allows you to adjust between light, medium, and heavy tension depending on where you're fishing. It also has a 200-foot spool capacity that allows you to enjoy deep-sea ice fishing.
The HT Polar Therm Extreme has a bright orange flag and frame which makes it easy to spot. The flag has a telescopic pole that you can extend to 22 inches. This guarantees improved visibility.
Pros
Impressive compact and tangle-proof design.
High visibility with its telescopic flag pole.
Reliable Thermal Action technology.
200-foot spool capacity.
Freezeproof mechanism.
Easy to set up.
Cons
As of writing, there are no negative reviews of this item.
4. IFISH PRO 2.0 Ice Fishing Tip Up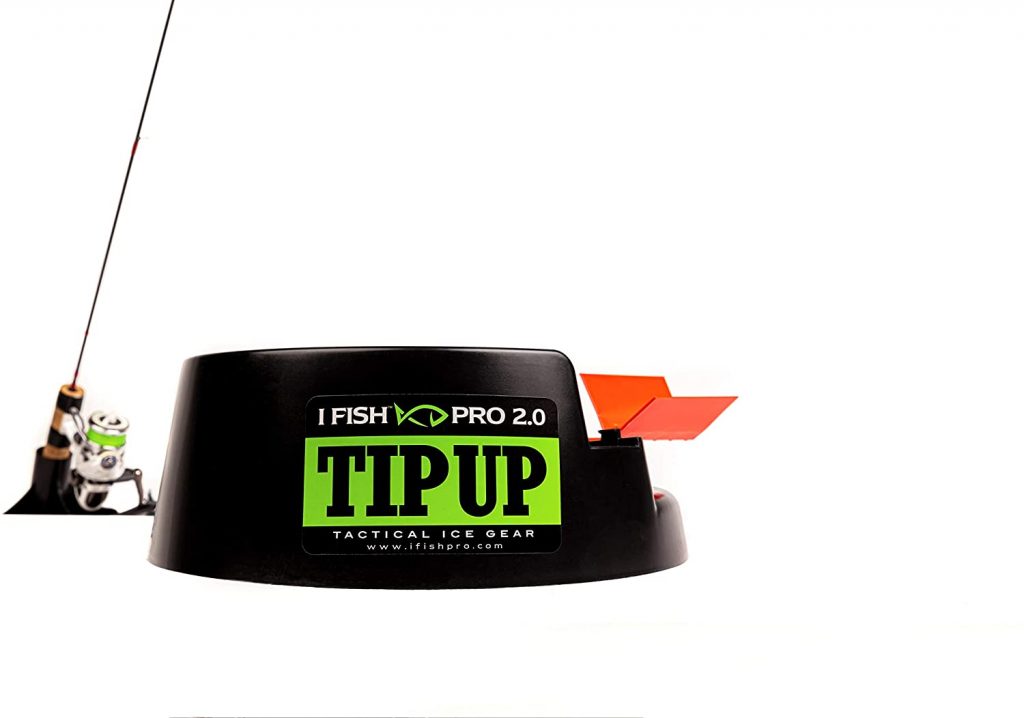 If you prefer to go ice fishing with your rod and reel, then the Ifish Pro is your best friend.
This newly-designed tip up from I-Fish allows you to use a separate rod and reel to catch the fish better – instead of catching it with your bare hands. This allows for a cleaner and more organized ice fishing experience. This also comes in handy if you're trying to catch different species since you simply have to switch your rod and reel instead of the entire spool.
The I-Fish Pro 2.0 also has three trigger settings: light, medium, and heavy. This allows you to enjoy ice fishing regardless of where you are and what you're hoping to catch. It also boasts 7 slip stops to ensure accurate sensitivity for tipping up.
While most ice fishing tip ups come in bright colors, the I-Fish Pro comes in a stylish matte black color – and for a good reason. Black is known to absorb heat, and this keeps the mechanism from freezing up.
And finally, the I-Fish has a convenient wind deflector that helps prevent false flags. This also helps prevent snow build-up for easier cleaning.
Pros
You can use your rod and reel.
3 trigger settings.
7 slip stops.
Wind deflector design.
Easy storage and clean-up.
Cons
As of writing, there are no negative reviews of this item.
5. SF Ice Fishing Black Assault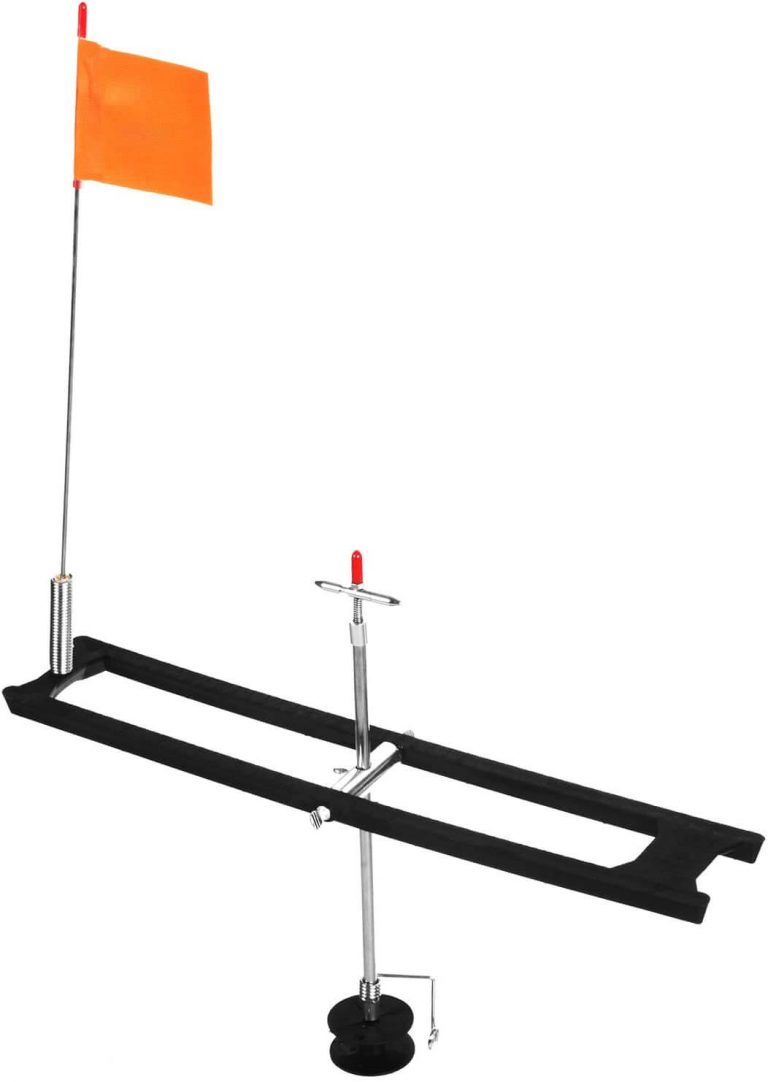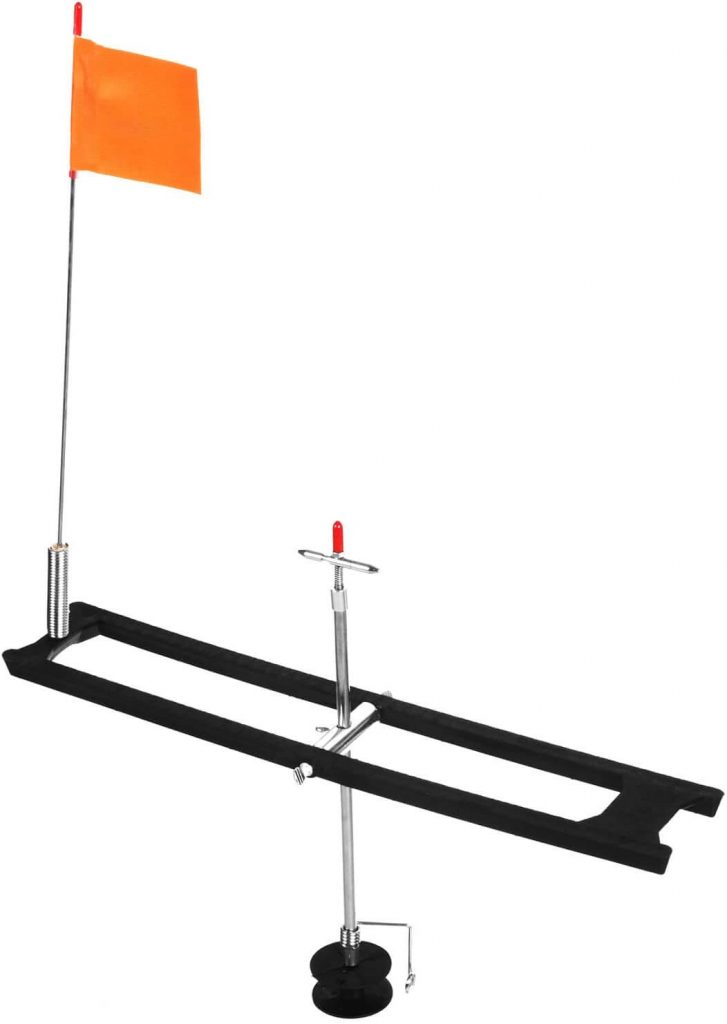 This ice-fishing tip up boasts a solid base made of premium high-quality plastic that does not easily freeze up. The base also has a built-in ruler that allows you to measure your catch conveniently without the need for a separate tool.
The SF Ice Fishing also has iron parts that are connected to the plastic spool. This makes it easy to put the line on while also being sturdy enough even against a big catch.
We also love that it comes with flexible prompting metal parts. This mechanism allows a responsive tip-up so you don't have to worry about false triggers or missed harvests.
The SF Ice Fishing Black Assault has a bright red flag that makes it easy for you to spot once it tips up. It is also freezeproof and windproof, so you know you'll make the most of your ice fishing trip.
Overall, this icing tip up is a portable alternative to the bulkier items on this list. And since it already comes with a ruler, you have to bring fewer items on your fishing trips.
Pros
Compact design.
Uses durable rustproof metal pieces.
Responsive trigger.
Bright red flag for better visibility.
Cons
The spool gets jammed up from time to time.
Benefits Of Ice Fishing Tip Ups
First, ice tip-up allows you to relax while waiting for a bite. These contraptions help you suspend your bait in the freezing water and alert you when you caught something. You don't have to wait in the same spot in the freezing environment, so you can enjoy other activities while you wait.
And second, these contraptions can be set up in different areas, and this allows you to catch more fish. All you have to do is place them in strategic areas and wait for the flag to tip up once a fish gets caught.
Types of Ice Fishing Tip-Ups
There are several types of ice fishing tip up these days. But if you look at their functionality, it all boils down to three basic types. These are hardwood, pro-thermal, and rod tip ups.
Hardwood Tip Ups are the classic ones that have a wide and sturdy base. This type of tip up has been used for years, and are known for their durability and stability – even in case of a large catch.
Pro-Thermal comes in rounded shapes that block the ice hole from freezing back, thanks to its insulated base. This makes you less worried about your holes, which makes it perfect for beginners. It's rounded design also makes it stackable and more portable.
And finally, Rod Tip-Ups or Rod Holders simply serves as a more sophisticated contraption to hold your rod while you wait for a bite. This gives ice anglers the best flexibility since they can easily change the rod and reel depending on what they're planning to catch. For more information
Maintenance Tips
Taking good care of your tool helps prolong its longevity. It also helps preserve its sensitivity and accuracy to prevent false triggers that could ruin the ice fishing experience. To make sure that your tip ups are always in great shape, here are some maintenance tips that you might want to consider:
Make sure that you're regularly lubricating the tip up to keep it from freezing up during your fishing trips.
Only lubricants that are rated for low temperatures only – otherwise, the tip up will still end up freezing.
Read the manual and observe the proper cleaning and storage instructions for each unit. Different manufacturers require different care for their tip ups, so it's best to observe what they recommend to extend your ice fishing tip-ups usability.
Ice Fishing Tip ups Buying Guide
Materials
One of the most important factors you have to look into when buying an ice fishing tip up is the materials used in its construction. This helps you determine how well it will hold up against freezing temperatures to ensure that you'll be able to catch fish.
The materials used will also help you identify if the tip-up will be able to last for a long time. The most popular materials used for ice fishing tip ups include wood, aluminum, steel, and premium plastic that are crafted to withstand extremely low temperatures.
Plastic is often the most affordable material, but its durability is often put to the test. On the other hand, well-maintained metal or wooden materials can last for years.
Construction
Going hand-in-hand with the materials used is how the tip up is constructed. Some tip-ups have one solid mold, so you don't have to worry about its components falling off eventually. In other cases, these components are securely screwed in place, so you know that they will last for a long time.
How the tip up is made tells you how well it will work efficiently even after years worth of fishing trips. It will be able to maintain its accuracy without sacrificing its fishing capacity.
Base
The size of the base also matters. This will help you determine how stable the tip up will be. However, this will depend on the type of tip up you intend to use.
In the case of the classic tip ups, it's best to have a base that's wider than the size of the hole. In the case of pro-thermal tip-ups, you have to get something that's the same size as the hole. As for the rod holder, it mainly depends on whether it uses a thermal base or not.
Accuracy
To make sure that you'll make the most of your ice fishing trip, you have to make sure that your tip up is accurate. This means that it alerts you as soon as you caught a fish.
In most instances, the reason why tip ups with excellent construction and materials do not get recognized as the best in the industry is because of their extremely sensitive triggers. This results in false tip ups.  And in other cases, the flag fails to respond to the bite. Either way, this can be very frustrating.
Relatedly, you should also check if the tip-up offers adjustable trigger settings. This helps you make the necessary adjustments to maintain the contraption's accuracy – whether you're aiming for lightweight crappie or a heavyweight carp.
Make sure to ask your friends if a particular brand has excellent accuracy. This is the best way to know what works.
Visibility
Another factor you have to consider is the visibility of the flag. Ideally, you should go for one that comes in bright colors so you can easily spot it when the flag is raised. This is especially helpful when it's dark and foggy outside.
Some models also include a light whenever the flag is raised. This is also a great alternative.
How to set up  guide here
Fishing Tip-Ups FAQs
1. How do you use ice-fishing tip up?
Ice fishing tip-ups are very easy to use. You simply have to prepare the hook, the bait, and all other fishing components and set them on the tip up. Depending on the type of tip up you're using, simply lay it out on top of the hole. And that's it – simply wait for it to alert you that a fish has taken a bite.
2. How do you keep ice fishing holes from freezing over?
To prevent ice fishing holes from freezing over, we recommend going for a tip up that has a thermal base. A thermal base has insulated material that effectively prevents the ice from freezing over, thereby allowing you to maintain the ice hole.
In some cases, a thermal base absorbs the natural heat of the sun and uses it to maintain the temperature around the hole.
3. What is the best line for tip ups?
To determine the best line for tip ups, you have to consider the weight of the fish you're trying to catch. A line with a strong braid that's reinforced with nylon works great for light and medium fish, while the heavy-duty fluorocarbon line is best for heavier fish. These materials are known for withstanding extremely low temperatures without freezing.
4. How do you rig a tip up for pike?
When it comes to catching large ice fish like pike, you have to be more strategic when rigging your tie-up. Aside from making sure that you have a sturdy line that's securely knotted to your spool, it is also advised to rig a double hook into the contraption. This will increase the chances of catching a pike, especially considering its largemouth.
5. How many lines should be on a tip-up?
The answer to this question greatly depends on what kind of fish you're planning to catch. Bear in mind that some fish are deep-sea dwellers while some prefer swimming in shallow waters. But for beginners, a fishing line that's about 50 to 75 yards will allow you to catch a good variety of fish.
Final Thoughts
When it comes to the best ice fishing tip ups, you want to go for something that's built to last for a long time while still maintaining its signaling accuracy. For this reason, it's best to go for a contraption that's freezeproof and windproof, especially considering the weather condition in the area where you plan to fish.
But we understand that different ice anglers have different fishing needs. Thankfully, different types of tools will certainly cater to these needs. And with our top 5 selection and comprehensive buying guide, we're sure that you'll find the perfect tip-up for you in no time.
Read More: