Trolling is a prevalent method used by anglers all around the world. If you're ready with your boat, fishing rod, and fishing bait then all you need is a great fishing reel to have a successful trolling expedition.
An excellent offshore trolling reel will up your fishing game to a great extent. It is essential to have the right equipment and plenty of practice to obtain the desired results. It doesn't matter if you're a pro or a beginner, a perfect trolling reel is a must-have item. You need to figure out what sort of Trolling reel is most suitable for your bottom fishing.
Read More:
What is a Trolling Reel?
Trolling is a style of fishing. As the name suggests, trolling reels are used for trolling. In trolling, the angler draglines with baits behind a boat to lure the fish. Fishing reels are usually used to catch large-sized fishes. Trolling reels are needed in saltwater fishing as the lines need support in the wind.
Star drag, line out the alarm, and release lever, are the three basic parts of a trolling reel. It can accommodate a variety of fishing lines depending on the target of the fish. Trolling is a versatile technique as it can hold multiple baits to entice the fishes and it covers up a large area of water.
How does the Trolling Reel Work?
The spool of a trolling reel has a horizontal layout and it is aligned like a baitcaster. One of the significant differences it has with a bait caster is that a trolling reel does not have any casting button.
There are many variants available in the market. For a superb fishing experience, you need a high quality, durable trolling reel. You don't need to put constant interaction or supervision while using a trolling reel. It provides flexibility and lets you relax while you're fishing.
As there are many options available in the market, it would be quite intimidating to figure out which one to choose, especially if you're new to it. So, we have picked the 10 best trolling reels that will help you along your fishing journey.
A Short Guide to Use a Trolling Reel
At first, you need to start by reeling in or out till you have your bait about 8/9 inches from the tip of the fishing rod.
If your reel has a spooling line then press that down to keep up with the long casting of the fishing lines.
To cast the line, hold the rod firmly and make a slight forward and backward movement of the rod's tip.
Some advanced trolling reels include a button for the brake, however, if there isn't any then use your thumb to apply the break.
Now, wait patiently for the fish to catch the bait. If there's any movement in your line or lure then start reeling as it means the fish is connected.
Offshore Trolling Reel Reviews!
Preview
Best Choice
Mid Range
Best Price
Title
Penn 1292935 Fathom 60L Lever 2-Speed Lever Drag...
Okuma Fishing Tackle Cold Water Linecounter Trolling...
Best Choice
Preview
Title
Penn 1292935 Fathom 60L Lever 2-Speed Lever Drag...
Mid Range
Preview
Best Price
Preview
Title
Okuma Fishing Tackle Cold Water Linecounter Trolling...
 1.Penn Fathom Lever Drag Trolling Reel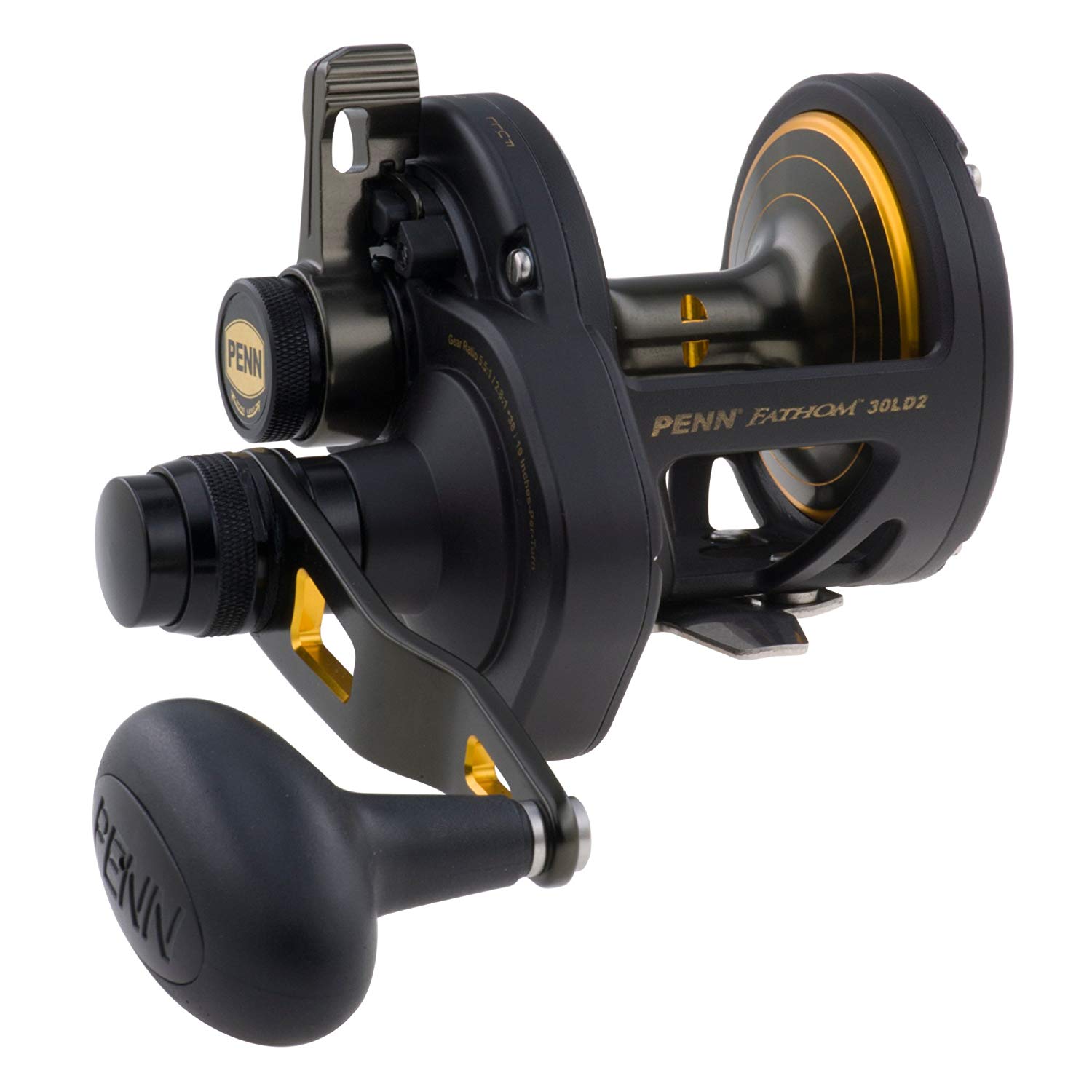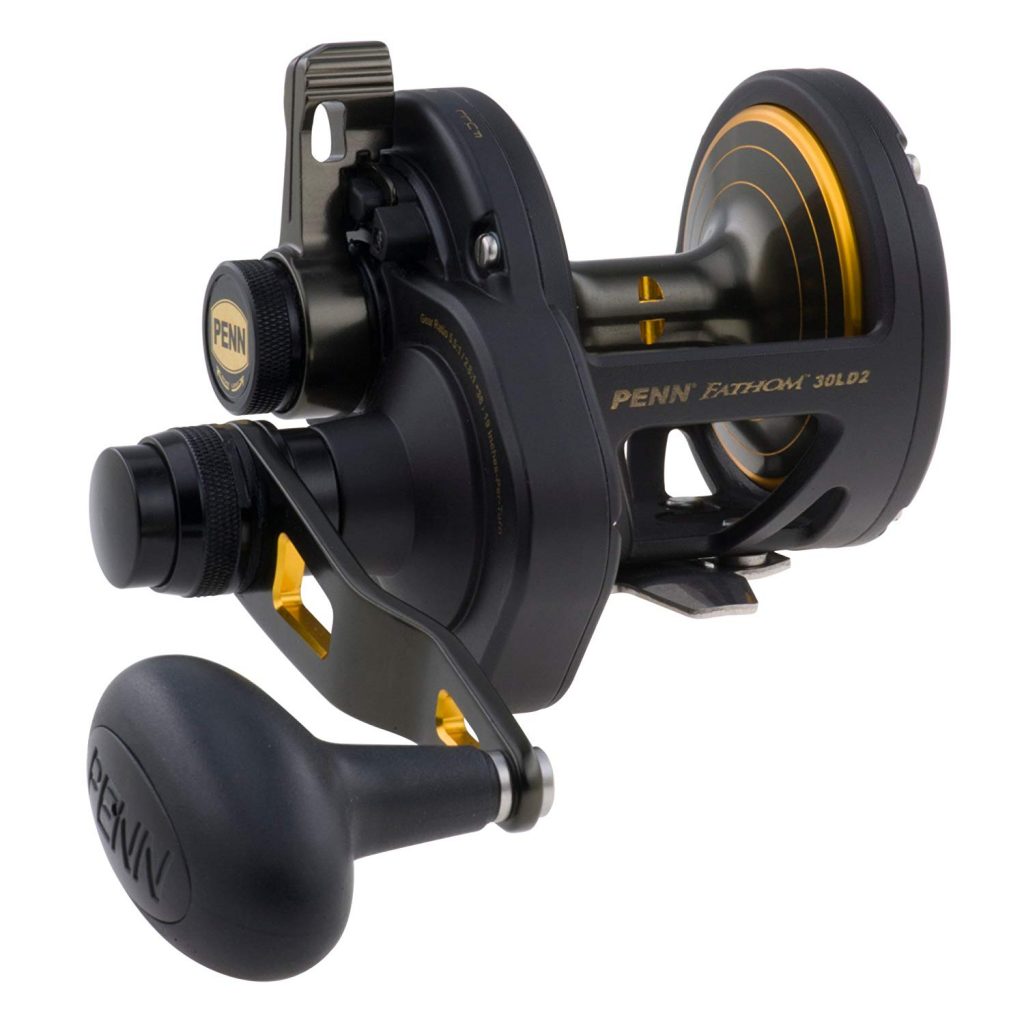 Penn Fathom Lever Drag is a top-notch heavy-duty trolling reel that has outstanding durability and cracking power. It has a full metal body and the side plates are constructed with die-cast aluminum for better rigidity. The Penn Fathom Lever Drag has all the necessary characteristics that a perfect reel should have. They can fulfill all the requirements of a broad range of fishing activities.
The Penn Fathom Lever Drag uses Penn's unique Dura-Drag technology that has a Phenolic bonding agent that provides a barrier to water. The Dura-Drag washer has been tested and found to work exceptionally well in difficult situations. This unique technology enables the reels to be corrosion resistant thus keeping them safe from the premature breakdown of the carbon fiber material.
This tool offers strength as well as speed. Despite the small size, this tool will surely make your fishing expedition a lot smoother and memorable. The gears are equipped in such a way that they provide a smooth and powerful drag.
It enables to creation of an adjustable lever drag that allows the angler to manage a drag up to 20lb after activating the push-in button. This reel has five ball bearings that ensure smoother action.
These stainless steel bearings are engineered with high precision to make it more durable and sturdy. It also includes a double-dog anti-reverse bearing that prevents handle slope. This enables the angler to keep the reel stable and effective even when faced with big lures.
Pros
Attractive design
Dura-Drag technology
Lightweight and durable
Stainless steel bearings
Cons
FAQs
Can I use it to catch a 40lb fish?
Ans: Yes, this reel can catch fishes up to 80lb at ease. This reel has a robust and durable structure.
Can this reel be used for bottom fishing?
Ans: Absolutely! This versatile trolling reel can be used for a broad range of fishing such as bottom fishing, jigging, etc.
What is meant by the "N"?
Ans: The N stands for Narrow Spool.
 2.SHIMANO Trolling Reels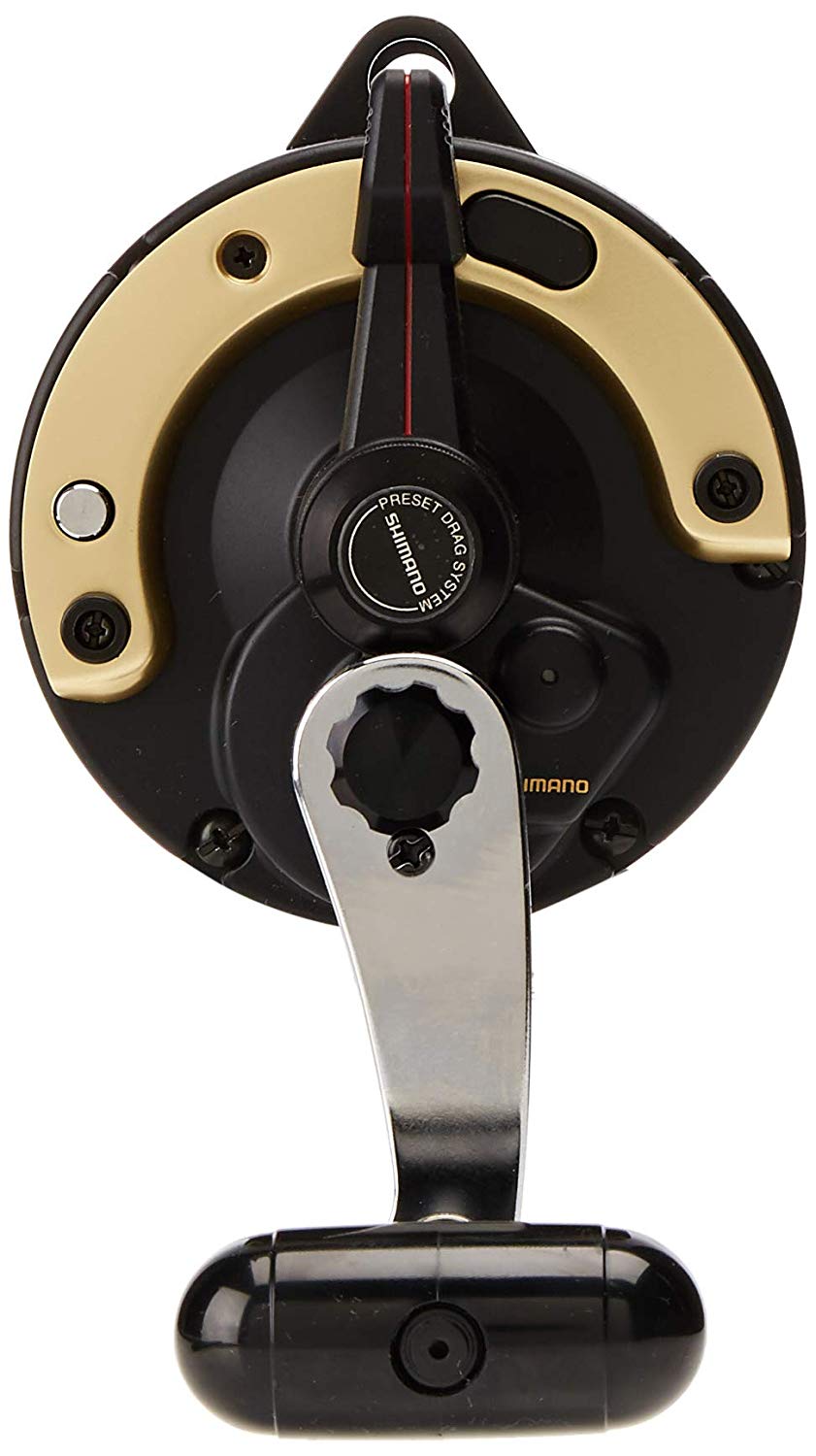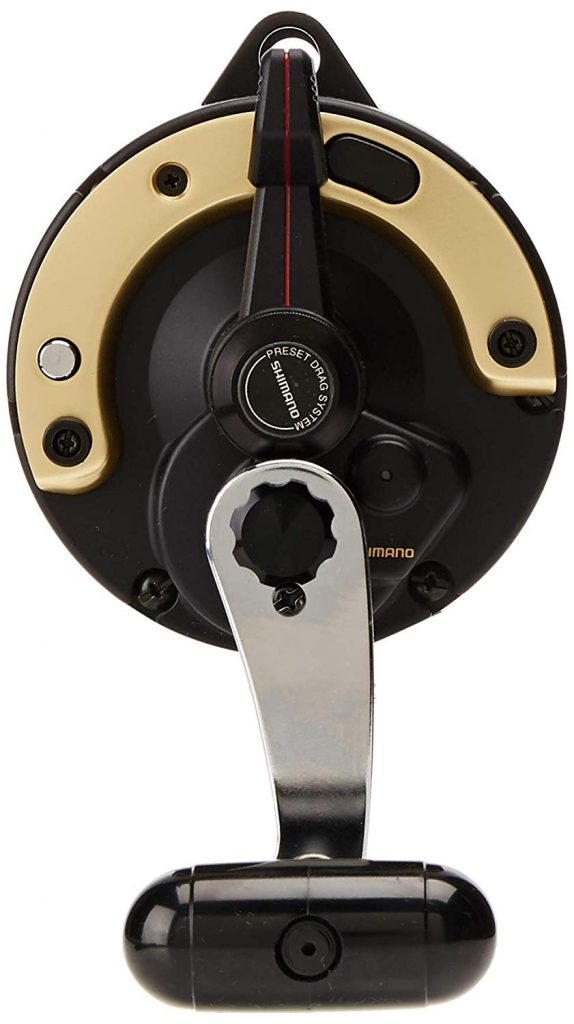 The Shimano TLD reel has a superb price to performance ratio. This reel is extremely lightweight with an incredibly low price that is just the best of both worlds. It weighs around 2.05 pounds that provide flexibility to the anglers. Though this reel doesn't have any thrust bearing it does offer simplicity. The bearings are made with top mechanical features even though they come with a budget price tag.
The Shimano Trolling reel has four anti-rust bearings and it uses a ratchet dog style anti-reverse system. It has a durable aluminum spool with a graphite frame and side plate. The graphite plates are durable but they will eventually wear out due to the constant sun exposure.
Graphite frames are also twist prone under extreme pressure that may cause trouble with gear and drag alignment on the inside. However, the graphite frames hold up great against saltwater. You'll face no rusting issues with this reel at all.
The stainless steel bearings have anti-rust technology that protects it and makes it more durable than the standard bearings. It has a four bearing system that many anglers prefer over the multi-bearing reels. Shimano has come up with a high-tech design that enhances the drag system of the TLD reels.
It results in an even pressure with a smoother and stronger drag. It also includes an alarm system that many conventional reels use. Overall, this reel is an ideal choice no matter what you're trolling for, be it a tuna or a trout. It provides solid performance with a fraction of the price of many expensive reels.
Pros
Lightweight
Budget-friendly
Rust-resistant properties
Alarm system
Cons
Graphite frame will eventually wear out
FAQs
What rod size would be the best fit for this reel?
Ans: The rod size usually depends on the location, fish type, your own preference, etc.
Is it single or two speed?
Ans: This is a single-speed reel.
Are the spools made with graphite?
Ans: No, the spool is made with aluminum.
3.Okuma Cold Water Line-counter Trolling Reel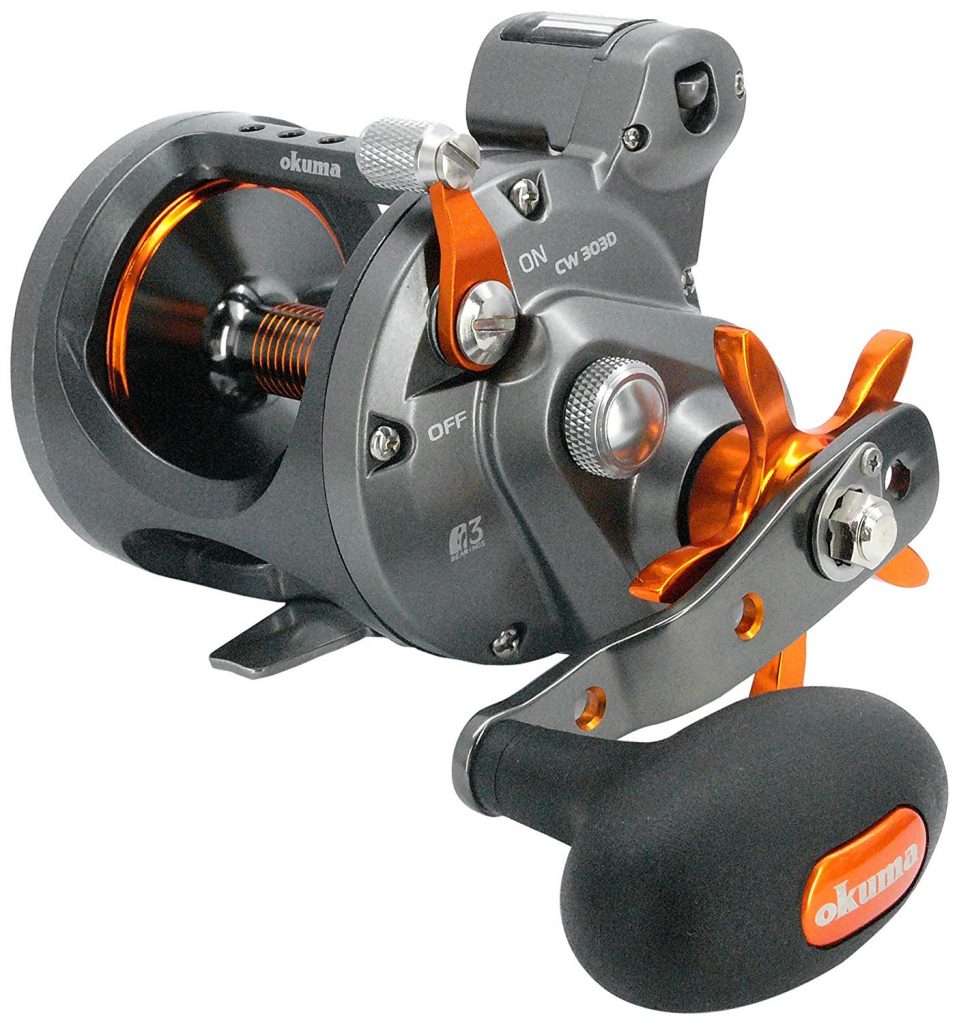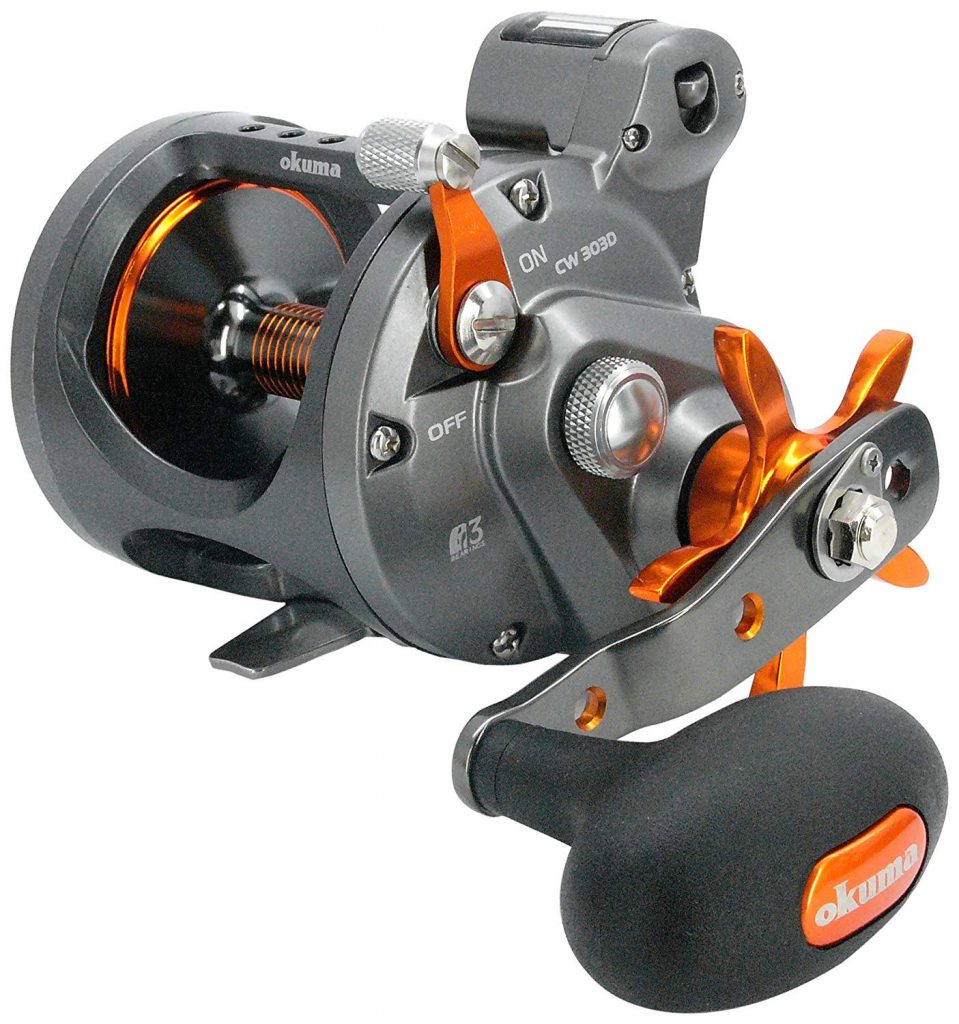 The Okuma Cold Water Line Counter Trolling Reel is made with incredible craftsmanship with fine details. This is one of those reels that will allow you to catch the fish in the most efficient way. It has a weather-resistant frame and side plates. The Okuma Coldwater reel has an aluminum spool engages the pedal, a titanium-coated wide-mouth level wind, and machined aluminum with an ergonomic rubber grip for better control.
It weighs about 14.6 ounces and the lightweight helps it to hold for long periods. This reel also consists of superior quality internal gears like heavy-duty machine cut brass gears, full Carbonite drag system, and dual anti-reverse system. This incredible also provides a self-lubricating gearing system.
The high-quality materials used to make this tool extremely durable and reliable. The ball bearings are one of the key parts of the Okuma Cold Water Line counter. It has a one-way roller bearing and two ball bearings with a traditional design line counter. The stainless steel of the bearings provides durability as well as smoother control.
The drag system is one of the most notable features of this reel. Its multi-disk and Carbonite drag system makes it an excellent tool. It precisely holds the ratcheting drag space for accurate drag settings.
The DLX model of this tool is designed for left-hand anglers. It comes with one year warranty and you'll get any replacement or repair needed within this period. Overall, it's an excellent reel with incredible features within the budget.
Pros
Durable aluminum spool
Weather-resistant side plates and frame
Ergonomic design for better grip
Lever wind coated with titanium
Cons
The clicker makes a little noise
 FAQs
Does it include a line counter?
Ans: Yes, it comes with a superb line counter.
Is it good for bottom fishing?
Ans: It works great up to 90-100 feet.
Does this reel corrode away in saltwater?
Ans: No, you'll not face such issues with this reel.
4.Shimano Torium HGA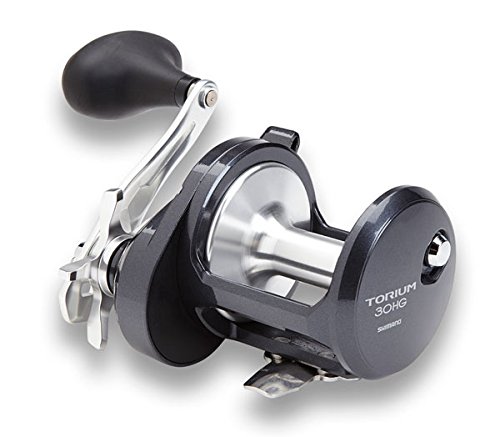 No products found.
The Shimano Torium HGA offers phenomenal durability with its one-piece Hagane body. This reel from Shimano's metal series includes a cold forged-aluminum spool, HEG gearing, super stopper anti-reverse, and cross carbon drag.
It has a weight of 15 ounces and it is made with a 6.2:1 gear ratio. This solid build star-drag saltwater reel is perfect for live bait or bottom fishing. It has a different spool capacity for different sizes. The five reels range from 14 to 50 offering corresponding line sizes. Torium reels are from Shimano's "metal series" reels.
The steel frame offers superior rigidity compared to the graphite frames. The steel eliminates frame twist when under pressure. Though the metal frame adds to the cost and you can get graphite frame bodies for a cheaper price. But, this reel offers similar performances of aircraft-grade aluminum for about half the price.
The Shimano Trolling Reel has a unique stainless steel one-way roller bearing for an anti-reverse mechanism. It is called the super stopper as it stops any back play. It uses high-performance cold-forged aluminum instead of die-cut aluminum for the spool. This enables the reel to withstand the extreme stresses of the taut line.
The HEG in Shimano reels stands for high-efficiency gearing. The large drive and pinion gear provide additional power to the drive. The HEG system also prevents twist in gearing that sometimes causes the reel to bind under pressure. The cross carbon layering fibers also increase the durability of the washers.
Pros
Lightweight
Metal frames
Powerful drag system
High-speed gears
Cons
Metal frames tend to corrode in saltwater
FAQs
What is the country of origin?
Ans: It's made in Malaysia.
Does it include a rod clamp?
Ans: Yes, it includes a ceramic rob clamp and hardware.
 5.Daiwa Saltiga Lever Drag 2-Speed Reels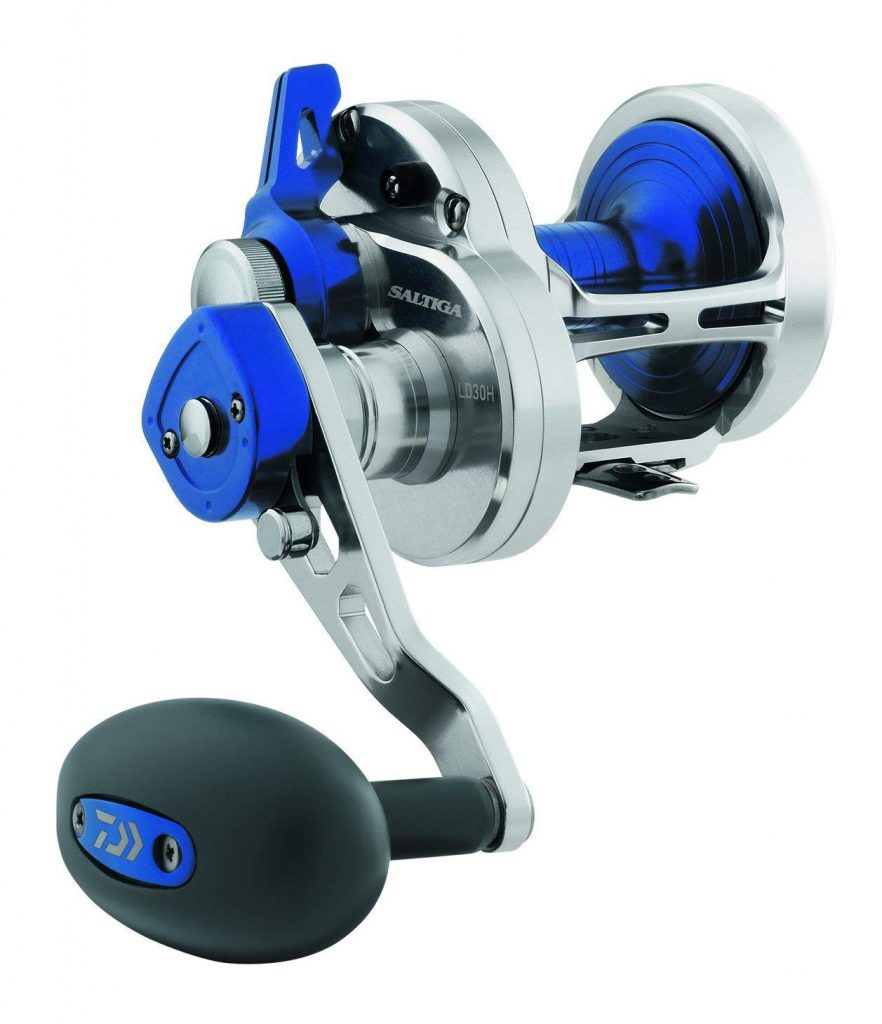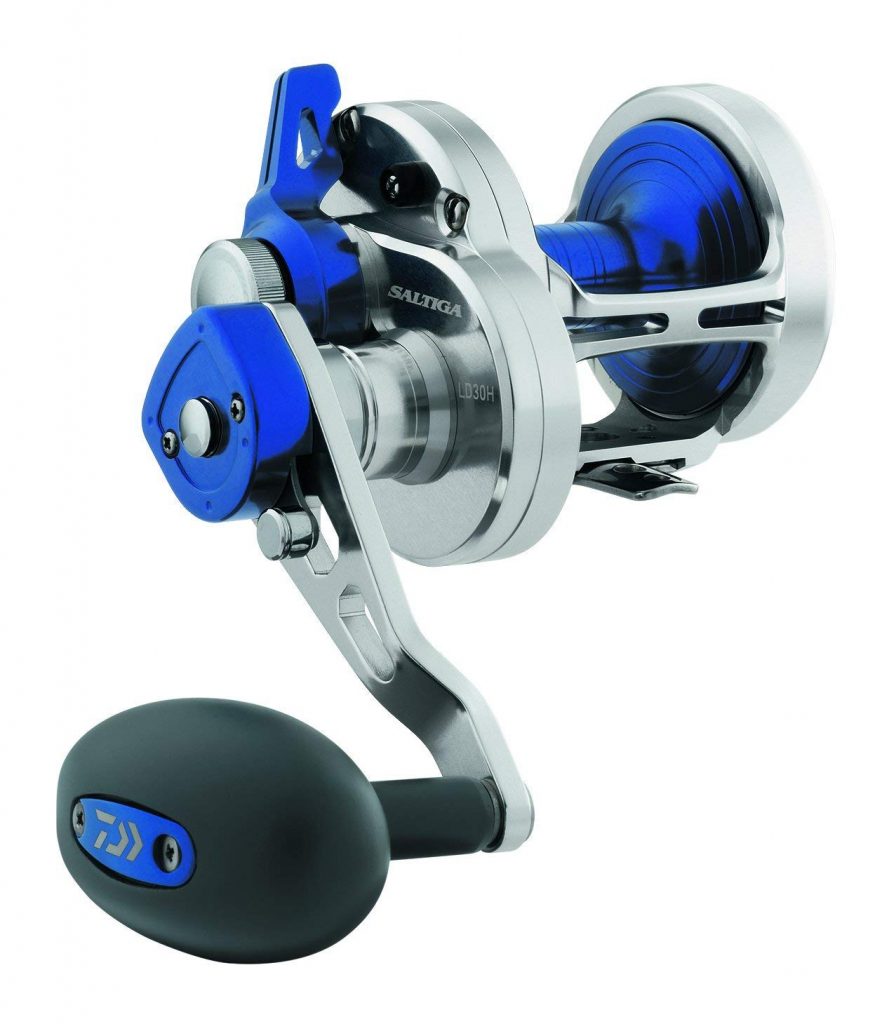 The Daiwa Saltiga Lever comes in 6 different models with increasing size. The line starts from 20 sizes and the maximum reaches 60. It has 6 stainless bearings and a one-piece aluminum frame and side plate. The Daiwa Saltiga uses a touch grip knob and the Ultimate Tournament drag.
It uses a six bearing system but it does not have any Mag Seal bearing or anti-reverse roller bearing. Instead, it uses a ratcheting anti-reverse which allows them to eliminate the roller bearing. The bearing provides high performance with corrosion resistant technology. The Daiwa Speed reels come with extra-large Helical Cut Gears.
These gears do not have straight teeth that fit right inside one another. Instead, the Helical gears have angles. As the teeth of the helical gears meet, they travel through the entire surface before turning to the next set. This technology along with the large gears provides more power when reeling.
The Daiwa Saltiga Speed Trolling Reels also use centrifugal casting brakes. When the spool is at high speed these brake systems use tabs and the tabs extend as well as make contact with the spool which slows it down.
While the spool slows down, the tabs reduce the pressure. The lever drag on this tool can be preset and you can adjust it according to your preference. It has a long oval handle with a soft-touch rubber grip for better control.
Pros
Sturdy design
Centrifugal casting brakes
Adjustable drag
Long handle with rubber grip
Cons
FAQs
Is this reel for left-handed use?
Ans: No, this reel is made for right-handed use.
What is the country of origin?
Ans: It is made in Japan.
6.Penn US Senator Trolling Reel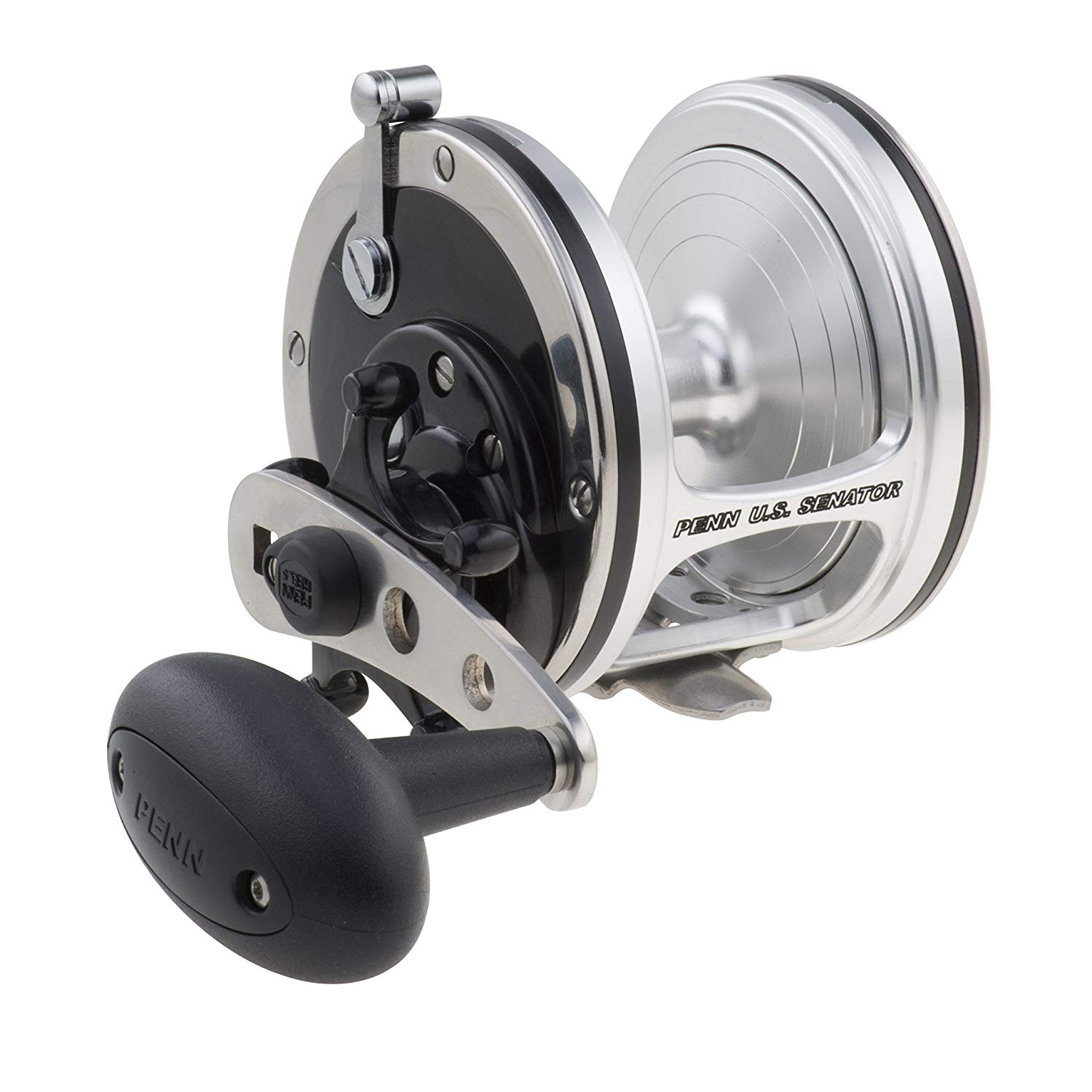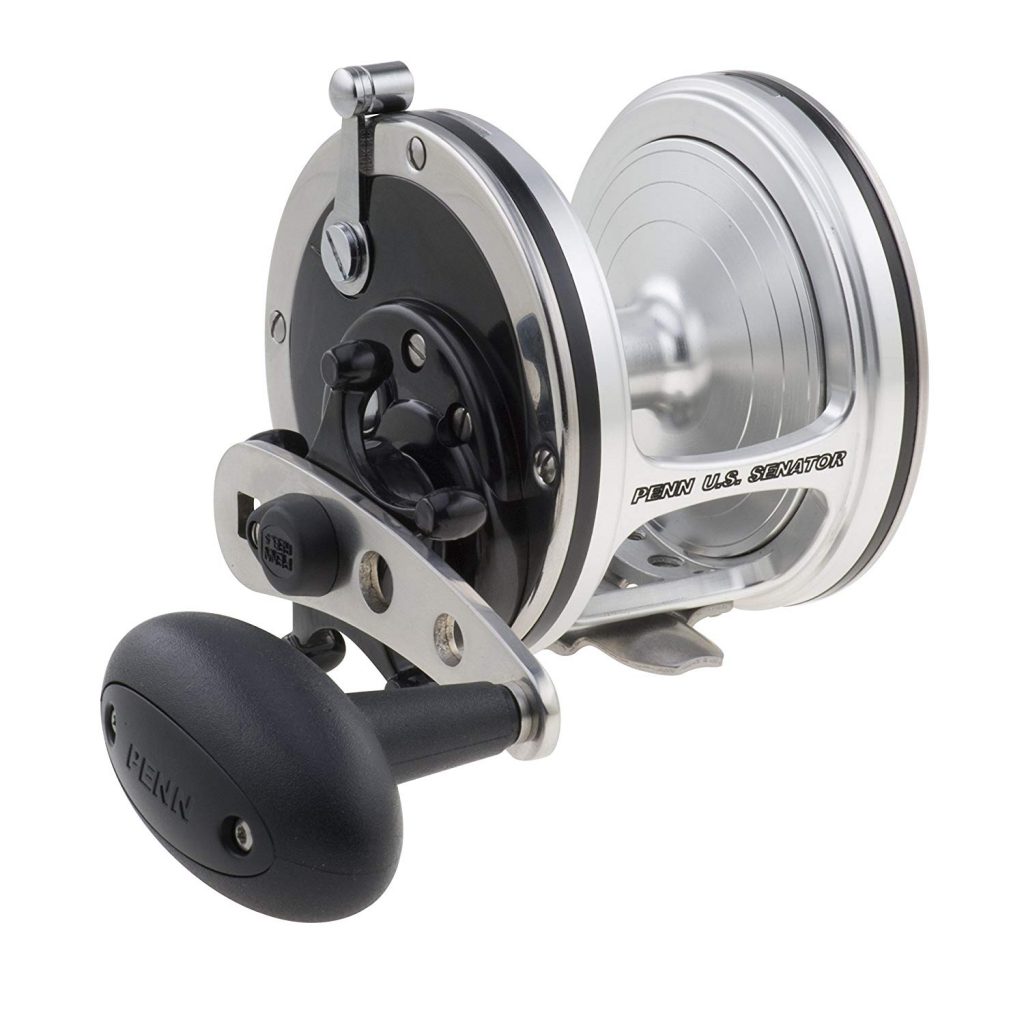 The design of the Penn US Senator Reel is very pretty straightforward but effective. It improvises the basic concept without any fancy technology. This Trolling reel comes with a sturdy aluminum frame and stainless steel back and pinion gears.
It has three different reel models with narrow, standard, or wide spool sizes that the anglers can choose according to their convenience. The US Senator Reel offers smooth casting with a drag resistance up to 27 pounds.
All three models have the same weight of 30 ounces. However, the spool size is different in each model. The spool size does not have any effect on the reel's line capacity, instead, it provides additional advantages for different kinds of fishing styles.
The Penn US offshore trolling reel has a super sturdy one-piece aluminum frame. The strong frame provides support against the twist and locking of the gears. The lightweight aircraft-grade aluminum holds up extremely well against corrosion and rust.
The spools are also made with anodized aluminum making it lightweight as well. The spools are first molded with the forging process followed by machine finish for extra precision. Penn also adds line capacity rings to the outside of the spool walls during this procedure.
The stainless steel gears provide strong resistance against saltwater. It holds up well against corrosion too.
One of the most prominent features of Penn US Senator is its free-floating spool. Penn's Live Spindle System is the reason behind its never-ending spin. The spools ride on the bearing without any frictional force working against them.
The HT-100 Carbon Disc Drag system enables is to drag up to 27 pounds, however, it may reach up to 30 pounds without any noticeable wear and tear.
Pros
Aircraft-grade aluminum
Three different spool variants
Lightweight
Comes with harness lugs
Stainless steel components
 Cons
FAQs
What are the differences between the three models?
Ans: Different models have different spool sizes. You may choose from narrow, standard, or wide spool according to your preference.
Is this tool right-handed or left-handed?
Ans: This is right-handed.
Is it from China?
Ans: No, they are made in the USA from imported and domestic parts.
7.Okuma Makaira(Best Trolling Reel For Tuna)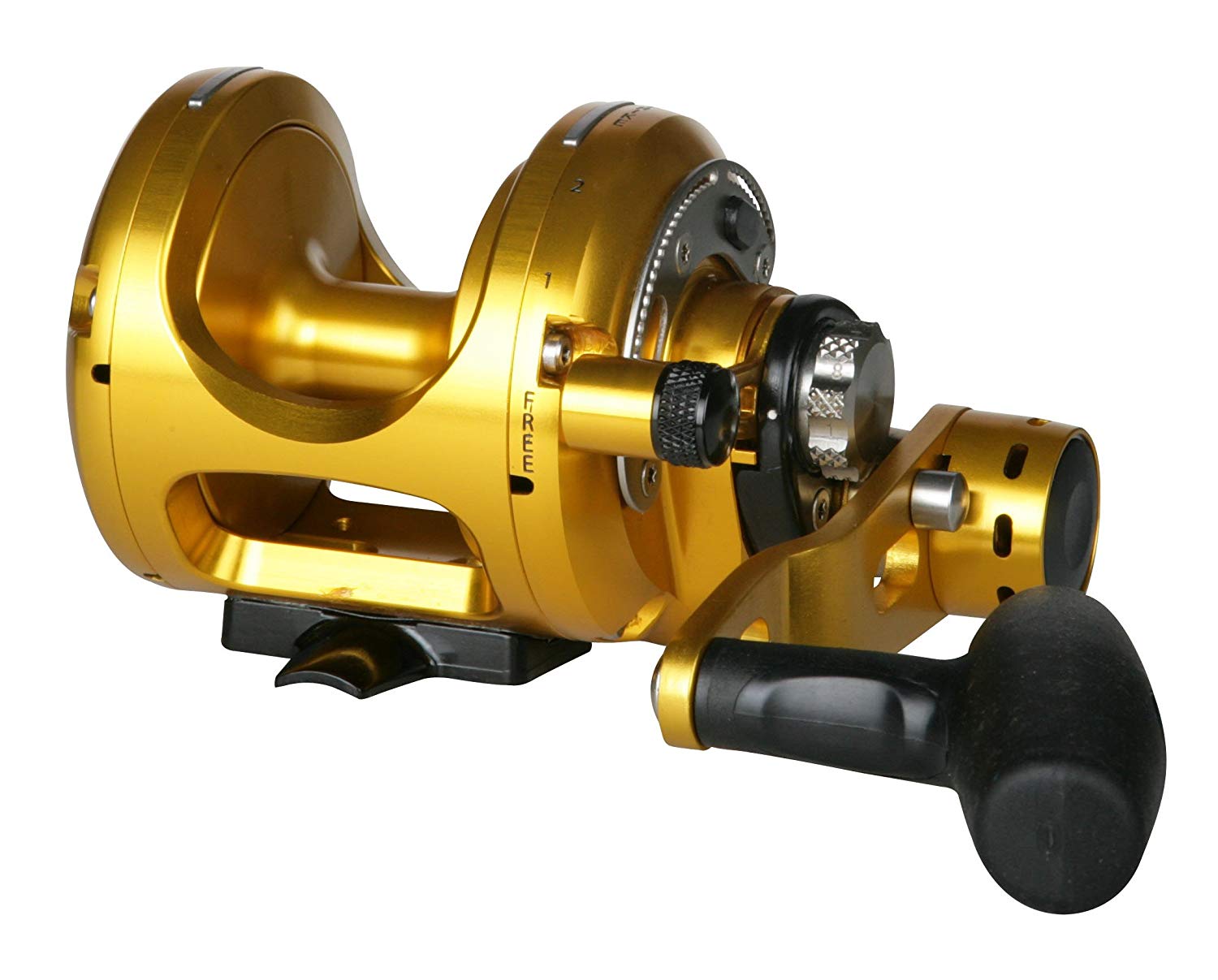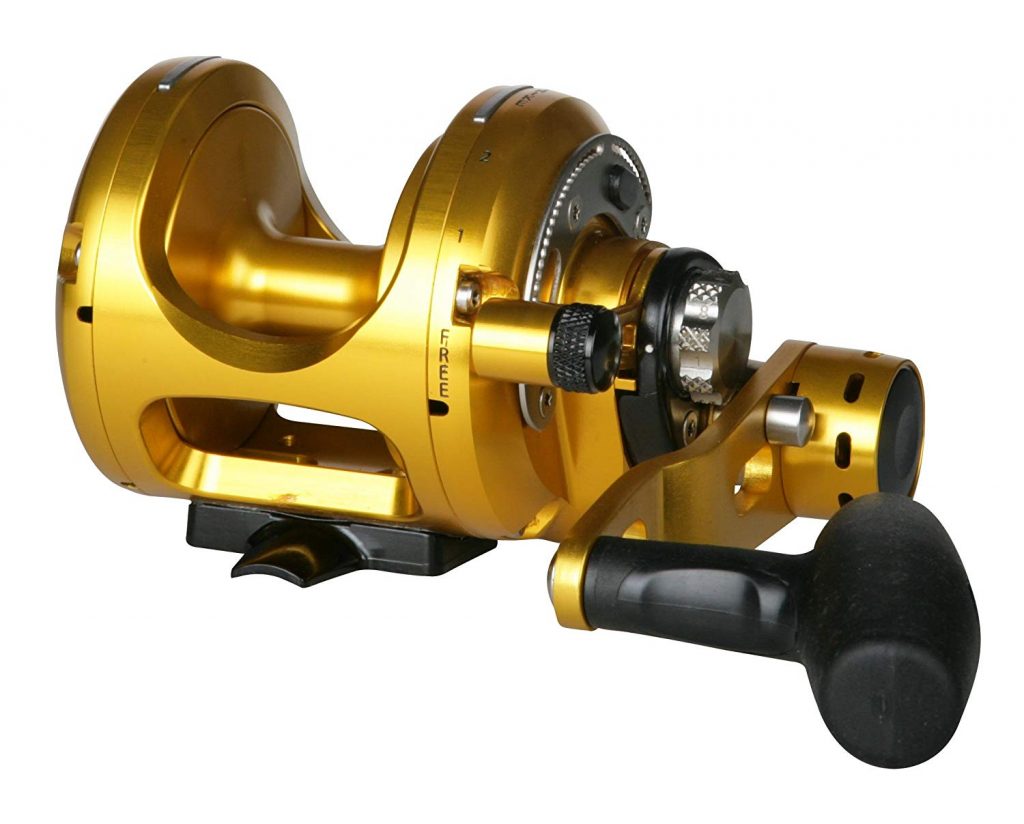 Okuma Makira Offshore Lever Drag Trolling Reel is one of the most advanced and top-rated reels available in the market today. Okuma has engineered all the internal and external parts of this reel with precision. They have done extensive tests for two and a half years all over the world and it is the most researched and planned reel made by Okuma.
Out of all the features in this reel, the dual force drag system is the most prominent and critical feature. The entire reel is built upon this dual force drag system. The importance of this system is that it includes the pull bar drag system.
The pull bar drag basically pulls everything to the right side plate. Hence, the drag is mounted at the right side of the spool. It also includes dual carbon fiber drag washers that feature Cal's universal drag grease. The carbonite washers have 17: 4-grade stainless steel drag plates. This stainless steel provides strength, hardness, and resistance against corrosion.
Tiburon Engineering USA made custom made drag plates for the Okuma Makira Offshore reels. It is mounted on the right side of the spool and it effectively eliminates all side pressures on the right side plate bearing. This feature allows you to fish even when the drag rate is very high. It can withstand up to 20lb of drag force.
This reel does not make any noise when you turn the handle and it operates very smoothly. It has a very unique helical gear system that receives less impact blow when they mesh. They run much quieter and much smoother which is a huge plus side of the Okuma Offshore Trolling Reel.
Pros
The dual force drag system
Stainless steel drag plates
Quiet and smooth operation
Cons
FAQs
Is this a two-speed reel?
Ans: Yes, it is a two-speed reel.
Does this reel come with any warranty?
Ans: Okuma Offshore Reel comes with 5 years warranty.
 8.Fin-Nor LTC16 Lethal Star DragTrolling Reel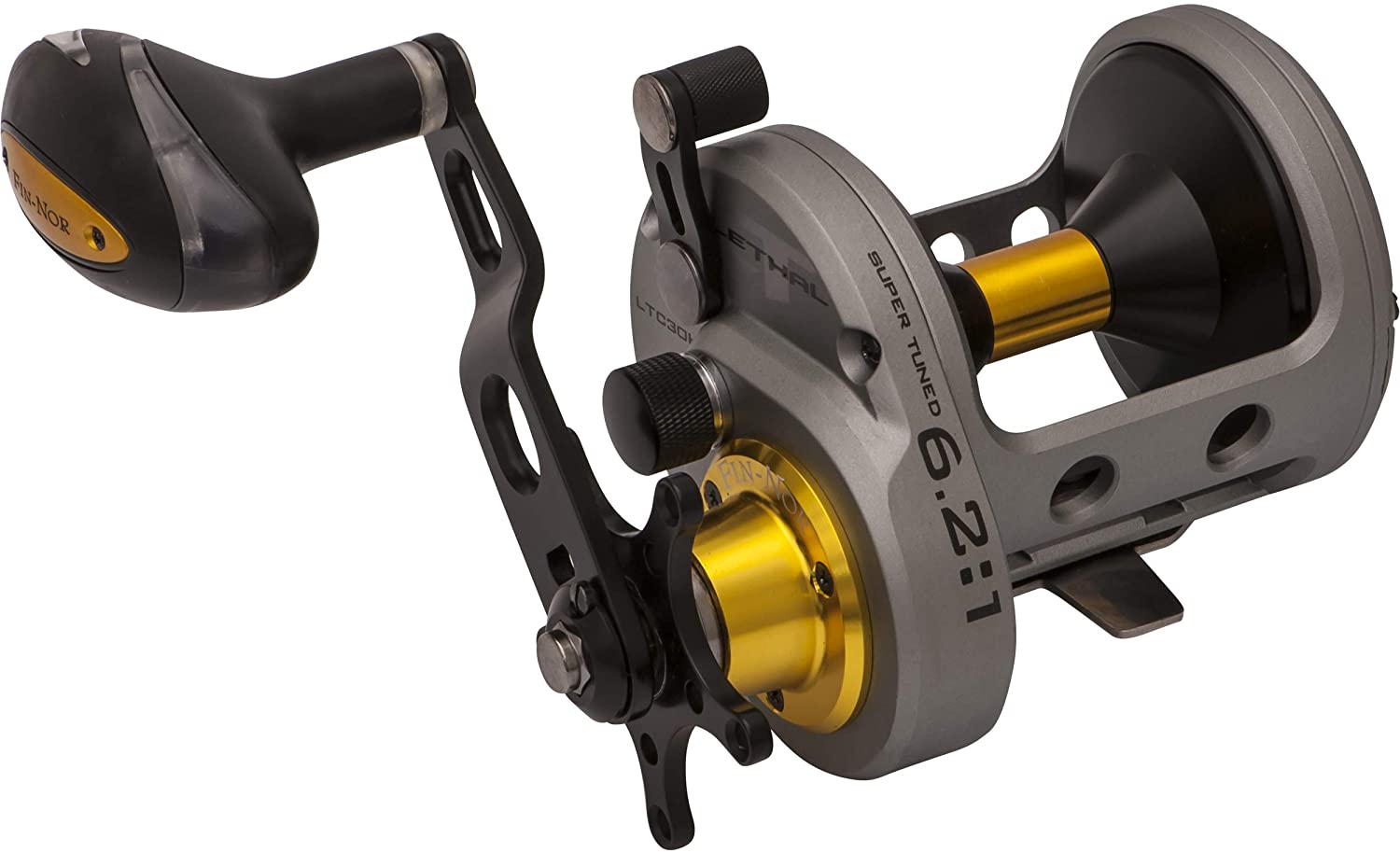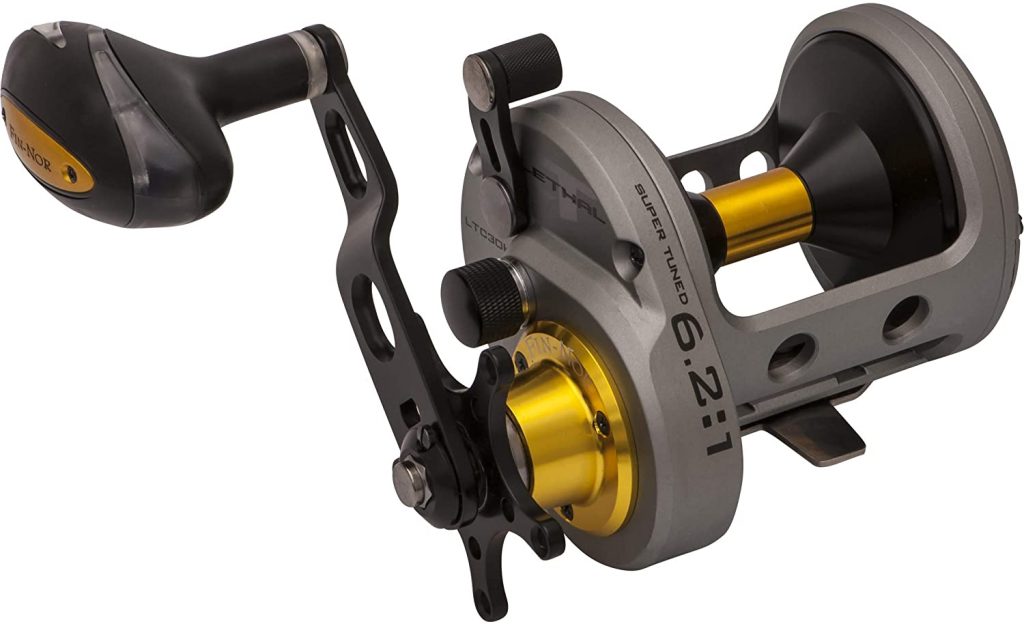 The Fin-Nor lethal star drag trolling reel is a brilliant tool that comes in both single and 2-speed variants. It provides astounding performance compared to the price you have to pay. This reel is designed for dedicated big fish anglers.
It weighs 23 ounces and it's a heavy-duty reel. It has a full aluminum body as well as an aluminum spool. Both of the models are an ideal choice for jiggling, trolling, and bottom fishing. It has a high gear ratio of 6.1 to 6.2 which holds a lot of lines and makes it super-fast as well.
The two-speed variant comes with the superior ability to switch from 6.2 to 3 just with a touch of a button. The Fin-Nor LTC 16 has a solid one-piece aluminum frame and side covers.
The clicker is quite loud on this tool. It consists of an oversized star drag knock system. The mega-lock anti-reverse system ensures that the fish is cooked properly. The Fin-Nor LTC16 comes with a robust and powerful lever drag system. It is very durable and it can withstand some severe impact without any wear and tear. The entire reel is coated with a corrosion-resistant layer so even in the toughest blue water conditions, it holds up exceptionally well.
The ergonomic design and the rubber grip makes sure that your hand doesn't slip. It's very comfortable even in wet conditions or when it gets a bit. It offers a 25 pounds drag, which is phenomenal considering a star drag reel.
It has a well-tuned spool with hybrid ceramic bearings. The six double-shielded stainless bearings provide the smoothest operation even with extreme loads. If you're looking out for a powerful reel and you like star drag then the Fin-Nor LTC16 would be a perfect option for you.
Pros
Megalock anti-reverse system
High gear ratio
Six double-shielded stainless bearings
Durable
Offers 25 pounds drag
Cons
FAQs
Are these reels suitable to fish for tunas?
Ans: Yes, these reels are suitable to fish for tunas.
Does this reel have an anti-reverse bearing or only a ratchet dog gearing?
Ans: It has a mega lock anti-reverse system and ratchets back up.
 9.Penn Squall (Best Big Game Trolling Reels)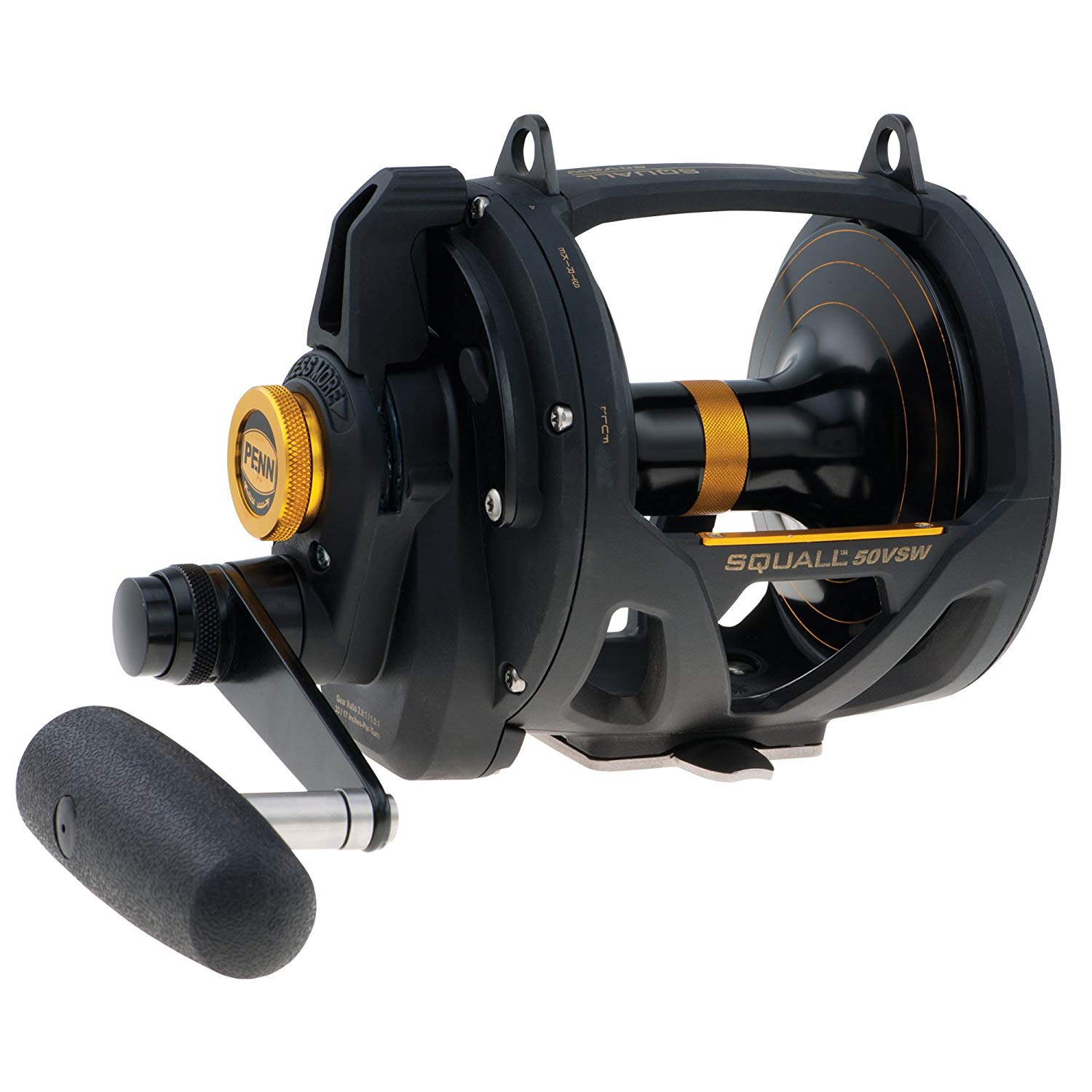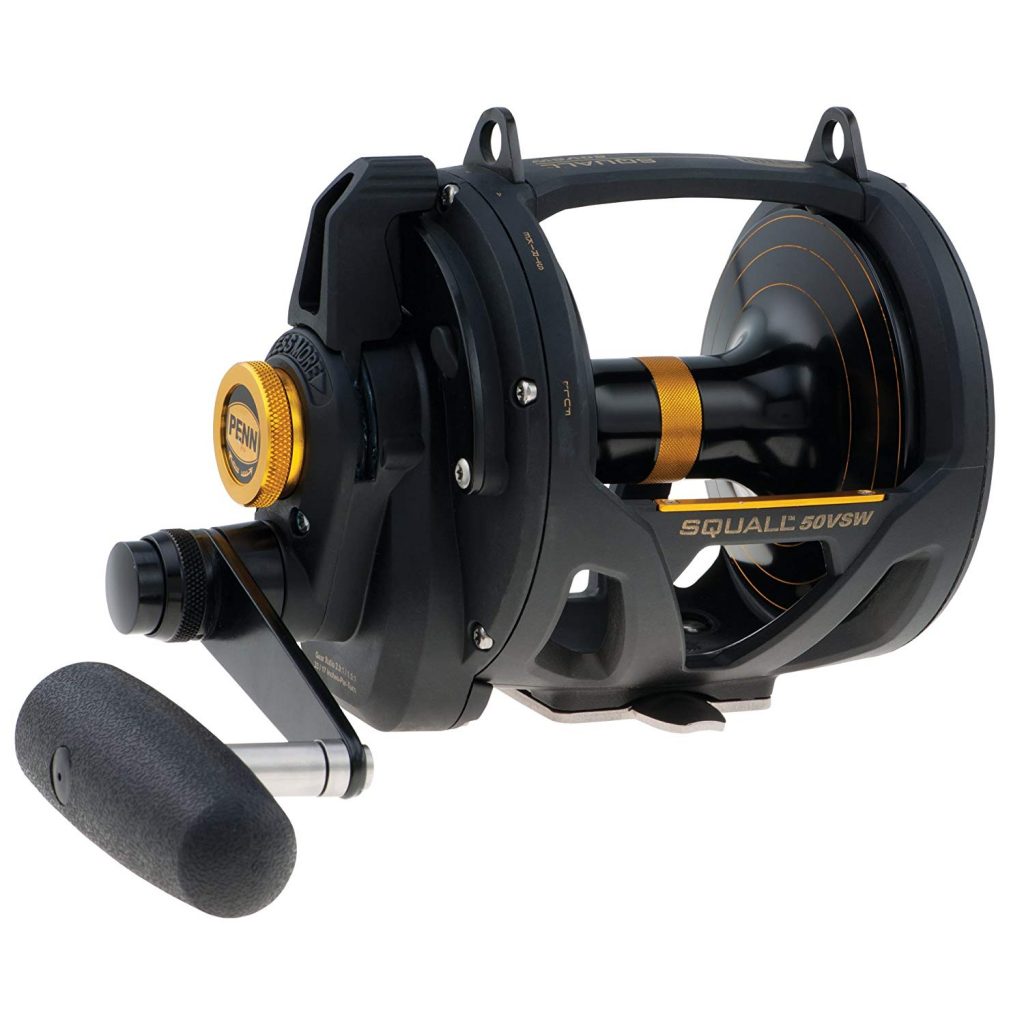 Penn doesn't need any introduction when it's about fishing reels. They have been the top choice for big game saltwater anglers for decades. The Penn Squall Lever Drag is an exceptional reel that works equally well for both beginners and professionals. This reel will be your perfect companion if you have an eye on the first prize of a saltwater tournament as it provides the power that you need for a good fight.
Penn Squall Big game Trolling reel is very lightweight with premium hardware and corrosion-resistant graphite frame. The graphite and machined aluminum frame offer longevity even in critical saltwater conditions. The durable frame and side plates offer resistance against corrosion. The Penn Squall Lever Drag also offers smooth cracking even under extreme stress due to its stainless steel mains and pinion gears.
The Dura-Drag technology provides reliability as it doesn't pop lines or pull hooks like other heavy-duty drag systems. The special phenolic agent prevents the early breakdown of the carbon fiber materials which ensures the smoothest drag even under extreme pull. The heavy-duty spool holds up well in saltwater.
The two-speed system enables you to quickly shift from high retrieval speed to low cracking speed. This feature lets you adapt to the movement of your prey. The shifting of the gears can be performed very easily without letting go of the handle. The Penn Squall has four stainless steel ball bearings and the double-dog anti-reverse technology provides a smooth and seamless reeling experience.
Pros
Lightweight
Quicks shift two-speed system
Four stainless steel ball bearings
Dura drag system for extreme power
Cons
FAQs
Is it left-handed or right-handed?
Ans: The Penn Squall Lever is a right-handed model.
Does it come with any rod clamp?
Ans: Yes, it does come with a rod clamp.
What is the country of origin?
Ans: This is made in China.
10.Shimano Tekota Trolling Reel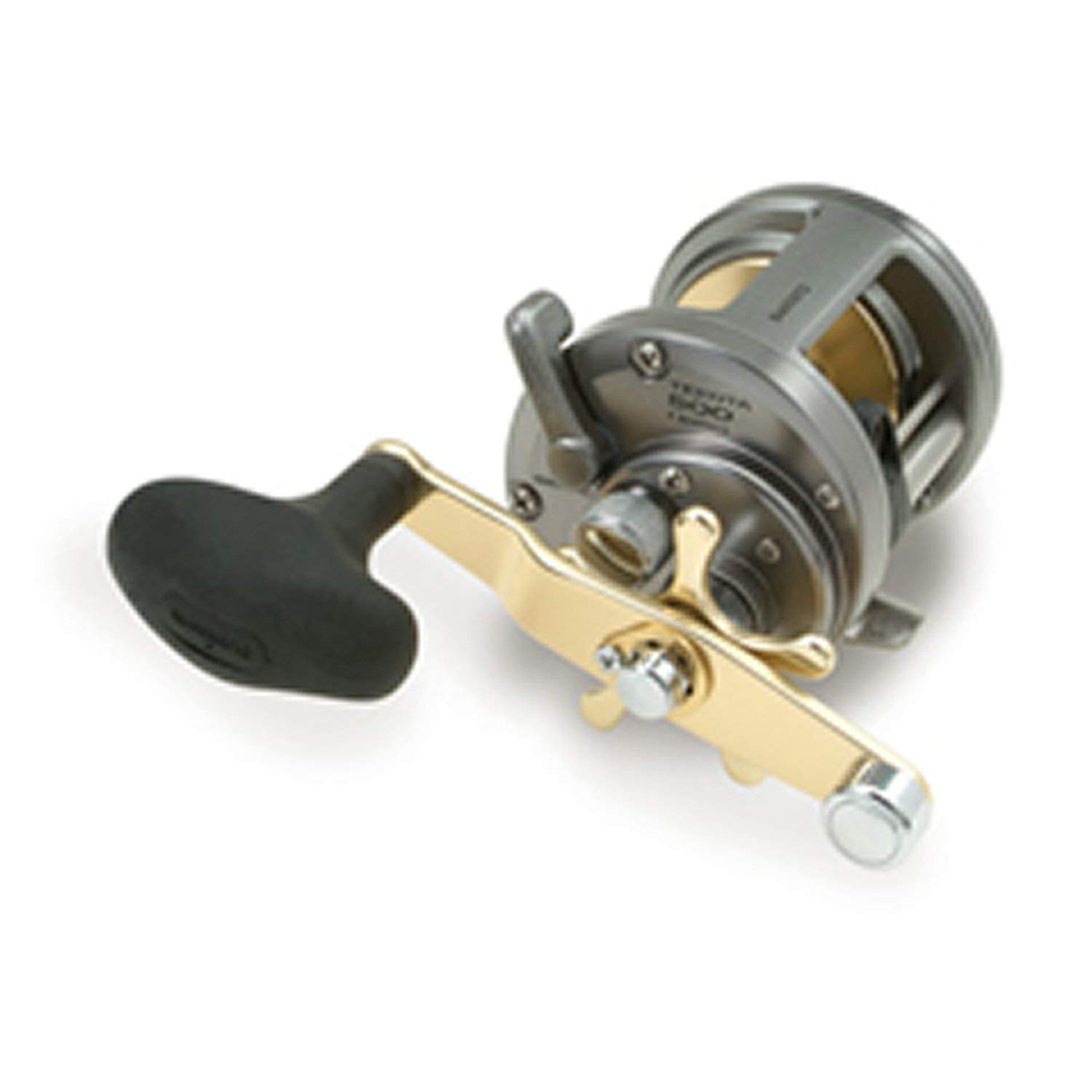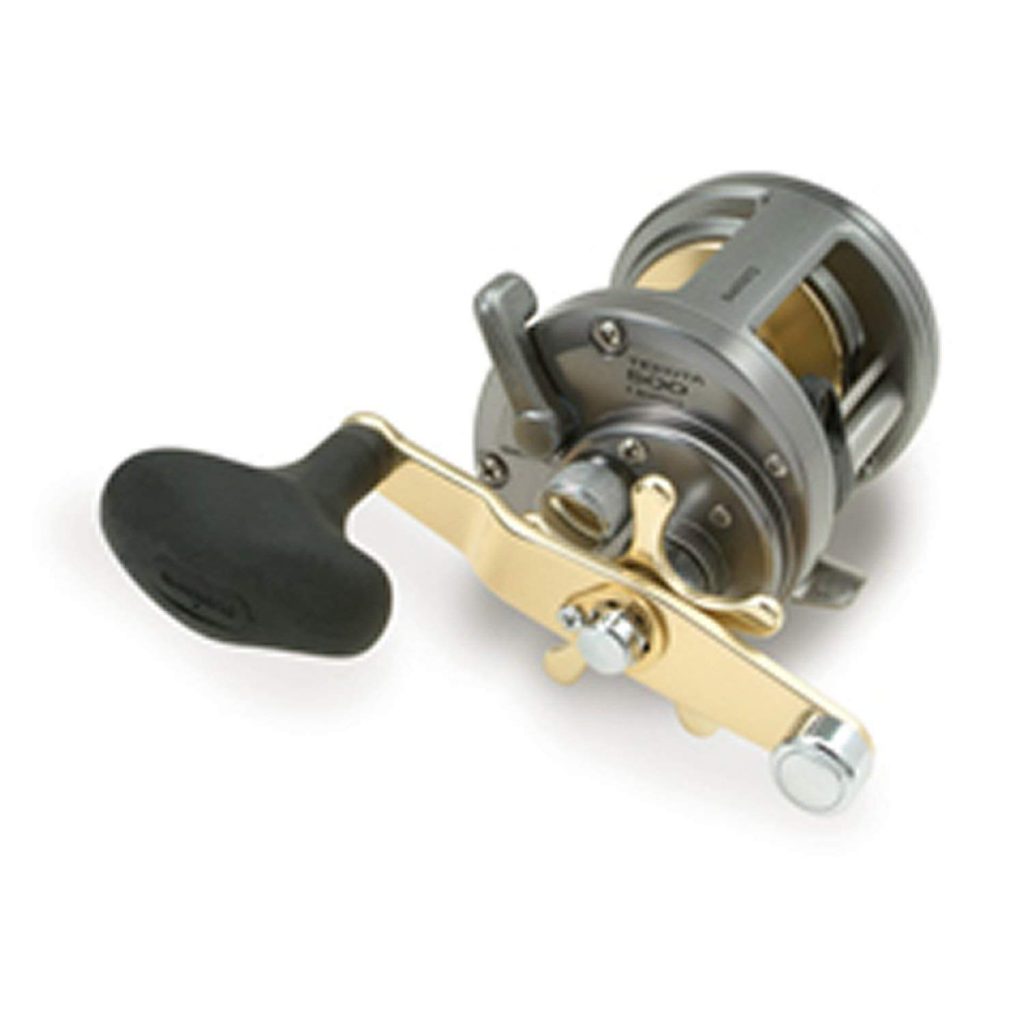 The Tekota series offers the anglers a premium experience with high-quality material within a budget price range. It's a powerful reel that works well in both freshwater and saltwater. This reel is designed primarily for trolling, however, it has other talents as well.
It has a weight of 31 ounces and a gear ratio of 4:2:1. It doesn't have the usual golden Shimano finish instead it has a matte grey finish all over. It has a die-cast aluminum frame, stamped aluminum right side plates, and aluminum braced graphite side plates. The reel has a solid construction even though it's pretty lightweight.
The angler's movement would also not be hindered due to its lightweight. The standard size weighs about 16 ounces and the line counter version weighs about an ounce more. The mechanical line counter is very easy to operate and reliable. To reset the line counter you just need to press the orange button and the dial will move to "000".
The Shimano Trolling Reel has a manual lever and it has a maximum drag capacity of 24 pounds. It is made with high-quality materials hence it's quite durable and able to withstand any mechanical shock or impact. The designers have also included a plus-sized knob so the angler doesn't miss a catch.
The device is very easy to operate and it will easily drag the catch towards the angler. The casting and retrieve is also quite handy. The design only comes in a right hand retrieve. However, considering the performance it's a minor inconvenience. It has a top-notch performance for trolling, but it can be used under other circumstances as well. This reel will surely up your fishing game by a great extent.
Pros
Die-cast aluminum frame
A stamped aluminum side plate
The large cast control knob
Double paddle handle
Manual clutch
Cons
 FAQs
Does this reel measure in feet or meter?
Ans: The Shimano Tekota measures in feet.
Where is this reel manufactured?
Ans: This reel is made in Malaysia.
Is the line counter mechanical in this reel?
Ans: Yes, the line counter is mechanical.
Offshore Trolling Reels Buyer's Guide
Fishing has been a routine that people engage in for years and it does not only meant to reduce hunger, it's also a passion for some people. To meet the expected result you need various tools in this process.
Among the countless number tools available, trolling reels are adored by many anglers all around the world. Not all trolling reels work the same. Some factors play a significant role in your trolling reel. Such as:
Body
The body of the reel plays a pivotal role. If the body is not made with quality materials, the reel corrodes away with time. The majority of the reel has an aluminum or graphite body and both of them have their advantages.
Usually, the relatively cheaper reels are made with graphite and they work better with smaller sized fish. On the other hand, the aluminum ones can withstand a large amount of stress provided by big fishes such as tuna, shark, marlin, etc.
Size
The size of the reel is kind of proportional to the weight of the catch you're opting for. The lighter line usually requires a smaller reel.
Drag
The drag system is really important. The good reel will be able to withstand a substantial drag without making any damage to the rod. Consider the type of your catch and get the one that matches the criterion you're looking for in a reel.
Gear ratio
The gear ratio is another important aspect of the reel. The gear ratio indicates how fast or slows the line can roll up around the spool of the reel.
Line capacity
Line capacity is a crucial feature for saltwater and it is mainly essential if your catch has the ability to strip the spool.
Clickers
The clicker is important as it gives out an audible signal that the line is paying out. This feature comes in handy when you have trouble hearing over the loud engine noise.
FINAL THOUGHTS
Fishing is a fun activity and  The Best Trolling Reel will make your task a lot easier. Your skills and experience as an angler do play a vital role but having some good gears will definitely make your fishing journey better.
Finding the best offshore trolling reel is a daunting task especially if you're a beginner. We have reviewed some of the best trolling reels available in the market. We have listed out the pros and cons which will help you to figure out which one will be the best suited for you.
When it comes to offshore trolling reels that use electric power, there are several options available in the market. Some of the top brands that offer these types of elecric reel include Shimano, Daiwa, Penn, and Kristal Fishing.