With hundreds of different items in the market, it isn't easy picking out the best model of a saltwater spinning reel for the money. You will have so many questions on your mind and not every product you see will have the answer to all your questions. But a selection must be made and it must be the kind of reel which works best for your targeted saltwater species, have all the essential features and of course not cost you an arm and a leg (unless you can afford it).
We have compiled a list of the best saltwater spinning reels which we believe carry great value and are great tools to add to your collection of fishing equipment.  These reels are designed to handle the harsh conditions of the environment as well as the beatings they will encounter from a fighting fish. If you are interested in buying your first reel then you will surely find something from the ones we have reviewed here for you because we have screened, compared and filtered a great number of reels to come up with our top 10 models.
Best Saltwater Spinning Reel For The Money We Will Cover Today
1.Penn Battle II Spinning Fishing Reel
2.Okuma Azores Saltwater Spinning Reel
3.Abu Garcia Revo Rocket Spinning Reel
4.PENN Slammer III Spinning Reel
5.Piscifun Carbon X Spinning Reel
6.Fin-Nor Offshore Spinning Reel
7.Shimano Socorro SW
8.KastKing Valiant Eagle Spinning Reel
9.Okuma Cedros High-Speed Spinning Reel
10.Shimano Twin Power SW-B  
Top 10 Saltwater Spinning Reel Reviews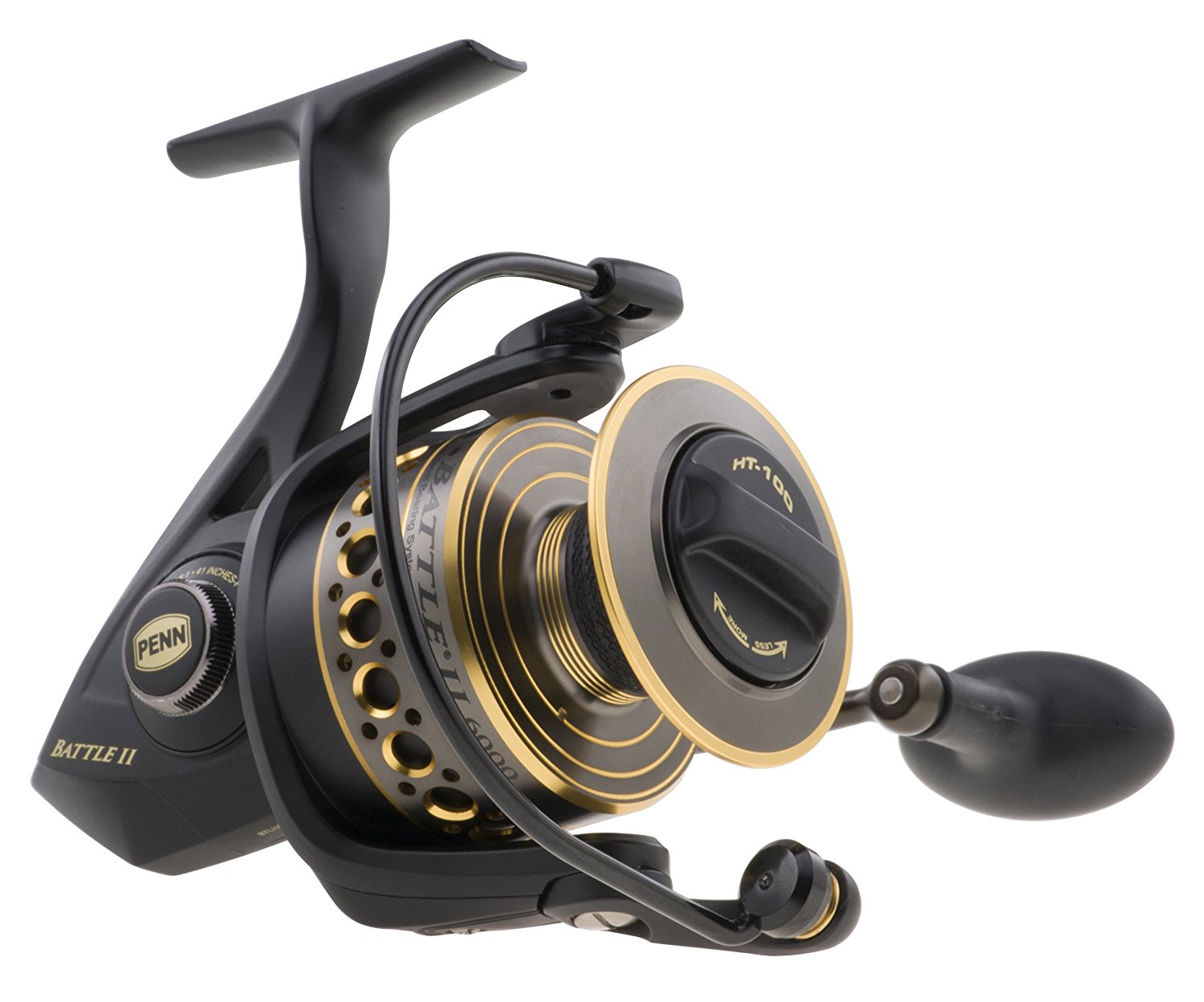 Best reviews and top-rated spinning reel in the market! This one is called Battle II, and it costs good money. But as you would expect, it offers great performance in exchange!
Battle II, which actually includes reels of different sizes, is specifically designed for catching saltwater gamefish. Hence the heavy-duty design of the reel: it features full-metal body, rotor, side plate, as well as aluminum bail wire. On the other hand, Battle II is quite heavy, which maybe not such a great thing if your angling tasks require a lot of casts.
Battle II reel has the same HT-100 water-tight sealing that Spinfisher V had. It is quite efficient, but don't expect it to be completely waterproof.
This fishing reel also features a fluid cranking system equipped with 5 sealed stainless steel ball bearings, as well as 1 roller bearing for instant anti-reverse action. Overall, the fluid cranking system of Battle II has everything necessary for delivering smooth line retrieving.
Battle II also has the familiar capacity rings that show how much of the line is still left on the spool.
Penn Battle II comes in sizes from 1000 to 8000. The max drag goes from 9 to 30 pounds from the smallest to largest version. Apart from that, the gear ratio of the 2000 – 5000 sizes is 6.2:1, 5.6:1 for the 6000, 5.3:1 for the 8000, and 5.2:1 for 1000.
Pros
High-quality and durable.
Water-tight sealing.
Full-metal components.
Smooth fluid cranking and drag.
Equipped with line capacity rings.
Cons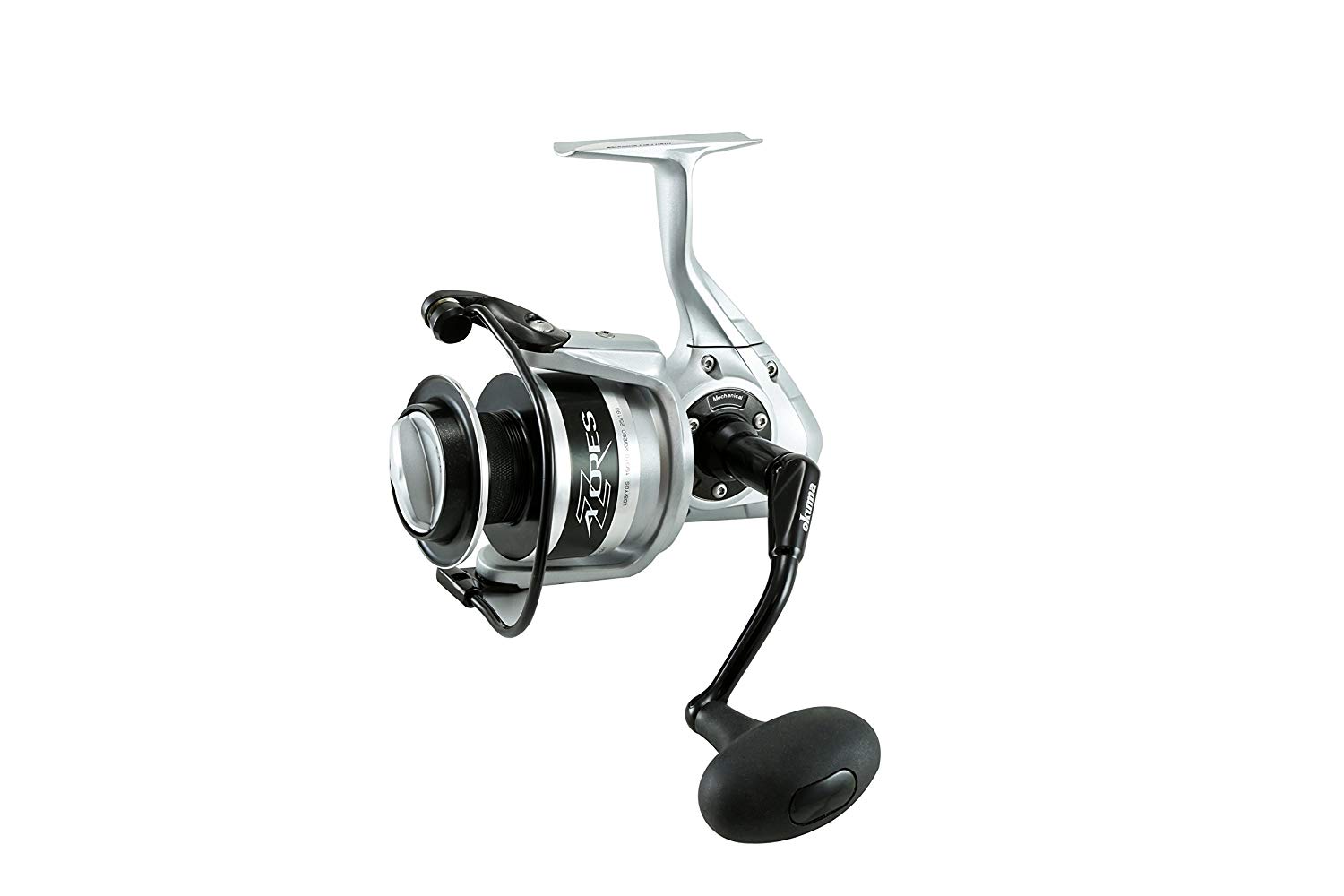 The Okuma Azores is a spinning reel designed for saltwater fishing when targeting medium to big species. The big spool and dependable dual drag system will give you a smooth line retrieve and also enough torque to tackle hard fighting fish with ease. The dual force drag system with a drag force of 20 kg engages both surfaces of the spool for smooth and even pressure while maximizing the force to the maximum. This also ensures stability and a better balance than single drag systems. With a quick set anti-reverse system you can be sure of a solid hoot-set and increased control. The Z 65S has a gear ratio of 5.4:1 which is more on the lower end so you can expect a lot of cranking power when trying to bring in the strong and hard fighting species. There are 6 ball bearings and 1 roller bearing to enable smooth movement and frictionless mechanism of the reel.
Pros
Durable aluminum housing with anti-corrosion feature
The high number of bearing for smoother and low noise engaging
A sturdy constructed handle with an ergonomic handle knob
Dual force drag system ensures the balanced drag
Oversized main shaft
Cons
A few customers reported that the line retrieve was not very smooth when trying to reel in the bigger species.
If you find yourself targeting species that tend to get away quickly then you must steer clear of low geared reels because they will give you cranking power but will not do much for you in terms of speedy line retrieves. The Revo Rocket spinning reel is designed for saltwater fishing and is perfect for jigs and big worms, jerkbaits, shaky heads and any lure that you will initially have to engage with your rod tip.  The internal mechanisms are protected with 9+1 bearings which keep things running smooth and also provide you with a noise-free operation. The reel is corrosion-resistant which is essential when it comes to saltwater fishing equipment.
The rotor is C6 carbon, keeping the reel super light and easy to handle but at the same time keeping the strength on. The carbon matrix drag system works smoothly and allows you to tackle your target without breaking a sweat. Other features include an anti-reverse system and an ergonomic quick side-switch handle on durable lightweight carbon reel housing.
Pros
Strong and anti-corrosion
Perfect for saltwater fishing
High gear ratio
Lightweight
Adjustable drag
Cons
It does not come with an extra spool.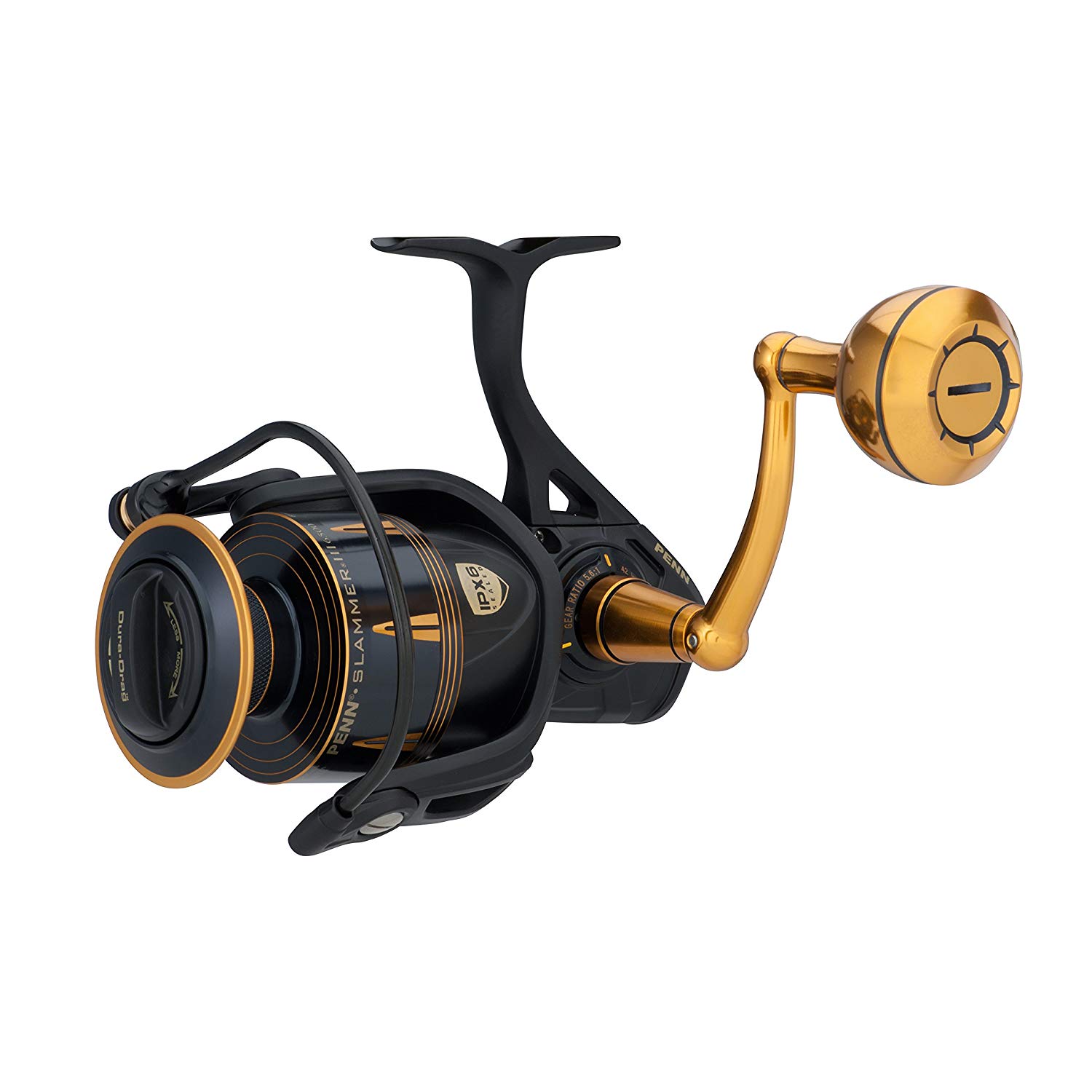 PENN is a popular name among anglers with all skill levels and their saltwater spinning reels come equipped with features that make both boat fishing and fishing from shore a lot more enjoyable. PENN Slammer III Spinning Reel is designed with a full metal housing, side plate, and rotor for heavy-duty fishing in both freshwater and saltwater. It incorporates the CNC gear technology and the new IPX6 Sealed System which keeps all corrosive agents out of the gearbox. The drag system is also sealed for protection which enables the reel to withstand all the harsh effects of saltwater. Since the reel is available in a number of different sizes, you just have to match the reel size to your preferred targeted species for accuracy and the best fishing experience. Despite the great torque, this reel is quite light and very easy to use. If you want a stylish looking reel with high drag power and smooth line retrieves for plugging and surfcasting, then you will not be disappointed with this model.
Pros
Great for freshwater and saltwater fishing
Ideal for heavy-duty fishing
Available in various sizes
Durable housing
Cons
The reel felt a bit stiff for some
A few customers had difficulty winding the line properly on the spool
The Carbon X Spinning reel is ultralight fishing tools designed to chase and land big fish. With a 6.2:1 gear ratio you will be able to retrieve the species that tend to use more speed than power when trying to escape. The Carbon X protects its internal mechanism and gives the angler a smooth reeling experience by incorporating 10+1 double-shielded stainless ball bearings with anti-corrosion coating, making them ideal for the saltwater activity. The lightweight carbon frame weighs at only 7.8 oz so you can take out your reel for a whole day of fishing without any fatigue. The sealed drag system comes with a drag power of 22 lbs and is designed with triple premium carbon drag washers for a quick and powerful drag. The direct screw in the handle enables a fast removal, switch and attachment of handle from one side to the other.
Pros
One of the lightest spinning reels in the market
Great speed and smoothness in line retrieve
High-grade stainless steel ball bearings
Cons
Some customers mentioned that the drag wasn't as smooth as expected
If you're thinking about offshore fishing it is critical that the spinning reel of your fishing rod has adequate cranking power and spool capacity. The Fin-Nor offshore spinning reel delivers these critical elements perfectly and this reel is strong, capable, as well as incredibly durable. The Fin-Nor offshore spinning reel is designed to handle aggressive saltwater fishing and will provide anglers with the upper hand than any other similar offerings in the market.
Regardless of the models, all versions of the Fin-Nor offshore spinning reel are equipped with all the necessary components and features. All models have a powerful and legendary MegaDrag drag system that features up to 10 carbon fiber, aluminum, and stainless steel drag washers. The spinning reels provide extra toughness with a durable aluminum flex-free body and rotor. The Fin-Nor's Offshore spinning reels are equipped with a fail-proof external bail trip that significantly reduces the number of vulnerable components.
Pros
Low maintenance
Excellent heavy duty saltwater reel
10 disk drag system all-aluminum body side place and rotor
Strong aluminum body, side plate, and rotor
Stainless steel drive and pinion gears and center shaft
4 double-shielded stainless steel bearings
Powerful MegaDrag drag system
Incredible build quality and durability
Cons
The spinning reel may seem a bit large to some anglers.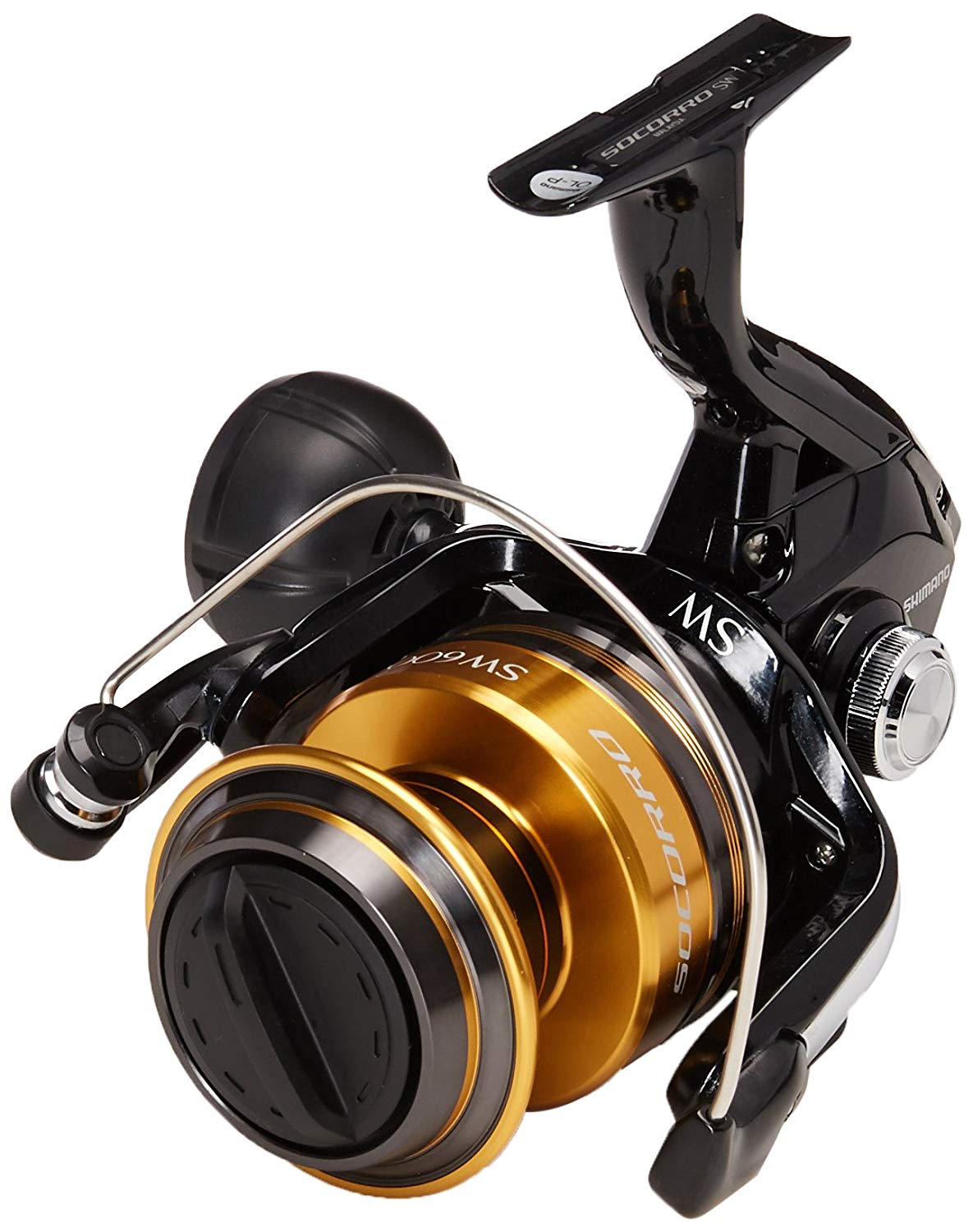 For over 80 years, Shimano has been a pioneer in creating innovative products with quality components combined with precision engineering, and the Shimano Socorro SW spinning reel is no exception. The Shimano Socorro SW spinning reel is a saltwater reel built with high-quality components. The Socorro SW incorporates Shimano's flagship HAGANE Gearing technology that provides incredible strength, performance, and durability for both inshore and offshore fishing. For ultimate smoothness and power, the Shimano Socorro is fitted with the X-SHIP technology to deliver the promised results.
The Shimano Socorro SW spinning reel offers incredible performance and durability to tackle almost any fishing activity in fresh or salt water. The X-Ship technology delivers improved gear durability and ablates the friction resulting from the spool shaft and gear. This enhances the overall casting performance allowing anglers to throw longer casts. In addition, the Shimano Socorro is equipped with Cross Carbon Drag for long-lasting and smooth drag which is helpful when countering fast, powerful runs from larger pelagic species. Like, HAGANE Gearing, the Cross Carbon Drag is also an invention from Shimano. The Shimano Socorro SW spinning reels also feature an efficient 4 ball and 1 roller stainless steel bearing system. The Shimano Socorro SW is available in 4 sizes.
Pros
Great price
Light and smooth reel
Ideal for heavy-duty saltwater fishing
The design delivers incredible strength and performance
Highly durable
Cons
Improved saltwater protection was expected
Stainless steel ball bearings are not sealed
The reel could have been smaller
Valiant Eagle spinning reel is one of the new and best fishing gear from KastKing. Quality, innovation, and affordability are the hallmarks of the KastKing Valiant Eagle spinning reel and the Valiant Eagle delivers it. The KastKing Valiant Eagle is ideal for anglers who are looking for something reliable and offers useful features while fishing in freshwater and saltwater.  With a gear ra6.2:1, the Valiant Eagle is fast and will quickly pull the fish towards your boat. KastKing's proprietary Expanded Pinion System promises plenty of strength and consistent performance. In addition, the company's unique Sliding Stabilizer Rod (S.S.R.) offers long-life durability. The Emerald Eagle Edition has a specialized graphite frame and rotor for added strength and durability.
The KastKing Valiant Eagle spinning reel has a total of 11 stainless steel ball bearings providing anglers with amazingly smooth operation and performance. The spool is machined from aircraft aluminum and anodized for enhanced looks and greater performance. In addition, the aluminum spool includes a sealed and waterproof carbon drag system which makes handling strong fish easier for anglers. Other unique features of the Valiant Eagle spinning reel is KastKing's Patent Pending line management system for delivering consistent long casts which makes it the perfect reel for both fresh and saltwater fishing. The KastKing Valiant Eagle also includes a strong aluminum handle with a lightweight EVA handle knob for added comfort and superior control while fishing in all weather conditions.
Pros
Super smooth operation and great performance when handling fish
Superior build quality and durability
Nice design
Great packaging
Incredible value
Cons
The handle needs constant tightening
KastKing's patented casting edge technology seems to be overrated when compared to competitors.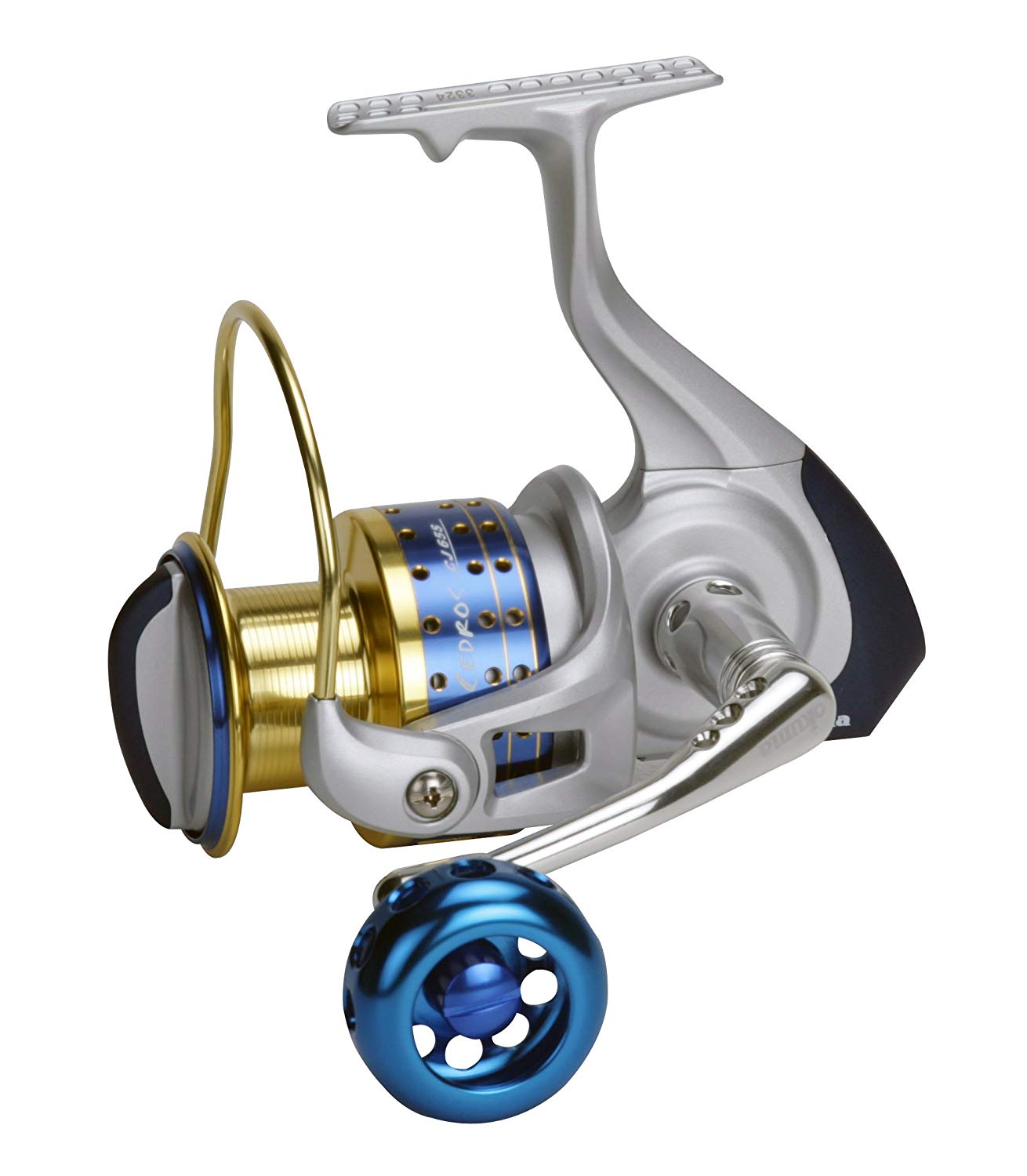 e Okuma Cedros in model number CJ-40s is a high-speed reel designed to tackle saltwater species. With a rigid aluminum body and a 5 ball bearings system, this reel is crafted to provide you with reliable and smooth operation throughout your fishing session. It comes at an affordable price but has features that match up to high-end models of spinning reels. You can be assured of a rock-solid hook set with the reel engaging only clockwise, thanks to the quick anti-reverse system. As the name states, this reel is among the fast ones with a gear ratio of 6.2:1, which will give you both the power and speed required to make even the most aggressive species of fish react.
You can use this reel for multiple techniques but it is best suited for medium-depth crankbaits, shallow castable umbrella rigs, and square bill crankbaits.  The dual drag system has a maximum drag pressure of 20lbs so you can expect some torque in the stopping power of this reel. Along with being corrosion resistant, the body also portrays a narrow design to reduce user fatigue during long fishing sessions.
Pros
Ideal for saltwater fishing
Good speed and cranking power
Can be used for multiple presentations
Corrosion-resistant
Designed for comfort and reduced fatigue
Cons
There have been a few reports of the reel jamming during retrieving.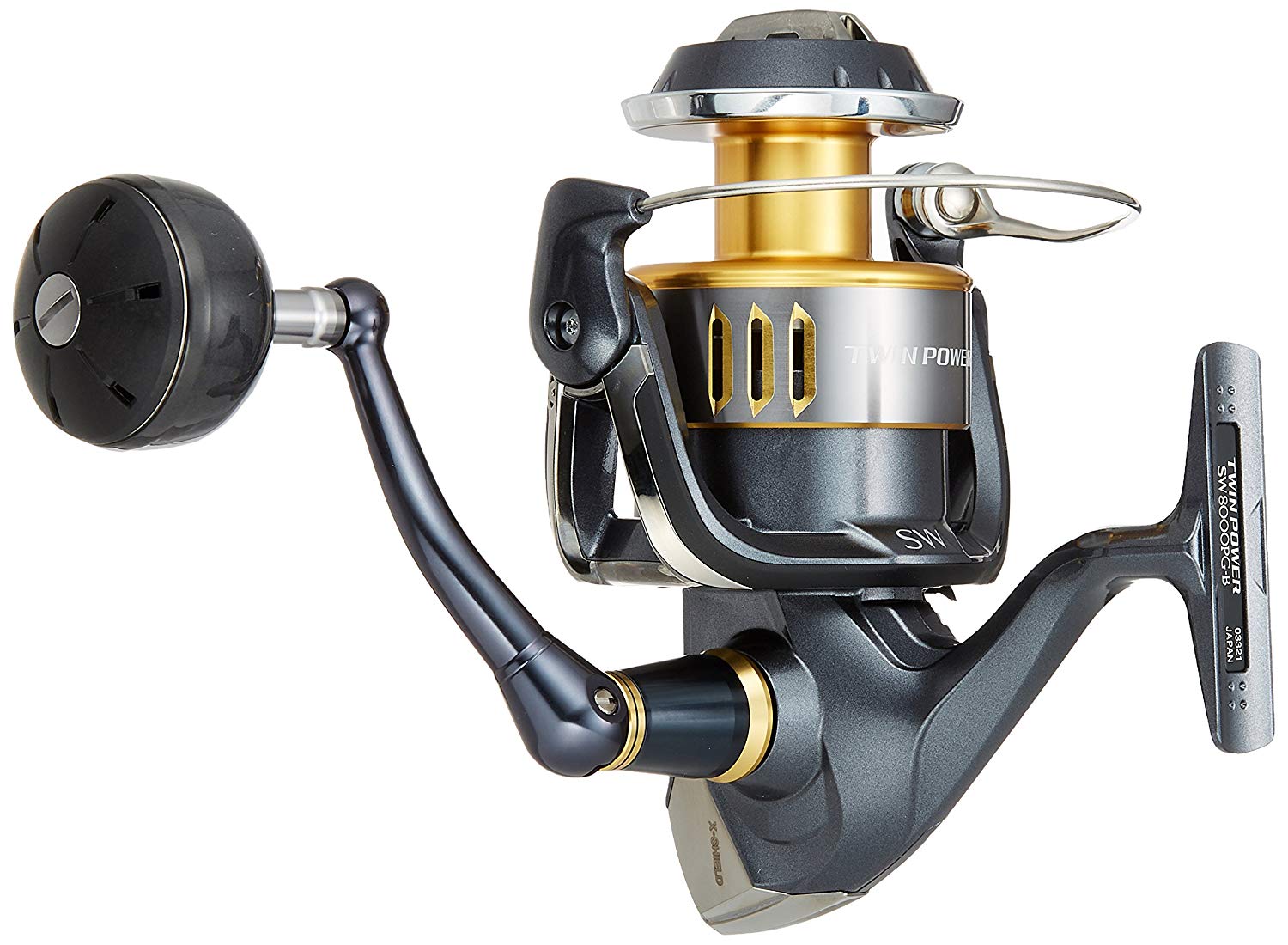 Shimano has designed 5 amazing models in the Twin Power Series. The reels all have 10+1 bearings that provide the reel with maximum smoothness and ease of use. The larger numbers of bearings are incorporated for friction-free operation and minimum vibration during use.  Only the TP10000SWBPG and the TP8000SWBPG models have a lower gear ratio of 4.9:1 and are better suited for species that pull hard during a retrieve. The rest of the models have a higher gear ratio of 6.2:1 which gives you more speed to tackle the fast escaping species. Drag power ranges from 24 lbs to 62 lbs depending on the model. Built for both freshwater and saltwater fishing activities, the Shimano Twin Power Spinning reels have AR-C spools, sealed drag systems, and SR one-piece bail arms. With a metal body, aluminum rotor and hard brass pinion gear, these reels are super durable and made to have immense cranking power.
Pros
Hagane Body- sturdy and durable
Balanced drag system
The high amount of ball bearings ensure smooth operation
Available in various sizes with a wide range of features
Cons
There have been a few reports of difficulty in changing the handle sides
Buyers Guide:
There are always a few factors to keep in mind when buying any fishing equipment and when it comes to spinning reels for saltwater fishing then you just cannot overlook some factors if you want the best outcomes.
All reels have several common features and functions but when it is about fishing in saltwater there must be some unique traits to the reel for satisfactory performance. Next time you go shopping for a saltwater fishing reel keep the following pointers in mind and you will not be at risk of taking the wrong reel to the waters.
1.Built
The first thing you must look at what the reel is made of, i.e. its materials. Remember that while Magnesium may work for freshwater reels, saltwater will not be so forgiving on the material and you will soon find your reel rusting. So without a doubt, if you want your reel to last through the corrosiveness of the saltwater you will need something that is built for the cause.
Aluminum is a good choice as it is strong and a durable kind of housing. Graphite is another way to go because it is lighter and comes with corrosion-resistant qualities. But if you want a really sturdy reel and prefer one with an aluminum frame then see that it is anodized aluminum because anodized aluminum can hold up against the negative impacts of saltwater.
Another thing to steer clear of is too many fragile parts which can make casting difficult and complicated while bringing down the firmness of the reel. Make sure the reel is one solid piece with smooth operating parts that are not too heavy to handle but has enough cranking power. Saltwater fishing reels must be designed to tackle any harsh environment that you decide to place them in.
2.Size and Weight
Decide on the kind of fish you wish to target before you pick out the size of your reel because some fish require more line than others and a larger reel with a bigger spool will allow you to roll in a greater length of line with each turn of the handle. Heavier lines take up a great deal of reel capacity so if you are aiming for fish that will need more line then your reel should have the weight and size to match.
On another hand, a beginner or a child angler may prefer to start off with something lighter to avoid wrist pain and user fatigue because the weight of a fish combined with the weight of the reel may prove to be too much for a newbie to handle. Even experienced anglers who choose to spend the whole day taking part in the activity prefer lighter reels for comfort and better performance.
3.Rod Compatibility
It is best to buy your spinning rod and reel at the same time because not all rods will go with your reel. If you already have a rod then make sure it will work well with the reel you have in mind. When the rod and reel is a perfect match you will notice a great improvement in the performance of your tools, increasing your chances of catching more fish.
4.Line Capacity
Saltwater fishing can be a thrilling experience but there is a lot of hard work involved. The wide and deep escape route gives all species of fish a simple and quick getaway so having a lot of line back-up will allow you to chase and get to your target easily. If your reel has low line capacity then you will eventually have to give up once you get spooled too fast and there will not be much you can do then. If you wish to have the upper hands in a chase then look for a reel with a capacity of 300 yards at least because that will keep you going until you are ready to retrieve.
5.Spool
Heavier lines will need bigger spools but if the spool on your reel has a low line capacity then you must avoid going over the limit. Having more line than it can hold will cause complications which you must try and avoid at all cost. If your reel can be spooled with a braided line as well as a monofilament then you will have many benefits to enjoy.
Having the option for both will enable you to target more species because some fishing techniques are best done with a monoline while some are better with a braided line. If your style of fishing demands a better cut through the air and water then braided lines are ideal but if you want something that will hold knots well and is comparatively cheap then monolines are for you.
A spool that cuts back on slippage and has components that are tough enough to handle high cutting power of lines are the best kind of spools.
6.Anti-Reverse Handles
Reels with handles that easily move back are something we would recommend you stay away from if you wish to have greater success in landing your fish. You should be able to stop the reel when you want to and if the handle of your reel moves back even a little then you will not be able to engage the drag well. But having said that, some reels also give you the option to switch between the anti-reverse and 'back-reel'.
Having this option can also be beneficial because sometimes you may not want the drag to clash with the fish and back-reel instead. So it is really up to you whether you want a solid hook-set or not. Remember that with the anti-reverse switched on you will not be able to reel backward but once it is switched off you will be free to rotate in either clockwise or anti-clockwise direction.
7.Drag Systems
The drag system can be found on the rear of the body of your spinning reel or on the cap of the spool, depending on the model and make of your reel. It basically adds tension to your line as it is being pulled off the reel, making it difficult for the line to come off the reel. An adjustable drag will give you the freedom to choose how much of a drag you need for your targeted species. If the drag is too much or too little then you will not be able to fish successfully.
You should be able to let line out smoothly, without any pulls or jerks. The location of the drag system is a matter of comfort and preference as some anglers prefer the rear drag system while some prefer the front drag system as it is closer to the spool and easier to access when quick action is required.
8.Gear Ratio
Spinning reels will always have a gear ratio that will determine the speed of your reel when it comes to retrieving your catch. When you turn the handle to retrieve your line the gear ratio will tell you how many times the spool will turn with each handle rotation. The gear ratio can be a number like 4:1 or 6:1 or something more or less. In case of a gear ratio of 4:1, the spool turns 4 times with a single rotation of the handle while it will turn 6 times on one full handle rotation if the ratio is 6:1. Do not get confused if your reel has a gear ratio that looks like 4.5:1 or 5.5:1, it just means that the spool turns 4.5 or 5.5 times per handle turn. The first set of numbers is always the number of times the spool turns.
9.Speed
Now the information above is needed when you want to decide on how quick and how much line you will be able to retrieve when you catch a fish that is putting up a fight. Some fast-swimming fish will try to get away even before you can react and if you think you are going to be chasing the quick ones then you need a reel with a high gear ratio. For example, a reel with a gear ratio of 4.5:1 will be much slower than a reel with a gear ratio of 6:1, simply because of the lower number of spool turns per handle rotation. But depending on your targeted species, you have to decide whether you want more cranking power or speed in retrieving. Lower gear ratios will provide you with more power, which may be more necessary than speed when it comes to certain kinds of species.
10.Ball Bearings
Ball bearings are responsible for how smooth your retrieves are going to be and it is believed that a greater number of ball bearings provide a quieter and friction-free performance. If your reel has less than 5 ball bearings then chances are that the internal mechanisms will not work as smoothly and you will be able to feel a bit of vibration while it is in action.
But the number of ball bearings isn't all that is important; the bearings must also be of high quality if you want the best results. We have used reels with 5 quality bearings which performed much better than reels with 7 or even 10 bearings of lesser quality. So there should be a good balance between the quantity and quality of the ball bearings for the best outcome in results and protection of all the internal metals parts.
11.Ease of use
Spinning reels have common features but they may differ in design, size, and weight. There really isn't the perfect design of a spinning reel because what works for one angler may not work for another. But the reel must be easy to understand and use, especially if you are just starting out with the sport. Heavy reels may seem robust but think of all the hours you will be spending holding the tool in your hands. When picking out a spinning reel, keep in mind that it should be simple enough to understand the works but also have adequate durability for long-term use.
12.Brands
You will not be able to count the number of different brands that manufacture fishing equipment nowadays and it isn't easy to pick the best brand from the lot because they all have advantages and disadvantages. But there are still a few names which come into mind when we talk about fishing reels, mainly because of the reputation they have built over the years. Some well-reputed companies are Daiwa, Okuma, PENN, Abu Garcia and Shimano. They are many more such names which you can choose from if you are interested in branded reels.
 Maintenance Tips :
One responsibility that comes with every item is maintenance. If we don't look after our tools, then we'd have to rush to the nearest store every now and then to replace the broken or damaged items. The same rule applies to your fishing reels. Below we have listed a few maintenance tips that will help you keep your spinning reel in good condition, even weeks and months after its purchase:
Using fresh water to clean your reel.
Very often, people who own fishing gear clean these items by dunking them underwater. However, this is not a very good idea as it barely ever cleans the gear. What you should do instead is, use a spray bottle to wash your gear. The fine mist of water does a much better job of wiping off the dirt from the fissures of your gear than a strong stream of water.
Use a soft cloth to dry your gear.
Before using a piece of cloth to wipe your fishing paraphernalia, make sure the fabric is soft and clean and does not leave fibers on the reel. If possible, purchasing a microfiber cleaning rag would be really helpful, but other than that, you can use paper towels too.
Loosen the drag when your reel is not in use, even if it is for a short time.
In order to extend the lifespan of your gear, you need to loosen its drag after every session so that the tension in all the parts is slightly less. Once you're done with that, store your gear in a suitable place.
All your efforts of maintaining your equipment will go down the drain if you don't keep your rods and reels in a safe place when they are not in use. Keeping your reels just anywhere and anyhow will greatly increase their possibility of breaking, hence reducing their validity on a large scale. If you have a fishing boat and like to store your equipment in it then make sure your reel is kept dry and away from dust, water and heat. Although this is a great way to keep your reels in good shape, it isn't possible if you do not own a boat. You can also buy a good hard-shelled case just for your reels and rods.
Cleaning the inner side of the reel.
As we've discussed earlier, taking proper care to clean your reel is a must after every fishing session. However, only cleaning the outside is not enough. Every once in a while, you need to get the inside of the reel cleansed too, cause dirt particles can still stealthily make its way through to the inside.  To do so, you need to remove and clean off the spool and the surfaces that the spool comes into contact with. In the case of a spinning reel, you can remove the spool by unscrewing the drag adjustment completely. Use a cotton swab dipped in rubbing alcohol to clean all the parts. Make sure all your rod parts are completely dry before you put them back in place.
Frequently Asked Questions
1. Which is the best saltwater spinning reel?
Depending on your personal style of fishing, you must choose a spinning reel that is comfortable to use and is made from durable materials. Of course, they must be corrosion resistant if you will be using them for saltwater fishing. All the spinning reels which we have mentioned in this post have unique features that make them among the best spinning reels for saltwater fishing. Compare the products and decide on which one would suit your method of fishing.
2. What is the 'drag' on a fishing reel?
The drag is made up of friction plates which add tension to the lines, making them harder to pull. This is necessary when you land a fish that puts up a good fight. The drag on a reel is what will help you pull the fish towards you and eventually retrieve it.
3. Is it okay for me to use my freshwater reel in saltwater?
Although you can use your freshwater reel to fish in all kinds of water, it's still not a very good idea to use it in saltwater, unless it bears features similar to that of a saltwater reel. This is because, due to the high concentration of salts and other dissolved minerals in saltwater, the reel of your freshwater reel is at the risk of getting corroded. Buying a saltwater fishing reel is a better idea as you can use this on both saltwater and freshwater without having to worry much about your reel being damaged.
4. How do I keep my spinning reel clean?
Your saltwater spinning reel requires extra care and cleaning as it is almost always exposed to a very high percentage of salts, which can cause serious harm to the body of the reel even if it is corrosion-resistant. Clean your reel frequently with fresh water and dry it with a soft cloth after every use. It is better if you wash your reel after every fishing session.
5. Is a high gear ratio better than a low gear ratio for a beginner?
High gear ratios provide you with more spool turns per handle turn whereas low gear ratio reels are comparatively stronger. However, using a low gear ratio reel is more suitable for a beginner as it is easier to handle.  But in the end, it all comes down to one thing: the type of fish you're going for as it may require more speed over cranking power or vice versa.
6. Which line is best for saltwater fishing?
You can choose to go with a braided line or a monofilament fishing line to use with your saltwater spinning reel as they both have unique traits but monofilament is recommended for a number of reasons such as they are more abrasion resistant than braided lines, and also has a good knot strength due to the fact that they are thinner and more subtle.
The good news is that monolines are also affordable. In terms of line color, you can go for a high visibility line which will be easier for you to see but bear in mind that clear lines are invisible to the fish which can help you get them hooked. As for the weight of the line, the best saltwater fishing lines are lightweight, because they can be cast further away and will sink faster.
Final Thoughts
We would like to wrap up by saying that while there isn't a single product out there that will serve all purposes perfectly, you can still find a reel that has the best balance between features, performance, and price. No two saltwater spinning reels will be the same but with a bit of comparing you can select the best one for your style, technique, and method of fishing. You will have a wider range to choose from if you can afford the high-end ones but there are lots of high quality and well-performing reels even within an affordable price range.