If you are looking for Sit On Top Fishing Kayaks, be sure to read our complete in-depth buyer's guide where we review the top-rated models available with Pros & Cons
Kayak fishing has always been around. Kayaks were first developed by native people living in the Arctic regions and they were used mainly for hunting on the waters. Today, however, kayak fishing is a popular method of fishing due to its style and convenience.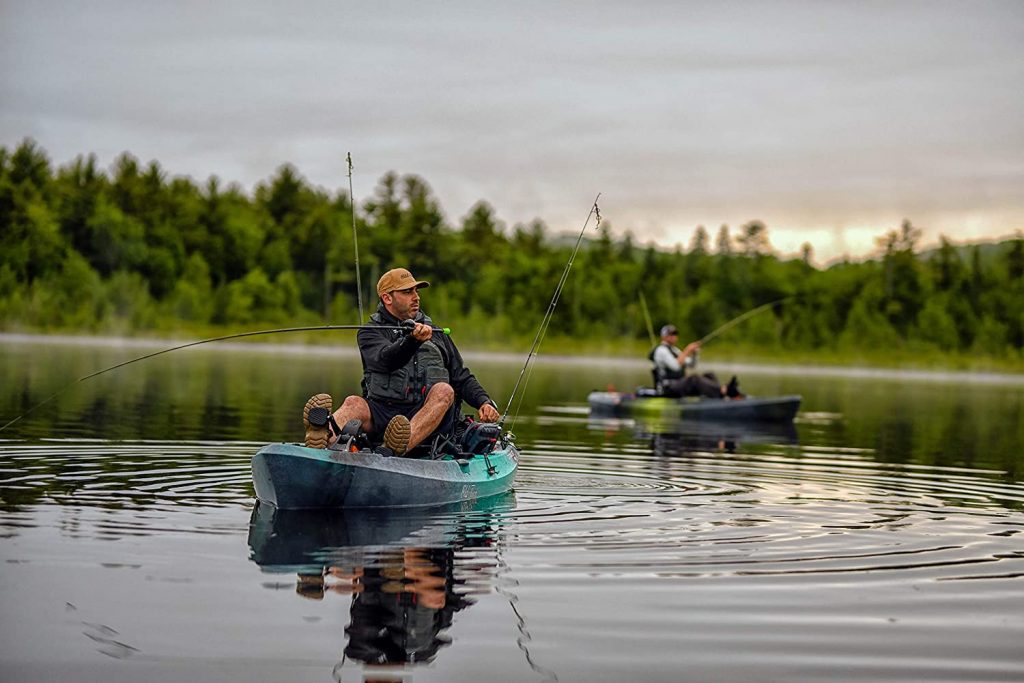 PC by Amazon
Kayaks are affordable and highly effective while fishing as you can reach out and fish in the best spots. If you have a kayaker and a passion for fishing then you no longer have to stand on land and wait to lure fish towards you, you go out on the waters and get your fish like a pro. Because they are so quiet, you will not be scaring away any fish and will have better luck at catching more. But there is more to Best sit on top kayak fishing than what meets the eye.
Best Sit On Top kayak is not just something you sit on and take out to the lake or river. In order to have the best fishing experience, you need to purchase the right kayak.
Let us first take a look at some of the best sit on top kayak available in the market today so you can be aware of what some of your options are and then check out our buying guide where we explain further about the factors you need to keep in mind before making the final purchase.
Read More:
Best Sit On Top Kayak For Fishing Reviews!
1.Vibe Sea Ghost 130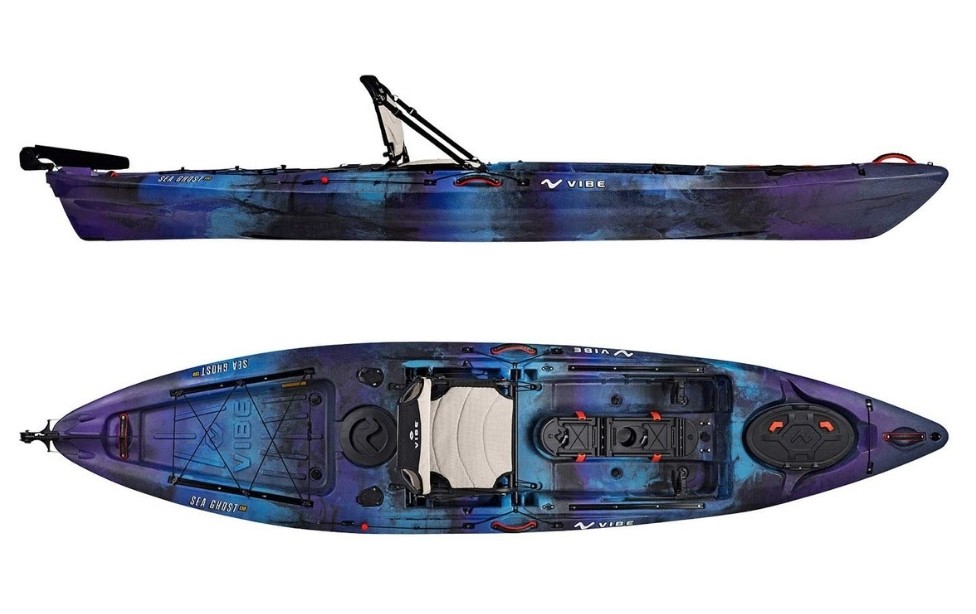 Our first kayak is Sea Ghost 130 by Vibe. It is the ultimate kayak for anglers as it comes with all essential features and is its stability is praiseworthy. The hull is quite wide and has a lot of space. The kayak is 13 ft long and weighs 62 lbs which makes it strong enough to handle rough water and also offers the best speed.
It is equipped with a 2flush-mount rod holder and 4 integrated gear tracks for personalized rigging. You also get a large rear tank well, tackle tray holders, and easy to reach front and rear hatches. If you have extra equipment to mount, you can do so with the additional storage that also comes with a lid. If you are planning to be out on the water for long then you will love the comfort level of this kayak because it has been designed for long fishing trips.
The hero seat can be adjusted to dual positions so your back will get the best support during those long hours on the water. You will not have to worry about paddling all the way through on windy days or when the shallow water gets rough as it comes pre-installed with a pilot rudder system that lets you steer with your feet. In case water gets trapped inside you can use the drain plug to get rid of it immediately.
The kayak is designed for a single person and is a sit-on-top kind with plenty of room to store your stuff. The construction of the kayak is sturdy and the hard plastic body ensures that you can hit the waters in all weather conditions. Now the best part of this excellent product is that it is priced at under $1000 which means you get a kayak with features and the quality of a high-end model but without the hefty price tag.
Features & More
Construction: Single Piece Polyethylene plastic.
Storage: V-Wave Deck Plates, Two Tackle Tray.
Gear Mounting: Four flush-mounted fishing rod holders, Two Bungee cords
Comfort: Vibe Hero adjustable seat plus adjustable foot

 braces 

and cup holders
Length: 13′ | Width: 33″ | Weight: 75 lbs | Capacity: 550 lbs.
2. Old Town Topwater 106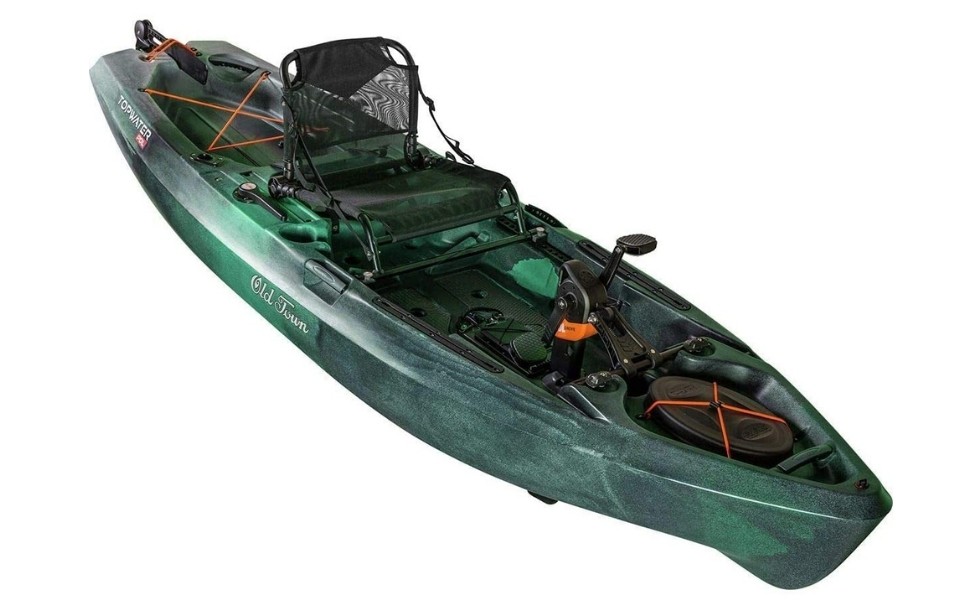 What exactly do you want from a fishing kayak? Stability, no noise, and the ability to keep your fishing gears without trouble. The Old Town Topwater 106 PDL Angler kayak provides you with all of the things you need from a kayak when fishing.
Firstly, let's talk about the show stopper here- the PDL drive system. You get to focus your hands completely on the task at hand- fishing while you employ your feet to take you forward. In fact, you can easily go back using this drive system too. And, the most amazing part is that even when you have to stop- you can do it instantly and quietly using the drive system.
The angler is quite huge for a single fisherman so you get to sit in it comfortably while keeping as many things as you want around. Furthermore, the air seat with a backrest keeps you quite comfortable anyway. The shape of the kayak gives it a very stable nature.
Other than that, you get a tank to keep your gears on this kayak. Furthermore, you get four-rod holders and much more space in the form of pockets and more to keep things the way you want. It also has a universal transducer mounting system which helps you use your fish finder in the most ideal way.
Features & More
Construction: Durable fiberglass.
Propulsion: Paddle and pedal system.
Gear Mounting: Two-rod holders, horizontal rod storage.
Comfort: Element Air seat and EVA foam floor pad.
Length: 10'6″ | Width: 34.5″ | Weight: 73 lbs. w/seat | Capacity: 440 lbs.
3.BKC UH-TK181 Sit On Top Tandem Kayaks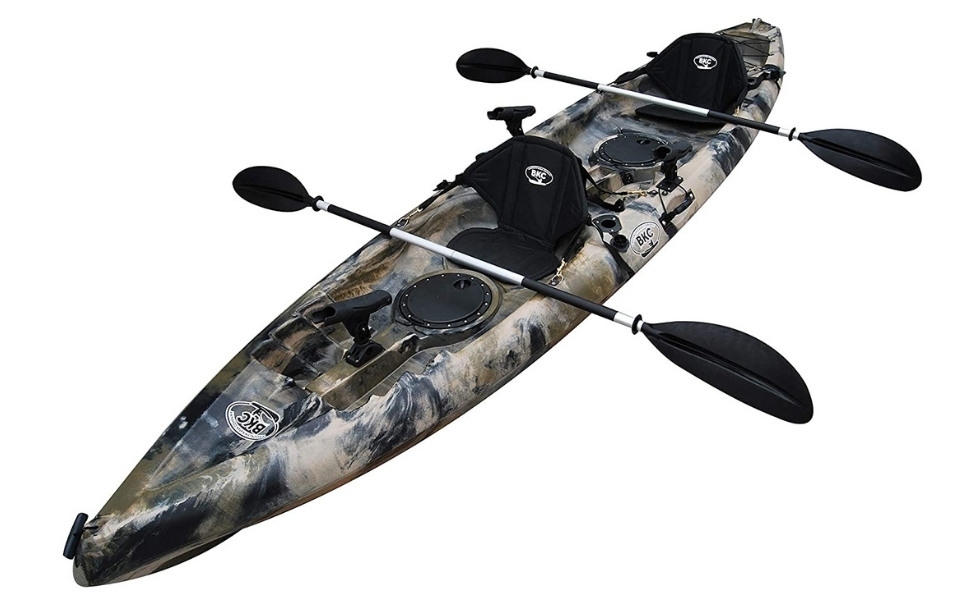 The Brooklyn Kayak Company BKC UH-TK181 tandem kayak comes with everything you need in order to go out and have fun kayak fishing with a friend or solo. The 12-foot 5-inch 68 lbs body of this sturdy kayak is perfect to get away from the chaos of the city and spend a day out on the waters. The 34-inch width and 440 lbs weight capacity allows you to carry everything you need for fishing as well as anything extra you wish to include to make the experience better such as food, drinks, fresh clothes, a camera, etc.
You will immediately feel the perfect balance between speed and stability as soon as you lunge in the water, despite the weather conditions. You will face no problems standing up to cast because the kayak will not budge.
Best sit on top kayaks style ensures that you get the perfect view of the water and can cast in all the right spots. You can go hands-free thanks to the paddle rest which keeps the paddles secure and in place. It also comes with six built-in rod holders, and dual watertight storage hatches to keep your things safe and dry.
If you are moving across rough water and water gets inside the vessel, the 8 scupper holes will drain it out in no time. When you order this kayak you will also get 2 high-quality aluminum paddles saving you from the hassle of purchasing them separately. The deluxe seats which come with the kayak are very comfortable and ideal for long hours of activity.  We would recommend this tandem kayak for its great value and useful features.
Features & More
Construction: Durable roto-molded
Propulsion: Two Paddles.
Gear Mounting: Rear cargo space with a bungee cord.
Comfort: Soft padded seats With multiple adjustment points.
Length: 12'5″ | Width: 34″ | Weight: 68 lbs | Capacity: 440 lbs.
4. Native Watercraft Slayer 10 Sit On Top Kayak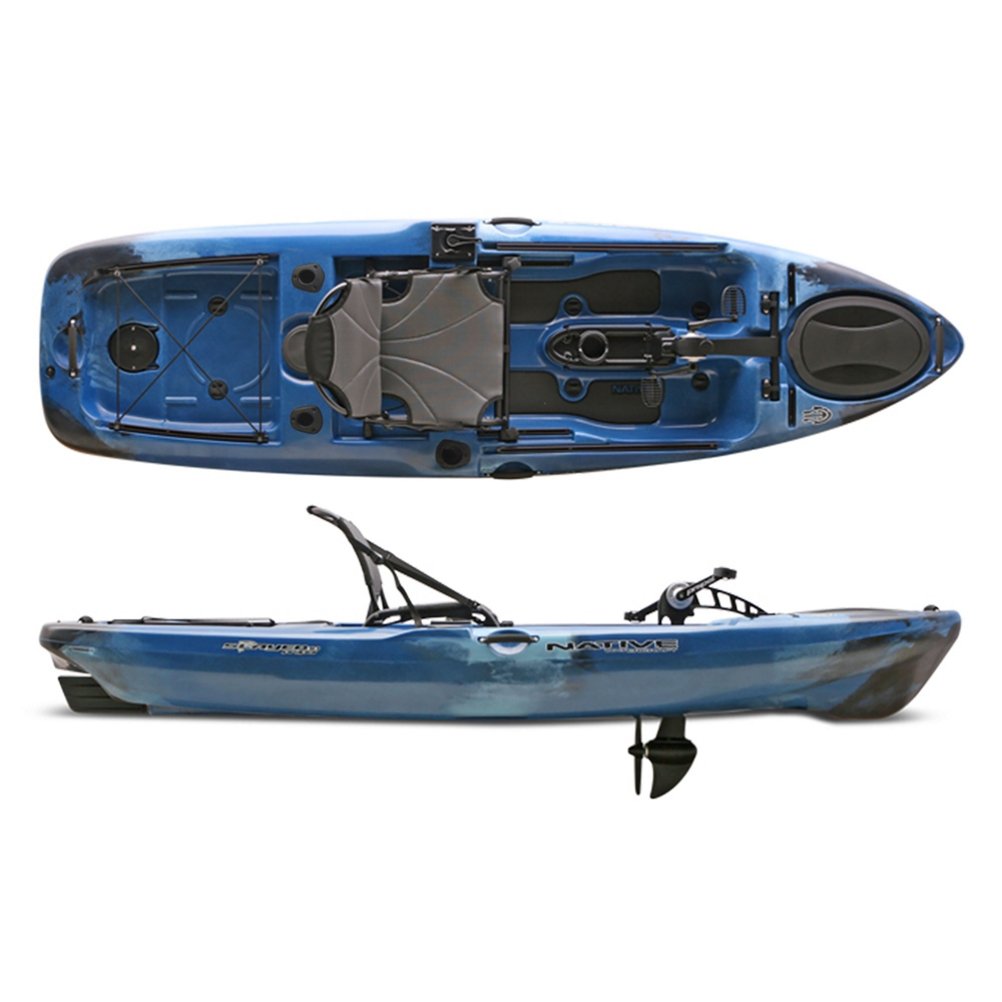 Lightweight construction with a powerful propel drive system are two features that every angler would want in their fishing kayak and the Slayer Propel processes both attributes and more.
This 10-foot fishing kayak weighs only 62 lbs (without the drive unit) which makes it the perfect watercraft to travel with. Those who are always looking for an excuse to hit the waters and spend some quality hours fishing away will find the Slayer Propel 10 amazingly transportable.
But despite the lightweight, the kayak is one of the most powerful units on the market. It is equipped with Native Watercraft's Propel Pedal Drive System which will have you covered 3-4 miles per hour effortlessly all day.  But that's not the limit; if the need arises you can push to 5.2 miles per hour also.
Whether you prefer to sight-cast while standing or like to sit back and enjoy pedaling through the waters waiting for your catch calmly, the sturdy construction will allow you to have full control of the unit and your surroundings.
Tall or heavy-weight anglers will find the cockpit quite spacious with lots of leg space and the adjustable armchair extremely comfortable.
If you wish to capture your precious moments on camera and share those with your loved ones back home then the versatile positioned rails can be used to mount your cameras. The bow to stern rail mount system also offers hassle-free usage of rod-holders from brands such as Ram, Scotty, and Railblaza.
Features & More
Construction: Durable and Lightweight.
Propulsion: Pedal system
Gear Mounting: flush-mount rod holder.
Comfort: adjustment seat.
Length: 10′ | Width: 33″ | Weight: 62 lbs | Capacity: 350 lbs.
5.Vibe Yellowfin 100-Best Fishing Kayak Under $1000
The Yellowfin is an angler kayak that is designed for long outings on calm water.
The fishing kayak weighs about 57 lbs which is pretty light-making it very easy to transport by car or truck. Measuring 10 feet in length and 32 inches in width, the Yellowfin is quite roomy even for large anglers.
There is a weight capacity of 375 lbs which is sufficient to accommodate a load of an adult, fishing gears, and all the catches of the day. The built-in storage compartment is an excellent feature to keep things safe and organized all day.
The Vibe Hero seat is designed for comfort and the whole unit feels very stable. It is so sturdy and strongly built that even young anglers will enjoy cruising around the lake for the safest and most fun-packed fishing experience.
There is 4 easy-grip carrying handles, a built-in cup holder, 4 flush mount rod holders, and adjustable foot braces along with various other essential features all installed to increase the usability and performance of the kayak.
Features & More
Construction: Single Piece Polyethylene.
Propulsion: Paddle.
Gear Mounting: Rod holders and fish finder mounts.
Comfort: Vibe Hero seats.
Length: 10′ | Width: 32″ | Weight: 57 lbs | Capacity: 375 lbs.
6.Feel Free Lure 10 Sit On Top Kayaks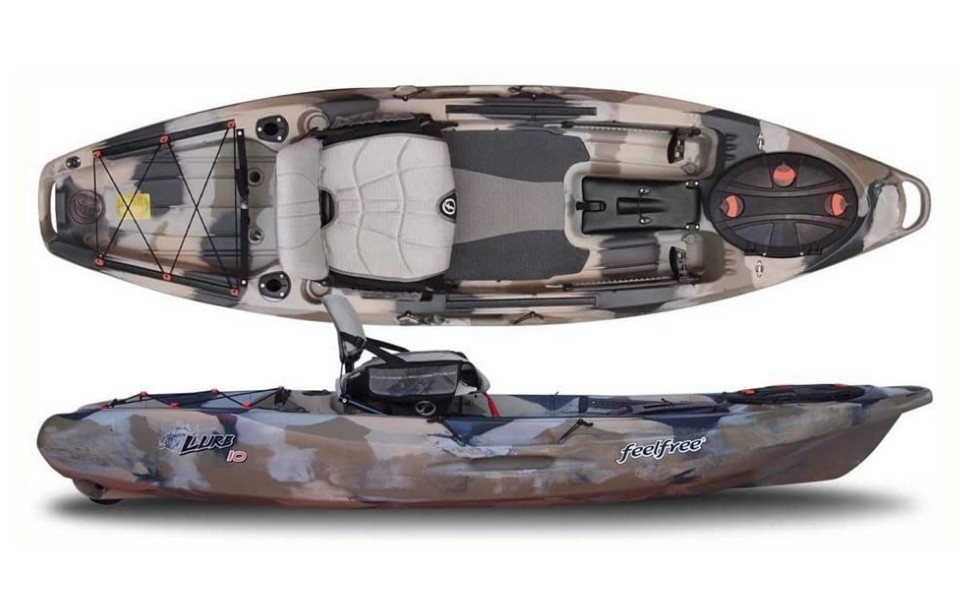 If you are seeking SOT kayaks that you can use for short fishing trips then check out the Fellfree Lure.
This 10-foot watercraft is built for great stability and comfort on all kinds of water, its solid construction makes it perfect for both the lakes and rivers which means that your fishing pleasures are not restricted or limited to any specific source.
The extra-wide seat is probably one of the best features of the Feelfree Lure as it is designed for ultimate comfort and usage. The seat is removable adjustable to multiple levels and positions for the best customization preferred by the angler.  The adjustments can be made with the use of a simple lever that is super easy to operate.
Whether you need to stand and cast or want to sit back with your favorite drink and enjoy a peaceful fishing experience, the 36inches wide hull will give you enough room to make the necessary adjustments.
There is a maximum weight capacity of 375 lbs while the kayak itself weighs in at approx 69lbs. It is built for one person and can easily be transported by locking it on top of your car or placed at the back of your truck along with other items for a fun day out.
Features & More
Construction: Solid construction
Propulsion: Pedal.
Gear Mounting: Fishing rod holders.
Comfort: Highly adjustable seat
Length: 10′ | Width: 36″ | Weight: 96 lbs | Capacity: 375 lbs.
7.Hobie Oasis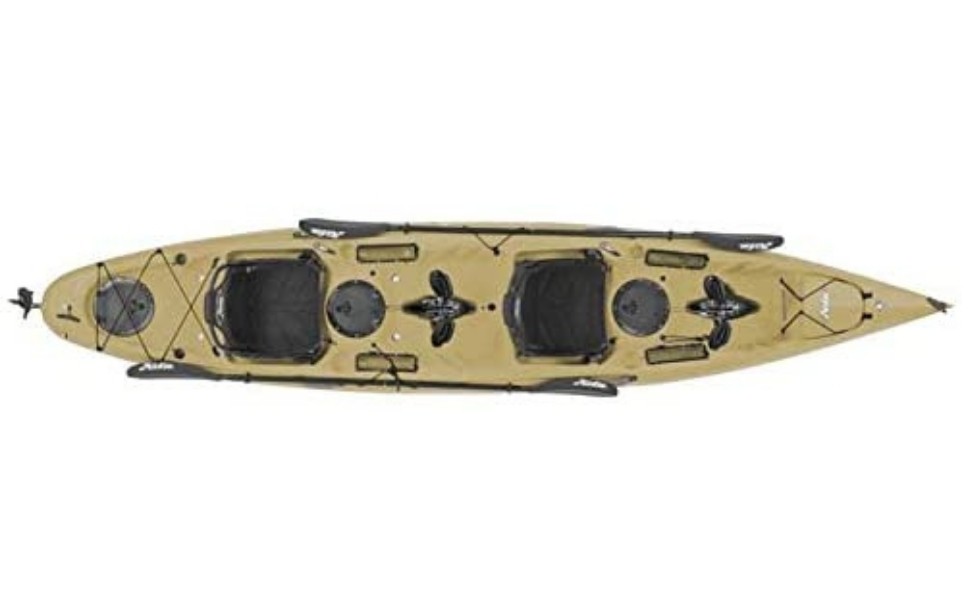 Most fisherman who wishes to go kayaking with a partner finds it difficult to propel successfully using paddles. It is not possible to enjoy smooth maneuverability until and unless both people learn to synchronize their strokes which let's be honest, should be the last thing on someone's mind when they think of a day well spent on the waters.
As a great solution to that and to make sure that you fully enjoy your fishing experience, the Hobie Oasis decided to get rid of the use of paddles altogether and bring in a much more convenient and less tiring pedaling system.
When you take the Hobie Oasis kayak out for a long day of fishing you can ask a friend to tag along and both you can spend your time capturing memorable moments with your cameras, sip your favorite drinks, and do just about anything you feel like to make your trip much more enjoyable with the hands-free operation of the kayak.
Of course, we cannot ignore the high-end price that not many would be ready to pay without hesitation, but we can ensure you that the Hobie Oasis is worth every dollar.
Starting from the durable shell that's crafted out of polyethylene to the maximum weight capacity of 550 lbs, you will have the best time of your life every time you take this power-packed watercraft for fishing.
The Hobie Oasis measures 14 ft 6 inches in length and is 2 ft 9 inches wide. It weighs approx 127 lbs which don't make it the most portable kayaks on the market but it is definitely one of the strongest.
Features & More
Construction: Solid construction
Propulsion: Pedal.
Gear Mounting: Fishing rod holders and Removable rudder.
Comfort: Dual seats.
Length: 14′ | Width: 33″ | Weight: 93 lbs | Capacity: 550 lbs.
8.Bonafide SS107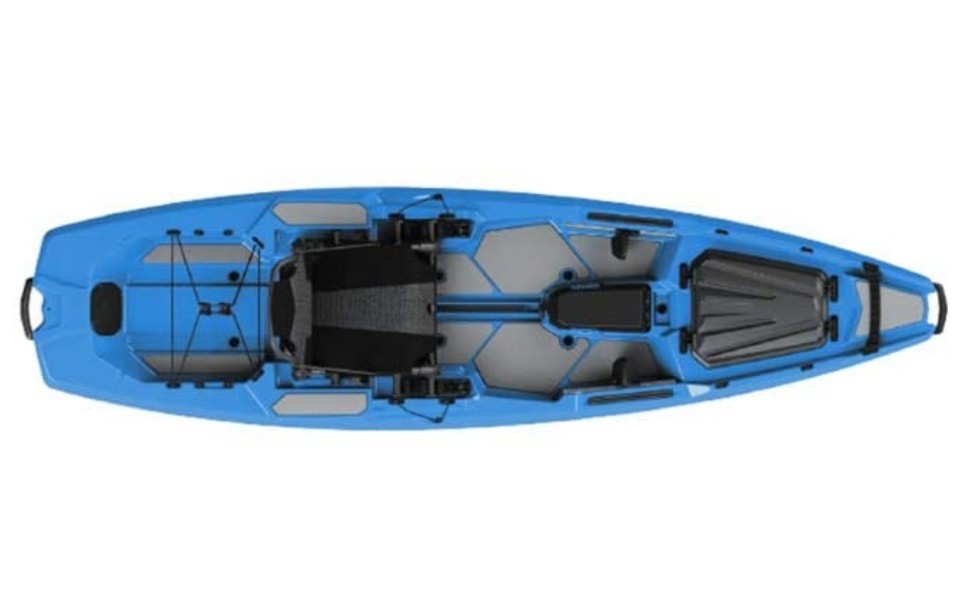 Whether you are a fishing enthusiast or looking to start your own fishing journey, why not check out the Bonafide SS107. Bonafide SS107  is made to ensure the necessary balance you need when you are kayak fishing. There is nothing more important than stability and steadiness when it comes to using a fishing kayak.
With SS107 sot fishing kayak, you don't need to worry about it as the kayak offers a maximum balance for their users with no need to cut out the scores on the performance level. It is fully equipped with all the potential and necessary features you need allowing you to truly enjoy and appreciate our fishing trip. With the availability of the HiRise seating system, you will feel comfortable while seating your knees bent over.
There is no more tension in your lower back. Moreover, the SeatRack mode allows you for a quicker passage from high to low position depending on your preferences. This, of course, thanks to the convenience of the foldable and compact seat frame incorporated in the kayak.
The best thing about the Bonafide SS107  is that it allows you to move comfortably and easily around the kayak with your fishing gear placed within your hand reach when you needed it. Designed to last, this versatile kayak is everything you will need to start your journey. Every piece of the kayak models is designed with so much care to detail that it's hard for it to break down.
Features & More
Construction: hybrid hull design.
Propulsion: Paddle.
Gear Mounting: Yak Attack Gear Tracks.
Comfort: HiRise seat design.
Length: 14′ 7″| Width: 34.5" | Weight: 67 lbs | Capacity: 425 lbs.
9. Vibe Kayaks Skipjack-Best Recreational Fishing Kayak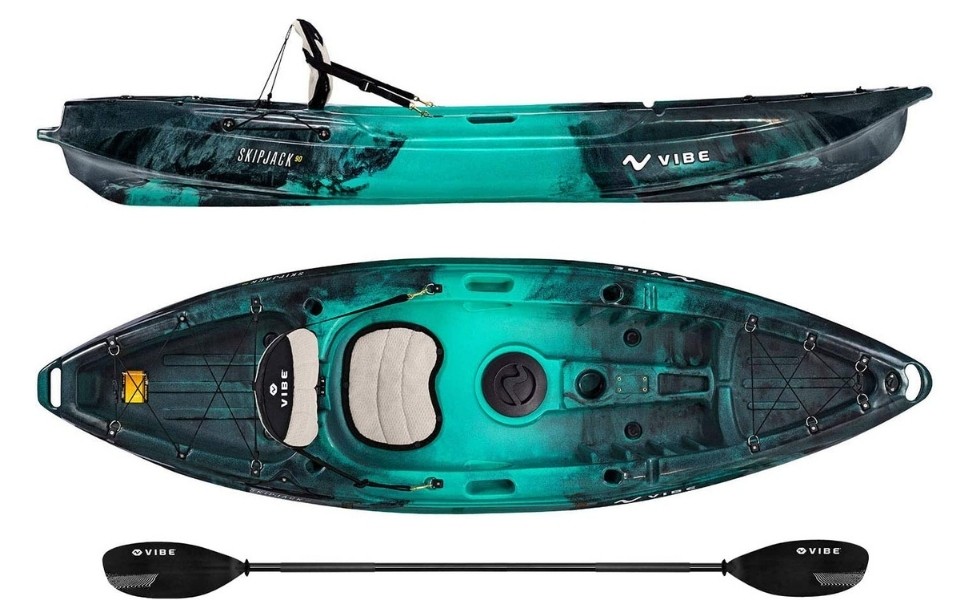 Weighing at only 46 lbs the Skipjack 90 is a compact fishing kayak for a single person. It is a recreational fishing kayak that measures 9 feet in length and comes with 4 easy-grip handles for portability. You will get a paddle holder and a deluxe padded seat along with 2 paddle parks to keep your paddle from falling into the water.
The seat provides a lot of comfort during long hours of activity and if you have a back problem then you will find this very reassuring. The compact area also comes with multiple storage options such as 2 sealed hatches with bag inserts and a large tank well.
Vibe sot fishing kayak may seem a little congested and small for a large person and the narrow space may restrict movement to a certain limit. This kayak is excellent for those with little to no experience in kayaking and can be a great model to start off with.
It is easy to set up and maneuver on the water and feels extremely safe even on high current water. The price tag will not burn a hole in your pocket and you will be able to enjoy endless hours of fun-packed fishing with the Skipjack 90 every time you decide to hit the waters.
Features & More
Construction: Single Piece Polyethylene
Propulsion: Paddle.
Gear Mounting: 2 flush-mount rod holders.
Comfort: Ergonomic Backrests & Cushioned Seats
Length: 9'| Width: 32" | Weight: 46 lbs | Capacity: 300 lbs.
10. Hobie Mirage Outback Kayak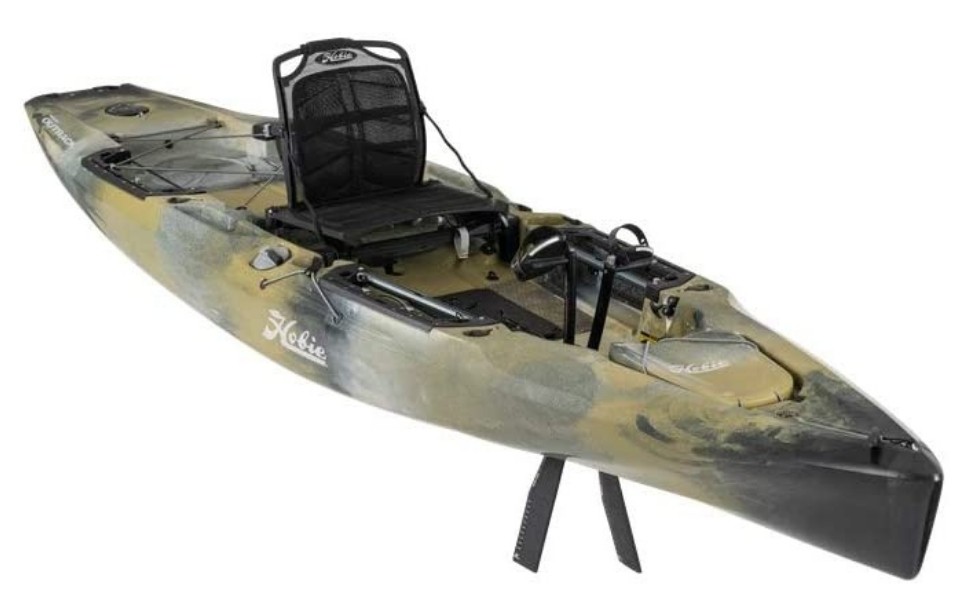 If you are into professional kayaking and are on the lookout for a kayak with quality to match then check out the Mirage by Hobie. This Sit On Top fishing kayak has been designed for serious kayak anglers who will not settle for anything less than the best.
Although it comes with a hefty price tag, the excellent quality and high-end features make up for it in style. It is powered by the Glide Technology pedal drive system which lets you go hands-free so you can enjoy fishing more efficiently. You will be able to feel the power as this robust boat takes you across the water and safely transports you to hidden fishing spots.
The seating system has been designed to provide you with maximum comfort and back support while the large storage area allows you to carry along all necessary items. You can store up to 6 rods and have easy access to tackle. This sturdy kayak has a weight capacity of 600 lbs and provides you with the best stability and balance on any kind of water.
You can go fishing even on the windiest of days and be able to cast perfectly while standing firm on deck. Some impressive features which ensure that you enjoy the best time out there and fish with complete ease are the tracing keel, H-Rail mounting system, and the Lowrance Ready fishfinder installation system. If you are not limited to a budget and want to invest in a really good high-quality kayak, then you can rest assured that the Mirage Kayak will not let you down.
Features & More
Construction: Durable polyethylene hull
Propulsion: 2-piece paddle.
Gear Mounting: 4 flush mount fishing rod holders, 4 carry handles
Comfort: Adjustable Vantage CT seating.
Length: 12'9″| Width: 34" | Weight: 103 lbs | Capacity: 425 lbs.
SOT Fishing Kayaks Comparison Table
| | | | | |
| --- | --- | --- | --- | --- |
| | | | | |
| Vibe Kayaks Sea Ghost 130 Sit On Top Fishing Kayak | | | | |
| Old Town Topwater 106 PDL Angler Fishing Kayak | | | | |
| BKC UH-TK181 12-foot 5-inch Sit On Top Tandem 2 Person Fishing Kayak | | | | |
| Native Watercraft Slayer 10 Propel Pedal Fishing Kayak | | | | |
| Vibe Kayaks Yellowfin 100 Sit On Top Fishing Kayak | | | | |
| Feelfree Lure 10 Sit On Top Fishing Kayak | | | | |
| Hobie Oasis Sit On Top Fishing Kayak | | | | |
| Bonafide SS107 Sit On Top Fishing Kayak | | | | |
| Vibe Kayaks Skipjack 90 Sit On Top Fishing Kayak | | | | |
| Hobie Mirage Pro Angler 14 Kayak | | | | |
Sit On Top Fishing Kayaks Buyer's Guide
There are some important factors to consider when deciding on a sot fishing kayak because there are many different kinds being made and if you do not choose carefully there is a pretty good chance that you will end up with one that will not exactly provide you with the best fishing experience.
The good news is that you are sure to find a kayak that will suit your style of fishing if only you do a little research before you buy it. Here are some things you must look into first in order to pick the perfect kayak for you.
Type: Sit-on-Top VS Sit-in
You need to consider the type of kayak you want to purchase and the best way to decide between a sit-on-top and a sit-in kayak is to find out what kind of fishing you wish to do and what kind of water you will be fishing in.
The sit-on-top kind is simply where you sit at a higher position on the kayak while the sit-in has you sitting inside the kayak. Both have advantages and disadvantages. For example, the sit-on-top allows you to get a better view of the water and is also considered safer as there will not be any chances of water filling up all around you, and in case of any accidents, you can simply rollover. You also get more room to maneuver and be able to position yourself for stability during a catch.
The drawback to this kind of kayak is that it is not so great for fishing on moving water as you will not have much to grip on to. The sit-in kayak, on the other hand, keeps you dry and also provides you with more stability on moving water.
The bad side to this kind of kayak is that you will not be able to get the best overview of the water and will also be restricted to movement. The sit-on-top kind is a much-preferred type by anglers these days.
Material
Depending on the price of the kayaks, you will find some common materials used to design them. The most frequent material used is the single-layer linear polyethylene which provides the most durability due to its hard and rough texture.
Another material is the three-layer polyethylene; it is a little less durable than the single-layer linear polyethylene but provides a better glide on the water with its glossy outer shell. Fiberglass and Kevlar-carbon-built kayaks are the lighter kinds and great for speed but also the most expensive ones out of the lot. Besides these, you can also find inflatable kayaks that are made of rubberized fabric.
They are quite affordable and weigh very little but do not score much in the department of speed. Inflatable kayaks are not suitable for all kinds of water but with more improvements been made; this kind will soon become popular amongst anglers. One of the main advantages of an inflatable fishing kayak is that it requires very little space if you decide to deflate it.
Size: Weight/Length/Width
Kayaks are meant to be light and portable, that is why many people opt for kayaks instead of traditional boats. Choose a kayak that is not too heavy and can easily be transported. The weight must be kept to a minimum but at the same time, it should be strong enough to carry your weight, the weight of the fishing accessories, and of course the weight of your catch.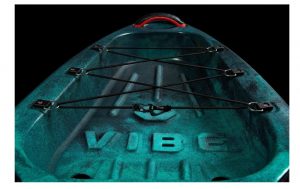 When it comes to the length you have to choose between speed and maneuverability because longer kayaks allow you to cover more distance within a shorter period but they are not too good to enter tight places. If you are not looking for speed and just need a kayak that you will be able to move about in more freely then, the shorter kinds will be ideal for you.
In terms of width, the wider the kayak, the better. They help keep the kayak stable and also provide more room for accessories and anything you wish to carry with you on your fishing trip. Who wouldn't want to bring along a cooler box filled with chilled beer on a hot and sunny day?
Built: Seat/Space/Storage
Although you will be standing most of the time while fishing, you will still need good back support as you pedal through the water in your sot fishing kayak. The kayak seat could be molded or have removable padding on the simple kayaks while the more expensive kinds will be constructed with adjustable seats for extra comfort and the best support.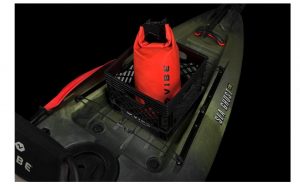 Space is an important factor because you will need some area around you to balance yourself and also move about while fishing. If you have very limited space then you might be at risk of tripping over while retrieving or during an encounter with a fighting fish. The same goes for having enough space, you must consider all the things you will be carrying with you.
If you are planning to camp out or just want to spend the whole day on the water then along with fishing accessories you will also need to carry camping equipment, a tackle box, some fresh clothes, and a cooler-box maybe. If you get lucky and catch a lot of fish then you will also need space to keep them safe. So it is best to go for a kayak that is spacious but at the same time easy to handle on your own.
Propulsion
There are quite a few ways in which a kayak may get its driving force. The most common ones are with the use of pedals, having a pedal-powered drive, or are electric motor driven.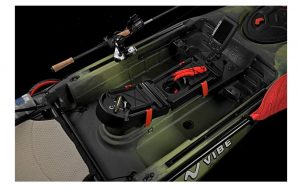 Anglers prefer to have their hands free while on the water so they can quickly engage in fishing whenever and wherever they feel there is potentially so having the option to maneuver the kayak with their legs makes it easy for them to do so. But the popularity of electric-powered kayaks is also growing and anyone who can afford one will surely want to enjoy the more modern way of kayak fishing.
Capacity: Single or Two Persons
If you like to always take a friend along or want to teach someone how to fish in a kayak then you can purchase a kayak that allows two people to fit in comfortably.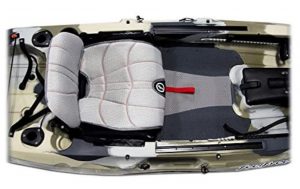 These are a little larger in size but they are great for when you do not like being alone while fishing. But if you enjoy your own company and prefer to hit the waters on your own then a single-person kayak will be ideal for you.
Price
Prices vary, a lot. While it is true with kayaks that you get what you pay for but it does not mean that you have to destroy your bank or completely empty your pockets for a decent kayak. Brands may not play a major role here but you must check out the quality of the construction and factors such as space, driving force, and stability amongst others to really tell if the kayak is worthy or not. Don't go for very cheap ones as they will not be durable and you will surely not enjoy fishing in them for long.
For more details
Why you should definitely purchase SOT Fishing Kayaks
Sure it is fun taking your kid out for fishing and helping him/her cast the fishing reels into the water while you both sit and wait on land but to really enjoy the thrill of fishing you need to be on the water, amongst the fish you wish to catch. If you are still not convinced then check out these awesome reasons why you should just go ahead and buy a kayak.
1. They are affordable: If you haven't saved up enough cash to buy a boat, then why not get the next best thing? Kayaks will cost you a lot less than if you had to spend on a fancy boat and they are equally fun to take out.
2. Portable: You can easily throw your kayak at the back of your van or truck and get it in the water by yourself. It is hassle-free and very convenient.
3. Low maintenance: Once you get yourself a kayak there isn't much you have to do except take it for fishing. Depending on the propulsion most kayaks have no batteries to charge or need any gas to run on. This makes them very cost-effective.
4. Effective fishing: You have a higher chance of catching more fish as you will be able to go directly to the good spots and since kayaks are almost noise-free, the chances of fish being alerted and swimming away will be less thus allowing you to make the strike successfully.
Sit On Top Fishing Kayak FAQs
What kind of accessories do I need to buy for my kayak?
Before you go crazy and buy a whole lot of accessories, just remember that is it best not to overload your kayak and just stick to buying the absolutely necessary items. You may choose to get some rod holders, a kayak anchor trolley, anchor pin, plenty of storage for tackle boxes, a toolbox with all the necessary tools such as pliers, scissors, and fish grips, and of course pedals!
How do I store my kayak?
How you store your kayak can determine its condition in the long run. If you do not frequently take it out for fishing then make sure you do not forget about it and let it just sit somewhere where it is not protected from the sun or harsh weather. You can hang it from the ceiling or wrap it up with a protective cover and leave it on safe ground. Make sure you do not dump extra things on the kayak as the pressure can cause further damage.
What kind of paddle should I buy?
This depends on the width of your kayak as well as your height. You will need a longer paddle if your kayak is very wide. Also if you are a tall person and are carrying a short paddle then you will have to reach out to paddle which can be discomforting. However, do not go for something too long or heavy either because that can cause user fatigue. In terms of price, we recommend staying away from cheap paddles because they tend to do more harm than good.
Our top pick
Vibe Kayaks Skipjack 90
FINAL THOUGHTS
If you really want to fish out in style and come back home with a load of a great catch then we feel you should go for a fishing kayak. With so many models and price ranges, you can easily find something to fit within your budget and also give you that pleasure of fishing effectively.
You will never know just how well the river or the lakes are stocked unless you go out there and find out for yourself. You will not be able to get the same feeling or result if you cast from the land.
Kayaking is quickly becoming a trend and for all the right reasons. So get yourself the Best Sit on Top Fishing Kayaks and check out what the waters have to offer.
More articles