We know a lot of people who have a passion for fishing but they avoid the sport in fear of not being able to cast properly or in simple terms, they have the fear of not being able to catch more fish. Just like every sport, practice is the key but it won't be of much help if you practice day and night using the wrong techniques.
If you wish to improve your skills in the field and start fishing successfully then you will have to follow some rules and techniques.  We are here to provide you with some useful tips on how you can master the skill of fly fishing and bring home some decent catch. What is flying fishing? It is simply a method where an artificial 'fly' is cast with your rod.
Read More:
This 'fly' is almost weightless so this kind of fishing requires a special casting technique, a style quite different from other kinds of casting. Follow these tips every time you go fishing and soon you will be casting like a pro.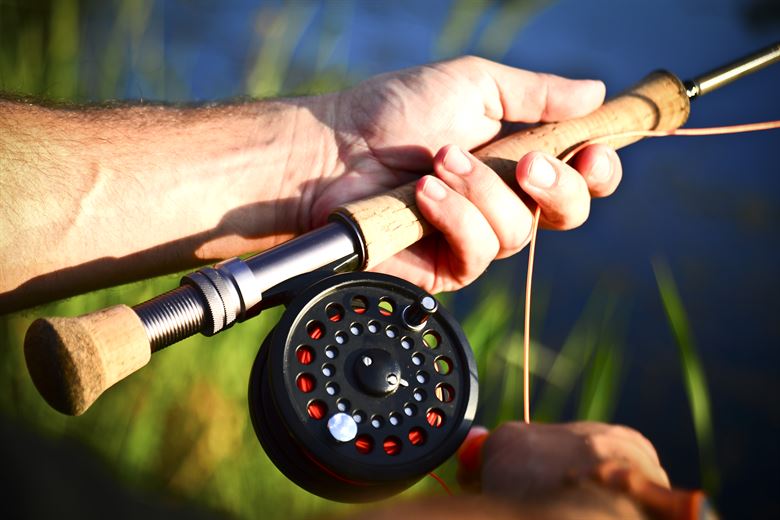 Fly Fishing Tips For Beginners
Casting
We cannot stress enough on this obvious and very vital point. This is where most anglers go wrong. If your casting isn't right then nothing will work out in the process. You can take help of the internet as there are lots of tutorials on the topic but the best option would be to take some actual lessons from a fly fishing instructor.
If you can afford the lessons then you will be able to experience the proper technique and also realize your mistakes better. Once you gain confidence and are able to cast properly you can start working on the other things that are needed for fly fishing.
Silence is Key
As a beginner, you may not have much knowledge of the characteristics of fish or what triggers them the most. The thing to keep in mind is that they are very sensitive to noise and vibrations. They have organs that help them detect movement in the water and its surroundings. One of the reasons many anglers prefer to use a kayak instead of a boat is because kayaks allow them to move stealthy, alerting fish as little as possible.
Avoid wearing bright-colored clothing
Just like they can sense movement, fish can see very well and from a long distance too.  They are equipped with a vision that allows them to distinguish between prey and food, in order to stay away from harm's way. As an angler, you must keep a low profile and try to use anything from grass or trees to camouflage you while you cast.
Know your equipment well
Before you even decide to hit the waters, get to know all your fishing equipment and how they work. In doing so you will be avoiding the risk of getting stuck in the process and allowing your fish to escape while you are trying to figure out what is going on with your rods, reels, and lines. There are many kinds of rods and with rods that come in more than two pieces, you must put together the pieces, starting from the tip to avoid blowing up.
There are some terms given to each part of your rod such as the section at the bottom which you hold is known as the butt and the part where the reel fits is known as the reel seat. Teaching yourself these terms and their functions will help you understand your equipment better.
Wading
If you are wading into or across the water then be very careful, especially if you are in moving water. Moving water may seem harmless to step into but the power is extreme and can drag you without giving you a chance to react. Always wear a wading belt and carefully select the places or areas you wish to move across while you are still on land.
Learn how to tie knots
We are talking about some basic knots here. Most reels and lines come with instruction booklets that will guide you through some basic knots and they should be enough to get you started. The most common kinds to learn during your first few days of fishing could be clinch, improved clinch and surgeon knots. You can try your hand at other kinds of knots as you gain more experience in fishing.
Take the help of the weather
Remember fish like to stay in cool water so you will catch more fish during the early mornings or during cool weather when they swim freely all over the water body. In hot weather, water tends to be cooler towards the middle and deeper points and that is where most fish gather. If you wish to cast from land then you need to select a time when you will have fish swimming nearby, if not then you will need to find a way to reach them more in the deep.
Use a Kayak
As we mentioned earlier, kayak fishing allows the angler to approach fish without alerting them much due to the fact that kayaks are very quiet. But besides that, kayaks also give you the opportunity to reach deeper into the waters and target areas where most of the fish hide. You can move across bends and curves and follow fish into hidden places.
Be organized and plan your trip
For most beginners fishing may seem more complicated than it would to someone who has been fishing for years. Planning your trip well ahead and organizing all your fishing gear before the trip will help you understand what you are doing and how to handle the situation well.
If you just throw everything in your trunk and drive to a nearby fishing spot without planning ahead then you will lose a lot of time arranging stuff when you get to your destination and basically end up ruining the time which could have been a pleasurable experience.
FINAL THOUGHTS
Reading about tips and techniques may give you a good idea of fly fishing or just fish as a whole but it is important to practice often. Remember to stay calm and patient in the process because fishing is generally regarded as a recreational sport to give you peace of mind and relax you when you need a break from your busy life to take as many chances as it takes to improve your skills.
For More Reviews: