There's a saying that necessity is the mother of all inventions.
From the paperclip to the post-it note, man always saw a problem that needed to be solved.
That's why when a fisherman who was on a boat tried tying a fishing knot while the waves were rocking his boat, he knew there had to be an easier way.  And by the time his boat reached back to the shore, with not a single fish caught,  an idea to make a fishing knot tying tool was born.
Okay, so maybe that's not how it actually happened, but we're pretty sure it's close.
We all know that a fishing knot tying tool is important for several reasons.  That's why we've come up with a list of the Best Fishing Knot Tying Tool available in the market today.  So let's start, shall we?
Read More:
Best Fishing Knot Tying Tool We Will Cover Today
1. Best Choice-Hook-Eze
2. Best Overall- SAMSFX 
3. Best For Fly Fishing-Samsfx
4. Best 2-in-1- SF Fishing
5. Best Multiple Set-Reallink
6. Best 3-in-1 Fly-Lake Products
7. Best 4-in-1 Fly-TQONEP Fishing 
Top 7 Fishing Knot Tying Tool Reviews!
1.HOOK-EZE Fishing Knot Tying Tool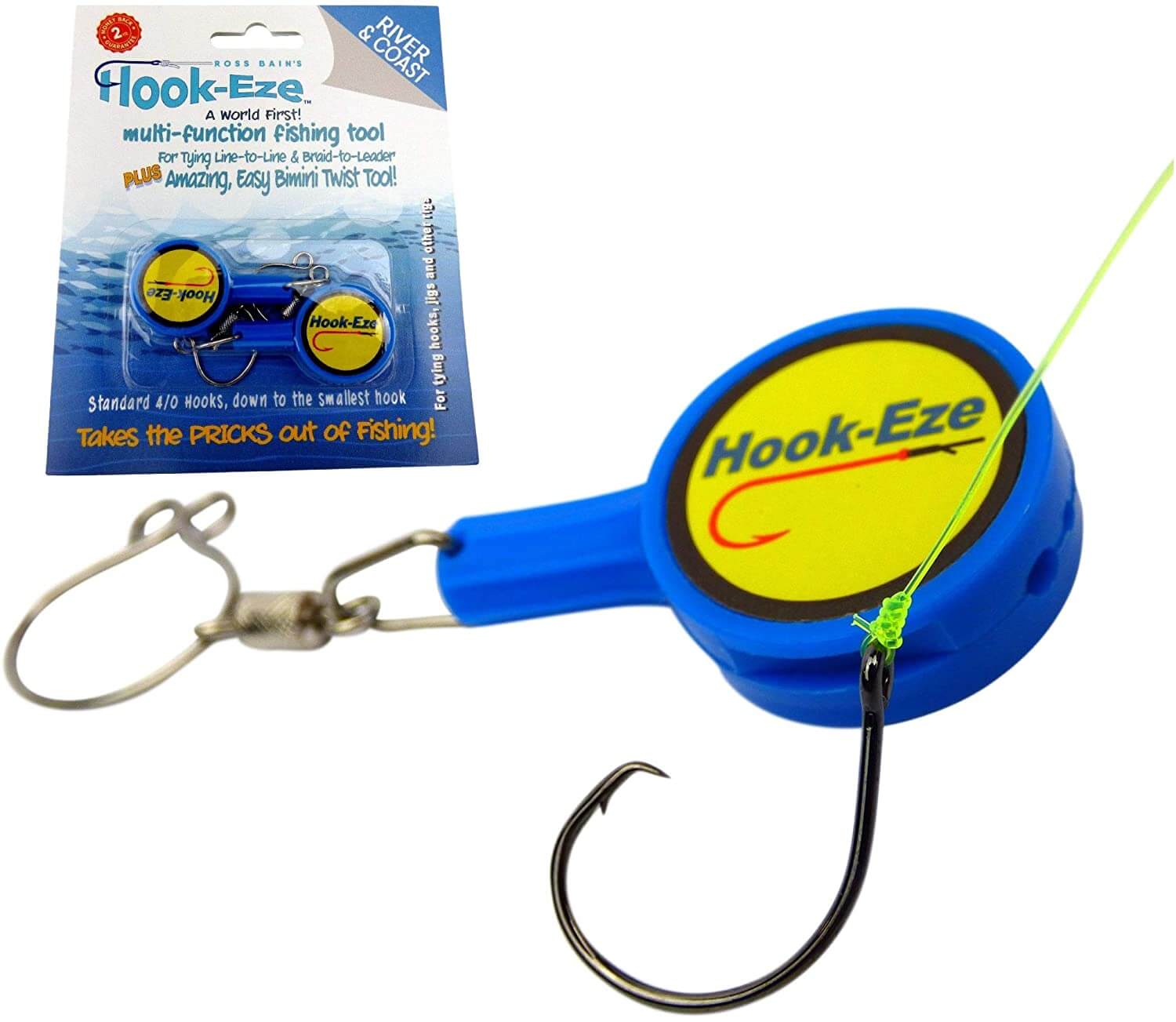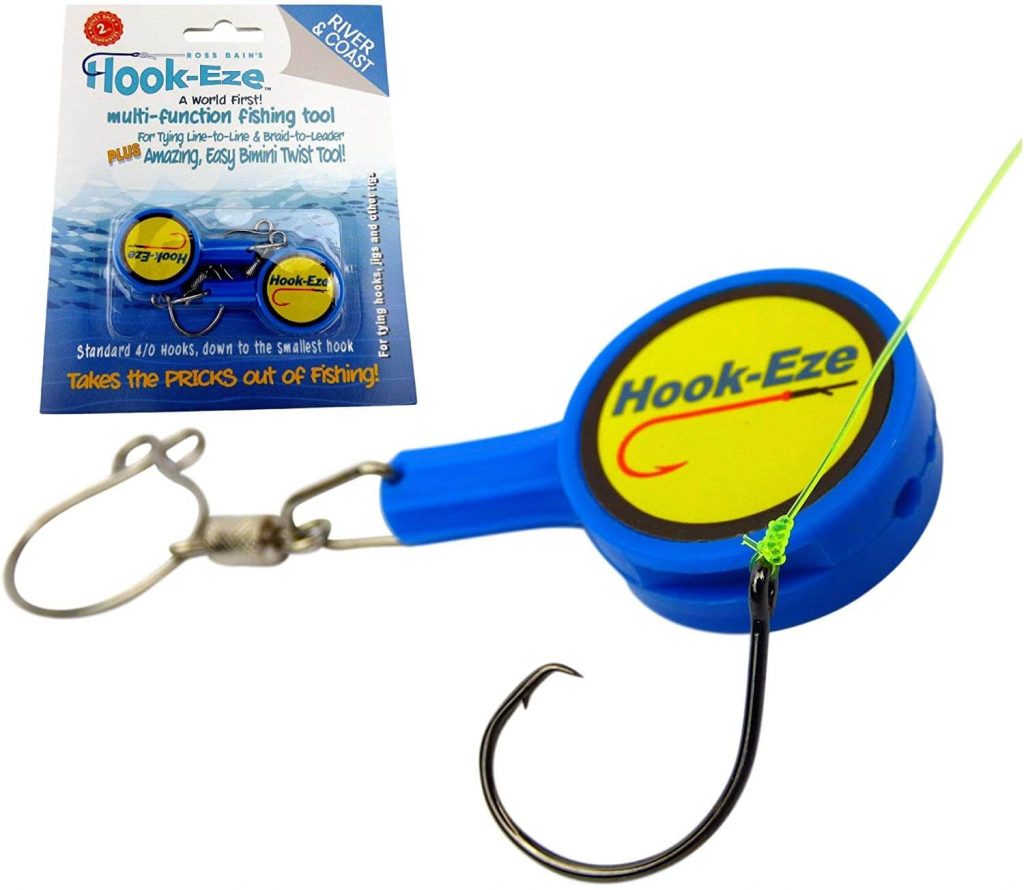 This is a great fishing tool that is easy to use and makes tying knots safe and hassle-free.  The sharp tip of the hook is firmly secured inside a round plastic case while you're tying any hook from 4/0 down to the smallest hook no. 28.  There is a built-in swivel allowing easy twist of your hook while safely tucked inside.
Hook-Eze fishing hook knot tying tool helps to tie Swivels, Jig Heads, and Speed Clips for attaching lures including small varieties of Flies.  It has a built-in stainless steel line cutter similar to cutters found on dental floss casings.  This is suitable for saltwater and freshwater, kayak, ice fishing.
It works for different types of knots such as Blood knots, Yucatan knots, Palomar knots, Improved Clinch knots, Bimini twists, and many more.  It's made from high-quality 100% raw virgin UV Stabilized Polypropylene and stainless steel making it ideal for all weather conditions.
You can keep your hooks safely tucked inside the Hook-Eze cover and not worry about transporting your fishing pole while fully rigged.  It eliminates the possibility of accidentally tearing the upholstery and damaging your car, or boat, or injuring yourself or your passengers.
This is a top-notch fishing hook knot-tying tool that will surely make a permanent fixture in your fishing kit arsenal.  Once you've tried it, you will realize that fishing will never be complete without it.
Pros:
Easy to use
The built-in swivel helps in twisting the line
Built-in stainless steel cutter
UV Stabilized Polypropylene material
Snap-on cover functions as a hook case for safe transport
Cons:
Not suitable for all types of hooks
A lot of copycats so beware of counterfeits
2. SAMSFX Fishing Quick Nail Knot Tying Tool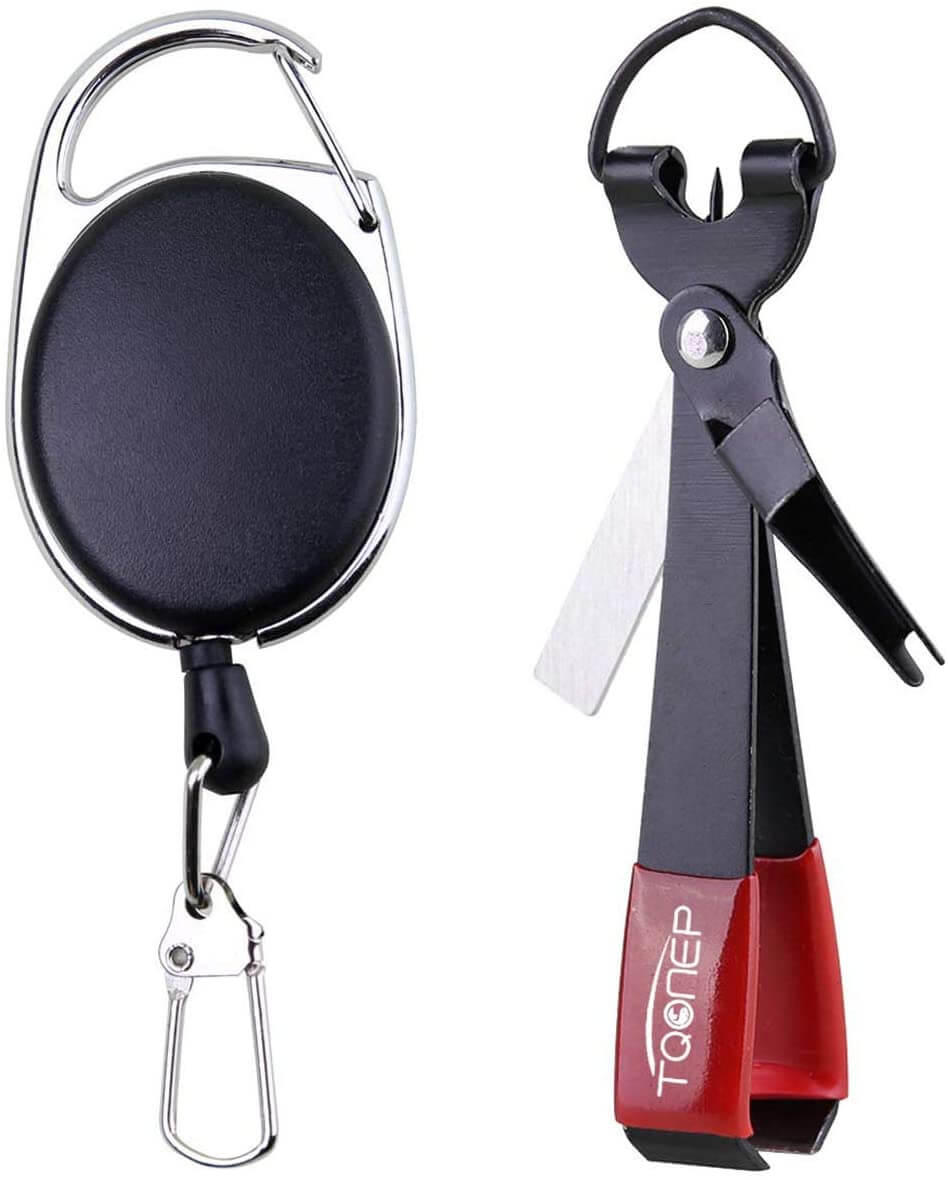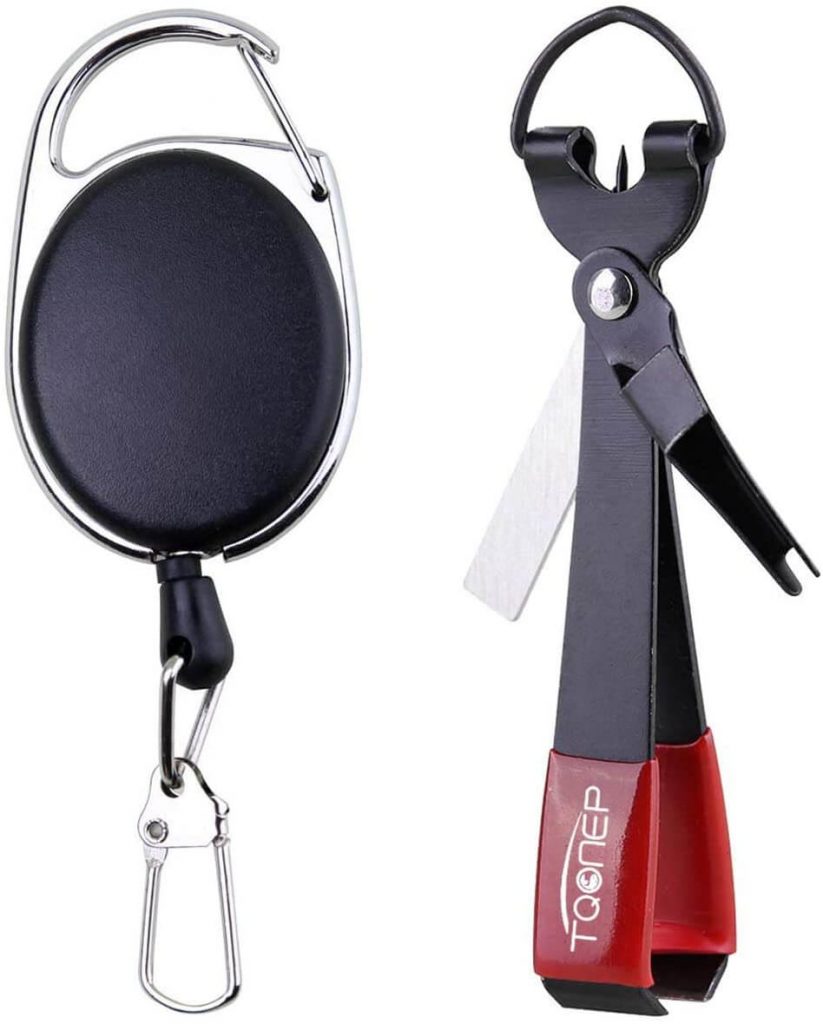 The SAMSFX Quick Nail Knot Tying Tool is a durable stainless steel construction, 4-in—1 fishing tool.  It features a hook sharpener, line clippers, jig eye cleaner, and line knot picker and knot tyer combination.  A convenient D-ring for easy attachment and convenience.
It makes tying knots super easy especially when you're using tiny hooks for trout.  Its simple to use, and by just holding the hook and twisting your knot-tying tool a few times, you can make a clinch knot just like that.
A grippy rubberized surface-covered handle means a no-slip and comfortable rip.  You can use it even with wet hands or with gloves.  This tool is simply great for clear hook eyes, monoline cutting, honing hooks, and smart nail knot-tying tools.  Sharpening your hooks is a breeze with its hook sharpening feature, making your hooks razor sharp.
Pros:
4-in-1 design
Very affordable.
Durable with stainless steel
Lightweight and very handy
Cons:
Nippers may not cut braided lines as well
3. SAMSFX Fishing Knot
with Zinger Retractor Combo.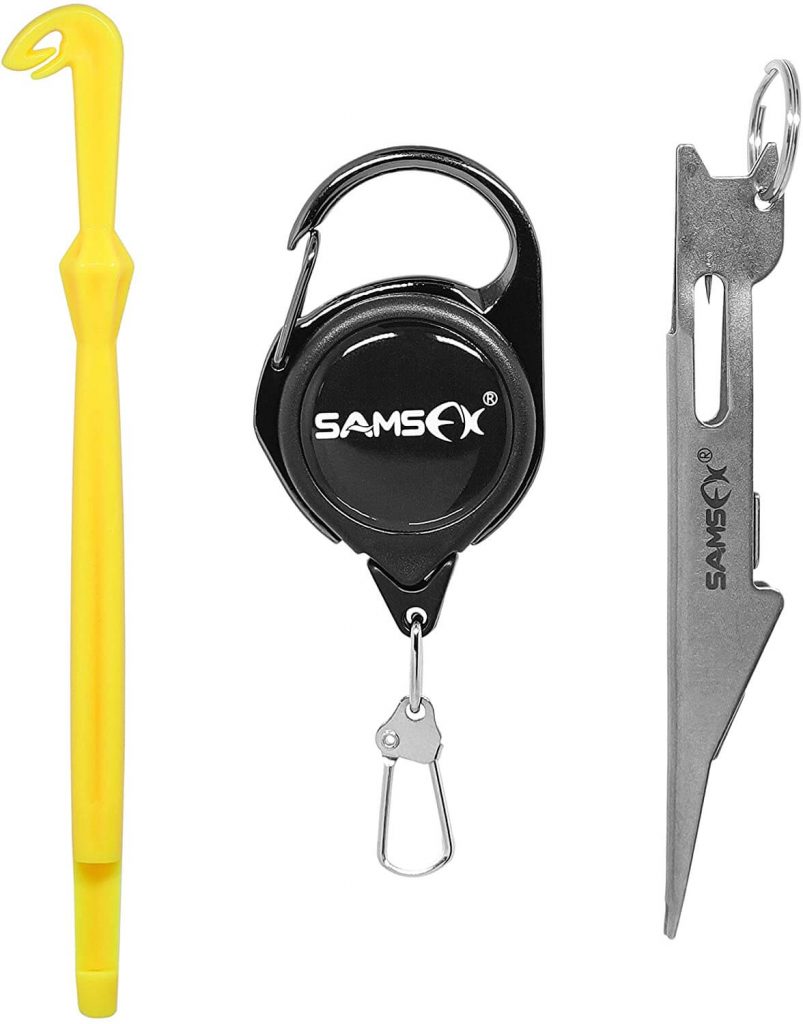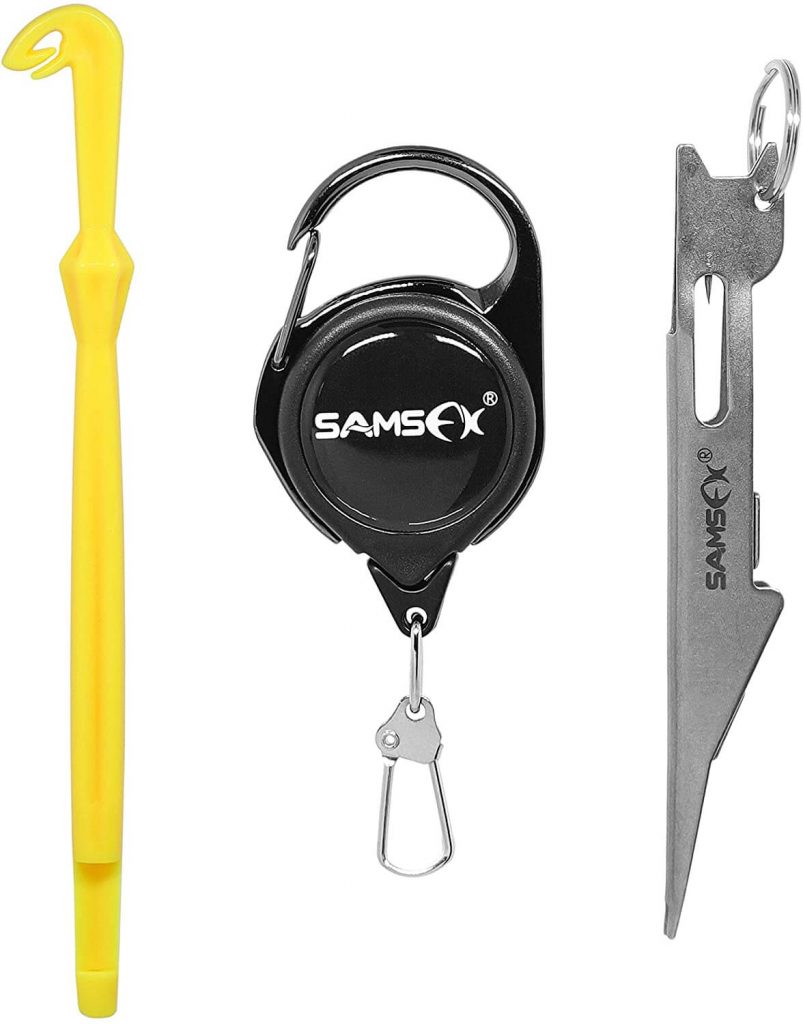 This is technically a 2-in-1 tool product as it comes with a nail knot tying and a loop tyre tool.  It also comes with a zinger retractable clip.
The knot tying is made of a one-piece stainless steel construction and measures about 10 cm.  It can tie many different varieties of secure nail knots and makes short work of tying the nail knot.  There is no worrying that your knot will come undone.  It has a hook eye cleaner attached as well, which works well and is very convenient.   It can fit in your tackle box with no problem.
The loop-tying tool, on the other hand, is made from durable plastic that weighs less than 4 grams and measures 5.5 x 0.6 inches.  It works great in consistently tying small loops ideal for hair rigs or hook lengths.
It ties it so tight that the only way your rig or hook to come off is if you cut it.  The fish disgorger at the opposite end of the plastic tool is great at removing hooks from larger fish with teeth or large fish that are deeply hooked.
The Carabiner style zinger is made from a gun-black zinc alloy frame, and a retractable 24-inch nylon tether, and a quick-release hook.  It has a two-sided smooth epoxy logo, a built-in quick-release hook, and a stainless steel strong spring.  It can hold nippers, scissors, forceps, fly floatant, etc.
Pros:
Safely tighten knots and clean hook eyes
Nail knot tyer made from a one-piece stainless steel
Loop tyer tool is lightweight
Helps to make uniform loops
Built-in hook remover
Cons:
Nippers may not cut braided lines as well
Fly Fishing Knot Tying Tool
4. SF 2-in-1 Fly Fishing Angler Accessories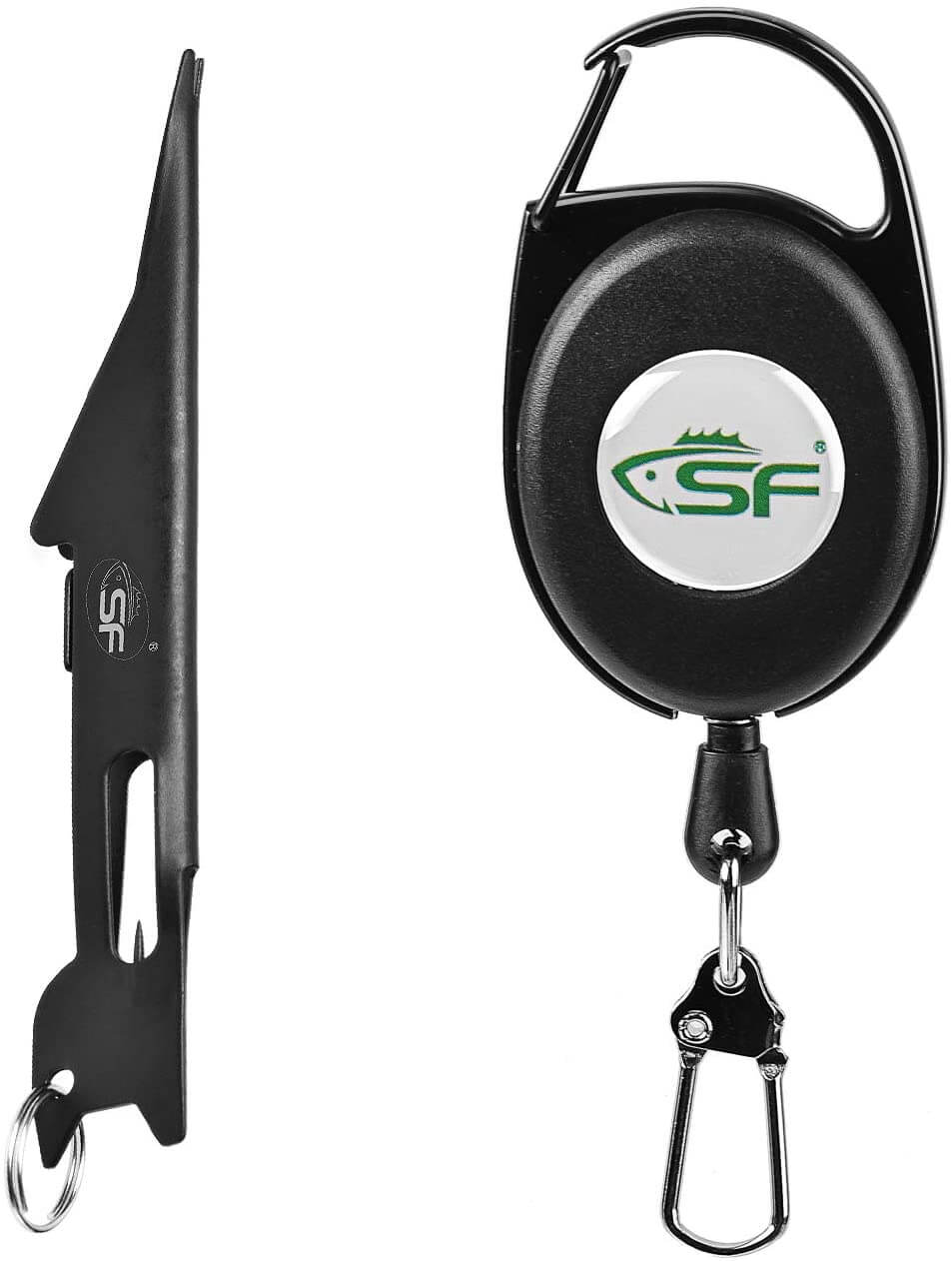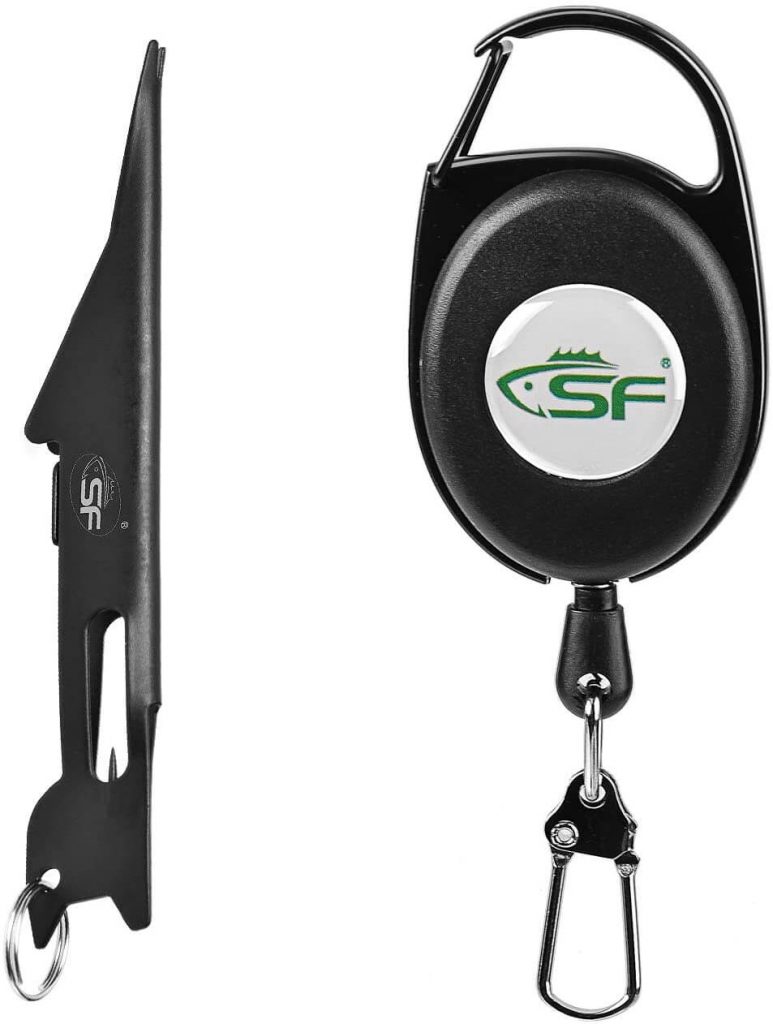 The SF is a 2-in-1 knot tool that combines the features of the oval retractor and knot tool.  This tool allows you to tie a perfect snell or nail knot with no outside loops.  You will be amazed at how clean and precise your knot is using this tool.  It will also allow you to tie right to a line when most snells need you to have access to both ends of the line.  It's very easy to use and works each time.
The EZ tie Combo tool combines a line knot picker and knot tyer combo.  It has a D-ring for easy attachment and convenience.   This is a great trimming line and knot-tying tool.  Made from durable stainless steel construction, it's lightweight and easily slips into your pocket.
A convenient oval retractor for easy attachments to fishing lanyards or fishing vests.  A great way to have a handy tool that can handle your knot-tying needs at a very affordable price.
Pros:
Very durable 2-in-1 tool
Great design and functionality
Lightweight
Very affordable
Cons:
The instruction manual could be made better
5.Reallink Fly Fishing Knot Tools
This package is a bundle that includes all the common tools needed for fly fishing.  The fly fishing tying knot is a 4-in-1 multi-function that includes the fly fishing tool, a line clipper, a hook sharpener, and a hook eye cleaner.
Use it for cutting off the excess fishing line.  Quick knotting tied hooks in time easily.  Use the sharpener to keep the razor-sharp quality of your hooks.  The fixed hook clear eye needle is suitable for all kinds of hooks.
The hook remover/forceps measure 7.2 inches in total length and are made from polished stainless steel fish hook forceps.  It has superior rust and corrosion resistance ability, with no rough edges.  It can be used in both saltwater and freshwater fishing.
The 3 stage-locking ratchet provides adjustable tension, and a curved tip is designed to remove a hook from all species of fish.  It's a highly versatile tool as it can also be used not only for fishing but for soldering,  repairs on wiring or computers, and even fire cupping.
The 3 pieces of fly fishing zinger retractor with a 1.5-ounce retraction force can hold your nippers, forceps, and other small fly fishing tools.  It's equipped with a retractable reel nylon cord and can be attached to your fly fishing vest.  This will always come in handy and you can be sure that it's secure and will not detach from wherever you hook it to.
The retractable fishing lanyard is made from built-in steel wire and TPU Coating.  It's lightweight and durable, with a maximum safety tension of up to 15lb/7kg and with a maximum tensile length of 59" or 150 cm.   The professional hook cleaner is made from stainless steel material and is suitable for all kinds of flying fish hooks. It attaches easily to a belt or boat, or kayak to keep your gear safe and provide quick access at all times.
Pros:
Complete 7-in-1 bundle
The great bundle at an affordable price
Great tools to have for fly fishing
Versatile hook remover or forceps
Fly fishing zinger retractor to hold your nippers
Cons:
May not be ideal if you only need the main tool
6. Lake Products Fly Fishing Knot Tying Tool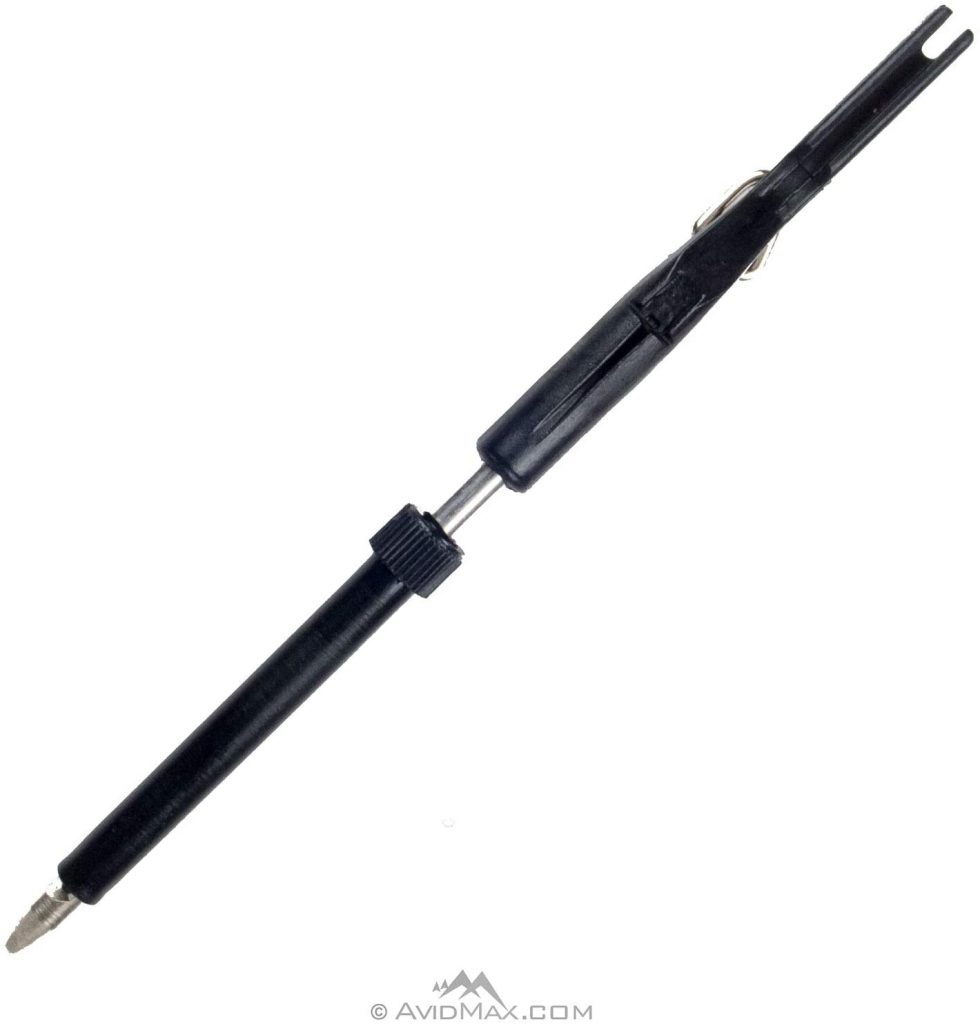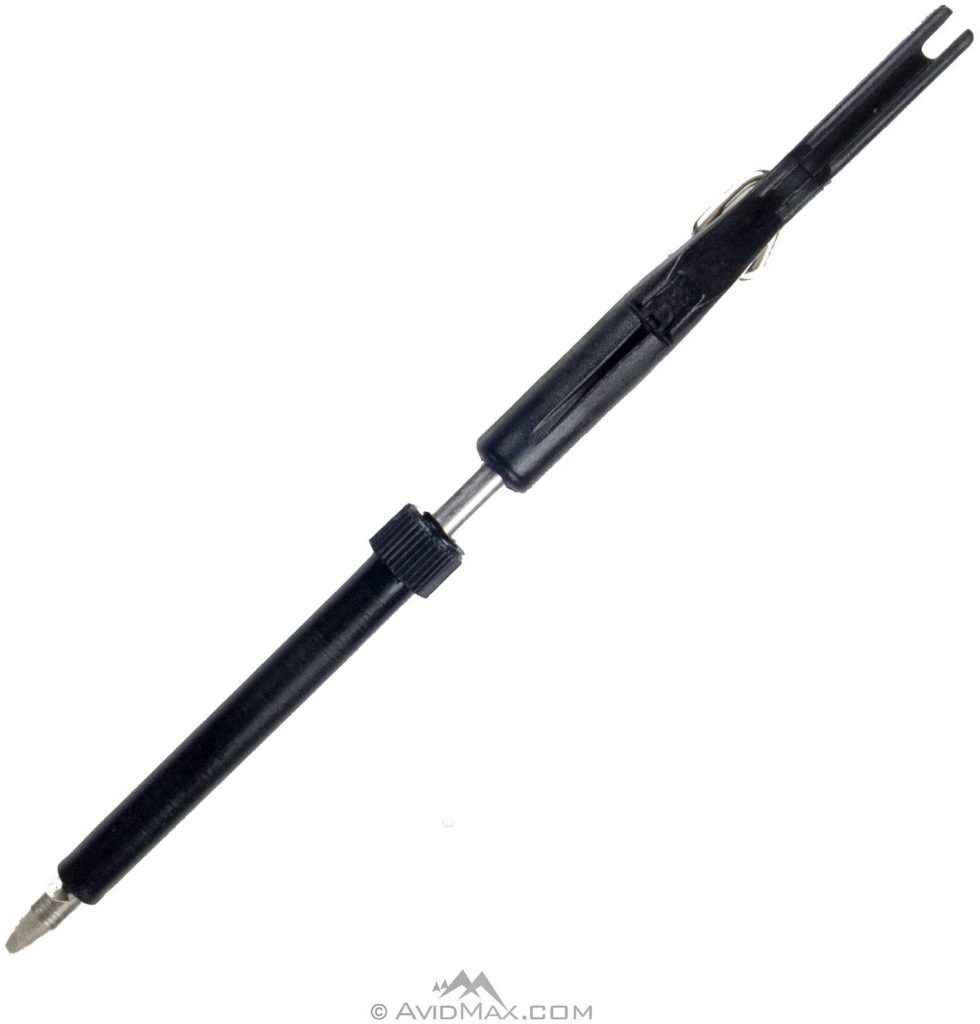 This is new and improved from the previous 2-in-1 knot-tying tool, with the addition of a magnetic hook threader.  So the Lake Products 3-in-1 is a knot-tying tool, a fly threader, and a magnetic hook threader as well.
With this simple pen-like design, this tool will help you tie 16 different types of knots.  Detailed instruction is contained in a booklet once you purchase this tool.  You can easily learn how to tie each of the knots found in the booklet.
The tool's body is made from a strong, lightweight material called Acetal Delrin, which has low friction, high stiffness, and excellent dimension stability.  Acetal is used in gear wheels, ball bearings, and locking systems.  It is also much stronger than Nylon.
The tool's shaft, head, and loop are all made from stainless steel which is rustproof and corrosion-resistant.  Its precision machined contact allows it to firmly grip any fishing line, without causing any damage to it.  The up-and-down spring action is made with a strong stainless steel spring.
The Lake Products 3-in-1 knot-tying tool is also gaining popularity with ice anglers, while at the same time it has been a long-time favorite among fly fishermen.   Tying knots with gloves on is easy with this tool and is great for those fishermen or anglers who have stiffness of fingers due to cold weather or even arthritis.
It's self-lubricating and weighs less than ½ oz. This is a tool that any fisherman and ice angler should always have.
Pros:
Easy to use
3-in-1 versatile fishing knot-tying tool
Able to tie 16 different types of knots
The body is made from Acetal  Delrin
Tying knots with gloves is easy
Cons:
May take a little bit of practice to get used to
7. TQONEP Fishing  Knot With Zinger Retractor Combo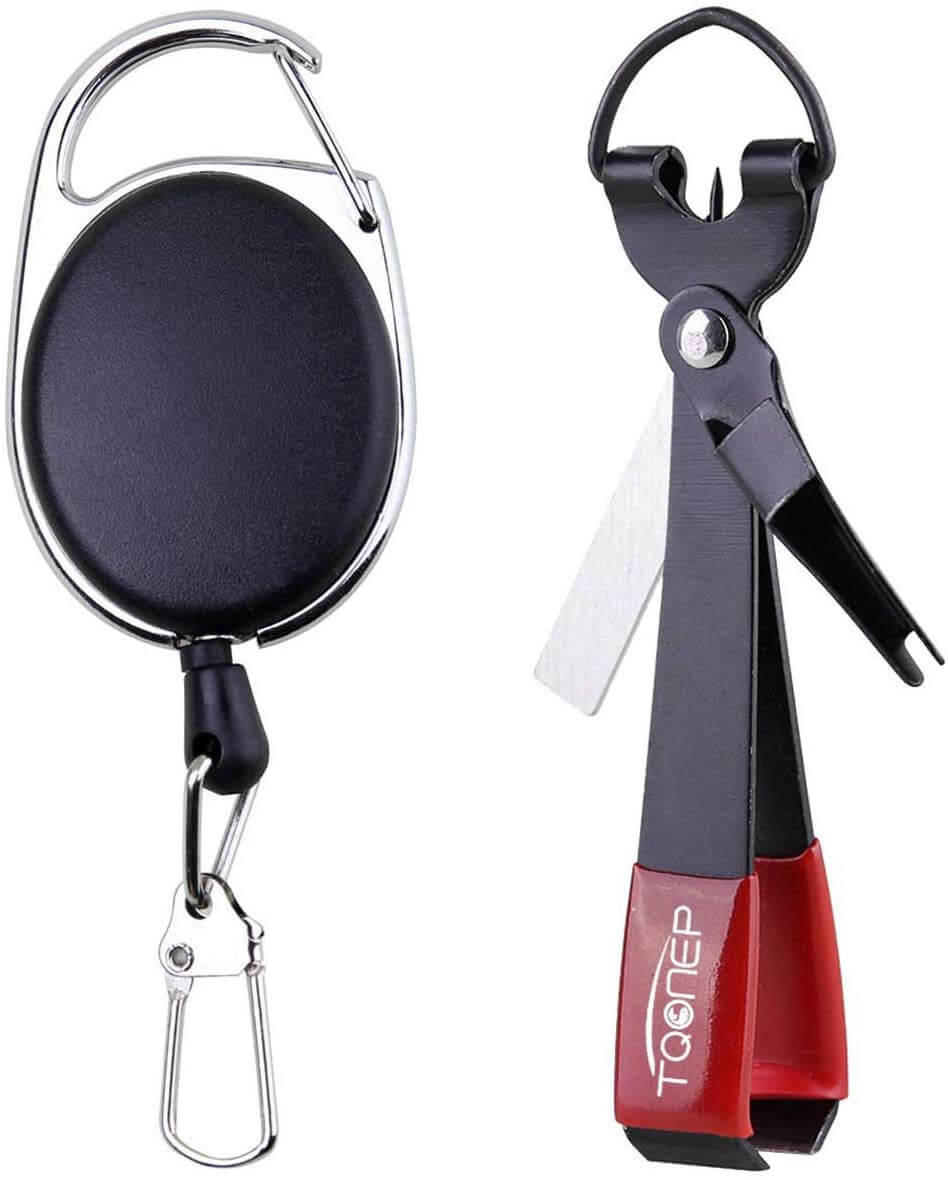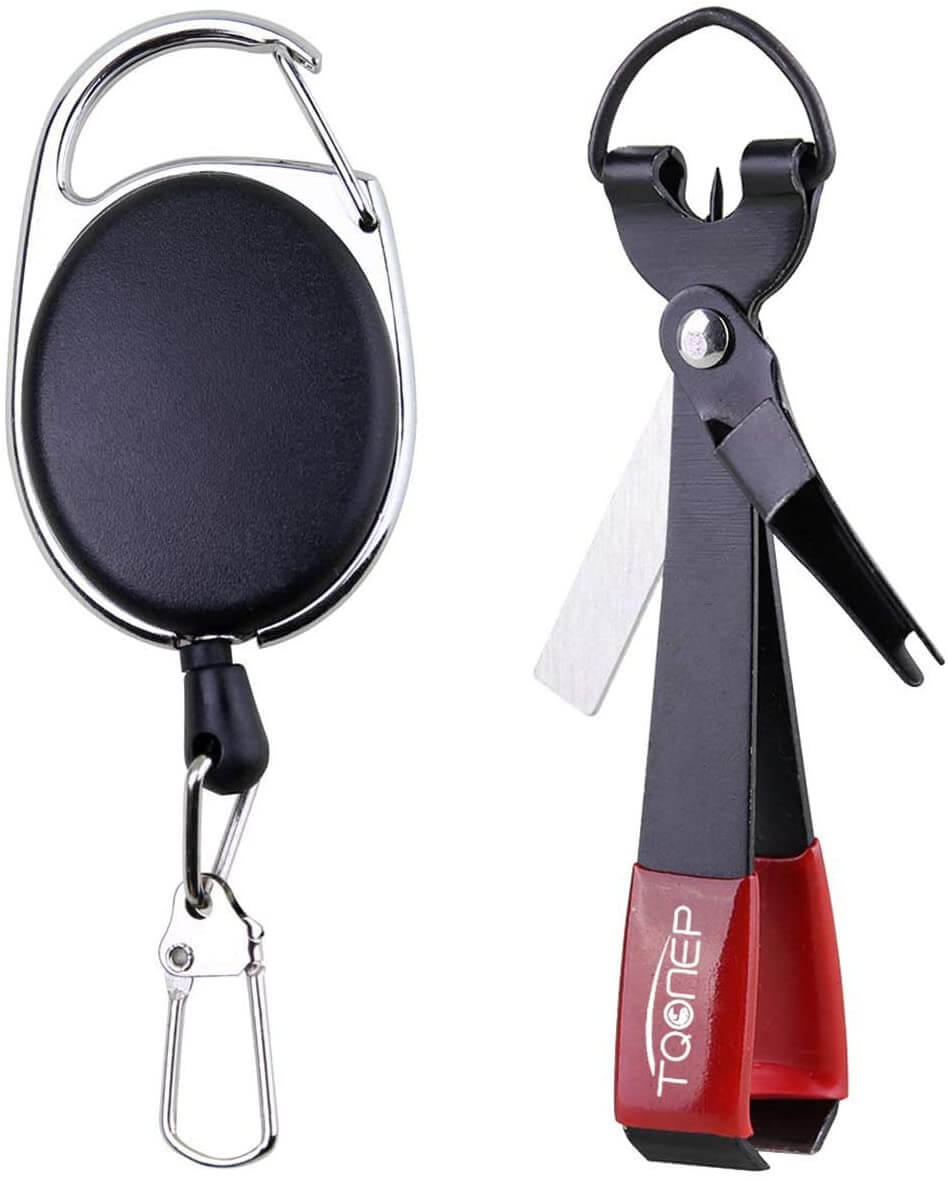 The TQONEP Fishing Quick Knot Tying Tool is a 4-in-1 quick knot knotter, wire cutter, hook sharpener, and eye cleaner.  It comes with a D ring for easy connection and convenience. This is a versatile fishing tool that is great to have.    If you need to tie multiple knots in preparation for a full day of fishing, this is a very handy and helpful tool.
The quick knotter tool is made from a highly-durable 420 stainless steel construction and makes tying fish hooks so easy that even beginners or novice fishers/anglers can use it.  The wire-cutting head is designed with a rubber handle, making the pliers easy to be gripped even with wet hands or when one is wearing gloves.
The fishing hook remover is made with aluminum and is made to be used efficiently with single-handed use.  You can remove most hooks with this even those that are deeply embedded hooks.  It allows the fisher to remove it without harming the fish before releasing it back into the water.
It comes equipped with a Zinger retractable reel of 60cm or 24-inch nylon cord.  It allows access to nippers wherever attached which easily fits in a pocket.  The nippers are very reliable and function well on all sizes of tippets.  The actual knot tying may seem awkward at first but as you use it and with a little practice it's going to be a breeze.  This is a well-built tool that with proper use, can last for a long time.
Pros:
4-in-1 tool
 420 stainless steel
Ease of using single-handed
Zinger Retractable tool
Cons:
May take a little bit of practice
Fishing Knot Tying Tool Buyer's Guide
The main reason to buy a fishing knot tying tool is to make fishing easier and more enjoyable.   A knot tying tool is essential to save you precious time so you can spend more of it fishing, than tying knots that can be burdensome.
So with that aside, what are the things that one should look for when shopping for a fishing knot tying tool?
Suitability
You must first determine if the fishing knot tying tool is suitable for your type of fishing.  Since there are many types of knots for different types of fishing, it's important for you to know what type of fishing knots you will be using extensively and if the one you plan to buy is capable for your needs.  Is it good for seawater and freshwater use?  These things are important since some fishing tools are not made for seawater so it's better to be sure.
Safety
How safe is the fishing knot tying tool that you plan to use?  While most have been designed to be safely used, some products are better designed than others when it comes to safety especially if your children will be using it or have access to it.
Durability
What types of materials were used to make the product?  Is it made from cheap plastic?  Or is it made from durable stainless steel and high-quality grade plastic?  These are important factors to consider as you may be throwing away your money in buying products that will not last.  Some may appear to be cheap but if you will have to keep on replacing it, then it's no longer a cheap product.  It's better to buy a product that costs a little bit more but will last longer because it is durable.
Price
This is related to the durability of the product but at the same time, some products are better priced than others.  Find out if the price of the product is justifiable in terms of the quality and features offered.
Expensive may not necessarily translate to quality so be aware of what is the price range of the fishing knot tying tool that you are looking for.   There are reasonably priced that is comparable to more expensive ones based on features and durability.
How do you tie a knot without a nail tool?
Fishing Knot Tying Tool FAQs
Are knot tying tools good for seawater and freshwater fishing?
Most of the ones being sold in the market are good for both seawater and freshwater fishing.  Most of those that are made from stainless steel is normally good for both bodies of water.  But to be sure, you can check out the product's specifications to find out if it's indeed compatible with both seawater and freshwater fishing.
Are those 2-in-1 or 4-in-1 products offered better than by just buying the fishing knot tying tool itself?
It depends on what you need but usually, these combination products are a great deal in itself if you have a use for the other tool that is being offered.
At the end of the day, it will be you who will use it so you need to ask yourself if you are better off buying just the product itself and not combined with other tools?  Unless the price is way too much (which is not usually the case), then it may be better to just look for the stand-alone product.
Some of the products have the same features so how do I know which one is the best deal for me?
If all things are equal in terms of features and durability, the obvious answer here would be the price.  If you think that both are of the same quality and same durability, then go for the one that offers a lower price or a better deal.
Otherwise, you can just choose based on what you think is better in terms of reviews, customer service, or after-sales.   While most flying knot tying tools are affordable, some are more expensive than others.  But the price is sometimes justifiable especially if they are well-made, and built to last for a long time.
How do you tie a knot on a fishing tool?
FINAL WORDS
If you ask any businessman worth his salt, he will always tell you that time is more important than money.  The money you can always earn back if you lost it, but time once lost cannot be replaced.  This means that using a fishing knot tying tool saves you lots of precious time which also means you save money in the process.
If you're already supposed to be fishing but you are still tying your fishing knot without the aid of a tool, then you are not really fishing.
So fishing knot tying tools may seem small in terms of an angler's arsenal of fishing tools, but it's undeniably one of the most important.
So do not take it for granted and certainly do not sell yourself short by settling for less than great products.  An "okay" fishing knot tying tool is unacceptable if there are "great" ones out there.  So never settle for anything less than you deserve.
Read More:
TYEPRO Fishing Knot Tying Tool
TYEPRO Fishing Knot Tying Tool/Original Jig Head and...
Simplify fishing line tying in four easy steps: grip, glide, tie, and clip. Tying fishing lines can often be a time-consuming and frustrating task. However, with the TYEPRO tool, the process...
Speed up the process of tying fishing lines. A significant advantage of using TYEPRO is its ability to expedite the process of tying fishing lines. With traditional methods, anglers may spend...
Sale
KNOT KNEEDLE - Fishing Knot Tying Tool - Quick & Easy...
🎣 A NEW WAY TO TIE A KNOT: The quick, convenient, and versatile Knot Kneedle is a faster, easier, and better way to tie a knot. It's a fishing knot tool that ties over 20 different knots in...
🎣 A NEW WAY TO TIE A KNOT: The quick, convenient, and versatile Knot Kneedle is a faster, easier, and better way to tie a knot. It's a fishing knot tool that ties over 20 different knots in...