If you are looking for fish finder mounts, be sure to read our complete in-depth buyer's guide where we review the top-rated models.
Fishfinder is a remarkable device or instrument used by professional fishermen to locate fish underwater.  They're also used by those who do fishing for recreation.
Fishfinders work by detecting reflected pulses of sound underwater which bounce off to the object where it was sent.  They work on SONAR (Sound Navigation and Ranging) technology, and in today's world where technology is all around us, it makes sense to utilize it to make things a little easier.
The price of a fish finder ranges from as low as $10 to as high as $1000 or more depending on the features of the device.  On average, the price of a durable and good-quality fish finder is $200 and above.  They are usually sold as a single unit device but since they are usually placed on boats or marine vehicles, a compatible mount is needed.
If you're planning to buy a fish finder, or have already purchased one and you are now shopping for the best fish finder mounts, you're in luck.  Choosing the right fish finder mount for your fish finder is just as important since the hundreds of dollars, or possibly thousands you've spent on the device can go to waste with the wrong mount.
Read More:
Best Fish Finder Mounts We Will Cover Today
1. Best Heavy Duty-RAM Large Marine Electronics
2. Best Sounder-Scotty #368 Universal
3. Best Swing Arm-RAM Horizontal 6″
4. Best For Kayak-YakAttack
5. Best Drill-Down–RAM Marine
Top 5 Fish Finder Mounts Reviews!
1. RAM Mounts Large Marine Electronics Mount

For marine electronic mounts, RAM is a company that is known to produce great quality mounts.  They are trusted by anglers all around the globe because of their track record in creating perfect mounting platforms for marine electronics.
Our first mount on the list is the RAM-D-111U-C.  It is a mount that is made up of 3 individual components.  The first one is a round plate with a 2.25" D-size rubber ball.  This plate has seven pre-drilled holes in the bottom, including the universal AMPS hole pattern.
This would ordinarily be used to be bolted onto a flat surface.  Next is the short double socket arm, with a 3.68" diameter round base, and an 11" x 3" rectangle base.  And finally, a universal electronics plate also with a 2.25" D-size rubber ball.  Its overall length is 8.125″ and the weight capacity is up to 6 lbs.
The electronics plate is going to be used to attach to the base or the bracket of an electronic device.  This mount is often going to be used in a marine environment.  The hole patterns found on the plate are going to line up with the hole patterns found on the brackets for marine radios, chart plotters, fish finders, as well as other devices of that nature.
The assembly for this mount is fairly simple and easy.  You can get your base mounted on whatever marine surface you want to place it on, such as kayaks, dinghies, boats, and others.  The standard length dual 3.68" diameter socket arm can go right onto the base of the round plate with the 1.5-inch ball.  Finally, the universal electronics plate, with the 1.5-inch ball on the bottom of the plate, can go right into the open socket.
Once done, you can make adjustments to your mount by positioning it however you please.  When you are satisfied with the position, you can then tighten the knob on the side of the socket arm.   This will then hold it in place.    Alternatively, the short socket arm can be interchanged with a longer one which can be purchased separately.  This is ideal if you need more extensions.  The unit is backed by a lifetime warranty.
The RAM mount is compatible with the Garmin ECHOMAP Ultra 122sv, Garmin ECHOMAP Ultra 126sv, Lowrance Elite-9 CHIRP, and many more.
Pros:
Heavy-duty and solid-built
Easy assembly and installation
Pre-drilled universal AMPS hole pattern on the base plate
Interchangeable socket arm with other RAM mount model
Compatible with most Garmin and Lowrance fish finders
Durable
Lifetime warranty
Cons:
Some buyers find it a bit heavy
2. Scotty Fishing 0368 Scotty Fishfinder Mount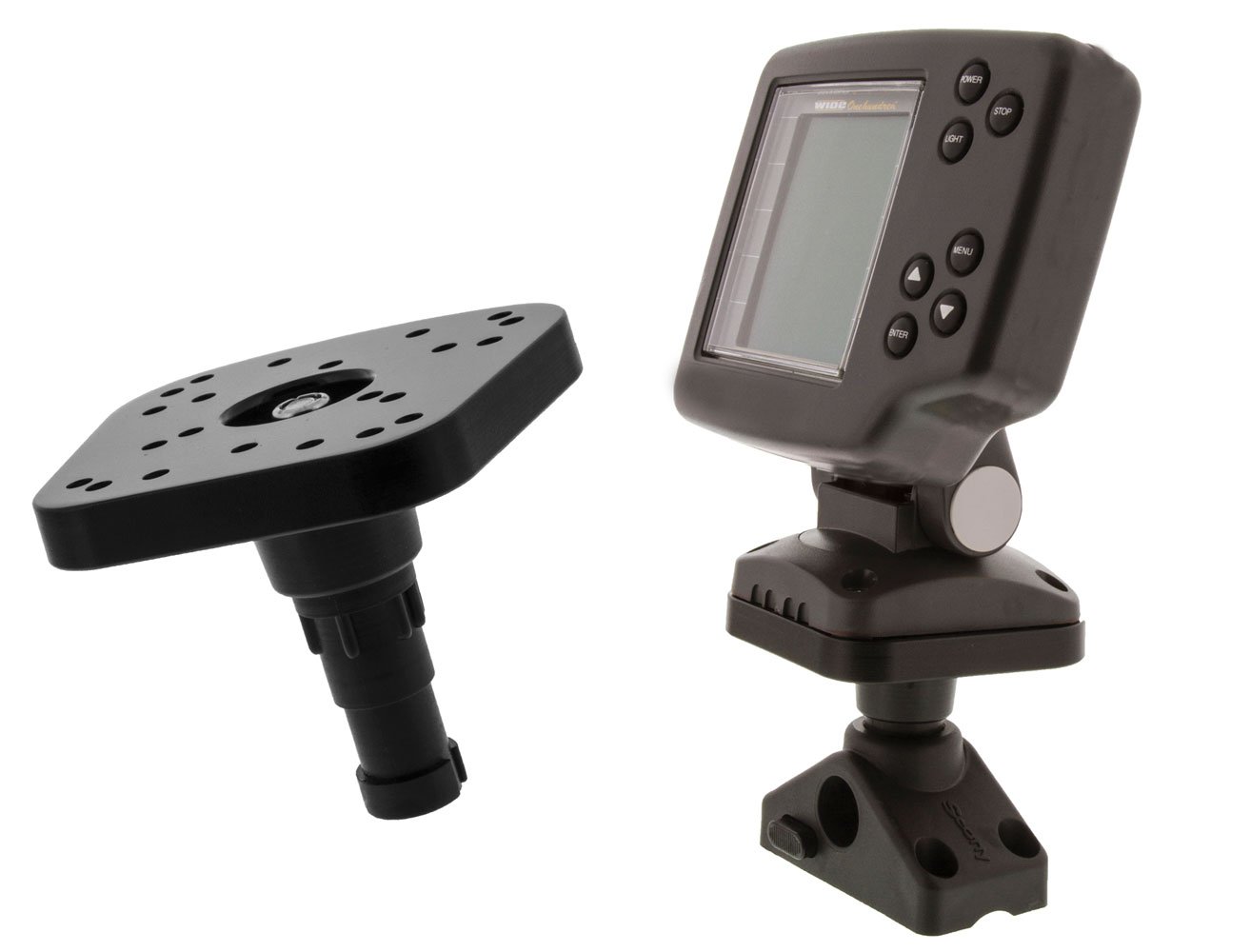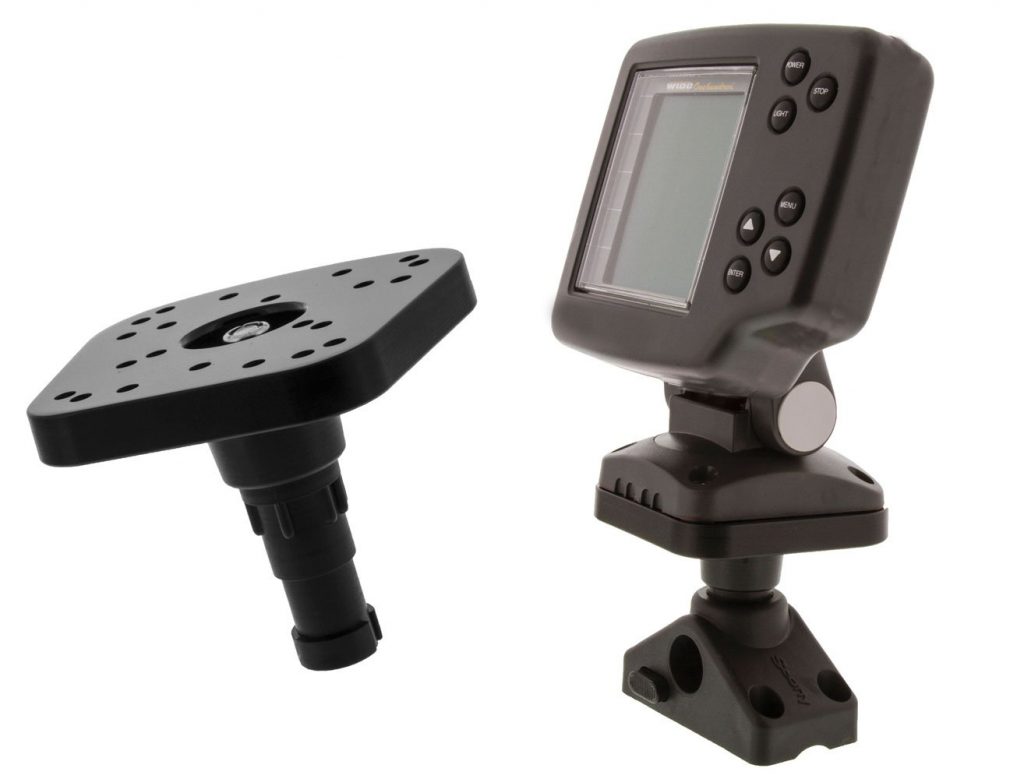 Scotty is a company that manufactures products for fishing, marine, and outdoor equipment used all over the world.  Aside from manufacturing different kinds of manual and electric downriggers, they are also known for producing quality mounts for fish finders and other marine equipment.
Our next fish finder mounts on the list are the Scotty #368 Universal Sounder Mount.  It uses a new multiple-pattern universal top plate and the patented Scotty post-mount design for quick removal and infinitely adjustable rotation.  This is a no-frills, hassle-free, simple and basic fishfinder mount that will do its job.
Very sturdy and well-built, this is perfect to use with the transducer arm of Scotty or other compatible products.
Pros:
Very sturdy and well-built
Uses multiple pattern universal plate for quick removal
Simple and no-frills installation
Cons:
Doesn't come with the nuts and bolts to mount the fish finder to the plate
3. RAM Mounts Horizontal 6″ Swing Arm Mount
Another mount on our list comes anew from RAM.  This horizontal swing arm mount for fish finders and chart plotters is created from marine-grade aluminum components and powder-coated steel and high-strength composite.  It's a universal drill-down fishfinder mounting solution.  Two pivot points allow a whole 360-degree rotation.
The bottom point portion measures 3.47" by 3.47" square base that may be mounted on any horizontal surface.  It's a tightening knob directly above the bottom that permits you to regulate the direction of the swing arm that comes off the bottom.
The swing arm itself is 6 inches from the middle of the tightening knob to the other center of the tightening knob and plate.  The adapter plate incorporates a series of universal hole patterns, that connect with a number of electronic devices including fish finders.
There's a second tightening knob underneath the adapter plate where you'll articulate the direction and angle of the plate in conjunction with the bottom assembly.  There are two different adjustment points throughout the mounting solution.  The general height of the mount from the base plate to the topmost adapter plate is 5.5 inches.
The Ram Horizontal Swing Arm mount is compatible with a Garmin echoMAP, GPSMap, Striker, Humminbird Helix, Lowrance HDS Carbon 7, and other electronic devices.  It's backed by RAM's lifetime warranty making it a no-risk purchase, as it's expected to last for a long while.
Pros:
Well-built fishfinder mount
Made of marine-grade aluminum and powder-coated steel and high-strength composite
Highly flexible with its 6" swing arm
Universal hole patterns compatible with most electronic devices
Very sturdy and straightforward
RAM Lifetime warranty
Cons:
Some customers complain that the space between the swingarm and base plate is simply too small for a 7″ fish finder
4. YakAttack Fish Finder Mount
YakAttack is an American company founded in 2009 which focuses on kayak paraphernalia and kayak rigging.  They have grown and ventured into problem-solving solutions for the benefit of the fishing community.   The second fish finder mounts on our list is the YakAttack Fish Finder Mount with Track Mounted LockNLoad Mounting System.
The great thing about this mount is that they did away with the ball-in-socket system. This enables you to save lots of time adjusting, readjusting, and tinkering with your equipment.  The key to this is the LockNLoad base which has a t-bolt, some keys for the gear track slots, and an adjustment knob at the topmost to secure it tightly.
Just slot it into the gear track of your kayak, slide it and tighten it down with the knob.  Twist it tight and it's locked and secure. Then simply put in your fish finder and flip the lever and it's done.  The advantage of the LockNLoad system over the old ball socket is that each time you're taking the fish finder off and back on, you get the identical exact position.  Unlike with the old ball socket which you need to re-adjust in order to arrive at the exact position.
The only problem with the mounting on the gear track and a massive fish finder on top of it, there is obvious wobble in the whole equipment.  Where it comes from is due to the discrepancy in the height between the plastic of the kayak and also the gear track.  You will notice this by putting a small yarn thread and then slide it on each side at the bottom of the base.  It will surely go under which shows that there is an undesirable space that causes the wobble.
The good news is that YakAttack released a Mighty Mount II within which you can attach the LockNLoad base.  There's no longer space between the gear track and also the lockNload base due to the Mighty Mount II.  This eliminates the wobble by around 80% making the fish finder more sturdy and secure.  The bad news is that the Mighty Mount II is not included in the package.
The LockNLoad mount is recommended and compatible with these products:
Lowrance Fish Finder Mount
Designed to substitute with the factory base on Lowrance fishfinders, the Lowrance Fishfinder Mount is a simple, clean, and highly effective solution for mounting your fishfinder.
Attaches to track using our new LockNLoad mounting system for optimum versatility.
This mount fits the popular Lowrance Elite, Hook, and Elite Ti models of fish finders.
Rectangular Fish Finder Mount
The most secure mounting solution for larger Lowrance, Garmin, and Raymarine units featuring a gimbal mount such as the Lowrance Hook2 7, Garmin Striker 9sv, and also the Raymarine Axion 7.Fishfinder is not included.
Humminbird Helix Fish Finder Mount
The most secure mounting solution for the Hummingbird Helix series; 5,7,9.Fishfinder not included.
Round Base Fish Finder Mount
The most secure mounting solution for Garmin and Raymarine units features a 3 hole pattern round base like the Garmin Striker 4 and also the Raymarine Dragonfly 7 Pro. Fishfinder is not included.
Pros:
LockNLoad base mount saves time compared to ball-type socket mount
Very versatile base mount with other YakAttack kayak mounts or most kayak track systems by other companies
Solid-built and highly durable
Same exact position anytime you fit in your fishfinder or other electronic devices thanks to the LockNLoad base
Easy to put in and adjust
Cons:
Needs to purchase a separate mount to stop the wobble on a big heavy electronic device
5. RAM Mounts Drill-Down Marine Electronic Mount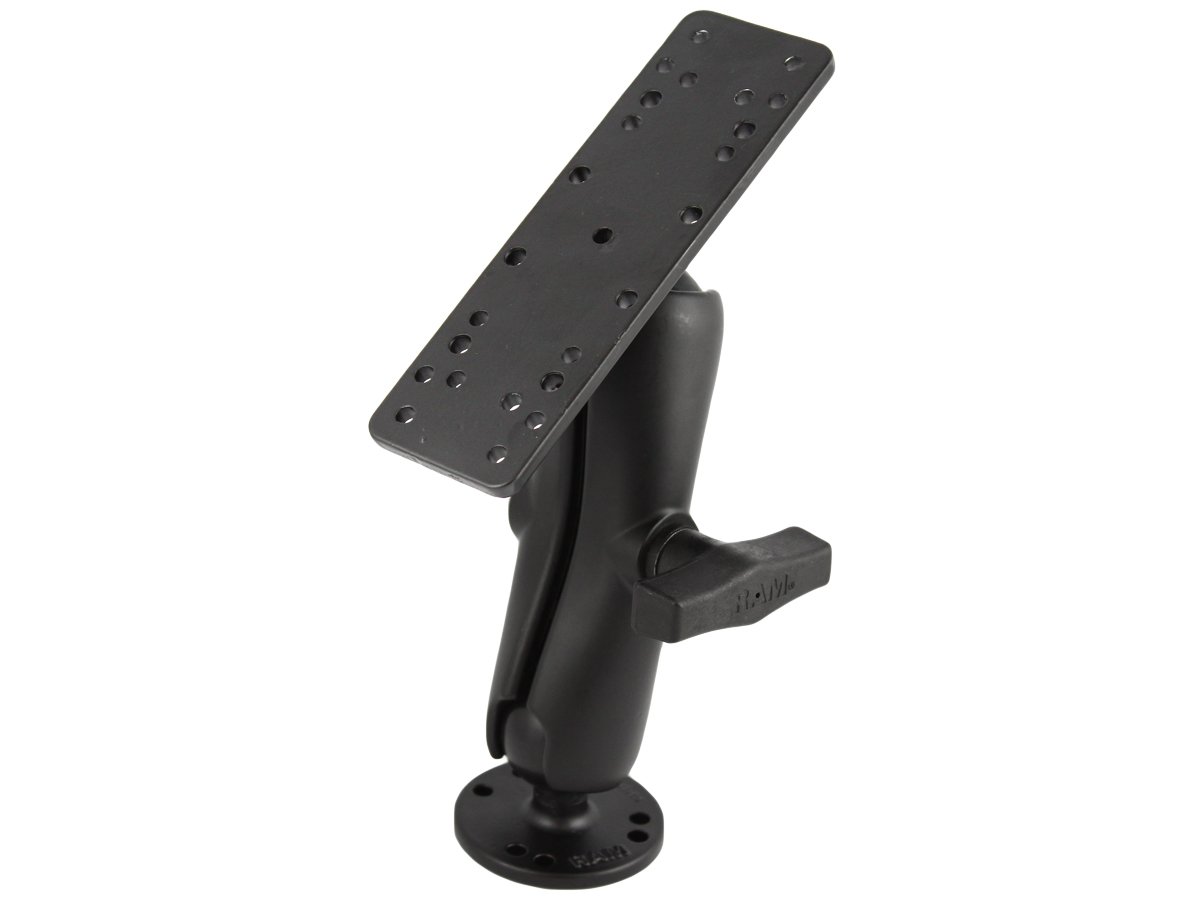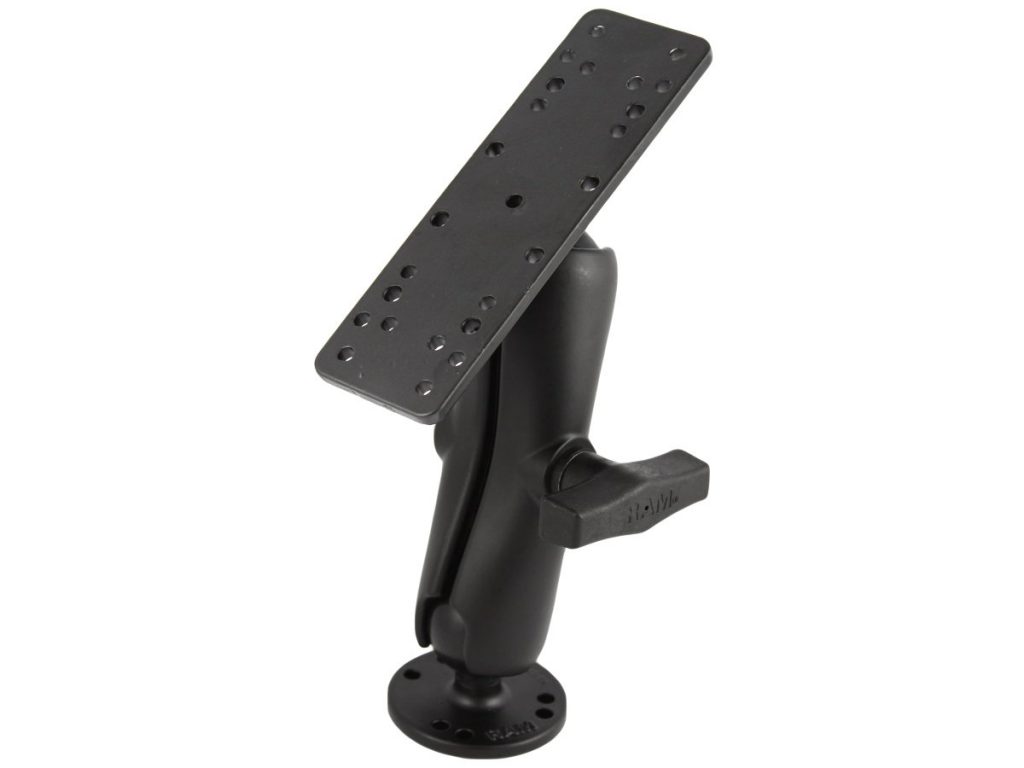 By now you may have noticed that out of the 5 Best Fishfinder Mounts on our list, 3 are made by RAM.  There is no denying that this company makes great products that's why they've dominated this list.
The RAM Drill-Down Marine Electronic Mount is a completely flat surface, a drill-down mounting solution with an overall height of 7.35″.  It is made of powder-coated, marine-grade aluminum for durability and reliability in the most demanding marine environments.
The RAM mounts ball and socket technology allow for near-infinite adjustability making this a highly flexible mount for your electronic devices.  The RAM-111U consists of a 2.5" diameter round base that has the universal AMPs hole pattern, the standard length double socket arm, and a 6.25" x 2" rectangle base.   This is compatible with all the big names in fishfinder products such as Garmin, Lowrance, Humminbird, and more.
The rectangle base contains different combinations of pre-drilled holes which will match up to many electronic devices and mounts, including Marine GPS, CB radios, Ham radios, Gimbal brackets, and more.  RM double socket arms with their distinctive Hourglass Shape are designed and recognized to provide the best possible performances for almost any application.   That's why for versatility, it's hard to beat the leader in fishfinder mounts.
With the most robust mounts in the marine industry, RAM can handle fishfinders and chart plotters of any size.  Drill-down bases utilize the RAM rubber ball for vibration damping, anti-slip capabilities, near-infinite adjustability, corrosion resistance, and the ruggedness marine environments demand.  It holds electronic devices securely in marine vehicles such as kayaks and boats even at full speed or in rough waters.  It only proves that the rock-solid locking mechanism of this RAM mount is top-notch.
Pros:
Heavy-duty and solid-built
Easy assembly and installation
Pre-drilled universal AMPS hole pattern on the base plate
Interchangeable socket arm with other RAM mount model
Compatible with most electronic device brands
Durable
Lifetime warranty
Cons:
Some buyers find it a bit heavy
Fish Finder Mounts Buyer's Guide
Now that we have given you the 5 Best Fish Finder Mounts available in the market, what are the things that need to be considered to choose which one is the best for you?
While there are a lot of things to consider when buying a fish finder mount, the following should always be on top of your mind when searching for the right finder mount for your electronic devices:
 Durability
Your mount will hold your precious electronic equipment which most probably cost hundreds of dollars or even more.  Buying a fish finder mount that is not durable means you are putting your expensive equipment at risk, and at the same time wasting your money on a product that you will have to replace.
 Build Quality
This is no doubt a no-brainer.  Finding the fish finder mount that is solidly built and made from high-quality materials means that you are getting your money's worth.  Cheap materials or sloppy-made mount is obvious even for an average person just by eyeballing or holding the mount in your hand.  However, the challenge is that since most purchases are made online, this is more difficult since you can only see the picture which can be digitally enhanced to appear more quality than it really is.  Our next criteria should address this concern.
Company/Brand
This will address the concern for purchasing online which means you cannot hold and examine the item to determine if it's built well or made from quality materials. The manufacturer or the brand name should give you more confidence in your purchase.  The reason is that companies that have already made a name for themselves in a particular niche or market will not jeopardize their reputation by making sub-standard or low-quality products.
Compatibility
While most companies make fishfinder mounts adaptable to most electronic devices, it would be prudent to check especially if you have already purchased a fish finder before buying a fish finder mount.  It would be frustrating to receive delivery of your online purchase only to find out that it cannot accommodate your device unless another hole must be made on the mount.  Most companies will list down all devices compatible with their mount so buyers will be guided.
Price
There's a saying that we are all too familiar with – "you get what you pay for".  Unfortunately, there are still people that expect to get top-notch features on a fish finder mount but are expecting to pay for a simple and basic product.  While the price is an important factor to consider when looking for a fishfinder mount, you don't have to buy the most expensive unless you have already crossed all the t's and dotted all the I's.
FINAL WORDS
The 5 Fish Finder Mounts we have listed here are mounts that have been existing in the market with some for more than several years.  They are listed here for one simple reason:  they are worth buying.
Once you have determined your needs when it comes to fish finder mount, it would be easier to choose the one that is right for you.  There is no point in buying a RAM Marine mount that costs more than $100 mount for a $15 fishfinder.  In the same way that you will buy a less than $20 mount such as the Scotty #38 Universal Sound Mount, to use for a $3000 Raymarine fishfinder with GPS!
And so we believe that you will make a sound decision based on the information that you have gathered here.  Good luck with your search for the best fish finder mounts!
More Article: