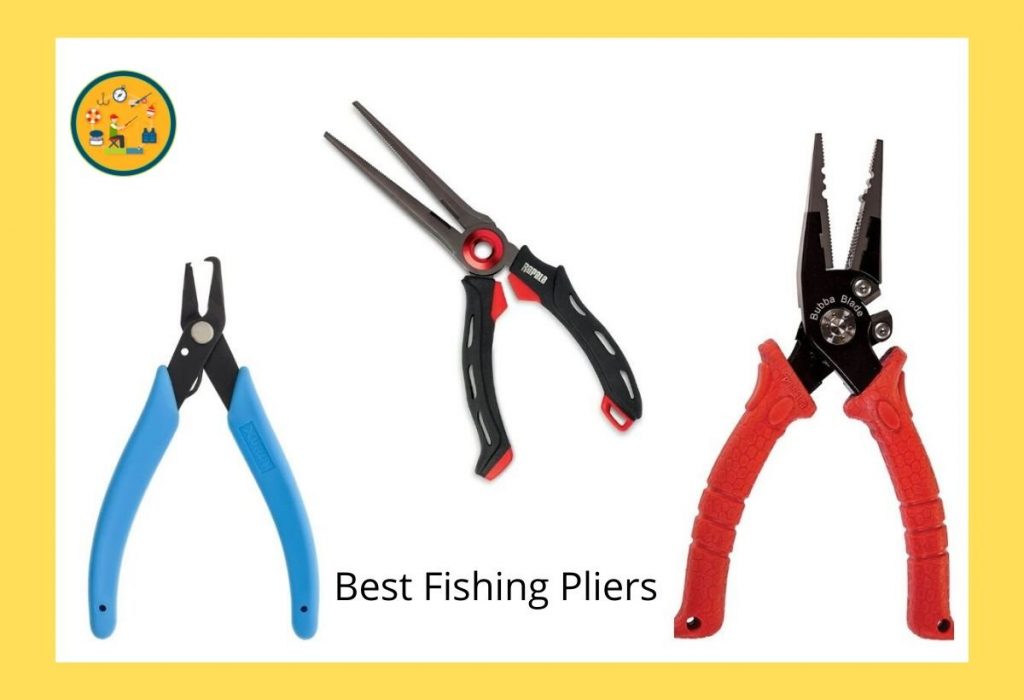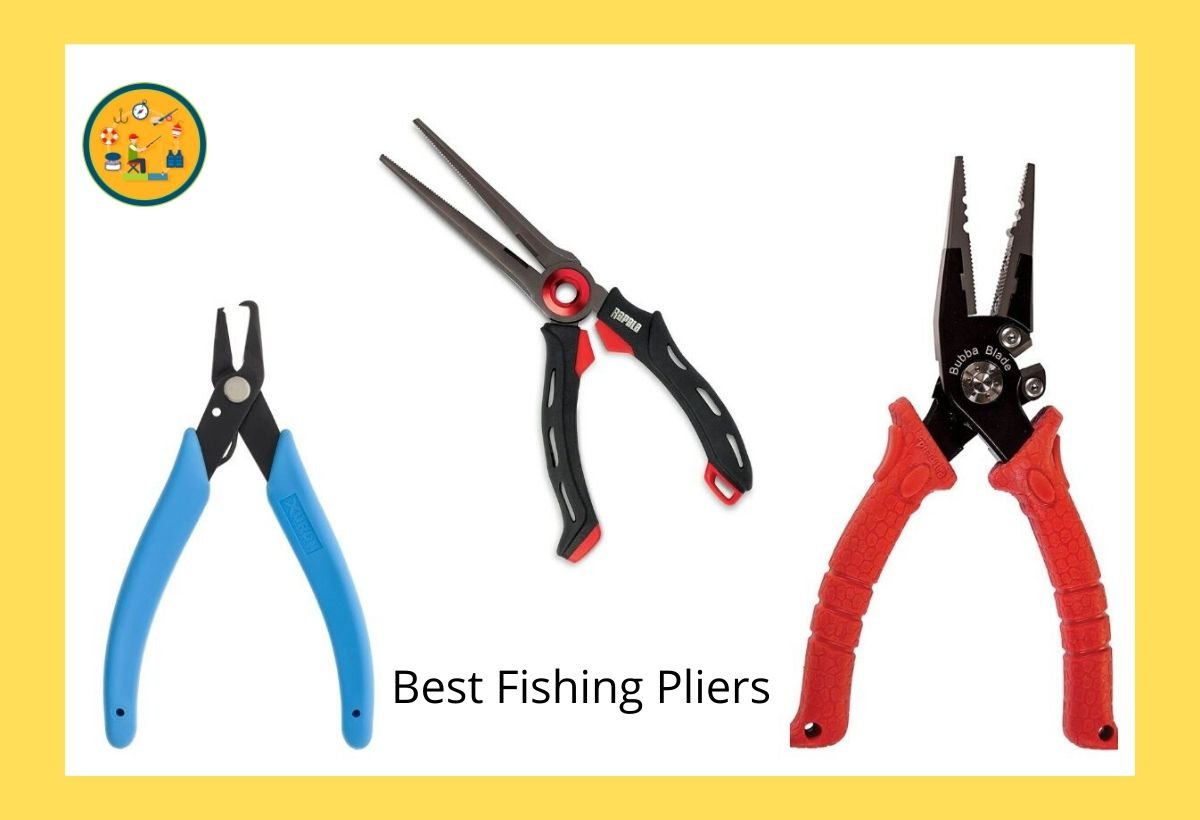 Going out fishing? What's in your bag? What are the gears you brought with you? Rods, lures, reels, traces, check! But wait, something is missing, aha! Where's your fishing pliers? Most newbie fishermen tend to not have a pair of fishing pliers with them. But that should change, and soon.
Pros and seasoned anglers, on the other hand, knows how important fishing pliers are for their fishing trip. It's a versatile tool that you can use for a variety of tasks like bending wires, retrieving hooks, cutting fishing lines, and splitting rings. No one should underestimate its importance.
Don't worry we're here to help. Our article right here is all about the best fishing pliers. We've reviewed a few of the top brands so that you'll know what to include in your next purchase. Let the fun begin!
Best Fishing Pliers We Will Cover Today
1.KastKing Speed Demon Pro angling Pliers
2.Piscifun Aluminum Fishing Pliers
3.Booms fishing x1 aluminum fishing pliers
4.Xuron 496 Split Ring Pliers
5.Rapala Mag Spring Pliers
6.Manley Professional Saltwater Fishing Pliers
7.Danco fishing pliers
8.RUNCL  S1 Fishing Pliers 
9.Wolfyok Aluminum Fishing Pliers
10.BUBBA blade fishing pliers
Top 10 Fishing Pliers Reviews!
Preview
Best Choice
Mid Range
Best Price
Title
Piscifun Aluminum Fishing Pliers Braid Cutters Split Ring Pliers Hook Remover Fish Holder with Sheath and Lanyard
KastKing Speed Demon Pro Fishing Pliers, Split Ring Nose, 7.5 Inch.
Booms Fishing X1 Aluminum Fishing Pliers Hook Remover Braid Line Cutting and Split Ring with Coiled Lanyard and Sheath
Best Choice
Preview
Title
Piscifun Aluminum Fishing Pliers Braid Cutters Split Ring Pliers Hook Remover Fish Holder with Sheath and Lanyard
Mid Range
Preview
Title
KastKing Speed Demon Pro Fishing Pliers, Split Ring Nose, 7.5 Inch.
Best Price
Preview
Title
Booms Fishing X1 Aluminum Fishing Pliers Hook Remover Braid Line Cutting and Split Ring with Coiled Lanyard and Sheath
1.KastKing Speed Demon Pro Fishing Pliers
Let's start our best fishing pliers review with none other than the KastKing Speed Demon Pro Angling Pliers. This fishing plier is specially designed to work in both saltwater and freshwater conditions.
KastKing Speed Demon Pro pliers are perfect tools to add to your arsenal. It is built with stainless steel, it is corrosion-resistant and extremely durable. These 420 stainless steel angling pliers is 46% sturdier and has almost three times higher bending strength compared to aluminum pliers.
And if that is not enough this KastKing pliers is coated with durable Teflon resulting in a tough outer shell and to protect it against saltwater corrosion and damage. The Tungsten carbide cutters will easily cut fluorocarbon, mono, and braided lines.
The anvil blades are rust-resistant too, while the side cutters will allow you to cut very close to the knots. A very versatile fishing tool with an easy-grip handle that should top it all off. A must-have in your next fishing expedition!
---
Pros
Comes at a very good price
Super comfortable to use
Efficient contains a lot of tools in one
Tungsten Carbide Cutters
Super Polymer Grip Handles
Cons
The plier's serration is sometimes misaligned
---
What do people say about it?
So how did our first entry for the best fishing pliers did in some users review? At this point, it's doing pretty well. It currently stands at 4.8 out of 5 stars on Amazon and garnered 89% 5-star ratings. The common comment about it is that it's a great value for money because of its quality and efficiency.
2.Piscifun Aluminum Fishing Pliers
The second entry on our list is the Piscifun Aluminum Fishing Pliers. One of the most durable albeit lightweight fishing pliers out in the market, it is multi-purpose and will definitely make those fishing trips a lot more fun through its efficiency.
The durable and powerful stainless steel jaws are coated in titanium and are lifelong corrosion resistant. It makes removing fishing hooks very easy! Cutting fishing lines would be a breeze. It's got replaceable tungsten carbide cutters that are extremely sharp designed to cut those braid fishing, fly fishing, monoline, and backing lines.
It comes with a lanyard and a cool sheath to boot to make it a convenient and easy to carry set of pliers. It's got an ergonomic aluminum handle that's machine-cut so it has a very comfortable feel. This is a full rust-resistant aircraft-grade aluminum. You are sure that your fishing pliers are of high quality and long-lasting if you choose this one, no doubt about that!
---
Pros
Versatile can serve as a fish gripper
Very comfortable to use
Spring Loaded
Durable Tungsten Carbide Cutters
Fishing plier with sheath and lanyard
Cons
The hook removal capability could be better
---
What do people say about it?
With almost 2000 reviews on Amazon, this fishing pliers is a rockstar! Averaging 4.5 out of 5 stars and garnering 75% 5-star reviews people are loving it primarily because of its efficient functionality and overall durability, it's so easy and comfortable to use too!
3.Booms fishing x1 aluminum fishing pliers
We know how a set of pliers can come in handy and can easily be the most used tool from the shed. That's why the Booms Fishing X1 Fishing Pliers was made exactly to be versatile, convenient, and most of all durable for long-lasting use.
Don't count this brand just yet, while there may be giants in the industry on our list these fishing pliers are also off the charts reliable. It is super lightweight which makes it a comfortable wield. Trust us, once you get a grip on it, it's easily the most valuable fishing tool you'll have.
It's the ultimate answer to a clean cut on braid. Just grip and twist if you want to remove a hook. Replace treble hooks with a "real split ring tool". And it comes with a sheath and lanyard to make it an easy to carry fishing tool. It's got a mono, braid, and fluorocarbon cutting ability and a handy grip to boot. I can't ask for more for sure. Get yours now!
---
Pros
Good cutter at a great price
The quick-cut design is very innovative
Tungsten cutters
Anodized aluminum body
Cons
Durability may be questionable
---
What do people say about it?
With very little sample size for the reviews but with what we've gathered on our research, these fishing pliers are doing well. 4.6 out of 5 stars on Amazon and a 77% 5-star rating is good and not easy to come by with, so that speaks for its quality.
Split Ring Fishing Pliers
4.Xuron 496 Split Ring Pliers
Once in a while, you'll find a handy tool that's versatile enough to be used for a lot of things. And yes, we're talking about the Xuron 496 Split Ring Pliers.
This split ring plier is a very convenient fishing plier. It's a tool that's designed with function and convenience in mind. Xuron is a good brand, something that you probably have not heard of but something that you would definitely need from this day onward.
These pliers have soft and ergonomic handles, it is solidly built, and very high quality. The spring return feature also helps out a lot. It's got a secure grasp that would definitely come in handy in your next fishing expedition. It's also a tool used for jewelry production and a lot of other processes that it is essential for.
---
Pros
Has a curved catch tip
Non-slip and Xuro-Rubber grips
Lightweight design
Works pretty well with all sizes including down to 00 (As split ring pliers)
Blister Pack comes with a Generic Card
Can help you do tasks quickly
Cons
Tailored for split rings more than fishing
---
How to use a split ring pliers
What do people say about it?
This product has got rave reviews online. People are loving it, some are calling it a happy mistake for they think they bought an incorrect tool only to find out its convenience. A must-have at a good price.
5.Rapala Mag Spring Pliers
Another versatile and multi-purpose plier on our list is the Rapala Mag Spring Pliers. The Rapala Mag Spring Plier's most prominent feature is a "Mag-Spring" to always keep your pliers open and ready for action.
It's highly innovative and convenient to use especially when you are in the middle of your fishing session. Rapala is a brand that doesn't stop innovating and they are very passionate about what they do.
The Rapala Mag Spring Pliers also feature an angled design that is easy to maneuver right into a fish's mouth. This angled design is super ergonomic, and it allows you to keep your hand out of the way especially when taking out hooks which will enable you to actually see what you are working on. The "Stainless Steel with Tin-Nickel Alloy Plating" makes it extremely durable and tough so that you'll have lots of fishing trips with it.
---
Pros
Strong and comfortable grip
Perfect size, very handy
Has an Off-Set Design
Serrated Jaws
Line Cutter
Soft Touch Vented Handles
Cons
May not be as effective in cutting braid
---
What do people say about it?
Most feedback we found for the product is positive. People are saying that it's a great handy and functional fishing pliers. You should always try having one of these as you can't go wrong with it.
6.Manley Professional Saltwater Fishing Pliers
Moving on! Next on our best fishing pliers list is the Manley Professional Saltwater Fishing Pliers. These fishing pliers are spring-loaded so it's great for removing gripping fishing lines and small hooks. Its 7.5 inches in length enables a perfect grip for the fishing enthusiast.
The advance coating makes sure that your pliers are protected from long exposure to saltwater. The tungsten carbide cutters will allow you to cut braided lines like butter. It comes with a cool sheath and lanyard for easy carry.
This stainless steel and accurate aluminum fishing pliers is so sturdy and should be your go-to tool whenever you need to handle hooks, fishing line, and other gear. The special coating surface would ensure that this multipurpose tool would not rust.
---
Pros
Doesn't get sticky and is very easy to handle
Advanced surface coating
Tungsten carbide cutters
Fishing plier with sheath and lanyard
Cons
The holster and cord could use an upgrade
---
What do people say about it?
At 4.2 out 5 stars on average and 60% 5-star ratings on hundreds of reviews on Amazon it's perhaps the lowest reviewed product on our list. That's pretty good still, indicating the quality of our products here. These are some of the best fishing pliers indeed.
7. Danco Fishing Pliers
We're getting into the thick of our discussion and now we introduce the Premio Danco Fishing Pliers. Premio Danco wanted to take fishing pliers to another level. This company is so passionate about taking a huge leap forward in the industry by making a pair of high-quality pliers that any angler in the world would want but at the same time wouldn't have to go too deep into their pockets for.
This new Premio level pliers is the result of such passion and determination. They are made of fully machined titanium and comes with a matte coating that is fitted with a "Cobalt Titanium Cutters and Super Halo Hinge" which makes them arguably one of the best angling pliers around plus it doesn't hurt that it fits every fisherman's needs.
It's extremely lightweight at just 3.9 ounces. It comes in 5.5, 6.5, or 7.5 inches in length. Boasting a holster made that is made from premium-grade of leather and an elastic lanyard plus a D-ring made from stainless steel.
DANCO Premio Titanium Pliers boasts fine craftsmanship with attention to every detail from the start of the process until the finish.
---
Pros
Professional grade product
Super Halo hinge is oversized
Genuine and premium molded leather sheath
Durable elastic lanyard plus a 304 stainless steel D-ring
Convenient and versatile
Cons
Not a very well-known fishing plier
---
What do people say about it?
It's hard to find legit reviews for this fishing plier but it looks like it works as advertised based on the little reviews we've found. Well, with a passion like that from the company it could be worth a try.
8.RUNCL Fishing Pliers S1
Saltwater proof, ergonomic, and one-handed operation, that's what the RUNCL S1 Fishing Pliers promises. Definitely a top brand in the industry this product won't let you down. It's got stainless steel textured jaw, a nice black Teflon finish, a convenient side-mounted carbide cutter, and an easy to manage the spring-loaded system.
The multi-purpose design will enable you to split rings, bait or weight your tuner, cut braid, remove hooks, tightening knots, and crimp weights.
Built with durable "stainless steel", the RUNCL angling pliers S1 shines in a black Teflon finish that illustrates the brand's commitment in both design and functionality. This coating also eliminates rust and corrosion mainly caused by saltwater environments over long periods of usage. It should be better than your average stainless steel fishing pliers.
The replaceable tungsten carbide cutter should be adequate to cut various types of fishing lines, especially braid lines. The anvil cutter that is side-mounted should be for an improved line of sight and also control. This should allow you to cut lines as close to knots.
These vented fishing pliers are fitted with a tough and non-slip PVC grip. It's super ergonomic with finger grooves for comfort and superior control. It's sure to excellently work in your hands for a confident and solid grip in wet or slippery conditions. That should come in handy for sure.
---
Pros
Durability and rust resistance is top-notch
Black Teflon finish
Angling-Specific Design
Tungsten Carbide Cutters
Ergonomic Handle
Comes with a sheath and a self-coil lanyard
Cons
May have a hard time cutting braids of more than 10 pounds
---
What do people say about it?
At 4.9 out of 5 stars and 95% 5-star ratings on Amazon, it is definitely a top-quality fishing product. It's got fewer reviews though but still, a lot of people are raving over its quality and that it is a great value for money.
9.Wolfyok Aluminum Fishing Pliers
Our penultimate entry on our best fishing pliers review is the Wolfyok Aluminum Fishing Pliers. Wolfyok enters the fray with its best offering yet. Of course, this model is light and durable. Wolfyok Fishing Pliers are crafted with aircraft-grade aluminum.
This is a setup for great capabilities and saltwater resistance. It weighs a mere 0.218 pounds (0.098 kilograms) and includes a lock for safety. This pliers has a multi-purpose design and let's discuss a few of them.
The titanium-coated stainless steel jaws make these pliers more durable. So it is perfect as a split ring opener. The design allows for easy ring removal from either bait or a hook. The sharp tungsten carbide cutters come with an exceptional cutting strength. This makes it super easy to cut even the strongest fly lines, braided lines, or even the heaviest monofilament leader.
At the same time, the jaws can also be utilized to crimp sleeves and leads. It's also designed with bright colors so that you won't lose it easily. It could get a bit busy when fishing and sometimes visibility is a bit low, so it's perfect for that fishing trip for sure.
It's unlike anything you've ever wanted and we recommended that you order yours now!
---
Pros
Tough Stainless Steel Jaws
Tungsten Carbide Cutters that can be replaced
Spring-loaded and anti-slip handle
Bright color options for high-visibility
One wire coiled lanyard, One nylon sheath, and one Lock
Cons
Rust resistance a bit wanting
---
What do people say about it?
Very decent reviews online this product has got. With 4.5 out 5 stars on average and 73% 5-star ratings these fishing pliers are of good quality. No doubt it's essential to your next fishing expedition.
10.Bubba Blade Fishing Pliers
Last but definitely not least on our best fishing pliers list is the uniquely designed Bubba Blade 7.5 Inch Angling Pliers.
The brand assures you that once you try their fishing pliers then it should stay on the number 1 spot of your wish-list. It's got durable side cutters and carbide lines that are ready to take on anything.
The "leader sleeve crimping cutouts" and "split shot" will be useful when in a pinch. Bubba makes sure that their angling pliers maintain the same consistent quality and grit across all their products. These fishing pliers are made with a non-slip handle resulting in a reliable tool that you can count at all times.
The 8.5 inches version of this model features a long nose to help handle even the most challenging catches. All Bubba pliers are made from corrosion-resistant aluminum handles and a body that makes sure that your pliers live for a very long time.
The handle is spring-loaded that in turn provides high leverage along with a manageable process to remove hooks. Do you think this is the pliers for you? Then it's highly recommended by us too, go get one now!
---
Pros
Great combination of style and quality design
Ti-Nitride coating
Spring-loaded
Nice grip on the handle
Cons
Some issues on the jaws have been reported
---
What do people say about it?
With 67% 5-star ratings and 4.2 out of 5 stars, this Bubba fishing pliers isn't doing too badly. It just needs to work on its consistency, but with a passionate brand like this, it won't take long until they can iron out some of their shortcomings. Still, a very decent buy though and a great tool to have.
Fishing Pliers Comparison Table
| | | | | | |
| --- | --- | --- | --- | --- | --- |
| | | | | | |
| | | | | | |
| | | | Needle Nose and Split Ring | | |
| | | | Needle Nose and Split Ring | | |
| | | | | | |
| | | | | | |
| | | | | | |
| | | | | | |
| | | | Needle Nose and Split Ring | | |
| | | | Needle Nose and Split Ring | | |
| | | | | | |
Our Top Pick!
Our choice for the best overall fishing plier is – the Piscifun Aluminum Fishing Pliers!
Best and most reviewed product on our list
Great versatility and efficiency
Tried and tested durability
Handy and convenient to use
Great value for money
Best Fishing Pliers Buying Guide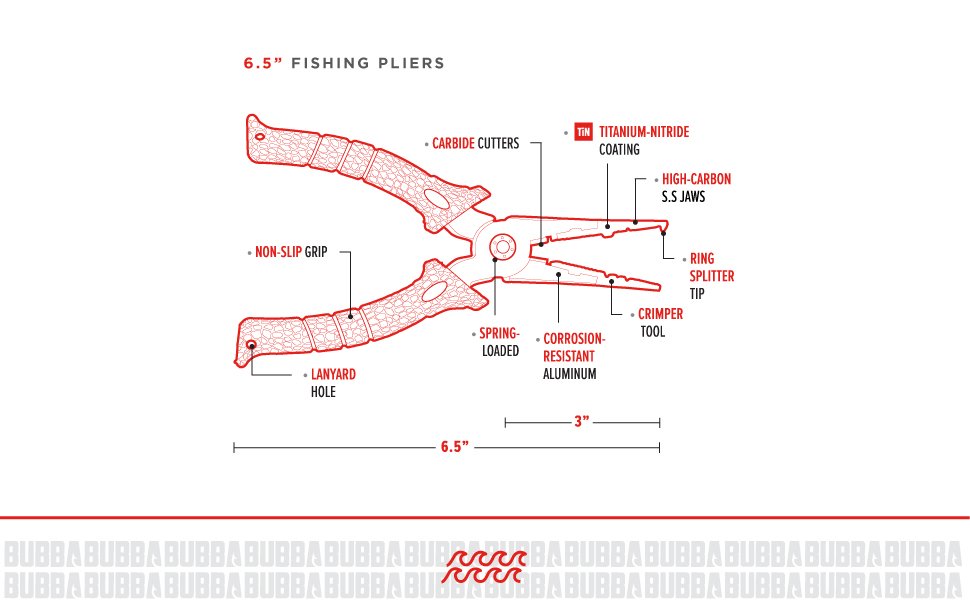 Let's dig a little deeper into this section and discuss the important things that you need to consider and know when it comes to buying fishing pliers. We'll also try to discuss a few in-betweens so that you'll enrich your fishing knowledge at the same time.
What are the different features/components of fishing pliers that you should watch out for?
To know what to look for, we think it's important that we know the components of fishing pliers. Let's discuss the essential parts and the features that make it a valuable tool.
Handle Grips
The handle should offer a comfort grip, from here you should also feel its weight (ideally lightweight). This part is almost half of the pliers so it's only natural that you should want it to be top-notch.
Most manufacturers use aluminum for the handle to keep it not only lightweight but also durable. Furthermore, some fishing pliers will not have molded finger grips and most of the time would have rubber or plastic covering for it instead.
One thing to take note of is that when the handle is covered with either rubber or plastic, overtime the grip would lessen. Some people prefer pliers without any cover as it provides a long-lasting and better grip on the handle.
Your lures, slime, and water can make the grip slippery. You need to be above to release your catch fast and not fumble around so a nice grip is important for faster operation. Also, pliers with a shaped grip tend to be better. Try it out first and feel the comfort before deciding to buy.
Nose / Jaws
Do you fish in saltwater or freshwater? Oftentimes, saltwater fish are larger and have more teeth. So consider buying pliers with longer nose or jaws. See how important this component is? It will make all the difference come fishing time.
Fishing pliers have unique jaws compared to your needle noose or standard pliers. They are more dynamic, more varied crimping sizes, and offers a better grip. With shallow and deep teeth options for the jaws, you will work on a variety of hooks, rings, or wires.
Jaws are typically made of better materials than the handle as it is the main component of your fishing pliers. It handles a lot of the work.
Line Cutters
Another heavy-duty part of your fishing pliers is your line cutter. It's useful for well, cutting mainlines, tag ends, and leaders. Your line cutter must work on braided line easily as well as heavy-duty wires. You shouldn't have different types of cutters for different types of lines, which would only be inefficient.
The same as with your jaws and nose, the line cutter should also be made from high-end materials. It should also stay sharp and be rust free. Look for line cutters that are made from tungsten or high-carbon stainless steel.
The line cutters are either located at the top of the lower end of your fishing pliers' jaws. A solid side cutter will get rid of a hook's shank rather easily. Inexpensive or poor quality ones will break easily and you'll be left with no-tool if you're in the midst of your fishing trip.
Split Ring
This component is definitely a welcome addition to your fishing pliers. Ask yourself when buying fishing pliers, do you work often on smaller terminal tackle components? If the answer to that is yes then consider a tool that has a split ring.
A good example is when you're making your own spinners or blades or when you're working with split rings to change out hooks. You can't do these jobs by your fingers alone, can you?
This feature is very important when you need to change or replace a triple hook on your lure. You'll be fumbling around with your fingernails in setting up split rings if your fishing pliers won't come with it. For us, it's a must-have, no doubt about it.
Lanyard / Sheath
You would want your fishing pliers to be with you at all times. Most of these tools are easy to carry around because they are of the right size and quite lightweight.
Lanyards are typically made of either nylon, rubber, or wire and it is important for it connects the pliers to yourself at all times. You really wouldn't know when you're going to need it so you always want it on you at all times.
There are a lot of ways that these lanyards attach to you. You can attach them either on your clothes, vest or waders. A sheath is obviously the holder for the fishing pliers. Pretty much what a holster is to a gun.
Not optional too if you'd ask us. A lanyard and a sheath should be automatic with what you will look for a product should you decide to buy fishing pliers.
How to Care for Your Pliers?
It is important that we properly take care of our fishing pliers so that we can get our money's worth and maximize its durability.
Grease it up
A lot of these fishing pliers are rust and corrosion-resistant. But rust and corrosion are nasty stuff that always finds their way into our valuable instruments. So, if you're using your fishing pliers often, then it's only natural that it is exposed to a lot of elements.
It's important to make sure that your fishing pliers (especially the versatile ones) are clicking in all cylinders by greasing it up once in a while.
Careful what you cut with it
No matter how sharp and versatile your fishing pliers are, they are still made for specific functions. We're especially talking about its ability to cut. We need to make sure that you are careful with what you use it for.
Cutting only what it is meant for is one of the best ways to prevent damaging it.
Sharpen it with care
If you are a hardcore angler and fish all the time, chances are your fishing pliers need some sharpening. Be sure to sharpen it regularly for utmost performance and at the same time preserve its quality.
Store properly
Lastly, be sure to keep it in its proper place when you aren't using it. This is an often disregarded practice but it's one way to maximize the quality of any tool. Storing it properly should keep it away from the elements, plus you don't risk losing it.
FAQs (Frequently Asked Questions)
1. What are fishing pliers used for?
Answer: Fishing pliers are perhaps the most unheralded tool in your fishing gears. They have tons of uses and can be the best hook removers, can be utilized for crimping, cutting fishing lines, pulling hooks out of your catch, and so much more. They are easy to carry around because of their size and weight. Plus they are efficient and versatile tools. Definitely a must-have for both beginners and seasoned anglers.
2. How do you wrap fishing pliers?
Answer: you can wrap your fishing pliers' handle with a tuna cord for the best grip. Use a paracord for that custom look. You can also use Flex Coat a 2 part rod building epoxy which you can just buy on any tackle shop.
3. How do you use Needle Nose fishing pliers?
Answer: Needle-nose pliers can be sued for a variety of applications. They are perfect for reaching tight spots where your regular pliers won't work. They can be utilized to grip multiple wires and pick up tiny screws with a strong secure grip.
Hobbyists adore needle-nose pliers as they are perfect for elaborate projects oftentimes with small objects. They are used for jewelry-making and a lot of other industries. You should get a tight grip on your needle-nose but apply gentle force while using it. Some extra pre-caution for you though. They should not be used to cut large and hardened wires, and in any circumstance be used for live electrical wires.
4. How do you use Rapala pliers?
Answer: Rapala pliers are some of the best in the industry. They are sturdy, versatile, and innovative. Using them should be pretty easy. With its unique mag spring design, Rapala pliers can be utilized when only one hand at times, it depends on the situation. They have soft-grip handles and are extremely durable. You can't go fishing without it.
5. How to sharpen fishing pliers?
Answer: You can use an emery board, knife sharpener or file tool to sharpen your fishing pliers. Watch out if there are nicks present on it then you will need to utilize your knife sharpener or file tool to flatten it all out.
All you need to do is follow with a file along the blades going in a diagonal direction. Make sure to cover the entire surface of your cutting blade to give it uniform sharpening. You should be able to sharpen your fishing pliers in no time using these tools and this process.
6. What are the best manufacturers of fishing pliers?
Answer: Some of the best brands that manufacture fishing pliers are Piscifun, Booms Fishing, Kastking, MadBite, and Van Staal.These and the ones that we listed down for you above. It will definitely be worth checking them all out to have a well-informed choice for your next purchase.
7. What are the gears I need to bring when going out fishing?
Answer: Aside from your usual fishing rods, lures, traces, and of course now your fishing pliers, you must make sure to bring the following (depending on the weather condition too): Hat, extra pair of socks, extra pairs of shoes, pants, a jacket or vest preferably with lots of pockets, a windbreaker, change of clothes and some towel.
The following should also be handy additions to your tools: fishing net, long-nose pliers, knives, ice chest, and tape measure if you want to document your catch.
How-to – Guide to Fishing Pliers
Final Thoughts
By now we hoped you picked up a thing or two when it comes to improving your fishing game. These best fishing pliers should be a welcome addition to your arsenal of tools. On the other hand for the seasoned anglers, you may have discovered a new brand or pair of fishing pliers to try on next.
These handy and convenient tools will make a huge difference in our fishing expedition. They can be used in a pinch which could change the flow of our game. After all, fishing sessions should be fun, exciting, and memorable. So go out there and don't forget to enjoy it!
Sale
KastKing Cutthroat 7 inch Fishing Pliers, 7 inch Split Ring Nose
Corrosion Resistant Stainless Steel – The KastKing Cutthroat pliers are made from corrosion resistant 420 stainless steel and coated with a tough Teflon coating for added protection. Our stainless steel pliers are 46% harder than aluminum pliers and nearly 3 times the bending strength of aluminum pliers. Designed for long term performance, these pliers are ideal for both freshwater and harsh saltwater environments.
Tungsten Carbide Cutters – Super hard tungsten carbide cutters slice though mono, fluorocarbon, or braid with ease. Side mounted anvil cutters for easy access, these cutters allow you to cut your tag end as close to the knot as you desire without any obstructions and the raised surface behind the blade ensures your line will always be in the cutting zone.
Multi-Function Jaws – Grab and remove any fish hook with the serrated jaws or take advantage of the crimping slots to secure a split shot weight or build a steel leader. To cinch down a knot quickly and safely, insert your hook into one of the holes in the jaws and pull on your hook to create a tight knot. Available in both a straight nose and a Split ring nose design.
Rubber Handle – The ergonomic textured rubber handle provides comfort and control. A thin grip profile and the spring loaded jaws allow for easy one hand use without worrying about the pliers slipping out of your hands.
Sheath/Lanyard Included – Includes a custom molded sheath with belt clip to ensure your investment is protected from normal wear and tear. Clip on to your belt or the waistband of your shorts, to make sure you have quick access when a fish is on the line and the coiled lanyard will ensure your pliers don't fall overboard!
Calamus A7 Fishing Pliers, 7 inch Split Ring Nose, Blue Handles
KEY FEATURES – Super lightweight and highly corrosion resistant E-coated aircraft aluminum 7" fishing pliers and line cutters - Vanadium cutters easily cut through mono, fluorocarbon and braid fishing lines – Crimp split shot or build leaders – Sure grip rubber handle – Spring loaded locking handle - Calamus A7 pliers are a great fishing tool and a handy fishing accessory to add to your fishing gear collection.
LIGHTWEIGHT & CORROSION RESISTANT – The Calamus A7 fishing pliers are 7 inches long, made from lightweight aircraft aluminum and coated with a tough E-coat for excellent saltwater corrosion protection. Our rigorous E-coating process ensures every square inch of these saltwater fishing pliers are coated for a super corrosion shield. A great addition to your fishing tools, these fishing pliers perform great in both freshwater and harsh saltwater environments.
VANADIUM CUTTERS - These durable and sharp fishing line cutters effortlessly cut through mono, fluorocarbon, or braided fishing lines. Side mounted cutters permit easy access to cut your tag end as close to the knot as you want without any obstructions. Vanadium steel alloys are used in automotive gears, axles and crankshaft because of its toughness and durability.
MULTI-FUNCTION JAWS AND HOOK REMOVER – Grip and remove any fishhook with the 2-inch serrated jaws or take advantage of fishing accessories like the crimping slots to secure a split shot weight or build a steel leader. To safely cinch down a knot, clamp the jaws around your hook using one of the two holes in the jaws and pull your hook to tighten a knot. A locking spring-loaded handle makes it easy to use your plier with one hand.
RUBBER HANDLE & SAFETY LOCK – The Calamus rubber handle material is comfortable and also helps to improve your grip. The featured safety lock makes it easier to store or manage the pliers. A custom molded sheath with belt clip protects your investment from normal wear and tear. We have also extended the sheath past the pliers nose to prevent damage to boat seats and left the bottom open to allow moisture to drain. Finally a coated coiled lanyard ensures your pliers don't fall overboard!