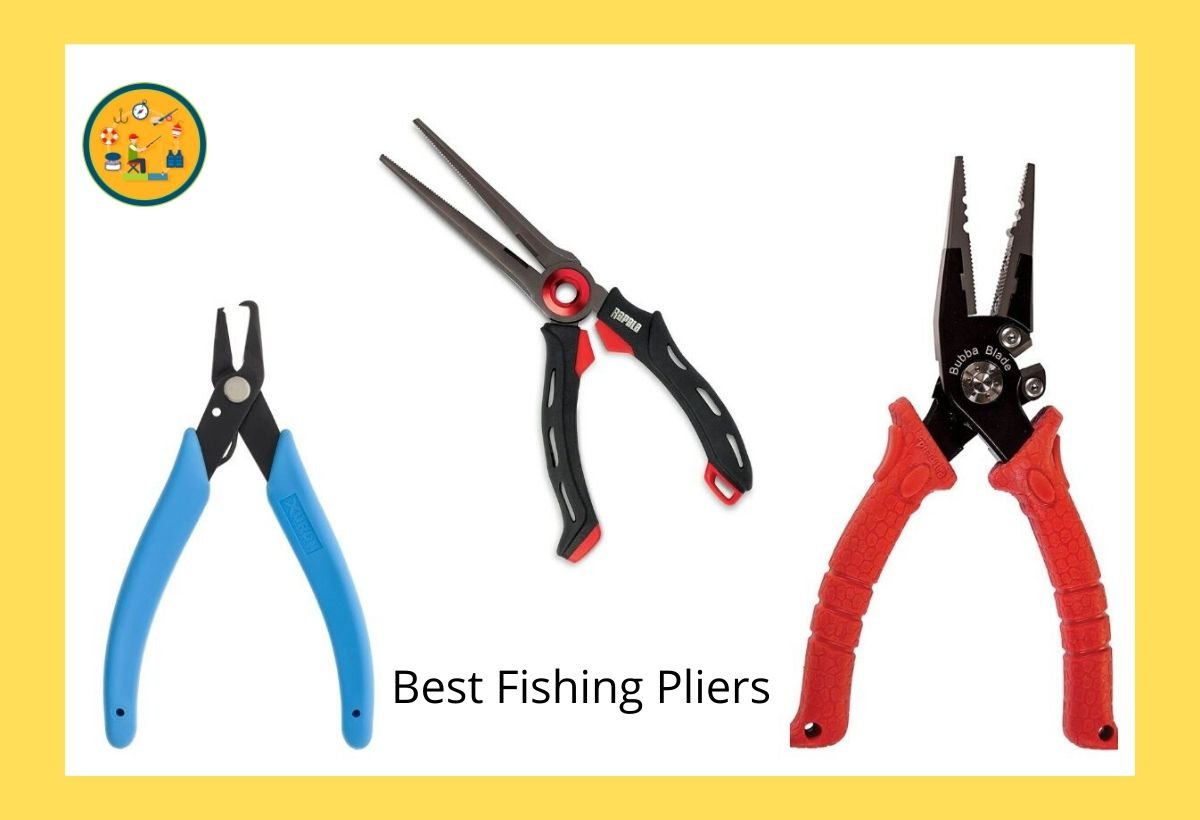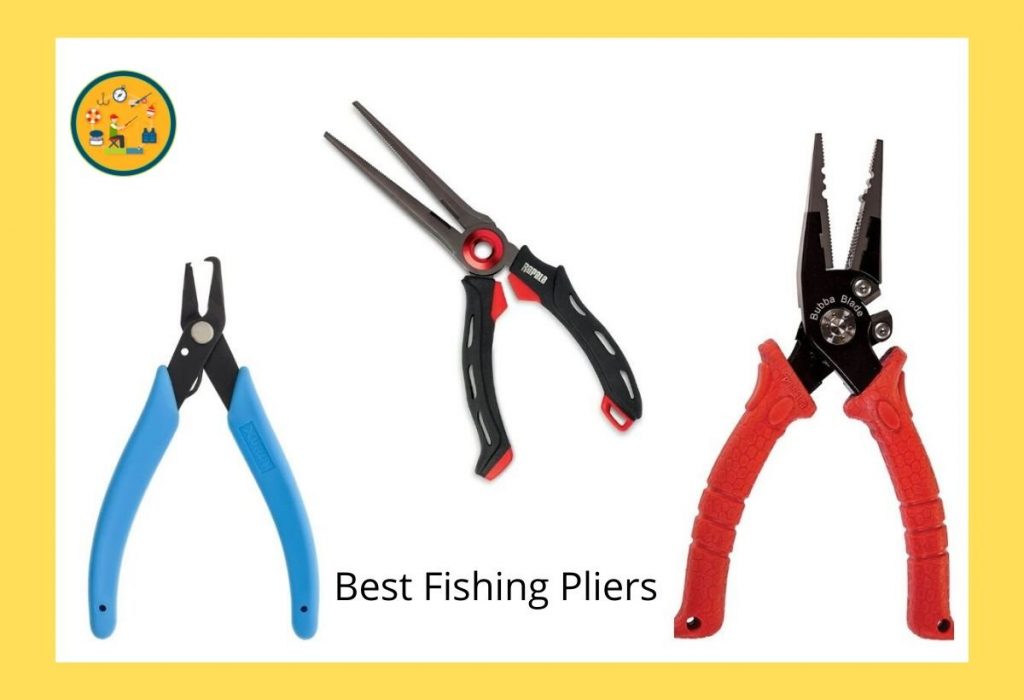 Going out fishing? What's in your bag? What are the gears you brought with you? Rods, lures, reels, traces, check! But wait, something is missing, aha! Where are your fishing pliers? Most newbie fishermen tend to not have a pair of fishing pliers with them. But that should change, and soon.
Pros and seasoned anglers, on the other hand, know how important pliers are for their fishing trip. It's a versatile tool that you can use for a variety of tasks like bending wires, retrieving hooks, cutting fishing lines, and splitting rings. No one should underestimate its importance.
Don't worry we're here to help. Our article right here is all about the best fishing pliers. We've reviewed a few of the top brands so that you'll know what to include in your next purchase. Let the fun begin!
Related article:
Top 5 Fishing Pliers Reviews!
1.KastKing Speed Demon Pro Fishing Pliers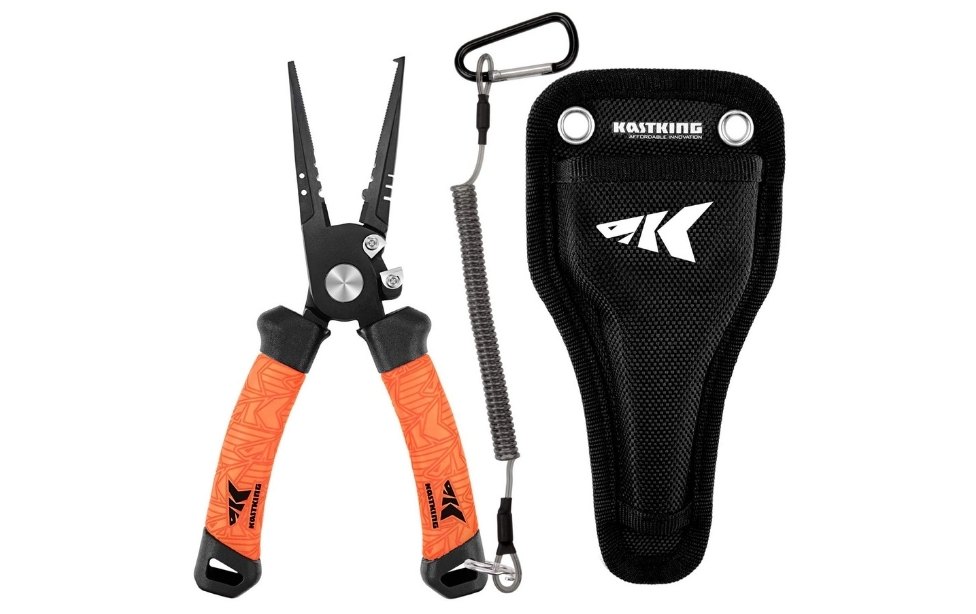 KastKing Speed Demon Pro is the perfect tool for the saltwater angler. It is built with 420 stainless steel, it is corrosion-resistant and extremely durable. These stainless steel angling pliers are 46% sturdier and have almost three times higher bending strength compared to aluminum pliers.
And if that is not enough the KastKing also coated with a Teflon coating creating a hard outer shell to protect against corrosion and damage. The Tungsten carbide cutters will easily cut fluorocarbon, mono, and braided lines.  Used for removing hooks, crimping weights, split shot crimping tool, integrated wire cutter…"
The anvil blades are rust-resistant too, while the side cutters will allow you to cut very close to the knots. A very versatile fishing tool with an easy-grip handle that should top it all off. A must-have in your next fishing expedition!
Key Features & More
Corrosion-resistant stainless steel
Best for the saltwater environment
SuperPolymer Grip Handles
Tungsten carbide cutting blades
Strength and durability.
Come with Molded Sheath and Coiled Lanyard.
2.Piscifun Aluminum Fishing Pliers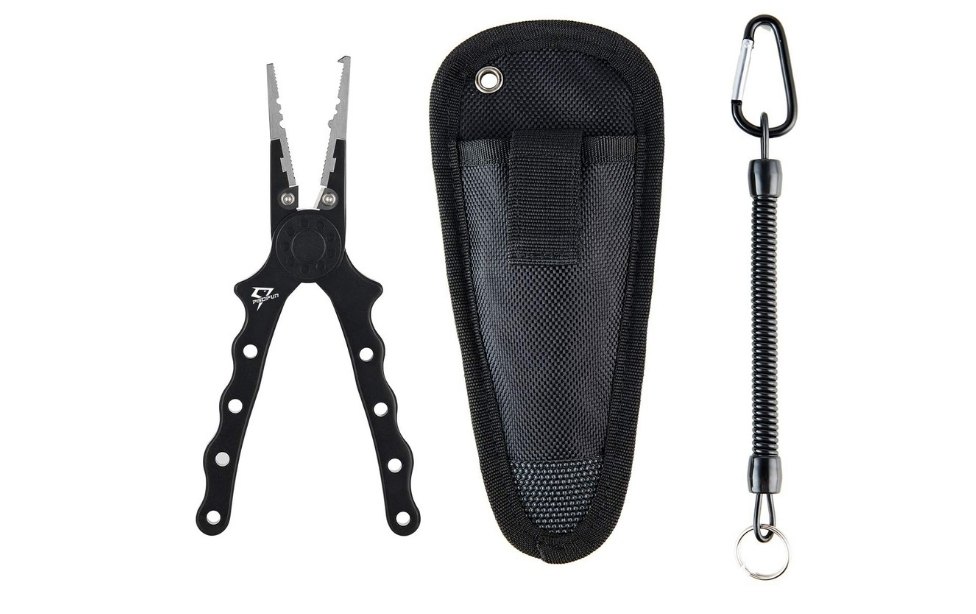 The second entry on our list is the Piscifun Aluminum Fishing Pliers. One of the most durable albeit lightweight pliers out in the market, it is multi-purpose and will definitely make those fishing trips a lot of fun through its efficiency.
The durable and powerful stainless steel jaws are coated in titanium and are lifelong corrosion resistant. It makes removing fishing hooks very easy! Cutting fishing lines would be a breeze. It's got replaceable tungsten carbide cutters that are extremely sharp designed to cut those braid fishing, fly fishing lines, monoline, and backing lines.
Piscifun aluminum pliers come with a coiled lanyard and a nylon sheath to boot to make it a convenient and easy-to-carry set of pliers. It's got an ergonomic aluminum handle that's machine-cut so it has a very comfortable feel. This is a full rust-resistant aircraft-grade aluminum. You are sure that your fishing pliers are of high quality and long-lasting if you choose this one, no doubt about that!
Key Features & More
Corrosion-resistant anodized Aluminum build.
Best for fly fishing and strongest braided lines.
Lightweight and comfortable.
Perfectly adapted to freshwater and saltwater.
Titanium-coated stainless steel jaws.
Tungsten Carbide Cutters.
3. RUNCL Fishing Pliers S1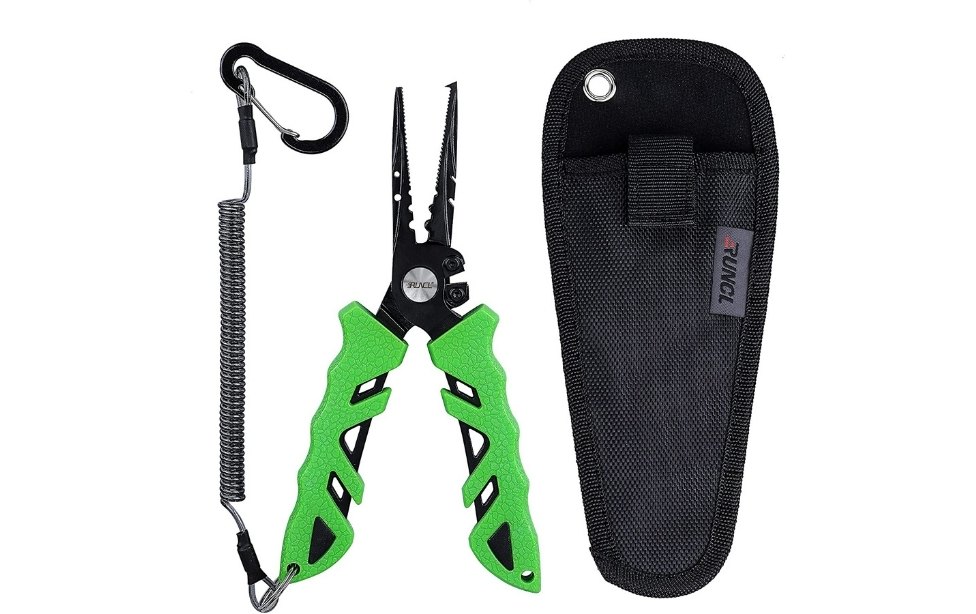 Saltwater proof, ergonomic, and one-handed operation, that's what the RUNCL S1 Fishing Pliers promises. Definitely a top brand in the industry this product won't let you down. It's got stainless steel textured jaw, a nice black Teflon finish, a convenient side-mounted carbide cutter, and an easy-to-manage spring-loaded system.
The multi-purpose design will enable you to split rings, bait or weight your tuner, cut braid, hook removal, tightening knots, and crimp weights.
Built with durable "stainless steel", the RUNCL saltwater pliers shine in a black Teflon finish that illustrates the brand's commitment in both design and functionality. This coating also eliminates rust and corrosion mainly caused by saltwater environments over long periods of usage. It should be better than your average stainless steel pliers.
The replaceable tungsten carbide cutter should be adequate to cut various types of fishing lines, especially braid lines. The anvil cutter that is side-mounted should be for an improved line of sight and also control. This should allow you to cut lines as close to knots.
These vented fishing pliers are fitted with a tough and non-slip PVC grip. It's super ergonomic with finger grooves for comfort and superior control. It's sure to excellently work in your hands for a confident and solid grip in wet or slippery conditions. That should come in handy for sure.
Key Features & More
Coated stainless steel jaws.
Tungsten carbide line cutters
Corrosion resistance stainless steel
Perfect for freshwater & saltwater use.
Come with Nylon Sheath and Coiled Lanyard.
It's a Braid Cutter, Split Ring Opener, Weights Crimper, Hook Remover, and Fish Gripper all in one
4.Rapala Mag Spring Pliers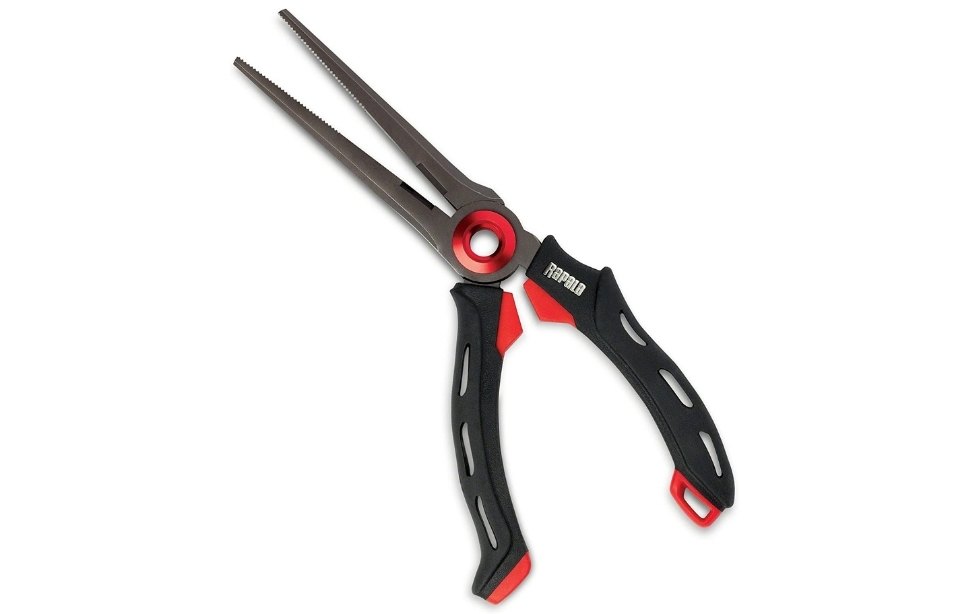 Another versatile and multi-purpose plier on our list is the Rapala Mag Spring Pliers. The Mag Spring Plier's most prominent feature is a "Mag-Spring" to always keep your pliers open and ready for action.
It's highly innovative and convenient to use especially when you are in the middle of your fishing session. Rapala is a brand that doesn't stop innovating and they are very passionate about what they do.
The Spring Pliers also feature an angled design that is easy to maneuver right into a fish's mouth. This angled design is super ergonomic, and it allows you to keep your hand out of the way especially when taking out hooks which will enable you to actually see what you are working on. The "Stainless Steel with Tin-Nickel Alloy Plating" makes it extremely durable and tough so that you'll have lots of fishing trips with it.
Key Features & More
Serrated Jaws
Fishing line cutter
Comfortable Handles
Available in both 6 inches and 8 inches lengths
5. Premio Danco Titanium 6.5″ Pliers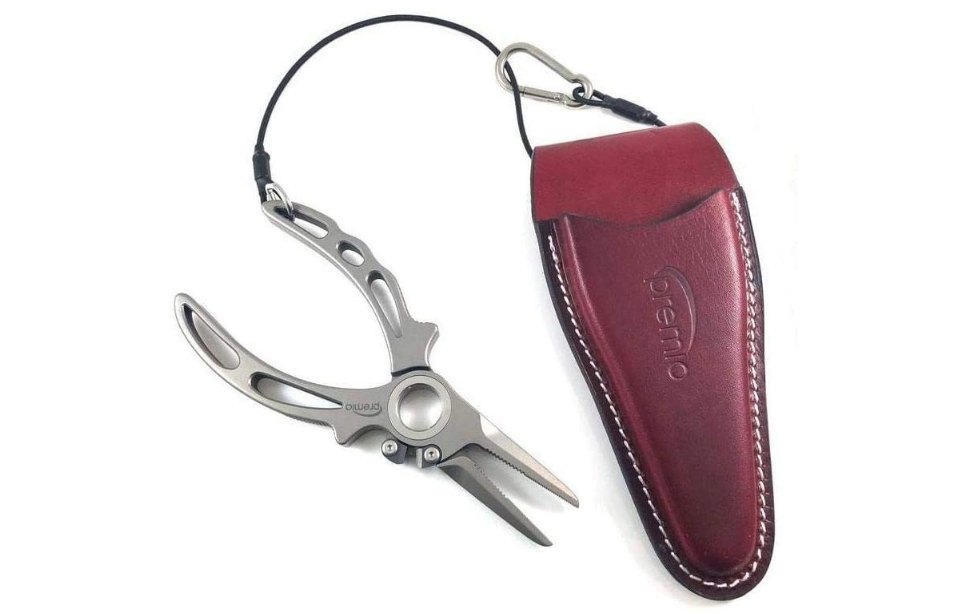 We're getting into the thick of our discussion and now we introduce the Premio Danco Titanium 6.5″ Pliers. Premio Danco wanted to take fishing pliers to another level. This company is so passionate about taking a huge leap forward in the industry by making a pair of high-quality pliers that any angler in the world would want but at the same time wouldn't have to go too deep into their pockets.
These new Premio level pliers is the result of such passion and determination. They are made of fully machined titanium and comes with a matte coating that is fitted with a "Cobalt Titanium Cutters and Super Halo Hinge" which makes them arguably one of the best angling pliers around plus it doesn't hurt that it fits every fisherman's needs.
It's extremely lightweight at just 3.9 ounces. It comes in 5.5, 6.5, or 7.5 inches in length. Boasting a holster made that is made from premium-grade of leather and an elastic lanyard plus a D-ring made from stainless steel.
DANCO Premio Titanium Pliers boasts fine craftsmanship with attention to every detail from the start of the process until the finish.
Key Features & More
A hundred percent machined bar and stock Titanium
Super Halo hinge is oversized
Titanium Cobalt side cutters
Genuine and premium molded leather sheath
---
Fishing Pliers Buying Guide
To know what to look for, we think it's important that we know the components of fishing pliers. Let's discuss the essential parts and the features that make it a valuable tool.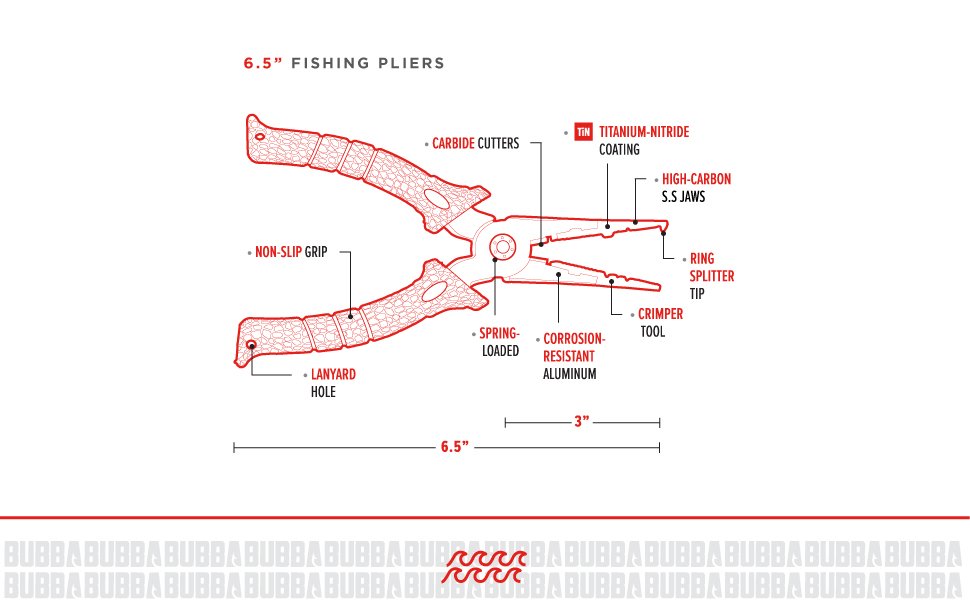 Handle Grips
The handle should offer a comfortable grip, from here you should also feel its weight (ideally lightweight). This part is almost half of the pliers so it's only natural that you should want it to be top-notch.
Most manufacturers use aluminum for the handle to keep it not only lightweight but also durable. Furthermore, some fishing pliers will not have molded finger grips and most of the time would have rubber or plastic covering for it instead.
One thing to take note of is that when the handle is covered with either rubber or plastic, over time the grip would lessen. Some people prefer pliers without any cover as it provides a long-lasting and better grip on the handle.
Nose / Jaws
Do you fish in saltwater or freshwater? Oftentimes, saltwater fish are larger and have more teeth. So consider buying pliers with longer noses or jaws. See how important this component is? It will make all the difference come fishing time.
Fishing pliers have unique jaws compared to your needle noose or standard pliers. They are dynamic, varied crimping sizes, and offer a better grip. With shallow and deep teeth options for the jaws, you will work on a variety of hooks, rings, or wires.
Jaws are typically made of better materials than the handle as it is the main component of your fish pliers. It handles a lot of the work.
Line Cutters
Another heavy-duty part of your fishing pliers is your line cutter. It's useful for well, cutting mainlines, tag ends, and leaders. Your cutter must work on braided lines easily as well as heavy-duty wires. You shouldn't have different types of cutters for different types of lines, which would only be inefficient.
The same as with your jaws and nose, the cutter should also be made from high-end materials like tungsten or high-carbon stainless steel.
The line cutters are either located at the top of the lower end of your fishing pliers' jaws. A solid side cutter will get rid of a hook's shank rather easily. Inexpensive or poor quality ones will break easily and you'll be left with no-tool if you're in the midst of your fishing trip.
Split Ring
This component is definitely a welcome addition to your fish pliers. Ask yourself when buying fishing pliers, do you work often on smaller terminal tackle components? If the answer to that is yes then consider a tool that has a split ring.
A good example is when you're making your own spinners or blades or when you're working with split rings to change out hooks. You can't do these jobs by your fingers alone, can you?
This feature is very important when you need to change or replace a triple hook on your lure. You'll be fumbling around with your fingernails in setting up split rings if your fishing pliers won't come with it. For us, it's a must-have, no doubt about it.
Lanyard / Sheath
You would want your fishing pliers to be with you at all times. Most of these tools are easy to carry around because they are of the right size and quite lightweight.
Lanyards are typically made of either nylon, rubber, or wire and it is important to it connects the pliers to yourself at all times. You really wouldn't know when you're going to need it so you always want it on you at all times.
There are a lot of ways that these lanyards attach to you. You can attach them either to your clothes, vest, or waders. A sheath is obviously the holder for the pliers. Pretty much what a holster is to a gun.
Not optional too if you'd ask us. A lanyard and a sheath should be automatic with what you will look for in a product should you decide to buy fishing pliers.
Best Fishing Pliers FAQs
1. How do you wrap fishing pliers?
Answer: you can wrap your pliers' handle with a tuna cord for the best grip. Use a paracord for that custom look. You can also use Flex Coat a 2 part rod building epoxy which you can just buy at any tackle shop.
2. How do you use Needle Nose pliers?
Answer: Needle-nose pliers can be sued for a variety of applications. They are perfect for reaching tight spots where your regular pliers won't work. They can be utilized to grip multiple wires and pick up tiny screws with a strong secure grip.
Hobbyists adore nose pliers as they are perfect for elaborate projects oftentimes with small objects. They are used for jewelry-making and a lot of other industries. You should get a tight grip on your needle-nose but apply gentle force while using it. Some extra pre-caution for you though. They should not be used to cut large and hardened wires, and in any circumstance be used for live electrical wires.
3. How do you use Rapala pliers?
Answer: Rapala pliers are some of the best in the industry. They are sturdy, versatile, and innovative. Using them should be pretty easy. With its unique mag spring design, pliers can be utilized when only one hand at times, it depends on the situation. They have soft-grip handles and are extremely durable. You can't go fishing without it.
4. How to sharpen fishing pliers?
Answer: You can use an emery board, knife sharpener, or file tool to sharpen your fishing pliers. Watch out if there are nicks present on it then you will need to utilize your knife sharpener or file tool to flatten it all out. All you need to do is follow with a file along the blades going in a diagonal direction. Make sure to cover the entire surface of your cutting blade to give it uniform sharpening. You should be able to sharpen your pliers in no time using these tools and this process.
Final Thoughts…
By now we hoped you picked up a thing or two when it comes to improving your fishing game. These best fishing pliers should be a welcome addition to your arsenal of tools. On the other hand for the seasoned anglers, you may have discovered a new brand or pair of fishing pliers to try on next.
More articles :
ZACX Fishing Pliers
Sale
ZACX Fishing Pliers, Fish Lip Gripper Upgraded...
✔UPGRADED FISH GRIPPER- ZACX improved the length of EVA Foam Handle till to 4.3inch for this classic T-handle grabber, this new fishing lip gripper with ergonomic to enhance hand strength and...
✔NEW DESIGN FISHING PLIER- New aluminum fishing pliers, it's feature elegant hollow out design and machine cut aluminum handles for reduced weight, multi-functional for braid line cutters...