If you are passionate about fishing, then you know bragging rights is an important part of the whole experience. The bigger the catch, the greater the satisfaction-that is how fishing works, in simple terms. So, any fishing hobbyist or professional would have a use for the best fishing scales in their boats.
In this article, we will try to breakdown why you would need to pack up a fishing scale before going on a fishing trip. We will analyze the characteristics of the best fish scales in the market so that you know what factors you need to keep an eye on while buying. Moreover, we will introduce you to 5 top-notch models.
Top 5 fishing scale Reviews!
1. Dr.meter Backlit LCD Display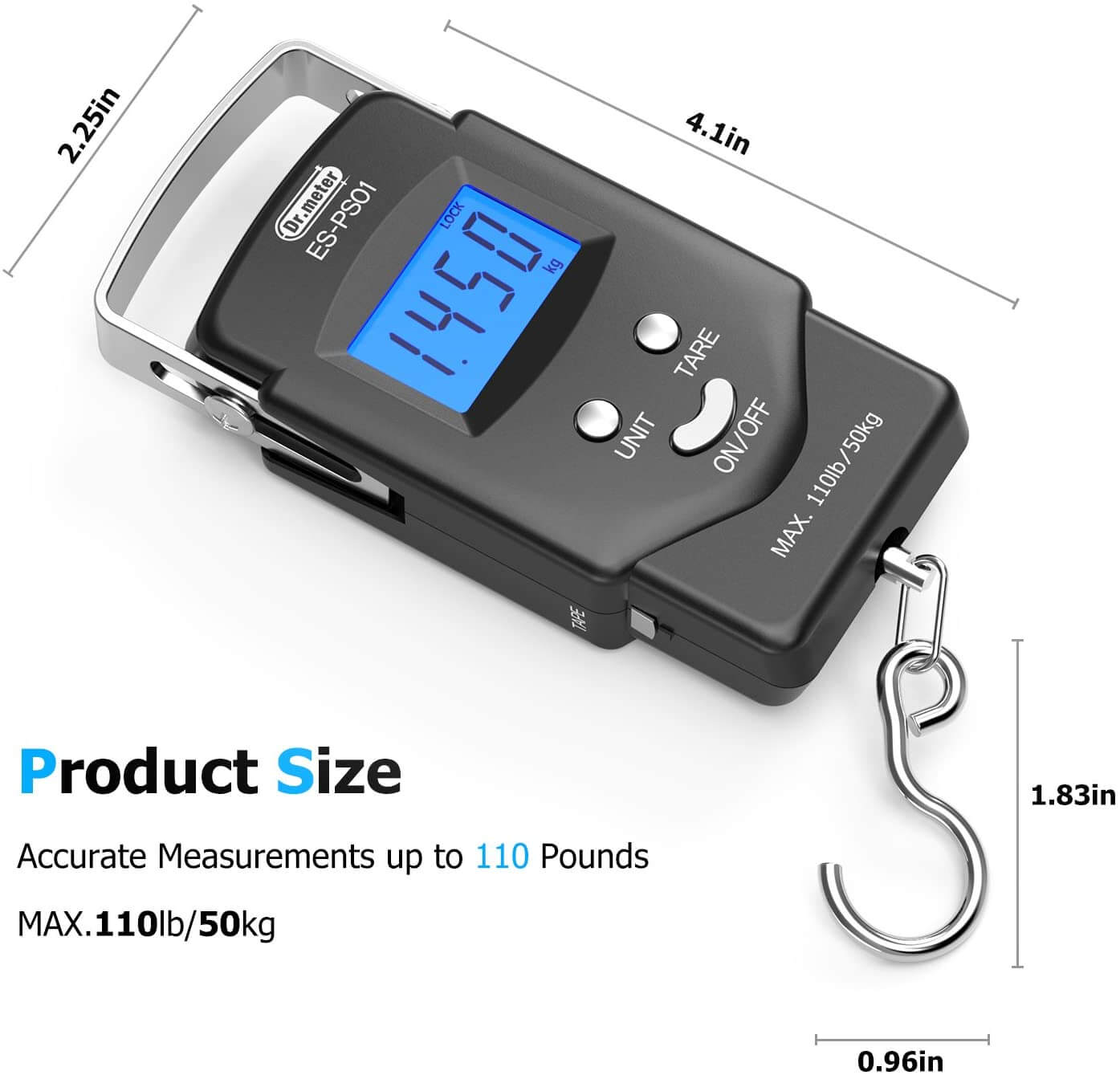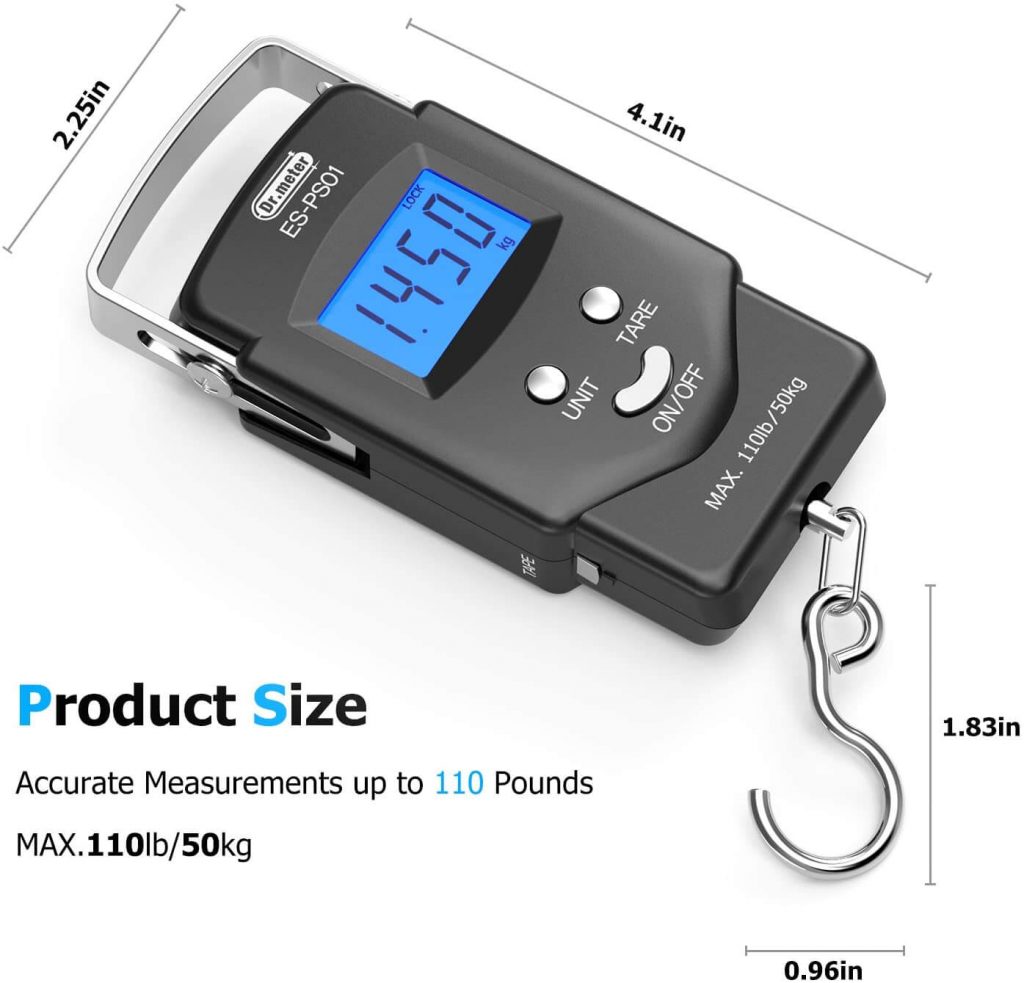 This Dr.meter comes at a surprisingly low price, but its offerings are comparable to far more expensive scales. It can weigh up to 110lb, which makes it a great choice for both serious and recreational fishermen. Two AAA size batteries power this unit, and the package contains two of them.
You have the option to choose between metric and imperial measurement systems. So, if you don't feel comfortable with the US measurement norms, you can change it with a simple push of a button. The stainless steel hook is rust free and can hold luggage, or any other weight within its weight limit besides fish.
Features
Built-In Measurement Tape: Want to know how long the fish is as well? Thanks to the built-in fish ruler, you can find that out too. The ruler comes in both centimeters and feet markings. It can measure up to 3 feet or 91.44 centimeters.
Rust-proof Metallic Hook: The hook of this scale has been made with high-quality stainless steel. The hook is sturdy and will not break off weighing fish or other items with a maximum weight of 110 pounds.
Auto-Off Function: After a period of inactivity, the scale turns off on its own. This feature accounts for an excellent battery economy. It prevents unnecessary consumption of battery and expands battery life.
---
Pros
Built-in measuring tape.
LCD screen and Two AA batteries for free.
Small enough for a tackle box and easy to use.
Cons
The screen is not easy to read in daylight.
---
2. Rapala 50lb Digital Scale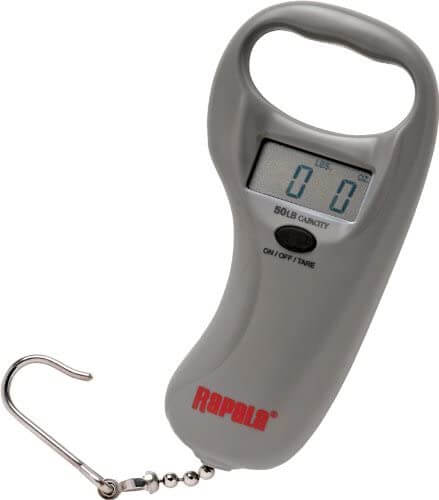 How about a scale that fits right into your pocket, but comes with a considerable weight ceiling? This handheld scale has a minuscule build, but if you think it foreshadows its incompetence, then you are dead wrong! This scale is all about portability and simplicity. It runs on a 9-volt battery, which gives it ample power to weigh as much as 25 pounds.
It is one of the best digital scales, considering the utility it provides. The Rapala 50lb Digital Scale has an ergonomic design that makes it very comfortable to grip. The weight distributes optimally to evade any uncomfortable pull in your hand while weighing a fish. The outer casing is waterproof to keep the electronic parts safe inside.
Features
Handheld Design: It is a small, lightweight unit that demands minimal storage space. It has a grip-friendly design that also minimizes the pressure exerted on your hand while using it.
Pound-Kilogram Convertibility: Not used to with the metric system? Or the other way around? This scale gives out reading in both measurement systems. So, you can choose to get your readings in any one of these formats.
Hook and Attachment Cord: To ensure better durability, the attachment cord and the hook of this scale have been made of stainless steel. It will not catch rust despite elongated use.
---
Pros
This fits well in a 

tackle

 

box

.
Ergonomic design.
Waterproof casing.
Cons
The casing is not durable.
---
3. KastKing Water Resistant Digital Fishing Scale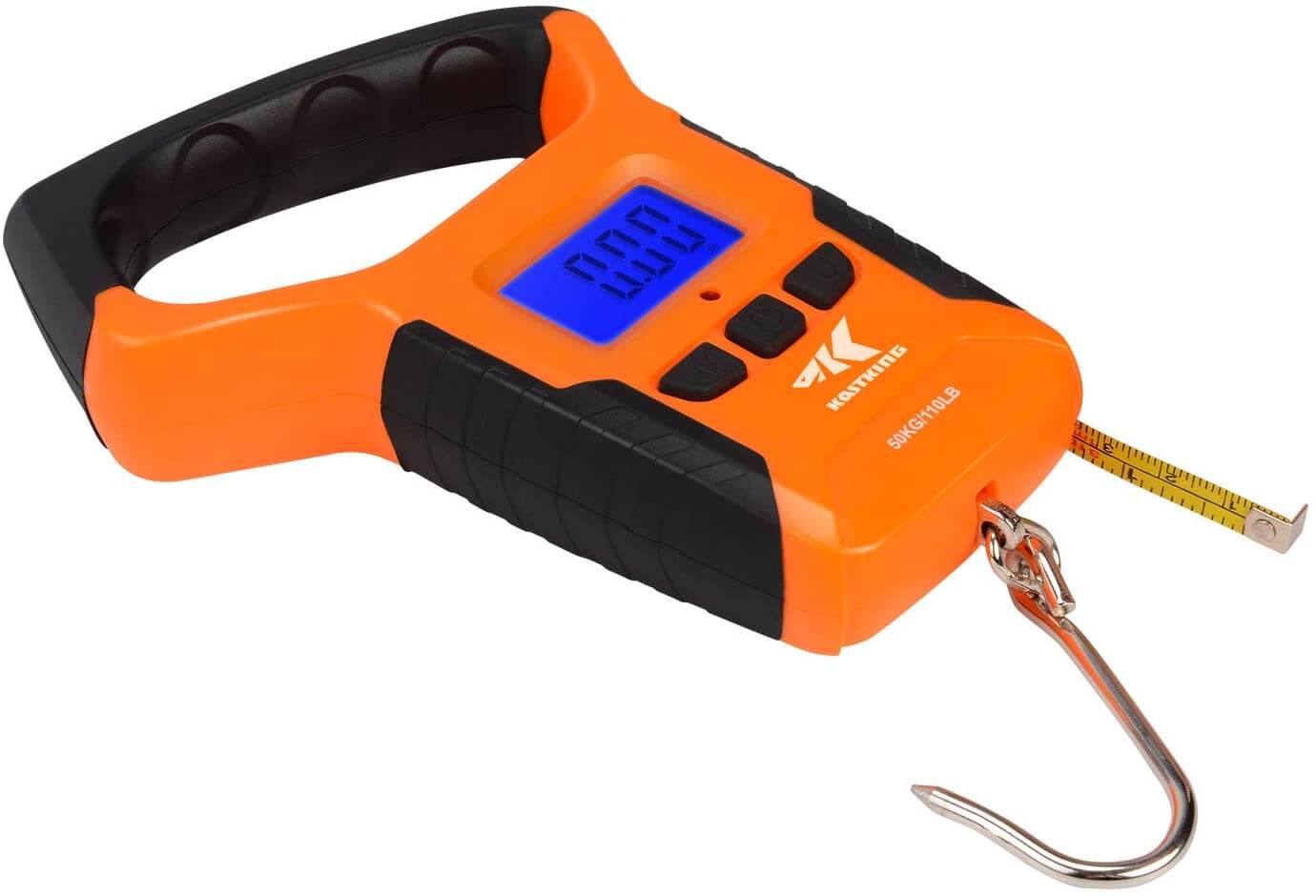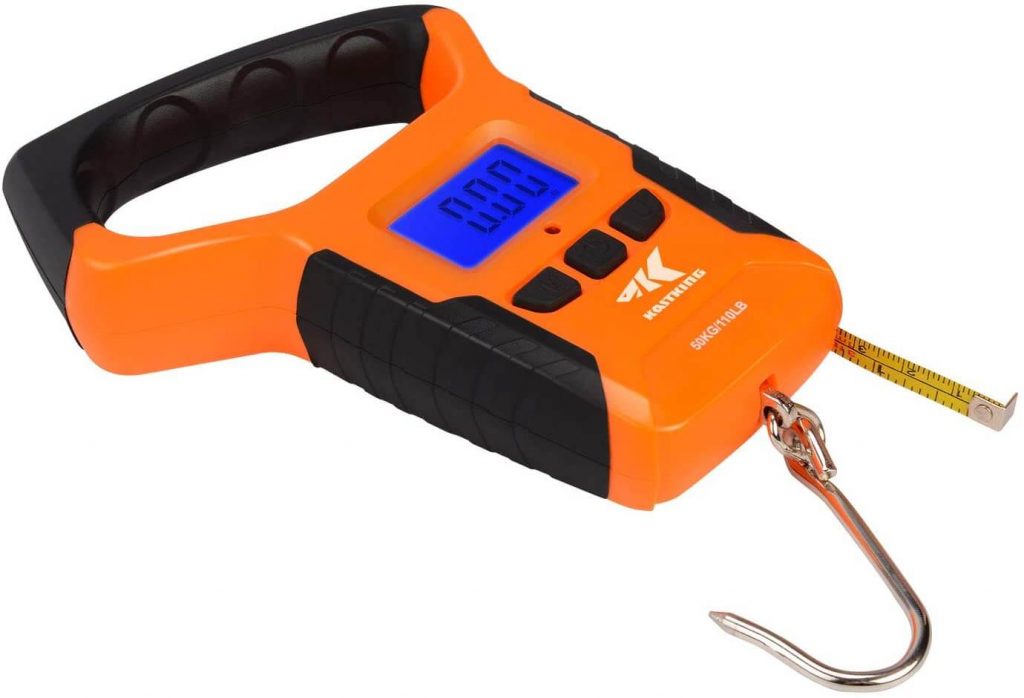 The KastKing Water Resistant Digital Fishing Scale is another compact scale to consider. It stands out for its ruggedness. If it slips off of your hands and falls in the ceiling or even the water, it will remain intact and fully functional. The ABS plastic exterior makes the scale incredibly sturdy and waterproof.
The maximum weight capacity of this scale is 110lbs, which is more than reasonable for a scale of this size. The large LED display gives out clear reading in low light conditions. The device includes a measuring tape that you can pull out of its slot and then simply push back to its place once you are done.
Features
Digital Storage: You can exploit the internal memory of this device and record some of your past measurements. The memory chipset allows you to store as many as 9 previous measurements.
ABS Construction: Acrylonitrile butadiene styrene, better known in its acronym form ABS, is one of the strongest compositions of plastic. The use of ABS on this scale has made it virtually indestructible and waterproof.
Auto-Off Function: If you leave it without using it for 4 minutes, it will shut down automatically. Doing so, avoids superfluous use of battery and ensures efficient power usage.
---
Pros
38-inch measuring tape.
Tournament fishing scale
Free batteries.
Digital storage for recording past measurements.
Cons
The grip is not comfortable.
---
4. Fishfun Fish Scale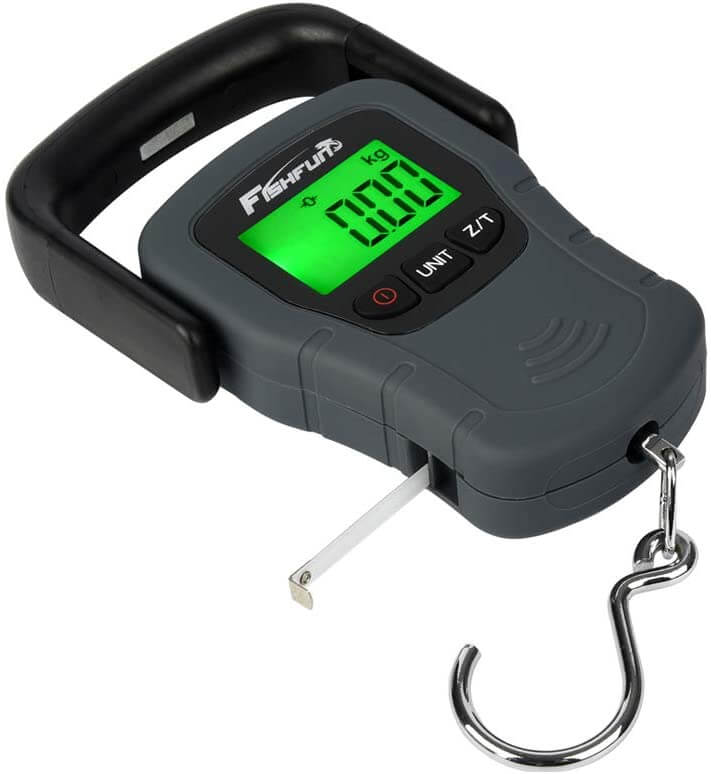 Despite the fish scale label, Fishfun fish scales are suitable for a variety of applications. The versatility of this device earns it a place on our list. It has three different weight modes that allow you to execute a handful of weight measurement operations. The 3-inch thick rubber overlay is a mindful touch that makes it very comfortable to hold the scale.
This is a scale built to adapt to the marine climate. It is anti-corrosive, water-resistant, and boasts a strong structural build. An 8mm aluminum alloy covering shields the internal components. The unit can load 110 pounds, which is more than the standard range most fishing personnel aim for.
Features
3 Weight Modes: Three different weight modes to perform three different types of tasks. The first and second setting deals with static loads and weight tracking issues, respectively. The peak/max mode substantiates compound bow draw weight.
Rubber Handle: The rubber-coated handle makes it very comfortable for the user to hold the scale while using it. It firmly fits one's fingers and reduces stress on your skin while weighing an object.
Power Saving Design: Shuts off after a minute of inactivity to save battery power. Moreover, its circuitry is specifically designed to bring down battery consumption when the scale is operational. If the backlight remains off, it can stay on for 120 hours.
---
Pros
Easy to read.
Water-resistant.
Large backlit LCD display
Built-in a tape measure.
Cons
The battery cover design is not satisfactory.
---
5. Fiblink Portable Fish Lip Gripper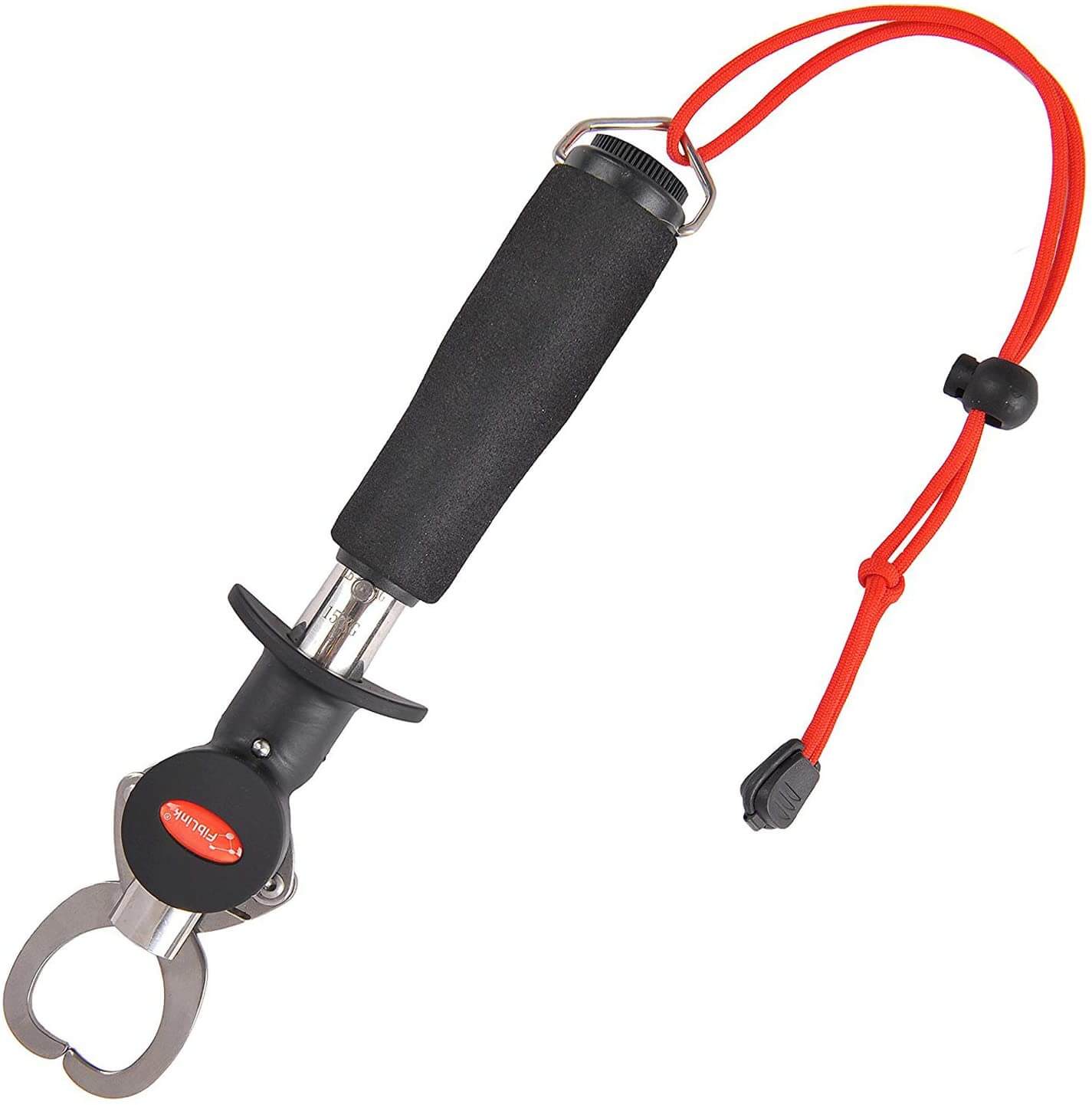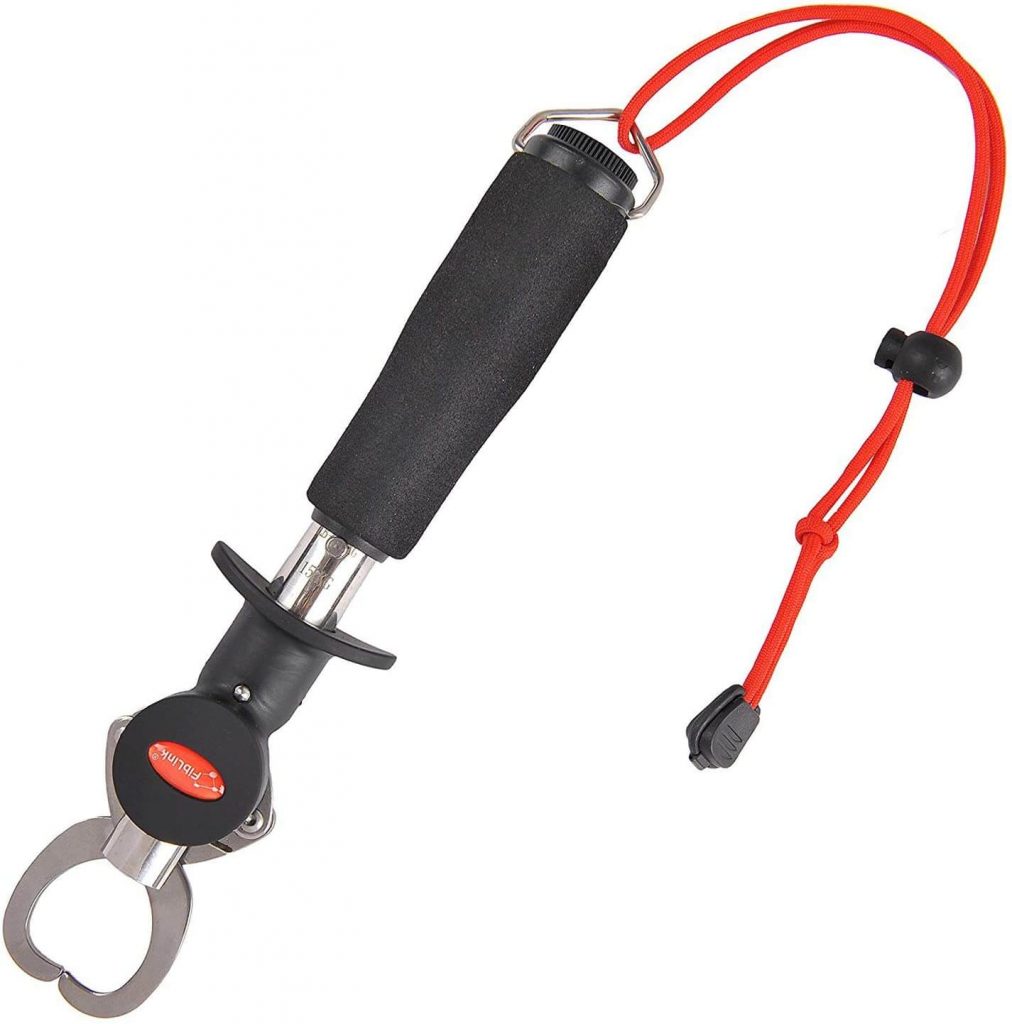 We will wrap up our list with a Fiblink Portable fish lip gripper.  Even though it is the final entrant in our selection, it is not the least competent one. It has a host of amenities to offer, which makes it an exceptional item to contemplate. If you are into sports fishing, you will find this scale conveniently useful.
The lip gripper tool makes it particularly easy for hanging fish. Just attach it to the lip, and you are good to go. This makes you weigh faster as you don't need to go through the trouble of hooking under the gills. You don't get to weigh more than 40lbs with this scale, but it should be enough to meet the needs of a recreational fisher.
Features
Body: The stainless steel body gives you the stability you would need to weigh the fish accurately. It also keeps the unit free from corrosion and makes it fairly immune to hits and blows.
EVA Handle: The rear end of this scale is coated with ethylene-vinyl acetate or EVA plastic. It makes the grip feel cozier and gives you better traction so that it doesn't accidentally slip out of your hand while weighing.
Premium Spring: The high-quality spring material used in this unit gives it a sizable load capacity of 40 pounds. This is an adequate weight range for those pursuing recreational fishing.
---
Pros
Easy to hook.
Sports fishing oriented design.
Slip-proof grip.
Cons
Lower accuracy than other scales discussed here.
---
Fish Scale Benefits
A fishing scale might seem nothing out of the ordinary. But, it's essential for competitive anglers, professional fishers, and fishmongers. Depending on your local regulations, there might be restrictions on the weight of fish you catch. To comply with the fishery conservation laws, you need to have a fishing scale around while fishing.
If you are catching fish commercially or selling it on retail, you can't do without a fishing balance. You would need it to quantify your fishing stock and know how much you are selling to your customers. Even though they are called 'fishing scales', you can use these scales to measure other things too.
 Fishing Ruler VS Fish Scale
Fishing rulers are also a utensil you might find useful while fishing. As we have already mentioned, there are regulations regarding the size and weight of your catch. If you have a ruler on board, you could measure the length of your catch accurately. By doing so, you can make sure you are not catching undersized fish.
These rulers don't need to be too big. You would need to measure the minimum fishing size for a particular species. Anything beyond that point bears no significance. In California, for example, you can't catch largemouth bass that is smaller than 15 inches. So, if you are fishing in Californian waters for largemouth bass, a 15-inch ruler would suffice.
You won't find much use for a fishing ruler in a fish and seafood market. Customers are more interested in the weight rather than the length of a fish they are interested in buying. Therefore, a fish scale is an absolute necessity for merchandisers, whereas a fishing ruler is more suited towards fishing personnel.
If you are considering purchasing a fishing ruler, you can consider buying fishing scales that come with a retractable ruler. Doing so, you can measure the length and weight of your catch using the same tool. Both fishing scales and fishing rulers are handy to have around for any angler. Unlike fishing scales, however, fishing rulers don't offer much versatility.
Fish Scales Maintenance Tips
Fish scales are fairly low maintenance. That said, there are some steps you can take to expand the lifespan. Taking off the batteries when you are not using the scale is a simple yet effective initiative to care for it. If you keep the batteries on too long, it might cause the internal components to rust.
To prevent oxidization, you should also wipe the scale dry after using it. In the case of saltwater exposure, rinse it with a cloth soaked in freshwater so that no sea salt residue remains on the surface. Put a known weight on it from time to time, to check whether it is properly functioning or not.
Fishing Scales Buyer's Guide
Whether you are a recreational fish hunter or a professional one, picking up the right fishing scale is no easy task. For selecting the best one needs to keep the following factors in consideration-
Purpose
The nature of your use will determine the type of fishing scale you should be going for. For commercial usage, you should be open to investing more. You would require business grade scales with larger pan sizes and higher weight capacity. You would be weighing a lot of fish together, so the scale has to be suitable for such challenges.
For personal and non-commercial applications, there is no point in spending an absurd amount of money. The pragmatic approach would be to look for lightweight and compact models that you can take along on your trips. Don't pay for extra features, if you don't find any use for them. Portability is a crucial aspect to contemplate in this regard.
Weight Range
As we had discussed in the previous section, your fishing requirements should influence your fishing scale selection. All fishing scales have a specified range, they can only accept weight until a certain level. Overloading it would put it at risk of permanent damage. So, you must be sure what weight range would benefit you the most.
If you want to measure your entire catch at once, you should aim for a weight capacity of around 50 pounds. But, if you don't mind showing a bit more patience and measure one fish at a time, a 20-pound capacity should be sufficient. This could be even lower if you mostly target species like largemouth basses, which weighs around 5 pounds on average.
Longevity
A fishing scale has to cope with a variety of difficult situations. It frequently comes in contact with water and weighs live fish, which could induce strong blows with their tails. Without an up-to-the-mark build quality, you will never get the best out of a fishing scale. So, make sure the scale you are buying can handle wear and tear.
The load cells tend to deteriorate with use, which compromises the accuracy of the scale. The load cell needs to be durable so that you can expect accurate results despite extensive use. Rust-resistance is a must-have property for fishing scales. If the exterior is susceptible to corrosion, it will not last long.
Auto Switch-Off (For Digital Scales)
Analog scales have a significant advantage over their digital counterparts. While digital scales run out of juice as soon as their batteries drain out, analog scales can go on and on without the assistance of an external power source. But, digital scales do have their parks (LCD displays, for example), so it won't be a bad idea to pick a digital scale if you have the budget.
A nifty trick to extend the battery life is to take them out every time after use. But, we often forget to do so and waste some precious battery life. Imagine scoring a giant fish only to found out your scale is not working because of dead batteries. Buy an auto-switch off model that turns itself off automatically and conserves battery power.
Fishing Scales FAQs
1. What Scale Do They Use In Major League Fishing?
Major League Fishing is the world's most prestigious bass fishing competition. The league uses Electro Samson scales from Brecknell. These scales feature a hook design and have bright LCDs with excellent readability. Major League fishing scales are available in three different weight variants-22lb, 55lb, and 99lb. These scales also boast tare functionality for accurate readings.
2. How Do You Use Digital Fish Scales?
Digital fish scales are very easy to use. Check whether the scale is switched on or not, before using it. If it's not on, switch it on then place the fish on the pan or hang it on the hook. The reading appears on the screen almost instantaneously. You can choose your preferred measurement unit by pressing the unit button.
3. How Do You Weigh A Fish Without A Scale?
It's possible to estimate the weight of a fish without using a scale. You would need a ruler to measure the length of the fish. Measure the length between the tip of its nose and the tip of its tail. Then, measure the girth at the fattiest region of its midsection. Then, apply the following formulas
Weight of a Thick Bodied Fish (Salmon, Cod): (length x girth²)/800
Weight of a Slender Bodied Fish (Mackerel, Trout): (length x girth²)/900
4. What Are Fish Scales Good For?
They don't occupy much space inside the tackle box so they can be carried around with ease. Anglers can know the total weight of their catches immediately and compare it with rivals. It's also a necessity for people who make a living out of fishing and selling fish. Since these scales are specifically designed to measure fish weight, they provide optimum accuracy while weighing fish.
5. Where Do You Hook Fish Scales?
Hook scales are lightweight and compact. Therefore, many anglers choose to use hook style fish scales. You have to attach the hook just below the gill plate of the fish to hang it. You can also use the lure as a dangling point if it is still stuck into the lip of the fish. Make sure the full body of the fish remains suspended in the air so that you can get a flawless reading. Wait a few seconds for getting a stable reading from the scale after hanging the fish.
FINAL THOUGHTS
A scale should be an indispensable part of any angler's arsenal. It doesn't only let you quantify your catch, it also eliminates the probability of catching underweight fish and allows you to fish lawfully.
The items we have reviewed here represent the best fishing scales in the market. You can choose any one of our reviewed models, or use the guidelines. Good luck.
Another top pick
Rapala Touch Screen Tourney
Sale
Rapala Touch Screen Tourney Scale 15lb
Large Digital Touch Screen. Heavy-Duty Composite Weigh Clamp or Stainless Steel Hook. Back-Up Memory.
8 Piece Culling System. 3 Weight Display Options. Water Resistant.
Reelsonar digital fish scale