Kayaking is a very popular activity among those who love to spend their free time on the waters. Whether you are a professional fisherman or you simply enjoy fishing during the weekends, kayaking is one of the best ways to ensure that you get the most out of your time away from land.
Now there are a few accessories that will not only make your experience more pleasurable but can turn out to be necessities at some point while you are out fishing.
One such item is the kayak anchor. A kayak anchor comes in super handy when you need your Fishing kayak to stay in place.
With an anchor to keep your kayak steady and idle, you can take a break and enjoy a chilled beer, or enjoy the view and take a few photos, all the while being secured regardless of the underwater terrain or how windy it is. It also allows you to catch more fish when you have found a good spot and want to stay in position for a while.
Now if you have never bought a kayak anchor before then we are here to help. We have searched the market and selected 7 of the best kayak anchors that are available right now.
To give you more information about these products, we have reviewed each one with its pros and cons, and also included a buying guide and other essential facts that will help you with the know-how when it comes to shopping for the best kayak anchor.
Related post:
Best Kayak Anchors We Will Cover Today
1. Best Choice-Gradient Fitness Marine Anchor
2. Best Folding-Best Marine Kayak Anchor Kit
3. Best For Kayaks-Vibe Anchor Trolley
4. Best Freshwater-Digger Anchor 16352
5. Best galvanized-Rocna Vulcan 
6. Best Strong-M1 Mantus Anchor Galvanized
7. Premium-Lewmar Galvanised Delta Anchor
Top 7 Kayak Anchors Reviews!
1. Gradient Fitness Marine Anchor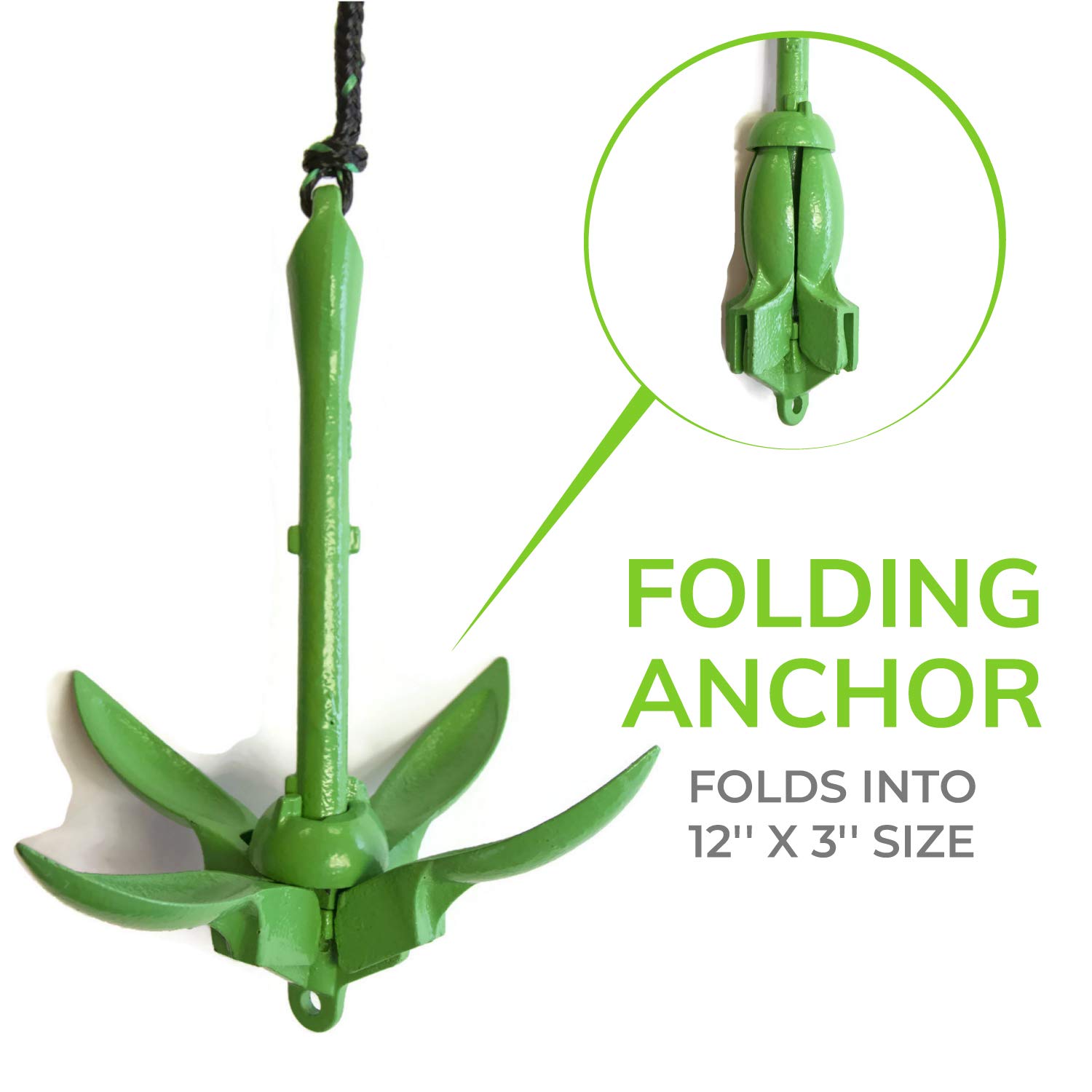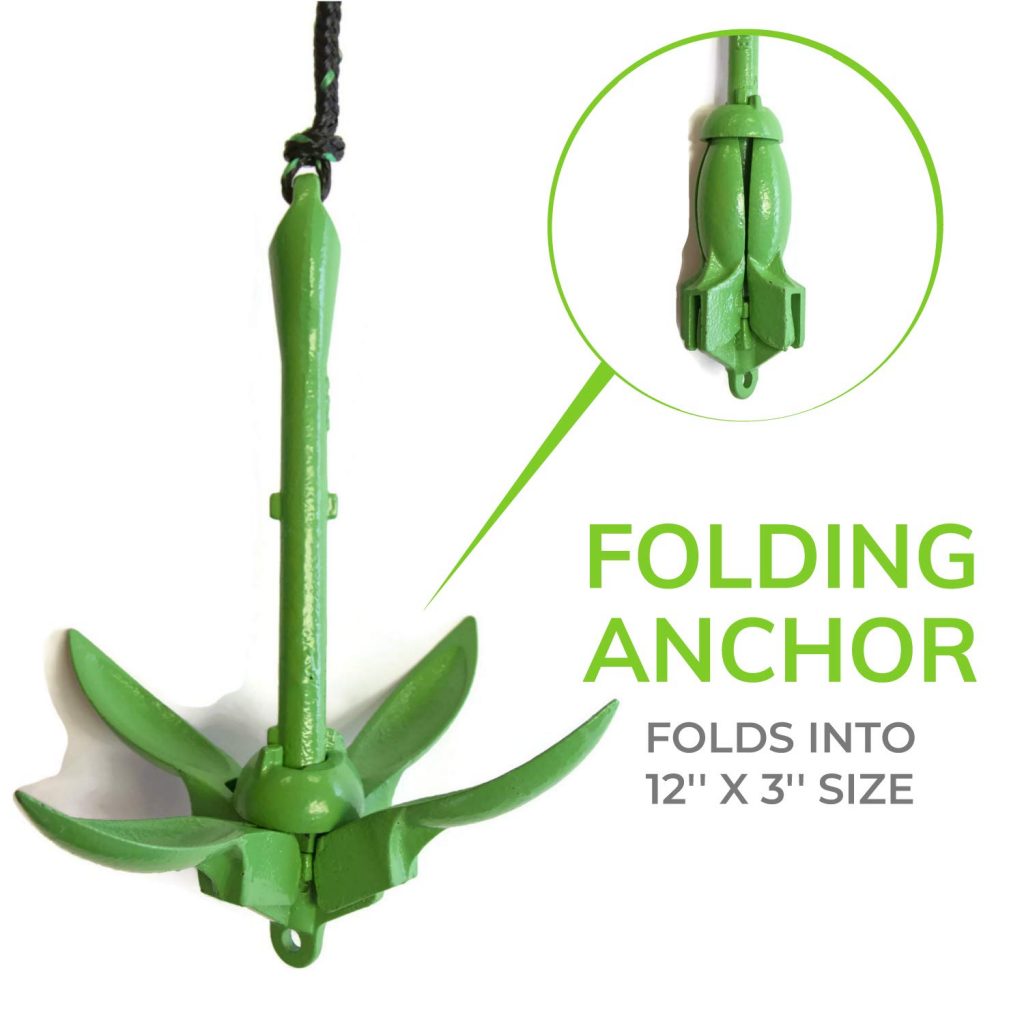 If space is limited on your kayak and you are seeking an anchor that is compact and very easy to carry and store, then check out this next anchor which is the Gradient Fitness Marine Anchor.
The anchor weighs only 3.5 lbs and comes in the 4-fluke design. It folds to a very portable size of 12'' x 3'' after which you will be able to store it safely away in the padded bag that comes along with the product. The bag also ensures that your kayak does not receive any scratches from the anchor while it is not in use.
Included is a 25 feet-7mm thick-marine grade rope, a PVC flotation buoy, and a stainless steel snap hook. The aluminum anchor is built to last, thanks to its rust-resistant feature and quality components.
The anchor will hold your kayak and keep it in place no matter what the environment and what obstacles it encounters. It will hold through sand, weeds, rocks, and mud with amazing power and grip.
Even though the anchor is heavy-weighted, which we think is an advantage when you want to keep things light on the kayak, it will allow you to camp out exactly where you want to, for as long as you want to.
Pros:
Constructed out of quality materials
Highly visible with green color coating
Rust-resistant
Foldable design
Lightweight and portable
Includes a well-padded storage bag
Cons:
Short rope
Even though the anchor is coated, it is not really recommended for saltwater.
2. Best Marine Kayak Anchor Kit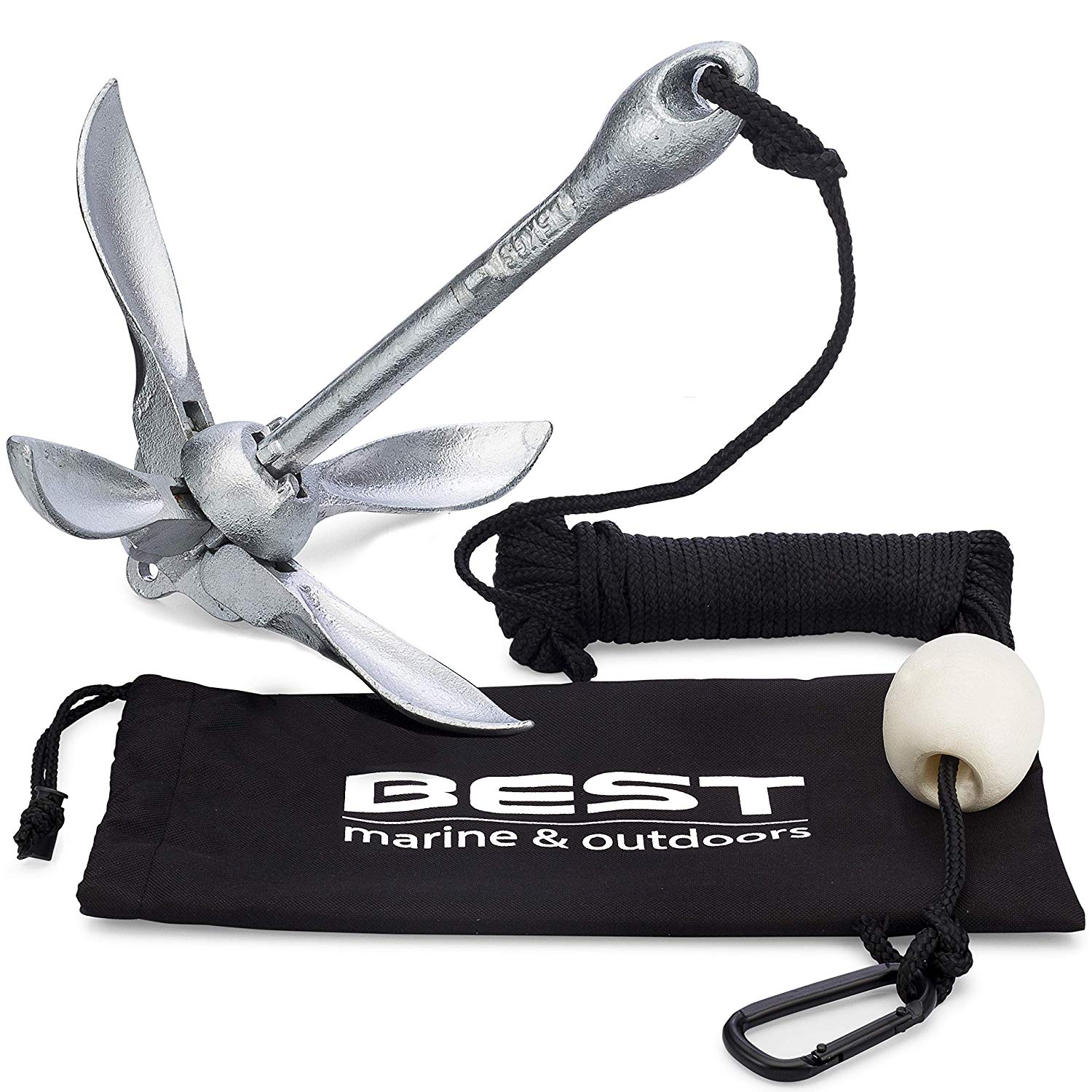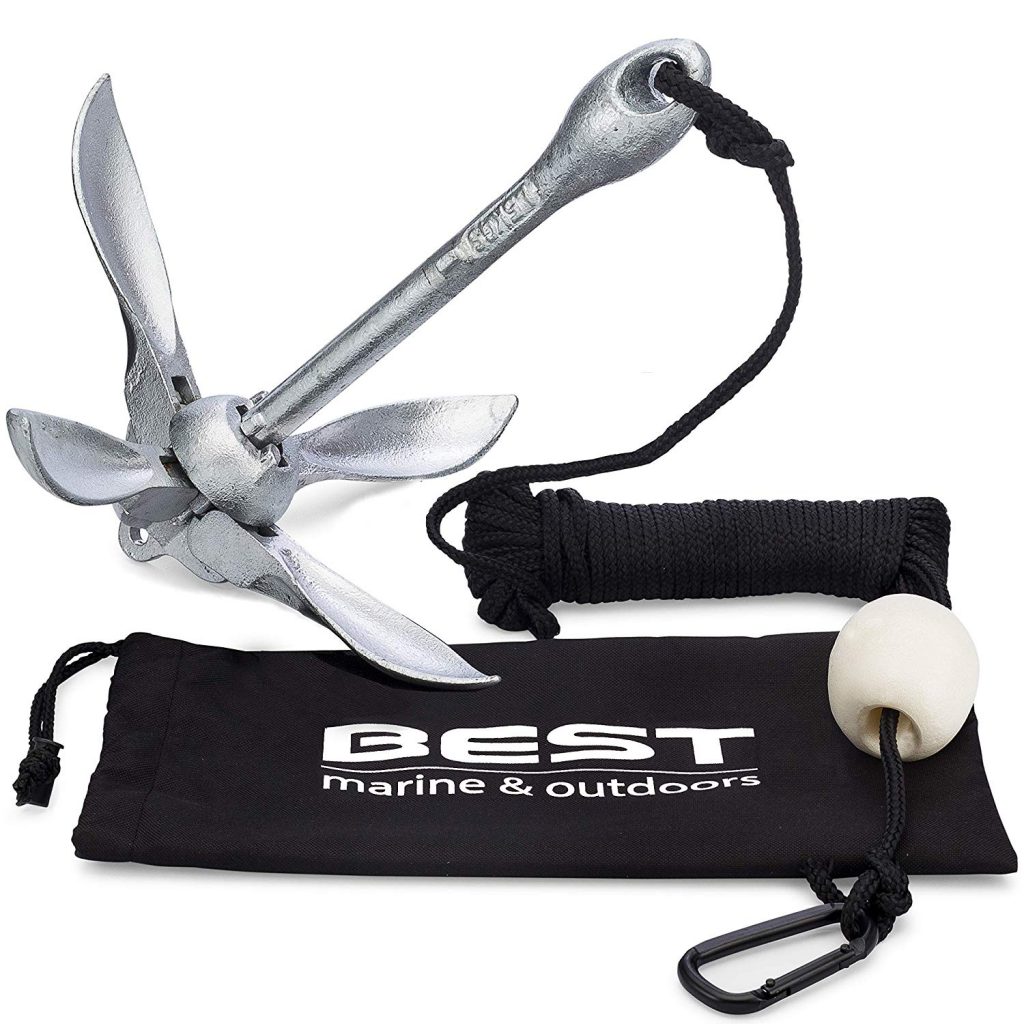 The first kayak anchor on our list is an anchor by the brand Best Marine and Outdoors. This anchor is galvanized, which means that it is resistant to rust and built to last.
Weighing in at 3.5lb, it also comes in a folding design which makes it extremely portable. This feature is perfect for small boats as it measures only 13 inches by 3 inches when closed.
You can expect good horizontal drag and amazing hold with the 40 feet long rope.
If you are a kayak fisherman then you will find this product ideal for day-long kayak fishing trips, thanks to its compact size and easy application.
The 4 fluke grapple design allows you to use the anchor on sandy, rocky or weedy underwater terrains, providing you with unlimited use.
To activate the anchor, you simply need to slide the grappling anchor collar upwards and fold open the flukes before pushing the collar down again. Lock into position and you are good to go.
If river fishing is your thing then this will work great, although we wouldn't recommend the product for the sea as the line may not be strong enough.
Overall, it's a very reliable kayak anchor that will ensure that there is no drift as long as the weather is not too extreme.
Pros:
Designed for kayaks, canoes, jet skis, as well as inflatables
Smooth edges, won't puncture inflatables
Resistant to rust
Folds up to a smaller size
Good quality rope
The one-year guarantee offered by the manufacturers
Cons:
May not hold with the same strength in heavy wind or tidal current
3.Vibe Anchor Trolley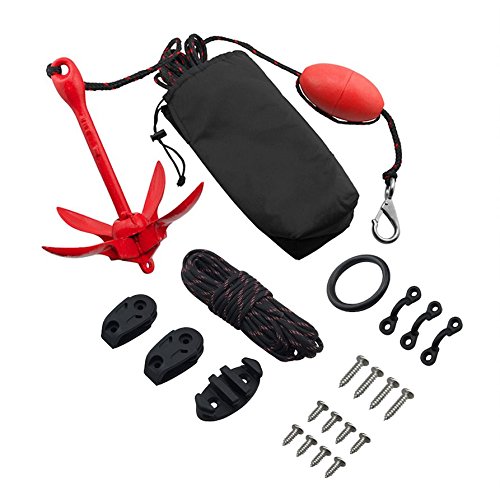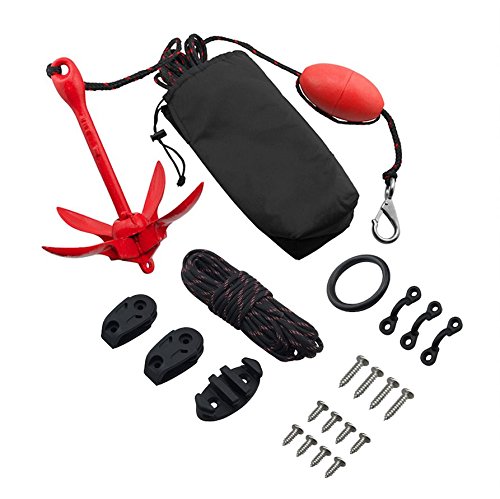 You can now enjoy hassle-free fishing in the anchored position with the Vibe Anchor Trolley Kit. The kit contains a 3-pound grapnel anchor with 4 folding tines and a 30 feet-quality rope and buoy.
The product uses a nylon pulley system that allows you to adjust the position depending on the weather conditions such as the speed of the wind and water current, so you can always look forward to catching some great fish no matter what the weather has to offer.
There is a mini zig-zag cleat that locks the rope in place and eliminates the chance of drifting, ensuring stability and proper placement on the spot you want to be and for as long as you want to be.
Installation is super easy; you can do it yourself without anyone's help. An instruction manual is included for support, along with all the hardware required.
Pros:
You can adjust the position very quickly and easily with the nylon pulley system
Easy to install and use
Designed to get the bow of the vessel to turn into the current, resulting in smoother operation
Includes all hardware
Cons:
The rope is not very long
4. Digger Anchor 16352 Marine Freshwater Digger Anchor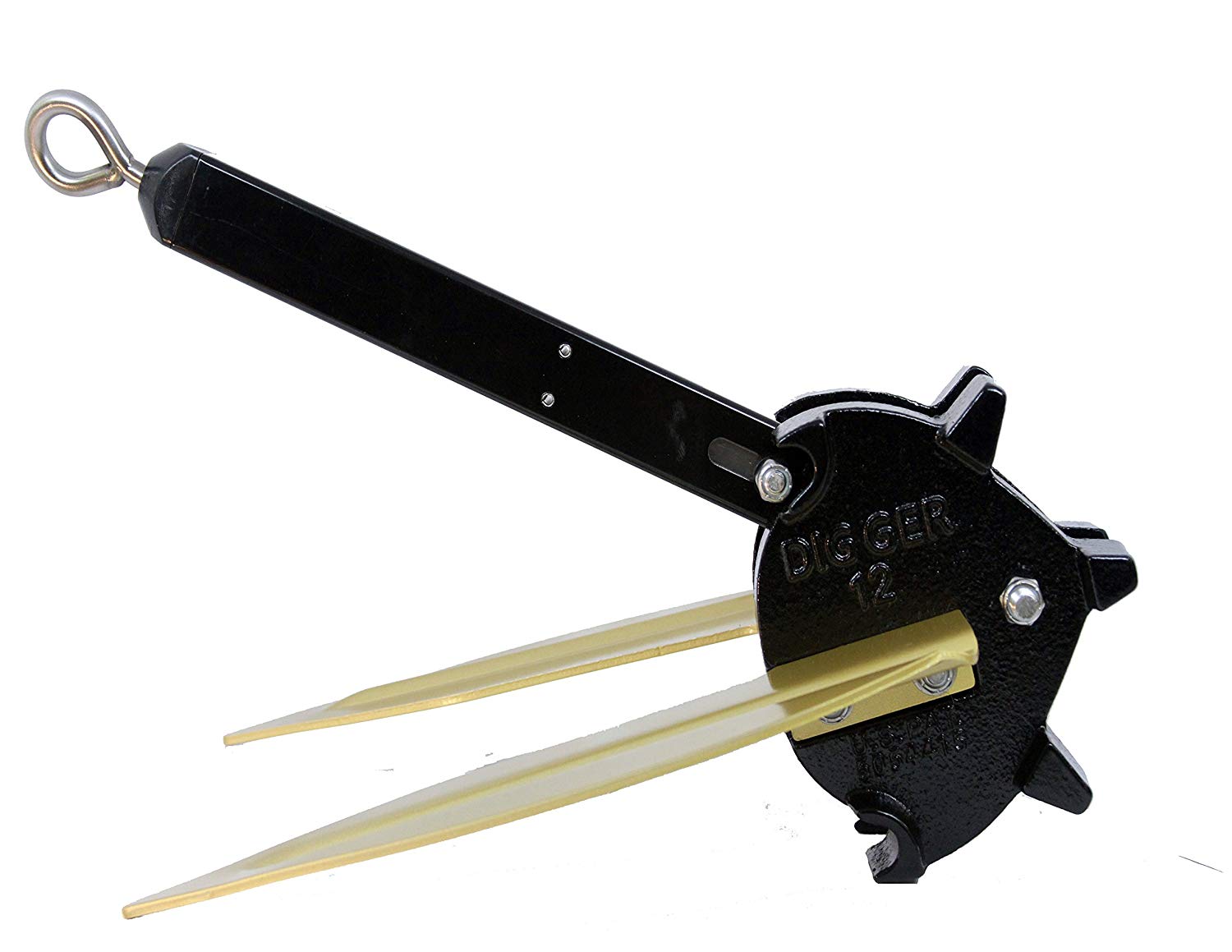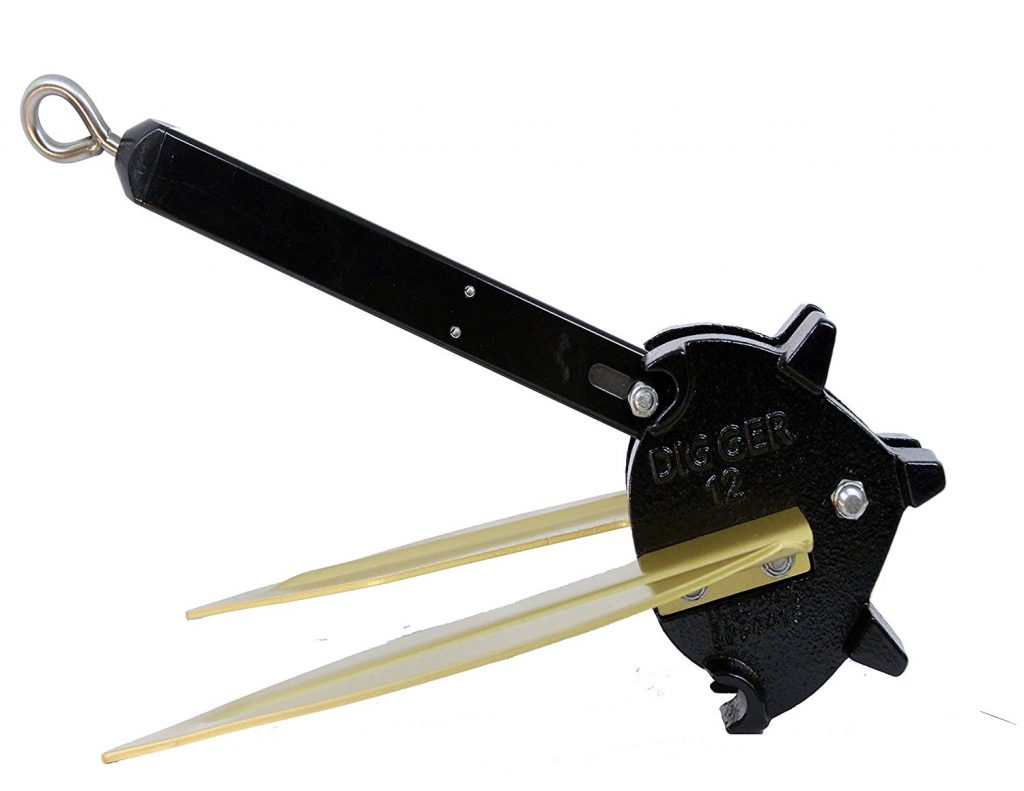 If you are seeking something extremely sturdy and powerful, then you need to check out the Marine Freshwater Boat Anchor by Digger Anchor.
Also known as the 'weedless anchor', this tool will ensure that none of the weeds underwater ever make it to your boat and are dropped off in the water for a clean and hassle-free fishing experience.
Designed in the dig position, the anchor is highly responsive and able to dig through weeds, sand, and mud from the moment it is dropped in water.
You are best off using this anchor with boats under 40 ft. and pontoons up to 30 ft. To make things even more convenient, there is no need for a chain.
It will work with a 4:2 to 5:1 scope which we think is great because many anchors only work with higher scopes.
With powder-coated castings and a rust-resistant design, the anchor will last you for a very long time and will be able to withstand all sorts of harsh conditions. To top it off, the loops and eyehooks are also zinc plated, which increases durability to a great extent.
You don't even have to get your hands dirty if you don't want to, because the flukes are designed to drop off any weed or muck that gets caught on the way.
Pros:
Will hold your boat in place even on a windy day
Digs in the sand, much and weeds very quickly
Flukes drop off waste on command
Durable and weather-resistant
Highly responsive
Cons:
Not exactly budget-friendly
Lack of proper instructions for users
5. Rocna Vulcan Galvanized Anchor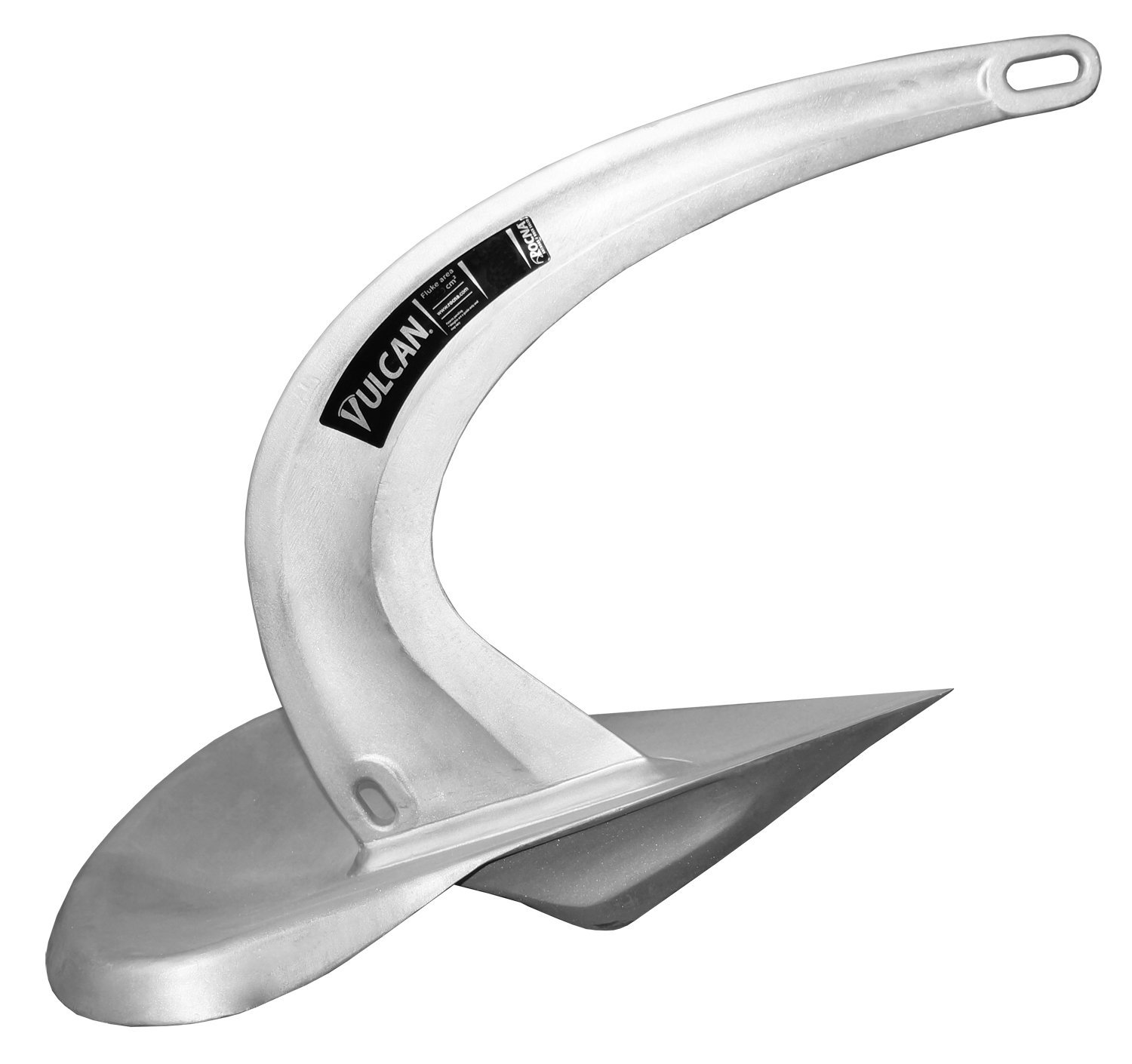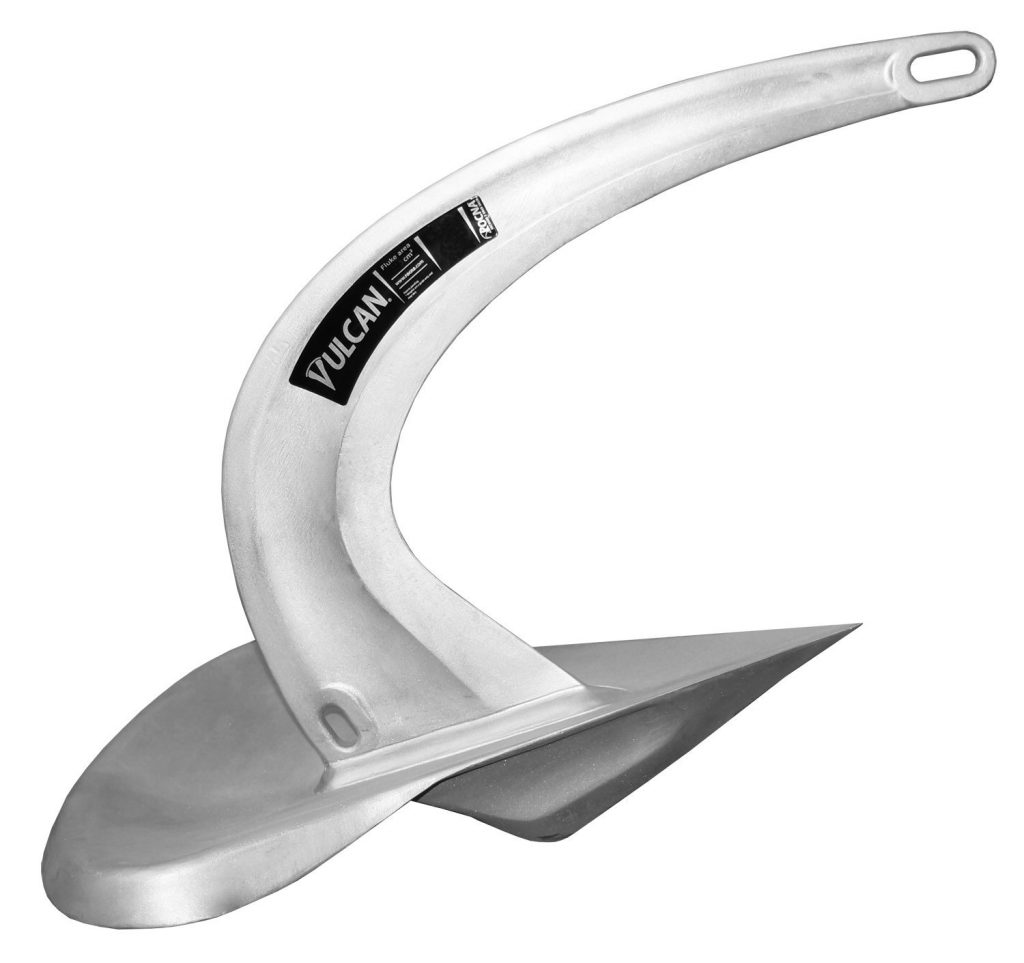 If you are seeking something high-end that pledges to satisfy you with its exceedingly desirable quality and performance, then the Rocna Vulcan Galvanized Anchor may just be the product for you.
The Vulcan is an improvised version of the Rocna anchor, which enjoyed its share of praise and popularity among many enthusiastic fishermen.
Continuing with the amazing holding power of the Rocna, the Vulcan has much more to offer on the waters and has the looks to go with it.
Designed to fit on the bows of a wide range of vessels, you can expect this anchor to perform super smoothly and efficiently on all waters and through any kind of environment.
It is highly resistant to wind and tide, thanks to its unique design and heavy-duty performance.
Another thing that makes this product so great is that it is available in a wide range of sizes and weights. This allows you to pick the right model for your vessel so you know that you are getting your money's worth.
Pros:
Will set instantly
Self-launching design
Resistant to all kinds of weather conditions
The shank is crafted to fit the bow of a wide range of vessels
Cons:
6. M1 Mantus Anchor Galvanized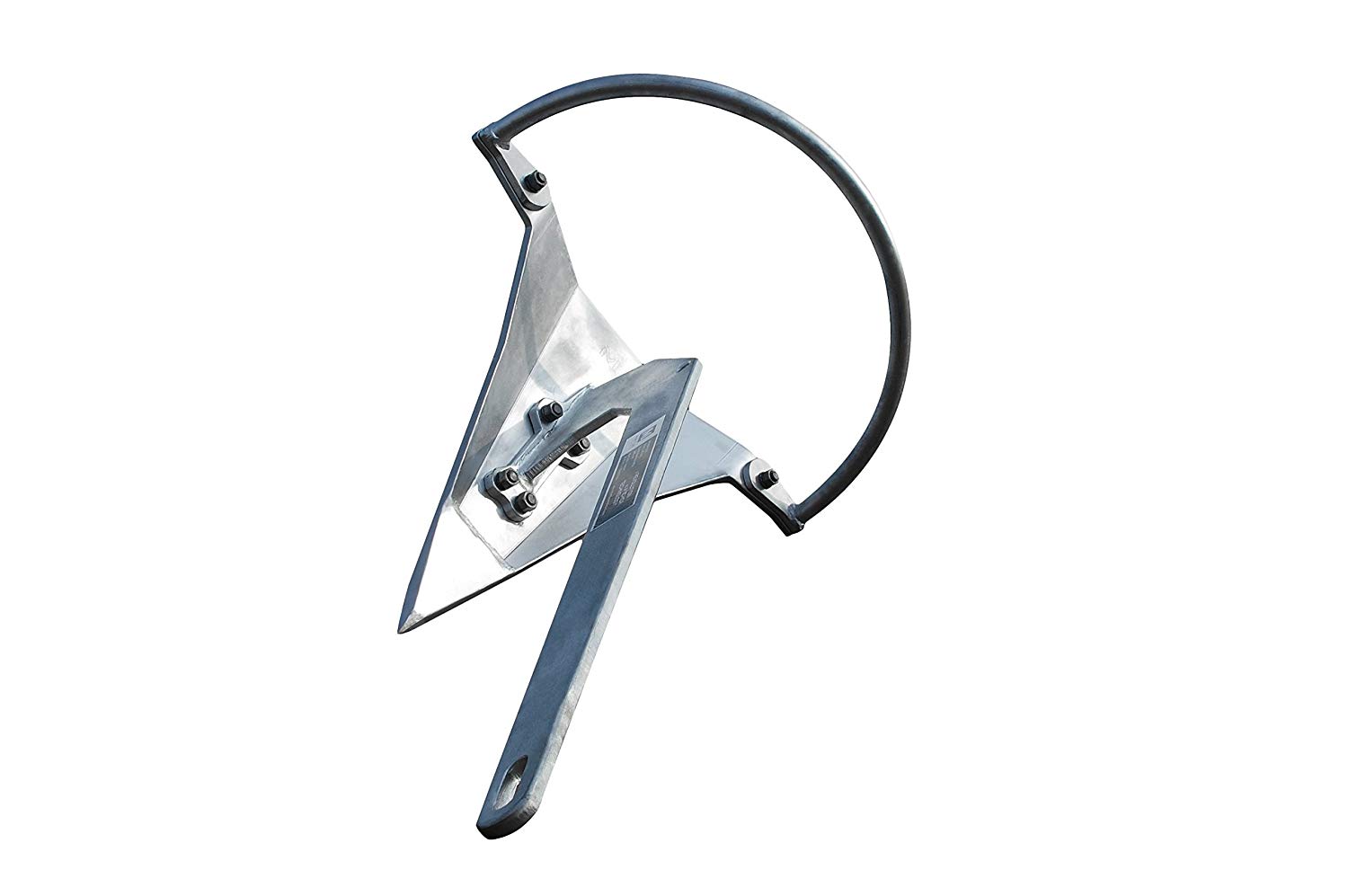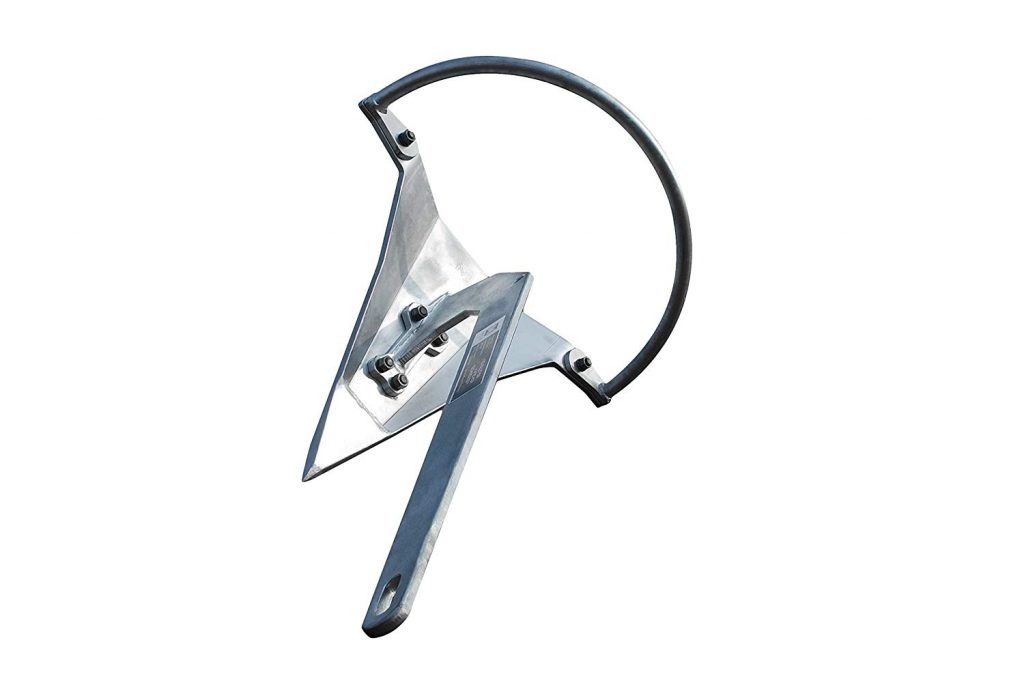 The Mantus anchor comes with unbelievable digging power and the fastest setting time. This super-strong and highly durable anchor is made of steel and is designed to cut through grassy bottoms as well as muddy riverbeds to grip the ground to the maximum.
The time required for the anchor to set from the time it is dropped in water is much shorter than many other high-end anchors of similar lines.
With a break-down design and low-weight profile, you can easily carry a couple of these anchors when you go fishing and not have to worry about overloading your vessel or taking up too much space for storage.
There are no cast parts, with both the shank and shank boot welded all over. The shank and roll bar is securely fastened to the fluke with large ASTM-certified steel bolts.
The only thing that may set you back with this product is its price but considering its quality, build, and performance, the Mantus Anchor is definitely worth it.
Pros:
Strong and durable
Easy to carry and store
Sets fast
Digs in deep
Lifetime warranty from manufacturers
Cons:
7. Lewmar Galvanised Delta Anchor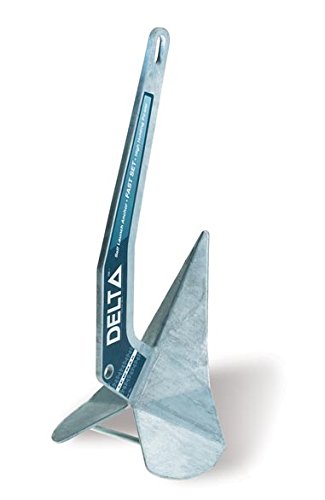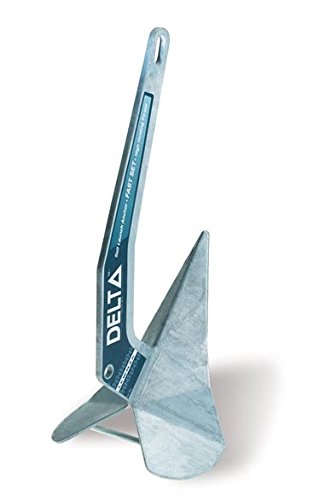 Our final product of today is the Lewmar Delta Anchor. This heavy-duty anchor is built just right with the right amount of strength and durability to hold your vessel in place, regardless of the weather.
Constructed out of high-grade manganese steel, the anchor is built to last and outperform many other similar heavy-duty anchors within the same price range.
You can expect the anchor to set fast and also come right up when you are ready to move on from your spot.
It comes in a number of sizes and weights, so you can get the one best suited for your boat, ensuring satisfactory results every time.
We also recommend getting the right line and adding as much chain as possible to really see the difference in its performance.
If the looks matter a great deal to you then keep in mind that this anchor is not as shiny as it appears to be when advertised, so if you don't mind the rather matte finish then there really isn't much scope for disappointment.
Pros:
Good price
Sets fast
Built out of high-grade manganese steel
Self-launching
Cons:
The finishing of the product may not be too great
Smaller-sized anchors do not provide the best hold
A Step-By-Step Guide to Kayak Anchoring
Knowing the proper techniques of kayak anchoring can help you maintain your position while out on the water and allow you to get the best out of your anchor tools.
Steps to kayak anchoring:
Choosing the right anchor
Many people may assume that they can use anything heavy to work as an anchor and don't really buy a proper kayak anchor for the job. Maybe if you are lucky and can build your own kayak anchor, chances are that it won't really hold your kayak in position for long.
To avoid any disappointment on the waters, simply head out prepared and that includes having the most suitable kayak anchor for your vessel.
Attaching the rope
After you have your anchor on board, you need to attach the line, which is generally a nylon rope.
Depending on the depth of the water, you may need a rope with a length of 50-75 feet. The best way to calculate this is to have 7 feet of line for every 1 foot of water in depth.
To attach the line, you can use the anchor hitch, which is a style of knot ideal for the attachment of a rope to the anchor. However, there are many other ways to secure the line.
Using a float for the line
We recommend attaching afloat to the other end of the line. You may not see this as a necessary step in anchoring a kayak but it can come in really handy if you ever lose your anchor or cut it lose yourself for some reason.
Make sure the float is brightly colored for visibility so that you can retrieve it easily.
Some anchor lines come with floats, while some don't. If your anchor line doesn't come with one, then you can always purchase one from your local sports shop.
Paddling out and picking your spot
Once you have attached the line to your anchor and float to your line, you are now ready to get on the water. Paddle out and stop where you wish for your vessel to rest. It could be a spot where you think you will catch the most fish, or it could just be a place where you want to rest awhile before continuing to paddle.
Dropping the anchor
You can drop the anchor once you feel that you are at the right location and you should do so by lowering it slowly into the water.
Keep a hold of the line and once the line stops reeling you can assure yourself that the anchor has reached the riverbed.
Securing the anchor line to your vessel
You can finally secure the line to your kayak now and get on with your business.
Just make sure you do not tie the line without carefully analyzing the current and direction of the wind.
The best two places are the bow and the stern, so mount the anchor where you think you will get the best-balanced profile for your kayak.
Kayak Anchors Buyer's Guide
Design
An anchor can come in several designs, the most common being grapnel, deadweight, and mushroom. However, for Kayaks the best anchor design would be the grapnel.
Grapnel anchors come with flukes that extend to pierce through and grip the riverbed. This allows the anchor to hold your kayak in place when you have found your preferred spot.
Weight is another feature that sets these anchors aside as they hardly weigh over 3.5 lbs. The lightweight ensures that you do not have excess weight on your kayak.
The ability to fold to a compact size also helps to store the anchor easily, without taking up too much space when not in use.
Scope
In order to know the scope of an anchor, you will need to know how much rope is required to trail behind your kayak and fall over the side and sang at the bottom.
You can easily determine the size of the rope or chain by ensuring that it is 7 times longer than the depth of the water you are on. Note that too much or too little rope can cause problems in the performance of the anchor.
Weight
You might be surprised, but the weight of an anchor doesn't really determine how successfully it will hold your kayak in place.
In fact, many fishermen prefer lighter anchors as they are easier to carry and do not overload the kayak.
Sometimes a heavy anchor may just drag at the bottom of the riverbed and even fail to grip on. So even though the idea of a heavy kayak anchor may seem like it will have all the power to stop a kayak from drifting away, there really isn't much truth in it.
Size
While the weight may not matter much, the size and shape, however, play an important role.
Larger anchors or anchors with larger teeth rather, grab on better to rocks, branches, and other debris at the bottom, which helps keep your kayak in place.
These anchors also dig deep or sink deeper into the mud for a better grip.
So when looking for an anchor that will hold your boat in place, be sure to check out its wings (teeth) and overall size.
Mounting Your Anchor
If your kayak doesn't come with an anchor mounting point (most recreational and inflatable kayaks don't, unfortunately), then you need to be extra careful in choosing the mounting point.
The best place will be to mount the anchor to the bow or stern of your kayak as that will allow your kayak to remain balanced, regardless of the direction of the wind.
Of course where you decide to mount the anchor will change the way you fish but try to avoid tying the anchor to just any point without careful analysis, because without proper calculation you could leave your boat with an unbalanced profile.
To save you some trouble and make things easier, you could also have mounting plates added to your boat by an outfitter.
Anchor Trolleys
If your anchor kit includes an anchor trolley, then you will easily be able to switch the mounting point on your kayak, in order to tackle the direction of the wind if you are a sea kayaker.
For kayak anglers, this feature works to help you change the direction of the cast.
Anchor trolleys don't require the re-positioning or re-anchoring of kayaks.
 FINAL THOUGHTS
We hope our list and reviews of the best kayak anchors have given you a place to start your search when shopping for your kayak anchor. Try to follow the buying guide and the steps to kayak anchoring and you will easily be able to turn your kayaking experience into something memorable every time you hit the waters.
More articles