There's no denying that fishing is fun and exciting. But spending hours under the heat of the sun can be very uncomfortable. That is why it is recommended that anglers wear complete protective gear when they're out fishing. And the Best fishing face mask offers you that high level of protection that you need.
Today's face masks now come with impressive features such as UV protection, dust protection, and even wind protection. But aside from being protective, fishing masks must also be comfortable and breathable.
In this article, we'll introduce you to our top 5 picks for the best fishing masks in the market. We've also added a detailed buying guide to help you make the right choice.
Read More:
Best Fishing Face Mask We Will Cover Today
1. Best Choice-KastKing Sol Armis
2. Best UV- Palmyth Neck Gaiter
3. Best Overall-Bassdash
4. Best Lightweight-Achiou
5. Anti Microbial-HUK Men's 
Fishing Face Mask Reviews!
1.KastKing Sol Armis Fishing Face Mask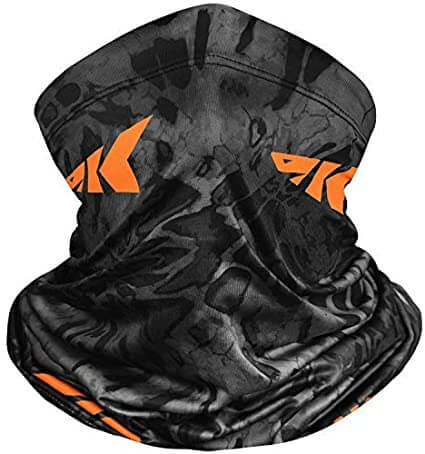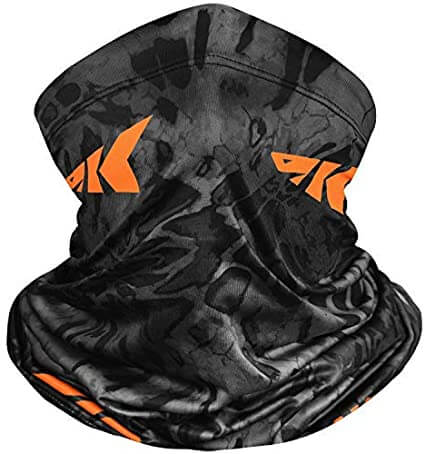 When it comes to sports-friendly, the Kastking Sol Armis Neck Gaiter always proves to be one of the best in the market.
With its UPF50 sun protection, you don't have to worry about exposing your face and neck to harmful UVA and UVB rays. This sun protection level keeps you from getting nasty sunburn and other skin-damaging conditions.
The Kastking Sol Armis Neck Gaiter uses a quick-dry poly-spandex fabric that's breathable. This helps keep you cool and comfortable even after a long day of fishing under the heat.
We also love it for its versatility. Aside from wearing it as a face mask, this 4-way stretch sun armor can be worn in up to 13 different ways. You can wear it as a hood, a balaclava, and a neck gaiter to name a few.
Overall, the Kastking Sol Armis is the best fishing face mask for those who want unparalleled coverage. Not only does it offer sun protection, but its versatile design also fully protects you against insects and other external factors.
Pros
It is lightweight and very comfortable.
UPF50 Sun Protection.
Highly versatile 4-way stretch material.
Quick-drying and breathable poly-spandex fabric.
Also protects against dust, strong winds, insects, and other small debris.
Machine-washable.
6 colors to choose from.
Excellent value for the money.
Cons
It only comes in one size.
2.Palmyth Neck Gaiter Fishing Mask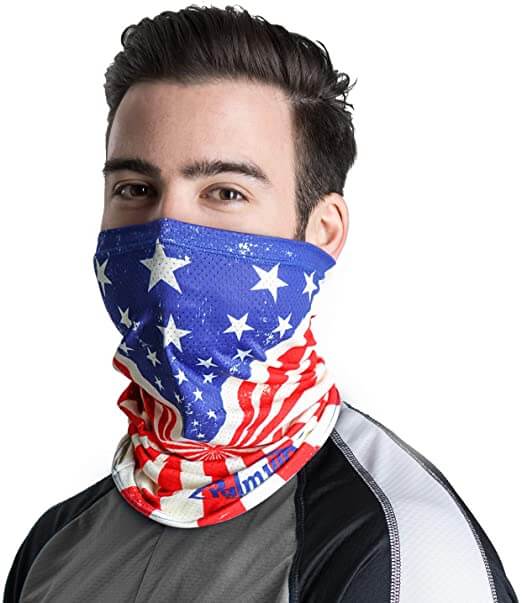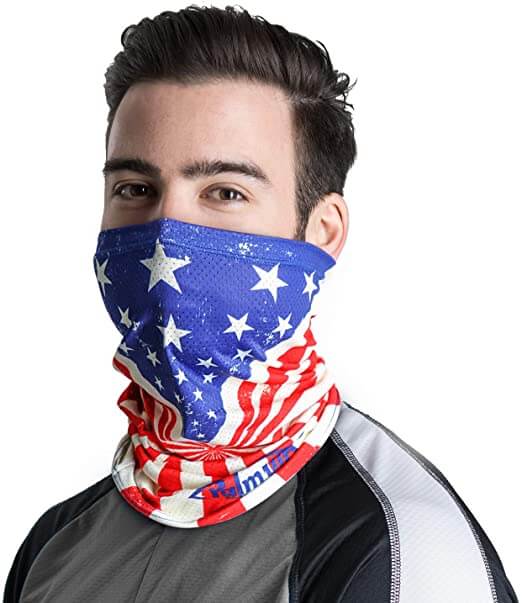 If you're looking for a fishing mask that offers more color and design options, then the Palmyth Neck Gaiter Fishing Mask is perfect for you. Boasting an array of 16 colorful masks with interesting prints, we're sure that you'll find the best mask that would reflect your personality.
Aside from being colorful, these fishing masks from Palmyth come with UPF50 sun protection, so you don't have to worry about spending a long day under the sun.
The Palmyth Neck Gaiter Fishing Mask also boasts using an Air-Hole fabric, making it easier to breathe with. This is paired with moisture-wicking material, so you don't have to worry about being sticky and sweaty. These features guarantee that you'll feel comfortable while wearing this face mask.
We also love that this fishing mask comes in a versatile multi-purpose design that allows you to wear it for different sports activities. You can also wear it in different ways to maximize its protective features – whether as a neck gaiter, a bandana, or a tube scarf.
Pros
UPF50 Sun Protection.
It is very comfortable to wear.
The Air-Hole fabric makes it breathable.
Moisture-wicking material.
Multi-purpose design with 16 color options.
Machine-washable.
Cons
Only comes in one size.
Does not effectively filter out dust and other smaller particles.
3. Bassdash UV Sun Protection face mask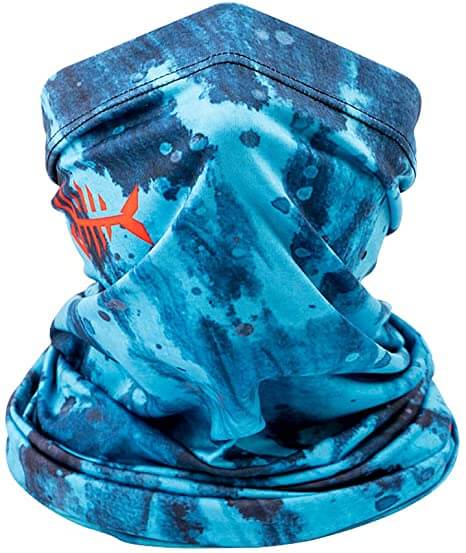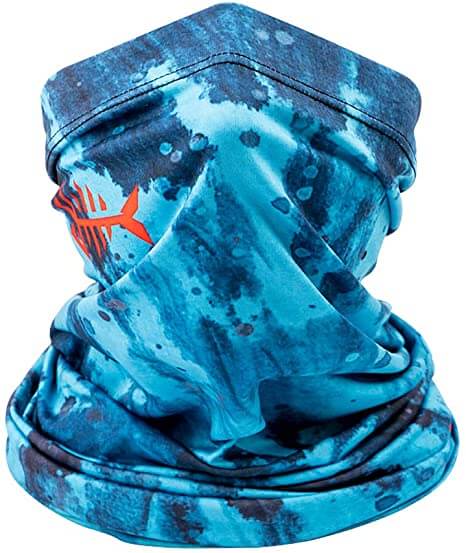 Another impressive mask that you might want to consider is the Bassdash Fishing Mask.
This fishing mask provides you with impressive UV protection, thanks to its UPF50+ sun protection. And even if you're planning to use it for ice fishing, it's also effective in protecting you against cold temperatures and strong winds.
Its fabric is made of 90% polyester and 10% spandex, and this makes it lightweight and comfortable to wear. The Bassdash Fishing Mask also boasts low-profile stitching to make it chafe-free and soft on the skin. Even those with sensitive skin will find this comfortable to wear.
We also love that this fishing mask from Bassdash uses moisture-wicking fabric to keep you feeling cool and sweat-free.
The Bassdash Fishing Mask comes in 14 color schemes that will surely make you look forward to your fishing trips. And since it uses dye-sublimated printing, you don't have to worry about its designs fading any time soon.
Pros
UPF50+ Sun Protection.
Moisture-wicking and quick-dry fabric for maximum comfort.
Soft, lightweight, and prevents skin from chafing.
Protects against cold and strong winds.
14 eye-catching and long-lasting designs.
Cons
It is not very stretchy, and this makes it hard to wear and remove.
4. Achiou Neck Gaiter Fishing Face Mask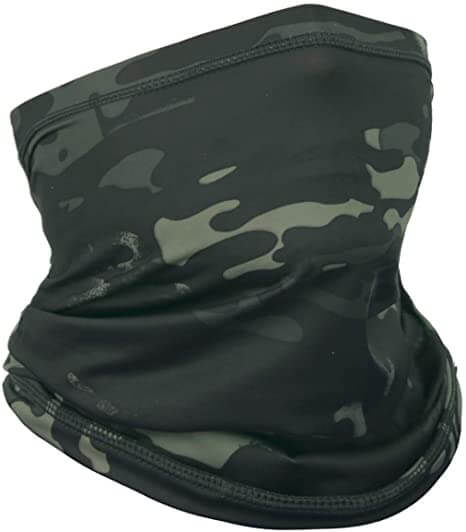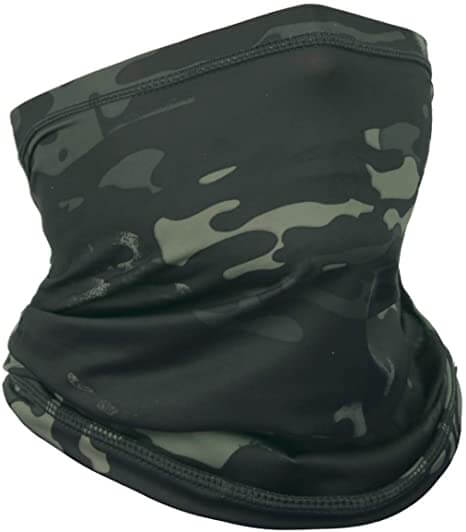 When it comes to comfort, no mask comes close to the Achiou Neck Gaiter Face Scarf Mask.
Made with 88% smooth Chinlon fabric, 10% spandex, and 2% nylon, there's no denying that this headwear is as comfortable as face masks can get. Aside from being soft, this material is also lightweight and breathable, so you don't have to worry about the sticky feeling after fishing for hours on a hot day.
The Achiou Neck Gaiter Face Scarf Mask also offers impressive protection. The material used is UV-proof, sand-proof, dust-proof, and windproof, so you can use it for other activities like cycling, or hiking. This makes it incredibly versatile.
While we're on the topic of versatility, this headwear from Achiou also comes with a multi-purpose design. You can use it in up to 8 ways, which includes a fishing mask, a neck gaiter, a headband, or a cap to name a few.
And for our convenience, this headwear is also easy to clean. Just load it into your machine and it's good to go.
Pros
The fabric is very soft and lightweight.
Breathable and dries quickly.
UV-proof, dust-proof, windproof, and sand-proof.
Versatile design.
Machine-washable.
14 colorful designs to choose from.
Cons
It is not form-fitting.
Some users report a strong scent on the fabric that doesn't go away easily.
5. HUK Men's Kryptek Neck Gaiter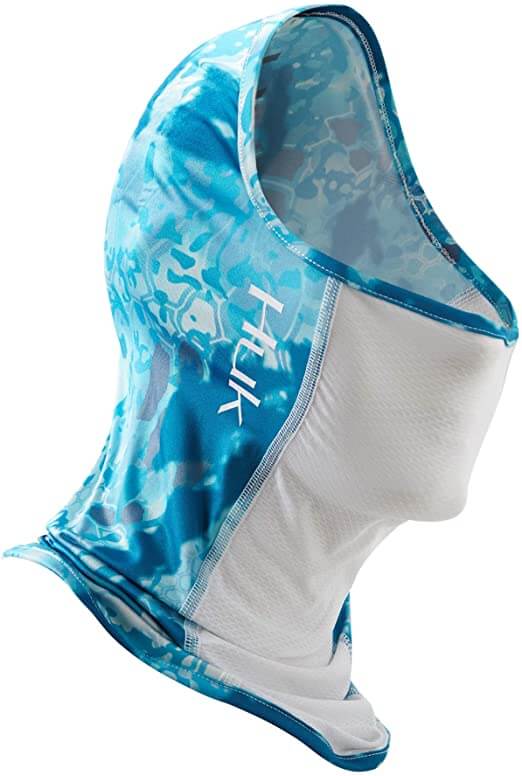 For those who prefer form-fitting masks, then the best fishing face mask for you is the HUK Men's Kryptek Neck Gaiter.
This neck gaiter from HUK is made of 100% polyester and is specially engineered to give you that comfortable fit. Its material is made with UPF30+ sun protection to keep you safe from harmful UVA and UVB while you fish.
Despite giving you decent protection against the sun and other external elements, we were quite impressed with how breathable the fabric is. It doesn't feel suffocating, so you can spend hours of worry-free fishing under the sun.
The HUK Men's Kryptek Neck Gaiter also has anti-microbial properties that effectively inhibits and kills odor-causing bacteria and similar micro-organisms. This makes you feel clean and fresh all day.
This neck gaiter is also low-maintenance. Since it's machine-washable, you don't have to spend a lot of time getting it cleaned after a long day of fishing.
Overall, the HUK Men's Kryptek Neck Gaiter is one of the best, thanks to its comfortable fit, decent sun protection, breathability, and anti-microbial properties.
Pros
It is very comfortable.
Breathable fabric.
UPF30+ Sun Protection.
Anti-microbial properties to keep it odor-free.
Machine-washable.
Very affordable.
Cons
Poorly sewn.
Limited design options.
Fishing Face Mask Buyer's Guide
We made sure that our product reviews are as honest as possible, so you could easily spot the best fishing face mask for you. But if you need further guidance, then here are the important factors that you should consider before buying one.
Material
The materials used in making the fishing mask is one of the most important factors to consider.
Fishing will have you exposed to a variety of environmental factors, so you have to make sure that you're protected from them. But sometimes, being fully-covered makes you feel stuffy and uncomfortable – and that is why you have to make sure that the materials won't make you feel that.
Go fishing for masks that use breathable and lightweight fabric because this will keep you from feeling suffocated. We also recommend going for masks that have moisture-wicking properties or are quick-drying. This will easily absorb the sweat off your skin to leave you feeling fresh and clean.
The right material will allow you to fish for hours. Keep that in mind before you settle for a regular bandana.
Sewing
When fishing masks are poorly sewn, you'll easily start noticing the threads starting to come off after just a few fishing trips. But aside from its durability, poorly sewn masks with protruding stitches tend to cause chafing – and that's both painful and uncomfortable.
We advise going for masks with low-profile stitching because it offers the best feeling on your skin.
Breathability
When you're fishing, you may have to spend hours wearing a Neck Gaiter. That means that you have to look for one that's not only comfortable but also easy to breathe in.
Poly-spandex fabric is known for its breathability, so you might want to consider that. Alternatively, some manufacturers incorporate technology to produce breathable face masks without sacrificing their protective quality. Take these into consideration before you buy one.
Protection
The primary purpose of wearing a Neck Gaiter while fishing is to protect you from external environmental factors. Depending on where you're planning to fish, you have to make sure that the face mask has you fully covered.
For example, if you love fishing during the hot summer days, then a face mask that offers sun protection would be your best option. But if you prefer ice fishing, then fish masks that offer protection against extremely low temperatures and strong winds ought to do the trick.
But aside from sun protection, most of today's Neck Gaiter also comes with protective features against other hazards like sand, dust, and insects. This allows you to enjoy your game even more.
Versatility
For more active individuals, you would want to go for a facemask that you can use for different activities.
Most of today's fishing masks are versatile enough to be used as different protective headwear. You can use them as a neck gaiter, a headband, or a cap among others. This gives you the best value for money since you don't have to buy different headwear for your many sports activities.
Fishing Face Mask FAQs
1. What are fishing face masks called?
Different anglers have different names for their fishing masks. While others simply refer to them as fish masks, others prefer to call them neck gaiters because the protection spans from the lower part of the face to the neck. Other fishermen also call them buffs because of the company that initially popularized the use of face masks for fishing.
2. What is a fishing mask?
A fishing mask is a piece of protective headwear that protects the user from external factors that could ruin the fishing experience. These masks keep the head and neck cool while keeping the skin free from damaging UV rays. Some fishing masks also protect anglers from insects, freezing temperatures, dust, and strong winds.
3. What store sells face masks?
Face masks are common protective headgear that you can buy almost anywhere. You can also buy them online via Amazon and other similar online retailers. You can also spot this protective headgear in physical stores such as Walmart or and also check out your local store selling fishing or sports gear.
4. How do you make a tubular face mask?
A tubular face mask, otherwise known as a neck gaiter, is a piece of protective headwear that covers the face and the neck. If you prefer making your tubular fishing mask, you can simply stitch a piece of cloth into a tubular shape, but make sure that it perfectly fits your face. For added protection, make sure that the cloth offers UV protection.
5. Do fishing masks work?
Yes. Fishing masks are specially engineered to protect its users from harsh environmental conditions. They have built-in UVA and UVB protection that keeps your head cool while also protecting your skin. Some also have dust-proof and windproof designs, so you won't feel any discomfort while fishing.
Thus, fishing masks are made to protect you and make you feel comfortable – and they do that job perfectly.
6. Why do fishermen wear bandanas around their necks?
Bear in mind that much of your time fishing will be spent on a boat that's directly exposed to the sun. This can cause painful sunburns in areas exposed, which includes the neck. For this reason, fishermen wear bandanas around their necks. Also, bandanas help absorb sweat, so it also keeps them feeling cool and fresh.
Final Thoughts
Like all other sports, fishing requires you to be fully prepared at all times. This means having to wear protective gear to keep you comfortable and out of harm's way.
From what we have discussed, you can now see the importance of using a Neck Gaiter when you're out fishing. Not only does it protect your skin from damage, but it also helps keep you feeling comfortable all day – and that guarantees a fun fishing trip.
With our top 5 picks, we're confident that you'll be able to find the best fishing face mask for you in no time. But if you still can't choose between two or more options, our buying guide can certainly help.
Read More: