Are you looking for a good way to spend your time this winter in your country, or maybe in another area? Although there are numerous ways to make a dull winter day better, one of the best ways is to go ice fishing, provided that you live or are traveling to a place where it snows during winter.
Of course, if you're a beginner, the sole idea of going ice fishing may seem way out of your comfort, and also make you nervous, but no worries! That's what the internet is for, right? Below are some of the starting tips any beginner would need before trying out ice fishing: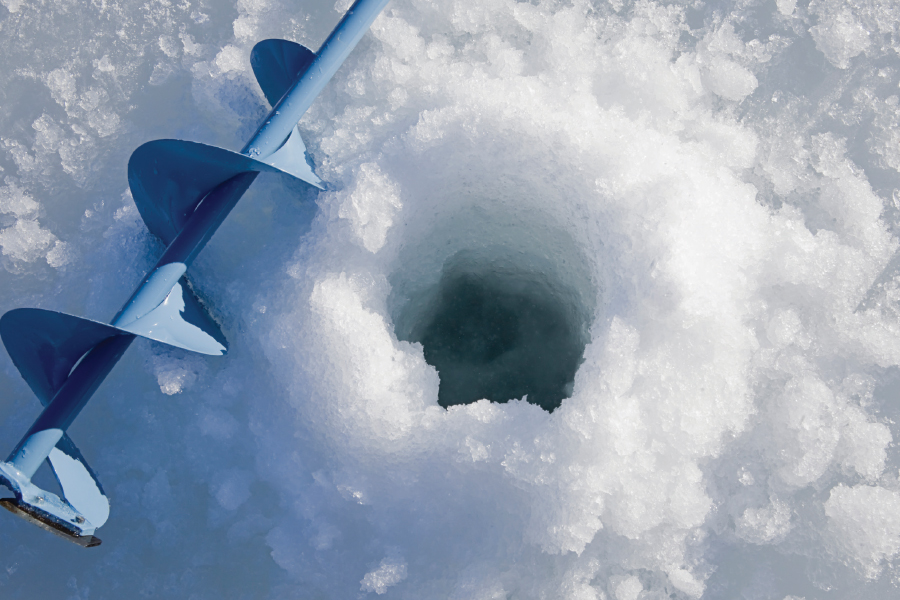 Ice Fishing Tips For Beginners
1.The dress code.
No matter how much of a beginner you are, the dress code is never going to be a problem for you. The dress code for ice fishing is basically your regular insulated winter wear with the addition of a pair or two of extra gloves, a ski mask and of course, a pair of insulated waterproof boots. If you have these in your wardrobe, you're good to go!
2. Test the ice.
Before starting on anything new, you need to make sure whether the place is suitable for what you're about to do. The same is with ice fishing. Before you start, you need to test the ice and make sure that it is at least 4 centimeters thick.
You can do this by either asking a local citizen or by looking out for other people who have already started their journey of ice fishing. Remember, always try to be near that area on the ice which is the most populated by people or huts, because the chances that you'll get a good catch are high in those areas.
But, if you wish to try out a less populated area on your own, no one's stopping you; you never know when you might get the best catch out of the most unexpected area. Make sure to maintain a safe distance from other campers or fishermen if you decide to sit in a populated area to start fishing. You wouldn't like other people coming all up in your business, would you? Neither would they.
3. Dig a hole.
This is a given for ice fishing, cause, without the hole, where are you going to get your fish from? No, you don't need to bring a shovel and start scraping off the ice. What you do need is an ice auger. For the sake of absolute beginners, an auger is basically a drilling device that helps you drill a hole in the ice. It doesn't take a long time if you know the correct way to use it.
First and foremost, you need to remove your auger blade covering, and while doing so, you must be cautious since the blades are very sharp and could cause serious injuries, thus ruining the rest of your fishing trip.
After you're done removing the covers place the blades on the ice and apply a subtle amount of force as you start to twist the auger, and if your auger makes a grinding noise, you're on the right way.
4.Set up your shelter.
You don't want to be out in the cold, freezing, while you're waiting for a fish to notice your bait, do you? To prevent yourself from getting sick, you need to set up your shelter right in front of your spot.
It won't take more than a minute to do it, and once you're done, it'll be worth whatever amount of effort you put into setting it up when you find yourself warm and protected from the bitterly cold wind. Try to get yourself a portable one, just in case you need to move on to a new spot.
5.Can't find a fish yet?  Use a transducer!
In school, we've all read about how ships use echoes to determine the location of shoals of fish in order to make greater use of their time. Using a transducer is the same as that. What it does is, it sends a unique sound into the water, which creates echoes and when it comes back to the surface, it carries with it the information of places in the water where fish are located, showing it on your transducer screen.
That way, you can re-locate your rod, if necessary, and with luck, get a nice catch within a short amount of time. Socialize with other sportsmen or talk to your friends who have already gone fishing a couple of times to find out about the best transducer brand for you.
6. Choose your bait.
You need to impress your fish in order to lure it in and the best way to do that is by choosing the correct bait. But before that, you need to decide what kind of fish you're aiming for, and then choose your bait likewise.
But since you're still a beginner, I'd advise you to keep it simple for the time being. Go for the regular minnows. Once you've grown accustomed to the whole idea of ice fishing or even fishing (if this is your very first time at the sport), you can try out new baits. Till then, have patience.
7. Which fishing rod holder is best for you?
Keeping your rod in place is difficult on the ice, so you need to make sure you have the best holder for it. A tip-up is an option you just can't say no to. Tip-ups are simple tools that have a flag attached to them. The flag pops up when a fish takes the bait, or even if there's a movement somewhere around your bait. The best thing about tip-ups is that it lets you fish from more than one hole at a time, of course, if your fishing license allows you to do so.
8. Are you ready?
A big YES! These are all the basic know-how for any beginner. And as I said before, thanks to the internet, you're able to analyze them to your heart's content before going in for the real experience. I hope this article helped you to at least get started. Well, what are you waiting for? Go fish!
Read More: