Looking for an all-around balanced fishing rod? Then you might like the one we are going to feature on our Okuma SST salmon review! The particular fishing rod we will be examining today is Okuma SST-S-1062M-CG spinning and casting rod.
Its design allows for effective use in various conditions. But what makes this fishing rod such? Stick to the review to find out!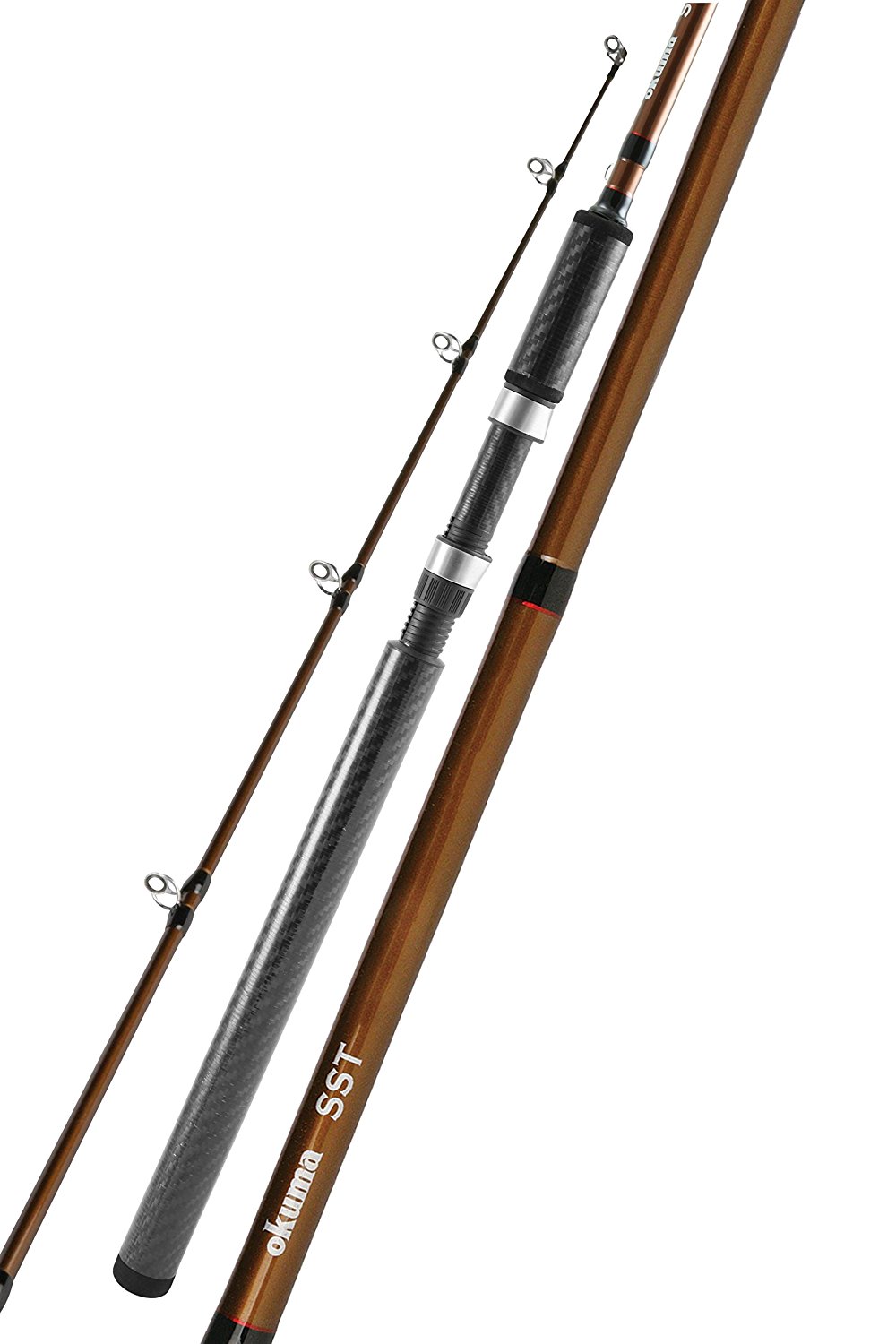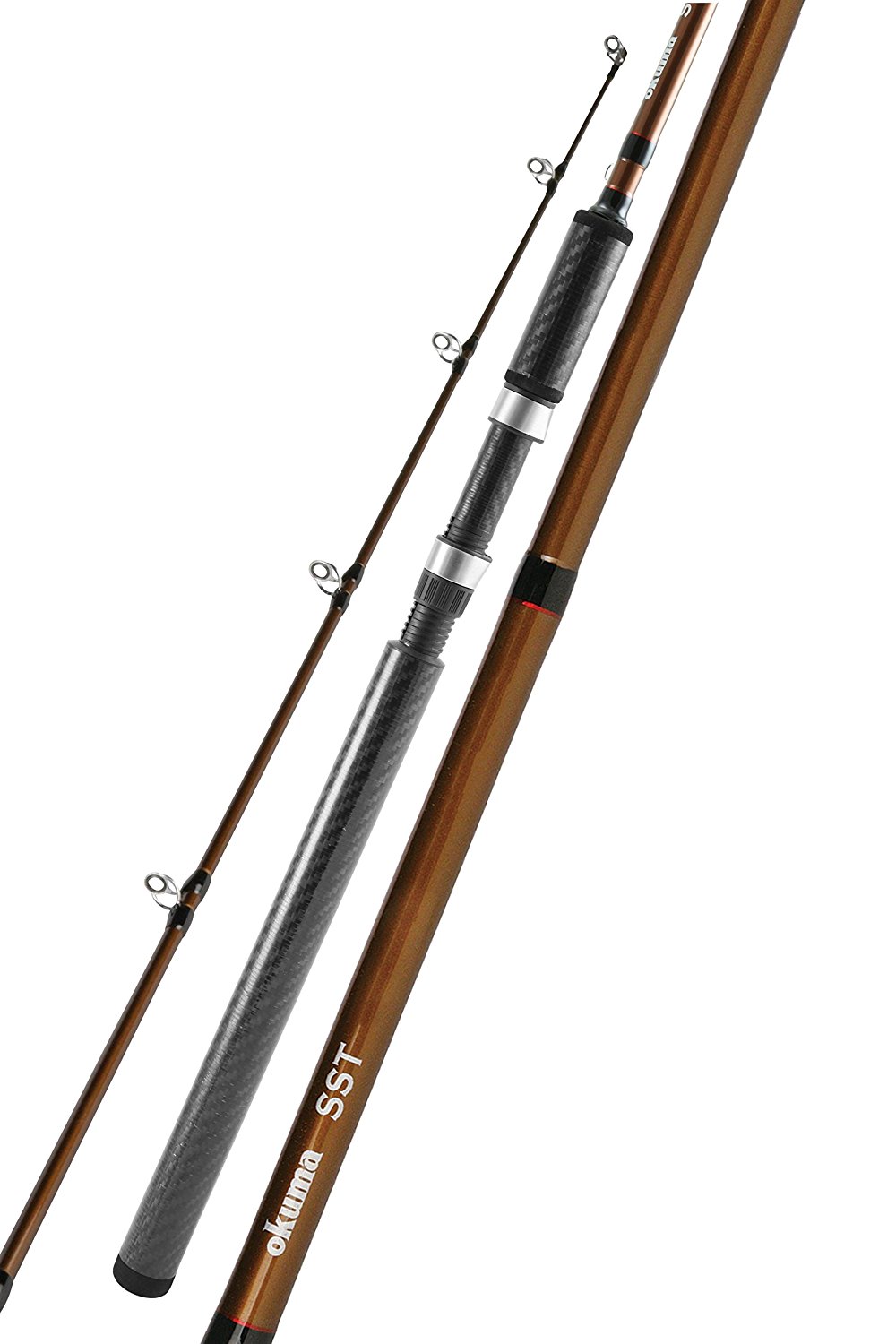 Features of Okuma SST Salmon Fishing Rod
Great Control
Okuma SST-salmon is 10 feet 6 inches long, making it an exceptionally long fishing rod! What does it mean for you? First of all, the length of the fishing rod will allow you to cast the lure too great distances. For fishing in large water bodies, this feature will undeniably be of most usefulness!
Apart from casting distance, what the length of the fish rod allows is better control over both the fishing rod and the line. This means that you will be able to put a much better fight against stubborn fishes, which isn't the case with short fishing rods. Besides, the shock-absorbing features of the length of the Okuma SST fishing rod allow for the protection of the line from breaking when the fish is flip-flopping, swirling, or pulling.
The double-grip design of Okuma SST-Salmon allows for even better casting, as well as control of the fishing rod.
Ideal for Medium-Weight Fish
Okuma SST-Salmon is a medium-power fish rod, meaning that it will be most suitable for medium-size fishes such as black bass, walleye, or channel catfish. Apart from that, medium power will be good for waters with not so much cover where the fish may be located. You may also fish smaller fishes like trout, but be mindful that it isn't as much of fun as it would be with a light-power fishing rod!
Balanced Action
Okuma SST-Salmon also features moderate action, which delivers a nice balance between sensitivity and ability to fight the fish. Moderate action means that the rod bends in the top half of its length, which allows the angler to get good control of the rod, as well as hook setting allowances.
While moderate-action rods won't be as good for powerful hook setting, they still have plenty of hook setting power, and Okuma SST-Salmon is no exception. On the other hand, the flex of this fishing rod will make it much easier for you to fight the fish, which wouldn't be as convenient with fast-action rods. This is possible because the longer bend allows for better shock absorption.
Lastly, moderate action allows for better casting, which combined with the length of Okuma SST-Salmon makes catching fish in large water bodies much more convenient.
Tough Materials
Okuma SST-Salmon is made from mostly graphite carbon, which is why it is so durable. In case you didn't know, graphite carbon is the best material a fishing rod could be made from. Graphite carbon makes the rod extremely stiff yet quite flexible. Add to this that graphite carbon is lightweight and chemically inert to a large extent, and you get a fishing rod that is able to withstand a variety of environmental conditions!
In particular, what's made from the carbon in Okuma SST-Salmon is its blank construction, as well as the fore and rear grips. In the case of the grips, carbon fiber will allow for good control of the fishing rod, as well as nice sensitivity.
The line guides of this fishing rod should also be noted. They are made from tough stainless steel, but that isn't the most noteworthy thing about them. The inserts of the guides are made from zirconium, which reduces the friction from braided lines!
Two-Piece Design
Interestingly, Okuma SST-Salmon is that it comes in two pieces. This is quite important with fishing rods, especially given the fact that this particular rod measures 10 feet 6 inches in length! It would be rather difficult to transport and store it had it been a one-piece fishing rod, but luckily, that isn't the case. It is pretty convenient to store and transport this fishing rod, though keep in mind that it will still be quite long even when disassembled!
Pros:
Great casting capability.
Medium power for moderate-weight fish.
Moderate action for a good balance between sensitivity and control.
Made from durable graphite carbon.
The custom-built reel seat.
Durable and convenient fore and rear grips.
Stainless steel line guides with zirconium inserts.
Two-piece design for convenient storage and carrying.
1-year warranty.
Cons:
Not suitable for confined fishing areas.
Okuma SST Salmon Rod FAQs
1.What's the line rating of this fishing rod?
The line rating of Okuma SST-S-1062M-CG 8 – 17 lbs.
2.What are the lengths of the fore and rear grips?
The rear grip is 11 inches long, while the foregrip is 2 – ¼ inches long.
3.What's the recommended lure weight for this fishing rod?
3/8 – ¾ ounces.
4.Does this fishing rod come with a hook keeper?
Yes, it does include a hook keeper.
5.Could I use this fishing rod for lighter or heavier fish?
We wouldn't recommend doing that. In the case of lighter fish, their weight won't be able to flex the fishing rod as much, which won't allow you to spot that a fish has bitten on the lure. On the other hand, heavier fish will load the rod excessively, which will result in increased wear, and you may even end up with a broken fishing rod. Hence, get this fishing rod only if it has the right features for your fishing tasks.
6.Does moderate action mean that this rod is more versatile than slow- or fast-action rods?
The moderate action allows for a balance between sensitivity and control, but this doesn't mean that you will be able to catch everything with it.
You won't be able to catch fish that need to be pulled out of the water very quickly or that need to be heavily fought. This rod will be suitable for everything in between that doesn't need too much fight from you.
That's it for our Okuma SST salmon review! In case this fishing rod has everything that you need, then it will be definitely worth the money. Otherwise, continue looking for the perfect fishing rod, and don't be afraid to spend a good time on it!
Read More;