Modern bass fishing has evolved from its humble beginnings in the late 19th century, into a multi-billion dollar industry.
It's a recreational sport that paves the way for the development of fishing gear, such as rods, lines, reels, electronic equipment such as fish-finding instruments, and lures or baits. These are all important components of bass fishing. Remove one from the list and it will be incomplete and cannot be enjoyed as much.
And so, let's focus on one of the most important parts of bass fishing – baits.
There are many types of baits available to hobbyists and professional anglers, and we will discuss all the major ones in detail.
Here are the most popular and considered as the Best Bait For Bass Fishing.
Best Bait for Bass We Will cover today
Best Swimbait for Bass
Best crankbaits For Bass
Best Jerkbaits For Bass
Best Buzzbaits For Bass
Best Topwater Lure For Bass
Best bass jig For Bass
Best Spinnerbaits For Bass
Best Craw baits For Bass
Best Soft plastic worms For Bass
Our Top 27 Bass Fishing Lures Reviews!
Best Swimbait for Bass Fishing
1. Catch Co Mike Bucca Baby Bull Shad Swimbait 3.75″ 1/2 oz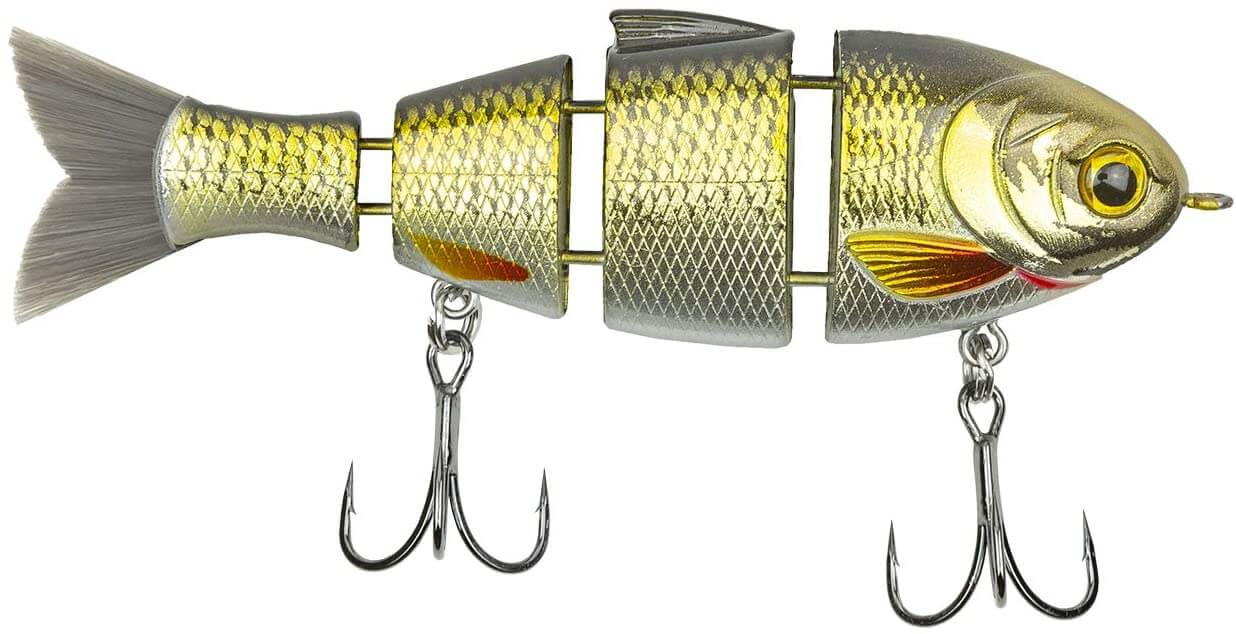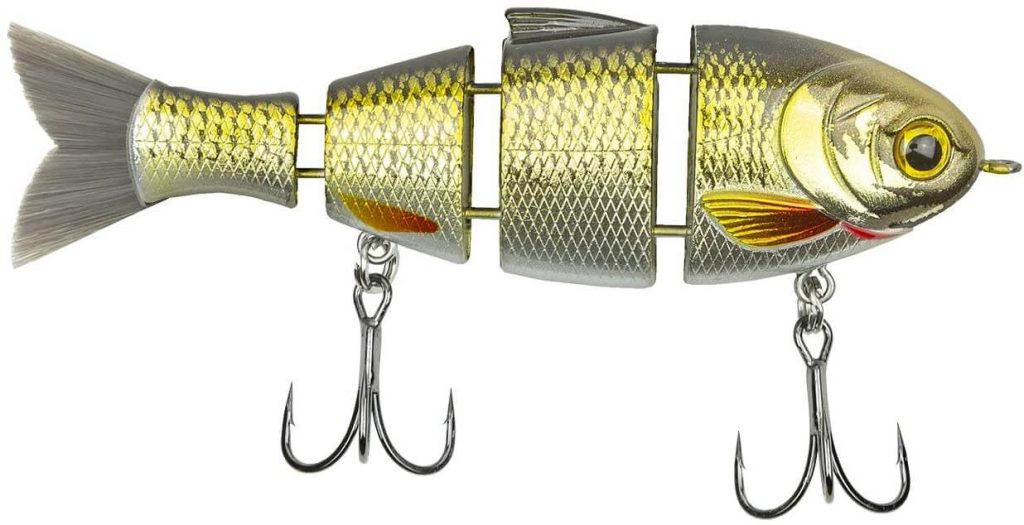 Don't let its size fool you, this small swimbait packs a punch!
Catch Co teamed up with the legendary Mike Bucca, the creator of the original Bull Shad Swimbaits, and came up with this amazing bass lure. The life-like swimming action and realistic paint scheme on this lure are simply superb. Once a bass bites, the sharp six-treble hooks will make sure it's a guaranteed catch.
Watching it in swimming action is a thing of beauty, and it will be hard for any type of bass to ignore it and not react to it. The four-section joints are the secret to its fluid fish-like movement. It creates knocking sounds when the joints hit each other, which is a natural calling sound to the bass.
It's made of abs-injected plastic which is durable, and its size is perfect for a beginner or even seasoned angler. It's small enough to get the attention of small to medium-sized fish, but not too small that bigger fish will also take notice. It's incredibly effective and once you try it, it's going to be hard not to make it one of your favorite swimbaits.
Pros:
Four-section joints allow for a fluid fish-like movement

The paint scheme adds to the realistic look of the lure

Made from durable abs-injected plastic

Sharp and powerful six-treble hooks

Great size for small to big fish
Cons:
The rate of fall may not be fast enough for some anglers
2. TRUSCEND Fishing Lures for Bass 4″ Multi Jointed Swimbaits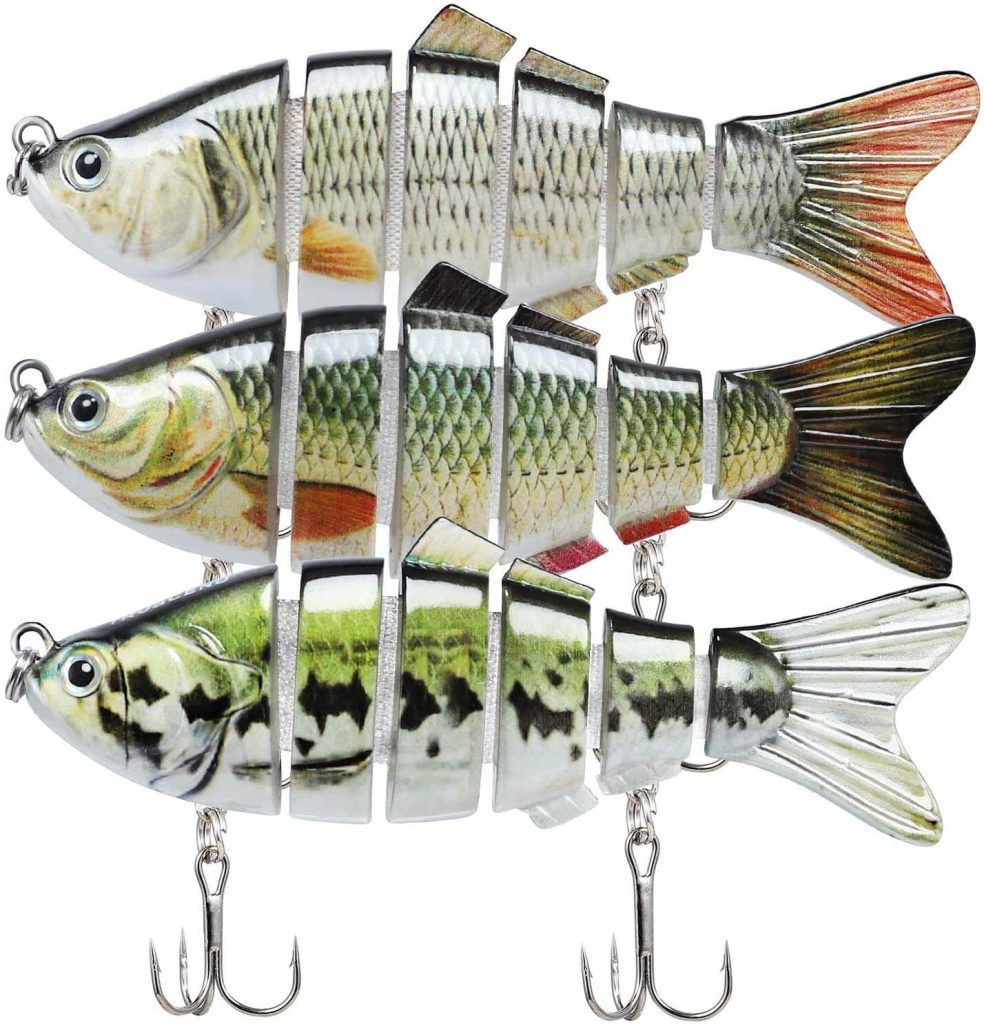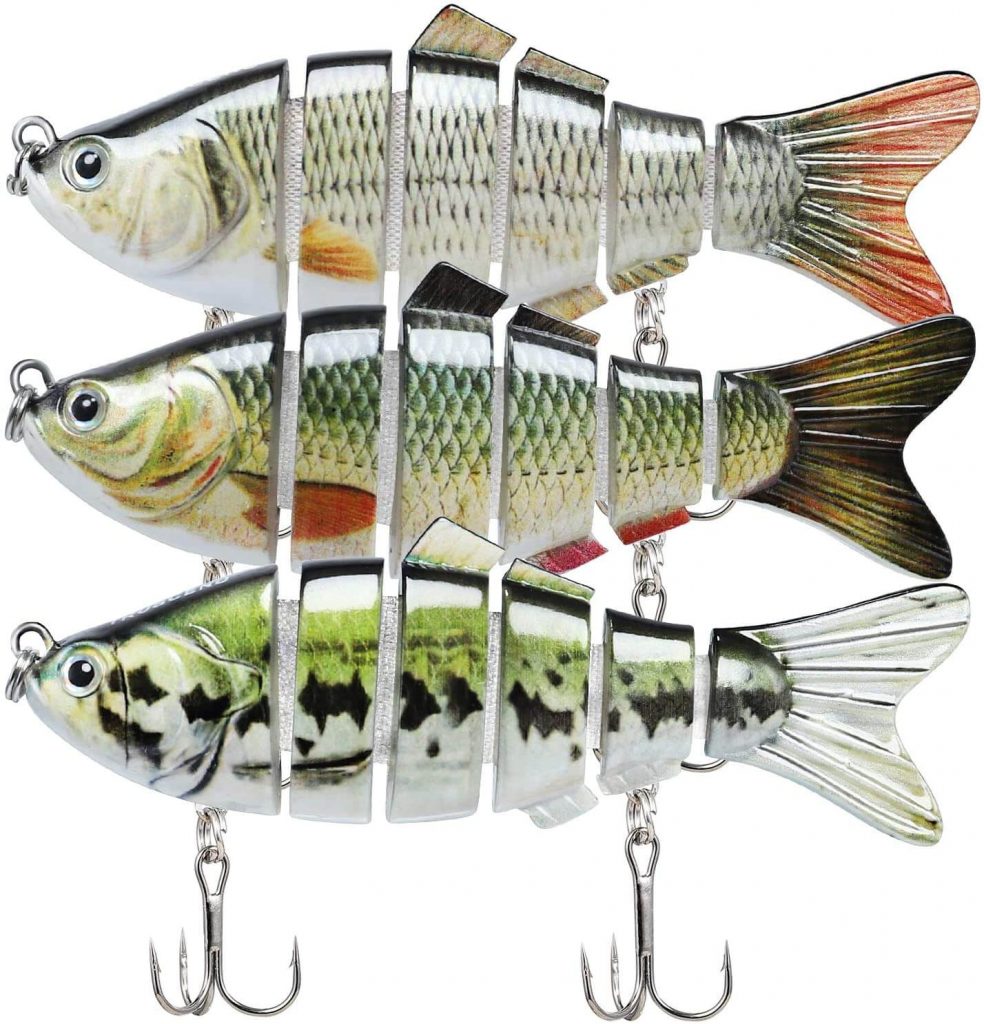 If you're looking for a versatile swimbait that can be fished at almost any depth effectively, look no further. The TRANSCEND Fishing Lures for Bass will attract small, medium, even big-sized bass, yellow perch, walleye, pike, trout, and more.
Its realistic-looking multi-jointed body, which allows it to swim like a real fish will attract predator fishes like a magnet. Made from tough ABS plastic material and meshed with woven fabric, it ensures durability and flexibility whether you use it in saltwater or freshwater. Each separate section is puncture and tear-resistant but maintains its flexibility to create the s-shaped swimming action that attracts any fish.
The six multi-jointed body is rigged with two separate stainless steel, rust-proof Mustad treble hooks. Once the fish is attracted to its fluid fish-like swimming motion, those ultra-sharp treble hooks will make sure it's not going away once they take a bite. With lots of realistic 3D printed body colors and designs to choose from, it can replicate the look of actual baitfish.
This reusable and environment-friendly swimbait is ideal for hobbyists or professional anglers, looking for a high-quality and very effective swimbait.
Pros:
Made from durable ABS plastic material

S-shaped swimming action

6 multi-jointed bodies for flexibility

Ultra-sharp Mustad treble hooks

Realistic body color and design

Puncture and tear-resistant body
Cons:
Sharp hooks may need to be replaced in time
3. RUNCL Anchor Box – Paddle Tail Swimbaits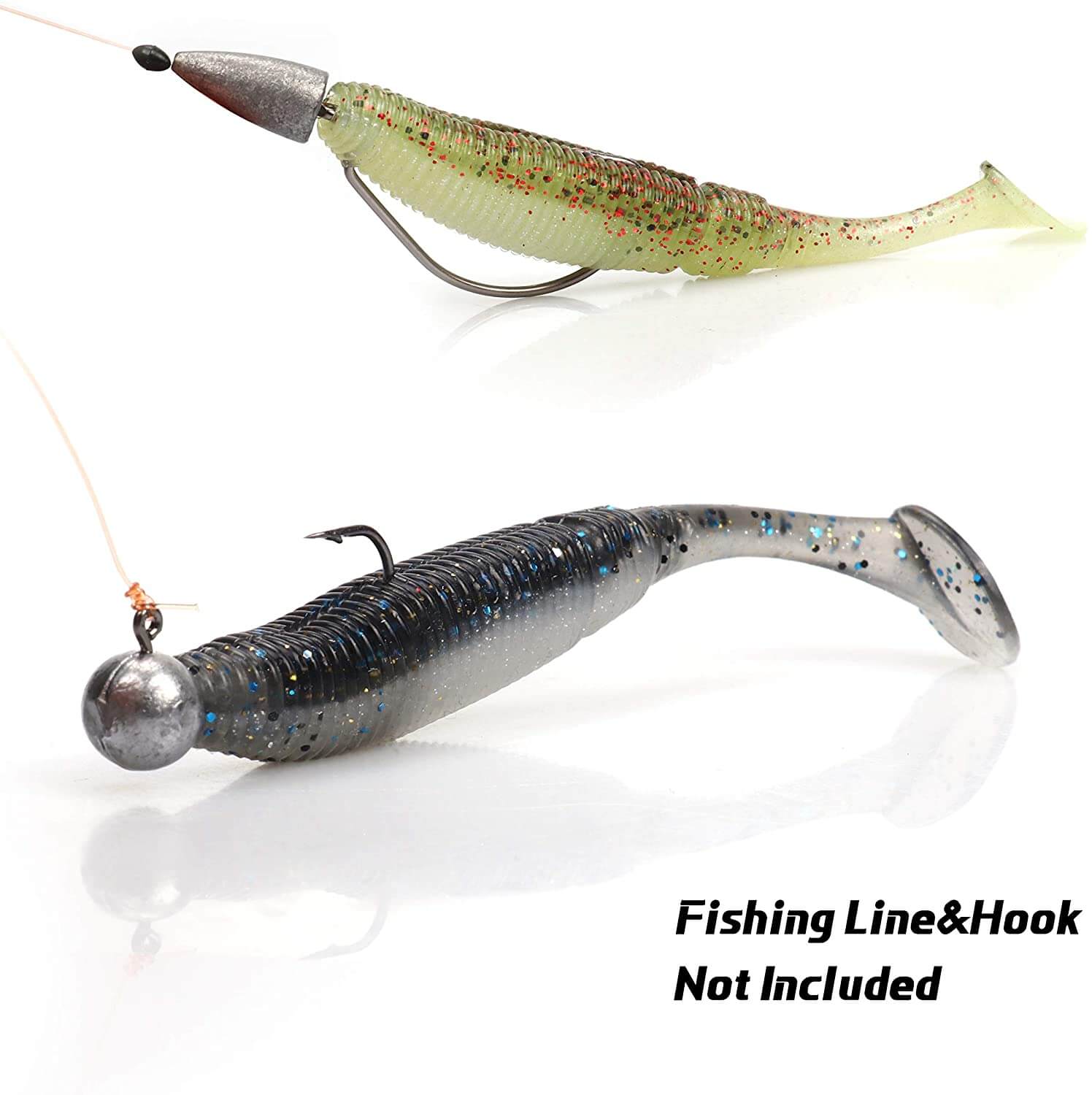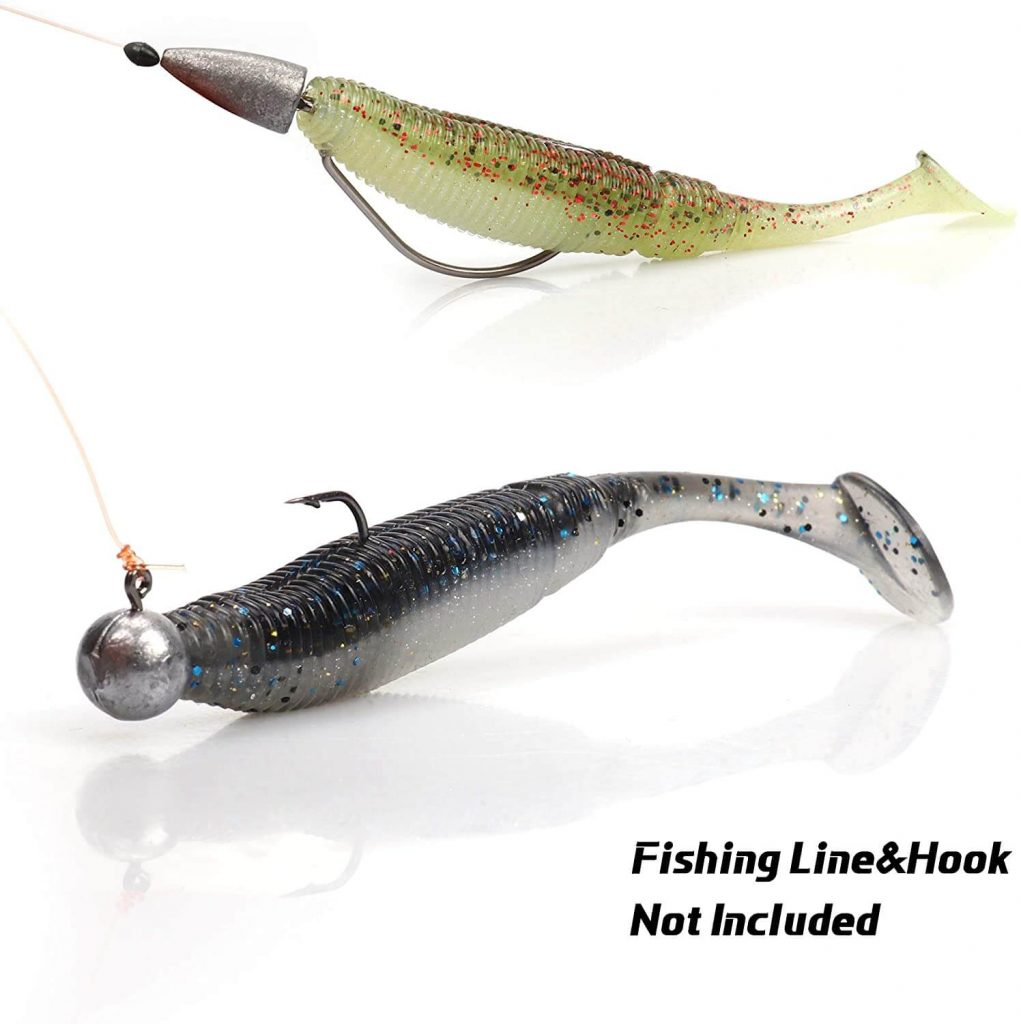 These paddle tail swimbaits from RUNCL come in a box of 20 pieces. The 4-inch lure is soft and looks natural, but is strong enough that fish will have a hard time biting them off. The box contains an assortment of different colored paddle tails to attract bass and other types of fish.
It's made from high-quality material with a built-in scent like an actual worm, which attracts a fish and causes it to hang on longer for greater success. The deep ribs are designed to allow you to load it with your favorite scent if you find the need to. The same design helps the lure tail to weave along in the current, to attract bass or other fishes.
With many several tested and proven colors mixed with colorful glitters, this swimbait reflects the light from all directions attracting the fish and encouraging it to make multiple strikes. The flat paddle tail enables the swimbait to flap and vibrates which draws fish towards it. It is suitable for both clear water and saltwater fishing.
Catching largemouth bass, tilapia, sunfish, catfish, and other types of fish is easy with these RUNCL paddle-tail swimbaits.
Pros:
Tested and proven colors to choose from

Made from quality soft plastic for durability

Flat paddle tail flaps and vibrate

Deep ribs allow the loading of scent

Colorful glitters reflect lights from all directions
Cons:
Some find the profile dimension thin for their liking
Best crankbaits For Bass Fishing
4. wLure Minnow Crankbait For Bass Lure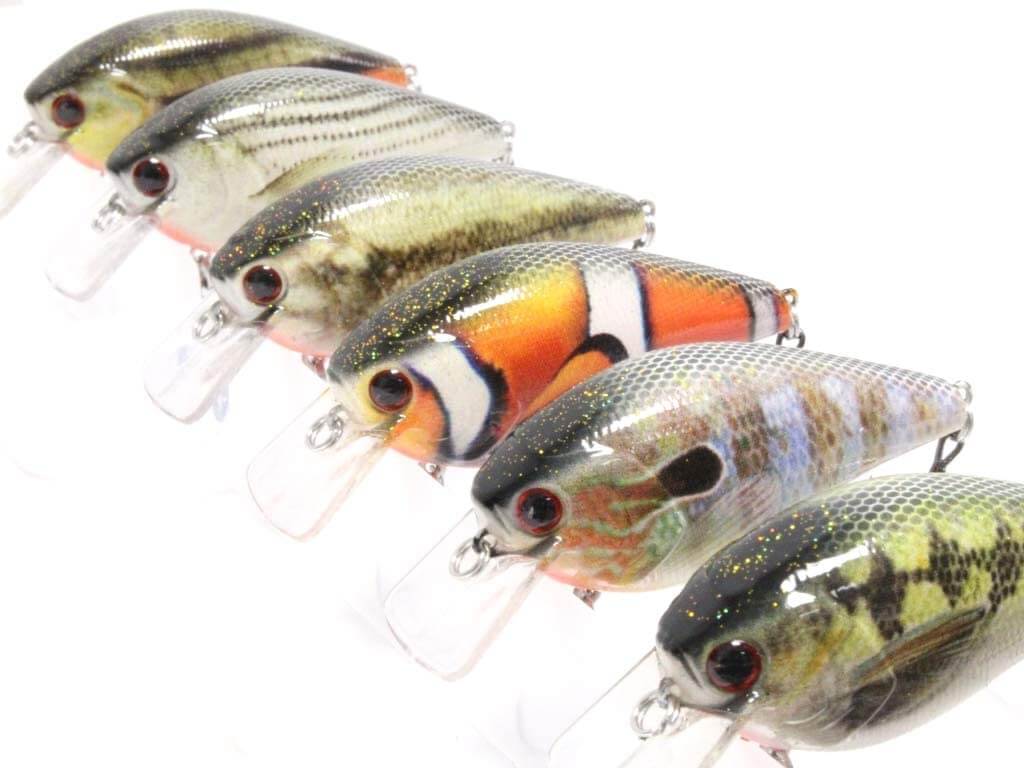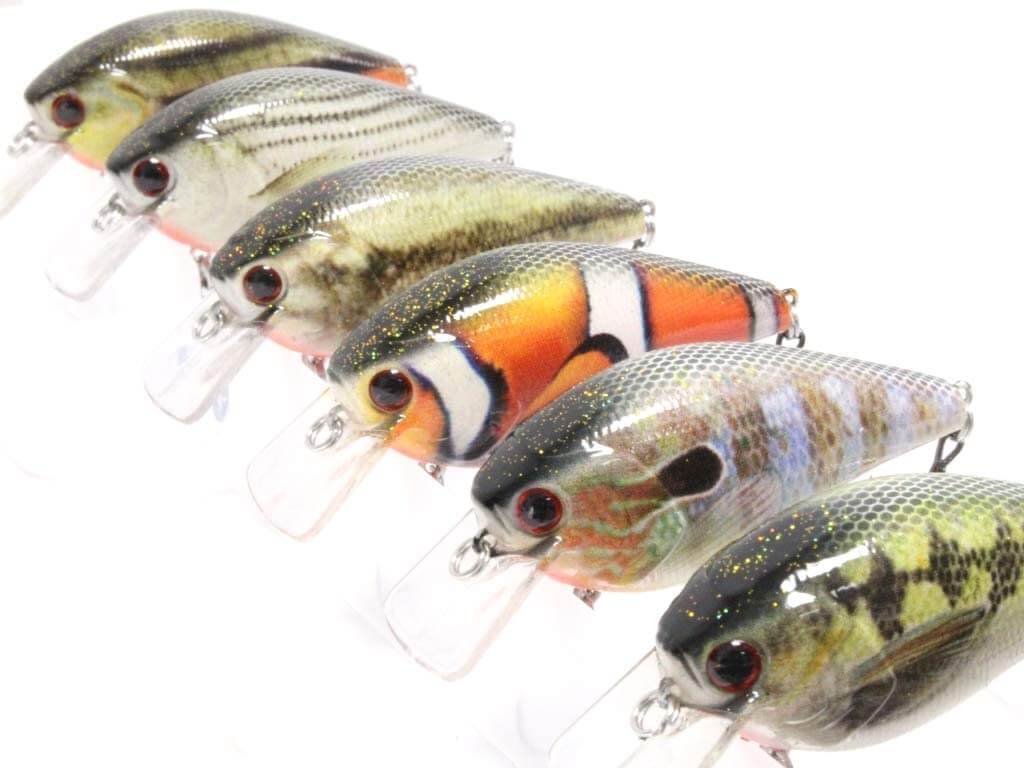 With over 24 different colors and patterns to match any fishing environment, the wLure Minnow Crankbait is an affordable and highly durable lure. It's made from high-quality ABS construction that ensures its reliability and durability. This particular package comes with 6 different-colored lures with a tackle box for convenience.
The impressive life-like color patterns are powered by wLure real skin technology. The eagle claw shape treble hook attached to the lure makes it 125% sharper compared to regular ones. This lure is suitable for both deep water and clear water fishing. Once you throw this crankbait into the water, it will catch fish with its fish-like motion. It's great for fishing at almost any depth including deep waters.
This is a great mid-sized lure to have in your tackle box, and you may find them way better value compared to other higher-priced lures in the market. The colors and finish are high quality, as well as the hooks and split rings attached to it. So if you're looking for a set of mid-sized crankbaits to add to your tackle box, this is a good addition.
Pros:
Made from high-quality ABS construction

Durable and reliable lure

Comes in 24 different colors and patterns

Sharp eagle claw-shaped treble hook

Great for bass fishing in almost any depth
Cons:
Eyelets may need to be reinforced with glue
 5.Berkley Topwater Fishing Hard Baits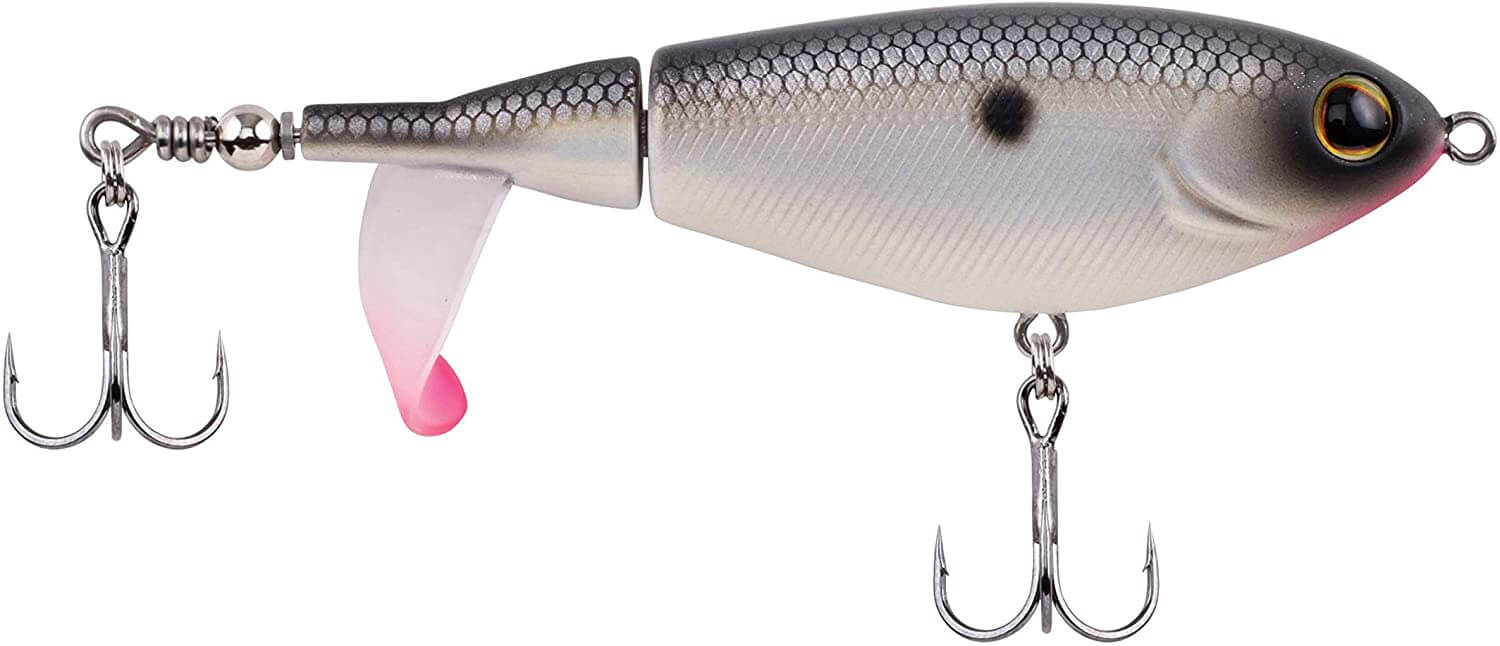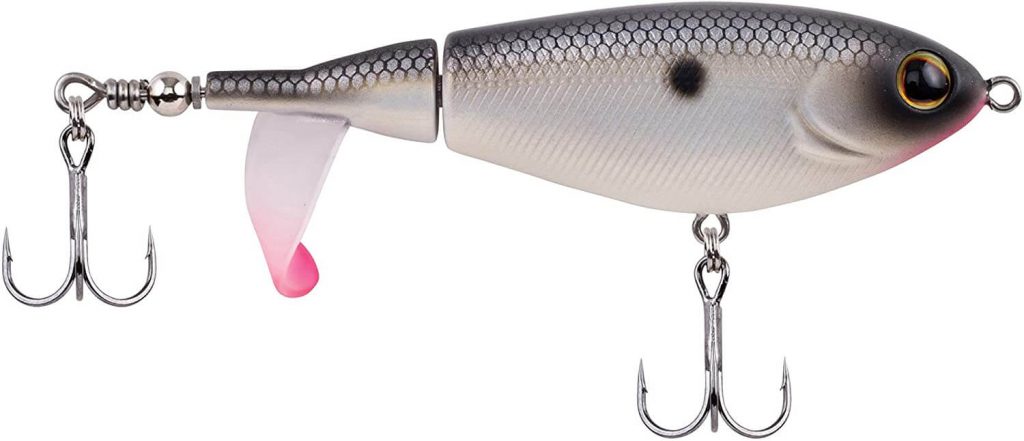 The Berkley Bad Shad crankbait is hated by fish enough for them to attack it and trigger a bite. With its enhanced propeller surface area for maximum disturbance, it produces a popping sound to entice fish. It's easy to use as a topwater lure, and with a durable cupped propeller tail, it swims straight at a variety of speeds.
The lures are pro-designed and tournament-proven to be the ultimate minnow-style trolling lure. Berkley has created a line of minnow baits that dive deeper with maximum flash and tail action. It's louder and deeper compared to peppers, and they do catch fish. The hard plastic tail makes the sound more pronounced in attracting fish.
This is ideal to use in deep waters and then reel them in alternating patterns of fast and then slow. This produces a rattling sound which attracts the fish to give chase. Catching bass and pikes on these lures is easy, especially with its super sharp, rust-resistant hook.
Pros:
Pro-designed and tournament have proven lures

Hard plastic tail creates a rattling sound to attract fish

Ideal for deep-water fishing

Easy to use as a topwater lure
Cons:
6. Norman Deep Little N Crankbait Bass Lure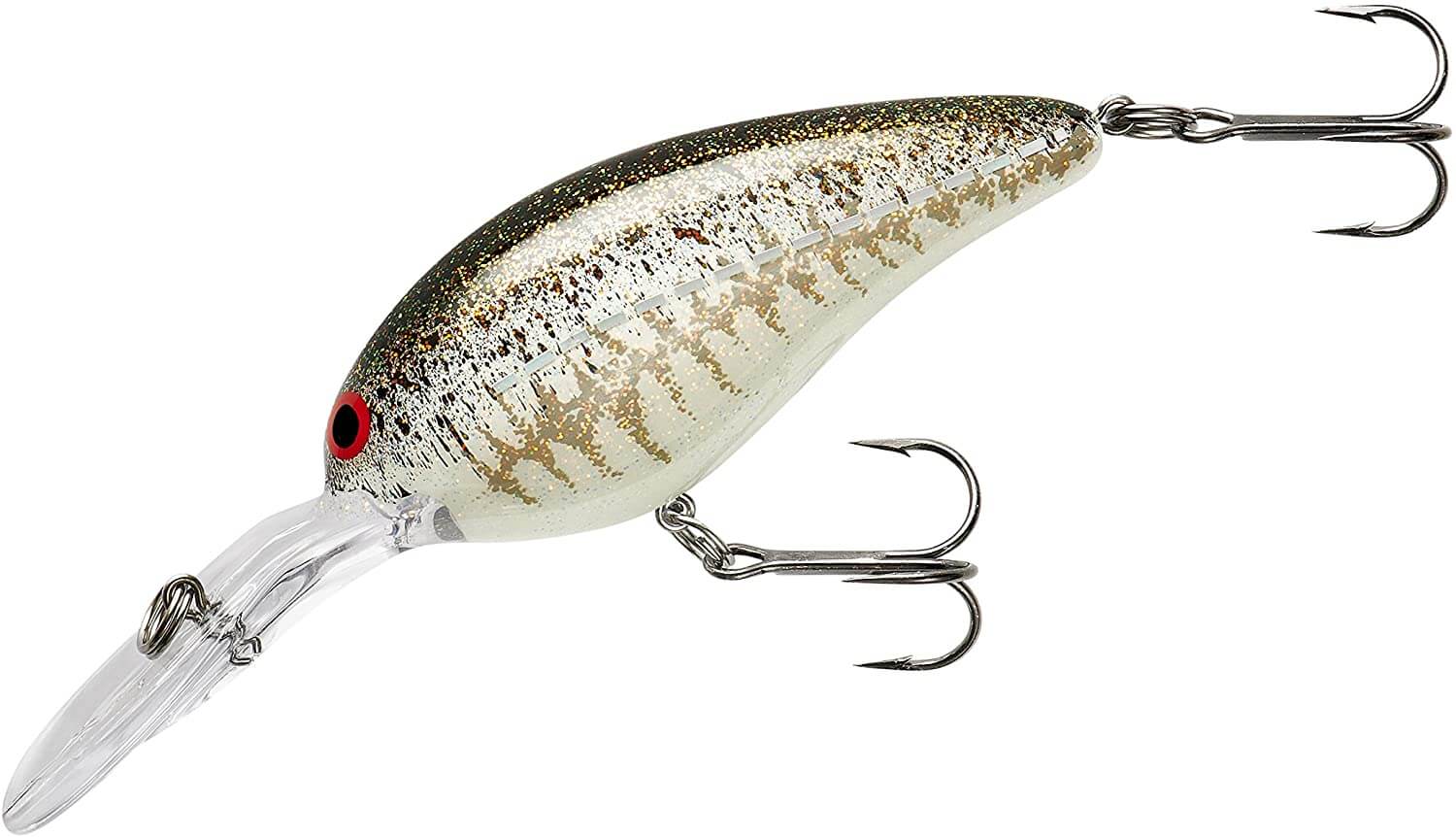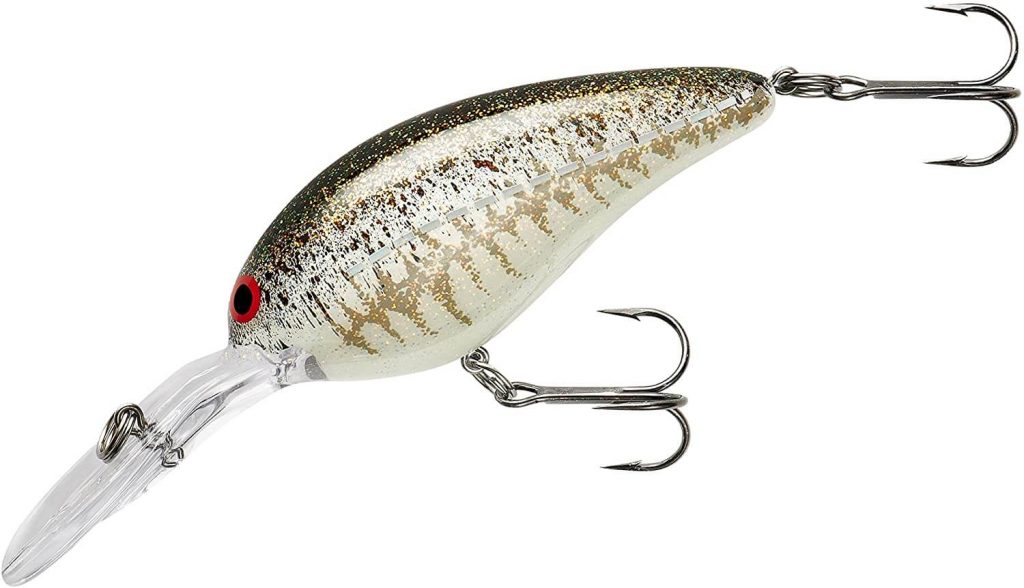 The Norman Deep Little N crankbait is a lure that looks and feels high-quality. The paint job on its 2 ½ inch body is simply amazing and with more than 30 different colors and designs to choose from, you can easily find the most suitable one to match your fish bait.
This is one excellent crankbait with realistic swimming action great for catching bass and other types of fish. If you're looking for a crankbait that runs 9-12 feet deep, look no further then. It's made from a butyrate polymer plastic that makes a great sound that attracts fish towards it.
Great in timber, brush piles, rock, whatever conditions you're facing, it comes through really good. It has a nice wobble, and lots of flashes, this is just a great crankbait to have in your tackle box.
Pros:
Made from butyrate polymer plastic for durability

Makes a great sound that attracts fish

Lots of colors and patterns to choose from

Realistic swimming action

Runs from 9-12 feet deep
Cons:
Best Jerkbaits For Bass Fishing
7.Rapala X-Rap Jerkbait XR10 Bass Lure


Just by looking at the Rapala X-Rap Jerkbait XR10, you can already see that it's very well made. But pick it up and hold it and you can be sure that it's a well-made and durable jerk bait. It darts back and forth when retrieved slowly and looks like a wounded fish, attracting predator fish after a quick bite.
Its hard-cutting, aggressive darting action, with a rattle sound triggers strikes from fish. It suspends and comes to a roll at rest to trigger the bite. The X-Rap is an adrenaline-pumping lure that is simply irresistible to bass and other types of fish. Weighing only 0.4375 oz., it's great for use to almost any depth with a running depth between 3-8 feet. With sharp and durable hooks, any bite by bass or other types of fish seals its fate.
Pros:
Well-made and highly durable

A great lure that is irresistible to bass and other types of fish

Ideal for almost any depth
Cons:
The ring on the hook may break off easily
8.Strike King KVD Jerkbait 2 Hook


Strike King and Kevin Van Dam (KVD) teamed up to create a jerk bait that is fantastic for spring bass fishing and more. The rattling sound produced by this lure is great in attracting fish and triggering them to strike. Life-like swimming action with a really wide side-to-side travel on the jerk makes it ideal for getting the attention of predator fish. The erratic wiggling and darting action adds to its appeal.
Like most fish baits that have the Strike King name on them, this lure is sure to get the job done. The realistic 3D eyes and paint that come in a wide range of chip-proof colors make it one of the most effective lures at an affordable price. Two super-sharp treble hooks complete this lure's features in getting all those catches.
Pros:
Life-like swimming action

Realistic 3D eyes and paint in various colors

Erratic wiggling and darting action
Cons:
Some colors may work better than others
9. 6th Sense Provoke 106X Jerkbait Custom Fishing Lure


No products found.
The Provoke series of jerk baits is a proven lure designed by top pros, and the Provoke 106X is by 6th Sense is undeniably one of the best. The precise weighting system allows it to slow float or suspend (depending on the water temperature) while diving to depths of 4 to 6 feet. With every rod twitch, the precision-engineered tapered tail design creates exceptional darting and turning motion.
This jerk bait measures 4.2 inches in length and weighs ½ oz and comes in various colors to suit your fishing environment. It looks life-like and is great for catching from small to large bass, pike, striker, and many more. Its 3 sharp hooks attached to its body ensure that any fish that takes a bite is not gonna get away.
Pros:
Precise weighing system

Dives up to 6 feet in depth

The tapered tail design creates a darting motion.
Cons:
Baits are specialized for a specific type of water
Best Buzzbaits For Bass
10. Strike King Buzz Bait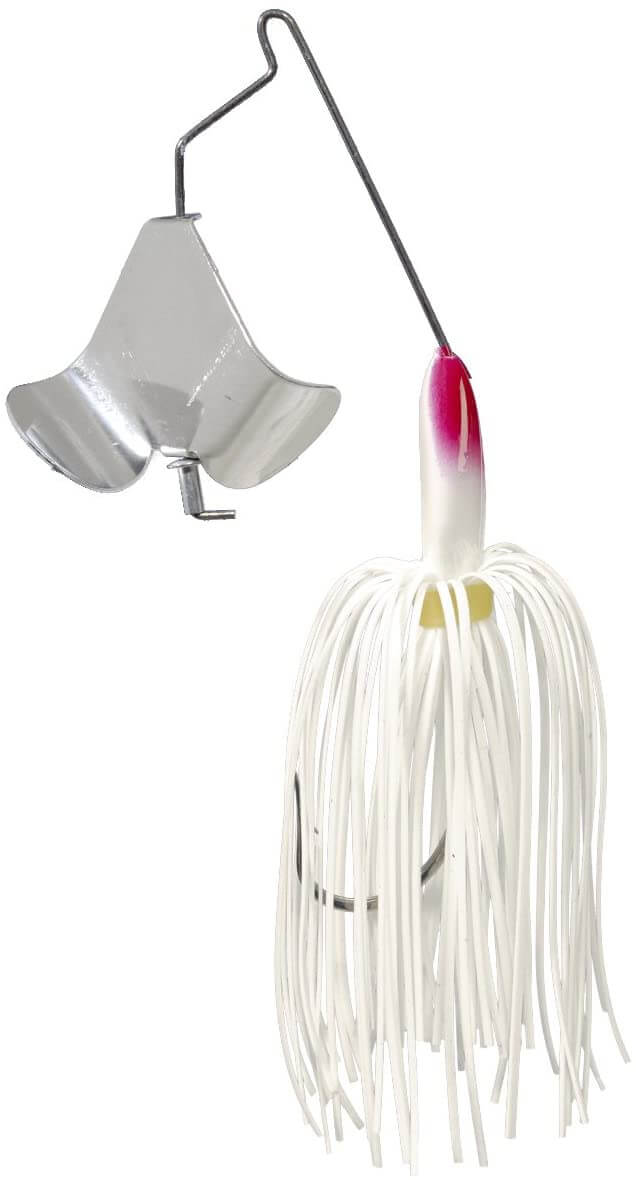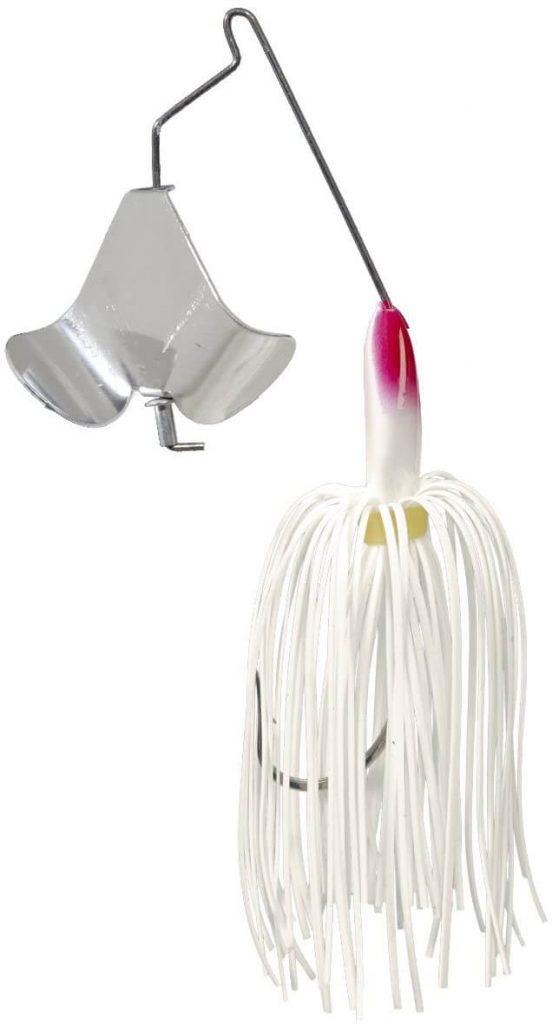 The Strike King Buzz Bait is one of the best in the market. You will notice that it's got a free-swinging hook. With traditional buzz baits, it's a straight shank to the hook, and most times anglers put a trailer bait on them to add more action. They also put a trailer hook on them to increase the hookup ratio. This buzz bait doesn't need any of that. The reason is as you're retrieving this bait through the water, it pulsates up and down. The skirt has a lot of action because it's free-swinging.
When fish go to bite it, they suck in a lot of water and everything is getting pulled toward them. With the Strike King's free-swinging hook, when the water's getting pulled towards their mouth, the bait is going to be pulled towards the boat. But the hook will allow a better hook-up ratio as the fish chomps it down.
This is a top-water bait and fishes more effectively, when on top of the water. Cast it out and give it a moderate retrieve, you're gonna make the blade spinning and kick up water and you're gonna have success. What's good is that you can adjust it to lessen the noise depending on the condition of the environment that you're fishing in.
It includes a red shadow head and a true running wire form. With quality construction and premium hooks, you can be sure of getting that bass. The color patterns create an appealing and natural look for the fish. All in all, this is a perfect topwater buzz bait.
Pros:
Quality construction with premium hooks

Color patterns create an appealing and natural look

Free swinging hook allows a better hook-up ratio

Great top water buzz bait
Cons:
Not too many color choices
11. Booyah Pond Magic Buzzbait Bass Lure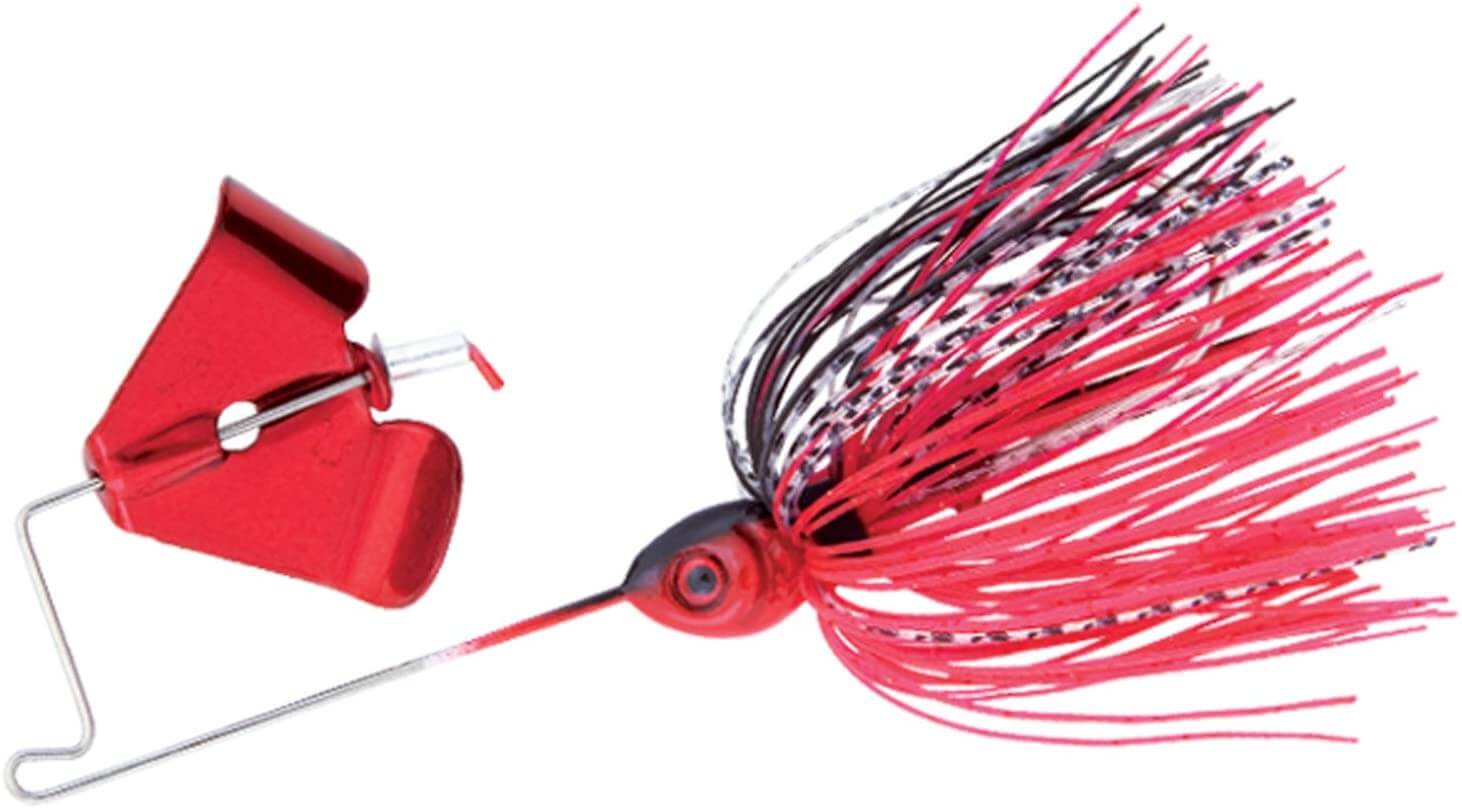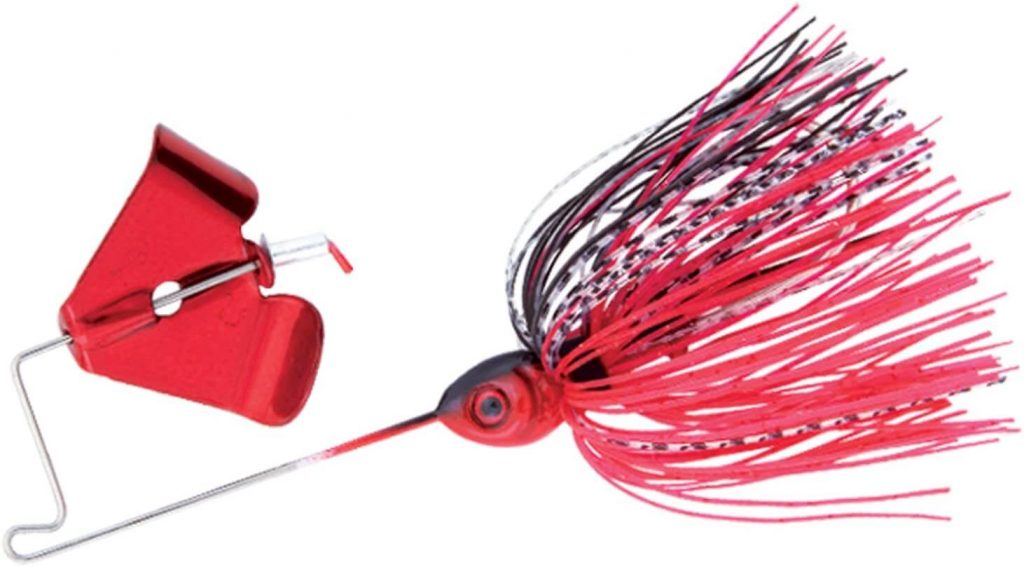 Sometimes big is not always better. If you're not getting bites, get smaller. The Booyah Pond Magic Buzz is a 1/8-ounce buzzbait, and it's the perfect size when you want to size down your buzz bait. Make an accurate cast and this Booyah Pond Magic Buzz will catch all kinds of fish. It will catch bass, bluegill, monster crappie, and many more.
This is a lure that should be in your tackle box. If you don't have this as one of your fishing tools, you're missing out. With matching color blades and exclusive 60-strand ultra-fine silicone skirts, it matches the hatch of a bass' favorite prey. Built with a Mustad Ultra Point hook and hard coat paint schemes, the Booyah Pond Magic Buzz is one of the most definitive 1/8-ounce buzz bait on the market.
This fishing lure is built to last with its skirt held firmly in place and paint that does not easily chip. The propeller will also not easily bend making it a reliable and dependable buzzbait in your fishing arsenal. You can add a squeaking sound to your Booyah Pond Magic Buzz which can be very beneficial to emit the overall noise that is desired. With just a few adjustments on the propeller collar, you can achieve a permanent squeaking sound on your lure.
Pros:
60-strand ultra-fine silicone skirt

Adustable squeaking sound

Mustad ultra point hook

Paint is not easily chipped
Cons:
Some may find that it does not produce enough drag
12. Strike King Tri-Wing Buzz King Bait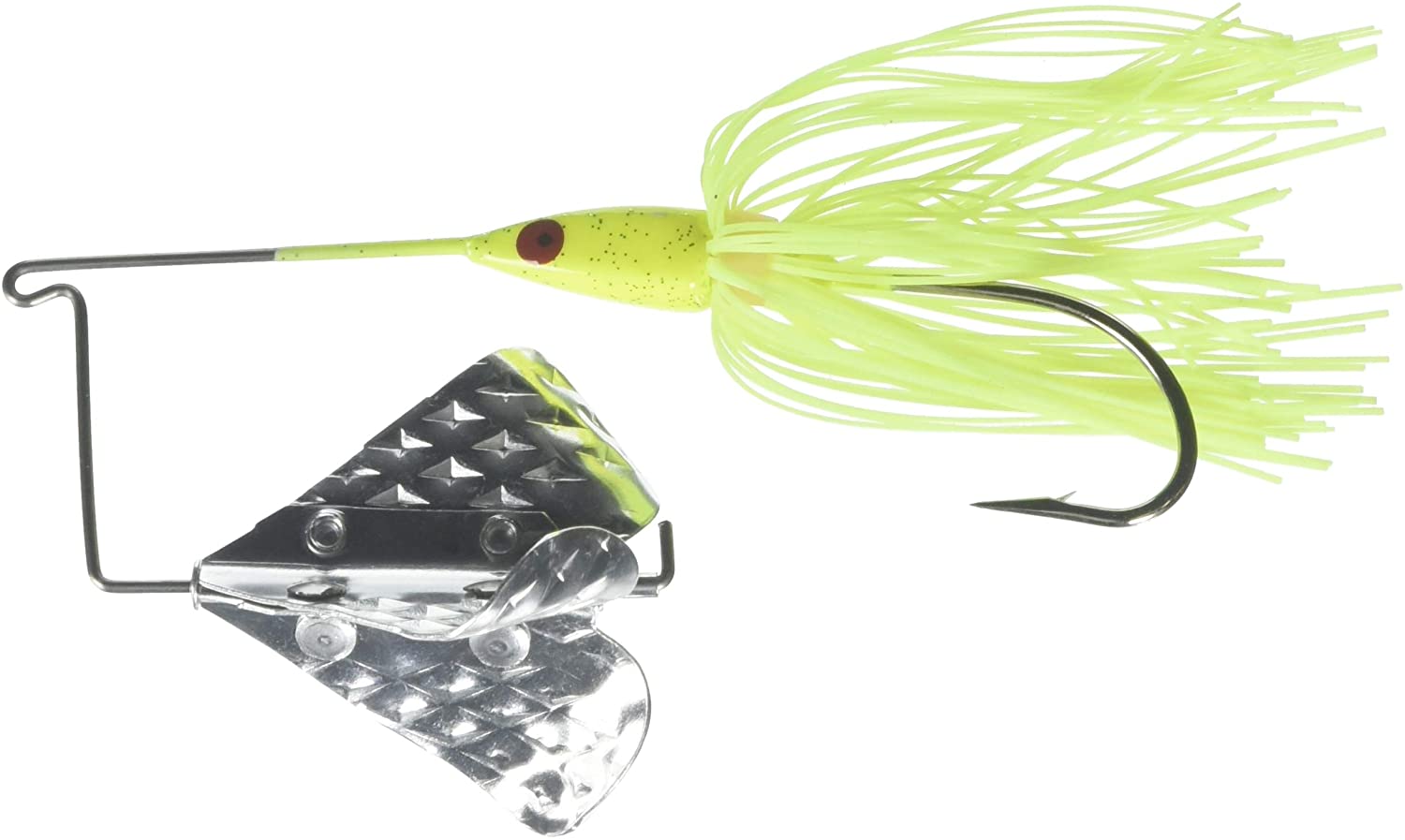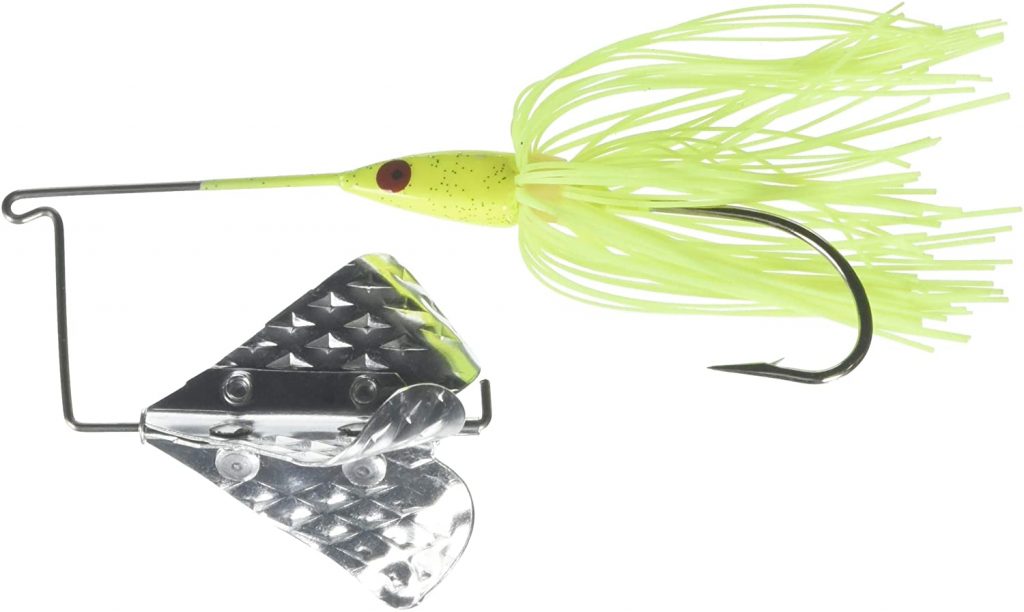 Another Strike King on our list, the Tri-Wing Buzz King Bait is suitable for freshwater bass fishing. With its diamond dust head and matching diamond dust silicone skirt, it will consistently attract fish and trigger them to bite them. The 3-blade diamond-pattern propeller emits sound, reflects light, and enables slow retrieves.
Compared with the two-blade version, this tri-wing buzz king bait is way better. It allows slower retrieves and at the same time produces a gurgle as it skims the surface of the water that you're fishing on.
---
Pros:
Diamond dust head and silicone skirt attract fish

3-blade diamond-pattern prop emits sound

Allows for slower retrieves

 
Cons:
Best Bass Lures For Topwater
13. Croch Hollow Body Frog Lure Topwater kit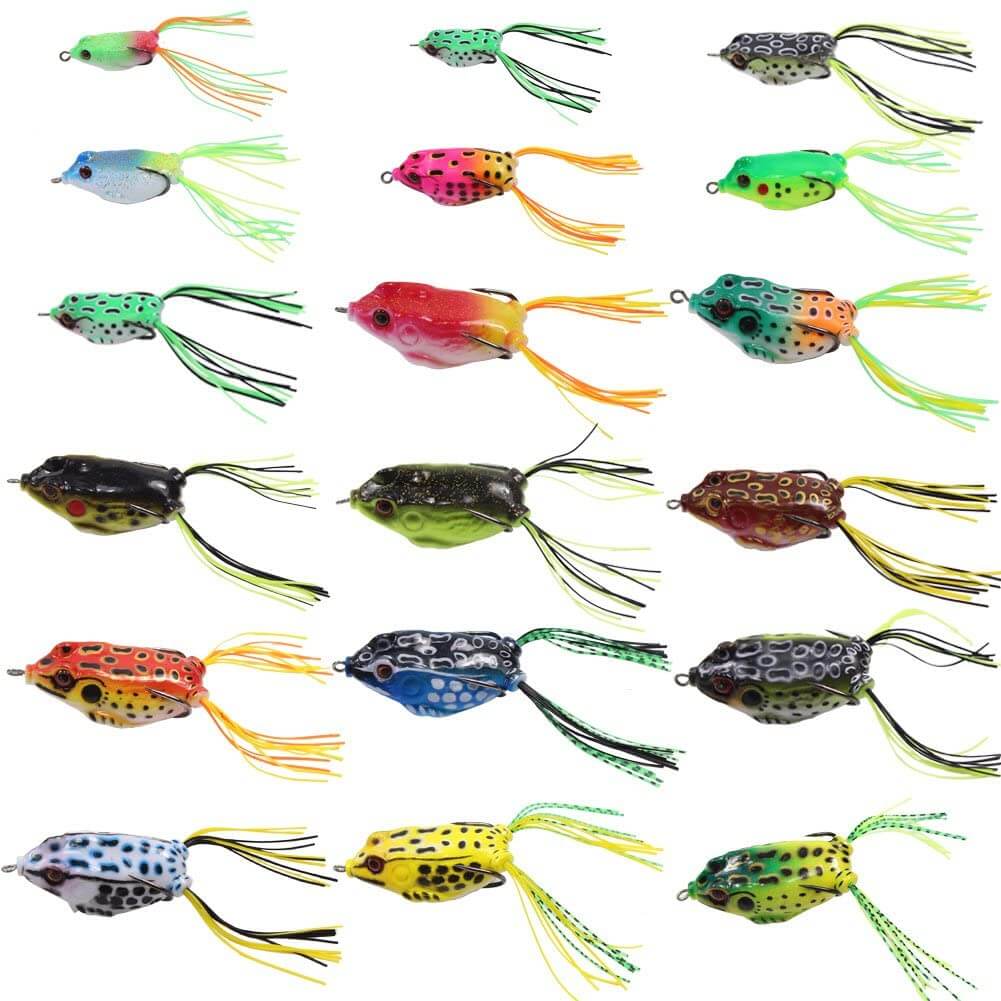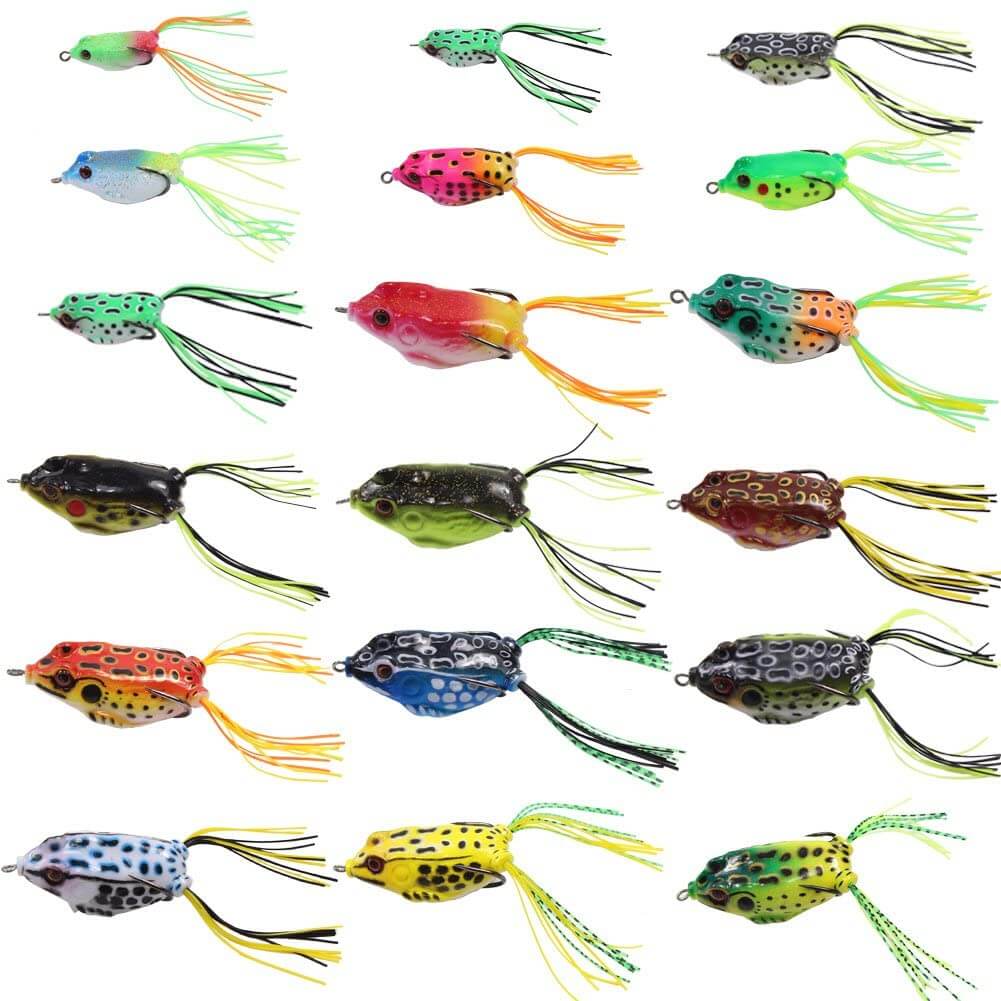 This is one of the most affordable yet effective topwater frog lures on the market today. While it will not win in the highest quality lures category, the variety in colors and sizes is worth it. Made of super soft and elastic material, its flow-through design and interior weighting system keep it from sinking or snagging.
The tough double-hook design gives it excellent hooking action and is positioned just right to be 100% weedless, allowing it to be worked over weed-choked areas. With a hollow body and realistic body design, it makes frog-walking action on open water easy and more irresistible to bass and other fishes. They cast very nicely and sit in the water and mimic how a true live frog acts. If saving $6-7 a pop on a frog lure that does the same job as its more expensive counterparts, this Crochet Hollow Body Frog Lure is truly worth it.
The silicone skirts and collars provide an effect for great pulsing action. The sturdy dual-barbed hook is made out of premium quality carbon steel, sharp and strong enough to hook even large fish securely. If you're looking for a frog lure that is value for money, this is perfect for what you need.
Pros:
Comes in various sizes and colors

Hollow-body that looks realistic

Silicone skirts provide great pulsing action

Sharp dual hook design for a good hook-up ratio

Very affordable
Cons:
Skirted legs tend to slip
14.Livetarget Hollow Body Frog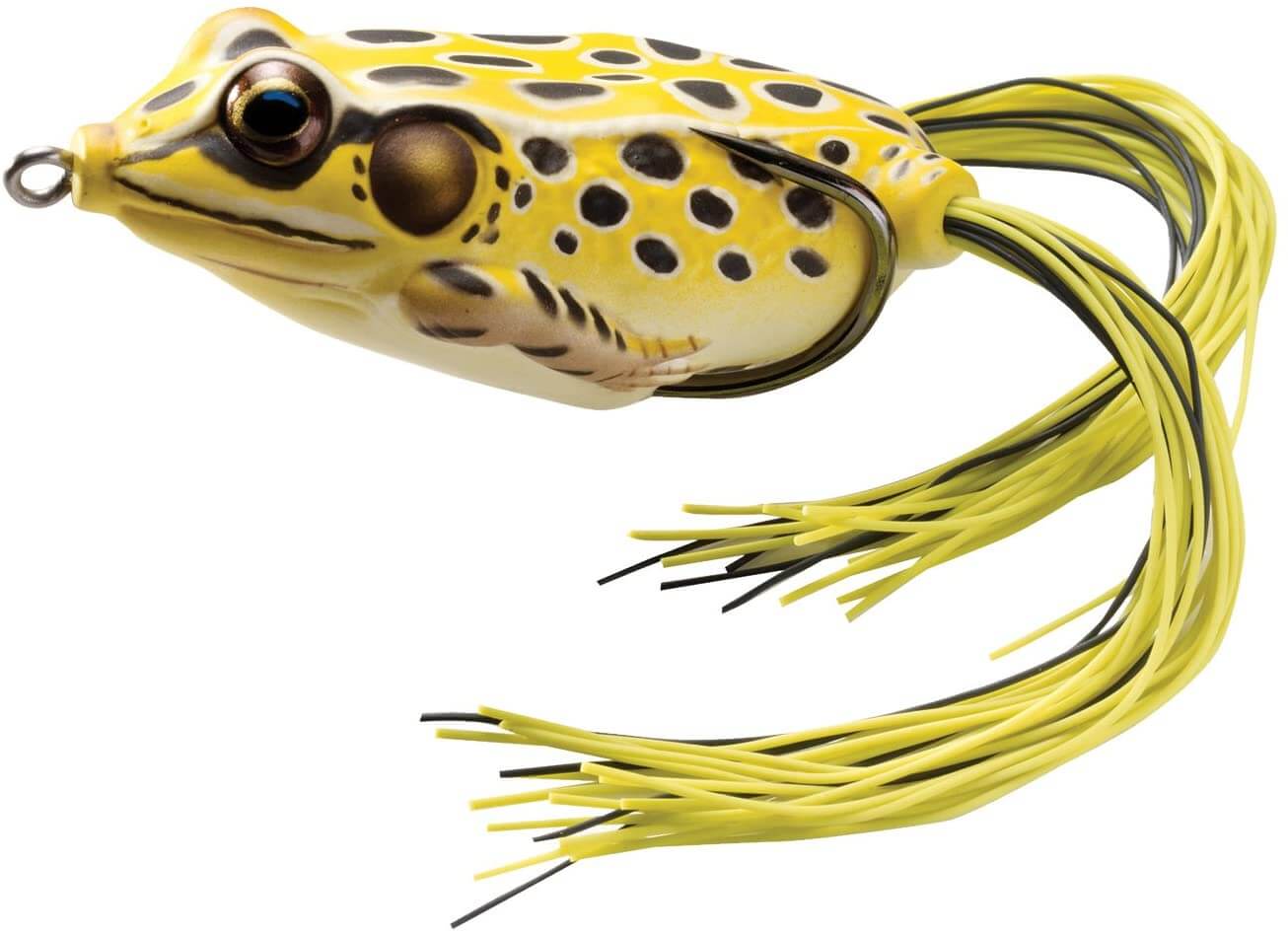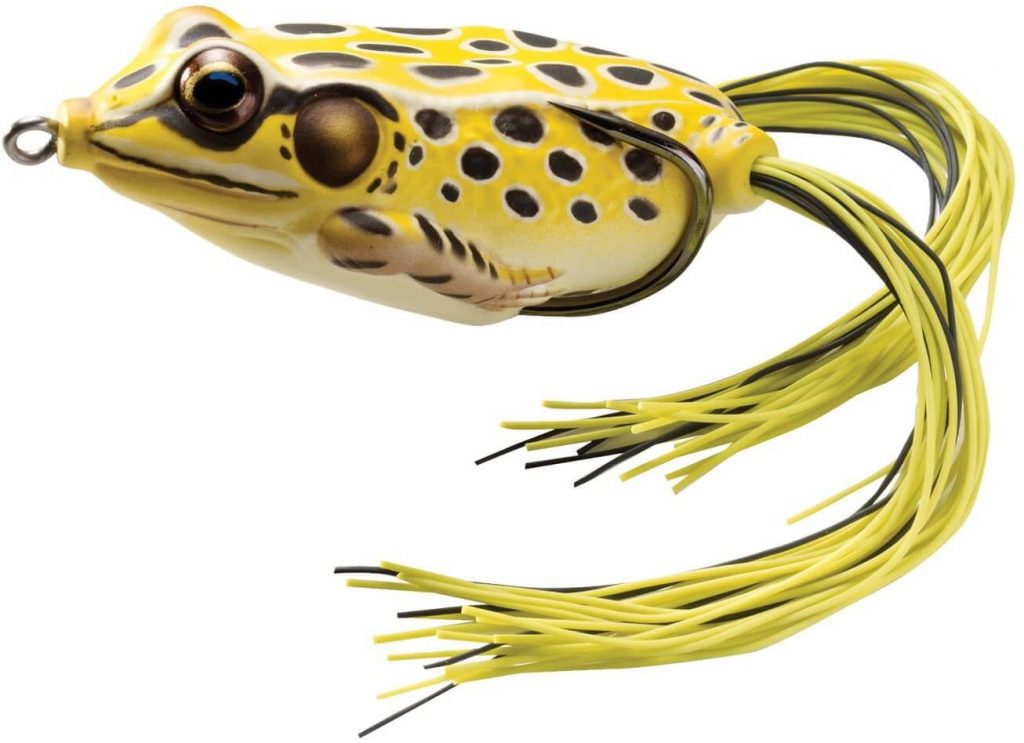 The Livetarget Hollow Body Frog is a high-quality frog lure that is perfect for fishing in weed-choked areas of lily pads. It's good to go right out of the box. It's a very attractive lure for bass and it draws attention because of its real-life frog action. Many companies use the word "weedless" but this lure can take a claim on this term.
This is built tough and can haul in 5-7 pounders out of heavy covers with no problem, whatsoever. Once you get a strike, just wait a few seconds before setting the hook to increase your hook-up ratio. This is a lure that should be in any angler's tackle box for use in weed-choked areas. It comes in various sizes and colors for different fishing environments.
Pros:
Durable and high-quality frog lure

Perfect for fishing in weed-choked areas

Real-life frog action

Comes in various sizes and colors

Weedless design
Cons:
Maybe prone to discoloration
15. Heddon X9236-BONSL Super Spook Jr. Topwater Lure


The Heddon X9236-BONSL Super Spook Jr. is a tough and durable lure. The side-to-side walking dog action is sure to attract a lot of fish. Use it with a soft action rod and double loop knot with an 8-10 lb test line and you'll be amazed at how effective this bass lure is in getting all those bass and other types of fish.
This is a well-made lure that will hold up well to constant use and abuse. This features the tough construction and good looks of its full-sized Super Spook big brother. While it may be smaller in size, it's still an explosive fish-catching lure.
Rugged line ties and hooks ensure that the Super Spook Jr. will hold up even from aggressive charges from schools of fish. The realistic fish-like action and finish, make this a highly effective lure in any topwater fishing situation.
Pros:
Very tough and durable material

Walking the dog technique attracts fish

Rugged line ties and hooks

Realistic fish-like action and finish
Cons:
Walking the dog technique takes some getting used to
Best jig For Bass Fishing
16. Strike King Tour Grade Swim Jigs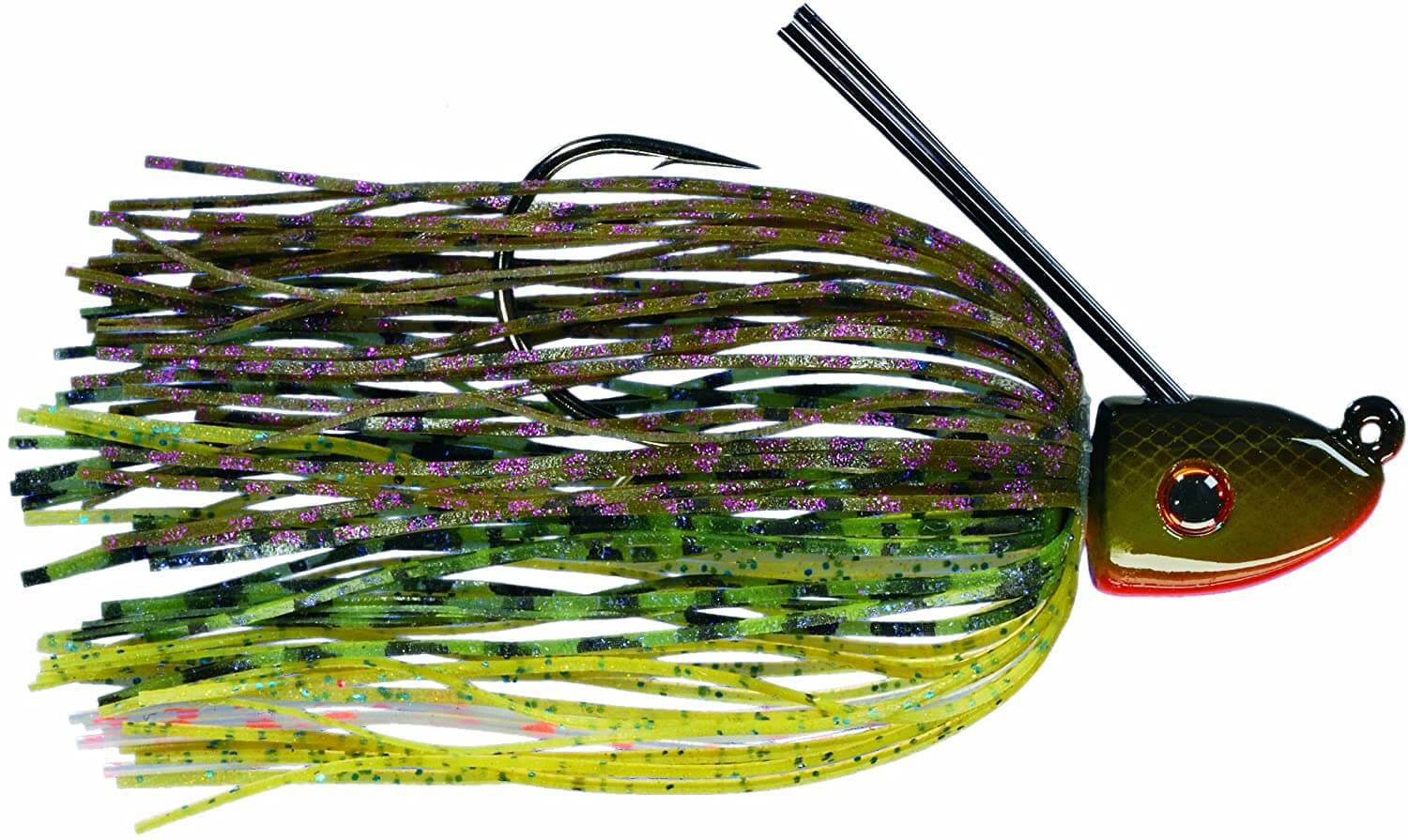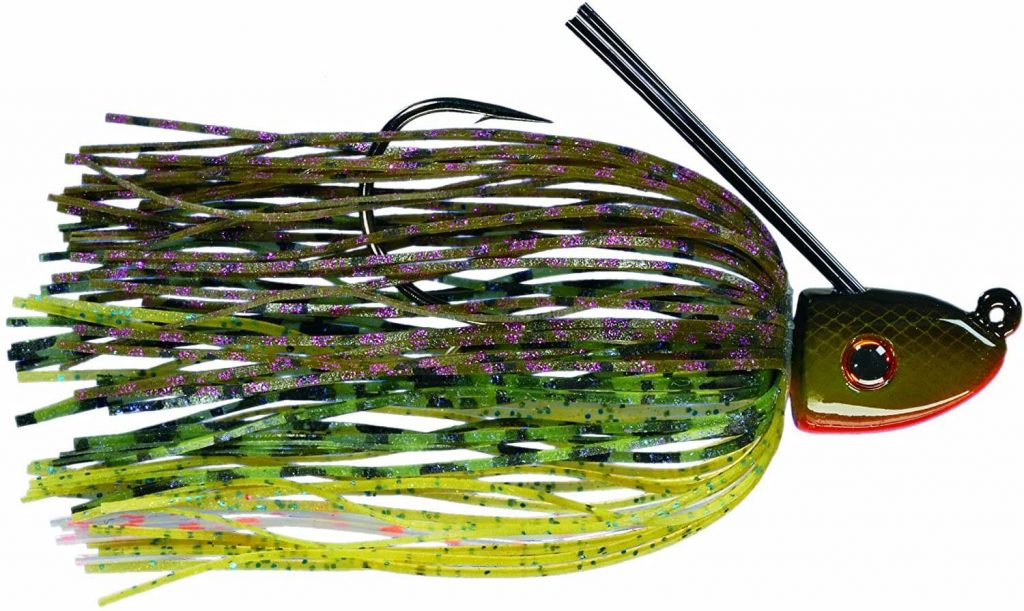 This is another Strike King on our list that is a favorite of many anglers. This lure has many of the attributes of the Strike King Tour Sugar Buzz. Its free-swinging hook allows the skirt and trailer a lively action, apart from the head of the jig.
This tour-grade swim jig is designed by professional anglers and includes a streamlined balanced
head for better swimming action. It's painted and coordinated with a perfect skirt and includes a medium wire super sharp hook. Bass loves the rage craw, menace, or grub as a trailer and they will surely fall prey to them.
This imitates fish bait to a tee with its flutter and fluid movement. Highly durable and comes in multiple colors. This is a must-have swim jig in your tackle box.
Pros:
Free swinging hook creates lively action

Designed by professional anglers

Comes in multiple colors and sizes

A perfect skirt that mimics a fish lively action

Durable and quality material
Cons:
17. Terminator Pro's Jig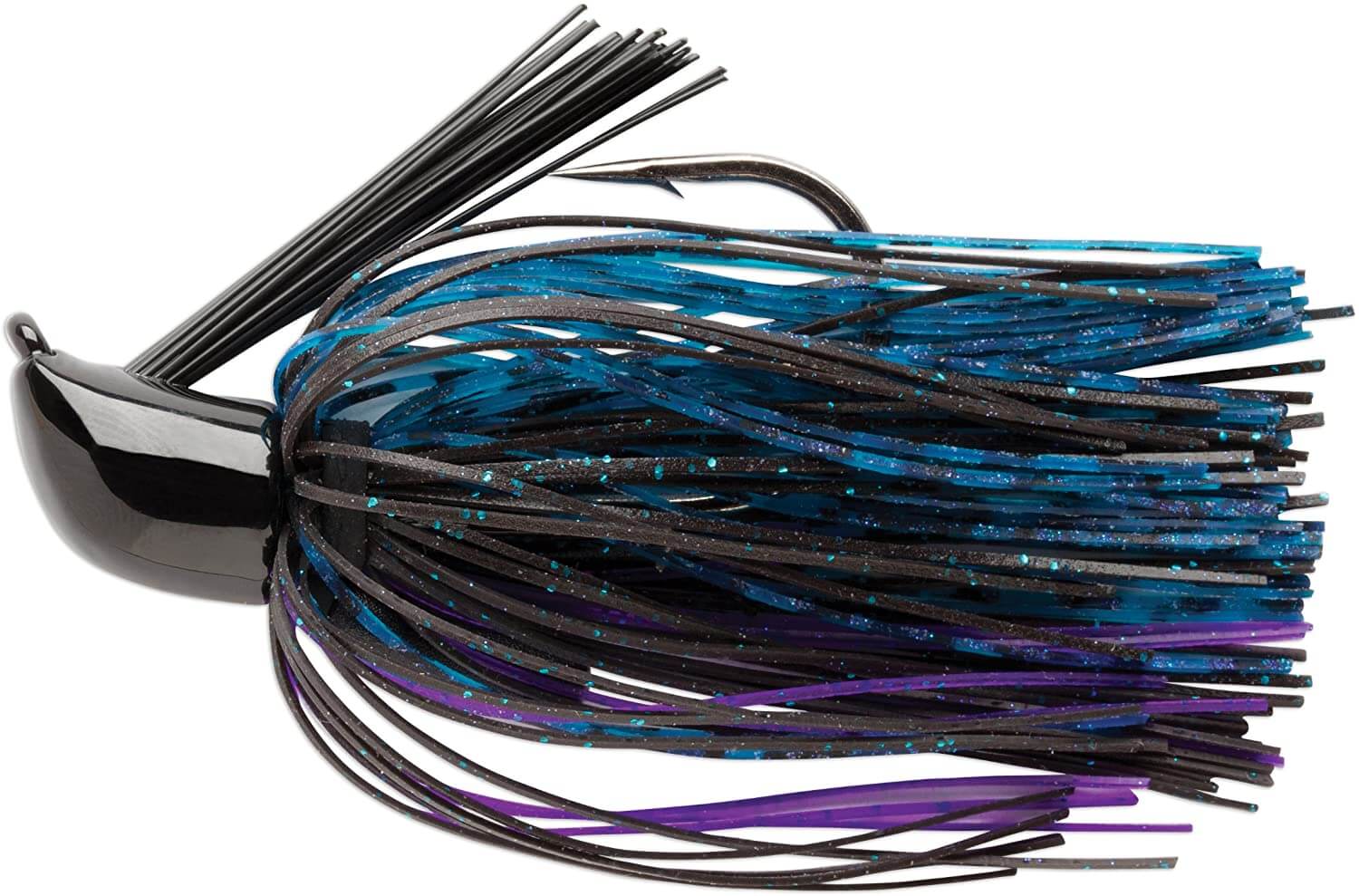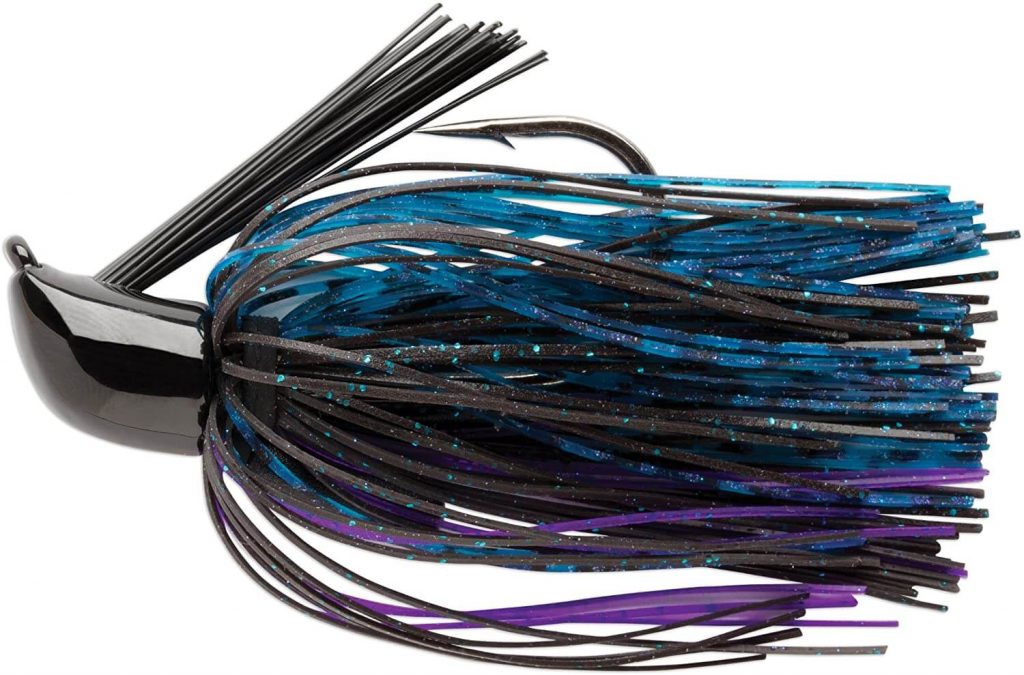 Terminator Pro's Jig has great construction and design. Made for both hobbyists and pro anglers, it features a unique head designed mainly for penetrating cover, as well as an ideal weed guard to protect against snags.
A stainless steel wire keeper holds all your soft plastic trailers firmly in place, preventing them to slip down the hook shank. A premium banded silicone skirt and rattles provide additional fish attraction. Available in multiple ranges of colors, it comes with very strong VMC hooks to ensure you get a lot of fish into your boat.
The noise-maker is an added weapon that drives the bass wild to give chase and bite, not knowing what hit them. Great craftsmanship and very sturdy, this is a must for all serious bass anglers out there.
Pros:
Great craftsmanship and construction design

Unique head design perfect for penetrating the cover

Stainless steel wire keeper to hold trailers in place

Premium band silicone skirt and rattle

Comes in multiple ranges of colors and design

Ultra-strong VMC hooks
Cons:
The band may slide down at times
18. BiCO Original Jig Lead-Free Bass Jigs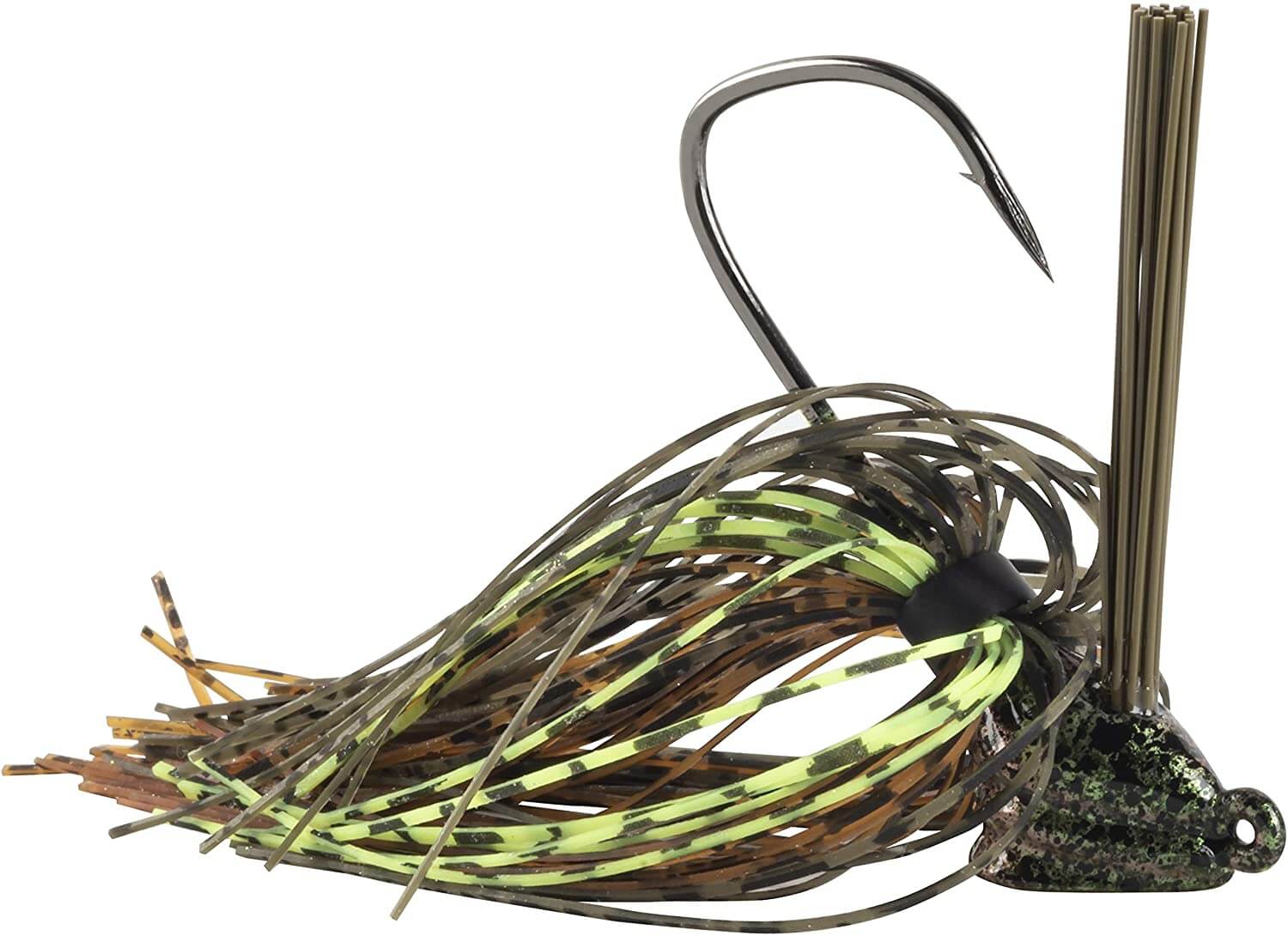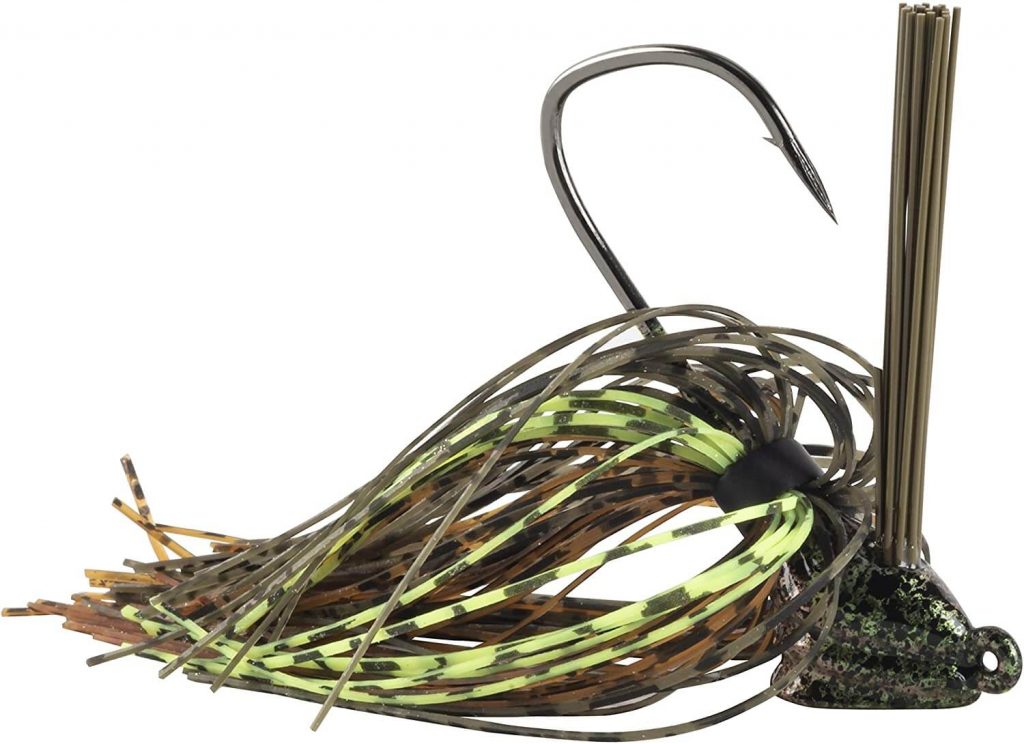 The BiCO Original Jig Lead-Free Bass Jigs feature a unique stand-up design. Equipped with 5/0 Owner hooks for extra strength, durability, and secure hooksets. It's an ideal jig for flipping, skipping, or fishing as a swim jig. Made and hand-assembled in the USA, these jigs are exceptionally weedless with durable paint finish.
Jigs are considered one of the best fishing lures for bass as well as other types of fish. The head of the bait tapers in toward the eyelet, giving it a pointed nose that allows the lure to slip smoothly through all types of weeds. The flat bottom allows these skirted jigs to stand up on the bottom, and at the same time makes them skip well.
Since they are lead-free jigs, they are considered environmentally safe, passing the standard and regulations set by some US states. Each jig is handcrafted and personally assembled by creator Bill Quattrucci Jr., to give his seal of approval on the quality of the jigs. This he requires for himself being a bass fisherman himself.
That's why it's not uncommon to hear complimentary comments about these jigs regarding its craftsmanship and quality, stating that serious anglers designed it. It's hard to go wrong with the BiCO Original Jig Lead-Free Bass Jigs especially when it's made by expert bass anglers for serious anglers.
Pros:
Lead-free and environment-friendly jig

The durable and feature-packed design

Owner hooks for extra strength and durability
Cons:
Weed guard needs to be trimmed at times for rocky places
Best Spinnerbaits For Bass
19.Panther Martin Spinnerbait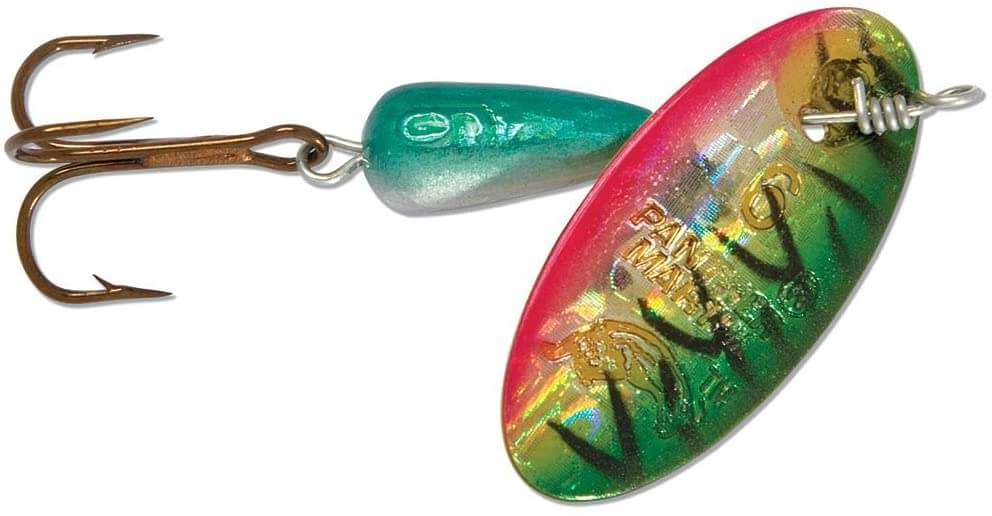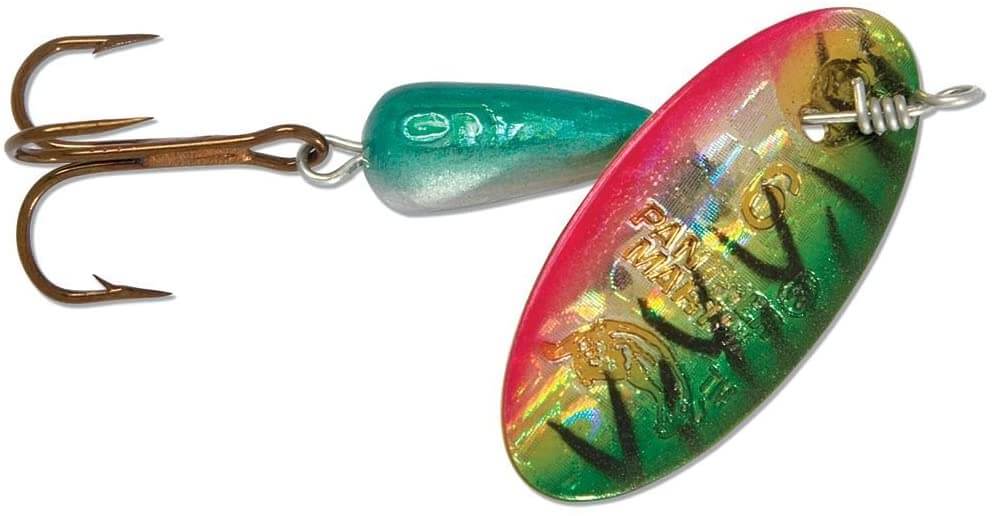 Known for producing the best spinning lures, Panther Martin brings 62 years of experience in crafting quality lures. The Panther Martin Spinner is especially known for catching trout, but it's also proven effective in catching bass, salmon, steelhead, pike, crappie, and more.
This particular lure is made with a unique shaft-through blade design that creates the easiest, and fastest spinning action in the world. Its convex-concave blades send out sonic vibrations that are irresistible to fish. The heavily weighted bodies of Panther Martin Spinners cast like bullets and go down deeper than your average lure.
The super sharp premium quality hooks ensure that fish go into your boat. Use it for shore fishing to catch bass, pike, trout, and other types of fish. The brand is synonymous with quality and Panther Martin's reputation as one of the best, if not the best spinning lure producers in the world.
 Pros:
High-quality and great craftsmanship

Made with the unique shaft

Convex-concave blades send out sonic vibration irresistible to fish

Heavy-weighted bodies are cast like bullets

Super sharp premium quality hooks
Cons:
Could use more color design
20. Yakima Bait Rooster Tail Spinnerbait Box Kit


The original rooster tail spinner is an old-time favorite and has been catching fish for over 50 years. The Yakima Bait Rooster Tail Spinner Box Kit is an improvement to what has been considered as one of the most successful lures ever designed.
Its unique pulsating hackle tail, symmetrical body, and willow-leaf blade have made the original rooster tail a must-have for all fishermen. It's available in 10 sizes and over a hundred different colors.
One of the colors is the fabric rooster tail which features a shaft-through blade design for slow retrieve, and an offset body shape that creates an ultra-noisy underwater vibration. The unique spinning action and in-line weighted body design, and pulsating hackle tail attract fish.
It's great for fishing trout, bass, crappie, and more. This is one of the world's most versatile multi-species lures that deserves its place in every serious angler's tackle box.
Pros:
An old-time favorite lure for more than 50 years

Most versatile multi-species lure

Unique pulsating hackle tail

Shaft-through blade design for slow retrieve

Highly durable and well-made spinnerbait
Cons:
21. Yakima Bait Wordens Original Rooster Tail Spinner Lure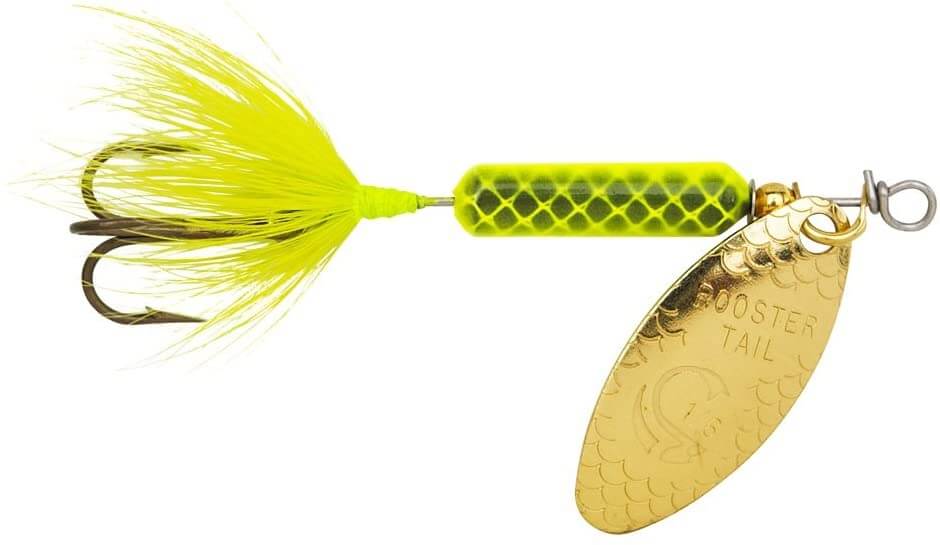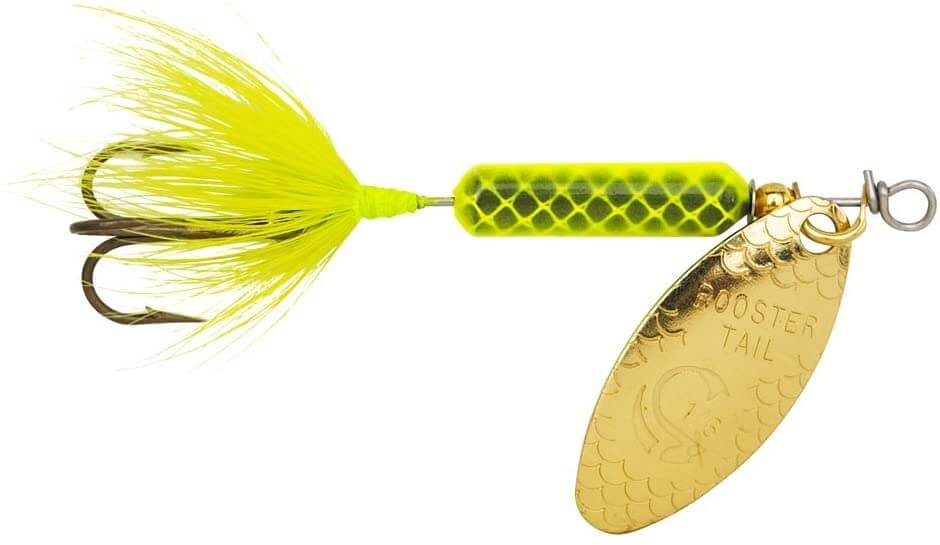 The Yakima Bait Wordens Original Rooster Tail Spinner Lure was developed in the 1950s by Howard Worden. The Worden's Rooster Tail is one of the most productive and sought-after lures ever invented. The unique spinning action of the blade, combined with the colorful, pulsating hackle tail makes the rooster tail irresistible to any fish.
It's a lure that catches fish – consistently. It's the go-to spinner bait for fishermen across North America and even abroad. It has been used successfully for bass fishing, trout, crappie, salmon, steelhead, pike, stripers, and much other fish. It comes in genuine silver, brass, or copper blades.
Pros:
One of the most productive lures ever invented

Unique pulsating hackle tail

Shaft-through blade design for slow retrieve

Highly durable and well-made spinnerbait
Cons:
Not ideal for catch and release
Best Craw baits For Bass
22. Strike King Rage Tail Craw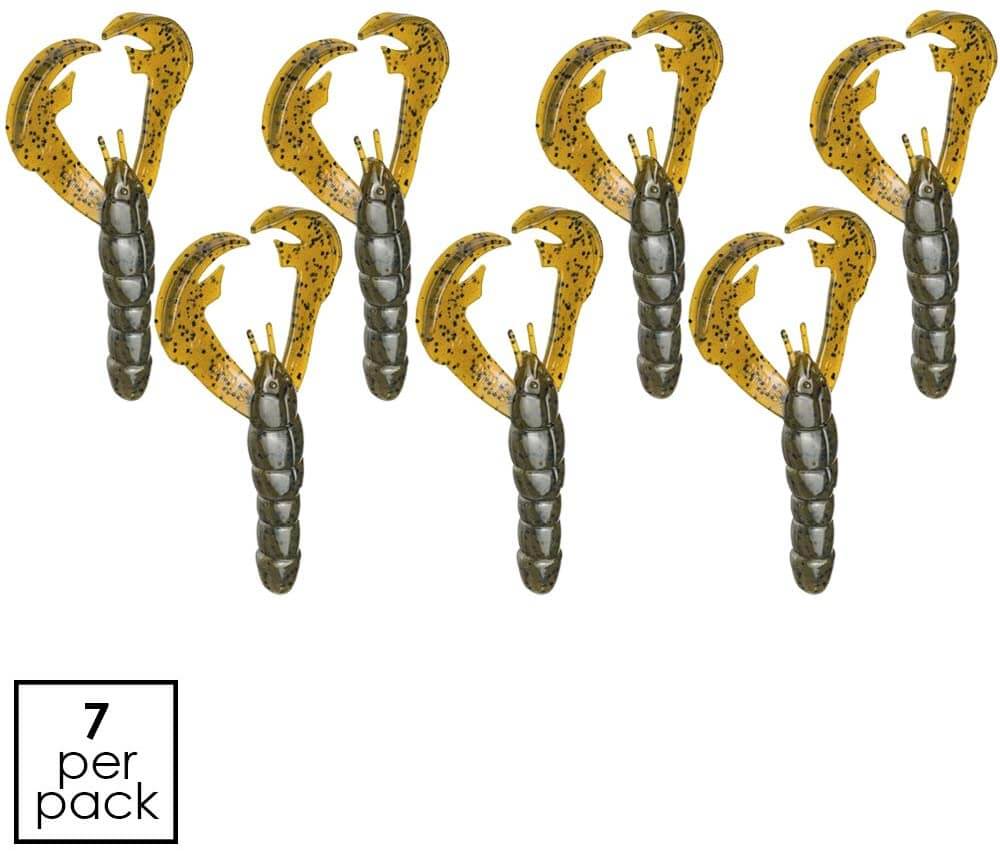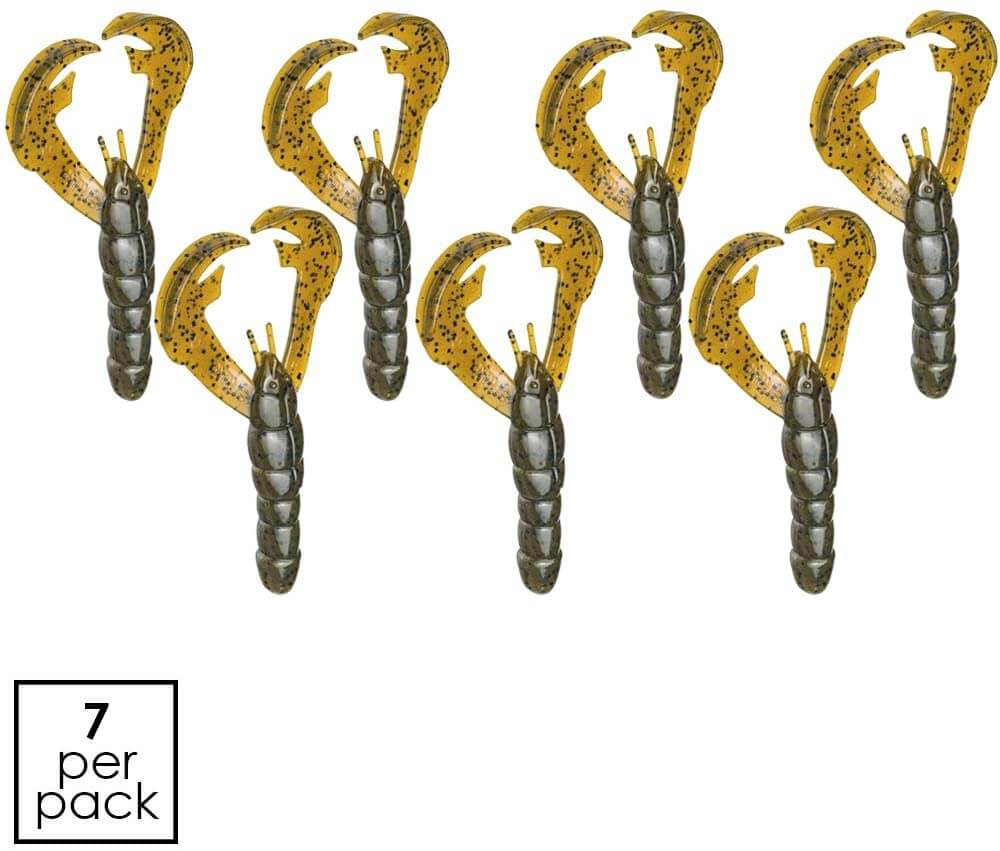 The Strike King Rage Tail Craw is the most action-packed craw design on the market. With just a slight movement of the fishing rod tip, the claws start flapping back and forth, creating terrific action and vibration in the water.
The Rage Craw offers bass anglers an excellent option for mimicking crayfish. Each of the lures displays incredible swimming action and it is the best example of what just a slight improvement in swimming motion can do. Each of Strike King's Rage Tail lures has a unique and exclusive tail design and is engineered like no other soft plastic bait.
It can be rigged with a variety of hook sizes and styles depending on the fishing style of the angler. One of the most popular is for Texas rigging, whether flipping it or fishing open water.
The Carolina rigged is another very effective application using the light of a weight as necessary for the wind and depth conditions. This technique allows the bait to free swim at any depth which is attractive to the fish.
Pros:
Most action-packed craw designs on the market

Great balance, lively pincers

Durable, except for the soft claws

Texas and Carolina Rigged are two of the best techniques

The unique and exclusive tail design
Cons:
Soft claws may not last long
23. Rebel Lures Wee-Crawfish Fishing Lure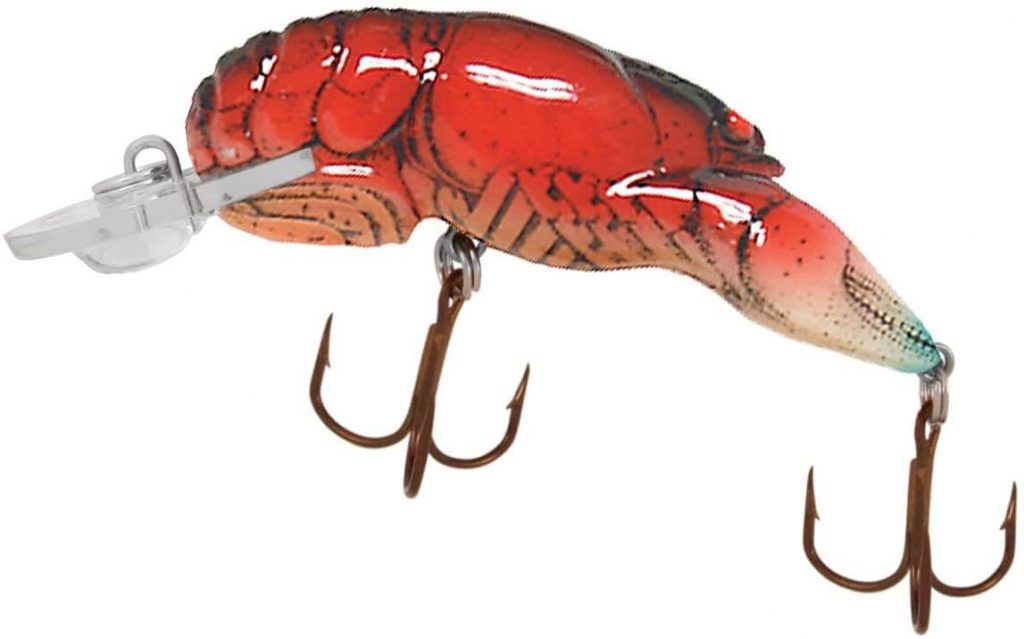 The Rebel Lures Wee-Crawfish Fishing is one of the most popular bass fishing lures in the world. Its small life-like profile entices and catches all sizes of game fish. The pulsating motion of the lure is very effective and fish find it irresistible.
It has a diving depth of 5-7 feet using the cast and retrieves technique simulating a tasty bait. A double loop knot with 8-10 lbs or the test line is highly recommended to achieve great results.
This craw bait which is best used in clear water seems to drive bass crazy. Its bright colors don't fade easily attracting fish every time you cast it. It catches almost anything from smallmouth, largemouth, rainbows, pickerel, sunfish, gar, catfish, and many more.
This is very easy to use even for beginners. It can be used as a crankbait or as a topwater lure, making it a versatile and flexible piece of bait.
Pros:
Great design and is well-made

Great lure even for beginners

Catches almost all types of freshwater fish

Bright colors last for a long time and don't fade easily

Very versatile and flexible
Cons:
24. RUNCL Anchor Box – Crawfish Baits, Creature Baits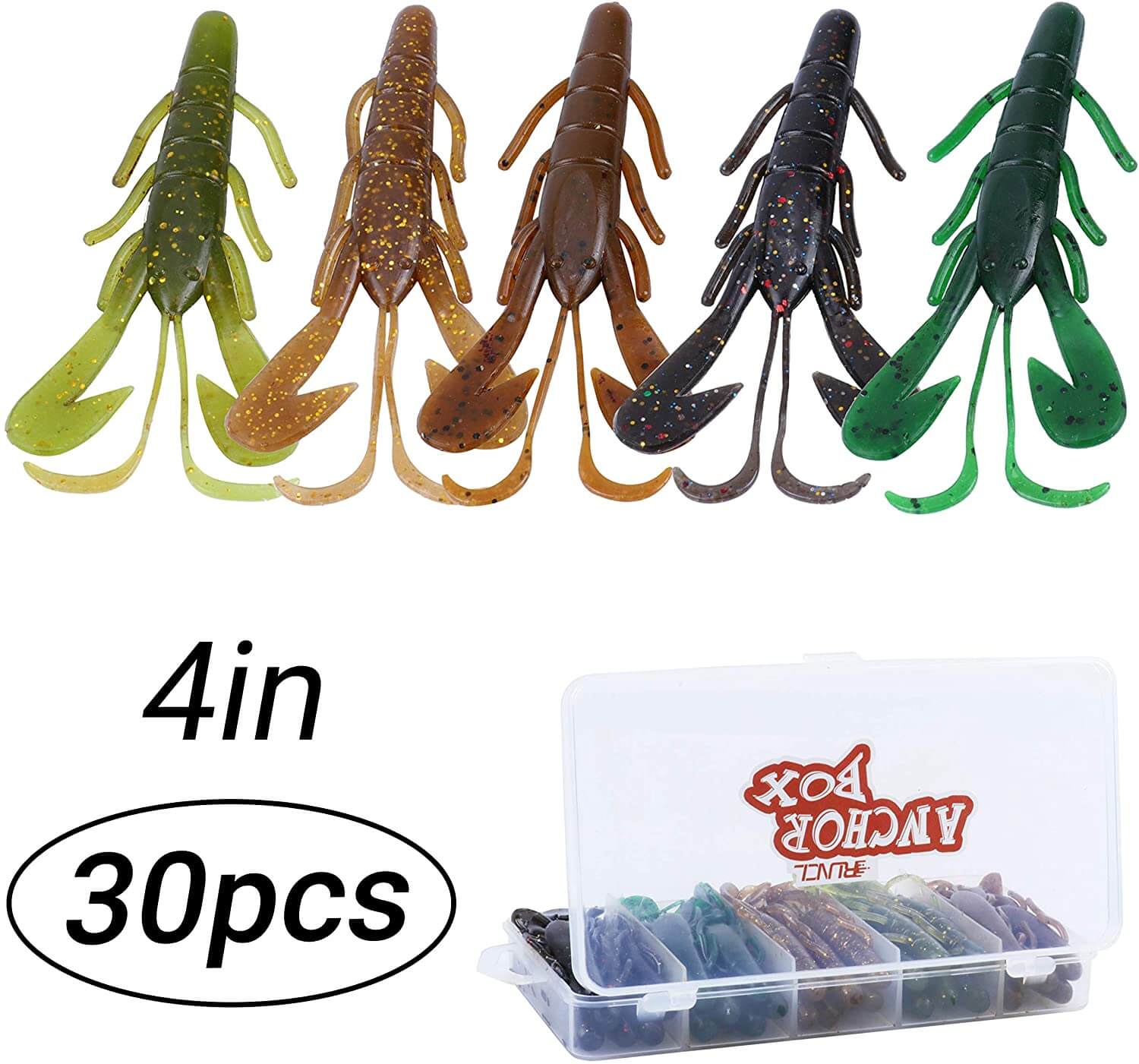 Another RUNCL on our list, the RUNCL Anchor Box Crawfish Baits flawlessly replicates a crawfish and helps anglers attract a bigger catch. With details such as high-resolution body form, life-like eyes, huge pinchers, and tentacles.
This craw bait features different colors of glitter, which reflects the light from different directions. This attracts the fish and triggers more strikes. Its hyper-action paddle-like claws displace more water and create attention-grabbing action that the bass has trouble resisting.
Bass will love the fluorescent colors and will find it hard to resist. The cooked-in shrimp scent rapidly draws fish in, creating a strong feeding urge that even lives bait can't match. It encourages fish to bite harder and longer for a higher hookup ratio.
 Pros:
Ideal for any bass fishing conditions.

Very realistic-looking crawfish

Features different colors with glitters for maximum attraction

Hyper-action paddle-like claws
Cons:
Soft material may easily get bitten off
Best Soft plastic worms For Bass
25. Berkley Gulp! Swimming Mullet Fishing Soft Bait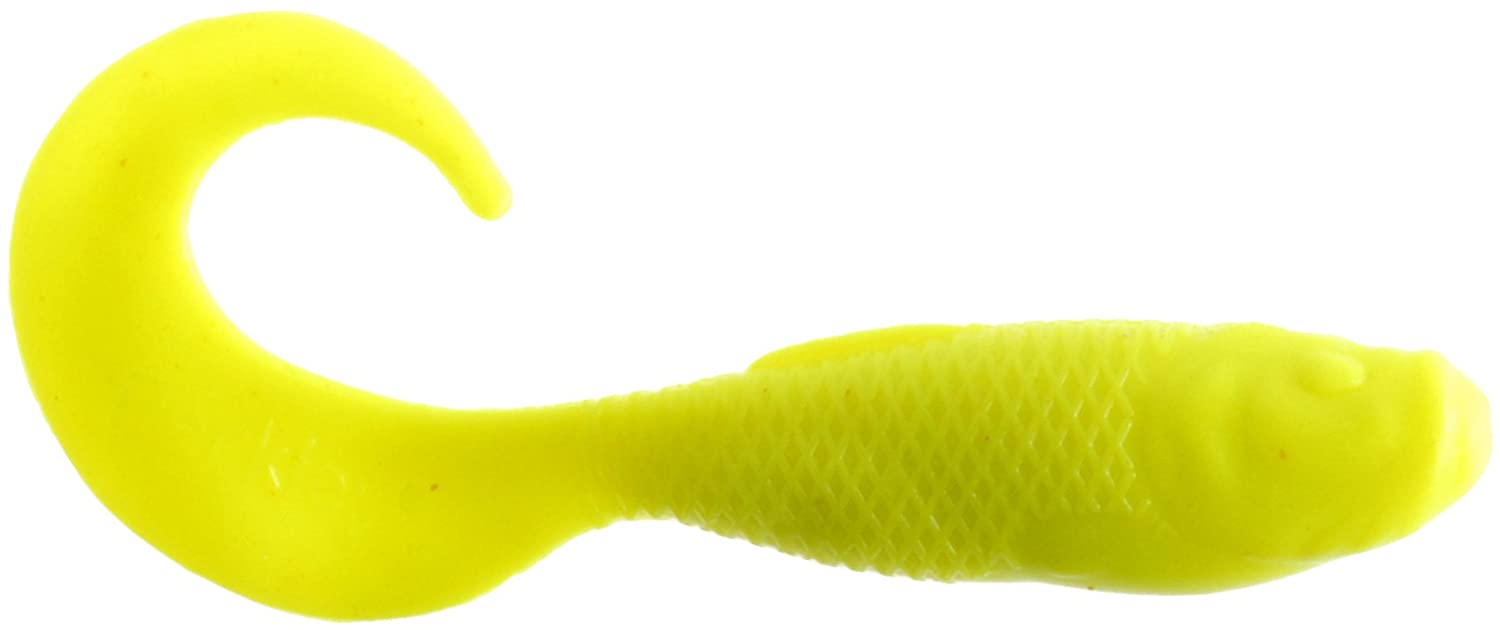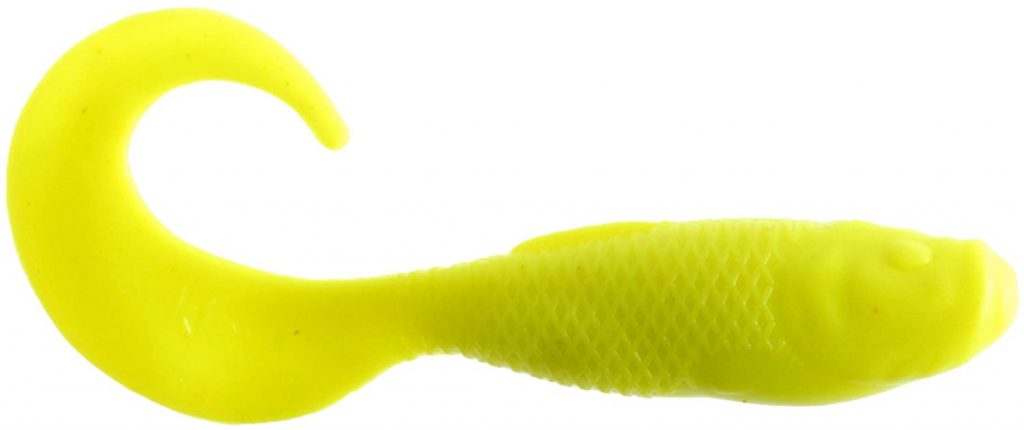 The Berkley Gulp! Swimming Mullet Fishing plastic worms come in at a 3-inch, 11-pack set. Extremely productive and durable, this soft plastic bait is irresistible to many saltwater species. It's packed with Gulps! Attractant, which releases 400 times more fish-attracting scent than other plastic baits. It's not surprising that this bait has out-fished live bait in head-to-head field tests.
With a realistic head and body design, its swimming tail action is also irresistible to fish. Rapid scent dispersion attracts fish from a wider fishing range. It catches almost any type of fish from largemouth bass, striper, sea trout, and flounder, among a few. A great bass fishing tool to have because of its reliability and flexibility.
Pros:
Ideal for all saltwater fish species

Swimming tail action is irresistible to fish

Rapid scent dispersion attracts fish

Quality and durable

Good stand-alone tidal jig body
Cons:
Soft tail tends to come off when bitten
26. Zoom Bait 7-Inch Magnum Super Fluke Bait


The Zoom Bait 7-Inch Magnum Super Fluke Bait is made of the highest quality material. It's a durable soft baitfish imitator that is good around weeds and lily pads. At 7 inches, it's not a small fluke bait considering some measure between 2.5-4 inches. The largest of the fluke family, it features a deep bell with a hook slot and a forked tail.
It's salt impregnated and is very attractive to a big bass fish who is hungry and wants a bigger shad-shaped meal. It can be fished weightless on the surface, or with added lead or tungsten to sink into the depth.
You can use the Magnuf Super Fluke soft plastic bait with different applications. As a Weightless Texas, you can rig a Magnum so that it works whenever bass is schooling or in shallow water. Another is the Carolina rig where you can drag your Magnum Super Fluke along like a wounded baitfish.
 Pros:
Durable and made out of high-quality material.

A large fluke imitator is attractive to large bass fishing.

Salt-impregnated belly.

Can be used for Weightless Texas and CarolinaReg techniques.
Cons:
Lacks a scent compared to other baits
27. Z-MAN 10X Tough ElaZtech Finesse TRD 8-Pack  Worm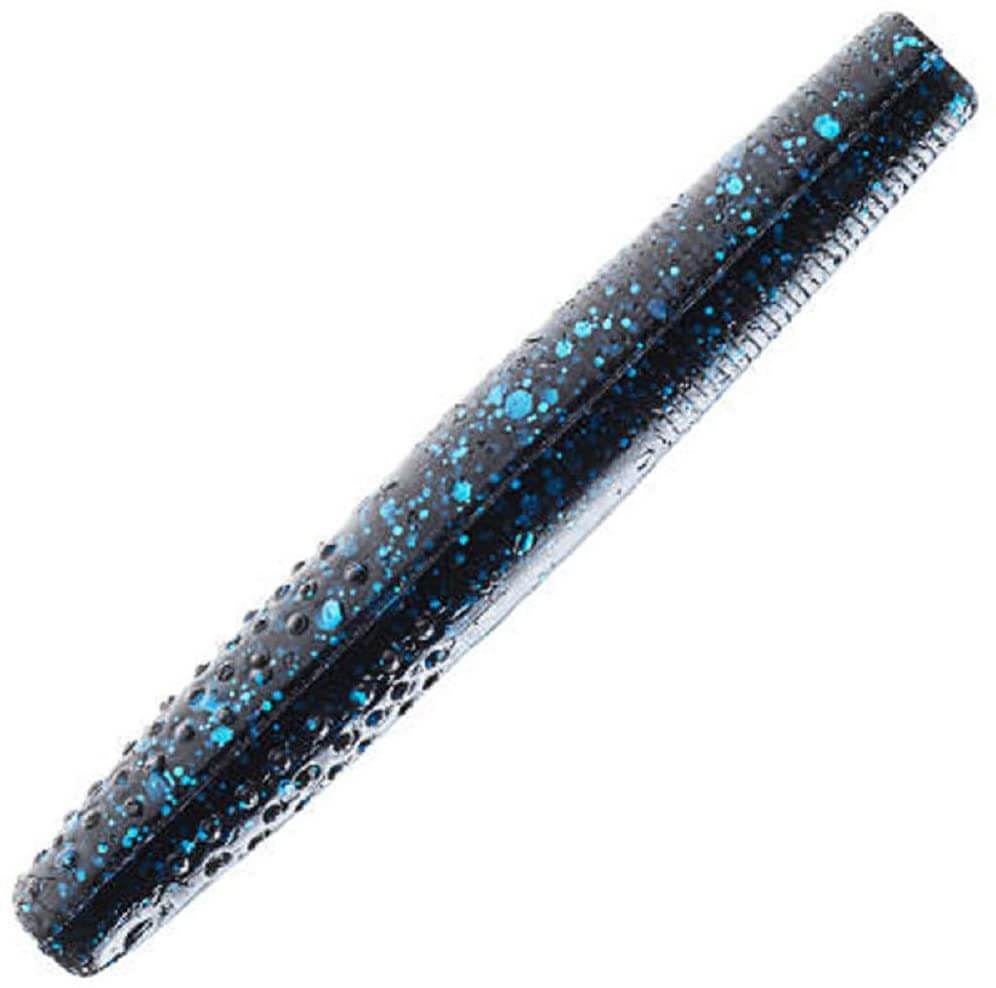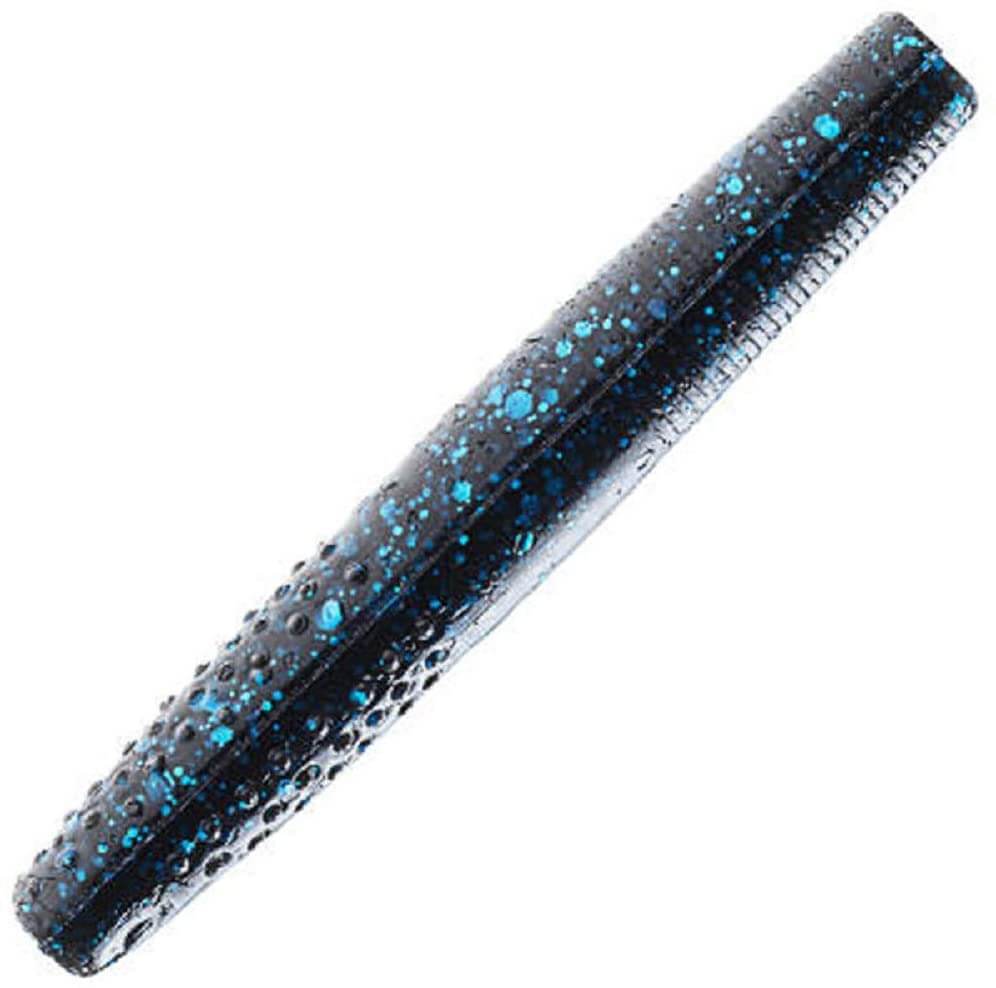 The Z-Man 10X Tough ElaZtech Finesse TRD (The Real Deal) 8-Pack offers the ideal finesse profile in a ready-to-fish package. It's designed to be paired with the Z-Man Finesse ShroomZ jigheads for the "Ned Rig" style of Midwest finesse fishing. This is a technique that is growing in popularity among recreational and tournament bass anglers nationwide.
Highly effective, the Ned Rig fishing technique is centered on rigging small soft-plastic ElaZtech baits on light jigheads. The ElaZtech material's buoyancy and softness cause the jighead and plastic combination to slowly flutter and dart towards the bottom, seldom failing to elicit a strike.
Easy to use, Finesse TRD is made with the exclusive, softer ElaZtech formulation for a more realistic feel, longer holds, and increased hookups. Ideal for bass, but also effective for other species from panfish and trout to white bass and drum. You can almost always guarantee a bite on every cast with this super bait. Very durable and lasting for a long time, these soft plastic worms are a great addition to your tackle box.
Pros:
Durable and lasts a long time

Designed to be paired with the Z-Man Finesse ShroomZ jigheads

Naturally buoyant and soft

Attracts fish very well
Cons:
THINGS TO LOOK FOR WHEN BUYING A GOOD BAIT FOR BASS FISHING
Now that we have tackled the different baits for bass fishing, the question now is what are the criteria that we should look for in choosing the baits with all the different types out there?
While there are many factors to consider, let us focus on a few major criteria to guide us in choosing the right bait for bass fishing.
Here are the things to consider in no particular order:
Quality
In every product that we buy, quality is one of the most important factors. And choosing a bait for bass is not at all different. Quality will determine if the bait we buy will be a one-time use, or can be reused again and again, saving us our hard-earned money.
Price
While most of us understand that the more quality a product is perceived to have, we are willing to add a bit more especially if it will guarantee that we can enjoy it for a longer time than a cheaper product. However, keep in mind that there are times when a product is priced more than its perceived value because of the marketing strategy by the company. In this case, we need to evaluate if the price asked is worth the value of the bait.
Durability
While durability can be equated with quality, the difference is that it specifically focuses on the projected lifespan of the bait. If the bait is made from durable and heavy-duty materials, then we know that it's going to last a bit more compared to substandard or cheap materials.
Frequently Asked Questions:
What are swimbaits used for? 
Swimbaits, because of their size are well-suited for catching lunkers, or in layman's terms is known as big fish (sometimes called monster fish) seen at a specific location. Anglers are eager to catch them, and for many, it's a lifelong goal or obsession to cast a swimbait and be able to catch one of these lunkers.
Are swimbaits good for bass? 
Swimbaits have earned their reputation for luring big bass. While bites are not often made by lunker bass, when it does come these are relished and celebrated in the fishing community.
FINAL THOUGHTS
Now that we have covered all the best bait for bass fishing, it's up to us to find the ones that will suit our needs. A beginner certainly has a different skill level compared to a professional fisherman or angler. Therefore, some of the baits may not apply to him. It's important also to determine the fishing environment we plan to be in as this will affect the baits that we will be using. For example, some baits are not suitable for saltwater fishing, or they may not be designed for freshwater. The depth of the water is also another factor, as well as the climate or temperature. These are just some of the things that we should consider now that we know the types of baits that we can choose for ourselves.