Are you looking for a fishing gaff, be sure to read our complete in-depth buyer's guide where we review the top-rated models available with Pros & Cons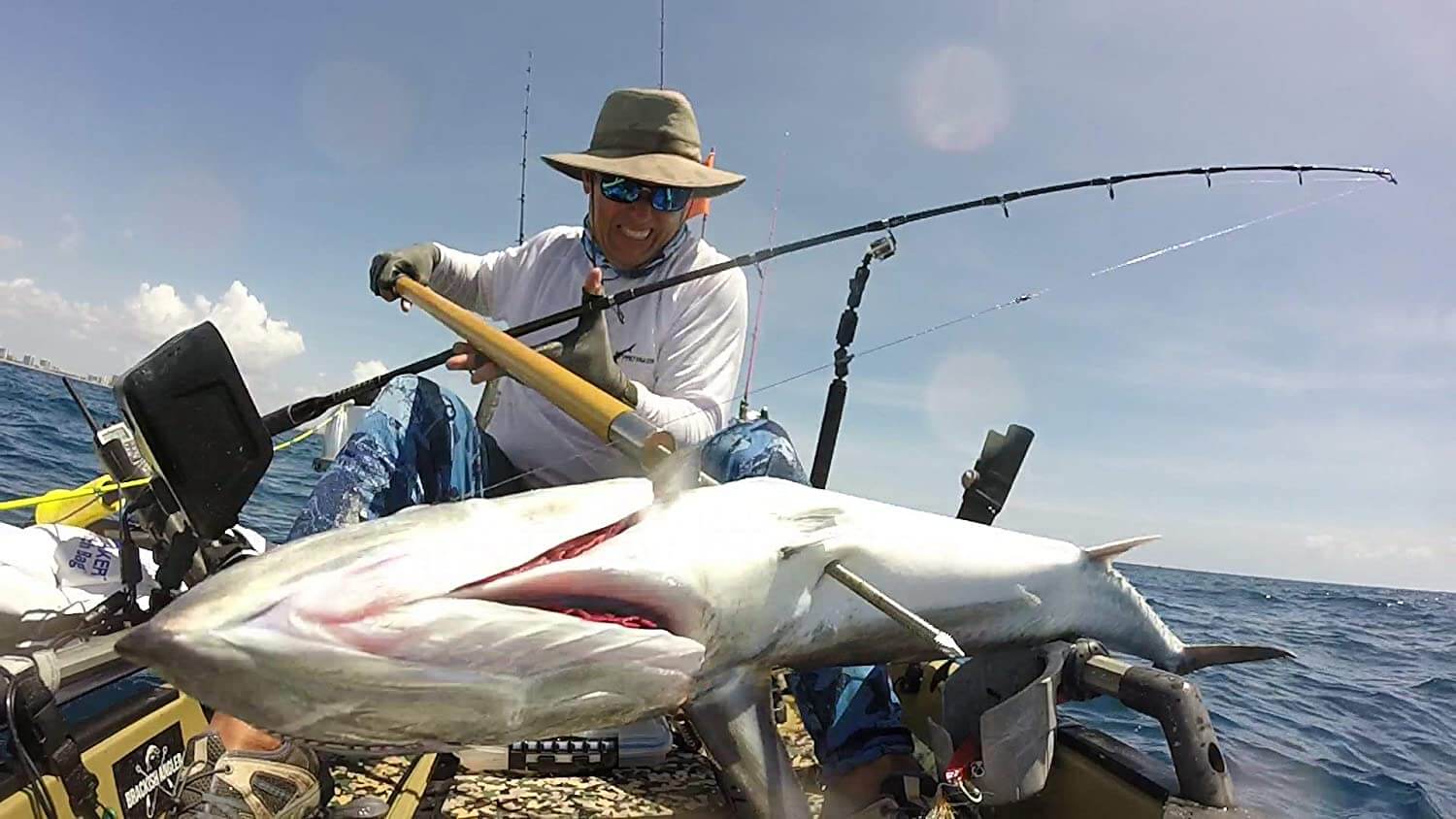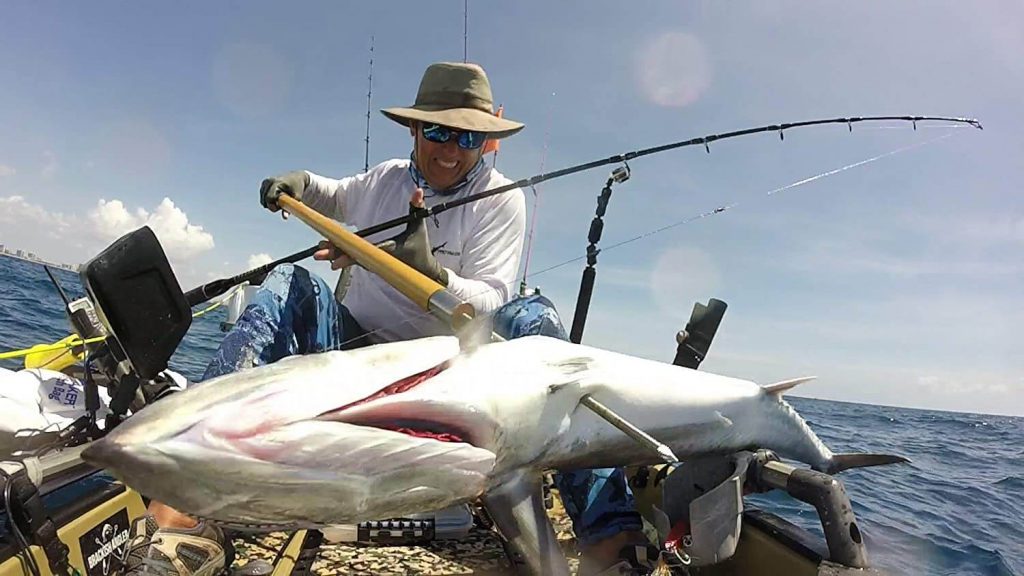 One of the most famous ways of surviving by fulfilling your hunger needs in the primitive age was fishing. While it still is a great source of protein and meets hunger, most people do not need to fish nowadays. The job is done by professional fishermen. However, with the evolution of technology, more people are looking for escapes from the grasp of digital reality and taking shelter on different water bodies.
Thus, fishing, now, is not just a mere act for survival but for recreation and refreshment. With the rising need for fishing, the number of types of fishing gear has also increased. And, the best fishing gaff is one such fishing gear that has been used for centuries and is still popular.
It is a more engaging form of fishing with a handle and a hook. Since it is not in vogue as much as the others, people trying it out do not really know much about the best of them. We will introduce you to the features of the best gaffs.
Top 5 Fishing Gaff Reviews!
1.Aftco-Best For Tuna Guff


If you want to buy from the experts in this field then Aftco gaff is always a great and reasonable choice. In fact, brand reputation is enough to bring your trust in its products. Now, the GFA465GLD is a gaff hook that lives up to the mark without a doubt.
You will be able to reach the fish you are targetting really easily with its 5-feet long. Moreover, the 4-inch stainless steel hook with a hook cover that compliments it will also do the job for you accurately and efficiently. The combination of these lengths makes it super efficient for its purpose.
Furthermore, the quality of the build is something you will love too. It is made from aluminum with gold anodizing. So, don't be afraid of seawater or corrosion! Apart from that, the aluminum handle has non-slip grips so you get to keep a very firm grip on it while you fight the fish.
Features & More
length: 5-Feet.
Non-slip handles.
Gaff handle floats.
Hook size: 4-inch.
Corrosion-resistant.
Rigid quality control.
Marine-grade aluminum shaft.
Anodized Aluminum with Stainless steel hook.
Suitable: Big game fish and freshwater fishing.
---
2.SANLIKE Telescopic Fishing Gaff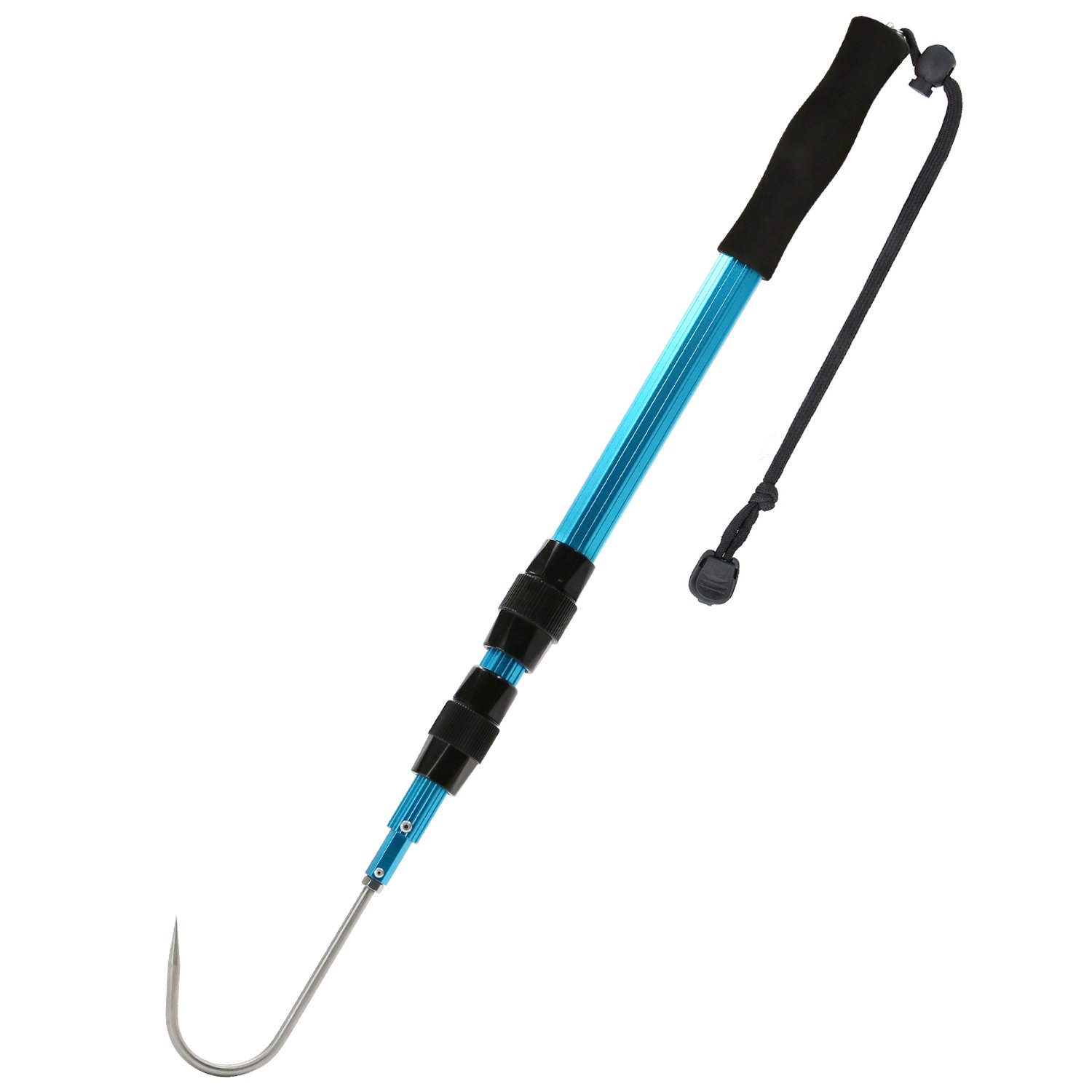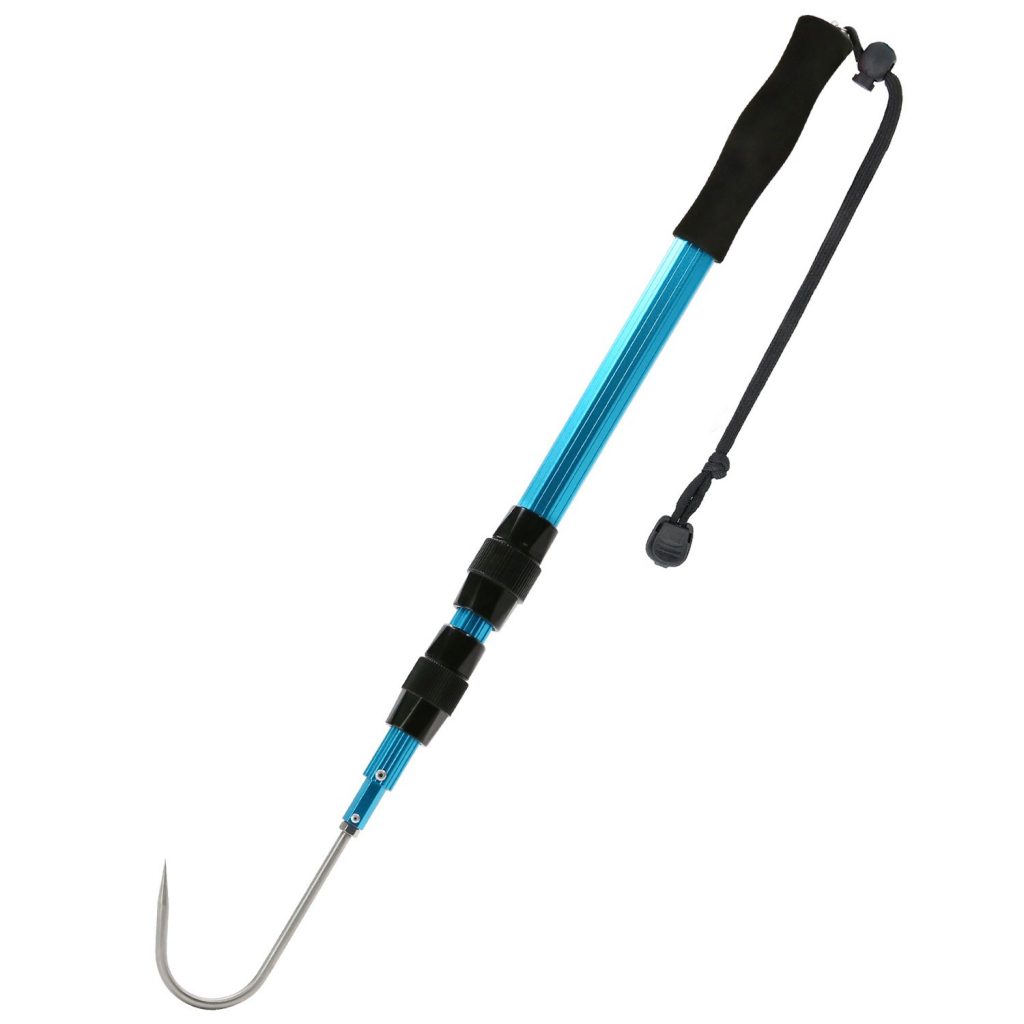 You always expect a slimmer person to be weaker, don't you? But, often you will find them winning against people who look stronger. The Sanlike gaff will make you think about such instances with its lightweight body and mighty strength.
Apparently, if you are looking for easy storage and portability then this gaff is the perfect choice for you. The reason is not only because it is lightweight but it is actually retractable too. In fact, the total length of the handle is a bit over 4 feet and you can retract it to a length of 17.32 inches!
Apart from that, another amazing feature is the high-density EVA aluminum handle. This will not just provide you with comfort but also increase the application of strength and give you a firm grip.
Other than these, the other features are quite basic with an aluminum shaft and stainless steel gaff hook. But, maybe not of the best quality as a customer reported that the gaff twisted upon use.
Features & More
Easy to store.
Hook size: 3-inch.
Stainless steel hook.
Aluminium Alloy Pole.
EVA Telescope handle.
Telescopic and Retractable.
Suitable: Boat fishing, Ice fishing, and saltwater fishing.
length: Expand length: 140cm and Foldable length: 44cm.
---
3.KUFA Sports Telescope Hand Gaff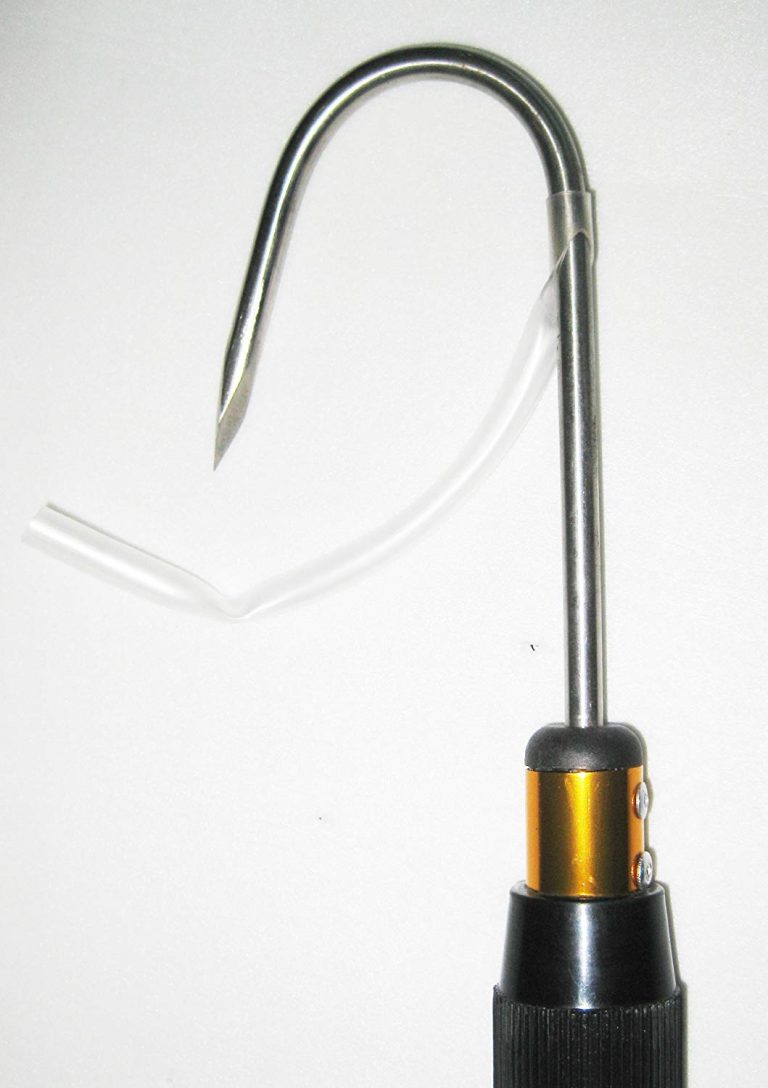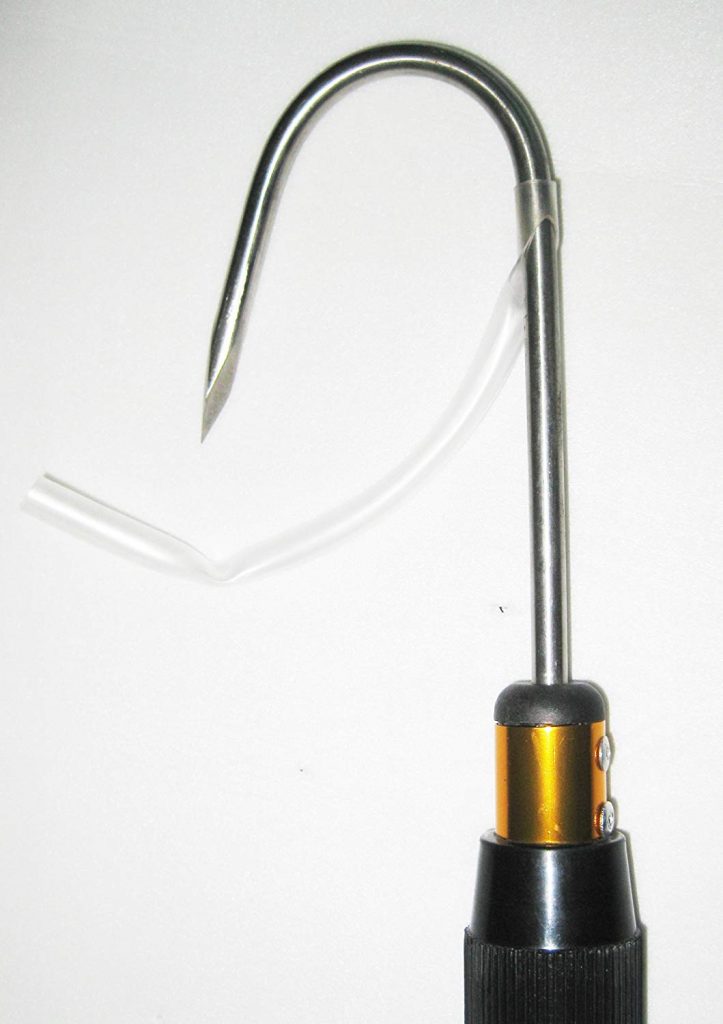 When it comes to using and storing the KUFA Hand Gaff, you will surely have a good time! Firstly, the handle of the gaff is adjustable. You do not have to fit your holding style on it rather it will fit into your hands for you.
However, you do not have to worry about a weak body or less strength when fighting because of the adjustable handle. The whole shaft is quite strong despite its adjustability. Furthermore, it does not take up much space when being stored either.
As you would expect, the body is made from aluminum and does serve its purpose well by being durable. However, I cannot say the same about the hook.
The hook, as most complained, rusted too easily. Moreover, it may be because of the rust but the hook is not the most efficient in penetrating through the fish's flesh. Now, if the hook does not penetrate, the whole gaff becomes a bit pointless, don't you think?
So, if you do not face such a problem, the whole hand gaff is quite nice and efficient to use.
Features & More
length: 30″ to 46″.
Hook sizes: 6″x 3.5″.
Aluminum Handle.
Stainless steel Hook.
Telescope and lightweight.
Large game fish and saltwater fishing.
---
 4.PROYAKER Kayak Fishing Spear Gaff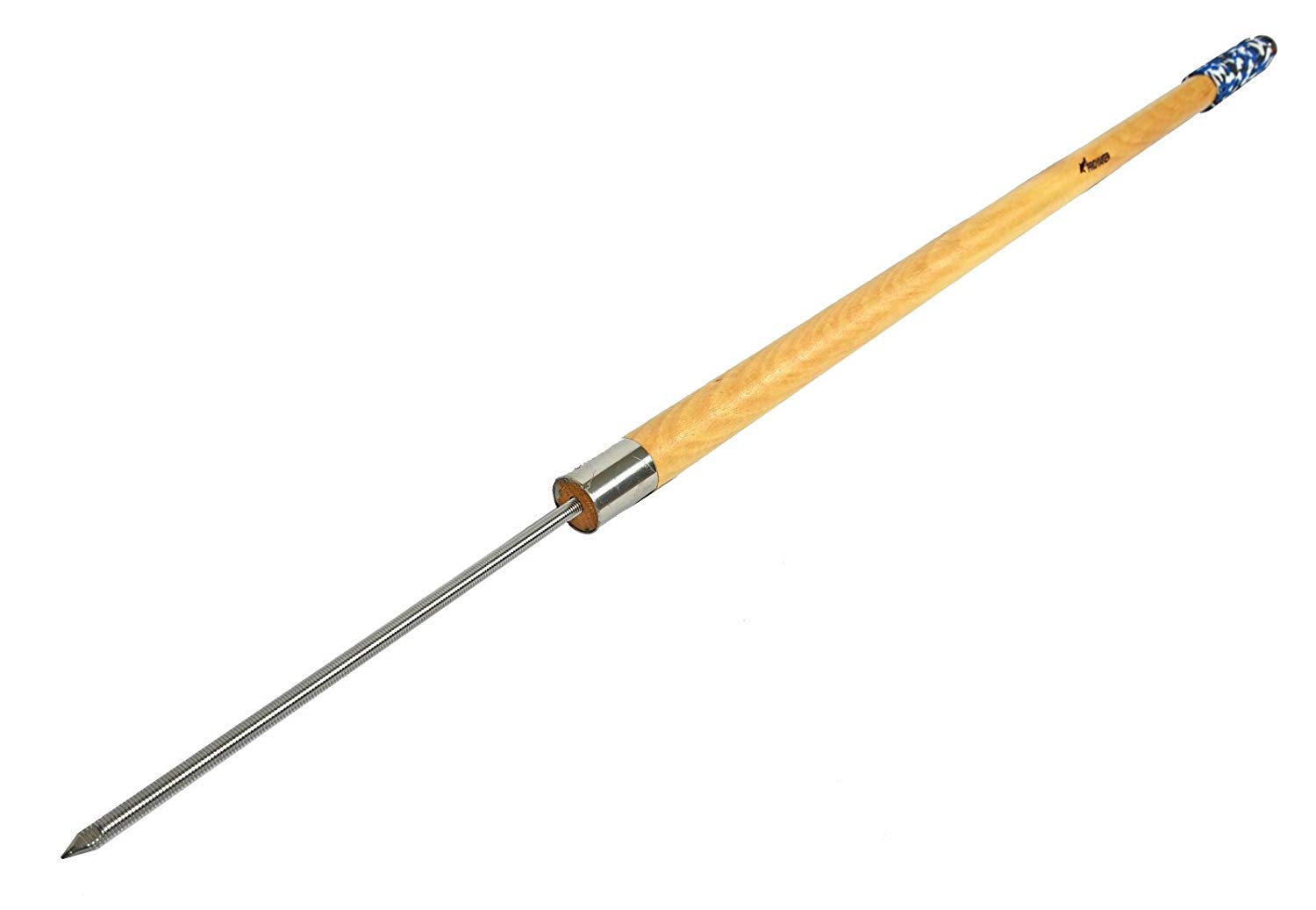 If the traditional hook-style gaffs do not satisfy you, you have waited long enough to be amazed. The PROYAKER spear gaff does not feature an ordinary hook. In fact, it does not even feature a hook.
Apparently, this gaff has more of an arrow-like gaff head that you can utilize to land a lot of fishes. So, you can be like Tarzan and even throw it on a fish in shallow water. The tip is quite sharp and pointed.
The construction is a bit different too. Apparently, this gaff is made of pressure-treated wood. So, it can be considered quite durable and strong.
Apart from that, the metal parts only have stainless steel on them so there is no fear of rust. You will love handling it too thanks to the EVA grip. However, because of its simple construction, you might get a feeling that you are spending money on something you could make at home.
Features & More
Unsinkable.
length: 46″ long.
Unique screw-like tip.
Design: Spear gaff.
Material: Stainless steel.
Suitable: Kayak fishing.
Durability and waterproof.
---
5.Halbey Gaff Hook
Since we have brought something unique to the list, we cannot stop there, right? The Halbey Gaff is another unique looking gaff which will let you land quite a lot of fishes as well.
Firstly, it is milled from solid ash which is apparently a good material that does not rot in wet environments. And, a wet environment is where our gaff will be so no problem there! Apart from that, it a good finish that protects it from the harsh environment of the sea and other water bodies.
So, you can expect this gaff to last quite long. Apart from that, its materials make it well-balanced in weight too and bear enough strength to land the fishes.
The hook is not exactly round but has more of a V-shape that will let you retrieve the fish as if you are retrieving water from a bucket with a mug.
However, my concern is the reach of the gaff. The hand gaffs are not that long. In fact, it is rather short and may be suitable for a few species but considering the boat's railing and everything, it might not give you the best reach.
Other than that, it has an anti-slip grip which will help you quite a lot in this case.
Features & More
length: 24 inches.
Best for Boat fishing.
304-grade Stainless steel.
Premium grade solid ash.
Commercial and freshwater fishing.
---
Fishing Gaff Buyer's Guide
 There are some basic considerations to make when you are buying gaff hooks. The gaff may be very simple in design and have fewer parts but choosing the best is not that easy. So, consider the following:
The weight and size of the target species.
The first thing you need to determine is not any feature of the gaff itself but actually of your future prey. Have you ever killed a fly the way you catch a mosquito? Rarely. Thus, when you are targeting a certain species, you need to have the right gaff for it. The way to finding the right gaff for it is to determine what 'it' is first. It might be shark, dolphin, marlin, tuna, or any other fish you are targeting. Whichever it is, determine its size and weight.
The Length of the Handle.
With gaffs, you need to manually handle the gaff to catch the fish. Now, there is the height of the boat and its railing to consider. Furthermore, you also have to be able to reach the fish, right? Now, the length of the handle plays the most important role in this reaching part.
You will find gaff handles with lengths in feet. Now, which one you need mainly depends on the species you are targeting. If you are planning to kingfish, you will need a handle of around twelve feet.
Again, if you are bottom fishing then the smaller ones with lengths of three-four feet will do. Then, again, you can fish for Cobias with a length of eight feet.
Apparently, a flying gaff is such a long gaff that allows you to target marlin, shark, and tuna. Usually, they feature a long rope tried to the base.
So, you see, you have to determine the species first and then decide which length suits it.
The Hook.
After the handle helps you reach the fish, the hook will actually catch the fish for you. Now, imagine it this way- if the hook size is too small, it will be like a bracelet that is too small to fit around your hands. Again, if it is too big, just like a bracelet it will come off way too easily.
A lot of decisions about the hook depends on the width and mouth of the fish. Gaff hooks usually range from 2-4 inches hook sizes. Apparently, it is not just the fish that determines the length or gap of the hooks but also the length of the gaff handles determines it.
For example, when you are using a 4 or 6 feet handle to catch a tuna, you will be needing 4-inch gaff hooks with them. Again, when you are king fishing with a 12-feet handle, you will need larger hooks for the mouth.
Apart from that, another consideration is the shape of the hook or the gaff head. As you can guess, a certain shape may be more effective in catching a certain type of fish. Some available shapes are:
Round-bend style: This is probably the most common and the most traditional shape. It somewhat captures the fishes and does not let them go easily.
Square-shaped hooks: These are rarer than the previous ones we discussed. Apparently, they are better at securing the fish and resisting its resistance.
Barbed hooks: Some round-bend style hooks even come with barbs which makes the grip on the fish even firmer.
The build materials.
You do not want the gaff to break or last too short when you are in a fight with a fish. In order to be assured that it will not break, you need to check the material of the build and also the quality of it.
Firstly, the handles of the gaffs usually use aluminum in its anodized form or not, and fiberglass. Both are quite strong with similar strengths. However, it is best if the handle is anodized as it will give the gaff corrosion resistance. This is especially required when you are fishing at sea.
Many prefer fiberglass handles as they think they are lighter, more forgiving, and flexible.
Apart from that, the hook is usually made from stainless steel. What you have to make sure is that the hook is sharp enough and will not rust or break over time.
Sometimes you can choose the material based on the look too. You may prefer the metallic anodized look to the traditional fiberglass look.
The Handle
This is where you need to consider your comfort and the grip the gaff provides. It is not just the shape of the handle but also the texture that matters at the time.
Tapered handles are easier to hold as they provide you with a thicker place to keep your hands on and a thinner hook-end. Then again, you might like some texture at the place you will be holding the gaff to feel a better grip. Whether the gaff is tapered or textured does not matter as long as you are comfortable and have a firm grip.
Benefits Of Fishing Gaff Hook
 You wouldn't buy a gaff if there was no benefit in buying it. Well, you actually can enjoy it after buying a gaff for the following reasons:
Once you buy it, it will become your very own instant escape. Whenever you feel like it, you can just pack it and go to a water body to let yourself feel free from the clutches of whatever is holding you back in life.
Using a gaff you will be able to use your body more. In fact, it will improve your motor skills as you will need to control the gaff completely manually to catch a fish. Most of the strength of the gaff comes from how you throw it and your own strength.
Fishing Gaffs FAQs
1. Do gaffs float when they fall into the water?
Answer: A few gaffs do float and most others do not. However, even though you will be able to retrieve the gaff easily if it floats, floating is not always a good thing in terms of quality.
In order to create the required buoyancy, the gaff will need to thicker in width. But, that is not always a good thing for the efficiency of the gaff.
When you are buying fishing gaffs, you are not just buying them for fishing but also for your mental peace and in many cases for a good time later. The wrong gaff can completely ruin your desire to fish and also your mood for the rest of the day. Although a lot of the success depends on your style and technique too, a lot depends on the gaff type and quality too. Therefore, you should make sure you find the best fishing gaff for yourself so you have a good fishing experience along with great results.
More articles
Bestseller No. 1
Fiblink Fishing Gaff Portable Fish Gaff with Stainless...
Solid Construction---The fishing gaff is made of fiberglass construction for exceptional strength and durability.
Suitable for Heavy Fish---Sharpened hook with protective tip,which is made of stainless steel.Lightweight but strong enough to catch those big fish and sharp teeth fish.
Bestseller No. 2
SAN LIKE Telescopic Fishing Gaff,Aluminum/Fiberglass...
STRONG ALUMINUM : Made for the serious fisherman. Aluminum telescopic pole with nonslip rubber handle and stainless steel hook, make SAN LIKE Fishing Gaff convenient and easy for handling your...
RETRACTABLE DESIGN : Telescopic length from 11.4-24 inches.(Foldable length:11.4"-Expand length:24"). The aluminum pole with 3 segment is convenient to carry .
Bestseller No. 3
Sale
Bestseller No. 4
Bestseller No. 5
KOMCLUB Telescopic Fishing Gaff with Super Sharp Spear...
Easy to lengthen or reduce the size - Foldable length: 23.6'' and expand length: 47.24".
Material - Made of the stainless steel hook, high-density rubber Telescope handle to increase friction, and the Aluminium Alloy Pole. Equipped with non-slip grips offers a safe and comfortable...