Whether you're an amateur or a seasoned angler, you need to know how to get a hook out of a fish's mouth. This is "Fishing 101" for every angler whether you want to put the fish back in the water or into a cooler.  In this article, we'll be looking into the Best Fish Hook Remover benefits, maintenance, and Buying guide.
So, without further ado, let's get started!
Related article: Best Fishing Pliers
Best Fish Hook Remover We Will Cover Today
1. Best Choice-Booms Fishing R1
2. Best Overall- RUNCL Ice Fish
3. Best Price-Easy Fish Extractor
4. Best Almunium Tube- Crazyshark
5.  Best Titanium Bonded-Cuda 8.5″
Fishing Hook Remover Reviews!
1.Booms Fishing R1 Stainless Steel Fish Hook Remover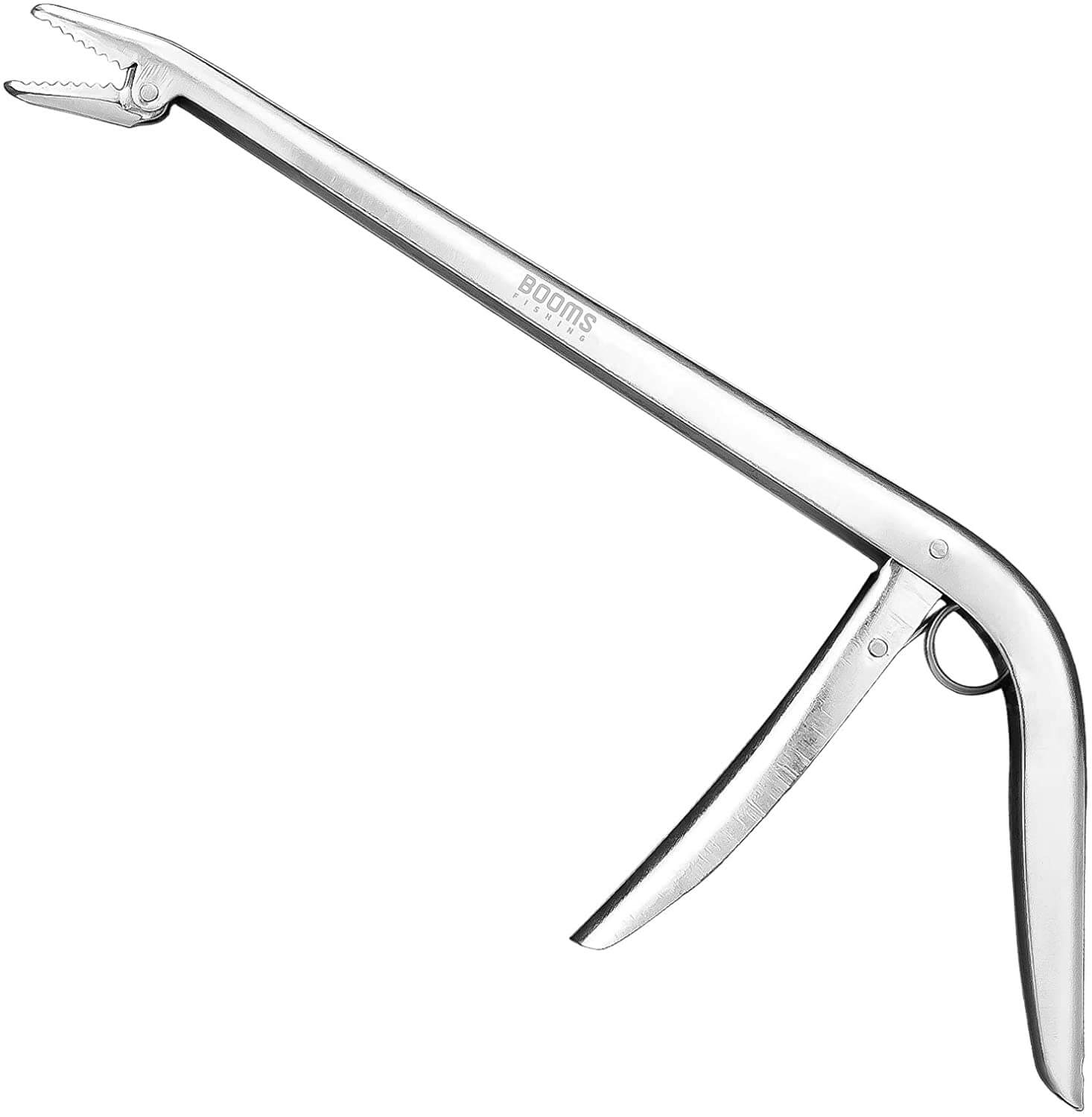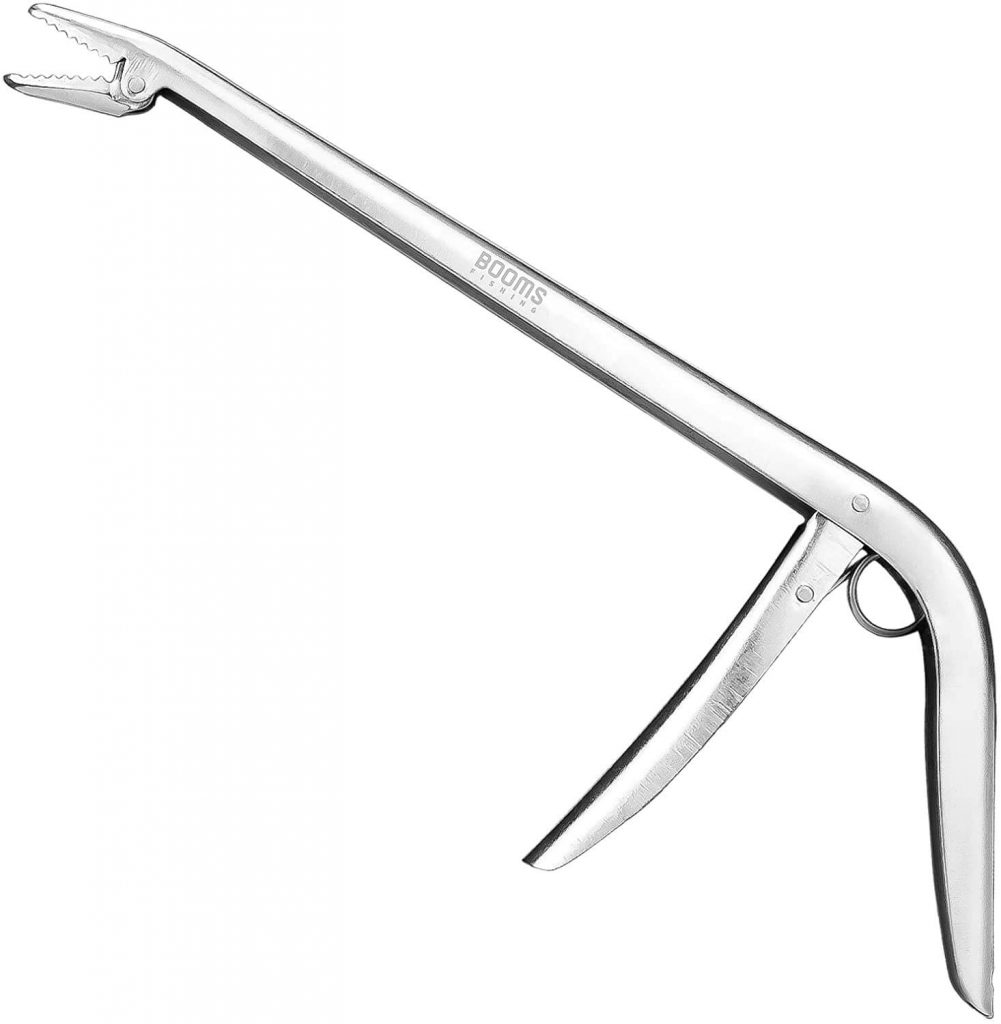 They say, "if it ain't broke, don't fix it." The Booms Fishing R1 fits the definition perfectly. This fish extractor has an older design and has been around for some time, yet it gets the job done.
The Boom R1 measures 11 ½-inches long and feels rigid because of its stainless-steel body. It features robust jaws that are operated by a spring-loaded handle to apply maximum pressure on the hook while removing it.
The Boom fish hook remover pliers are easy to use, and anglers can remove the hooks deep inside the fish clearly and quickly. If you're looking for a durable, easy-to-use remover without hurting your fingers, the Boom is a great option.
Pros
11 ½-inches in length
Easy to use
Older, yet functional design
Stainless-steel body
Well-suited for freshwater and saltwater
Cons
The jaws and spring mechanism could have been better
2.RUNCL Ice Fish Hook Removal Tool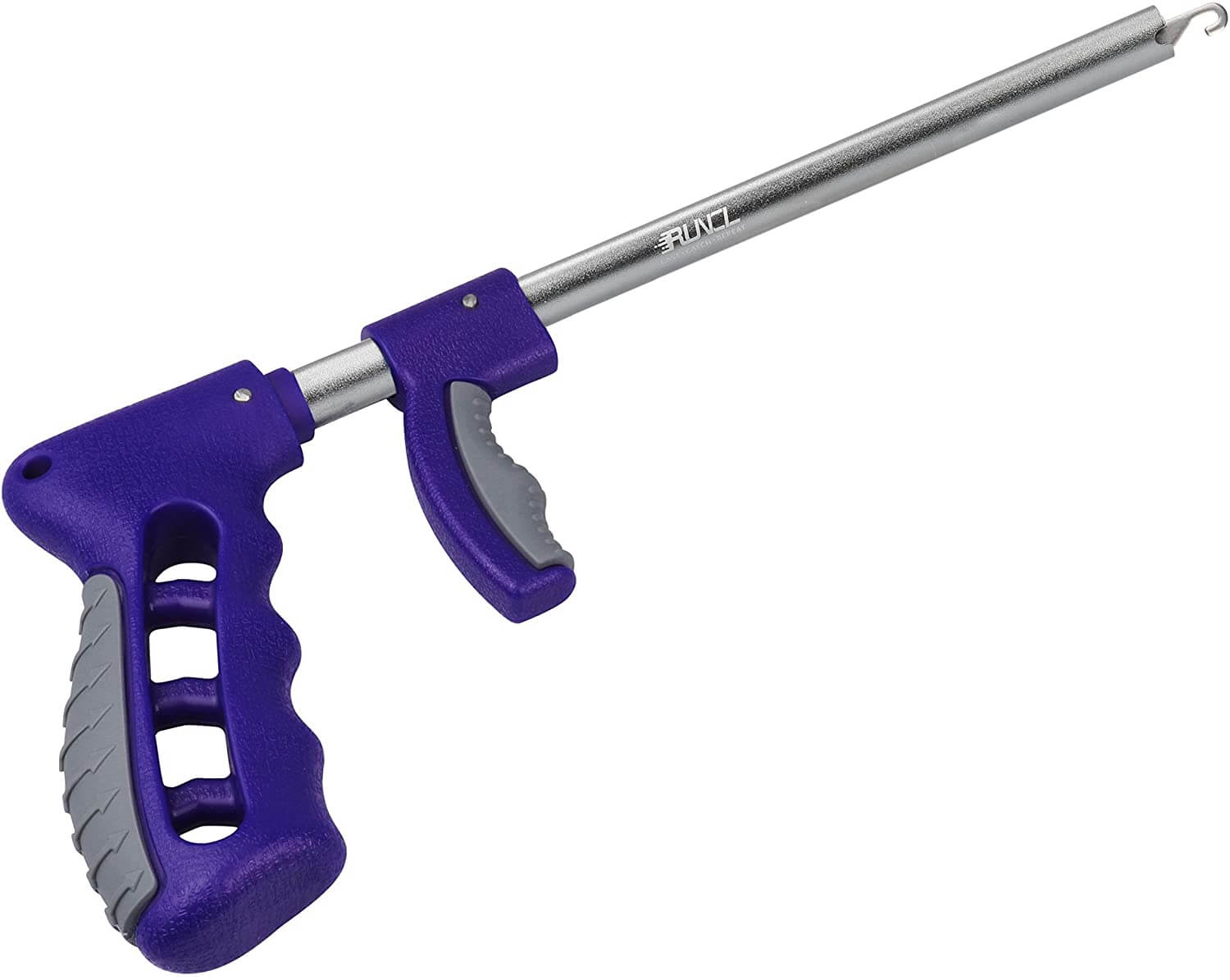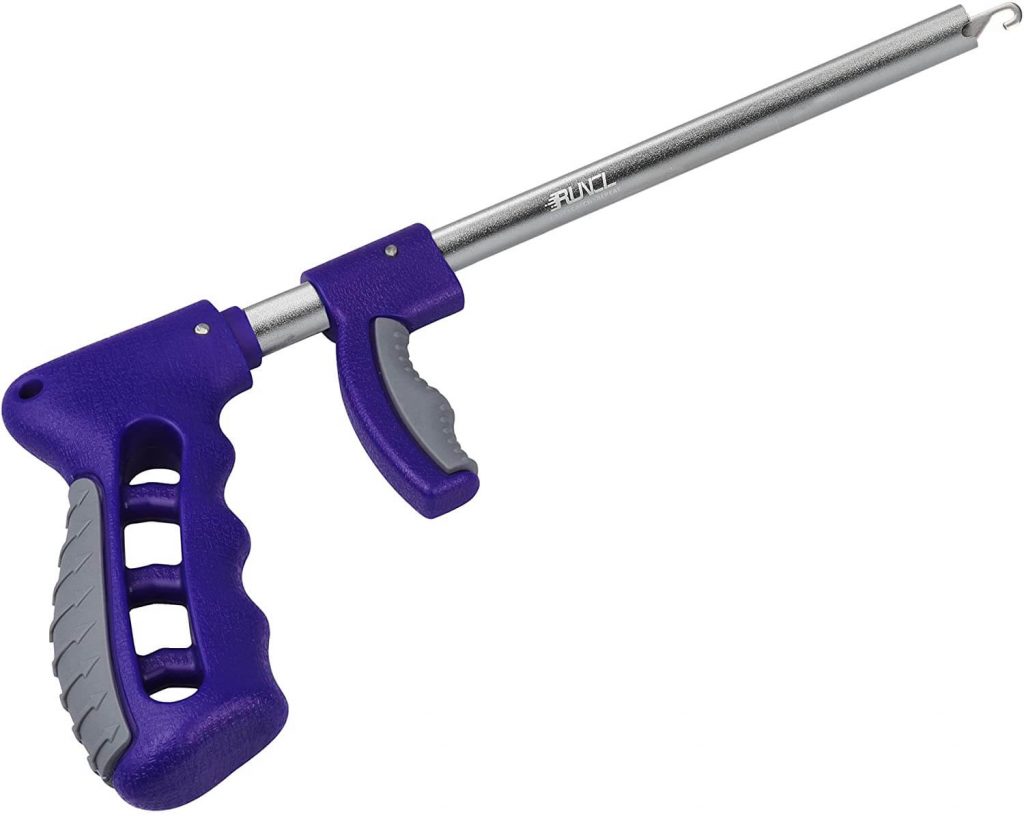 The Runcl has a spring-loaded trigger handle, making it convenient to remove fish hooks using just one hand. The Runcl has a long-nose design measuring 10.6-inches in total, which provides a safe distance
From the fish's mouth, allowing you to remove the embedded hooks safely.
This fish hook extractor features a wide ergonomic handle with anti-slip rubber strips for a better grip with wet hands. The handle is hollow, but it is made of high-strength ABS that significantly reduces the weight without compromising durability.
Furthermore, the aluminum alloy tube provides additional durability and resistance to corrosion from saltwater.  RUNCL is stainless-steel and rounded, which won't harm the fish mouth and the fishing line when removing the hooks.
Overall, a high-quality and well-performing Dehooker at a great price.
Pros
Ergonomic handle
One-handed operation
Long-nose design
Stainless steel and rounded removal hook
Cons
The trigger is hard to pull
3.Easy Fish Extractor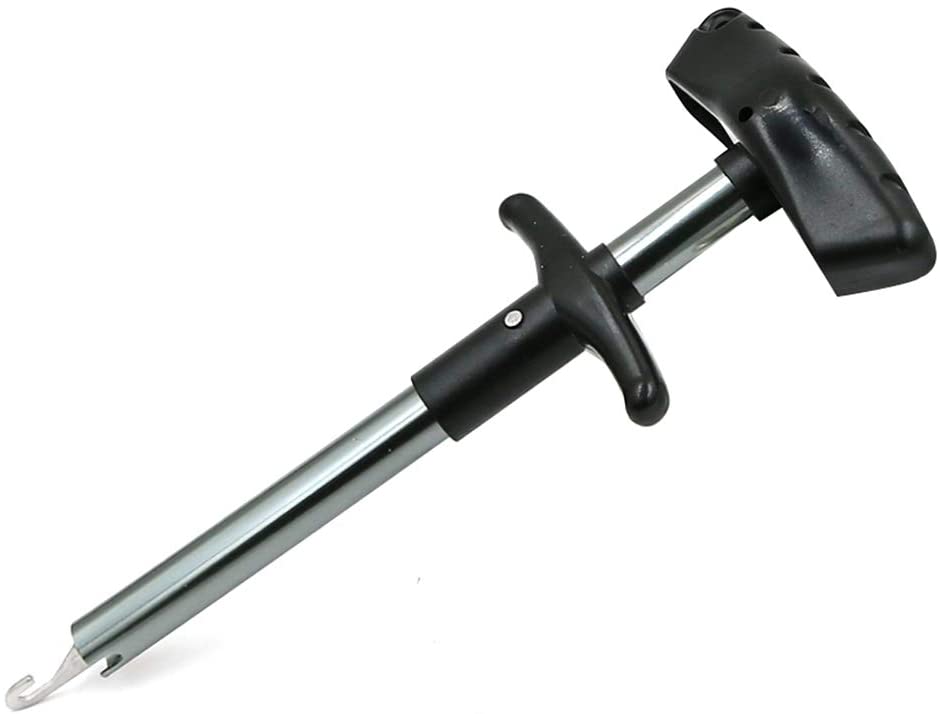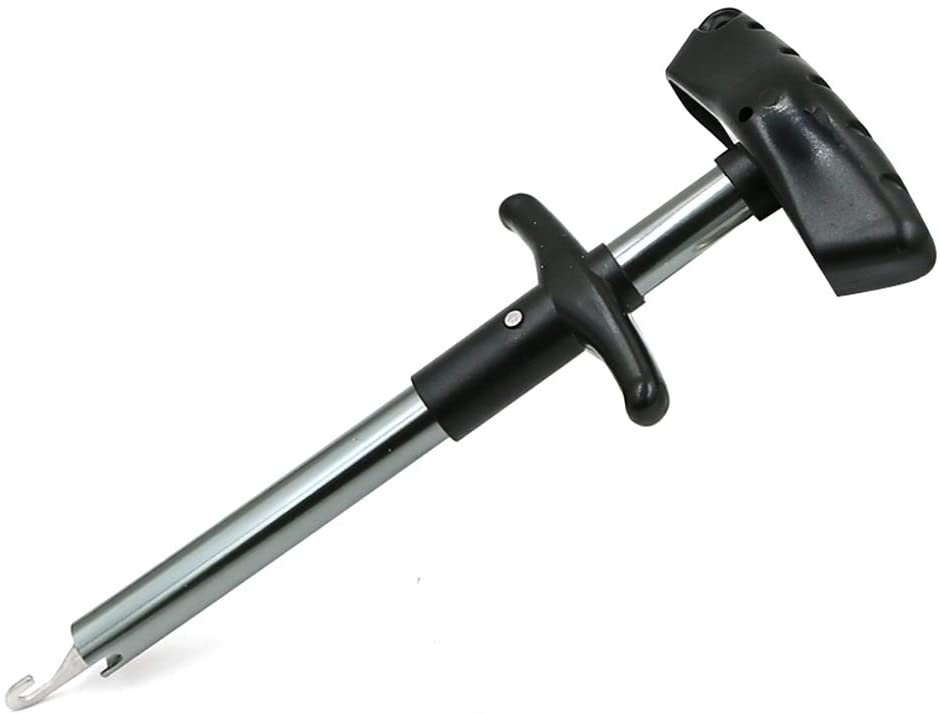 Easy Fish is an excellent option for budget-conscious anglers.  This 6.6-inch tool may seem incapable of some anglers, but it is effortless to use and handle. Thanks to its ergonomic plastic handle are easy to grip and fit perfectly in your hand.
This nifty little fish hook remover is usable with one hand and is made of corrosion-resistant anodized aluminum, so you don't have to worry about its durability.  With the fish in one hand and the Easy Fish on your other hand, you can easily extract a hook from deep inside the fish.
Pros
Fast and easy to use
The ergonomic design fits in the palm perfectly
Single Hand Operation
The plastic handle is comfortable and easy to grip
Cons
The handle could have been smaller
4. Crazyshark Fish Hook Remover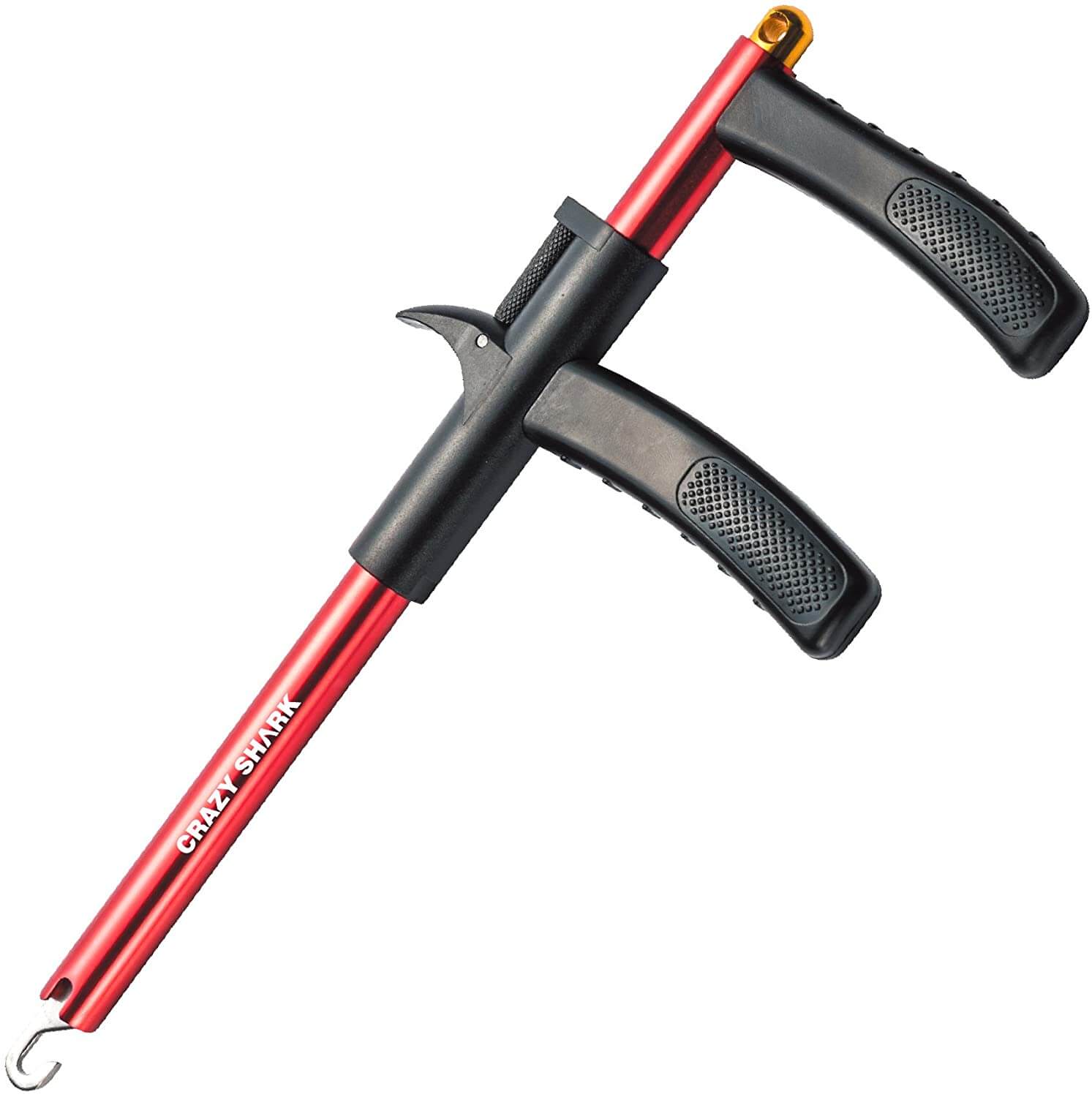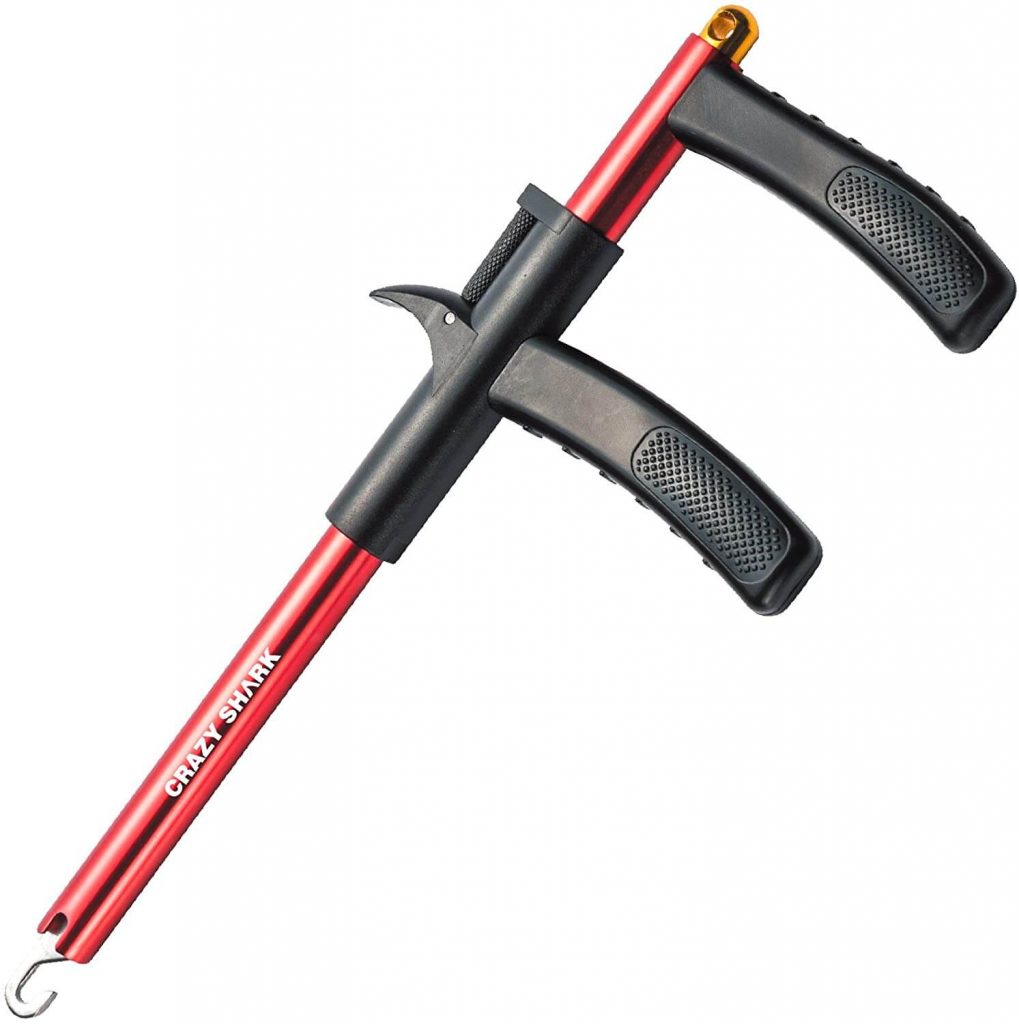 The CrazyShark is rugged of kind fish hook remover designed to be used in the harshest conditions. This tool is made from aviation-grade aluminum, and the hook-securing assembly is fully stainless steel.
The ergonomic grip feels comfortable and ergonomic and allows you to exert maximum pressure on the hook. To remove the hook, squeeze hard to clamp it firmly on to the hook, then twist or apply pressure in the direction to extract it.
The CrazyShark measures 9.6 inches and has an anti-rust finish that doesn't fade. Furthermore, the finish is also corrosion-resistant. Overall, a functional, well-designed, and lightweight fish extractor for all anglers and weather conditions.
Pros
ABS handle and stainless-steel jaws
Stainless steel hook
Ergonomics plastic handle
Attractive color options
Easy operation
Cons
The shaft could have been longer
Some users complained the metal isn't strong enough
5. Cuda 8.5″ Titanium Bonded Dehooker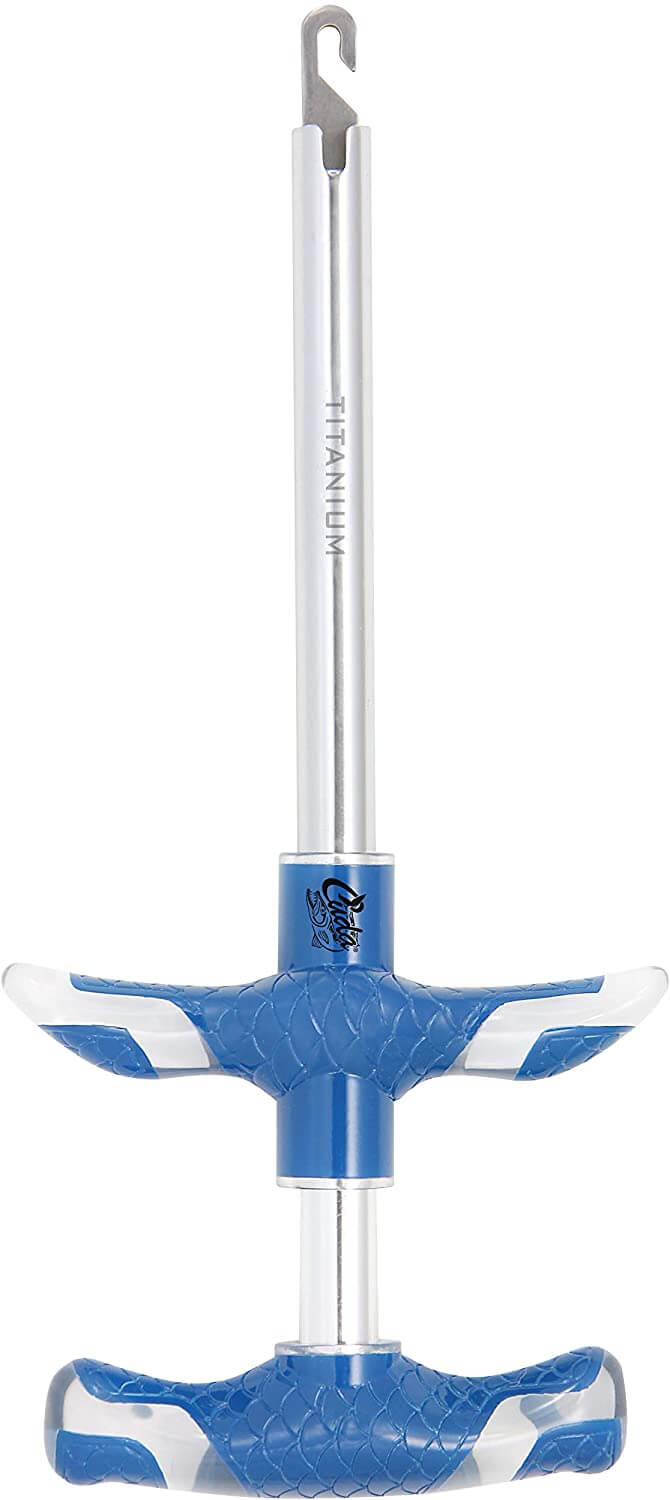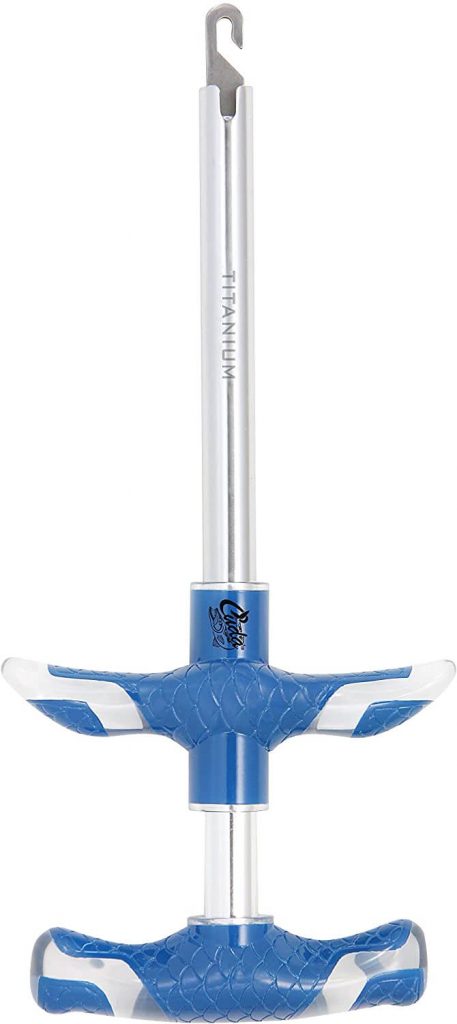 If you're looking for a comfortable and durable titanium-bonded remover, then the Cuda Titanium Bonded Dehooker is the perfect choice for you. Cuda is behind some of the best and highly sought-after fishing gear on the market.
The Cuda Titanium Bonded Dehooker is 8.5 inches in length, which is useful to extract deeply buried hooks. The T-shaped handles feature the company's signature "Cuda Scale" pattern, which provides an incredible and secure grip. Cuda won't slip from your hand no matter how slippery the conditions get.
This fish hook removal tool mechanism is titanium-made instead of stainless steel. Furthermore, the material also makes this dehooker more durable and resistant to corrosion from saltwater exposure.  The 8.5" shaft is made from an aluminum alloy for lightweight and corrosion resistance. There is also an identical 18-inch extended model available for use for larger fish.
Pros
Titanium-bonded dehooking mechanism
Ideal for use in freshwater and saltwater
Corrosion-resistant
Small size for easy storage
Cons
The 8.5-inches works only for small fish
Some assembly might be required
Fish Hook Remover Benefits
There are many good reasons to get yourself a fish extractor. For starters, a good one will prevent cuts, scratches, and punctures to your fingers. Toothless fish won't be much of a problem, but when you reach into a fish's mouth with sharp teeth like Bass, you can get some nasty cuts.
A gut-hooked lure is hard to get out without a fish hook remover. The tool's added length enables you to go deep inside the fish's mouth without harming the fish and yourself. Besides, you can save your favorite tackle, saving you some cash there. Many capable spring-loaded removers today allow you to use them with one hand, allowing you to remove the hook from the fish's mouth effortlessly.
Fishing Hook Remover Vs. Fishing Pliers
Successful fishing means you've caught a fish with a hook in its mouth or its gut.  Now that the fish is in hand, you need to remove the hook. Sometimes, it's easy, and sometimes not. You can remove fish hooks either using a fish extractor or fishing pliers.
Both are suitable for removing hooks, but fishing pliers are ideal for removing or cutting the hook from the fish's mouth, especially larger fish. Furthermore, some fishing pliers are also used to cut fishing lines quickly and safely. Usually, these fishing pliers have scissors-like mechanisms and can cut lines made of monofilament and fluorocarbon.
On the other hand, removers are used to remove hooks from small and large fish, especially if the hook is in the gut, in case the fish swallowed it. Because removers have shafts ranging from 6.6 inches to up to 18 inches.
Fish extractors are relatively compact and lightweight, particularly the smaller ones, whereas most fishing pliers are bulky.  Whether you use a fish extractor or fishing pliers, both of these tools are made to remove hooks from fish from its mouth or gut.
Fish Hook Remover Maintenance Tips
There are various sizes and lengths, and by length, we are referring to the shaft length. The rule of thumb is to use a small remover for smaller fish and larger models for bigger fish species.
Make sure not to squeeze the handle to control the groove too hard as it can damage the spring mechanism inside the shaft over time.  Another tip to prolong your fish extractor is to ensure that it is designed for both fishings. Typically, a regular fish hook removal can be used in both freshwater and saltwater, so it's not a big issue.
Fish Hook Remover Buyer's Guide
Buying the right extractor depends on the fish species you'll be catching, the hook size you're using, and the fishing conditions. Here are the key features to consider when picking the ideal one for your needs.
Things To Consider:
Shaft Length
Most removers vary from 8-inch ones to lengthy 13-inch (+) models. If you're targeting smaller freshwater fish like Bass, trout, or walleye, shorter models will be better.
On the other hand, if you're after larger freshwater species such as muskie, bowfin, or northern pike, the more extended models are better suited to reach deep inside the fish's mouth and extract the hooks. Longer extractors are also ideal for saltwater fish like wahoo, halibut, barracuda, and bluefish.
Remember, it will be awkward to use with extended shafts to remove hooks from smaller fish as the extra length will make it challenging to handle the tool properly, making the hook removal task difficult.
Materials
Typically fish hook remover tools are made of stainless steel or anodized aluminum.  Stainless steel tools are durable and have more weight, but they aren't fully corrosion-proof. Stainless steel models can last for years, even after substantial use. Just rinse in fresh water after use to prevent corrosion.
Anodized aluminum tools, on the other hand, are lightweight, reasonably robust, and corrosion-resistant. Unlike stainless steel options, anodized aluminum extractors can be used in salt water without being worried about rust or corrosion. Anodized aluminum isn't the most robust material around, so don't abuse them.
Some models come with titanium hook removal mechanisms, which makes it totally corrosion-proof, but they cost a bit extra.
Hook Size
Most tools are designed to remove medium to relatively large-sized hooks (#6 and above). Given that the spring mechanism is robust, it can break the smaller hooks if too much pressure is exerted. In these situations, we recommend using a pair of fishing pliers to extract small hooks (#8 or smaller).
Grip Styles
Most fish extractors either come with a pistol grip or a T-style grip. Both grip styles are practical and can be used with one hand.
T-style grips feel more compact than pistol grips and require less storage space. Meanwhile, some anglers prefer pistol grips because they claim they provide a better level of precision. Whatever the case, it all boils down to your personal preference.
Hook Removal Mechanisms: Spring-Loaded vs. Solid Piece
Newer fish de-hookers have hook removal mechanisms with internal springs, which makes using the tool single-handed. Older models tend to have a long metal rod with a curved hook at the end, meaning you've to
manually pry the hook outside, which is annoying.
Fish Hook FAQs
1. How do you use an easy fish hook remover?
Using an Easy fish is as simple as using any other remover. All you need to do is locate the hook inside, get the hook remover inside and get hold of the remover. Now, squeeze the handle to secure the hook, and make a slight twist, and the hook will be released…
2. How does hook remover work?
The operation of a fish hook remover is pretty basic. A fish remover has two handles of which one is attached to a rounded hook at the other end. The hook goes up and down when the lower hand is squeezed. The top handle does not move.
3. How long does it take a fish hook to dissolve?
It depends on the materials and water conditions. Most fish hooks left in fish's mouths will dissolve naturally, usually taking around a couple of months to several years.
4. Is it cruel to catch and release fish?
This isn't a good practice. If you catch a fish with a 'poor' tackle, and the fish struggle a lot before you take it out of the water, it may die of exhaustion. On the flip side, if you catch a fish with a 'good' tackle, you can quickly land the fish. After dehooking, if you release the fish, it has a higher chance of surviving. The point is an exhausted fish is easy to bait for another fish because it doesn't have the energy to fend off predators to survive.
5. Are barbless hooks better?
Barbless hooks are safer both for yourself and the fish. For starters, barbed hooks can hurt, and are difficult and painful to get out of your body. Barbless hooks aren't harmless and still hurt, but you can easily remove them with less pain. Meanwhile, barbed hooks can get stuck in the gills and the inside of the fish, which can cause the fish to die.
Besides, when stuck barbed hooks don't fall off and can get stuck inside the fish for longer than barbless hooks. On the flip side, barbed hooks are better than barbless hooks because they have a stronger hold on the fish, reducing your chances of losing it.
Final Thoughts
Fish saver hook remover is a simple and inexpensive tool. It's small and effortless to use. Whether you're a professional angler or a newbie, it doesn't hurt to have this nifty tool in your fishing gear arsenal. But for some unforeseen reasons, a lot of anglers prefer using fishing pliers over removers or don't like to use the tool as much as they should.
The bottom line, both fishing pliers and fish hook removers are necessary when removing the hook from the fish's mouth or gut—all you need to understand is which tool will get the job done quickly and efficiently.
Read More: