There has been quite some debate about the necessity of a fish lip gripper. It has a love-hate relationship among anglers. However, if you're into fishing monster fishes or a novice angler then a fish lip gripper is a must for you.
To a novice or professional angler, losing a fish in the water in a common scenario that everyone has faced once in a while. Fishes are very slippery and it's hard to have a grasp on them with bare hands. You need to be able to control and handle the fish in order to have a successful fishing expedition.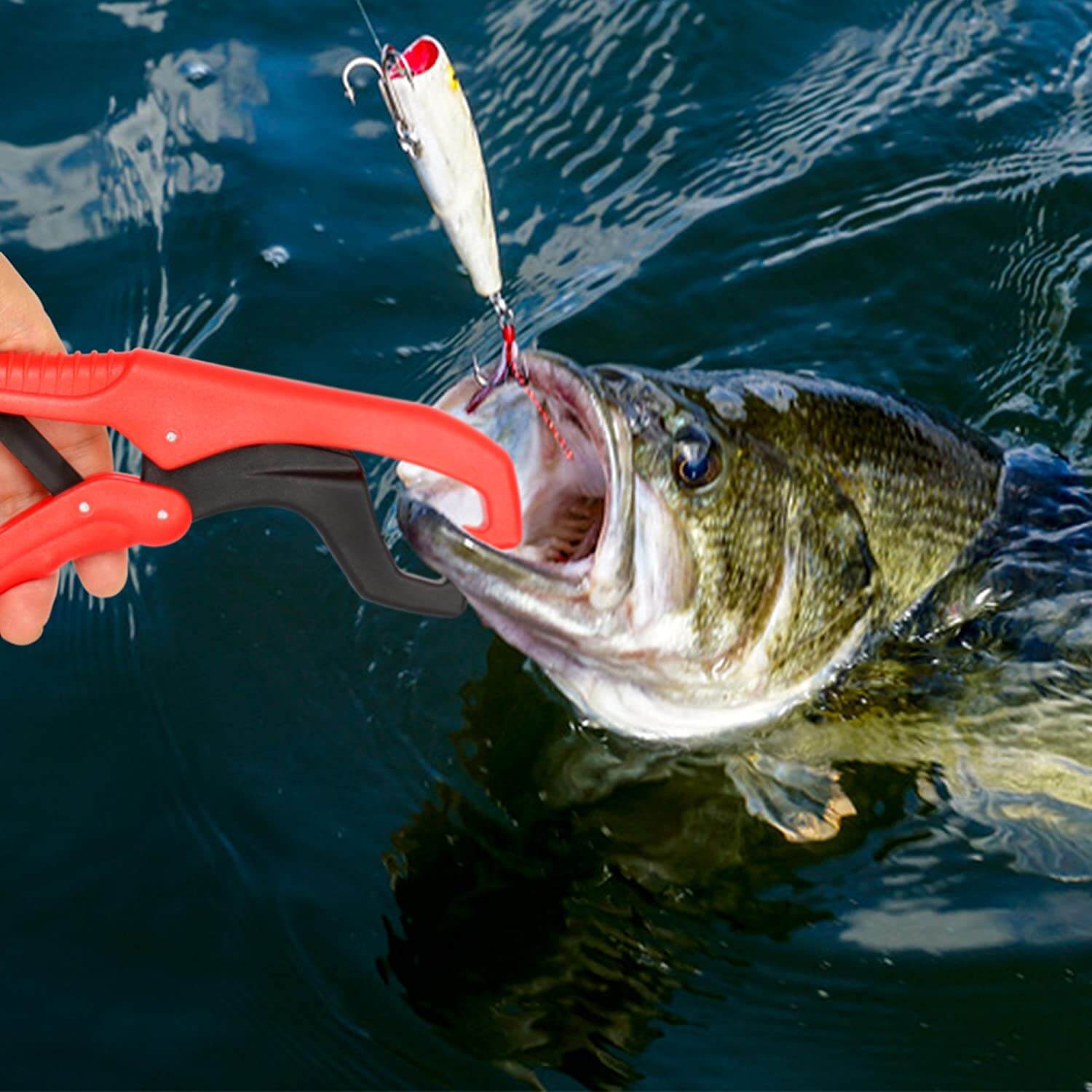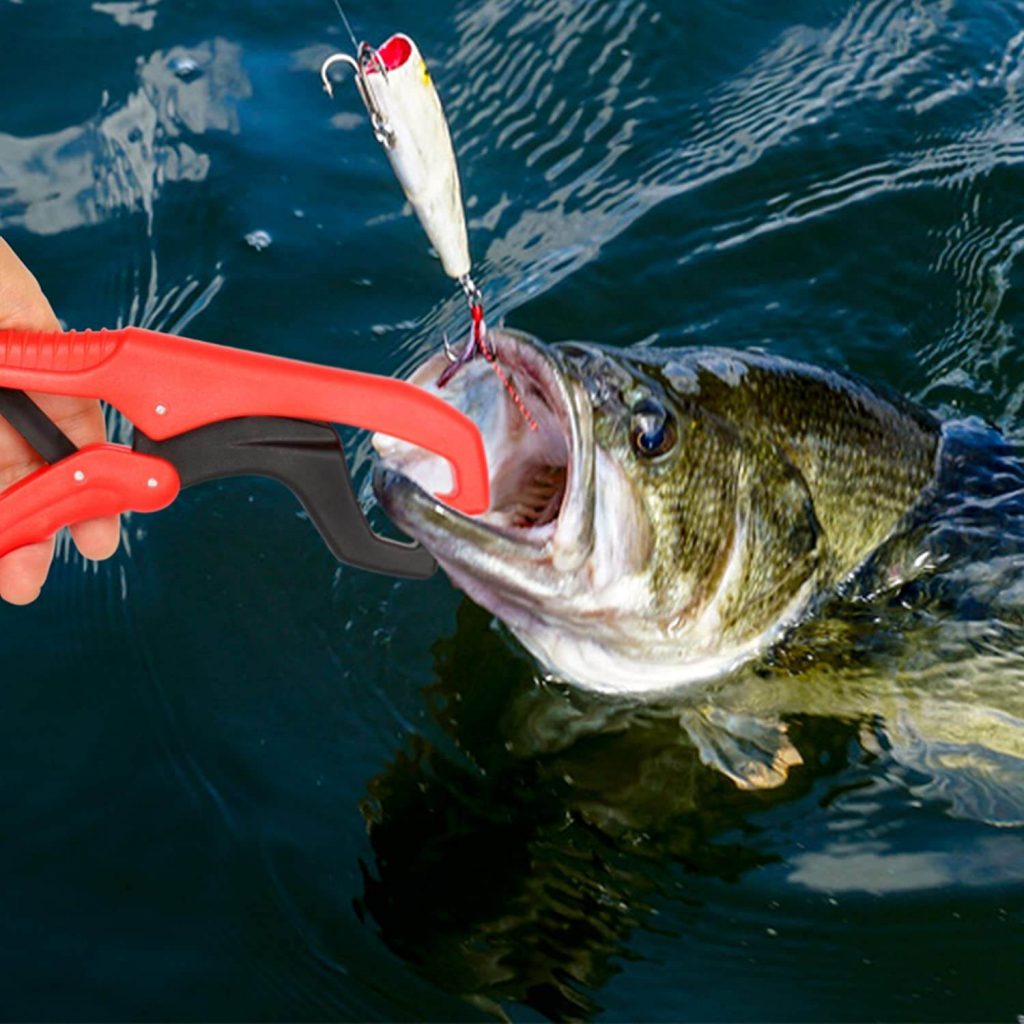 A fish gripper has a unique design that enables you to have a grip on its lip without causing any damage to it. This will give you an added advantage when you're handling a fish as it enables you to keep the fish in the water while taking out the hook. Also, these are small, so, it will not take up as much space as the net and other equipment.
There are many different fish lip grippers in the market and you may feel lost among the wide array of choices. To make that job easier for you, we have come up with the five best fish lip grippers out there that will make your next fishing expedition a lot more enjoyable. Let's take a look.
What is a Fish Lip Gripper?
Fish grippers are created for handling and controlling the fish. A fish lip gripper is a tool that clamps two jaws around the lips of the fish. This tool ensures that the anglers don't need to reach for the fish's mouth as that may lead to fatal accidents if the fish has sharp teeth or if it's an aggressive one.
With a fish lip gripper, you get to have full authority over the fish and you don't need to worry about the hooks getting tangled in the net. Also, the fish slime will not hamper your ability to hold onto the fish. There are three main types of fish lip grippers: pistol grips, traditional T-style grips, and floating plastic grips.
Related article:
Best Fish Lip Gripper We Will Cover Today
1. Best choice-Rapala Fish Gripper
2. Best Price-Entsport Fish Lip Gripper
3. Best Overall-Piscifun Fish Lip Gripper 
4. Best Long Nose-RUNCL Fishing Pliers 
5. Best portable- Fiblink Portable Lip Fish Grabber
Fish Lip Gripper Reviews!
1. Rapala Fish Gripper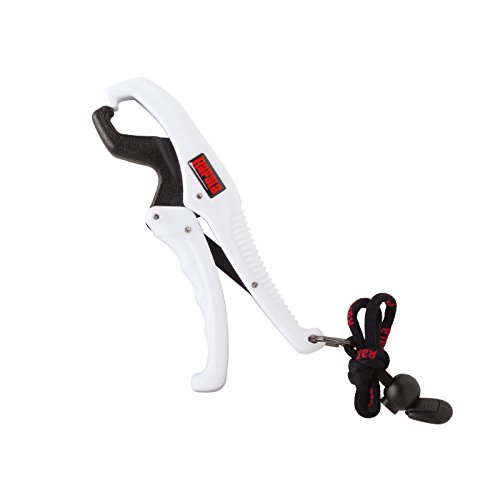 You have probably heard of Rapala already as they have a wide range of outstanding fishing gears. The Rapala Floating Fish Gripper is an excellent choice if you're looking for a compact fish gripper. This gripper has a unique design and it'll make your fishing journey a lot smoother and hassle-free. It will enable you to easily land and release your catch without harming it at all.
With this tool, you can perform the entire task with just one hand. So, if you're having a debate in your mind about whether to get a lip gripper or not, we can assure you that you'll not be disappointed with this product.
The gripper is made with heavy-duty plastic that works outstandingly well in both freshwater and saltwater condition. The corrosion-resistant construction of the fish gripper will last you a very long time without any damage to it regardless of the water or weather conditions.
The Rapala Floating Fish Gripper also comes with a wrist lanyard which ensures that you hold onto the gripper even if it slips out of your hand. However, this gripper is not an ideal choice if you're planning to catch small fish with it. This model is more suitable for large fish with bigger lips.
Pros
Sturdy and durable construction
Made with heavy-duty plastic
Suitable for all kinds of water conditions
Comes with a wrist lanyard
Can be used with one hand
Cons
Not an ideal choice for catching small fishes
Doesn't include measuring scale
2.Entsport Fish Lip Gripper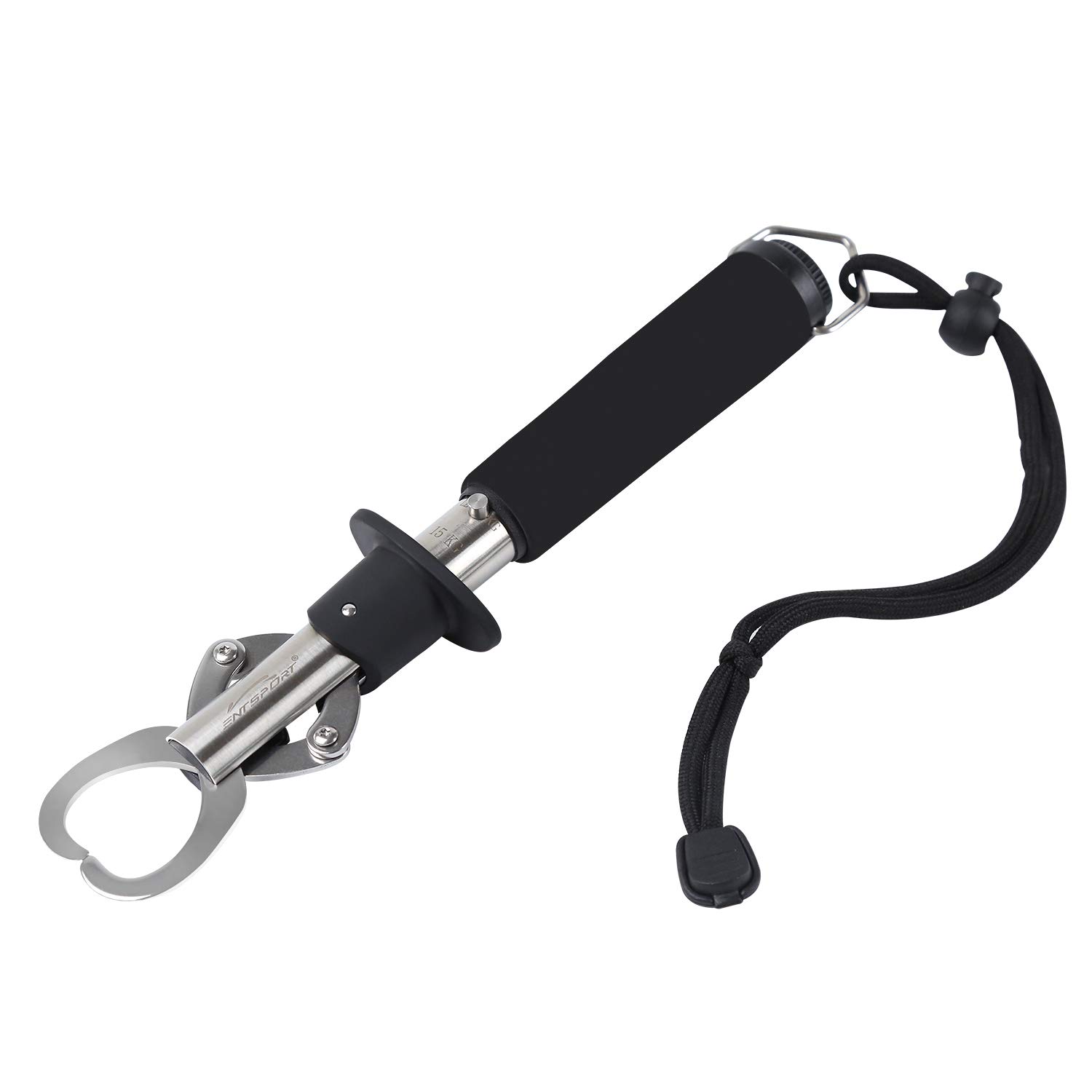 If you're looking for a budget-friendly fish lip gripper that will get the job done without breaking the bank then the Entsport Fish Lip Gripper is your guy. It has a strong build quality that's suitable for all kinds of fish in both freshwater and saltwater. This grabber has a simple design and it comes in two different variants: grabber with scale and grabber with scale and tape.
The Entsport gripper has an ultra-wide opening that helps the angler to easily grab the fish's lips and a release lever to safely release back the fish to water without harming it. The clam of the gripper is made with stainless steel that offers outstanding quality.
The maximum weight limit ranges from 40 pounds or 18 kg and it ensures handling the fish with the utmost amount of care and precision. It also gives readouts in standard SI units which will help you to figure out the size of your catch.
The handle of the gripper is made with EVA rubber that will help you keep a strong grip on it and it's super comfortable as well. The ergonomic shape of the holder will ensure that you hold on to the handle at all times.
Pros
Affordable
Handle with EVA rubber that offers excellent grip
Comes with built-in tape
Made with stainless steel
Suitable for both saltwater and freshwater
Holds up to 40 pounds
Cons
The scale is hard to read
3. Piscifun Fish Lip Gripper with digital scale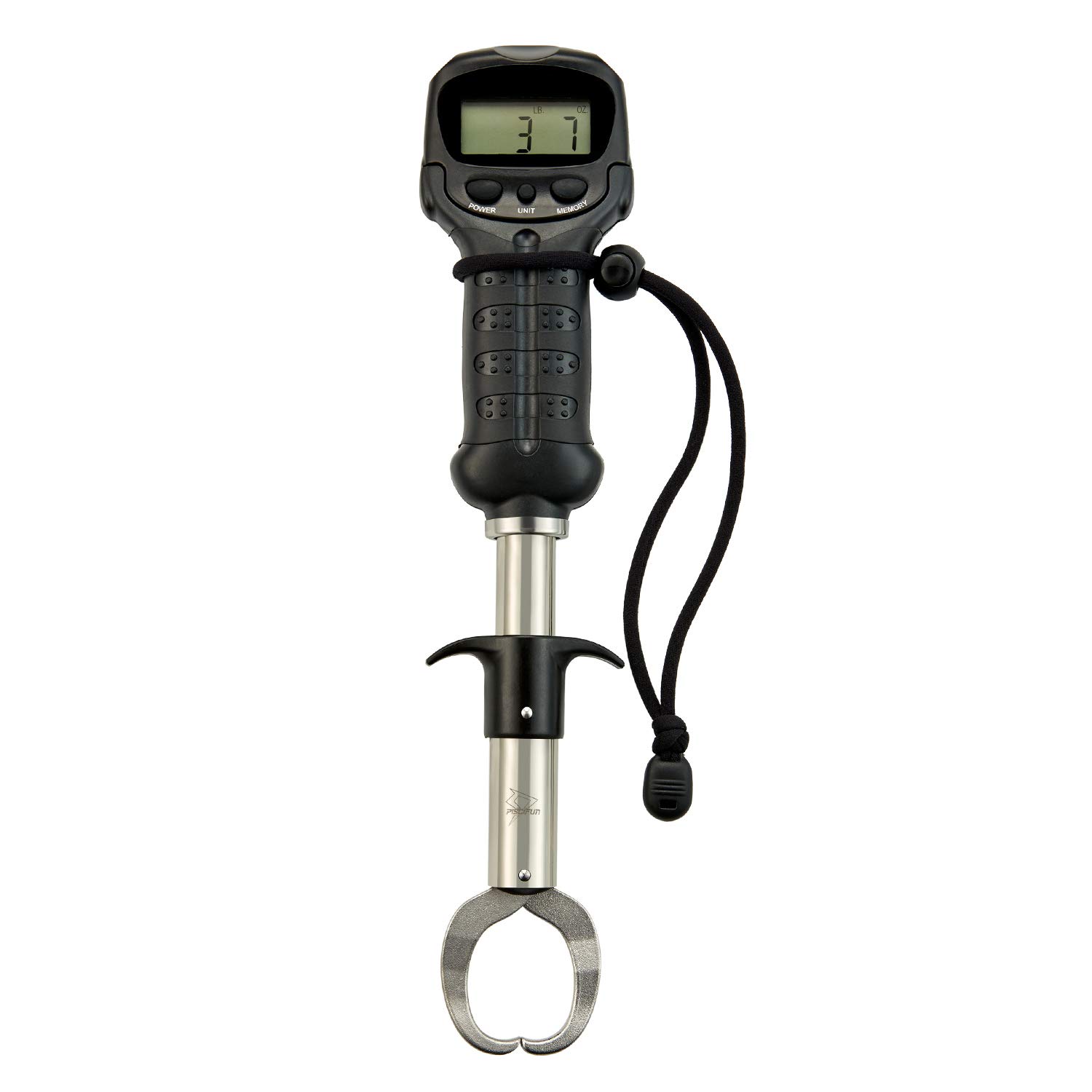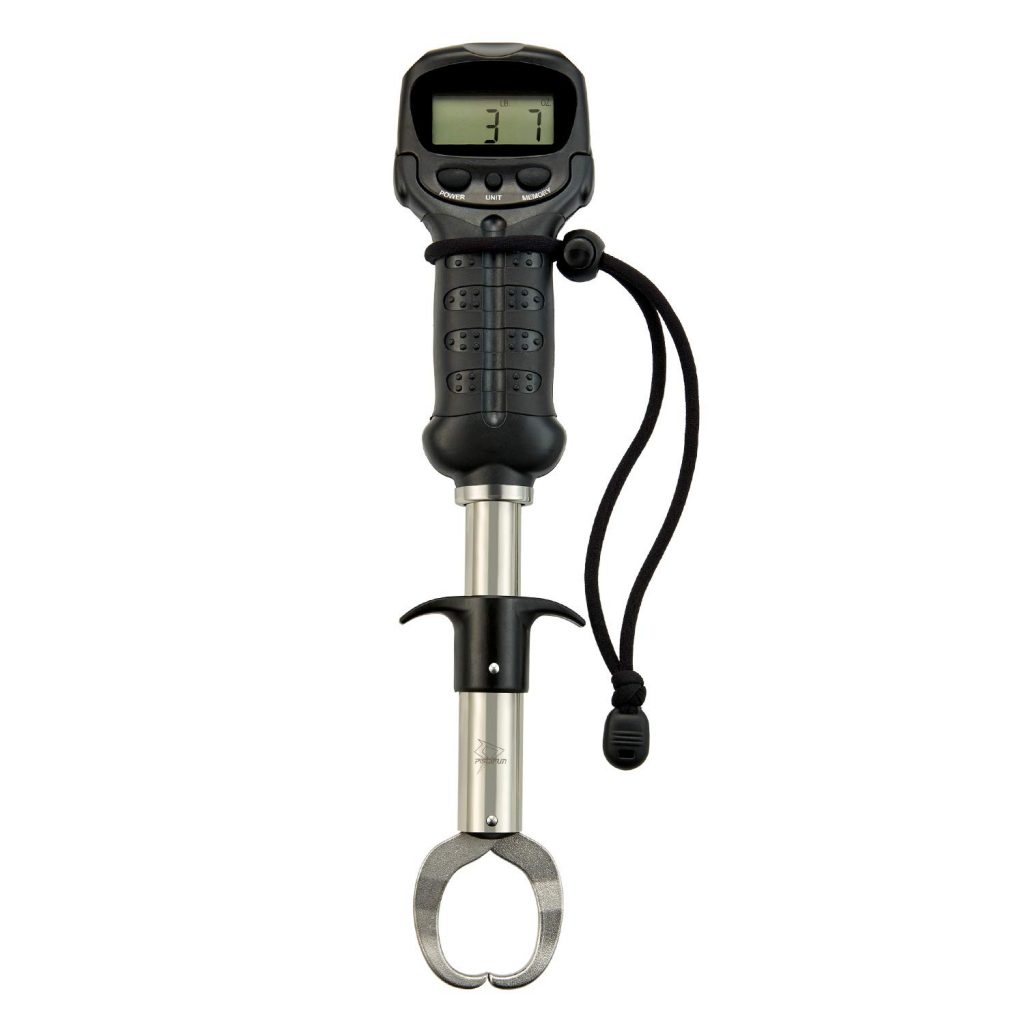 Piscifun has a wide range of gears for fishing and they're one of the most loved brands by anglers all around the world. The Piscifun fish lip gripper is a hassle-free device that will make your fishing trips a lot more fun and enjoyable. It comes at a moderate price tag that will not make a dent in your wallet.
This gripper is constructed with high-grade stainless steel that offers phenomenal durability. The gripper has been thoroughly tested on all kinds of weather and water conditions. It can withstand a whopping 60lbs, so, if you're going for monster fishes then this bad boy is a must-have for you.
Unlike most grippers, the scale of the Piscifun is super easy to read. It features a built-in LCD light that helps with the gripper placement even in low-light conditions. One of the best features of this gripper is that it rotates to a full 360° which makes it more convenient and easy to use.
The scale and LCD are powered by two AAA batteries. There's a memory mode option that displays and saves up to 10 readings. The Piscifun is equipped with advanced auto shut-off technology when the battery is low.
Despite the budget-friendly price tag, Piscifun makes no compromise when it comes to serving its customers. They offer a one-year warranty, therefore, if you face any problem with the product within the given time, you can always ask for a replacement or refund.
Pros
Budget-friendly
Handle rotates up to 360°
Advanced auto shut-off technology
Great customer service
Provides one-year warranty
Cons
Doesn't come with rechargeable batteries
4. RUNCL Fishing Pliers Long Nose G1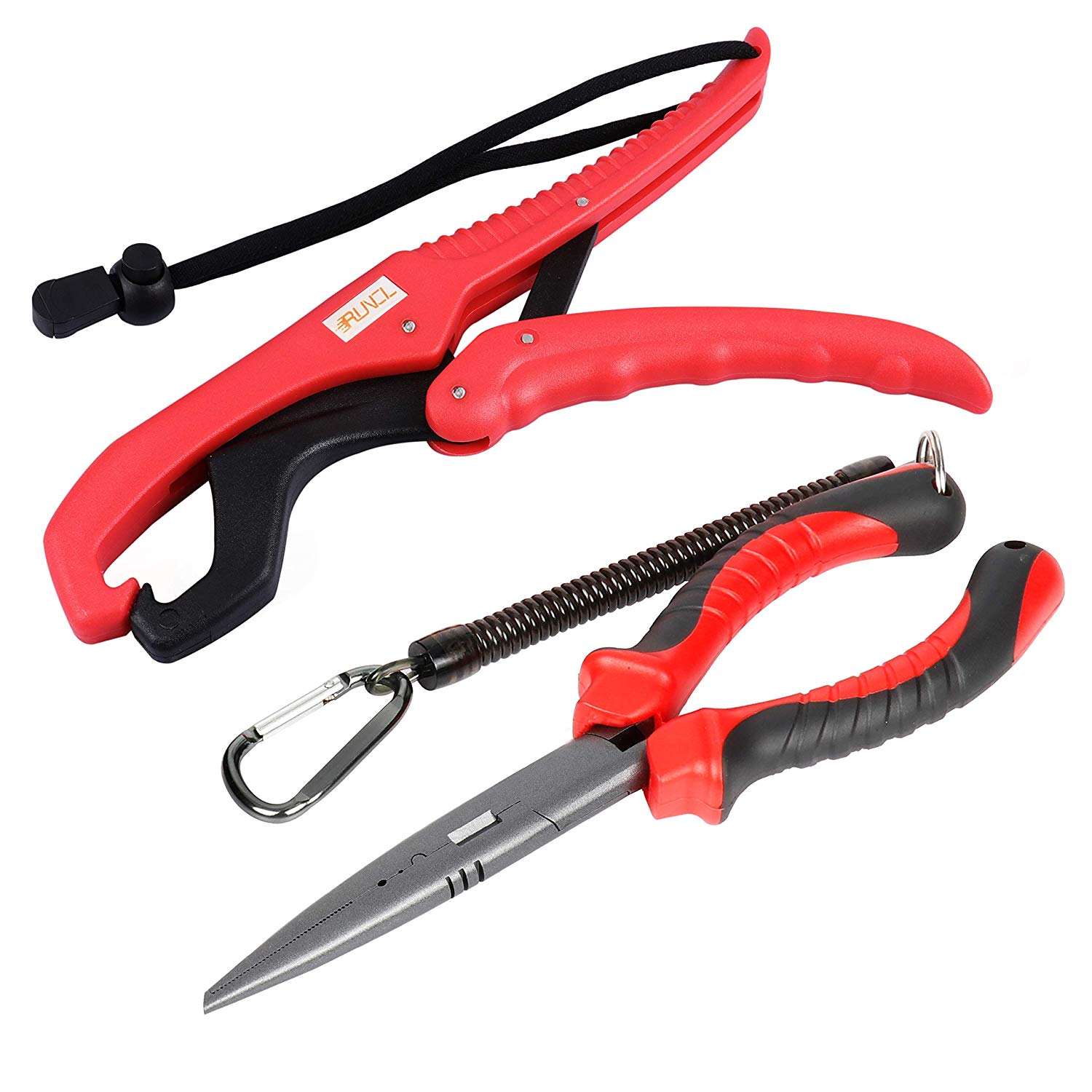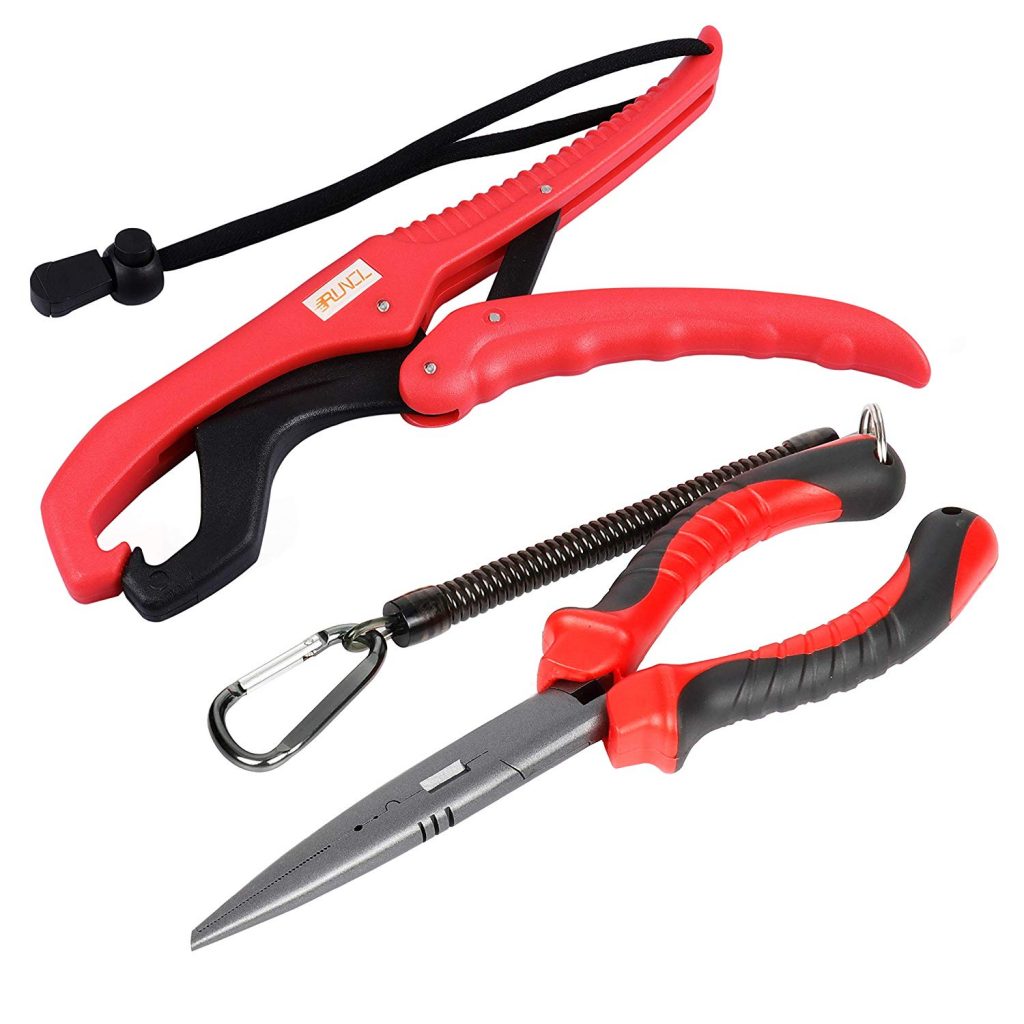 The RUNCL Fishing Pliers is not a regular fish gripper. This one is rather a plier, however, it works as efficiently as any other great fish lip gripper out there. The best part is, these can do even more than a regular lip gripper. These pliers can grip fish, remove the hook, split rings, cut lines, and crimp weights. Sounds like a miracle, right?
Even though this plier comes with an abundance of features, it's super comfortable to hold and easy to operate. The handle has an ergonomic shape that pairs up with the EVA rubber grip creating a wonderful blend that will stay glued to your hand.
The pliers are constructed with highly durable carbon steel with a phenomenal finish. The carbon steel body provides the utmost safety against corrosion in all types of weather and water conditions. These fishing pliers come with a long needle nose that makes it easy to reach deeper regions and ensures that the hooks are removed firmly.
The RUNCL Fishing Pliers are safe to carry around as they come in a portable safety pouch. As long as the pliers are inside the pouch, it'll not open up. So, there's no risk of an accident of any sort due to the long nose of the pliers.
Pros
Able to perform multiple different tasks
Comes with a portable safety pouch
Suitable for deeper reach
Constructed with carbon steel and topped with Teflon coating
Comes with an adjustable waist lanyard
Cons
Takes time to get a grasp of the tool
5.Fiblink Portable Lip Fish Grabber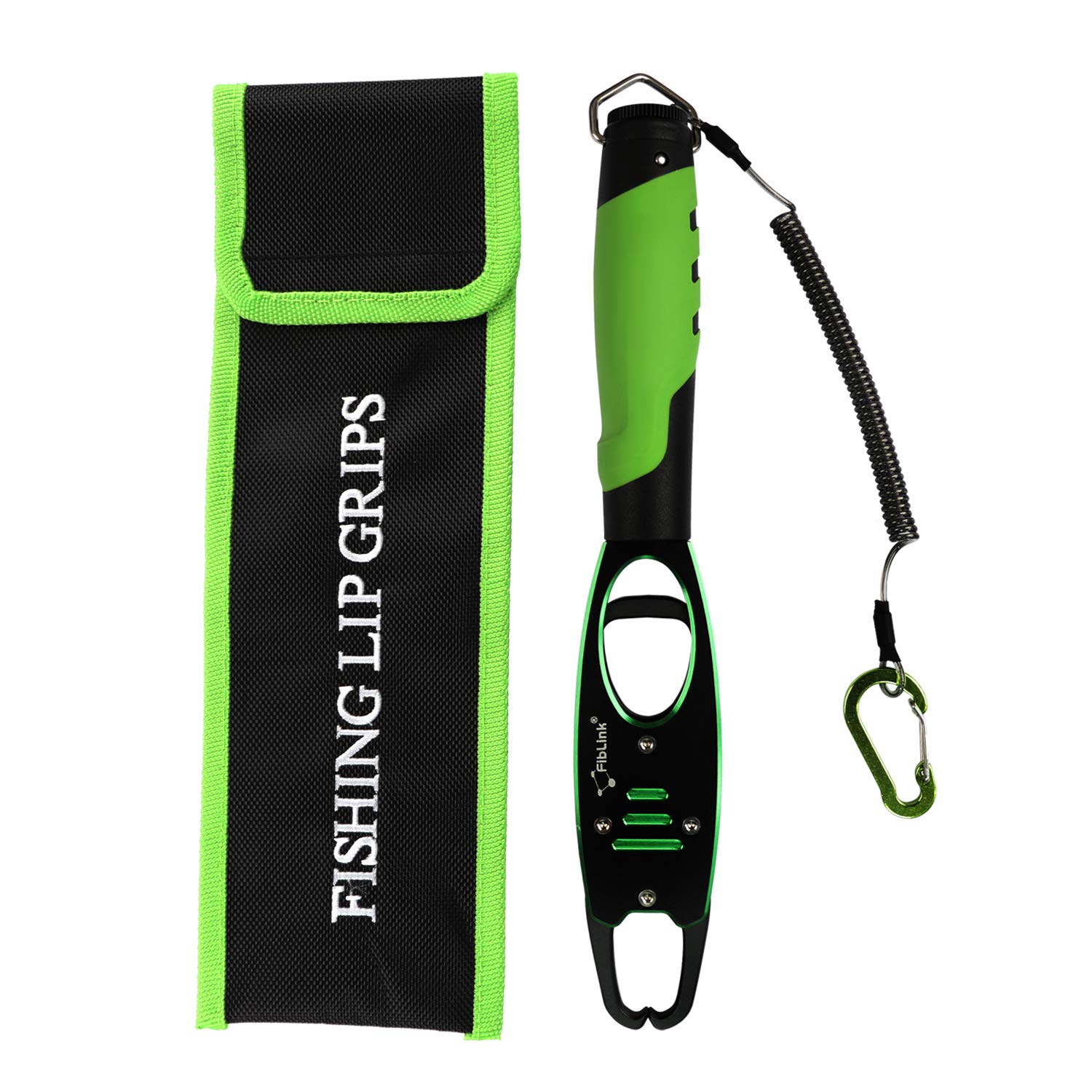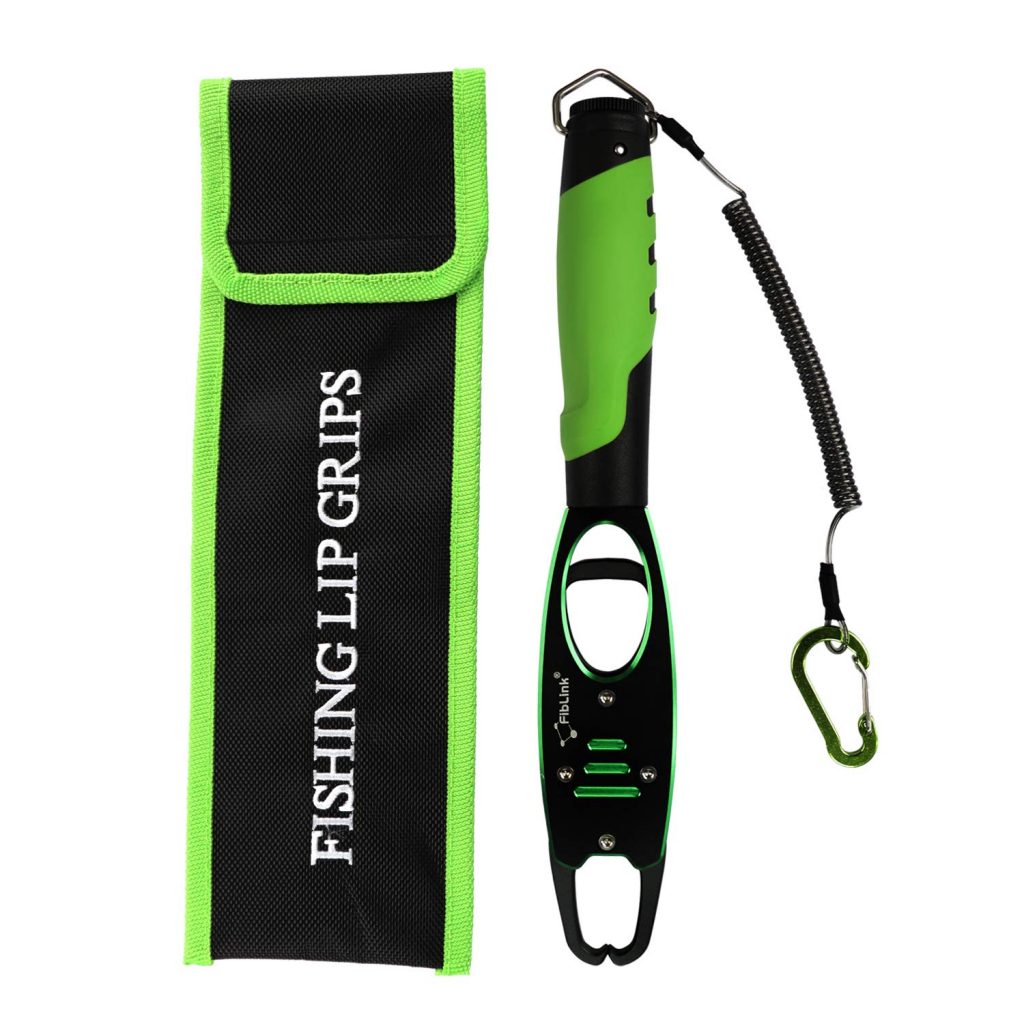 When it comes to durability, the Fiblink Portable Fish Lip Grabber is hard to beat. It's made -with aircraft-grade anti-corrosion material that will last you a very long time without any sign of oxidization or rust. It's suitable to be used in all sorts of weather conditions and water types.
This lip grabber has a plier shape with extra-hard tungsten carbide cutters. There are side-mounted anvil cutters that ensure easy access and help you to cut the tags easily. There's a raised surface behind the blade that ensures that the line stays in the cutting zone.
The multi-function jaw helps to grab or remove any fish without harming them. These pliers are available in both straight-nose and split-ring nose designs. Hence, you have the flexibility to choose one according to your preference.
The handle of the Fibling fish gripper is made with high-quality rubber. The handle will help you hold on to tools easily. The gripper can hold fish sized up to a maximum of 18 kg. Therefore, you'll be able to grip moderately to large-size catches easily.
If you're worried about carrying the gripper around then don't worry. It comes with a nylon sheath that will cover up the sharp edges and protect you from any kind of unwanted accidents.
Pros
High build quality
Made with aircraft-grade aluminum
Comes with a sheath to prevent accidents
Doesn't harm fishes when grabbing or releasing them
Cons
Doesn't have the traditional grabber design
A Lip Gripper Buyer's Guide
The market is filled with different types of fish lip grippers. We have accumulated the best fish lip grippers in this article. However, knowing the best products is not sufficient to make your ultimate pick.
There are several other factors that you should take into consideration before you settle down on one ultimate choice. We will be discussing a few factors that will help you make your final choice. Let's take a quick look at them.
Material
The material of the product plays a vital part in determining its longevity and performance of the product. No matter how expensive the gripper is, if it's made with flimsy material then it's not worth spending money on.
Fish lip grippers are usually made with stainless steel or aluminum. Make sure the material you choose is suitable for both freshwater and saltwater. If not, the gripper will eventually corrode away.
Handle
The handle of the gripper holds immense importance in its overall performance of it. Fishes are quite slippery and due to contact with water, your hands will become slippery as well. If the handle doesn't provide enough grip then it'll easily slip out of your hands.
The handles are generally made with high-quality rubber that provides an excellent grip. Some handles come with a waist lanyard which ensures that you don't lose the gripper even if it slips out of your hands.
Price
Price is one of the most vital determinants for every purchase. The fish lip grippers come in a wide variety of price ranges so that everyone can avail of them. We have incorporated grippers with different price ranges so, you can find both affordable and high-end ones in this review. However, fish lip grippers are usually very affordable. Therefore, you'll not need to break the bank to get your hands on one.
Safety
While choosing a fish lip gripper, you should consider both your and the fish's safety into consideration. The gripper should have all the necessary features to effectively grip and release the fish safely back into the water. The gripper needs to be able to handle aggressive fish so that it doesn't cause any harm to you or the fish.
Durability
Be it saltwater or freshwater, a durable fish gripper will last ages in all kinds of conditions. Make sure the gripper you go for is built to last and it's suitable for different weather and water condition.
Why Do I Need a Fish Lip Gripper?
Anglers tend to debate among themselves whether the fish lip gripper is needed or not. However, given the right situation, it does have some great usefulness. A fish lip gripper will enable you to have greater control over your catch. You'll be able to grab and release the fish quickly without harming them at all.
Before the invention of lip grippers, anglers used to hold the fish using hands that possessed multiple risks of causing damage to both the angler and the fish. Sometimes they used pliers and similar objects to remove the hook from the fish.
A lip gripper will help you to stay safe when you're handling toothy fish. You can face some fatal injuries if your hands get closer to the mouth of the catch. Also, a lip gripper will not cause any harm to the fish gills, so you can release them in the water without hurting them at all.
How to Use a Fish Lip Gripper?
The construction of a fish lip gripper is the same for all brands. However, the material and build quality tend to vary from brand to brand. The trigger that opens the jaw of the gripper is made differently. Some manufacturers have incorporated a button that opens up the jaw. You need to pull the trigger when you're near the fish's lips. This will open the trigger and attach the spring to the lips of the fish.
Once you're done handling the fish, you can take off the gripper and release the fish back into the water. Lip grippers are designed to ensure that no harm is done to the fish and they're handled with utmost care.
FAQs
Will fish grippers damage the fish's mouth?
Ans: No, the fish grippers are designed to grab the fish in a secure way without harming it so that you can release it back into the water.
Can the lip grippers handle large fish?
Ans: Yes, there is a different types of lip grippers that are able to handle very large fishes easily.
What different types of lip grippers are there?
Ans: The fish lip grippers come in three different types: floating plastic grips, pistol grips, and T-style grips.
FINAL THOUGHTS
The fish lip grippers will be an essential tool for both professional and novice anglers. They'll make handling the fish a lot easier and more manageable. There are tons of different kinds of lip grippers out there.
To make the task easier for you, we have come up with the five best fish lip grippers out there to make your fishing expedition a great experience. So, get your hands on the fish lip gripper and enjoy your next fishing trip to the fullest.
Read More: