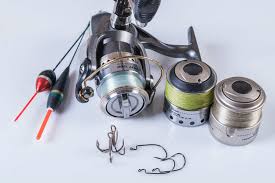 How To Clean a Fishing Reel After Saltwater Use
Fishing can teach patience at the end of the fishing reel and rod. Obviously you will need patience for such activity, but don't you think you need the same for cleaning your reel?
We understand how hard it is to maintain such a device especially when you use it in saltwater. And we all know that saltwater happens to be the number one enemy of the reel after sand and dirt.
And if you want the device to function properly, it is very essential that you clean it after each saltwater use.
So for this, the write will highlight some simple steps and tips on how you can do the job with ease. So, let's look into it!
How To Clean a Fishing Reel After Saltwater Use
Tools to gather:
Since you will be having a deep cleaning session of the reel, you will need some tools and equipment for the task. Gather up water, a clean rag, a dry paper towel, and a medium-sized container. You will also need to keep the wrench and all the other parts that came with your reel.
Don't forget to add reel cleaner and lubricant to the list as they are essential as well in cleaning and maintaining your reel. In such a situation, Ardent 3-Step Care Pack can make an ideal choice since it comes with Reel Kleen Cleaner, Reel Butter Oil, Reel Butter Grease of the same brand in a package. But you can use other cleaning and lubricant products as well if you want. These products will not only help keep your reel clean but also make it run smoothly.
Steps to accomplish:
Although, there are a variety of techniques to clean a fishing reel. However, here is the simple one that you can follow!
Step 1:
Take the spool out of the reel and have it placed in the water to soak in a separate container. Tighten the drag on the reel that you will be cleaning. It will prevent the water from getting into the drag's washer which can cause it to get soggy.
Step 2:
Fill the medium-sized container with warm water and grab the rag to put into it. Place the reel in the container and gently wipe it with water thoroughly until it gets free of any crystallized salt or dried watermarks. You will notice that all the salt buildups will get dissolved and escape from it easily. Make sure you rinse all the exterior surfaces completely.
Step 3:
Run the water over the line as it will help prevent the corrosion and salt buildup in the spool so that your line stays in good condition for a longer time.
Step 4:
After cleaning all sections of the reel, wipe it down with the paper towel to dry it. Try to make it reach all the areas. You can use a cotton tip applicator if required.
Step 5:
After the reel gets completely dried, apply a thin coat of lubricant to the entire surface of the reel. Do focus more on the contact points of moving parts. This lube will help displace the remaining moisture while giving a defensive barrier on the reel's surface. It will also deter rust and keep the mechanism function smoothly.
Step 6:
After that, take the spool out of the water and dry it completely. Put the lubricant on its surface for extra protection.
Step 7:
It's better that you loosen the drag before you put the reels away. It will relieve the strain on the disc, spring and drag washer. But you must always remember one thing that, you will have to re-tighten the drag before you make your first cast on the following fishing.
Rules to remember:
There are two of the most fundamental rules that we expect you won't break:
Always conduct some types of cleanings to your reel after fishing in saltwater, be it with a towel or a hose.
Never ever attempt to spray the reel from its underside. If you hose off the reel, ensure that you do it from its top so that the water doesn't get into it.
Tips to try:
Ensure removing all the moisture as much as possible after the cleaning session.
Ensure the coat of lubricant is thin, particularly if you store the reel for a longer period before use.
Ensure that you clean the reel after every saltwater fishing trip.
You can use soap as well to clean the reel in warm water.
After you clean every part thoroughly, make sure you rinse off the freshwater at low pressure. Try not to wash it at high pressure since it will force the water to get into the drag and other mechanisms which will damage the reel completely.
Avert spraying the lube inside the reel since the oil will break down the greases and accelerate the demise of internal parts of the reels.
Service time:
Open the side plate once in every while to grease the gears and bearings lightly.
Once in a year, give the reel a full service. The service involves dismantling all of its parts prior to putting them into the container.
Replace the parts if you find any of them damaged.
You can send the reel to the supplier for the service if you don't wish to do that on your own.
It's better that you take the help of professionals for managing the heap of small little springs and parts inside the reel.
Final Thoughts
The frequency in which you will be cleaning and maintaining the reel and the way you will do it will determine the lifespan and performance of the device. There are a lot of ways and methods through which you can clean your reel. The one that has been highlighted here is one of the simplest ways that we thought to provide. So, we hope that you keep all the advice and steps in mind after you are done with your fishing trip. Because reel is something that needs to be kept in really good condition to function.
Bestseller No. 1
SeaKnight Rapid Saltwater Spinning Reel, 4.7:1,6.2:1 High Speed, Max Drag 33Lbs, Smooth Fresh and Saltwater Fishing Reel
Introducing the Rapid fresh and saltwater spinning reel featuring an anti-corrosive coating for salt ad fresh water use.
The Rapid offers an enhanced thicker main shaft, stainless ball bearings, and a carbon fiber drag system with 15kg/33 pound drag to land the largest gamefish.
Exquisite craftsmanship employing advanced production technologies and outfitted with high quality 10 + 1 shielded stainless steel ball bearings create an amazingly smooth reel.
The Rapid also features a sealed aluminum spool and rotor structure, preventing water and sand from entering the gearing.
The Rapid is a fast, powerful, durable reel suited for heavy freshwater and light saltwater use. Perfect for inshore fishing, and for Bass, Stripers, Walleyes, Catfish, and Northern Pike.
Bestseller No. 2
KastKing Sharky III Spinning Fishing Reel,Size 5000
NEXT-GEN - The brand new design KastKing Sharky III spinning reels are built tough to land trophy fish in all fishing conditions. Sharky III are superb lightweight fishing reels built with a high percentage fiber reinforced graphite body and rotor!
PURE POWER - You will love Sharky III spinning reel's amazing best-in-class up to 39.5LBs / 18KG of smooth, reliable triple disc carbon fiber drag, oversized stainless-steel main shaft, and stronger precision mesh manganese brass pinion gears for more fishing muscle.
K.I.S.S. - Sharky III spinning reels are sealed with a KISS! Sharky III has a unique protection water resistant design for its spool, body, and rotor - K.I.S.S. (KastKing Intrusion Shield System). It helps keep water and dirt out.
SUPER SMOOTH - You'll be blown away by the quiet, silky smooth retrieve of the Sharky III. Plus, with the unique Shark Fin Braid Ready aluminum spool, you no longer need to use backing line when spooling on braid fishing line.
AFFORDABLE INNOVATION - Sharky III spinning reel is loaded with features, including 10 + 1 high quality, saltwater rated double shielded stainless steel ball bearings, instant lock anti-reverse, stainless steel hardware, aluminum handle, and more line capacity than other brands. It is the best all-around spinning reel for every angler.
Bestseller No. 3
Daiwa BG4000 BG Saltwater Spinning Reel, 4000, 5.7: 1 Gear Ratio, 6+1 Bearings, 39.90" Retrieve Rate, 17.60 lb Max Drag
Black Anodized Machined Aluminum Housing ("Hard Bodyz" Body & Side Cover), Over-sized Digigear (Digigear System)
Solid Screw-In Handle, Air Rotor, Dynamic Cut Aluminum ABS Spool
Braided Line Ready Spool, Waterproof Drag System, Carbon ATD, Line Per Handle Turn: 39.9"
Manual Return Bail (4500 and Larger), 6BB+1RB, Gear Ratio: 5.6:1, Drag Max:17.6
Line Capacity (Lb. Test / Yards): 10/300, 12/260, 14/210 J-BRAID: 20/370, 30/280, 40/200