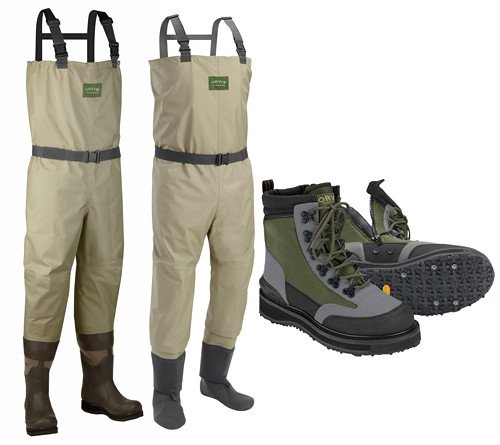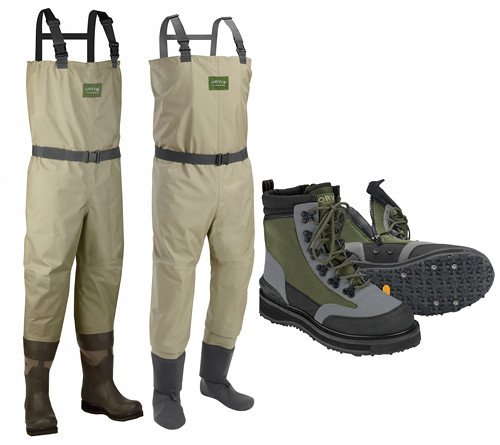 When it comes to fishing and wetland hunting, waders are a vital addition to your fishing gear. If you aren't familiar with waders—they're waterproof boots that extend to your hips, waist, or chest. Waders allows us to go into water depths to cast to that won't be possible without them.  In addition to waders, wading boots are another necessary fishing gear because they secure your body when walking and wading through the water.
Just any other gears, fishing gears, including waders and wading boots, require cleaning if you want them to be in pristine condition for using them for a long time. In this guide, we will discuss all you need to know on how to keep your fishing waders clean. So, without further ado, let's get to it:
Read More:
Why clean Your Waders?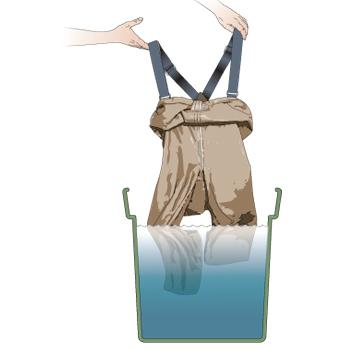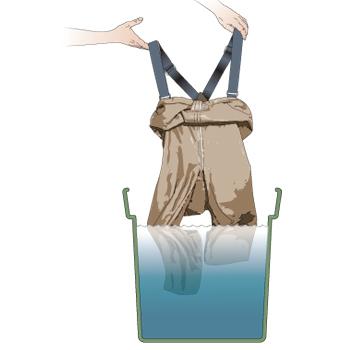 Before we go into details on how to clean your waders, you're probably asking why you would want to wash your waders. After all, we use the thing to wade in the water, and the water is already keeping it clean, isn't it? Well, you have a point, but that's not exactly how it works.
There are several reasons why you should wash your waders. Cleaning your waders will free them from oils, mud, dirt, fish slime, and other unwanted elements that get attached to your gear while fishing.
Furthermore, keeping them clean will extend the useful life of the materials, which will make your waders last longer. But, most importantly, washing your waders clean will also get rid of some of the funk, mainly from sweat. This way, they won't emit a pungent stinking smell when you take them in your car on the way to the river.
Said that you're wondering about the best way to wash waders, so here are some tips.
Cleaning Your Waders By Hand
We recommend washing your waders by hand using mild soap in cold or lukewarm water with a soft rag. For scrubbing, we suggest you use a stiff brush. You don't need to scrub down very hard to clean the mud, dirt, or fish slim, just a mild scrub down should work. Don't use cleaners such as Formula 409 as it will destroy the waterproof fabric.
Done that, hang dry your wader in the sun. If that's not possible, hang dry your wader until completely dry. If needed, you can use some DWR spray reviver on them, such as GearAid or Nikwax. The Mcnett or GearAid ReviveX is an excellent product we can recommend.
Here's a pro tip: Clean your waders using your hands as much as possible before using it and then spray some DWR revivers on when the waders are dry. Once your waders are all clean and tidy, hang them to dry and store them in a cool, dry place.
Cleaning Your Waders By Hand: Pro Tips
1. Now here's is something you should never do to your waders. Don't ever use any kind of washing machine to wash waders. Also, never use any dryers to dry your waders. The reasons are pretty straightforward: Using washing machines to clean your waders will cause possible abrasions, which will damage the water repellent features of the fabric. Additionally, the heat of the dryers will damage the seam tapes of your wader. And finally, don't soak your wader in water will compromise the integrity of the inside seams.
2. Always hang your waders outside in the sun to dry. Dry them thoroughly after each use. While drying, don't leave your waders exposed in the sun for a long time. Take them inside when they're totally dry.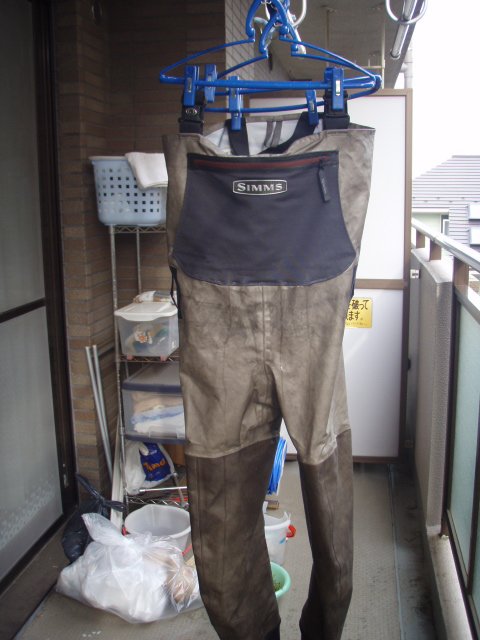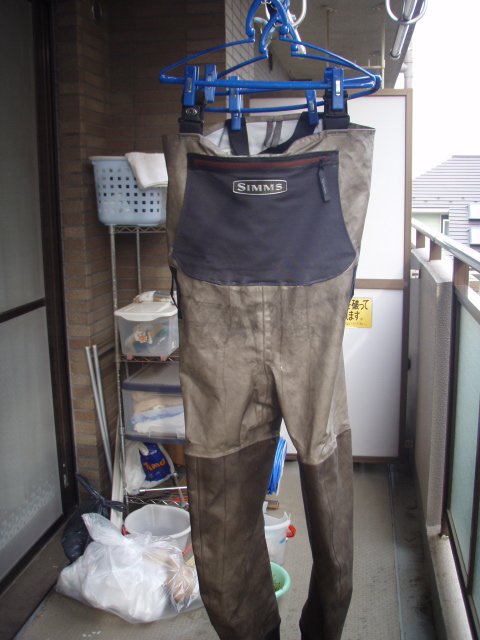 3. If you used your waders in saltwater or brackish water, wash them in fresh water and let them dry before using them again. This will prevent the salt from getting deposited in the fabrics.
4. While storing your waders, make sure they're absolutely dry. Always hang or store your warders in a cool, dark place with no direct sunlight.
Wash Your Waders After Every Two or Three Trips, and Rinse Often
We understand keeping your waders clean is a chore—you need to get habituated if you want your waders to last. But here's the good news—we don't think you need to do completely wash your waders every time you wear your waders. However, when you're done with your fishing for the day, rinse your waders thoroughly and leave them to dry completely.
If you insist on washing your waders thoroughly, then do so after every second or third trip. However, it depends on how muddy or dirty the water you fish in is and how much you've been sweating. And yes, always wash your waders thoroughly inside and out.
Always Use Wader Approved Cleaning Agents/Detergents
Many folks, including us, disapprove of using various cleaning formulas and detergents to clean or wash their waders. Of course, there are cleaners like Formula 409 that will ruin your waders. But there are many cleaning powders and laundry detergents such as Ivory Snow, which are perfectly safe to be used to clean waders, especially breathable waders. Just make sure they don't contain additives such as bleach, solvents, or fabric softeners.
Said that, check the cleaning and care instructions provided by the manufacturer before you start scrubbing your waders and see if they're any particular cleaners or agents to avoid. If you absolutely want to remain in the safe zone, we recommend you use cleaners such as Revivex Synthetic Fabric Cleaner or Nikwax Tech Wash as these are specially formulated for cleaning waterproof material cured with DWR coatings.
Cleaning Waders In Washing Machines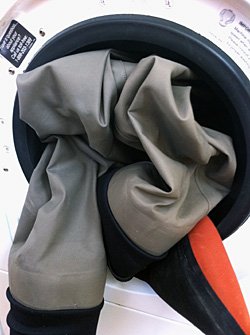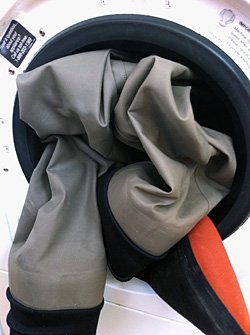 So what is the easiest way to wash your fishing waders? If you ask me, I will be doing them in the bathtub. It's straightforward—just fill up your tub with lukewarm or warm water and add some detergent. Now dunk your waders in the tub and use a soft cloth or rag to give them a thorough scrub. Only one scrub will do. Now, turn the waders inside out to wash the insides.
When you're done cleaning, rinse your waders with cold water. If you want things differently, use a shower to rinse them. You can also take your waders outside and spray them with a hose.
The Most Important Step: Drying Your Waders
No doubt, the most critical step of the cleaning process. After washing, hang your waders to let them dry completely. Once the outside is dry, turn the waders inside out for the interior to dry.
Frequently Asked Questions (FAQs)
1. How do you clean smelly waders?
Waders tend to give an unwanted odor due to sweating. If you have a pair of smelly waders, just washing them from the outside isn't enough.
You need to clean the insides too. Place your waders in your bathtub filled with cold water and some mild soap, and let it soak in for a while. Use a soft scrub brush to remove the stains. Turn your waders inside out and repeat the process. Then rinse them and hang them out to dry.
2. Can you put waders in the washer?
Though we advise you to hand wash your waders, you can use a washing machine or a washer to clean them. Use a front load machine, cold water, and regular detergent to clean your waders. Never use bleach or cleaning agents that contain bleach. Once you're done washing, dry them properly by drying the insides first.
3. Can you wash breathable waders?
Breathable waders are 'breathable' for a reason. They've fabrics that ensure maximum breathability, and to keep it that way, you'll need to wash your waders regularly using a cleaner that is detergent free.
We recommend Nikwax Tech Wash as it doesn't impact the breathability and water repellent features of the fabric. Besides, Nikwax Tech Wash can also be used in a washing machine. After you're done with washing, hang dry and store it in a cool, dry place away from direct sunlight.
4. How do you clean moldy waders?
Cleaning moldy waders is the same as you would do with any wader with sand, mud, debris, or fish slime. Use a stiff brush, some mild detergent soap, and warm water. Submerge the water in the soap water, and gently brush away the mold with the brush a few times or until you can't see the mold anymore. Done that, rinse the wader with water thoroughly, and hang it to dry.
5. How do you clean neoprene chest waders?
Thoroughly cleaning your waders now and then is always a good idea. If you've neoprene waders, it's better to hand wash them with moderately hot water and household detergent. After that, rinse them off with water properly and hang them to dry.
6. How do you clean wading boots?
To clean your wading boots, you need a stiff-bristled brush and some elbow grease. Use the brush and water to scrub away sand, mud, algae, and any other invasive species you picked up while fishing. Carefully check the seams, tread, and laces to make sure you didn't miss anything.
Done that, rinse your boots inside and out thoroughly, and let the water drain. Shake the boots to drain the excess water, and you're good to go!
7. How to clean stinky waders?
Waders get stinky from sweat, and from the mud, dirt, and fish slime that get stuck with the fabric. If you have got a pair of stinky waders, you need to wash both the insides and outsides to get it cleaned properly.
All you need is some mild soap, bleach-free detergent, a stiff brush, and warm water. Use the brush to remove the slime, dirt, or stains. Clean the insides of the waders too. After that, rinse them with clean water, and hang them out to dry.
FINAL THOUGHTS
Just like every other outdoor gear out there, you need to clean and maintain to increase its lifespan. Waders, if washed and cleaned properly, will extend their lifespan. Washing or drying your waders improperly will destroy the integrity of your gear.
Furthermore, incorrectly stored and transported waders will also have a shorter lifespan than waders that are cared for properly. Here's another pro tip: Over time, you'll realize that just cleaning your waders isn't enough to keep the DWR coating intact. When that happens, apply a new coat of DWR.
That's it! This is how you can your waders and enjoy having a fresh pair of clean waders every time you hit the waters for an adventurous fishing excursion.