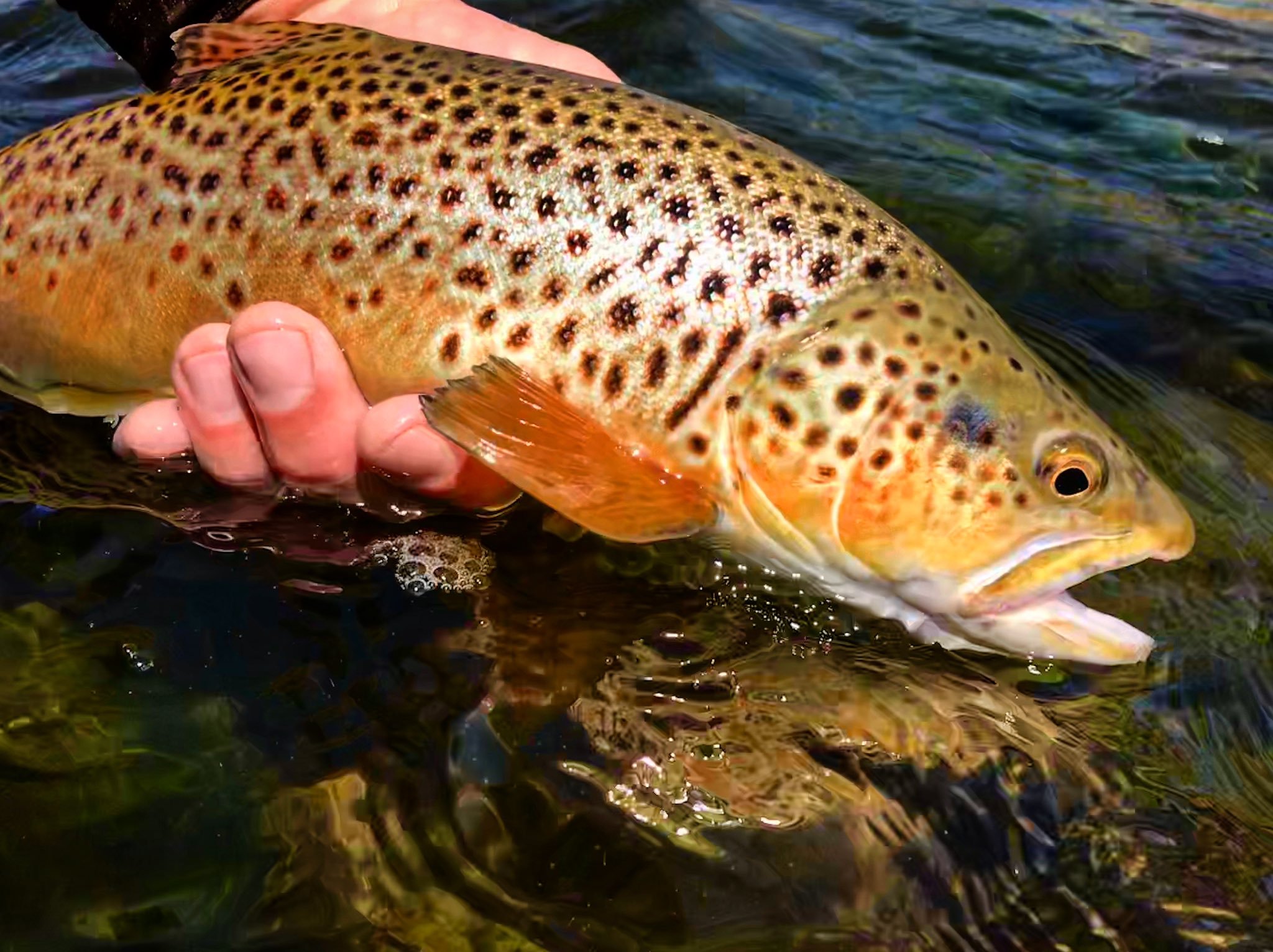 Trout fishing is among the most popular fishing activity in North America. Trout has always been a hard fish to tame, yet anglers are willing to catch them. There are three main species of trout and all of them more or less have similar characteristics. The well-known trout anglers chase is the rainbow, brook, and brown trout. Trout are abundant in the sea and native to the cold-water tributaries of the Pacific Ocean. The West Coast is one of the ideal spots to find trout of any size, color, or species.
Meanwhile, there is another variation of the trout known as the wildcard steelhead, which is placed in the same category as the rainbow trout. This particular species of trout live in the Great Lakes or ocean but they return to the freshwaters or small tributaries to spawn. The wildcard steelhead when ready to spawn shows a silvery tint on them, hence the name.
Background on the Brown Trout
The brown trout is classified as one of the most unique species of trout and is natively found all over Europe its habitat extends as far as the east to Western Asia and to as south to the mountains in North Africa. Trout, though native to Europe, has been cultivated all over the world in habitats that are ideal for its native waters. As this species prefers clean and cool water, mountain streams, and lakes, anglers can find this fish in almost all places.  In 1883, brown trout were first introduced to North America in Newfoundland. The same year, the brown trout was introduced to New York becoming the first state in the US to acquire the species.
How To Catch Brown Trout!
Brown trout has a very long life span. We have reports that claim a female brown trout can live up to more than 20 years. However, the male brown trout die shortly after spawning. There are many variations of brown trout even though they appear identical. What differentiates them from one another is their migration patterns. Some species of brown trout spend most of their life at sea and they only migrate to freshwater surfaces like lakes or rivers to spawn. Unlike Pacific Salmon, most variations of trout live after spawning and return to the deep drop sea.
Brown trout spend their entire lives in freshwater and migrate from lakes to streams for spawning events, while there are some brown trout that live only in rivers or alpine streams and don't migrate. This is common for brown trout of all varieties and the only to distinguish between the various brown trout is through their migration patterns. The brown trout is large and can weigh more than 50 pounds. These trout are gluttonous and their diet comprises mostly of invertebrates and fish. A fully grown brown trout eats mostly fish, but there are reports that these fishes also eat mice and even small birds.
Where To Find Brown Trout
Finding out the best spots for trout fishing is simple and easy. Most varieties of trout including brown trout are found in cold waters. If you're looking for trout fishing you can also find them in moving waters such as rivers and creeks. Trout, especially Lake Trout live in lakes. To make things simple, trout can be found in almost all lakes, rivers, ponds, streams, and anywhere in between.  As trout are abundant, they are the main food source for other animals like bears, bobcats, and other fishes and aquatic creatures. So, you can find them in the woods. Other ideal trout fishing spots are remote rivers or lakes, and we recommend anglers go trout fishing in remote rivers or lakes.
Trout are also plentiful in the deep great lakes, where they can grow to massive sizes which makes them difficult to catch. Thanks to the depths of the lakes, these trout feed on smaller fish usually found at greater depths. Besides, the trout also feed on the salmon eggs during the salmon spawning season.
Things To Remember When Trout Fishing
1. If you're going for trout fishing, Powerbait will only go fishing for stocked trout.
2. Power bait, trout marshmallows, or any bait that looks like dough or imitates pellets, don't work well when fishing for native trout. Stocked trout are bred in hatcheries and fish farms and are conditioned to eat only pellets. Dough baits such as Powerbait are produced as a substitute for those pellets and they have the same color, texture, form, and scent. So, if you are fishing for native or wild trout, they will most likely ignore your Powerbait as the fish has no idea what this glob of dough floating is. Sure, they will take a small bite out of curiosity, but as we mentioned earlier native trout aren't conditioned to eat those pellets and will most likely stay off the line.
If you're looking to fish for native trout and big ones for that matter such as steelheads, browns, or brooks, don't use fly, mayfly, and any other types of tiny-haired imitators. Natives normally feast on flies, tiny insects, and zooplankton, and they also eat small fish, shrimp, worms, and larger insects when they are more than one foot in length.
Ideal Lures For Trout Fishing
If you're looking to get the most out of your trout fishing, consider these types of lures for the best results.
Critters
Grasshoppers, crickets, beetles, and other big insects are always seen in the rivers and streams. Trout eat them as easy snacks. So use live grasshoppers or using imitators.
Tubes
Tubes imitate zooplankton and are consider easy snacks for all kinds of fish. Yes, they don't look like anything swimming or floating in the water, but they do look like them.
Swimbaits
Trout especially the large ones feast on smaller baitfish. We suggest you use a paddle tail swimbait.
Worm Imitators
Live worms are great bait for about every fish and an easy one too. Use downsized soft plastic worms for trout fishing. For better results, use bright-colored worms as they can be easily detected in moving waters.
Crankbaits
Though crankbaits don't fare well when fishing for trout, they do work well for big trout.
Salmon Eggs
Trout are infamous scavengers and they raid the spawning beds of other fish such as Salmon during the spawning season. So consider salmon eggs as a buffet for trout.
Powerbait
When trout fishing, any angler will call their dough bait a "power bait". But Powerbait only works for stocked trout which we already mentioned above. If you want to go for stocked trout fishing, it doesn't hurt if you have a few colored power baits in your fishing arsenal.
Read More: