If you are someone who loves to spend time on the saltwater lake with a variety of water sports, you may want something to give a push to your boat. That is when The Best Saltwater Trolling Motor comes into play.
Having a saltwater trolling motor requires special consideration because you need to check a lot of stuff. And here, we will talk about all of them with the 5 Saltwater Trolling Motor that is dominating the market.
Read More:
Best Saltwater Trolling Motor We Will Cover Today
1. Best Choice-Minn Kota 1363740 Riptide Terrova
2. Value For Money-Newport Vessels NV-Series
3. Best Telescoping Handle-Goplus Electric Trolling Motor
4. Best Saltwater-Watersnake T24 ASP
5. Best Price-U-BCOO Saltwater
Saltwater Trolling Motor Reviews!
1. Minn Kota 1363740 Riptide Terrova

Riptide Terrova Saltwater Trolling Motors comes with 80 pounds of thrust making the motor enough power to maneuver the boat. The motor also tends to run cool and works to extend its life expectancy while staying quiet. You will also love its swept-back flared blades that power through anything without draining the battery.
It also features an i-Pilot GPS trolling system that provides you with a system it can control the motor for smooth fishing. Moreover, you will also be able to set spot locks, control steering, and speed as well as record or retrace paths on the water just by using the system.
Even being a remote steer unit, Riptide Minn Kota trolling motor comes with an auto-pilot feature and you will get to enjoy the convenience of the LCD remote that comes included. You can also take command from a big LCD screen that boasts to be easy to read.
Moreover, the pilot features automatic control and boat positioning. Thus, you can navigate the boat automatically in any direction you want. All you have to do is point the motor head in the direction that you wish to travel, turn on the Auto-pilot and let the motor automatically move to that track. This feature also helps adjust the motor according to the waves, currents, and wind.
If you want to get a prompt 'stage of charge' reading, you will have a button to press and do the job.
With the new Lift-Assist Design, you can also stow and deploy it with ease making it a saltwater trolling motor.
Pros
Powerful to maneuver.
i-Pilot GPS system offers smooth control with manual and automatic convenience.
Lift-Assist Design lets you stow and deploy.
Runs cool while staying quiet.
Remote controlled.
Cons
The setup for calibrating and digital programming is difficult.
2. Newport Vessels NV-Series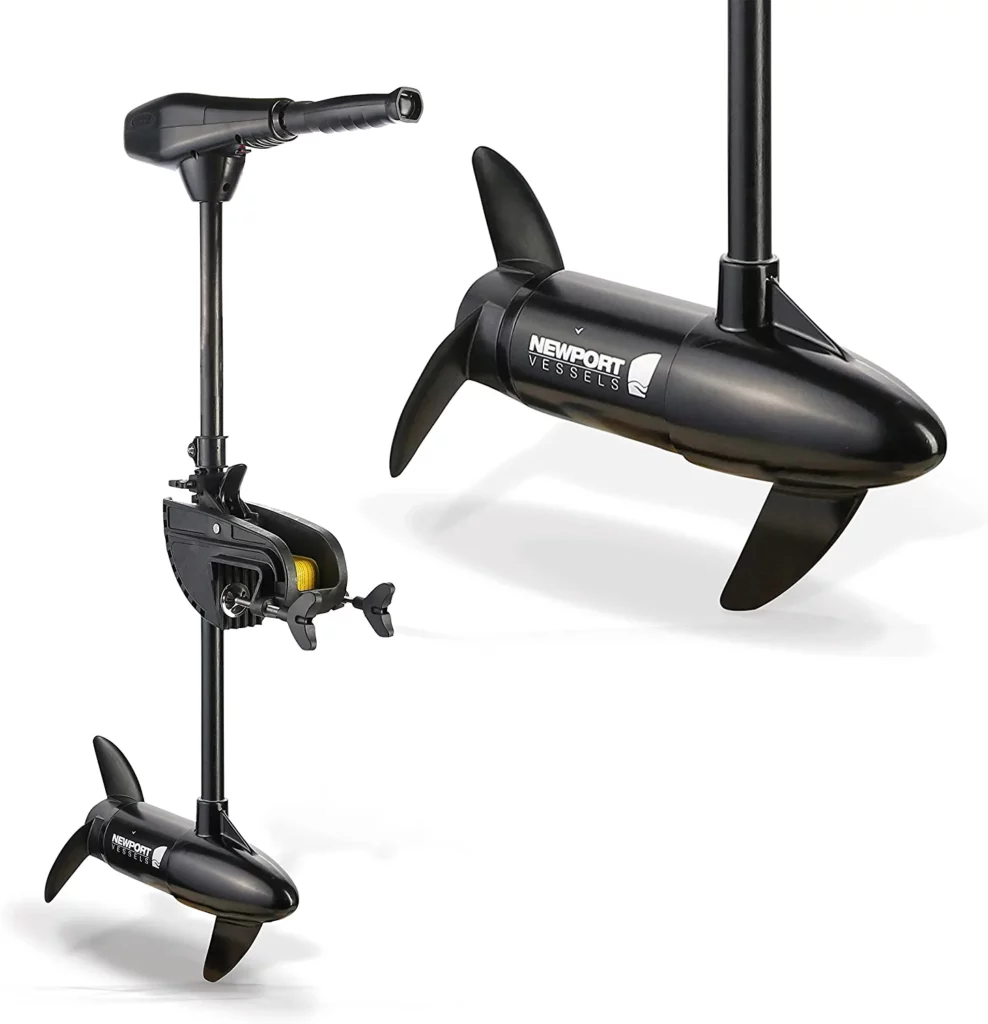 This one is another saltwater electric trolling motor that comes with a transom mount making it easy to operate and control.
The motor comes with efficient NV 55 pounds of thrust that lets you fish for a longer period without getting it overheated or scaring away the fish. Not only that, but you will also love how quietly it will do with a job.
As for the construction, it has been made of stainless steel material so that it does never get corroded after contact with water.
The shaft measuring 30 inches has been made of composite fiberglass which makes it solid and durable. Moreover, you will also find it completely adjustable which will provide you with proper depth placement regardless of the water conditions.
The motor comes with a 6-inch telescoping handle that has 5 forward speeds and 3 reverse speeds for delivering a smooth and controlled ride. The big plus is that all the control has just been put at your fingertips.
You will also love its super bright battery indicator with a 5-Point LED battery meter that will offer an instant charge level to read.
Pros
Powerful to maneuver.
Best electric boat motor
Adjustable shaft.
Telescoping handle with 8 different speeds.
5-Point LED Battery Meter
Cons
Reverse speed may not work well.
3. Goplus Electric Trolling Motor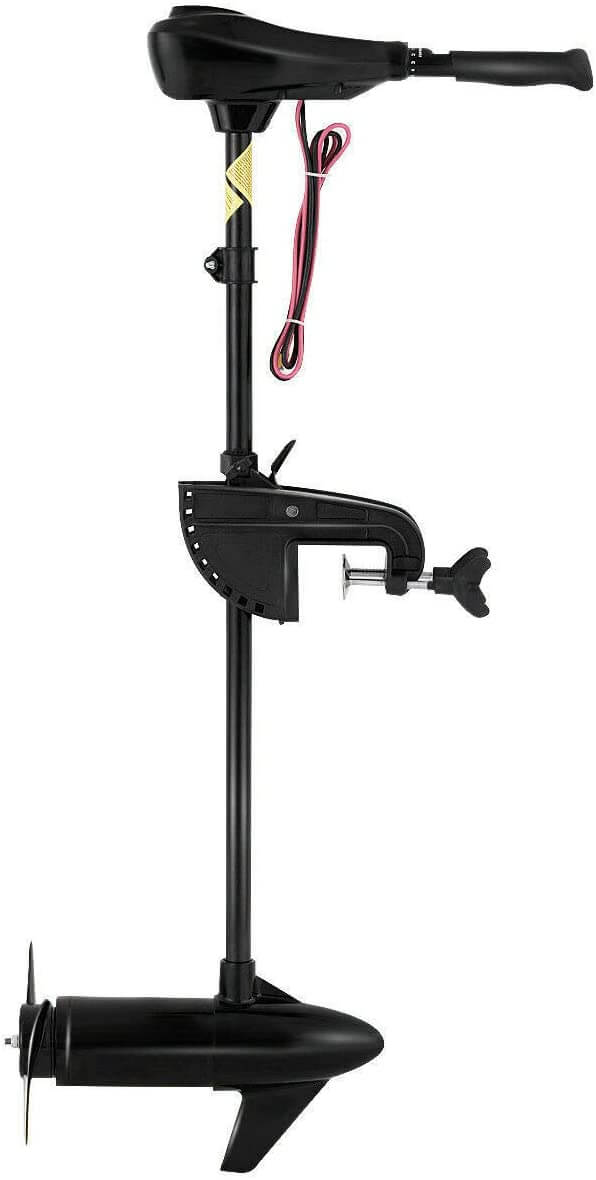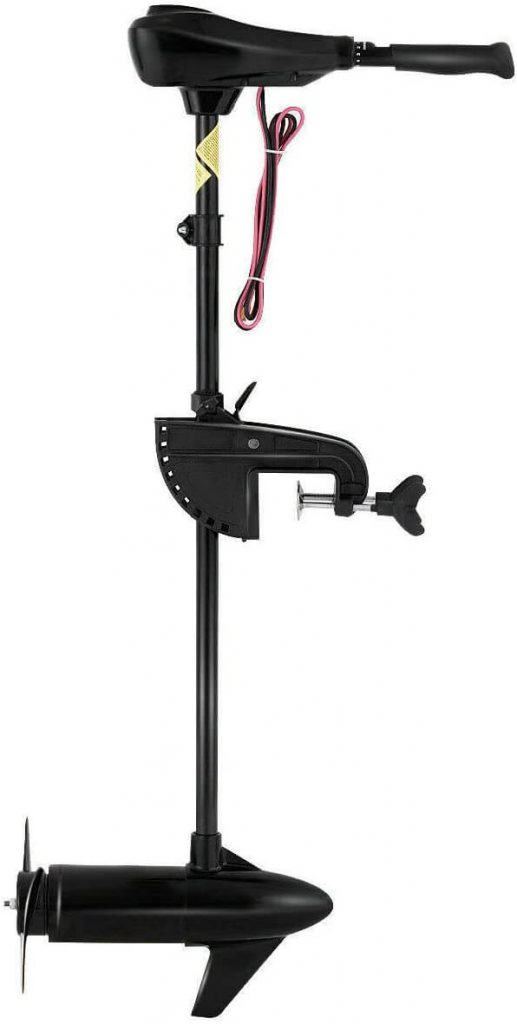 Goplus Saltwater Trolling Motors comes with a bow mount that is not only easy to install but also simple to handle. It features an adjustable shaft where you can fine-tune the angle by pressing the knob. Hence, it helps you reset the normal position to slow down while meeting your surfing demand.
It also comes with adjustable propeller depth where you can move the position of the clamp to accelerate or decelerate and maneuver independently.
There will also be a telescoping handle coming in 6 inches that you can adjust according to your requirements. You can also move it forward or reverse to control the motor easily and comfortably.
Besides, the motor features adjustable clamps through which you can loosen two fixed-up screws to adjust the position.
It also comes with LED lights with a 10-point indicator so that it can alert you regarding the level of power left in the motor. As a result, you can protect the batteries to last for a longer time.
The motor further includes an adjustable fixed ring that lets you adjust the position of the clamp. This triggers you to avoid the clamp from moving while keeping it stable for added security.
A big plus is that you will get to enjoy its easy handling with five forward speeds and three reverse speeds that keep total control in your hand. Its 86 pounds of thrust is another reason why you can enjoy its power with easy maneuverability.
You will also love its Three-Blade propeller design that promises to offer smooth movement through underwater marsh and grass.
Pros
Variety of adjustable options.
Durable and well-built.
Different speed option.
LED lights with a 10-point indicator.
Three-Blade propeller design.
Cons
Speed is not up to the mark.
4. Watersnake T24 ASP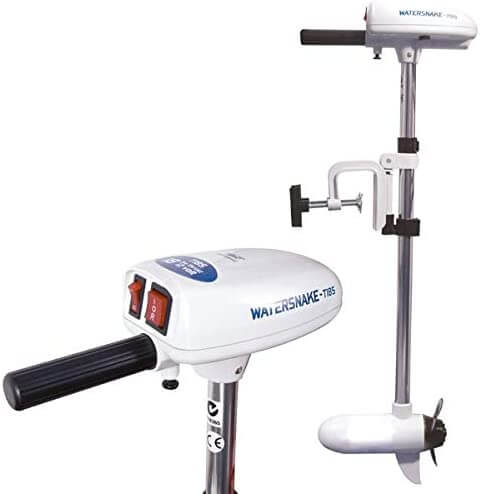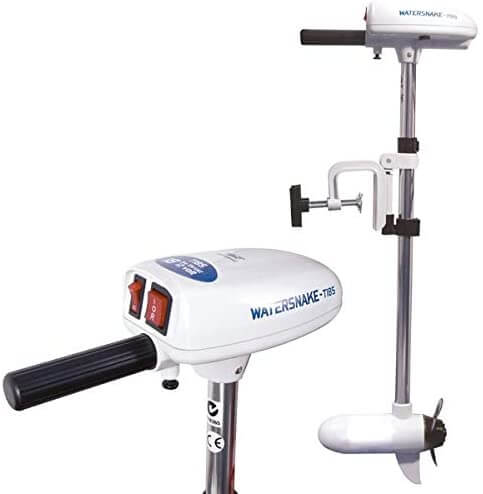 T24S ASP by Watersnake Saltwater Trolling Motors features 24 pounds of thrust to give you great power to deal with. It comes with a 24-inch long shaft that provides you with sufficient control.
Speaking of control, the motor also features a switch that lets you control a variety of speeds that you can control starting from high and low speeds to forward and reverse.
The stowaway tiller handle is another great feature that offers convenient steering. Not only that, but you will also love its two-blade design propeller that helps in deflecting weeds for easy movement.
Besides, it features the anti-impact clip system in the transom mount that works to stay stable at impact.
Coming in a lightweight, it has tons of power to generate and offer great performance, thanks to the high-quality materials. You will also love it for its quiet operation.
Pros
Light and easy to carry.
Enough powerful to offer performance.
It offers great control at different speeds.
Steering will be convenient.
Anti-impact clip system.
Cons
5. U-BCOO 8-Speed Saltwater Transom Mounted Electric Trolling Motor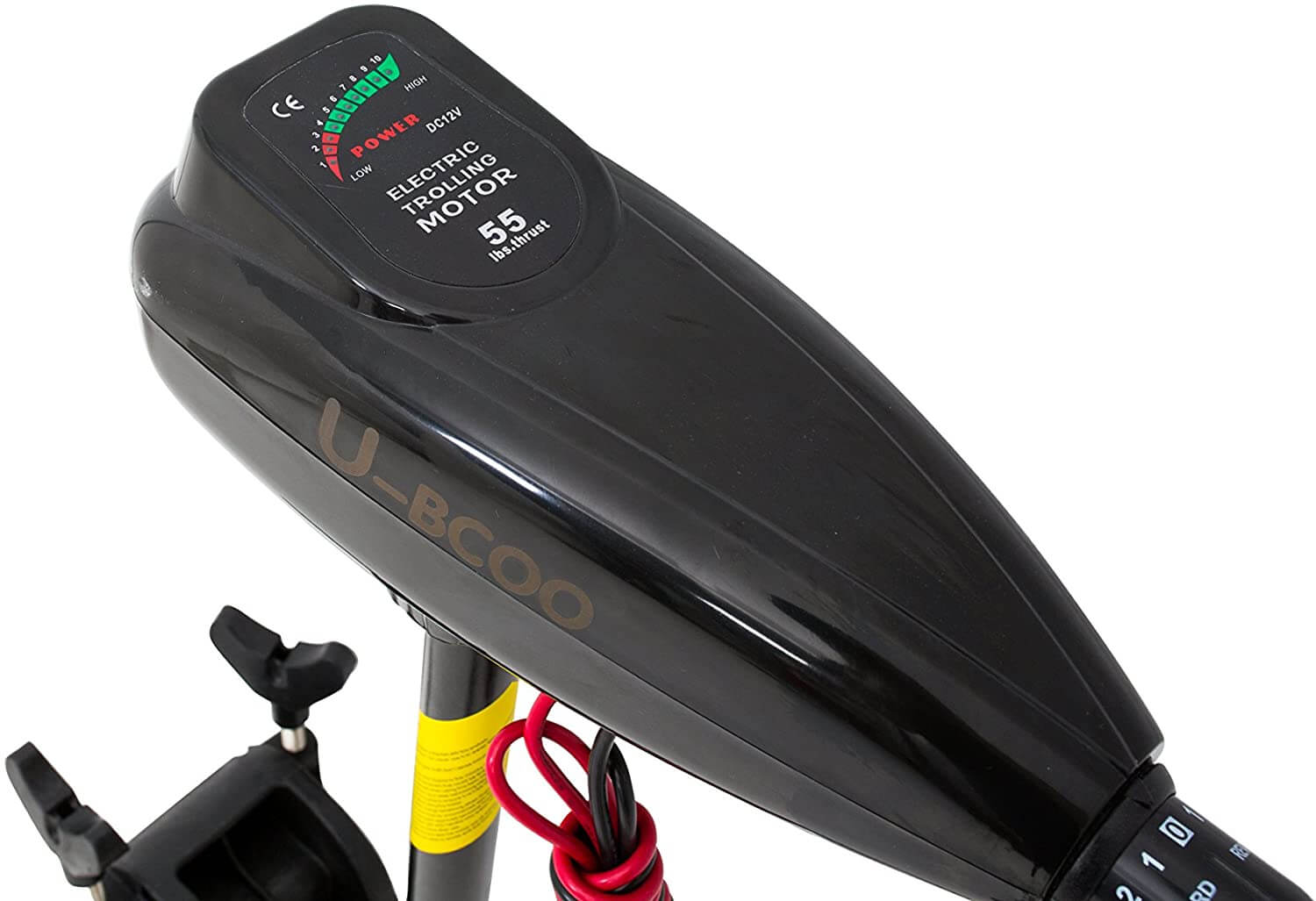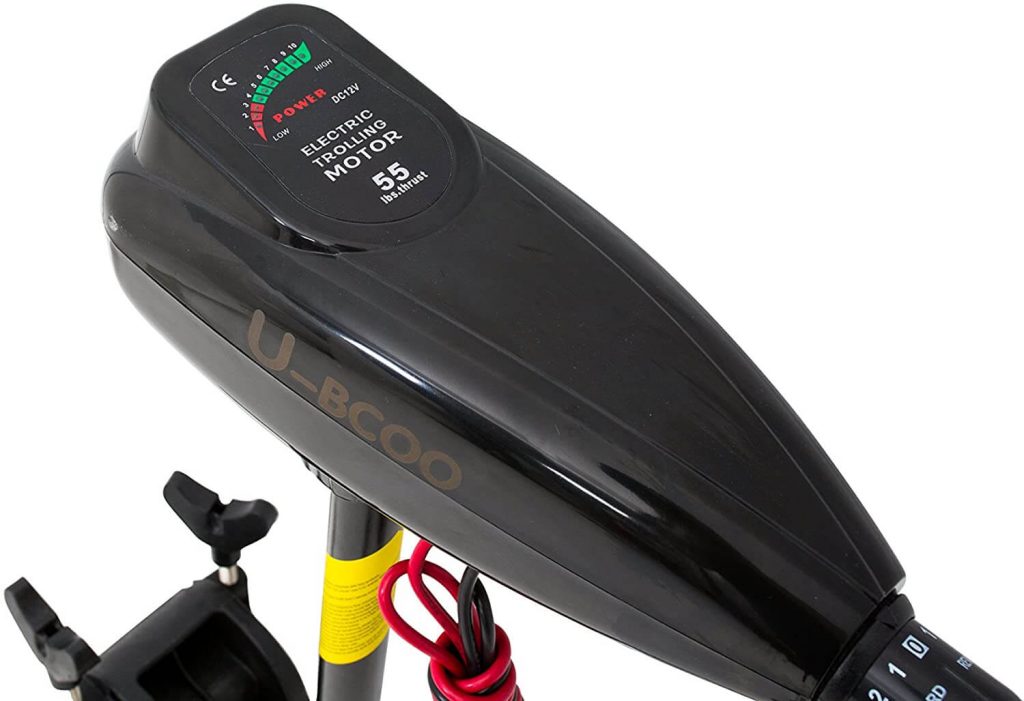 The first thing to notice about this motor by U-BCOO Saltwater Trolling Motors is that it has 8 different variations of speeds with 5 forward and 3 reverses to let you control the boat.
Coming with a transom mount, it will be very simpler to handle and use. Speaking of the handle, it comes telescopic measuring 5 inches to offer better adjustment angle and control.
Not only that, but it also comes with 46 pounds of thrust that lets you move the boat with enormous power with ease. Plus, the thruster features a 10-level of LED power display so that you can keep a track of the power.
The motor has been constructed with copper wire that offers longer service life even in saltwater use, lower noise, lower heat generation, higher performance, and great magnetic permeability.
Pros
Powerful for easy maneuverability.
8 different variations of speeds.
Quiet operation.
The handle offers a better adjustment angle and control
10 levels of LED power display.
Cons
No difference was seen in speeds 4 and 5.
Buying Guide: Saltwater Trolling Motor
Types
There are 3 basic types of saltwater trolling motors: Transom mount, Bow mount, and Remote Controlled.
Transom Mount
As the name implies, a transom mount will attach to the transom or stern of the water vessel. For this, you will need to use C-clamp. Motors with the such mount are operated with a hand tiller.
In comparison with the bow mount, the transom one is stated to be cheaper and simpler. One of the cons is that it will not be enough solid to generate the reliability required for long-term applications.
Bow Mount
As the name suggests, a bow mount is attached to the bow of the boat. It can be controlled subsequently by a hand tiller or foot pedal. Such motors require ample space to have the device mounted. As a result, you may not find them very convenient to deal with.
On a positive note, a bow mount is stated to be available at a low cost. That's the reason why you may get it in a variety of vessels. Not only that but such a motor is also known to be easier to install as well as handle. Hence, it makes the device pretty popular among people who lack the necessary skills.
Remote Controlled
The remote-controlled motor is a type that includes a remote coming with either a transom mount or a bow mount. To add more, the motor features an extra perk where you can control the motor from a remote location just by using certain special apparatus.
There are many models that also feature autopilot control mechanisms. It fulfills the requirement of constantly monitoring and engaging the vessels away from you. However, a remote-controlled motor can be found in different modern vessels. The only issue is that many amateur users may not find it easy to use because of their need for excess expertise.
Things to Consider About Saltwater Trolling Motors
Boat size
In contrast to your boating mindset, bigger is not always better.
Make sure that you look for a saltwater trolling motor that you can keep in line with boat size. Don't ever get drawn to ultra-high thrust or 36 voltage of power if you only possess a 12 feet Jon boat.
Motor type
Transom mounts by pushing the boat while bow mount works by pulling it.
Transom ones are perfect for small-sized boats. You will also get to enjoy such a motor since it comes with an added space at the bow. So, if you'll be having a lot of people on the boat, you can consider this option.
Meanwhile, if you are planning to do a ton of fishing from the boat front, then the bow mount motor will be a great deal. You will also find them ideal enough for bigger boats that measure beyond 14 feet.
Hand or Foot-Controlled
The hand-controlled trolling motor delivers a wider range of real-time movement and control.
But it will be great to have one that will be foot controlled. It allows for hand-free movement and you will love it for holding a pole of fishing in your hand. You will also find it quite easy to operate. However, such a motor may take up more room on the deck than the other option. But a good thing is that there are many modern trolling motors that include high-tech autopilot navigation. In short, you will get to enjoy the convenience of remote control.
Power Rating and Source
The amount of power a motor generates as well as the power it uses per unit of time also matters. If you want to spare the expense of heavy use, make sure you get a motor that will consume the least amount of electrical energy. However, it also should generate a higher possible return. Make sure you go through the reviews of a motor's efficiency rating so that you get to understand what the product will give you.
Not only that, but power consumption is also another essential factor. A motor runs through a variety of power sources. For instance, you will get sources like batteries, electricity, gas, and solar. You may wish to have the most freedom of use so that you can enjoy your water sports.
Maintenance
You will often need to maintain the saltwater trolling motor. It's because the machine needs to sustain some damages that can come from heavy or light uses.
However, there is one tip you can follow. All you have to do is rinse off the motor after you are done with its use. Although, it is also not a good idea if you leave it immersed in saltwater when the kayak is docked, so you have to be careful.
Corrosion Resistance:  Corrosion-resistant construction is also another essential feature. Make sure that the motor uses materials such as anodized metal, powder-coated paint, stainless steel, marine-grade alloys, and zinc dichromate armor plating.
Essential Features
Shaft:
It's the long pole that connects the propeller to the head and goes straight into the saltwater. The length of the shaft is what will determine the level of control you will have. However, it will be safe if you keep the shaft length at a medium level. It's because it is too short a length that will not be ideal for the rough condition while too long a size will not be ideal for shallow water. The height of the bow or stern and the size and shape of the boat can also be good indicators. For instance, you may want a long shaft for a deeper V hull.
Motor Head:
It is the part at the top. A head can include controls, navigation details, and LED displays counting on how high-tech it is.
Propeller:
The job of a propeller is to turn and "propel" the boat through the saltwater similar to a traditional boat motor. Since you will be saltwater boating, you will need to get a motor made up of stainless steel or other anti-rust materials.
Thrust Power:
Thrust refers to the amount of strength that is required to make the boat move in the saltwater. The more thrust, the better the maneuverability. Nonetheless, make sure to not go for excess power since it can overwhelm a smaller boat. Besides, you can follow a general rule of thumb that says, for every 100 pounds of occupied boat, you will need at least 2 pounds of thrust.
Battery Power:
The trolling motor battery gauge is basically situated at the motorhead. Such a part alerts you regarding low battery power so you can get to know when you should charge it. The majority of the devices come with 12, 24, or 36 volts.
Sacrificial Anode:
It is a small metal tab that you will find on the bottom of the motor. It comes with more protective coatings and coverage than freshwater motors.
Frequently Asked Questions:
Q: Can a freshwater trolling motor be used in saltwater?
A: Absolutely you can! Such a motor is able to withstand all the perils and means of damage that can come from freshwater, thanks to its sheer quality and construction. A saltwater motor can withstand issues such as chipping away from the metal part, rust, or corrosion.
Q: What is the difference between freshwater and saltwater trolling motors?
A: It's the material that makes them different from each other. A freshwater motor is constructed with basic material that holds almost no special features or traits. As for Saltwater Trolling Motors, it's different. Such a motor is constructed with anti-corrosive materials. As a result, you will find the motor performing better while repelling corrosion or its other agents. Besides, a saltwater motor also tends to be more durable.
Q: How long can a motor last on a single charge?
A: A decent trolling motor should last about 5 hours if you count the average use and proper maintenance. However, the use basically relies on the amperage rating of the saltwater trolling motor. It will be great if you divide the ampere rating by the current to find out how long the motor would last.
Read More: